Are you looking for the best PMS tools to help you manage your projects better? Look no further!
We've rounded up the top 19 PMS tools of 2023 for you to choose from. Keep reading to find out which ones made our list!  
What Are PMS Tools?
PMS (Project Management Software) tools are software applications used to manage projects and related tasks. These tools provide an organized method for managing tasks and activities, enabling users to stay on top of project timelines and budgets.
With PMS Tools, teams can track their progress with a timeline view, set due dates for milestones and tasks, assign priorities to each task, assign resources to each task or activity, create checklists, and more.
In addition, PMS Tools allow users to connect with external applications such as Gantt charts or spreadsheets that enhance the workflow of their projects.
By streamlining project management processes using these online toolsets, teams can increase productivity and efficiency while reducing costs associated with manual project tracking.
How Do PMS Tools Work?
Project management software (PMS) tools are designed to help teams organize and manage projects from start to finish. These tools are typically web-based, providing users with access from anywhere with an internet connection.
They can help streamline tasks related to project planning, execution, status tracking, and reporting. Most PMS tools have features like task lists, calendars/schedules, file sharing/storage, and notifications/alerts for upcoming deadlines or changes in the project's status. 
Some of the key capabilities of a PMS tool include project creation and collaboration between team members in order to ensure that everyone is on the same page regarding a given project.
This includes creating tasks and assigning them to team members based on their availability or expertise. Additionally, most systems allow users to set up recurring tasks so they don't have to constantly be prompted by other personnel when something needs to be done on a regular basis such as weekly reports or daily status updates.  
Project data can also be shared across different teams so everyone has visibility into what's going on at all times regardless of geographic distance or time differences between various stakeholders involved in a given effort.
---
The Need for PMS Tools
PMS (Project Management Software) tools are essential to the success of any project. They enable teams to manage multiple projects, keep an eye on deadlines, track progress, and ensure that everyone is on the same page throughout the entire process. PMS tools provide a visual representation of tasks, milestones, and objectives in order to define goals and deliverables, which provides teams with a clearer picture of their project's success.  
Additionally, they allow users to monitor changes in real time while providing notifications when tasks have been completed or timelines need updating. With PMS tools, teams can collaborate efficiently from anywhere and make data-driven decisions when making adjustments as needed.  
Furthermore, many PMS solutions include features such as analytics and report that further help evaluate progress for better decision-making capabilities throughout the entire workflow process.
In conclusion, PMS tools are invaluable tool for businesses looking to streamline their operations for greater efficiency and reach desired outcomes faster than ever before. 
---
Top 19 Best PMS Tools Of 2023
Let's look at some of the top project management software (PMS) tools to make you and your team more productive.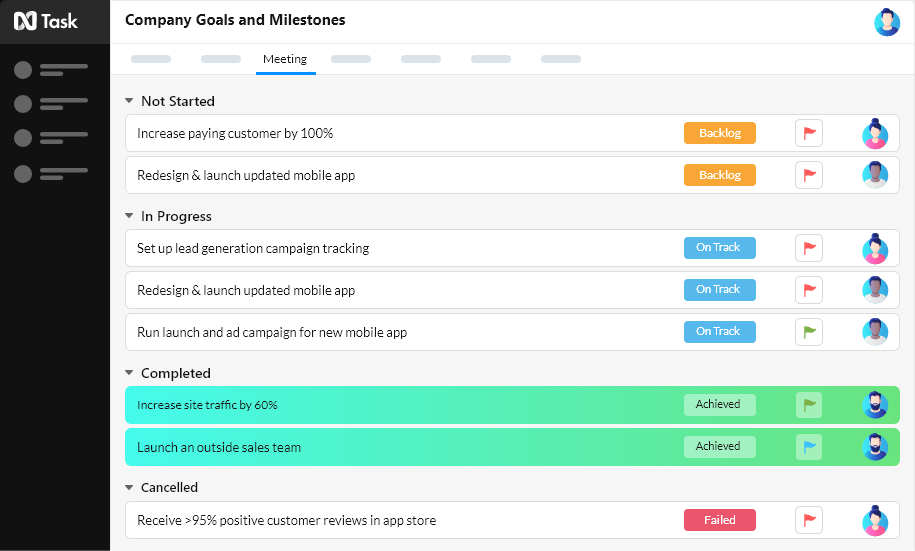 nTask project management software is an innovative way to help businesses and organizations manage their tasks more efficiently. The app features a host of tools that make it easier to assign tasks, track progress, and receive notifications when assignments are completed.  
Additionally, users can access real-time analytics to gain visibility into team performance in order to make informed decisions quickly. With the ability to customize settings for individuals or teams, the intuitive user interface allows for easy navigation between projects and tasks.
nTask manager app also allows for collaboration with other members of the team by enabling users to share notes, files, and updates on the go. By allowing users to command of their time management efforts with minimal effort spent manually entering data, this user-friendly tool helps streamline workflow processes and optimize daily operations. 
Features
Assign tasks: Easily create and assign tasks to team members with specific instructions and deadlines.
Monitor progress: Track the progress of assigned tasks in real-time with detailed metrics for each task, such as completion status, hours worked, resources used, etc.
Streamlined communication: Integrate messaging capabilities directly into the task manager app so that team members can quickly communicate progress without leaving the app.
Historical records: Maintain an accurate record of all past tasks and conversations in one central location for future reference or history logs.
Automate reminders: Set automated alerts to be sent out prior to upcoming deadlines in order to ensure that everything is done on time without any delays or complications caused by a lack of reminders.
Advanced analytics & reporting: Generate insightful reports with data from all tasks in order to better understand trends within your team's workflow performance and identify potential issues before they become bigger problems down the line.
Security protocols: Implement robust security protocols that safeguard user data, consumer information, and employee files from unauthorized access or tampering. 
Pros
Easily create and assign tasks to team members.
Monitor the progress of tasks in real-time.
Receive notifications when any task is completed or overdue.
Automatically assign tasks based on the roles and responsibilities of each team member.  
Generate detailed reports for accountability on each task completion status.
Establish clear deadlines which can be easily tracked.
Cons
Inadequate customization options to manage individual task lists
Limited integration capabilities with other existing applications
Pricing
Pro $3/month
Business $8/month
Enterprise Custom pricing/month 
Project Management
made easy!
---
2. SmartTask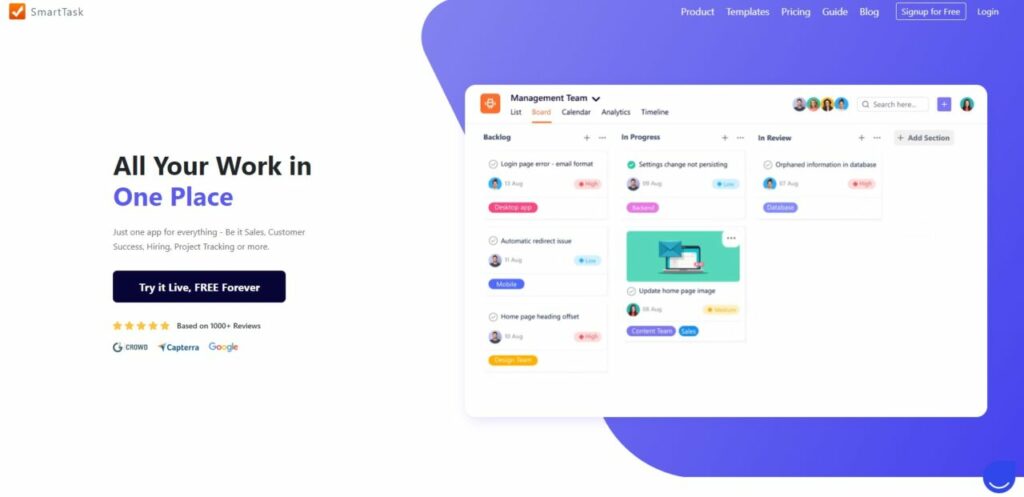 SmartTask is an innovative project management tool that helps teams work together more productively.  
This powerful software enables users to manage tasks and assignments, keep track of project progress, monitor team performance levels, and much more.
SmartTask has many features that make it perfect for any business environment including task-sharing capabilities, notification services, real-time updates on project goals and milestones, and analytics to measure the success rate of individual tasks, and the entire team's performance.  
SmartTask also integrates with other apps such as Google Drive so you can easily access your documents from one place. With its intuitive user interface and comprehensive tools, SmartTask simplifies teamwork for any size organization or project type so everyone can get work done faster with fewer errors.
Features:
Task Assignment: SmartTask's team task manager allows users to easily assign tasks and manage workflows. The app provides user-friendly ways to delegate projects, provide instructions, track progress and measure performance with advanced reporting capabilities.
Collaboration Tools: SmartTask's team task manager allows multiple users to collaborate on a single project without having to leave the app. Features such as real-time chat, document sharing, audio/video calls, and whiteboard tools make it easier for teams to communicate quickly.  
3rd Party Integrations: SmartTask integrates with many popular third-party services like Google Suite, Slack, and Zapier, allowing teams to connect their apps all in one place for faster collaboration.  
Automation & notifications: Automate repetitive tasks with custom workflows within the app or set up automated alerts for when a task is due or completed. Users can also customize notifications that help keep track of changes in projects or ask other users for help when needed."
Reporting & Analytics: SmartTask has powerful reporting tools that allow teams to analyze data from their tasks and optimize workflow efficiencies. Users can view detailed reports using aggregate data from individual tasks or combine data from multiple projects into larger report summaries.
Pros
Professional Team Task Management app – SmartTask allows teams to easily manage tasks and projects, allowing for quick collaboration without the hassle.
Streamlined Collaboration – SmartTask makes it easy to assign tasks to team members and discuss progress in real-time from any device.
Automated Notes & Reminders – Automatically track details such as cost, duration, notes, and reminders of tasks with accurate data tracking. 
Integrations – Seamlessly integrates with common services such as Google Calendar, Microsoft Teams And Outlook Calendar.
Responsive Mobile App – Enjoy the same features on mobile devices for a seamless experience even when you're on the go.
Cons
SmartTask team task manager app has a steep learning curve and can be difficult to learn for members who are not tech-savvy.
SmartTask's user interface is not as intuitive or easy to use compared with other similar apps.
SmartTask lacks some core features that would make it more suitable for larger teams, such as the ability to manage multiple projects at once.
The notifications system within SmartTask is unreliable and can often miss important reminders or messages.
The lack of detailed analytics or insights regarding project progress means users have less visibility on their team's progress
Pricing
Free Forever – Free
Premium $5/month
Business $8/month
Enterprise custom/month
---
3. Proofhub 

ProofHub is a cloud-based task management tool that helps organizations manage their projects and teams effectively.  
It offers a wide range of features and tools to help users plan, assign, collaborate, and track their tasks.
With this software, it is possible to create detailed timelines with deadlines and milestones, prioritize tasks according to importance, delegate tasks among team members easily using drag-and-drop features, and monitor progress in real-time by viewing reports and dashboards in the app.  
The app also supports advanced communication among team members with its communication abilities such as discussion boards for project discussions or group chats for quick conversations about topics related to the project.
In addition, users can invite external stakeholders to collaborate on projects too. Lastly, ProofHub allows users to customize their user experience based on individual preferences by customizing workflows or assigning roles within the organization.
Features:
Scheduling and Tasks Management: ProofHub's task management tool helps teams to organize their tasks, assign them to team members and manage the workflow in a consistent manner. With this feature, users can set due dates for tasks and get alerted when these are about to be overdue.
Task Prioritization & Custom Statuses: It allows users to prioritize tasks according to their importance, thus ensuring that essential tasks are attended to first while delaying or holding off less-important ones accordingly. Users can also create custom statuses like 'in progress' or 'pending review', among others, and move their tasks between statuses with a click of a button, thus allowing tracking progress at every stage in real-time.  
Project Collaboration Features: It eliminates the need for multiple emails while collaborating on projects by providing collaboration tools such as comment discussions thread attached with each task which allows users to engage in meaningful conversations regarding the task at hand without having one long chain of emails back-and-forth among team members about the same thing over and over again
Mobile Support (Android App & iOS App): The app allows teams using its service to access all features from any location via Android phones or iPhones/iPads. 
Pros
Easy to set up and use: ProofHub provides an intuitive interface that is easy to set up and get used to, even for people not used to project management tools.  
Real-time collaboration: ProofHub allows teams to collaborate effectively with tasks, notes, and discussions.  
Comprehensive task tracking capabilities: With features like drag and drop task boards, Kanban view, Gantt charts, etc., ProofHub makes sure all the tasks are tracked and monitored constantly.  
Excellent communication options: Apart from tasks and notes, teams can discuss ideas via conversations inside the app with notifications for mention support.
Cons
Inability to communicate with external clients or vendors outside of the platform.
Limited capabilities for customizing reports and views to suit individual needs.
Can be quite difficult to navigate, especially for users who are new to task management tools.
Lack of a mobile app, making it hard to use on the go.
A limited number of integrations available with third-party applications.
Pricing
Unlimited control $89/month
Essential $45/month
---
4. Scoro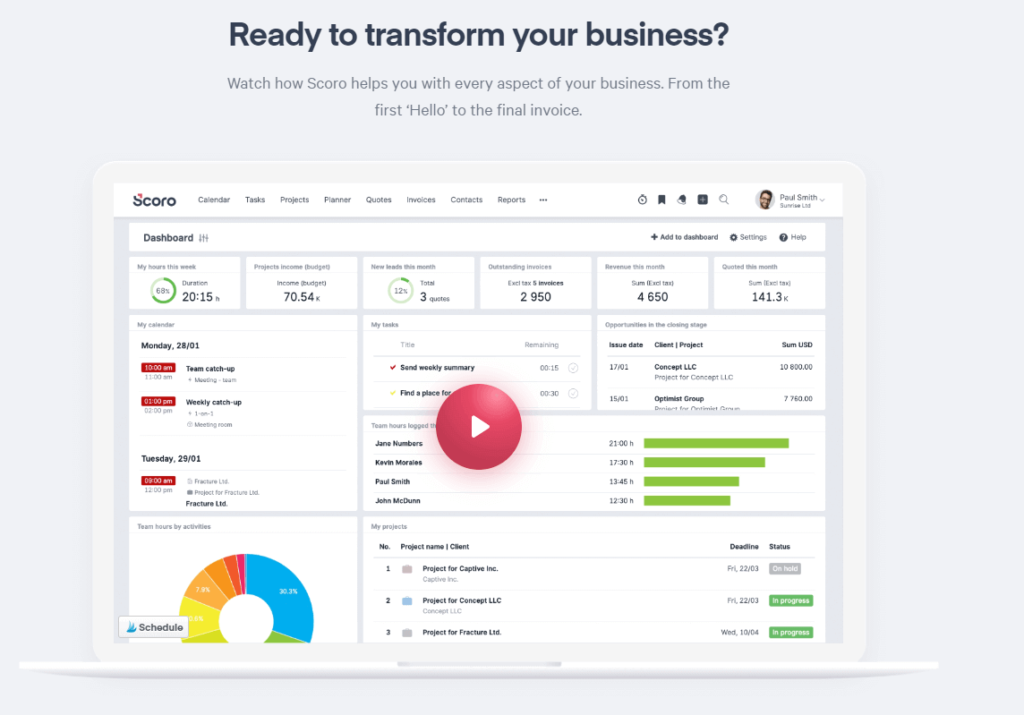 Scoro is a comprehensive project management tool that allows teams to easily manage projects, tasks, and collaboration in one place.
It provides a comprehensive suite of features for project planning, task management, time tracking, budget tracking, invoicing, and more. With Scoro's advanced productivity tools, you can get things done quickly and efficiently. It helps teams stay organized so they can complete projects on time and within budget.
You can easily see who's working on what by color-coded tasks and quickly assign new tasks or move existing ones around the timeline with a few clicks.
A great feature of Scoro is its ability to directly integrate with other essential business apps such as Google Drive/Calendar/Gmail, Slack & Zapier as well as powerful Gantt chart view mode – all combined into one package giving your team the ultimate power over their workflow & productivity!
Features
Task Management: Assign tasks to team members or clients quickly and easily with task lists. Monitor due dates and priorities to keep everyone on the same page.
Time Tracking: Automatically monitor time spent on projects or billable hours with the simple click of a button – no manual tracking required!
Collaboration Tools: Create secure chats to discuss ideas quickly and easily without having to switch apps or interrupt your workflow. Generate real-time reports to ensure everyone remains accountable for their work!
Resource & Budget Management: Keep track of expenses such as materials or services purchased for each project so that everything stays within budget.
Reports & Analytics: Generate detailed reports about work progress at any given time so you can identify trends in how people in your organization are managing their tasks over long periods of time. Plus many more features like invoicing, contact management, etc.
Pros
Easy-to-use interface, allowing users to quickly learn how the software works
Accessibility across multiple devices and platforms, giving users the flexibility to work anywhere
Robust reporting capabilities with customizable dashboard and reports
Automation of tasks and processes for increased efficiency
Integration with other business management tools such as CRM, accounting software, and more
Cons
The platform does not offer a free trial and users cannot try out features before committing to purchase.
User experience can be clunky at times due to the complexity of certain features within the platform.
Customizing workflows and getting team members familiarized with the system's functions may also take time.
Pricing
Essential $26/user/month
Standard $37/user/month
Pro $63/user/month
Ultimate custom/pricing
---
5. Monday.com

Monday.com is a project management software designed to facilitate team collaboration and project organization.
It offers features such as task creation, tracking and updating processes, assigning tasks to individuals or teams, managing deadlines and priority levels, commenting on projects and tasks with @ mentions, file sharing (including integrated integrations of Dropbox/Google Drive/Box), notifications for progress updates, visual boards that can be customized in various ways with drag & drop capabilities.
Monday.com has many advantages over other popular platforms like Taskboard: its UI is more intuitive which helps users quickly become familiar with the tool; it provides powerful analytics capabilities that help you easily measure performance; it's free when two or fewer people are using it – great for smaller teams; its integration functionality allows you to link Monday activities directly with other services and apps.
Features:
Create Tasks: Users can easily create tasks for the day and set goals. They will be able to break down complex tasks into smaller, more manageable steps by creating subtasks.
Assign Priority: Users will be able to assign priority to their tasks, helping them prioritize which ones they should focus on first.
Manage Time: The platform includes a timer that users can use to manage their time better, allowing them to estimate how long each task should take and learn how much they are actually spending on each task throughout the day.
Track Progress: The platform also features a progress tracking system so users can track their progress over time and identify patterns in their work performance in order to improve it over the long term.
Add Notes & Reminders: Through notes or reminders, users will be able to keep an organized list of ideas or instructions related to each task that they may need help with later on or pass on to another team member for continued collaboration/support if needed from there onwards.
Pros
The easy-to-use user interface for simple task management and tracking.
Automated reminders for upcoming tasks and deadlines.
Customizable labels and filters help you organize tasks according to priority, type, or any other criteria.
Ability to collaborate with colleagues by sharing tasks, assigning due dates, exchanging comments, and marking progress on shared projects.
Reports that allow you to view progress over time in order to better understand project timelines and resource utilization.
Cons
Limited customization options, may make its usage difficult for businesses with unique workflows.
Lack of features to manage team tasks and individual task assignments.
Lack of integration with third-party applications, limiting how users can access and use data from other sources.
Weak reporting capabilities make it difficult to track progress on tasks or see the big picture.
Pricing
Individual $0/month
Basic $8/month
Standard $10/month
Pro $16/month
Enterprise custom/pricing
---
6. Workzone

Workzone project management tool is a comprehensive online project management solution that helps businesses of all sizes plan and manage their projects with ease.
It provides users with a range of features such as task scheduling, task tracking, resource allocation, reports and dashboards, collaboration tools, and more.
Workzone offers an intuitive user interface that allows teams to quickly get up and running with the app, while still having access to robust reporting capabilities.
It also allows users to customize their experience according to their project requirements, including setting up tasks in multiple ways (by date or priority), assigning resources to tasks when necessary, and creating deadlines for completion.
With its highly detailed time-tracking functionality, it enables teams to accurately track time spent on each task so that issues can be addressed promptly before they become bigger problems down the line.
Overall, Workzone has been designed from the ground up as an all-in-one solution for companies wanting seamless project management control over all aspects of their operations.
Features
Project Dashboard: The project dashboard provides a comprehensive overview of all project-related information. This includes tasks, documents, conversations, budget, and timeline status.
Task Management: Easily create and assign tasks with due dates, priority levels, and progress tracking so that deadlines are met on time.
Document Storage & Sharing: Store all the relevant files in one place to keep everyone up-to-date while managing access privileges so that only team members with appropriate permissions can view them.
Time Tracking & Reporting: Ensure accurate time tracking with flexible time sheets as well as generate meaningful reports for better decision-making across multiple projects or teams at once.
Gantt Chart: Visualize your project plans by creating detailed Gantt charts that feature scheduled events, task dependencies, and resources linked to each task or milestone for better planning accuracy over long periods of time.
Team Collaboration & Chatting: Keep team members informed about project updates through easy team collaboration tools such as instant messaging or '@mentioning' others in conversations on projects or specific tasks within the platform itself – ensuring nothing falls through the cracks!
Mobile App Accessibility: Workzone's mobile app offers users real-time access to their work from anywhere at any given point in time without having to compromise on quality performance metrics like loading times of website pages etc.
Pros
Allows for consistent communication between stakeholders via intuitive task sharing and management features.
Offers a timeline view feature to help teams visualize their projects and quickly assess where they are in their process.
Includes powerful reporting tools that allow users to create detailed reports on their project's progress, costs, resources, etc.
Cons
Lack of powerful third-party integrations: The Workzone project management tool doesn't have a wide range of third-party integrations which makes it very difficult to manage multiple projects at once.
Poor customer support: Customers often complain about the lack of customer support for Workzone and the long wait times for getting assistance.
Limited customization options: The customization options in Workzone are quite limited, making it difficult to tailor the system to fit specific needs.
Pricing
Team $24/user/month
Professional $34/user/month
Enterprise $43/user/month
---
7. Wrike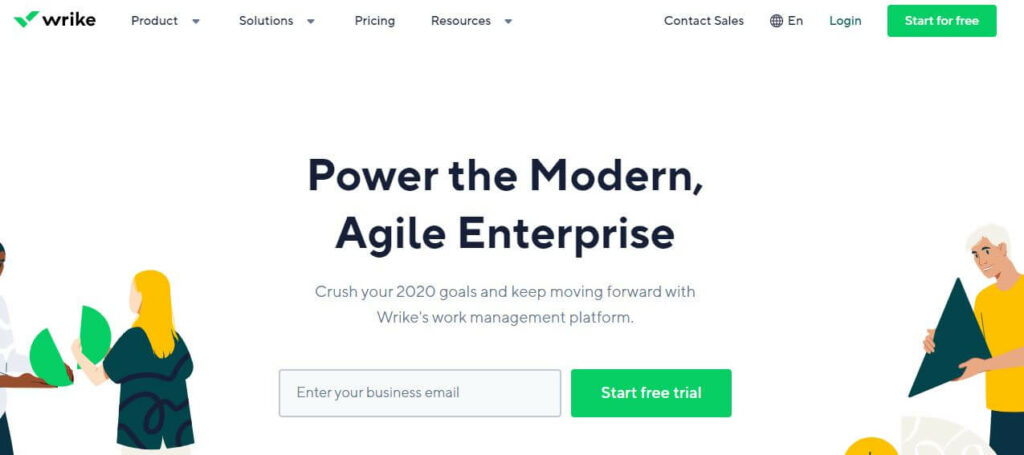 The Wrike project management system is an incredibly powerful platform for keeping projects and teams organized.
It offers a comprehensive suite of features that make it easy to manage tasks, assign work, collaborate with team members, track progress, set deadlines, and provide feedback.
With the ability to assign tasks to specific members or teams of people, delegate responsibility for certain tasks, store files securely in the cloud for collaboration and access from anywhere, and create custom labels and tags for better organization of tasks and documents.
The Wrike dashboard also provides a clear overview of all project activities so everyone can stay on track. Its intuitive design makes it simple to get started quickly with minimum effort while giving organizations full control over how they organize their workflows.
With valuable reporting tools available as well as integrations with popular apps like Slack and Google Drive; this system offers something for everyone from small business owners to global enterprises alike.
Features:
Task Organization: Wrike's task management system allows users to intuitively organize tasks into different folders, subfolders, and workspaces for maximum efficiency. Users can also prioritize tasks by assigning specific attributes, such as labels, deadlines, and statuses.
Real-Time Communication: In addition to task organization tools, Wrike's communication features keep team members connected throughout the duration of a project. Users can start conversations within any task directly from the platform and can send notifications when something changes or an update is needed.
Time Tracking: Built-in time tracking within Wrike enables teams to accurately monitor how long they are working on each task and project without having to switch between multiple applications or manually calculate hours through spreadsheets.
Integrations & Automation: Integrating with third-party services like Google Calendar or Zapier helps streamline workflows across all aspects of a business while automation capabilities allow some processes―such as setting up recurring activities―to run more efficiently without additional input.
Reporting & Analytics: With real-time reports and detailed analytics, teams have insights about their performance over various periods of time that help inform future decision-making in order to improve productivity going forward
Pros
Wrike enables seamless collaboration and communication for remote teams by providing an intuitive platform for task management, file sharing, and project organization.
It allows users to customize workspace layouts and activities to fit their specific needs.
Utilizing advanced color coding technology, tasks are easily visible in the calendar view allowing team members to track progress at a glance.
Automation tools help save time with recurring checklists, workload allocation, and reports.
The intuitive interface is easy to use even for those who may not be tech-savvy.
Cons
The Wrike task management system is not well suited for complex projects as it does not allow for assigning priorities.
The user interface can be clunky and difficult to navigate in some cases.
Wrike task management system does not offer a wide range of customization options, which may limit its usefulness to organizations with particular needs.
It can be difficult to find the information you need in the large amount of data that is stored within the system.
Pricing
Free $0/month
Team $9.80/month
Business $24.80/month
Enterprise Custom/pricing
Pinnacle Custom/pricing
---
8. Trello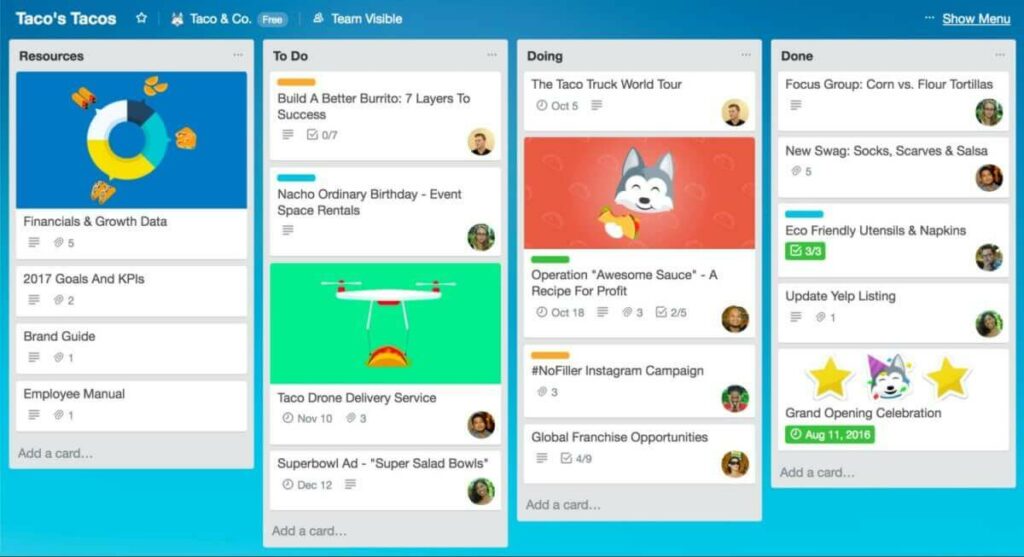 Trello is a cloud-based project management software/app that helps teams easily organize and manage their projects.
With Trello, users can create boards and cards to track different tasks, assign team members specific roles and responsibilities, set deadlines, attach relevant documents, collaborate in real-time with other team members, customize access levels for each project, track progress on individual tasks or milestones as well as the entire project timeline overall.
Additionally, Trello integrates with popular tools such as Slack and Google Drive allowing teams to use data from other apps to focus on what matters most. In short, it provides an easy way for teams to have a unified workspace where they can coordinate all of their activities.
Features:
Customizable Workflows: Trello allows users to customize the way their teams work by creating custom boards, lists, and cards that match each project's specific needs.
Task Assignments: Users can easily assign tasks to team members as well as set due dates and attach relevant materials.
Collaboration & Communication: Trello allows teams to share ideas and information in real-time through comments, conversation threads, file attachments, checklists, and @mentions of individual contributors.
Time Tracking & Progress Monitoring: Through its "Activity Feed" feature, users can monitor the status of projects in real time while using powerful search capabilities to quickly find actionable items or missed deadlines. Additionally, users can use the "Power Up" feature which tracks task time estimates versus actual time vs artificial intelligence analytics (optional).
Third-Party Integrations & Automations: Trello provides integration with dozens of popular services like Slack for enhanced communication capabilities as well as automation tools for automating repetitive tasks within boards or across different workspaces.
Security & Privacy Settings: The platform offers user protection with secure hosting from renowned servers.
Pros
Easy to use with an intuitive interface and drag-and-drop functionality.
Offers a visual overview of tasks and projects with boards, lists, and cards.
Has excellent collaboration features such as assigning tasks to team members, due dates for completion, labels for categorizing tasks, etc.,
Provides integration with Google Drive and Dropbox for easy sharing of documents.
Cons
Trello's team task management software can be difficult to learn and master.
Navigating the dashboard may be confusing for new users.
It has limited reporting capabilities, making it harder to track performance goals.
The limited customization options make it more challenging to design boards that fit specific needs.
It lacks strong collaboration features such as file sharing or video conferencing.
Pricing
Free $0/month
Standard $5/month
Premium $10/month
Enterprise $17.50/month
9. Asana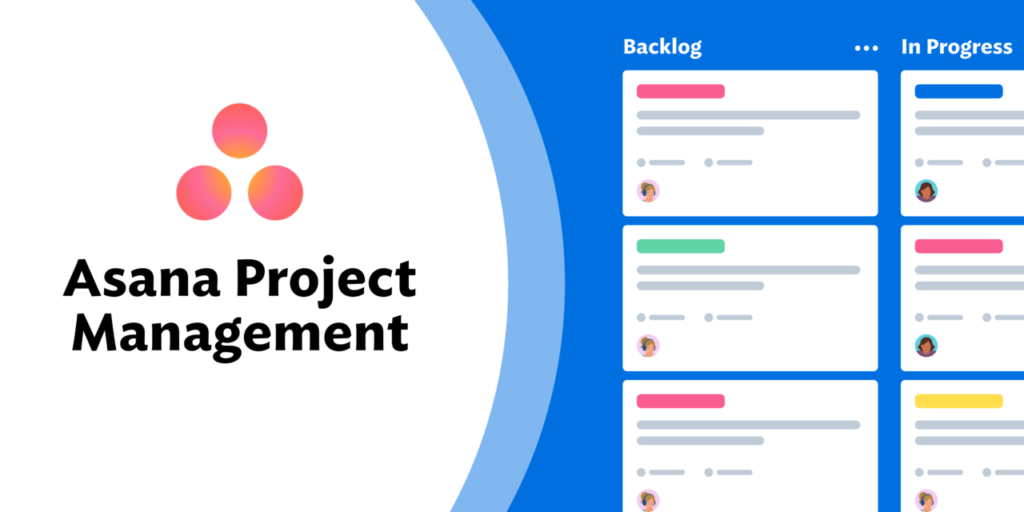 Asana is an easy-to-use, collaborative project management software that allows teams to stay organized and on top of their projects.
It provides users with a simple interface to manage tasks and communicate progress in real-time. From project timelines to shared calendars, Asana helps keep everyone in the loop on projects by making it easier to assign tasks, set deadlines, track progress, and collaborate.
It also provides users with powerful analytics tools for measuring performance so teams can better optimize their workflow and make decisions faster.
With features like team inboxes for comments or questions on tasks, powerful search tools for finding information quickly, as well as archiving capabilities for long-term project records or notes from past conversations—Asana has everything one needs to keep projects running smoothly and efficiently.
Features
Team Organization: Asana allows users to create teams, assign tasks to team members, view a unified dashboard of all related tasks and projects, and manage team workloads.
Task Management: Users can plan projects in detail with nested task lists, attach files and comments to specific tasks, set due dates and priority levels for tasks, track task progress with workflows and tags, and review completed workflows in one centralized location.
Advanced Reports: Asana's reporting capabilities enable users to monitor project timelines across multiple teams or collaborations as well as individual performance records such as time spent on each project or task completion rate over time.
Notifications & Reminders: Automated email reminders ensure that everyone is informed about upcoming deadlines, overdue tasks, or changes that may affect their responsibilities within the project.
Custom Dashboards & Workspaces: The customizable dashboards give users quick access to their most-used projects and an overview of upcoming deadlines instantly on the home screen without needing to search for them from other locations around the app interface.
Pros
Optimizes large-scale project management, allowing teams to work together more efficiently.
Automates team communications and allows easy tracking of tasks with customizable workflow.
Streamlines communication between teams and improves visibility into task progress.
Offers a wide range of powerful features designed specifically for businesses with multiple users, including Gantt charts, kanban boards, and resource planning tools.
Cons
Optimizes large-scale project management, allowing teams to work together more efficiently.
Automates team communications and allows easy tracking of tasks with customizable workflow.
Streamlines communication between teams and improves visibility into task progress.
Offers a wide range of powerful features designed specifically for businesses with multiple users, including Gantt charts, Kanban boards, and resource planning tools.
Pricing
Basic $0/month
Premium $10.99/month
Business $24.99/month
---
10. Redbooth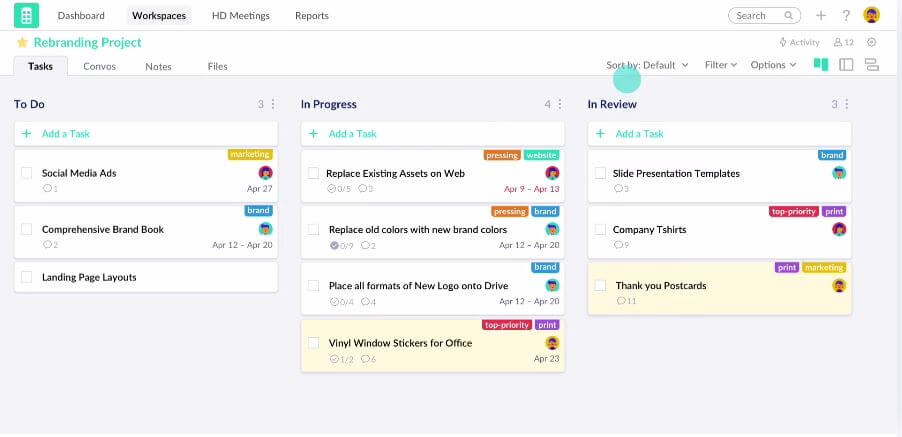 Redbooth is an easy-to-use team project management app designed for any size of business. It allows you to assign tasks to individual members, set deadlines, and track progress in real time with its intuitive dashboard.  
The app also features project statistics so you can easily identify which areas of your team need improvement or require more attention.
Additionally, Redbooth has an integrated messaging system that allows collaborators to communicate and provide feedback quickly, reducing the time it takes to complete a task and increasing productivity overall.
With its collaboration tools such as file sharing, commenting, calendars, Gantt charts, and much more – Redbooth ensures that teams are working together efficiently without sacrificing their own productivity levels.
Features:
Task Management: Redbooth's task management feature allows users to organize, prioritize and assign tasks on projects. This includes creating checklists, attaching files, and setting due dates with the ability to search through tasks quickly and efficiently.
Team Collaboration: Through the team collaboration feature, teams can communicate easily through comments, video calls, or chat with other members of the project. Redbooth also provides real-time updating of team progress in order to keep everyone on the same page throughout a project's duration.
Project Tracking & Reporting: With Redbooth's powerful project tracking capabilities, users are able to analyze their progress using a wide range of reporting options such as daily activity reports and interactive graphs for an extra layer of performance visibility into any specific project or team member working on it.
Integrations & API Access: Integrating existing tools is easy with Team Task Manager from Redbooth which offers seamless integration with popular applications such as Salesforce, Dropbox, Google Drive, etc., while also allowing customers access to their rich APIs which allows developers rapidly build custom integrations within minutes(example Zapier).
File Sharing & Storage: With file sharing and storage capabilities built right into App users can easily store and share important documents securely at a single location so that all stakeholders have quick access whenever needed without having to hunt for it throughout various folders or email inboxes.
Pros
Enhances team collaboration by allowing users to assign tasks and manage workflows across teams.
Automates task reviews and updates with customizable notifications.
Integrates with a range of third-party applications to streamline productivity.
Offers project visibility that can be tracked in real-time.
Supports remote working and helps keep track of employee progress, accountability, motivation, and engagement.
Cons
Redbooth's team task manager app can sometimes be difficult to use, making it hard for new users to understand the features.
The UI can be confusing and slow at times.
The lack of customization options may make it difficult to tailor the app to meet individual needs.
It has limited integration with third-party apps which can limit its capabilities.
Pricing
Pro $9/month
Business $15/month
Enterprise custom/month
---
11. Celoxis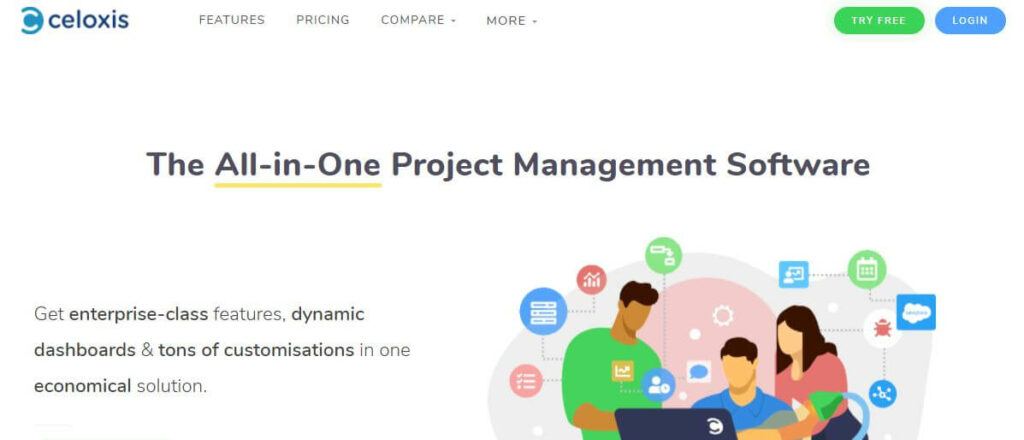 Celoxis project management software is a comprehensive and powerful tool that helps businesses manage their projects and resources more efficiently.
It offers features such as project scheduling, task management, resource planning, time tracking, budgeting and forecasting, real-time analytics and reporting, collaboration tools for improved communication, a delegation of tasks, and rights to team members with flexible access roles.
This allows teams to stay on top of their projects from conception to completion. Celoxis also supports Agile project delivery methods as well as waterfall-style flows. The software can be tailored to any organization's style of working from small startups to large enterprise companies.
With user-friendly features like drag-and-drop Gantt charts and customizable workflows, Celoxis makes it easier than ever before for teams to coordinate complex projects in one place without the need for multiple tools or spreadsheets.
Features
Resource Management: Celoxis offers powerful resource management capabilities that allow users to manage their resources in an orderly manner, such as assigning tasks to specific resources and tracking the utilization of employees, contractors, and suppliers.
Project Tracking & Scheduling: The software provides advanced scheduling tools that enable users to plan, track and visualize project progress over time in a unified view which enables them to better anticipate delays or changes in cost or quality.
Collaboration & Communication Tools: Celoxis also features interactive dashboards with built-in chat, email notifications, and discussion boards for greater communication between team members on tasks and projects. Users are able to assign tasks, send messages and monitor task progress in real-time through this feature allowing organizations to be agile while managing projects effectively.
Reports & Analytics: Celoxis also has comprehensive reporting options with built-in analytics capability helping teams measure performance across multiple dimensions including milestones, hours budgeted vs actuals, etc., allowing for informed decision-making within teams as well as at executive-level meetings
Risk Management: Celoxis reduces risks associated with projects by providing risk assessment combined with effort estimation for faster identification of potential problems leading up to the launch date of a project thus preventing last-minute surprises from damaging the timeline or budget set out for a project
Pros
Intuitive and user-friendly interface.
Flexible enough to handle projects of any size or complexity.
Variety of features such as task management, resource management, Gantt charts, project analytics, and reporting tools, budget and financial tracking systems, etc.
Cons
High Cost: Celoxis is quite expensive compared to other project management software solutions.
Limited Resource Management Features: Features like time tracking and resource allocation are missing in Celoxis.
Poor User Interface & Inflexible Dashboard Layout: The user interface of the tool can be difficult to use. Additionally, it's not possible to customize the dashboard layout as per user needs.
Pricing
Cloud $22.50/yearly
On-Premise Billed once/Contact
---
12. ClickUp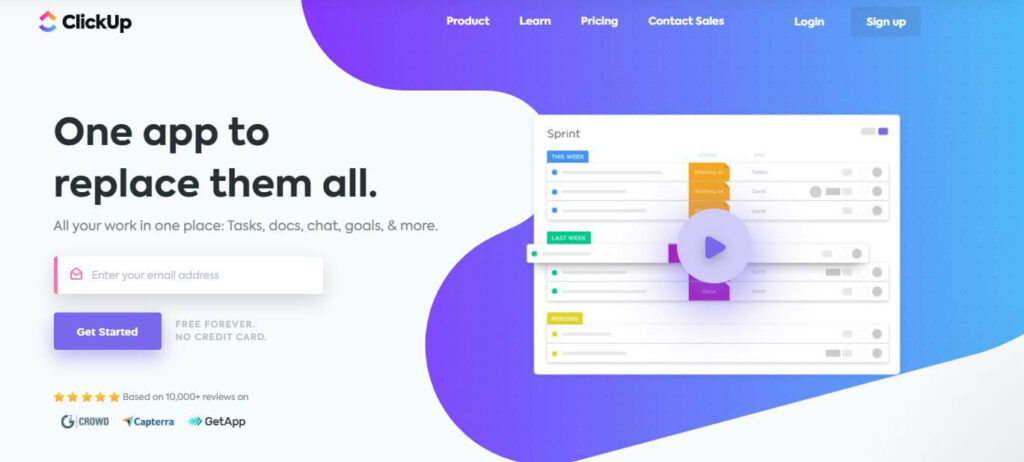 ClickUp is a comprehensive project management app platform that provides an alternative to traditional task boards.  
It offers many features that are lacking from other systems such as customizable tags, advanced search functions, automation tools, real-time collaboration capabilities, and more.
Click Up also boasts its ability to be used for any size of organization including large corporations or small workgroups. The interface is designed to be incredibly user-friendly with drag-and-drop editing, custom fields, and filters that can give a detailed overview of any project or team's progress.
Users can assign tasks easily between multiple projects and keep track of deadlines with reminders and notifications. Additionally, integration with other platforms like Slack and GitHub through the use of Apps enables users to collaborate regardless of their location or devices being used.
With Click Up's flexibility in terms of customization options as well as reporting metrics available it is becoming increasingly popular among remote teams who rely on effective task management processes to remain organized despite the various time zones they may occupy worldwide.
Features:
Collaboration Tools: Share files, assign tasks, and make comments with team members in an organized workspace.
Gantt Charts: View task progress and dependencies on a timeline for better project management and scheduling.
Task Management: Organize tasks into boards or lists with tags, due dates, checklists, and more to keep your project on track.
Automation: Automate manual processes like assigning tasks when someone joins a team or automatically moving a task from one list to another when it's completed.
Resource Management: Assign resources to tasks so you can budget time and manage workloads more efficiently across the entire organization
Real-time Notifications: Get notified of changes as they happen so everyone stays up-to-date on the latest developments within their project or organization
Analytics & Insights: Gain actionable insights into your team's performance with advanced reporting capabilities
Pros
Intuitive and user-friendly interface that makes it easy to manage tasks
Notifications help keep track of deadlines, assignments, and other important updates.
Ability to create custom project boards with labels, comments, due dates, and more.
Offers a free tier which is ideal for smaller teams or individuals just starting out with task management platforms.
Multiple integrations are available so users can connect Click Up with their favorite tools for even more productivity.
Great mobile apps for iOS and Android devices make it easy to stay on top of tasks no matter where you are.
Cons
Limited integrations: ClickUp is not compatible with many of the popular project management systems.
Lack of built-in reports or dashboards: ClickUp does not provide any native reporting capabilities, making it difficult to track progress or monitor performance.
Difficulty setting up complex projects: ClickUp can be challenging for users who are looking to set up more intricate projects.
Pricing
Free Forever $0/month
Unlimited $5/month
Business $12/month
Business Plus $19/month
Enterprise custom/pricing
---
13. Proworkflow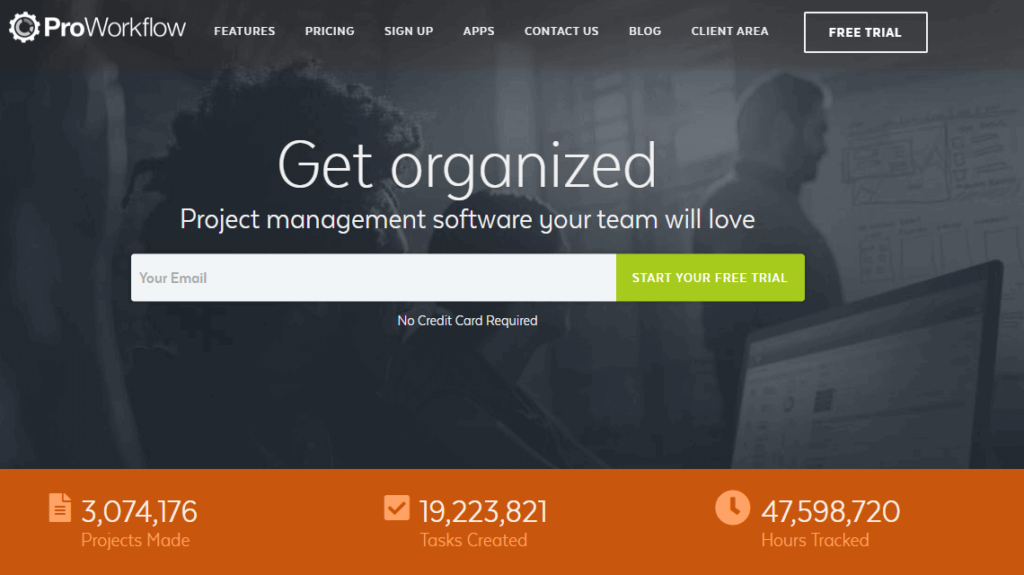 Proworkflow is a powerful project management software system. It helps teams and organizations better manage their workflow, projects, and tasks across multiple departments.
Here are the top benefits,
Efficiently organize data and track progress on projects and tasks
Assign responsibilities to team members
Set deadlines for the completion of projects or tasks
Record time spent on jobs or tasks by team members
Generate detailed reports and graphs to track performance over time
Overall it makes task assignment and project tracking much simpler and straightforward.
Proworkflow also allows users to add additional features such as discussion boards for collaboration or forums for sharing information with other users. This added flexibility makes it possible for even small businesses that might not have the resources available to them otherwise to benefit from this robust project management software solution.
Features:
Project Management: Proworkflow project management software helps users easily manage projects, assign tasks and track progress.
Time Tracking: This feature allows users to track time spent on each task or project and also set goals for billable hours expenditure of an individual or team members.
Resource Management: The resource management feature enables users to accurately allocate resources according to the demand of a project in order to optimize the speed of its completion while taking into account factors such as cost, skillset, and availability of the personnel involved in it.
Subscriptions & Billing: ProWorkflow software is available through monthly subscription packages that are tailored according to the client's needs along with other features such as prorated billing, invoicing, etc. Additionally, the company offers discounts for larger volume subscriptions from time to time.
File Sharing & Storage: The file sharing option makes it easy for team members working remotely over various devices by allowing them to share files quickly either for viewing or editing purposes. Similarly, multiple layers of encryption provide secure storage solutions which can be tracked every time there is a change made by any member associated with the project.
Reports & Analytics: The reporting feature provides quick insight into how well your team is performing against its targets through real-time insights and regularly updated reports giving you clear objectives. Additionally, analytics allows corporations to drill down data within selector periods making it easier to graph trends that help predict future performance.
Pros
Cut down on wasted time with transparent task tracking
Leverage powerful analytics to get detailed insights into your projects
Easily integrate with other popular productivity tools and software suites
Create tasks quickly, assign them within seconds, and track progress in real-time
Automate mundane processes to free up more time for strategic thinking
Cons
It can be difficult for non-technical users to get up and running.
The learning curve can be steep compared to similar software.
The interface lacks intuitiveness and may not be as user-friendly as some other project management solutions.
Pricing
Professional $20/month
Advanced $30/month
---
14. Teamwork Projects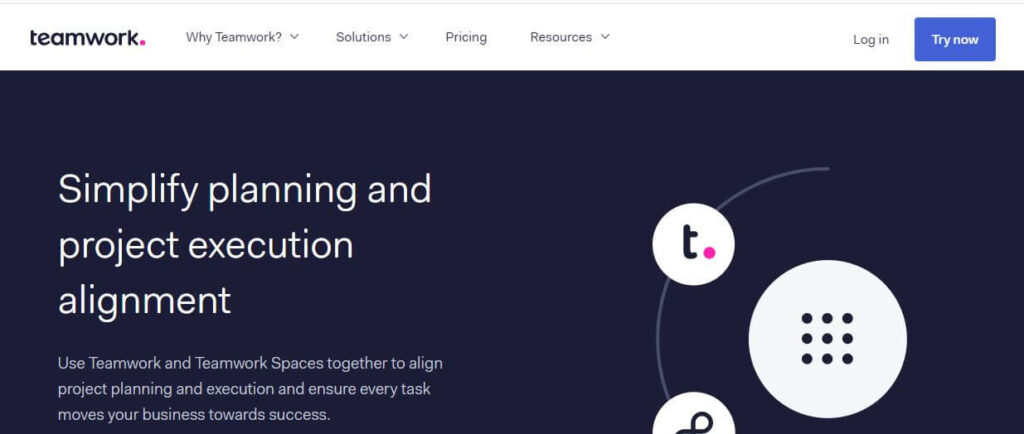 Teamwork Projects is a project and team management software that helps organizations streamline their projects, tasks, conversations, time-tracking activities, and more.
Designed for teams of all sizes, it provides intuitive tools to help you plan work in advance, manage tasks and collaborate in real time. Through its easy-to-use dashboard interface, you can visualize your projects from start to finish with ease.
The software also allows teams to assign tasks to members based on skill set or availability while allowing quick access to reports generated by the system. Additionally, Teamwork Projects features automated notifications so everyone can stay informed of progress made by the team without needing manual checking or reminders.
With Teamwork Projects keeping track of all areas of your project becomes an easy task making sure nothing slips through the cracks!
Features:
Create and Manage Teams: Teamwork Projects will allow users to create and manage teams of any size. Users can quickly add members with custom roles, assign tasks, share files, and collaborate on ideas within the team environment.
Task Management: Teamwork Projects provides a powerful task management system that allows users to set deadlines, and priorities, track progress, assign tasks, and monitor the performance of their teams. It also supports project templates for easy onboarding of new projects.
Document Sharing & Collaboration: It has an integrated document-sharing system that makes it easy for users to upload documents, collaborate with their colleagues in real time and get feedback on drafts without leaving the application interface itself.
Milestone Tracking: With Teamwork Projects' milestone tracking feature users can track milestones along every step of their project timeline so they know when each phase needs to be completed in order to meet overall objectives easily meeting deadlines more efficiently than ever before!
Time Tracking & Reports: Developers can complete assignments quickly and accurately by tracking time spent on each task or project with their built-in stopwatch timer feature then generate comprehensive reports from those entries that show how much time is being invested in different areas of your business or development process!
Gantt Charts & Scheduling Tools: Build fast Gantt charts which allow users to visualize project timelines at a glance and then use scheduling features like rescheduling mode or dependency checker to help ensure work stays organized as projects move forward!
Pros
Allows users to easily create projects and assign tasks, add team members, set deadlines, and receive notifications whenever a task is completed.
Provides real-time visibility into the progress of all ongoing projects in the organization.
Automatically creates reports on project activity for better decision-making.
Integrates with popular tools like G Suite, Slack, Jira, and more for a smooth workflow experience.
Cons
Lack of customizability in the user interface, making it difficult to personalize the experience.
Limited integration options with other tools.
Limited reporting capabilities and no real-time analytics.
Lack of customer support services and timely responses to queries.
Pricing
Free Forever $0/month
Starter $5.99/month
Deliver $9.99/month
Grow $17.99/month
---
15. TeamGantt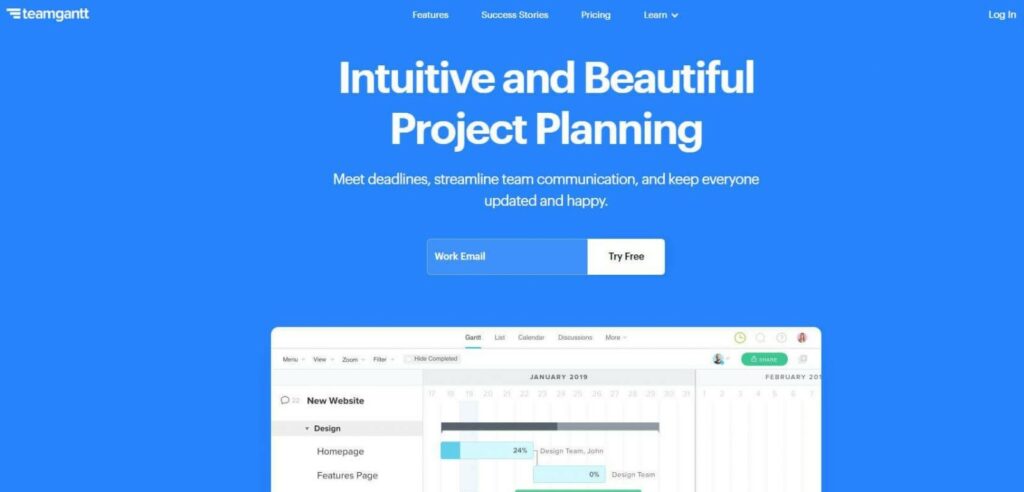 TeamGantt is a Gantt chart software that helps teams plan, track, and collaborate on projects. It enables users to create visuals of their project timeline by dragging and dropping tasks into interactive charts.
Users also have access to advanced features like task dependencies, resource management, custom filters, collaboration tools, and more.
TeamGantt makes it easy for teams to see progress at a glance while managing complex tasks and workflows. Teams can assign tasks with due dates, add resources and comments, set priorities, and view projects in the timeline or calendar view.
With the ability to link documents directly within the project plan workspace users can get everyone on the same page quickly while avoiding double bookings or overlapping tasks which saves time when planning out projects associated with multiple stakeholders.
Features:
Easy-to-Use Interface: TeamGantt offers an easy-to-use drag-and-drop interface that allows users to quickly create a professional-looking Gantt chart in minutes, without any specialized software knowledge or design skills.
Task Management: Users can assign tasks to team members, track progress and keep projects on track with built-in task duration, milestones, and deadlines.
Resource Planning & Scheduling: Users can easily identify the resources required for each project, assign those resources accordingly and make sure no project overruns the budget or exceeds its timeline by taking advantage of the resource planning capabilities of TeamGantt.
Collaboration Tools: TeamGantt allows users to collaborate on projects in real-time by sharing files and documents as well as assigning comments alongside tasks; users can even send out email updates when a task is created or modified within the system so everyone stays updated on changes happening within their project tasks or structure!
Reporting & Analytics: Get insight into your project's performance with powerful analytics powered by beautiful visualizations which helps you measure progress at a glance for any given period of time.
Pros
Easy-to-use interface with drag-and-drop functionality for quickly creating a Gantt chart.
The intuitive display allows you to see your project timeline, tasks, and resources all at once.
Collaborate in real-time with team members and stakeholders to ensure projects are completed on time.
Automated notifications help keep everyone updated on project progress.
Cons
Lack of functionality with collaboration: TeamGantt software does not offer the same level of in-built sharing and collaboration features as other more expensive applications.
Limited flexibility: The software offers limited visual customization options for users, which can make it difficult to tailor their project plans to their individual needs.
Pricing
Lite $19/month
Pro $49/month
Enterprise $99/month
---
16. Jira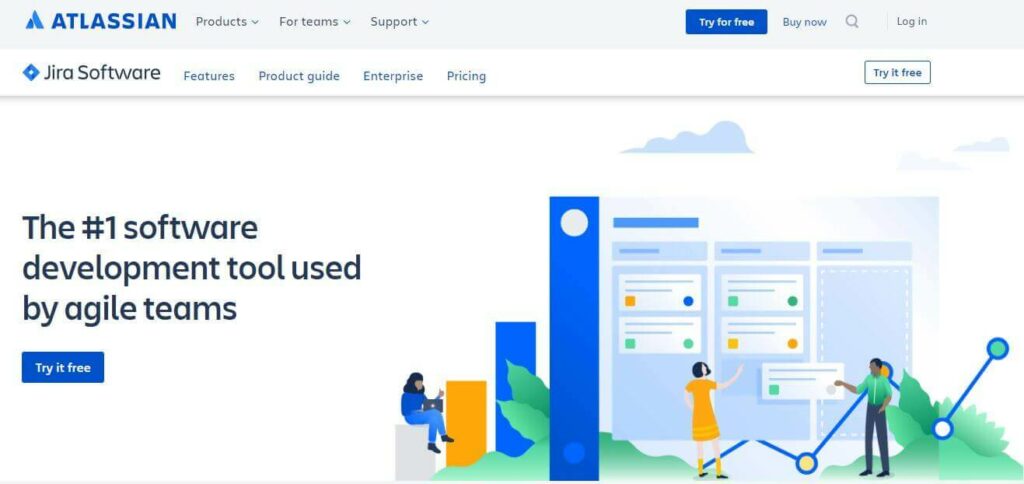 Jira is a comprehensive project management software designed to make collaboration between users easier. It provides users with a range of features, including project tracking and scheduling, issue tracking, customizable workflow support, powerful search capabilities, and third-party integration.
With its intuitive user interface and numerous customization options, Jira makes it easy for teams to efficiently organize tasks and keep track of their progress on any project – big or small.
Additionally, with its mobile app version available for iOS and Android devices as well as its web client version, Jira provides users with anytime access to their work from virtually anywhere in the world. All in all, Jira provides an effective toolset that can help teams boost productivity by enabling them to focus on the most important tasks at hand.
Features:
User Management: JIRA provides users with an intuitive and powerful user management system, allowing administrators to easily add, delete and edit users. It also offers granular access control for individual users or groups, enabling teams to filter tasks by user permissions or roles.
Issue Tracking & Organization: JIRA allows administrators to quickly create custom issue types to suit their needs, such as bugs, improvements, and feature requests. Each issue can be tracked through its life cycle using JIRA's customizable workflow engine. This ensures that every issue is tracked efficiently while keeping all related information organized in one place throughout its lifecycle.
Agile Project Management Functionality: With the help of the agile project management tools offered by JIRA, teams can easily handle sprint planning, task assignment, and tracking progress across multiple projects at once – making sure that your team meets deadlines without any issues
Automation & Customization Options: The automation features of JIRA allow you to set up automated triggers for various events like creating a new task when an existing one is completed or sending out notifications about changes in a project status
Additionally, it offers extensive customization options so administrators can tailor the interface according to their preference as well as integrate with third-party applications for additional functionality
Comprehensive Reporting System: Keep track of your team's performance with comprehensive reporting features built into JIRA including real-time insights from dashboards and detailed analytics reports giving you up-to-date statistics on how productivity levels are progressing over time.
Pros
Easy to use and intuitive interface for efficient collaboration between teams
Comprehensive project tracking capabilities provide visibility into every aspect of a project
Automates workflow processes, streamlines task management and simplifies complex workflows
Supports multiple user access levels to ensure secure data access and team communication
Robust reporting capabilities allow users to keep track of progress in real-time
Cons
Jira may require intensive setup, particularly for large projects.
It can be difficult to use the full version of JIRA for small teams.
Navigation through menus and a lack of clarity in some areas can make initial onboarding tricky.
The user interface does not provide the best experience for all users and could be improved with better customization options.
Pricing
Free – $0/month
Standard – $7.75/month
Premium $15.25/month
Enterprise Custom/month
---
17. Insightly

Insightly is a project management tool that helps businesses better manage multiple projects and tasks simultaneously. It enables users to monitor tasks and resources, create detailed reports, set up pipelines to track contacts and leads, collaborate with other stakeholders on projects in real-time, and more.  
With Insightly's cloud-based platform, users can assign tasks with deadlines and receive email notifications when those deadlines are reached.
Additionally, the software offers built-in CRM functionality that allows users to store customer contact information in one centralized place for easy retrieval.
With its intuitive interface and comprehensive feature set, Insightly provides an efficient way for both small businesses and large organizations alike to stay organized while completing their projects quickly and efficiently.
Features
Task Management: Insightly offers powerful task management capabilities to help keep projects organized and on track. Users can create tasks for any project, assign them to team members or individuals with deadlines, monitor progress with tags and filters, view upcoming tasks in the calendar view tool, and collaborate on tasks in an integrated discussion thread.
Contact Management: Insightly allows users to store all contacts related to their business processes in one database – from customers, vendors, or colleagues; then segment contacts by groups & tags for better communication & engagement opportunities.
Resource Scheduling: This feature facilitates resource planning based on staff availability & current workloads across different teams & departments. It also enables users to schedule any type of resource like employees' skill sets/qualifications into specific tasks or activities associated with a particular project timeline.
Custom Reports: With this feature, users can design highly customized reports that present information tailored to their requirements at-a-glance analytics or export data into an Excel format for further analysis and manipulation.
Collaboration Tools: These tools enable managers & team members to communicate easily within the application through discussion threads sharing files & feedback thus helping concerned parties coordinate their work more effectively resulting in improved productivity of the entire organization as well as timely execution of each task allocated for a project.
Unlimited Storage: Insightly gives its users unlimited access to file storage space so they can organize files including image videos, audio documents, etc conveniently which makes it easier for them whenever they need access to those files.
External Access: This feature allows administrators to provide limited read-only permissions that come in handy when you want third-party contractors/vendors performing certain tasks to have access to some parts of your project but the not whole thing
Pros
Easy to use with intuitive design
Highly versatile and customizable
Ability to track customer and project data in one place
Automated task notifications and reminders
Detailed analytics and reporting capabilities
Collaboration tools support remote work processes
Cons
Not suitable for large-scale projects due to its lack of scalability
Limited third-party integration options
Lack of functionality in areas such as task management and collaboration tools
Limited customization options
No built-in time tracking or reporting features
Pricing
Plus $29/month
Professional $49/month
Enterprise $99/month
---
18. ProjectManager.com

ProjectManager.com is a cloud-based project management software specifically designed to help businesses and organizations of all sizes manage their projects more effectively. The platform provides a comprehensive suite of tools that enable teams to collaborate, streamline workflow processes, and optimize daily operations.
One of the key benefits of ProjectManager.com is its ease of use. The platform has a clean and intuitive user interface that makes navigating between projects and tasks easy. It also offers a range of customization options, enabling users to tailor the software to meet their specific needs.
In addition, ProjectManager.com provides a range of features and integrations that are designed to help teams work more efficiently. The platform offers tools for task creation and assignment, progress tracking, resource management, collaboration, time tracking, Gantt charts and timelines, and reporting and analytics.
With task creation and assignment, users can create new tasks, assign them to team members, and set deadlines for completion. This feature enables teams to stay organized and ensures everyone knows what to do and when. Real-time progress tracking enables teams to monitor progress and identify potential issues early on.
Resource management is another key feature of ProjectManager.com. With this feature, teams can allocate resources, such as team members or equipment, to specific tasks or projects. This helps ensure that resources are used efficiently and prevents delays or overruns.
ProjectManager.com also includes a range of collaboration tools that enable team members to communicate and work together more effectively. Users can share files, send messages, and leave comments, all within the platform. This feature streamlines communication and ensures that everyone is on the same page.
Time tracking is another important feature of ProjectManager.com. This feature enables users to log time spent on specific tasks or projects, which can be useful for billing clients and tracking team performance and identifying areas for improvement.
Gantt charts and timelines provide a visual representation of project timelines and deadlines. This feature can help teams identify potential issues early on and adjust project timelines as needed.
Features
Task creation and assignment: ProjectManager.com provides users with a streamlined process for creating and assigning tasks to team members. This feature helps ensure that every member of the team is aware of what needs to be done, and who is responsible for completing it. It also helps managers track progress and deadlines, and quickly identify any issues that may arise.
Real-time progress tracking: This feature allows team members to see the progress of their tasks in real-time. It provides project managers with an up-to-date overview of the entire project, ensuring that everything is running smoothly and on schedule. This helps to reduce the risk of delays and ensures that everyone is aware of what is happening at any given time.
Resource management: With ProjectManager.com, users can easily manage their resources, including people, equipment, and materials. This feature helps ensure that resources are allocated appropriately and effectively, minimizing waste and maximizing productivity.
Collaboration tools: ProjectManager.com's collaboration tools enable team members to work together more effectively, regardless of where they are located. This feature includes communication tools, file-sharing capabilities, and project notes, all of which can be accessed from a centralized location.
Time tracking: This feature helps users keep track of the time spent on each task, allowing them to accurately bill clients and understand how long tasks take to complete. It also helps managers to identify which tasks are taking longer than expected and take appropriate action to keep the project on schedule.
Gantt charts and timelines: Gantt charts and timelines are visual representations of a project's tasks and deadlines. With ProjectManager.com, users can easily create and view Gantt charts and timelines, enabling them to understand the project's overall schedule and identify any issues that may arise.
Pros:
Easy-to-use interface
Robust project management tools
Advanced analytics and reporting capabilities
Excellent customer support
Integrates with a range of other applications
Cons:
Some features can be complex to use
Limited customization options for task lists
Pricing:
Personal: $15/month (billed annually)
Team: $20/month per user (billed annually)
Business: Contact for custom pricing
---
19. Kissflow Projects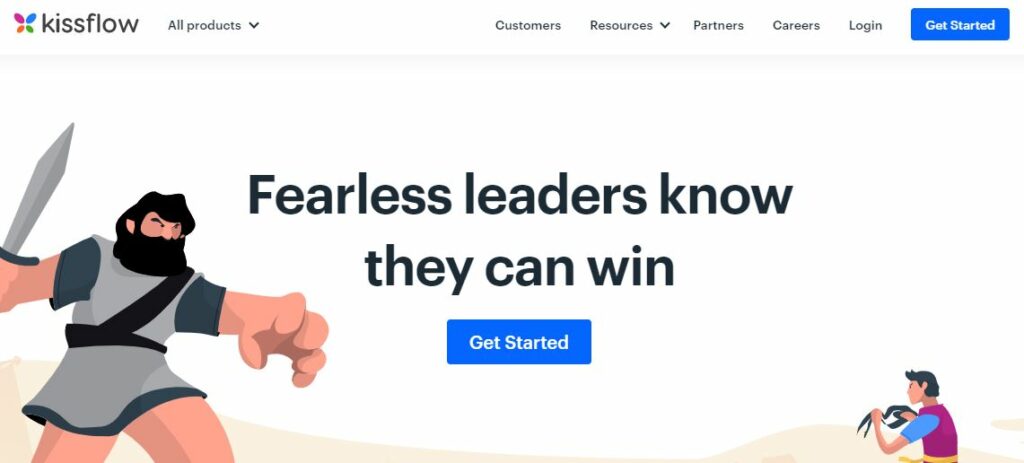 Kissflow Projects is a cloud-based project management software designed to simplify project planning, execution, and monitoring. It caters to businesses of all sizes, helping them to manage resources, deadlines, and budgets effectively. 
With its user-friendly interface and robust features, Kissflow Projects has gained popularity among project managers worldwide.
Features:
Task Management: Kissflow Projects allows users to create, assign, and manage tasks efficiently. It also provides the ability to set deadlines, prioritize tasks, and monitor progress.
Collaborative Workspace: The software facilitates collaboration between team members with its real-time communication tools, file sharing, and comment features.
Time Tracking: Kissflow Projects enables users to track time spent on tasks, allowing for better resource management and accurate billing.
Gantt Charts: The platform includes Gantt charts for visualizing project timelines, dependencies, and progress.
Reports and Analytics: Kissflow Projects offers comprehensive reporting and analytics tools to help users monitor performance, identify bottlenecks, and make data-driven decisions.
Pros:
Intuitive User Interface: Users appreciate the simplicity and ease of use of the software's interface.
Comprehensive Feature Set: Kissflow Projects offers a wide range of features suitable for various industries and project sizes.
Scalability: The software is suitable for businesses of all sizes, from startups to large enterprises.
Integrations: Kissflow Projects integrates with popular tools such as Slack, Google Workspace, and Microsoft Office 365, making it easy to incorporate into existing workflows.
Cons:
Limited Customization: Some users have mentioned that the software lacks advanced customization options for specific industries or project types.
Mobile Apps: While Kissflow Projects offers a mobile app, some users have reported issues with its functionality and user experience.
Pricing:
Kissflow Projects offers a free trial, followed by two pricing plans:
Standard Plan: $7.99 per user per month (billed annually), including core features, unlimited projects, and 50 GB storage.
Enterprise Plan: Custom pricing, offering advanced features, custom integrations, priority support, and dedicated account management.
---
What makes nTask the best PMS tool for 2023?
nTask is a powerful project management system (PMS) that will be the best PMS tool for 2023. It provides users with an easy-to-use interface that makes managing projects easier than ever before.
It also offers a comprehensive feature set which allows users to easily track progress, assign tasks, and monitor deadlines from one convenient location.
nTask has powerful collaboration tools to help teams work together efficiently. It offers multiple user roles so each team member can have unique access levels that are tailored to their specific needs. Additionally, it has inbuilt project templates which enable teams to quickly create their own custom plans in no time.
With its intuitive drag and drop design, individuals or teams can easily customize reports and visualize data like they never could before. Lastly, nTask's mobile app allows users to stay connected while on-the-go and make quick decisions wherever they are located.
---
Conclusion
In conclusion, the 17 Best PMS Tools of 2023 provide a wide range of features to help project managers improve their productivity and success. With so many options available, there is something for everyone to find the perfect tool that will best suit their needs.
Project managers should consider their current and future goals when selecting the right PMS tool for them in order to maximize their efficiency and increase the chances of success.