One of the most crucial aspects of any business these days is the art of mastering the performance management process.
It aids in employee development, talent development, manager relationship improvement, and increased responsibility within the organization.
That impact has a long-term effect on your business when multiplied by the entire staff.
While a robust performance management system will aid in goal achievement, enhance teamwork, and maintain employee engagement, it won't eliminate turnover. This is how it seems.
What Is The Performance Management Process?
Employees and management collaborate during the performance management process to plan, monitor, and assess each employee's objectives, long-term goals, job trajectory, and overall contribution to the business.
Since its beginning as a concept, performance management has changed. Performance management is increasingly being implemented continuously instead of as a yearly exercise. The objective is to make sure that staff perform well over the entire year and, in the process, resolve any problems that may emerge that could do so.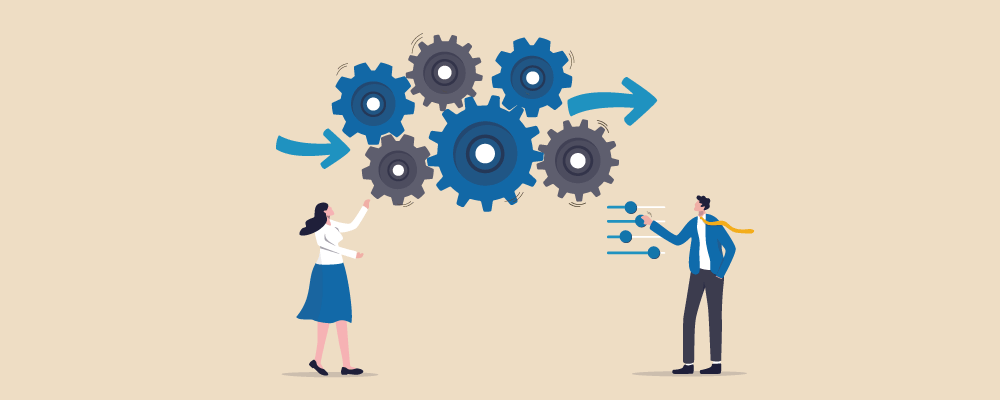 What Three Steps Make Up For The Performance Management Process?
Performance management is a thorough process, although it may be divided into three phases: coaching, corrective action, and termination.
Coaching
The performance management process' coaching phase establishes the tone for your business and your employees' success. To help employees improve, coaching entails training, setting standards and goals, providing two-way feedback, and working together. Later, more on this.
Corrective Action
Corrective action is the next stage of performance management if an individual isn't performing up to the standards and expectations of the job after receiving instruction from their manager.
To take corrective action, the management and employee must collaborate to identify the causes of subpar performance and create a strategy to address them.
Termination
Expelling an employee is the last step in the performance management process if coaching and corrective action don't help an employee perform better.
Even if it was a difficult choice, being fired can benefit the team spirit and allow you to get better at your termination.
Aspects of Performance Management Cycle
There are five main steps in the performance management cycle. Regardless of how regularly you evaluate employee performance, these actions are essential.
1. Planning
Setting and discussing goals with staff is part of this step. Depending on the performance management procedure used in your firm, you might want to give each of these objectives a percentage to assess how well they were achieved.
These objectives should be stated again when the individual is hired, even if they should have been stated in the job description to draw in quality applicants.
2. Monitoring
Managers must keep an eye on how well their staff performs in this phase concerning the objective. Continuous performance management enters the scene in this situation. With the appropriate performance management software, you can monitor your team's progress in real-time and make necessary adjustments and course corrections.
3. Developing
Utilizing the information gathered during the monitoring phase in this phase can help employees perform better. To boost performance or maintain excellence, it might be necessary to recommend refresher courses, give them a task that will help them advance their knowledge and performance at work, or change the plan for employee growth.
4. Rating
Ratings are crucial to assessing employee performance and making necessary adjustments. Periodically and at the time of the performance review, each employee's performance must be evaluated. These evaluations can be given for 360-degree feedback from peers and bosses alike.
5. Rewarding
To effectively manage performance and increase employee engagement, it is crucial to recognize and reward good performance.
You can accomplish this with a straightforward "thank you" through social recognition or with a comprehensive employee incentives program that consistently recognizes and honors exceptional performance inside the company.
Key Elements of Performance Management
Every firm's performance management procedure may have particular unique characteristics, but as Jo Rosser points out, every successful company maintains three fundamental principles in mind:
Although there may be differences in coaching strategies and techniques, everyone should use the same performance management procedure. Consistencies only serve to increase uncertainty and dissatisfaction.
Accuracy is crucial when capturing essential results throughout the performance management process. If necessary, you want your written narrative of the events to be unquestionable rather than implied. Those details are kept in one location by a program like Conversations.
To make your performance management process future-proof, prioritize agility rather than looking around every corner. You may adjust as the situation does.
When managers and employees are cooperating, performance management functions at its best. Engaged staff at all levels will enhance the process by assisting organizations in strengthening their coaching and avoiding disciplinary action and termination.
Making the performance management system simple is one way to keep staff interested in the process. Obstacles or laborious steps won't benefit the employee or the business.
A process for performance management is precisely that—a process. It calls on the managers and staff to actively participate; it is not a checklist or a passive duty.
Teams that work well together, motivated workers, and a culture that supports personal development are the results, making an effort worthwhile.
Conclusion
As mentioned, performance management is an essential process. However, it shouldn't be left to an HR manager or even the CEO of your company.
In fact, this should be done by someone from the team who works directly with employees and has full authority and autonomy to ensure no employee leaves the performance standards.