One of the most essential facts about the success or failure of a company, business, or even a team is how the entity in question treats its own people.
As we all know that the people developing your products and services are the most important resources at your disposal as a business or a company.
We have heard that before, only this time, while the "The Great Resignation" movement rages on, businesses worldwide are struggling to find new or even old resources to work for them.
Why is that? What happened?
Well, you surely remember the pandemic. When the pandemic started, these different companies and businesses laid off their employees or low-key suspended their services to save money.
While from a business point of view, this move was understandable. From a people management perspective, it was a nightmare because all of their employees were real people who needed money to survive and not robots that could be rebooted after the pandemic was over.
So, it all came down to people management. But what is it? Let's take a look.
What Is People Management?
People management is a compelling set of different practices encompassing all of the end-to-end processes included in the overall talent acquisition process, talent retention process, and talent optimization process while ensuring that the business is supported and the company's employees adequately guided.
You should know that people management is one of the critical sub-sets of human resource management and everything it contains.
This is why the process of people management covers all aspects of how people behave, grow, work and engage at work with each other.
And when the theoretical process is this complicated and elaborate, you need to make sure that the systems that have been employed to manage the people affect the total workings of the organization, are up-to-the-mark and are equipped to treat them as the individual puzzle pieces they are.
Here are some examples of the key pillars of people management.
Recruitment
Employer branding
Organization development
Performance management
Wellness
Safety
Employee engagement
Employee motivation
Benefits
Administration
Communication
Training
All these different pillars of people management weave the culture of a company or an organization and help the recruitment staff or the company to attract the right fit for their business or project.
Let's look at the key components of people management and find out what the whole process is.
Critical Components of People Management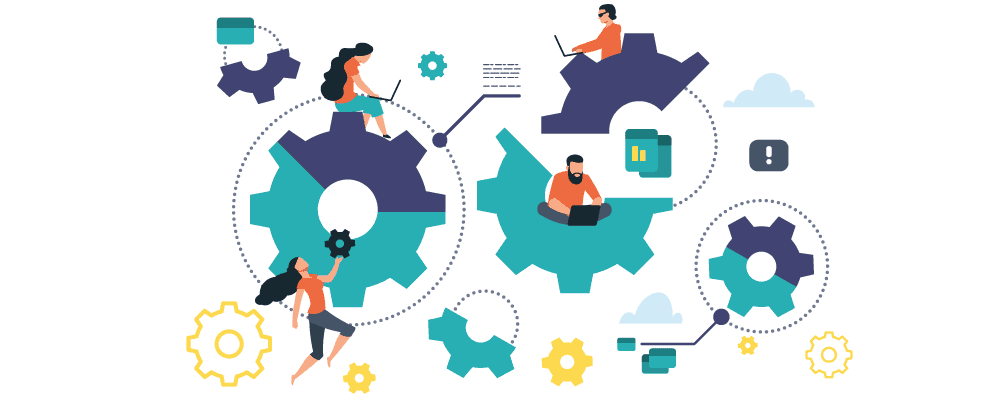 Here is a list of the 5 key components of people management that we will discuss in this article.
Create
Comprehend
Communicate
Collaborate
Confront
Let's look at all of these in detail and find out how they can shape the people management process for the betterment of the company and its workforce.
1. Create
If we treat the whole people management process as a linearly operating process system, it would undoubtedly begin with talent acquisition or creating an effective team.
One thing you need to understand is that the knowledge you have related to the purpose of every single member of the project development team and the overall development team is the key to success when it comes to people management and acquisition.
This is because the people that are going to be working for the company are the most important resources at your disposal, and when you don't have the right tools for a project, how are you going to succeed in a cut-throat market?
So, when the talent acquisition process starts, you must ensure that the recruitment platforms you select for hiring new talents are effective. Your identity as a professional employer that exudes trust is cemented in the market and in all candidates visiting that market.
All of this helps in an engaging candidate experience that benefits both parties.
Once you have selected the right candidate for the job and have onboarded them, your next step is going to be training them according to the needs and requirements of your company or team.
This investment in helping the candidates improve their skill sets increases their morale and builds a bond based on commitment and loyalty.
2. Comprehend
One of the most essential things ineffective people management processes is that you need to understand the people that make up the company or the organization.
You need to understand their motivations and personalities, and you need to do that on a personal and professional level.
This all falls under the category of empathy, active listening, and a people-first approach that helps you to form a much deeper mutual understanding with your employees on an individual level and as a collective.
You need to understand that all of the personnel on the team or in the company have different personalities, traits, likes, and dislikes, with many skill predispositions.
And when you work with such a diverse team, you need to spend time with each of them individually so that you can understand them effectively and not rely on the age-old strategy of 'management by walking around.
3. Communicate
Another great key point in the overall people management strategy is effective communication. How you communicate and interact as a team is how you work as one.
As a person in charge, you need to make sure that the team can use many effective communication channels to interact with each other so that there is an air of transparency from top to bottom and there are no blank spaces when it comes to communication.
4. Collaborate
When you work with a diverse team that is spread out and has different responsibilities according to the needs and requirements of the company, you realize that success doesn't come when a single employee works well. Instead, success comes when all the puzzle pieces collectively fall into place.
As an organization or even on a managerial level, you need to ensure that the team members from all the different parts of the business collaborate regarding the service or product in question.
This will help make sure that the information is spread evenly and no single team member or a team is burdened unfairly, you need to make sure that all of the individuals are assigned different responsibilities that they can easily achieve with effective team collaboration without burning out.
5. Confront
As a person in charge, you need to understand all of the different generational differences, working preferences, and actions. This is because people perceive things differently and engage with those issues with rightful diversity as well.
And if you are not careful and make the mistake of wrongfully understanding anything that they might throw at you, it can lead to assured conflict in the workplace.
Now, this conflict might be active and overt or passive and covert, but you need to realize that it can always fester into something ugly and critical for the company, and you need to resolve it ASAP.
Now let's talk about some of the best people management skills you can use with your employees or team members.
Best People Management Skills
Here are some of the best people skills that we are going to talk about in this article.
1. Trust Building
Trust-building is one of the best team-building skills at the top of the list.
It is a crucial skill to have, as the managers who inspire trust and motivation in their team members are more likely to have a team that trusts and respects the manager and the company.
This trust-building also helps them to think bigger for the company, and as they want to bring more value to the company and not sabotage it, they are more careful in their approach and are more sensible in their thinking.
This skill of trust-building is hard to acquire, but if you can do it, it could engender a culture of honesty and transparency throughout the organization for years to come.
2. Empathy
As a manager and as a human being, you need to embed empathy in your personality as soon as possible.
This people management skill will help you understand a problem or a specific scenario from the other person's POV so that you can deal with it differently and not ridicule your resource, which will cause animosity and decrease their morale.
This skill goes hand-in-hand with active listening, as the more you listen to your employees and understand their POV, the more you are going to think straight and deal with the problem in a non-confronting way towards your resource.
3. Appreciating
One of the most influential people management skills you need to perfect is the art of appreciation.
This is one skill that you as a manager should master for the company's future and the team's growth, as the team members or the resources that are appreciated in what they do for the company are literally going to take a bullet for the company.
The best thing about the appreciation process is that it is not even formal. You basically can say "thank you" or "well done" to your resource, and it can have a tremendous effect on the overall morale of the team and the individual.
Conclusion
This was a guide on what people management is and the key skills you must master to manage your resources better. If you want to add something to this blog, then email us, and we will look it over and get back to you.
More Resources For You: