Marketing Campaigns have been a part of the business world for a long time now. However, with rising competition and inventions, organizing marketing campaigns that are not only attractive but also result-driven is hard.
Whether, it is Nike's "Just Do it" or Wendy's "Where's the beef", brands have been coming up with tons of creative ideas for years now. Marketing campaigns are indeed are a great way of increasing brand awareness, connecting with your buyers, and driving sales.
However, great campaigns require more than just an idea. They require proper planning, strategies, and organization. Fortunately, the use of project management tools has made this journey a lot easier.
Therefore, in this blog, you'll learn what is a marketing campaign, its important components, how to create a great campaign, and ways of organizing marketing campaigns with nTask.
So, continue scrolling down to find ways of organizing your next best campaign!
What's a Marketing Campaign?
A marketing campaign is an organized and strategized process of promoting a product or raising brand awareness to measure customers' feedback. It's aligned with the goals of the company for the better attainment of the end goals.
Marketing campaigns use various channels to reach out to the audience including email, social media, television, print media, pay-per-click, etc.
Thus, marketing campaigns are run to bring out a specific result which consists of several series.
Marketing Campaign Example!
All MacDonald's billboards that you see around aren't a part of a marketing campaign. Some of them are just advertisements. Thus, a marketing campaign falls into a broader spectrum.
When you receive messages, emails, social media posts related to a new product or a slogan introduced by MacDonalds is surely a part of a marketing campaign. For example, Fancy a McDonald's? It was a campaign launched in the UK (2021). It highlights the fact the lighthearted moments and laughter are dull without MacDonald's burgers and fries.
Thus, if you witness emails, Instagram posts, billboards, or messages saying "Fancy a Macdonald's? You have observed a marketing campaign.
Joe Chernov, Chief Marketing Officer at Pendo.io says: "Good marketing makes the company look smart. Great marketing makes the customer feel smart."
Therefore, to retain customers, generate leads and boost up sales, a great marketing campaign is a must.
Now, that we know what is a marketing campaign, we should know that there isn't a single type of marketing campaign.
Fortunately, the world of marketing exists of various types of marketing campaigns. A company can use a combination of two or more to promote its products.
Types of Marketing Campaigns
Some of the famous types of marketing campaigns are:
Social Media Campaigns
Content Marketing Campaigns
Affiliate Marketing Campaigns
Paid Marketing/Advertising Campaigns
Influencer Marketing Campaigns
Product Marketing Campaigns
Brand Development Campaigns
User-generated content Campaigns
Awareness Campaigns
What are the Essential Components of a Marketing Campaign?
Before creating a marketing campaign, you must know the following essential components on tips for clarity:
Goals and Objectives: Before going on with any plan, you should clearly define your goals and objectives. What you hope to achieve out of it. This would help you to draw a clear roadmap and stay focused. Moreover, you should be clear on the KPIs you'd be using to measure your results.
Targeted audience: Once you know the "what", you should know the "who" of your campaign which is the targeted audience. Having a buyer's persona helps to know your audience better and reach out to them on a more personal level.
Marketing channels: So, the next essential component is knowing which marketing channels are you going to use to run your campaign. For example, if it's a social media campaign then are you going to use Facebook, Instagram, Twitter, etc.
Budget: This is the most important component of a marketing campaign. Every company big or small prefers to keep things cost-effective. Thus, it is pivotal to measure your ROI before running a campaign.
Content: It is the type of content you are going to use to run your campaign. Video, blogposts, banners/slogans are some content formation methods. For a great campaign, it is advised to use a combination of these.
Resource Allocation: Allocate the best-suited team for the task. Convey to them your goals and objectives and brainstorm with them for organizing marketing campaigns filled with creativity and invention.
How to Create a Great Marketing Campaign?
Here are a few steps you can follow to create and manage a great marketing campaign!
Create a roadmap on how to run your campaign
Define your goals, purpose, and targeted audience
Establish metrics for measuring your campaign
Setup a team for your campaign
Choose the marketing channels you'd be using
Set a timeline
Monitor the progress
Importance of PMS for Organizing Marketing Campaigns
Organizing marketing campaigns manually is old skool now. In the 2021 report, 71% of people believed that employees will need more project management skills. Moreover, 72% believed that the use of collaboration tools will increase immensely in the coming years.
Thus, many organizations are becoming aware of the use of a project management tool for organizing and streamlining tasks.
The fact is that organizing marketing campaigns requires a lot of planning and process. However, maintaining long excel sheets and word docs is no longer needed. A project management tool can help you ease your process in various brilliant ways.
Therefore, what's better than nTask to help you with that, right?
So, now let's see how nTask can help you in organizing marketing campaigns in the most agile way!
Organizing Marketing Campaigns with nTask
Here is a list of the nTask tools that can help you in effectively running your next marketing campaign!
1. Marketing Campaign Calendar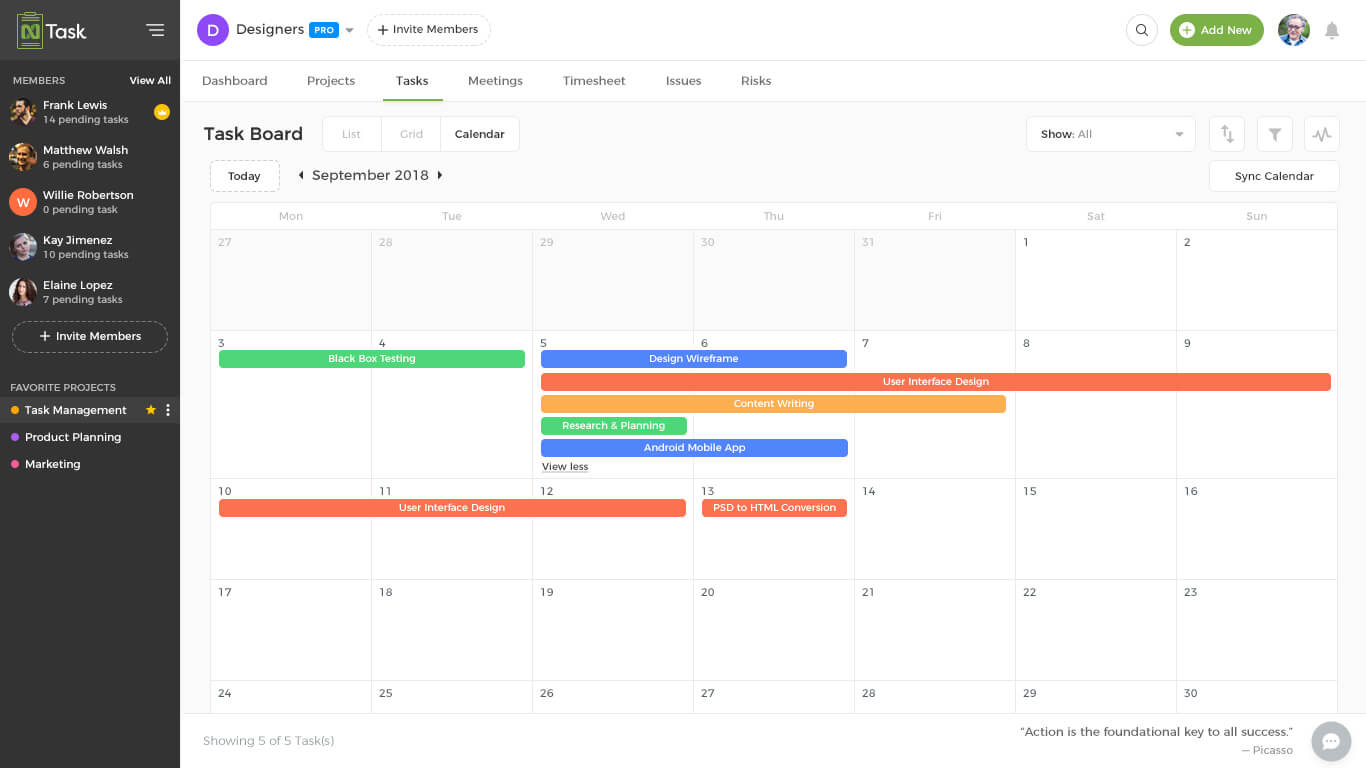 Having a calendar is a great way of jotting down all your ideas under one big space. nTask features a shared calendar where all team members can see the upcoming tasks, their deadlines, and other relevant information.
A calendar is a great way of staying ahead of your timeline and attaining collaborative brainstorming. It aids in avoiding repetitive tasks and helps in keeping up with deadlines.
Thus, with nTask's Google Calendar integration you can mark important holidays, milestones, the launch of a new product, company's events, etc.
2. Improve Collaboration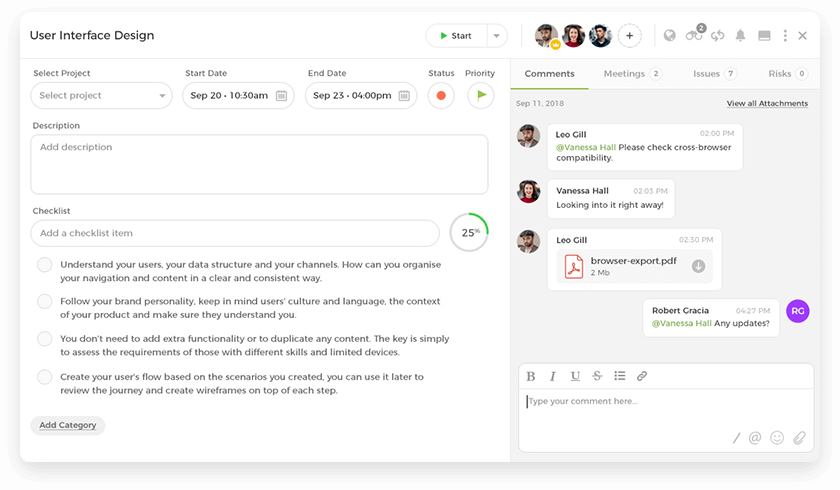 Having large teams can be a hustle some to handle. Collaboration is one of the basic features needed to keep your teams productive and proactive.
nTask can help you to improve team collaboration while organizing marketing campaigns. We understand that marketing campaigns require you to have constant interaction with your team.
Thus, you need a tool that can help teams increase connectivity across different departments. You can share updates with everyone, reply when you want to, chat personally with team members as well as easily share documents and manage files.
3. Set your Budget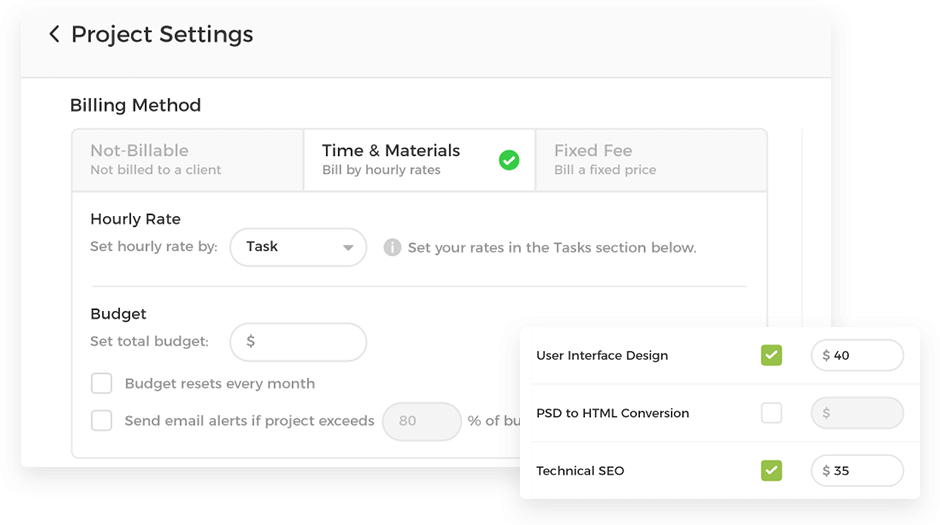 Another important aspect while organizing marketing campaigns is setting your budget. nTask helps you to do that effectively in just a few clicks. You'd no longer have to maintain lengthy timesheets and records.
Thus, you can set your budget estimates like project cost, project budget, and total budget summary in the most flexible way with nTask.
4. Track Progress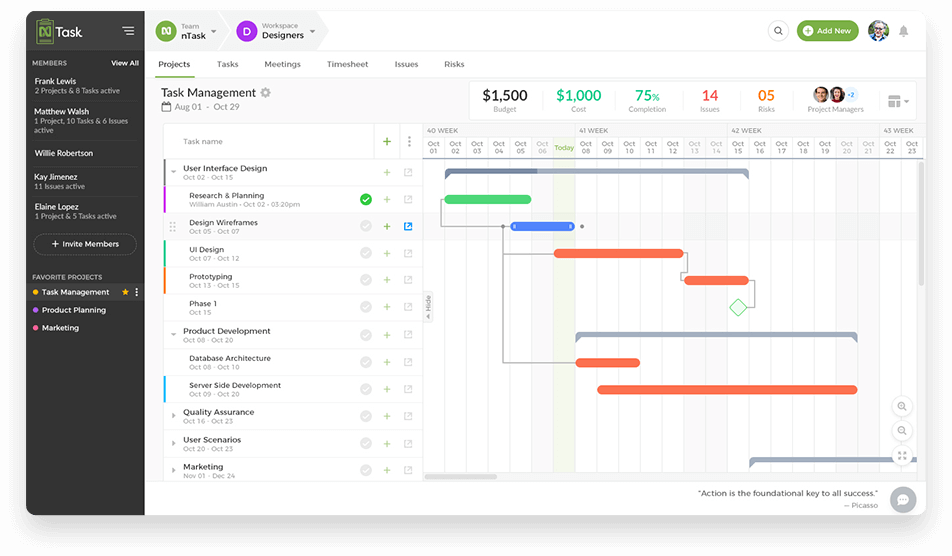 It is always feasible to keep all your data in one place. Since it helps in having organized processes and effective record keeping. With a project management tool like nTask you can track the progress of your team's work as well as the progress of the whole project under one roof.
nTask Gantt chart visualization helps you in organizing marketing campaigns better. You can have a full view of your project completion percentage, task status, project budget, and risks, etc. Moreover, it is the best place to monitor your team's progress in one place and take timely actions.
Thus, the need to go and get individual updates is no longer there with nTask. You can have the full report on a single big screen.
5. Stay Posted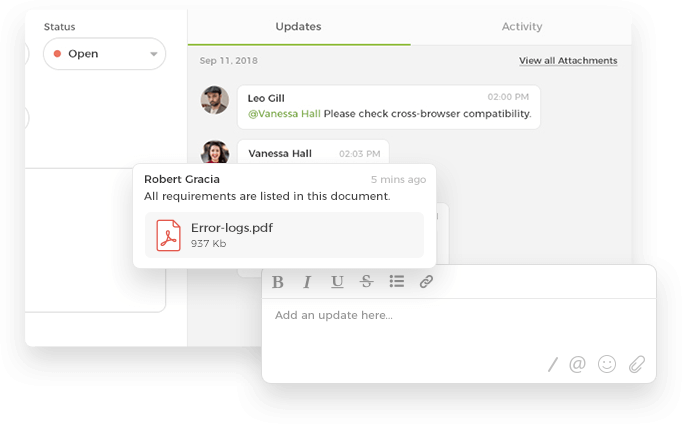 With so much juggling up and down, it becomes hard to remain up-to-date with each and everything. However, to organize a perfect campaign you need to stay posted round the clock. Thus, nTask helps you to get instant notifications and monitor your projects in real-time.
So, no matter where you are, you don't have to worry about being in a blind spot. You can set status, view the financial summary, track progress anytime and anywhere.
Additionally, you can also get the mobile app of nTask for enhanced connectivity and quick updates.
6. Forecast risks and issues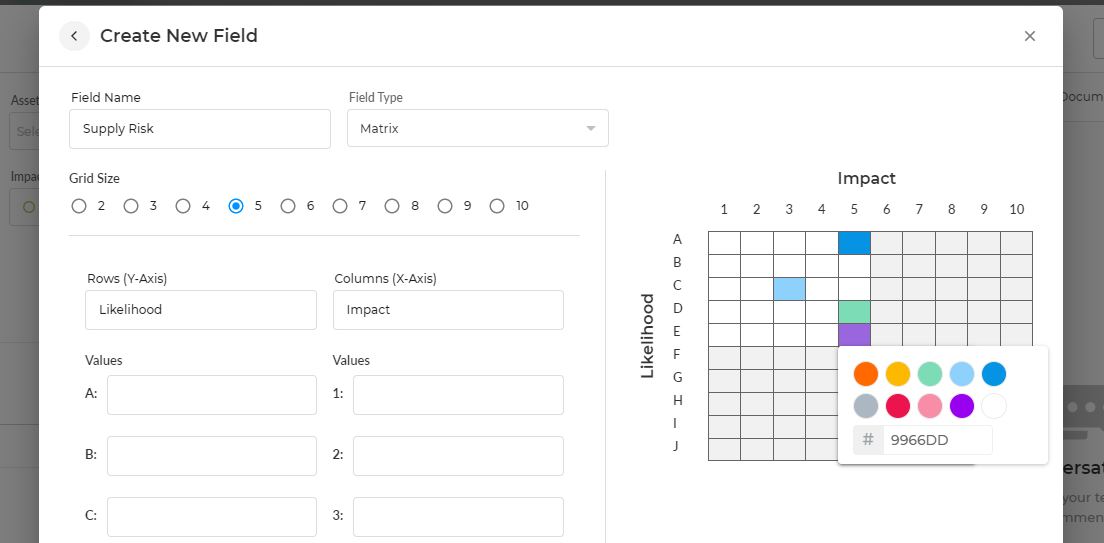 While organizing marketing campaigns, it is normal that something is bound to go wrong. However, we can sit back and wait for the issues to come and turn the tables around or we can choose nTask, the best project management tool, to forecast issues and risks.
Forecasting helps to mitigate the risks of project failure and drives the team to find timely solutions. So, increase your chances of organizing great marketing campaigns now with nTask.
With nTask risk and issues feature you can create customizable risk metrics, risk assessment graphs, unique issue ids, and issue types, etc.
7. Track time and Timesheets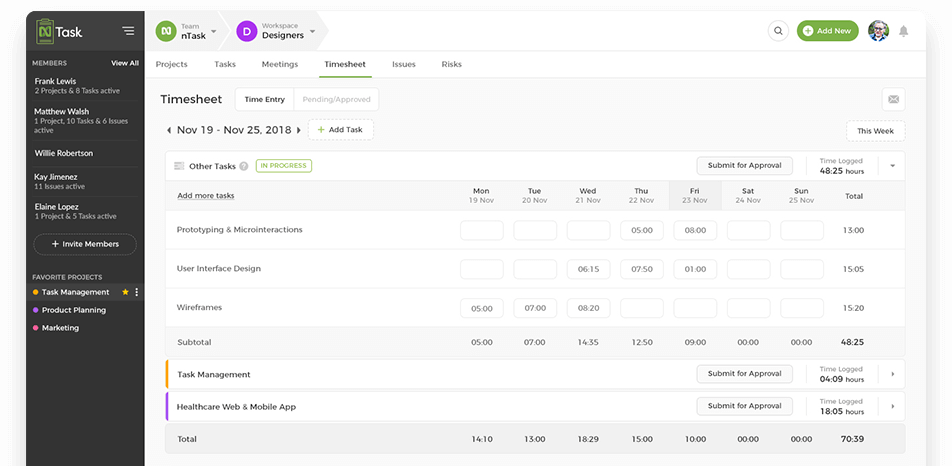 You don't want any unseen delays and prolonged processes in managing your marketing campaign. Thus, while organizing your marketing campaigns, you should be able to track time and maintain timesheets.
Luckily, with nTask it is much easier than expected. You can have an automated web timer to manage your recurring tasks, use your mobile app to track and create a one-click timesheet for your remote teams.
Thus, there are fewer chances of bottlenecks and errors when it comes to staying on time.
8. Reporting and Analysis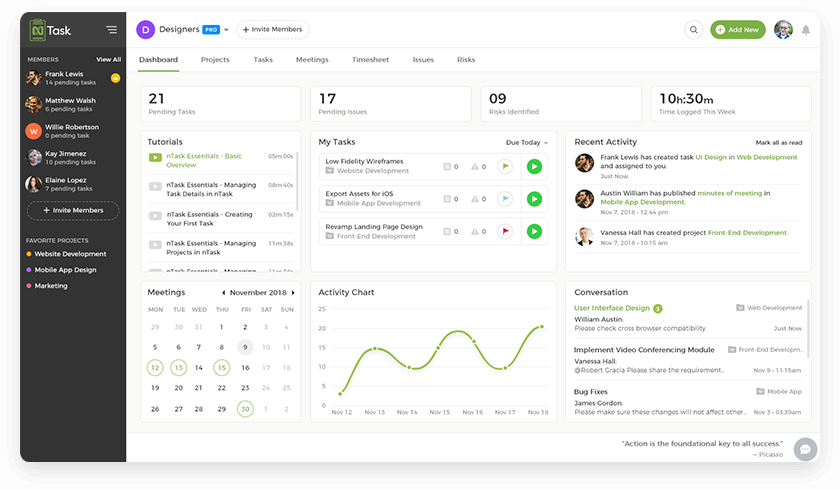 Organizing great marketing campaigns requires effective reporting and analysis. Such metrics help you to get better insights into your campaign's progress rate. Thus, having such data in hand helps you to improve your strategies for future projects and establish effective end goals.
For instance, nTask allows you to get data on the number of emails sent, Click-Through Rate (CTR), bounce rate, open rate, and new leads generated.
Because Afterall, for great companies there is always room for improvement.
Manage Marketing Campaigns With nTask

Organize tasks, projects, timelines, meetings, and collaboration. Sign up today!
Ready to launch your next Campaign!
Organizing marketing campaigns is not easy, but they are essential in creating a brand identity, generating leads and increasing your sales. Therefore, there is no compromise when it comes to it. They are the creative approach of reaching out to your audience and connecting with them. So, don't just run a campaign but leave an impression.
Moreover, with nTask at your rescue, all you have to do is come up with the best idea and leave the rest on it for helping you automate and streamline your processes.
Time to gear up your team to achieve milestones now!
Wish you good luck!