Feeling overwhelmed with approaching deadlines and small project windows? You're not alone. 83.3% of marketing and communication experts report the same complaint.
And since it's unlikely that anyone will soon reinvent the wheel and develop a magic-wand strategy to eliminate burnout or rekindle workplace creativity instantly, email marketers must learn to deploy structural strategies that allow them to create, test, and iterate as they go.
If you want to stay ahead of the curve with your email deliverables, keep to deadlines, and consistently deliver quality content consumers love, you need a well-organized email marketing calendar.
Stay tuned as we review timeless practices to help you organize your email marketing calendar and reel in sales. But first, let's highlight the basics;
What is an Email marketing calendar?
An email marketing calendar shows a full overview of the email campaigns you plan to send to your subscribers within a year, month or weeks. It's made up of your business email deliverables, design sequence, performance metrics, and revenue goals.
Here are a few things an email marketing calendar can help you achieve:
Help you structure the content you want to share
Provide clarity of message and team-wide visibility
Get improved email open rates
Streamline your tasks and manage deadlines
Plan your campaign on time
Build a sustainable relationship with ideal customers
Keep track of each email campaign and help you stay on schedule
How to Design an Email Marketing Calendar?
You can follow the template below to design your email marketing calendar using excel sheets or project management tools like nTask. If your budget allows it, work with an email marketing expert.

Few titles to include in your email calendar:
Campaign name
Email owner
Status of email campaign
Ideal email list
Send time
7 Timeless Practice to Organize your Email Calendar
The intersection between half-baked email campaigns and goal smashing once stands on how well you can get your message to your ideal audience at the right time.
So even if you have an email automation tool like Sender streamlining your email sending process, you still need an organized email calendar to ensure your emails don't appear spammy in your customers' inboxes.
Follow these timeless practices to keep everything nice and tidy:
1. Who's your Ideal Audience?
Success in anything 'marketing' depends largely on how well you understand your ideal audience.
For clarity, your ideal audience is the consumers you designed your email marketing calendar to serve. They're the leads you want to influence with your marketing efforts, and they're the consumers who need your products/service to get through their day-to-day.
If you want your email marketing calendar to guide your campaigns to the shores of a bountiful harvest, draft your marketing calendar knowing that your limited ability to store bulky data in your brain doesn't take the alpha role; the needs and pain points of your ideal audience does.
Be sure to place the needs, desires, and pain points of your ideal audience at the center of
Every campaign you plan
Every team member you assign
By the way, notice we didn't say 'success in anything marketing depends largely on how well you understand your target audience.' We specifically used an ideal audience, and here is why.
A target audience is a segment of your market filled with potential yes/no clients. An ideal audience is a segment of your target market filled with tried and tested clients. Your ideal customers might share the same room with your target audience but require a product with higher or lesser features than yours.
You can identify your ideal audience by carrying out customer interviews, drafting personals, highlighting recurring pain points, and experimenting with demographics.
Just don't touch your email marketing calendar until you can intuitively pinpoint your ideal audience.
2. What Types of Email Campaigns can you Roll Out?
Quell your nerves. It's time to do some focused thinking.
You now know your ideal audience—their needs, desires, and pain points—create a list of customer-centric campaigns for sales and marketing purposes.
We wouldn't advise you to go about this brainstorming activity alone. Introduce the idea of drafting an email marketing calendar to your team and, if possible, call for a brainstorming session.
Clear the air by highlighting budgets for less nerve-wracking campaigns like welcome emails, re-engagement emails, confirmation messages, blog content promotion, holiday emails, announcement emails, etc.
Welcome suggestions and try not to frown at funny ideas. Also, be sure to peek for insights over the fences of your industry.
The goal is to lay the framework for how many emails a campaign should have, estimate the budget, and make a rough list. Email chains of 4-7 messages can triple your reply rate.
Highlighting the number of email campaigns you can roll out helps you purposefully leave gaps for unforeseeable events that might trigger the need for a new campaign somewhere down the line.
Looking for an easier-to-use, more effective, and affordable email marketing option for your powerful Email campaigns? Then look no further than Sender. In-built marketing tools make it a breeze to quickly and efficiently build emails and nourish marketing campaigns with a complete arsenal of powerful features.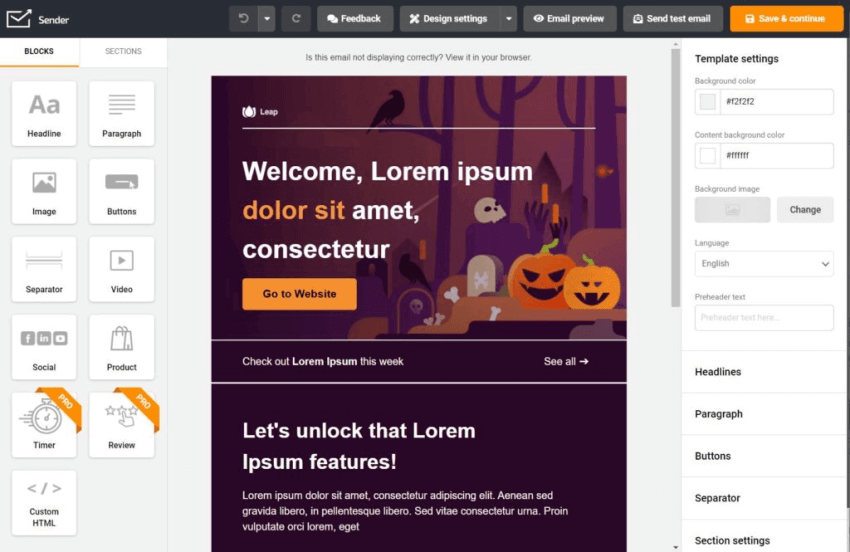 Not ready to jump in yet? Try out the FREE Forever plan that allows you to send out a maximum of 15,000 emails to a maximum of 2,500 contacts every month! For a lifetime, yes!
3. Are your Goals SMART?
Specific, Measurable, Attainable, Relevant, and Time-bound.
The easiest way to make sense of the multiple campaigns you and your team must have highlighted in the brainstorming section is by weighing each campaign on a SMART-goal scale.
Specific: You know the needs and desires of your target audience and your business goals. Now, with this knowledge, state what you want to achieve. Do you want to win more sales? Dominate a new market? Draw traffic to your blog? Host multiple industry-leading events? Etc. Be specific about what you want to achieve. This way, you can easily add or delete a specific campaign from your calendar.  
Measurable: Not all email campaigns produce numbered results. You can't numerically calculate the impact a welcome email campaign would have on your bottom line, though we agree that it's useful for building brand identity. When setting measurable goals, focus on how a campaign will affect the bottom line rather than its face-value impact.
Attainable: Creating 5 to 10 promotional campaigns within a calendar year is possible, but 20 to 30 wouldn't seem feasible, except you have an extraordinary budget. Weigh marketing budget, company size, and overall annual goal to know if the campaign is genuinely possible.
Relevant: Re-engagement emails might not be relevant in a calendar year where you plan to repurpose your service or product and target a new audience. Check if all the campaigns in your list are relevant and in sync with your primary goal for the year.
Time-bound: We are not suggesting you limit yourself to strict deadlines—successful email campaigns thrive on flexible deadlines. But hey, if we're not mistaken, smashing your yearly sales goal is the primary reason you designed an email marketing calendar. Endeavor to set time-bound goals with flexible deadlines.
4. Assign Team Members
You can't create all the campaigns on your list by yourself. You don't have the expertise or the time.
Since you've introduced the idea of an email marketing calendar to your team and most likely carried out a brainstorming session to lay the basic framework, assigning team members to each campaign shouldn't be a big deal.
If you work with a close-knit marketing team and understand their strengths and weaknesses, you have our blessings to discreetly go about the assigning process.
Otherwise, keep an eye for team members who were particularly enthusiastic about an email campaign you highlighted during the brainstorming session and assign a due task.
Assigning team members to your campaign will enhance the quality of your emails and help you manage deadlines. Just don't assign projects without first weighing the proficiency and expertise of your team members.
5. Work with Segmented Lists
Have you wondered why we advised you to identify your ideal audience first before anything else? Well, that knowledge is about to pay off.
If you intuitively understand the needs and desires of your ideal audience, you can easily segment your email list to suit specific campaigns.
For example, you sell books, fiction and non-fiction. You're unarguably catering to the needs of two different customer bases. You don't want your promotional emails for non-fiction books hitting the inboxes of fiction lovers, except you wouldn't mind losing a good portion of your email list.
With the insight and understanding you acquired when studying your ideal audience, segment your list based on each customer interaction with your brand.
Tick your marketing calendar or schedule email campaigns only after segmenting your list. Scheduling your emails with an unsegmented list will jeopardize the integrity of your campaign and make a lot of customers opt-out.
But you don't necessarily have to use multiple tools and struggle while segmenting your audience, there are several marketing tools with powerful and user-friendly segmentation. Forget all that hustle and chaos.
6. Don't forget to Track and Keep your Calendar Up-to-date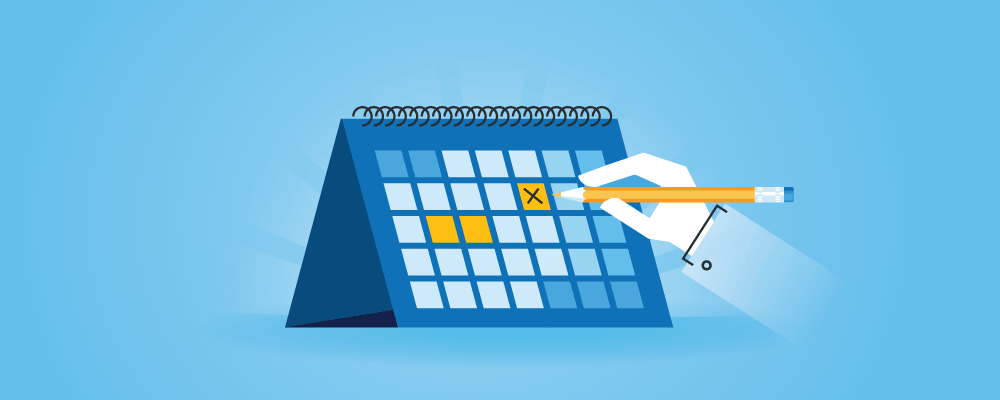 This is the stage where you determine publication frequency and fill your calendar accordingly.
You can track bounce rate, open rate, click-through rate, email deliverability, revenue earned from each campaign, leads acquired, etc. Make a list of all the metrics you'd like to track and include indicators in your calendar accordingly.
Also, don't forget to update the status of your campaign regularly. Be sure to mark completed campaigns on your calendar as you schedule future campaigns.
Check this out:
Keep It Organized with Top 9 Online Address Book Software for CSRs And Agile Teams
7. Run A/B Testing and Iterate As You Go
At this point, everything is set. We presume you've either launched a few successful campaigns or still need to iterate—whichever it is, don't panic; we've got you covered.
A/B testing involves finding the best element combination for your ideal audience. It involves testing multiple subject lines, using different content, checking which graphic makes the most impact, analyzing consumers' reactions, etc.
Now is the time to iterate and repurpose content to suit your ideal audience's specific pain points and desires.
A/B testing is important because there is no foolproof strategy for email marketing. Success comes to sales experts skilled at testing and iterating as they go.
So hey, there is no harm in creating different versions of the same campaign; endeavor to track your results with your email marketing calendar.
Tools to Help You Streamline the Calendar Building Process
We know that sticking to all the steps and procedures we've listed above might be a hard row to hoe—that doesn't mean you can cut corners and get away with it.
Anyways, working with a project management tool instead of a plain old excel sheet is a nicer and more effective way to draft strategic campaigns and reel in customers. Here are our top picks.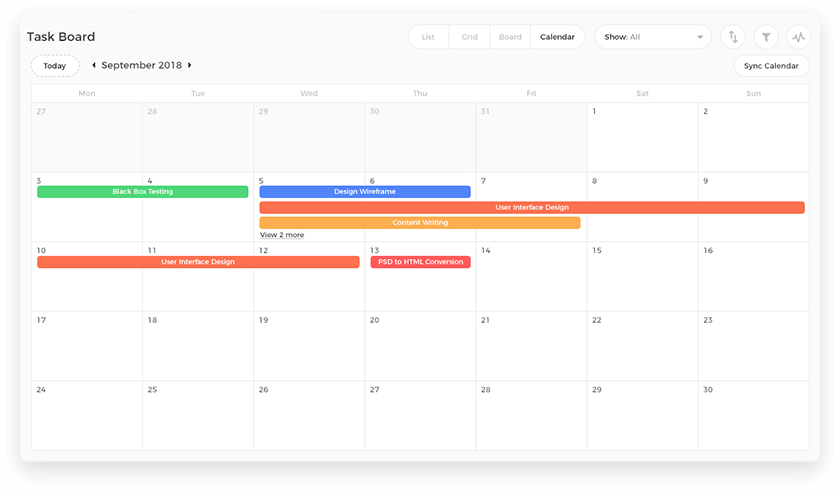 nTask is amongst the most reliable project management tool for planning, strategizing, and organizing attractive, result-driven email marketing calendars.
The project management tool offers a shared calendar feature you can use to keep team members informed about upcoming deadlines or slight changes.
With nTask, you enjoy improved collaboration. You can easily set a budget, track projects, highlight milestones, forecast risks, and stay on top of pending reports and analyses.
nTask allows you to manage your email marketing calendar fluidly, focus on the most important task, and get work done faster for less than $3/month.
 2. Google Sheets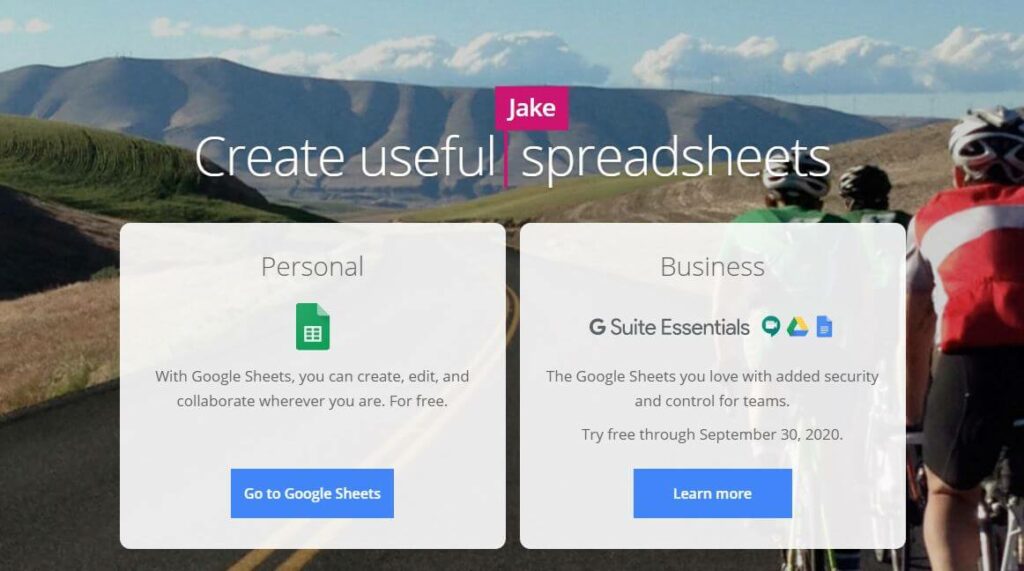 If you're on a tight budget and need a simple yet intuitive management tool for your email marketing calendar, try Google sheets.
Google spreadsheet provides a simple and unique interface anyone can speedily navigate. With Google Sheets, you can easily share updates with team members, use a variety of add-ons and enjoy built-in-formulas.
Google sheet is free. Though, to enjoy additional security and team control, we recommend you opt for the $6 per month workspace plan.
Bottom line
Indeed, having an email marketing calendar will keep you consistent and help you reach your ideal audience with the right message just when they need it.
Nonetheless, Email marketing is a journey of a thousand miles. Nailing your project management efforts and keeping everything nice and tidy is simply the first step—there're tons of other important steps you must duly invest in.
To take it a step further, you need the right email marketing platform in your corner; at the very least, folks who can help you create and send beautiful, result-driven emails while spending less.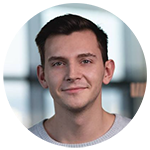 Post by: Skirmantas Venckus
Skirmantas is a writer by day and reader by night. He hates talking about himself in the third person. He is also the growth hacker at Sender.net – the email marketing provider that is focused on user-friendliness, affordability, and utility.