Collaboration is key to success in any field, and the same holds true for online businesses. However, many people feel uncomfortable working together online because of the lack of privacy that comes with social media. Fortunately, there are a number of tools available that can make collaboration easier and more comfortable.
Some popular options include Zoom video conferencing software, Slack messaging platform, Google Docs or Office 365 cloud applications for team productivity, and LinkedIn groups for networking purposes. These platforms make it easy to share files and documents with fellow collaborators as well as communicate verbally via voice or chat sessions. 
They also offer features such as real-time ChatOps monitoring (to ensure all participants are on track), whiteboard support (for brainstorming sessions), remote task management (so tasks can be completed without ever having to meet in person), and video recording capabilities so you can always remember what was said during a meeting! 
If you're looking for a space to share ideas, discuss projects, or just get some work done, then you'll want to check out some of the best online collaboration tools out there. From email to social media platforms, these tools make it easy to stay in touch with coworkers, share files, and stay on top of deadlines. So which one is right for you? Read on to find out! 
What Are The Different Types Of Collaboration Tools?
Collaboration tools can be classified in a few different ways: by the type of communication they allow, by the way, they are used to organize work, or by how they are used to share information.
There are three main types of collaboration tools: email, video conferencing, content collaboration, and chat. Email is the most common form of communication, followed by video conferencing and then chat. 
Email is the best option for low-bandwidth environments or when you don't want everyone to see the same message at the same time. It's also good for sending small batches of messages with minimal disruption to your workflow.
Video conferencing is best for large groups who need to see each other in real-time. However, it can be difficult to keep everybody focused on what's happening if there is a lot of noise in the room. Chat is great for when you want quick and easy communication between team members who are close by but not necessarily in the same room.
What Are The Benefits Of Using Collaboration Space Tools?
There are many benefits to using collaboration space tools, and they can help increase productivity and efficiency in different areas of your business. Here are just a few of the most common benefits:
Increased communication and teamwork: By working in a collaborative environment, employees are able to communicate more easily and work together as a team. This leads to improved coordination and cooperation, which helps them achieve their goals more quickly.
Reduced stress levels: When employees are stressed out, it's harder for them to concentrate on their work. In fact, research has shown that stressful environments actually reduce the amount of creativity people display. Collaboration space tools help combat this by providing a supportive environment where people can be themselves and share ideas freely.
Reduced expenses: When employees are working together on projects, they're able to take advantage of collective knowledge and resources. This means that they're able to save money on costs like office supplies or software licenses.
Improved creativity: Working in a collaborative environment allows people to explore new ideas more freely and come up with better solutions. This is because they have access to other people's thoughts and expertise, which can help them find solutions that nobody else has thought of before.
How To Choose The Best Collaboration Space Tool For Your Needs?
Collaboration spaces can be a great way for people to work together on projects, but they can also be a source of tension and conflict. To avoid this, it's important to choose the right collaboration space tool for your needs. It's important to find the right one for your team's specific needs so that everyone can stay productive and happy.
Here are some factors you should consider when choosing a collaboration space tool:
Type of communication: One of the most important factors to consider is the type of communication your team needs. Will all members need access to all chat rooms, or will certain members only need access to certain ones? Will everyone need access to file-sharing capabilities, or will just a few members need that? 
Size and layout: How big is your team? How much space do they need? Do they want desks arranged in a circle or in a grid? Do they want enough room to move around freely or do they prefer smaller groups that can work more closely together?
Collaborative tools: Do you want an online forum where users can post threads and discuss ideas, or would you rather use software that allows users to share files directly? Are there any specific tools you're specifically looking for (like project management software)?
6 Best Online Collaboration Space Tools 2023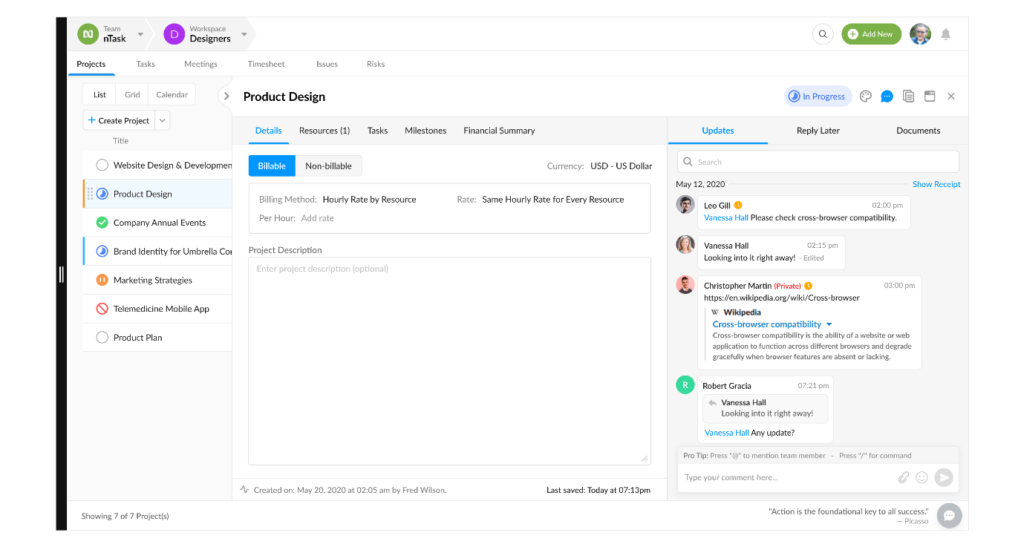 nTask is an online collaboration space tool that allows you to easily manage and share files with other people. It's simple to use and can be accessed from any device or internet browser.
nTask is perfect for team projects, as it allows you to keep track of all the files and comments related to a particular project. Additionally, it makes it easy to collaborate with others on the project by allowing them to access the file and comment stream simultaneously. nTask also offers features like password protection and automatic file sharing, which make it ideal for task-based collaborations.
Overall, nTask is a great tool for managing files and collaborating with others on team projects. Its user-friendly interface makes it easy to use, and its features make it perfect for tasks that require multiple people's input. If you're looking for an online collaboration space tool that will help you get your work done faster and easier, nTask is definitely worth considering!
Key features
Instant collaboration: nTask allows you to chat with your collaborators directly in real-time, making it easy to get feedback and keep track of what's happening.
File sharing: You can easily share files between participants, which helps to keep everyone up-to-date and organized.
Calendar: The calendar lets you schedule discussions and meetings as well as track their progress. This is especially useful if you want to avoid overlap or conflict during project deadlines.
Integration with third-party tools: You can easily integrate your favorite apps with nTask.
Pricing
Premium $3/month
Business $8/month
Enterprise/Custom
2. Slack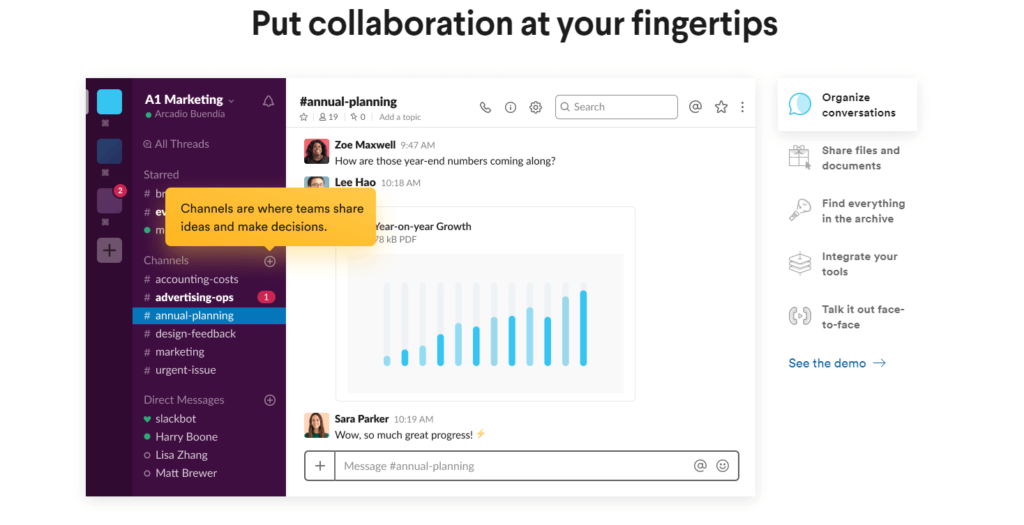 Slack is a popular online collaboration space tool that allows users to chat and work together on projects. It's been growing in popularity over the past few years, and it's now used by millions of people around the world.
There are many reasons why Slack has become such a popular tool for business professionals. First of all, it's incredibly easy to use. You just sign in, start chatting with your colleagues, and get working on your project right away. Plus, it's free to use for up to five people – which makes it an ideal tool for small teams or informal collaborations.
Another reason Slack is so popular is that it has built-in features like threaded messaging, rich media files (like images and videos), file sharing, and group conversations. This means that you can easily share files with your team members, discuss ideas collaboratively, and track progress on your project together.
Overall, Slack is a great online collaboration space tool that can help you stay organized and productive while working on projects with your team members.
Key features
Slack is a popular online collaboration space tool that's used by businesses and organizations of all sizes. It offers a user-friendly platform that lets teams communicate, collaborate, and share files securely.
Some of the features that make Slack an effective tool for collaborative work include:
Built-in chat and messaging system
Threaded conversation view so you can see all the messages in a conversation at once
Extensible integrations with various tools and applications, including Google Drive, Trello, Asana, and more
Automated team communication features like alerts when someone posts in a thread you're working on, or when a file is updated
Pricing
Pro $7.25/month
Business+ $12.50/month
Enterprise Grid/Custom
3. Zoom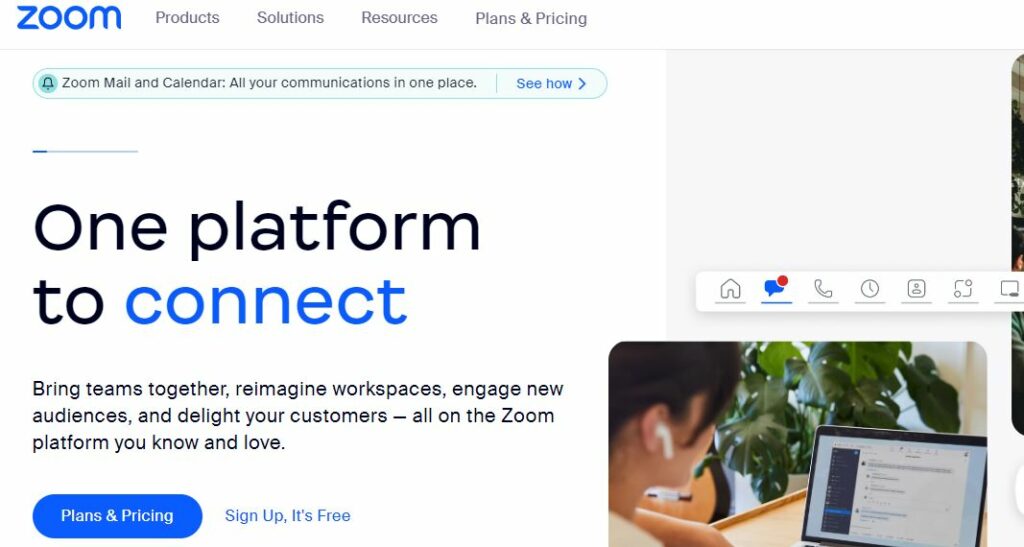 Zoom is a popular online collaboration space tool that provides users with a range of features that make working together more efficient.
Some of the most important features of Zoom include its easy-to-use interface, its support for different file formats, and its ability to share files securely. Additionally, it has integrations with various services like email, calendar, and task management platforms.
Overall, Zoom is an excellent choice for anyone looking for an easy way to stay organized and collaborate with friends and colleagues online.
Key features
Real-time video and audio conferencing
Threaded conversation view so participants can see all the messages in a conversation at once
File-sharing and document-sharing capabilities
Integrated messaging system for quick and easy communication between team members
Zoom Integration with various tools, such as calendar platforms, such as Google Calendar and Microsoft Outlook, for keeping track of deadlines and events
Pricing
Pro $149/year
Business $199/year
Enterprise/Contact Sales
4. Asana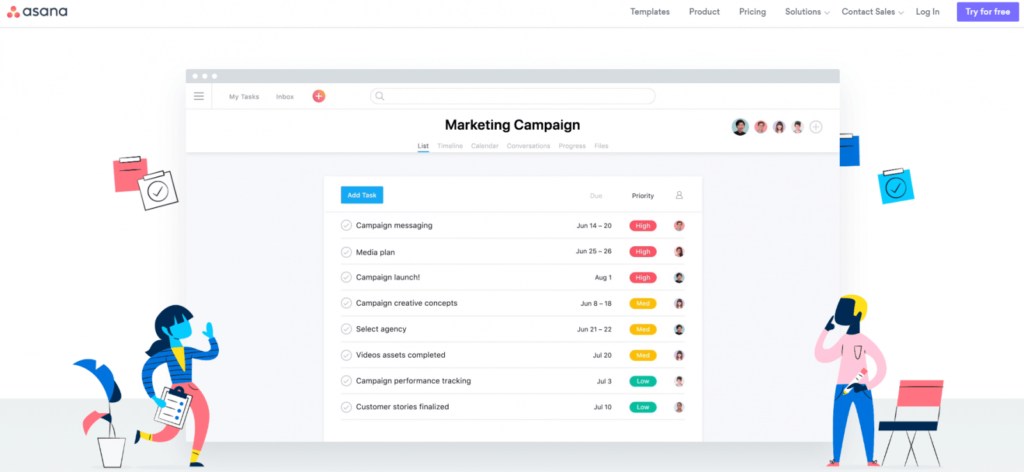 Asana is an online collaboration tool that has been around for a few years now. It's a great choice for teams who need to keep track of all their tasks and deadlines. It also makes it easy to share files and ideas with everyone on the team.
One of the best things about Asana is that it's free to use, making it a great option for small businesses and startups who don't want to spend a lot of money on software. Plus, its user-friendly interface makes it easy for anyone to get started using it.
Overall, Asana is an excellent online collaboration tool that can help your team stay organized and on track.
Key features
A timeline that shows the progress of all the tasks in a project, so everyone can see what's going on at any given time
A message board where users can chat about tasks and issues
Integration with other platforms, like Trello and Asana Chat, so users can keep track of their work across different devices
Automatic email notifications when tasks are updated or completed, so everyone is always up-to-date on what's happening in a project
Pricing
Premium $10.99/month
Business $24.99/month
Enterprise/Contact Sales

5. Github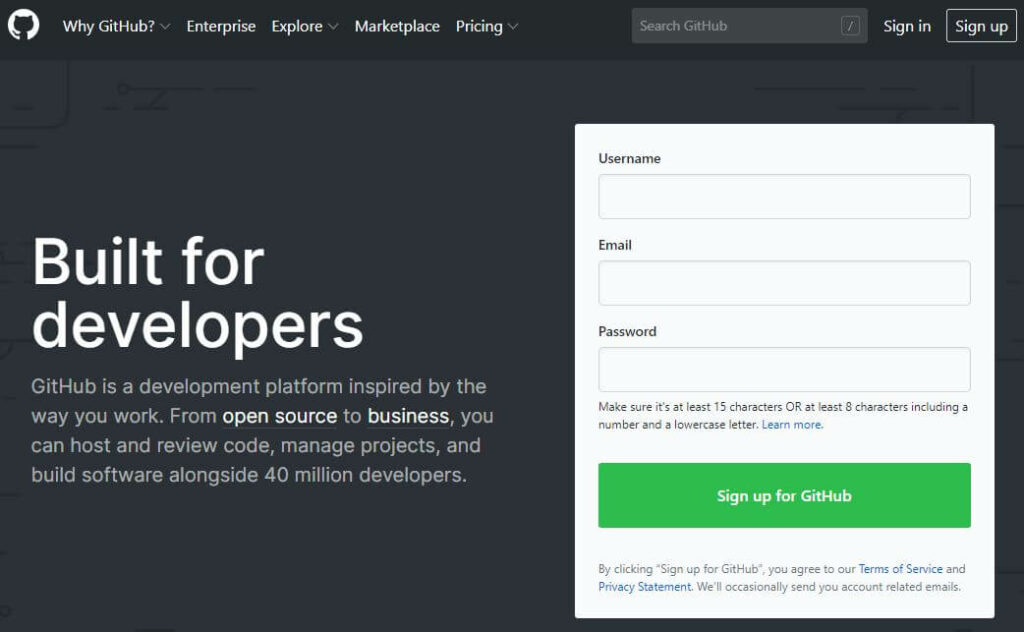 GitHub is a website and software application where users can share, manage, and collaborate on code projects. It's one of the most popular online collaboration tools in use today, with over 28 million active users.
Some of the features that make GitHub an ideal platform for code collaboration include its user-friendly interface, its unlimited file size, and its ability to keep track of changes made to files. Plus, it's free to use!
If you're looking for a way to improve your team's productivity and coordination, then GitHub is definitely worth considering. It's easy to use and makes it easy for everyone on your team to understand what needs to be done and when it needs to be done.
Key features
Real-time chat: Members can quickly talk to each other in real time, which makes collaboration much smoother and easier.
Issues tracker: It's easy to track down any mistakes or issues that may have arisen during the course of a project. This makes it easier to resolve them before they become too big and disruptive.
Wiki page: Anyone can create or edit wiki pages, which serve as a repository for all the information related to a specific topic. This makes collaborative writing easy and organized.
Collaborative file editing: Files can be collaboratively edited by multiple people at the same time, which enables faster turnaround times and more accurate results.
Pricing
Team $44/month
Enterprise $231/month
6. Trello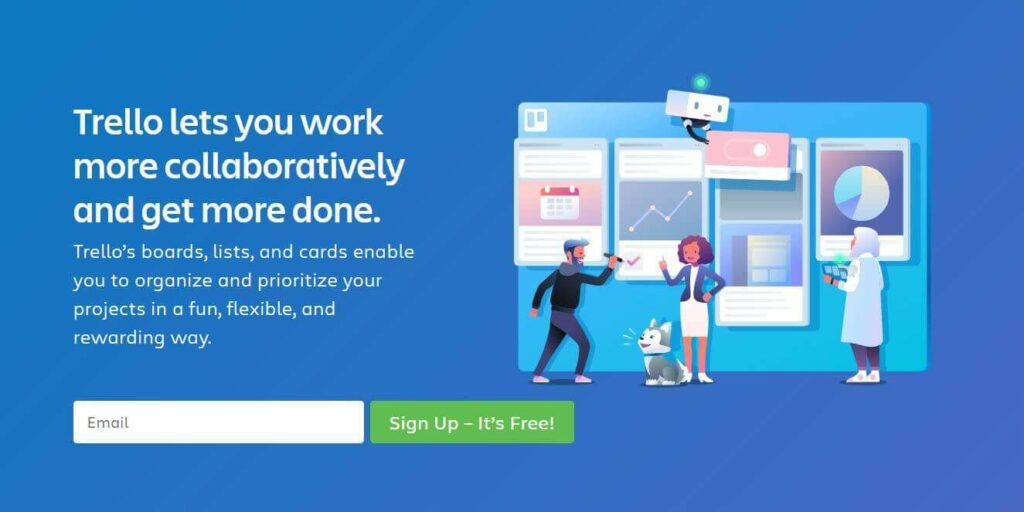 Trello is a free online collaboration tool that helps you stay organized and keep track of your work. It's perfect for team projects, as it lets you create boards that represent different areas of your project, add cards that represent tasks or ideas, and assign people to the cards so that everyone knows what's going on.
Trello also has a powerful search feature that makes it easy to find the information you're looking for. And if you ever need to share something with someone else on your team, Trello makes it easy to do so by incorporating file sharing into its board settings.
Key features
The ability to add cards and list items makes it easy to collaborate on projects.
The ability to assign tasks and comments to cards makes it easy to stay organized and track progress.
The ability to share files and URLs with other collaborators, so they can easily access the information they need.
The ability to collaborate on projects with people who are not located in the same location as you.
The ability to keep all your work in one place so you can access it at any time.
Pricing
Trello Standard $5/month
Trello Premium $10/month
Trello Enterprise $17.50/month
How To Use The Selected Collaboration Space Tool?
The Selected Collaboration Space is a helpful tool that can be used to help you collaborate with other people. It allows you to easily find and join discussions with others, as well as share files and documents with them.
To use it, first sign in or register for an account. Once you're logged in, click on the "Collaboration" icon in the top right corner of the screen. From here, you can access the Selected Collaboration Space. This is where you will be able to find all the discussions and files that have been shared with you through the tool. You can also join or start new discussions by clicking on the "Add New Discussion" button located at the bottom of the page.
Tips For Effective Online Collaboration
Collaborative work is incredibly important, but it can be difficult to get started if you don't have the right tools and strategies in place. Here are some tips for effective online collaboration:
Make sure your communication tools are up-to-date and easy to use. This includes platforms like Slack, Zoom, or Skype.
Establish clear deadlines and milestones so everyone knows when they need to be finished. This will help reduce confusion and make sure that projects stay on track.
Use chatbots or voice recognition software to automate some of the tedious tasks involved in collaborative work. This can save time and help keep conversations organized.
Conclusion
Collaboration tools have helped businesses to collaborate in real-time, turning the wheels of creating a better product or service. These tools allow everyone in a team to help each other with their work, brainstorm new ideas, and make a more efficient workflow.
On top of that, these collaboration tools automate many tasks such as document sharing and management. So if you're looking for an effective tool for your business expansion plans – make sure you don't miss out on what these collaboration tools can do!