It goes without saying that you can't successfully run a team without formally documenting goals and objectives. That's just like a shot in the dark. The talented employees that you have would be of no use if they don't have a common objective to look forward to.
Ever wondered how the giants of the industry slay the market with ever-growing revenues? The trick lies with OKRs.
What exactly are OKRs and how do they work, you might ask?
Read on to find out what do OKRs comprise and some practical examples which you can easily implement in your business to achieve more in less time.
What does OKR stand for?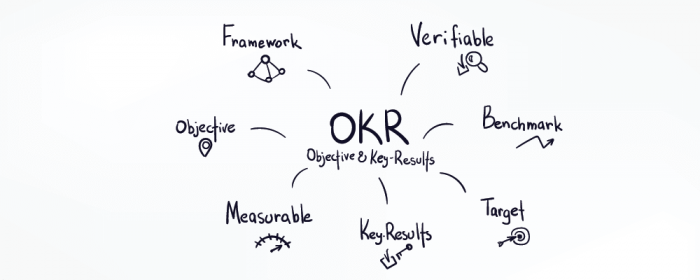 The acronym OKR stands for 'Objectives and Key Results.' It is a goal-setting framework that has been around since the 1970s. Popularized by John Doerr, one of the most successful venture capitalists, OKR sets the basis for defining your organizational objectives over a specified period of time.
OKRs are frequently set and evaluated continuously during the project lifecycle to make sure everything gets done on time. They also act as future references to monitor how well you executed your projects.
So, the basic formula behind an OKR is to set an objective, and 3 to 5 key results against it. These key results are concrete, measurable actions that lead towards the achievement of objectives.
A major chunk of OKR is to make sure that everyone knows what they need to do, or what's expected of them.
Now, this brings us to the question of how OKRs are different from KPIs (Key Performance Indicators)?
Also read:
Tim Ferriss and the 4-hour Workweek: How to Escape the 9-5 Routine?
KPIs vs. OKRs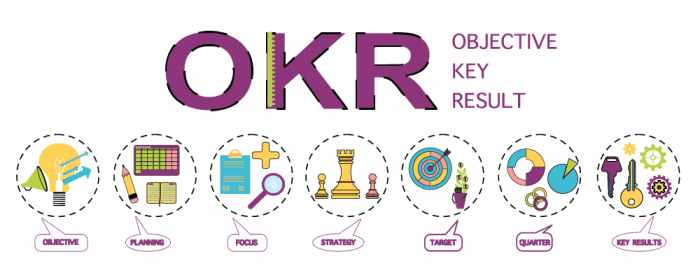 Although both of these are used as performance measures, the purpose they serve is different. KPIs are key metrics used for evaluating how a team is performing against its goals.
These metrics are usually quantitative and tend to accurately depict where the output stands at the moment.
If we dig a little deeper, we would find that OKRs are linked to broader organizational goals and objectives, whereas KPIs are mostly tied to individual performance. KPIs are put in place to keep day-to-day operations in check, and to evaluate the success of a particular process or activity.
Simply put, the OKR framework focuses more on your priorities at a strategic level. Defining an objective and jotting down ways to get there. Whereas, KPIs primarily focus on quantifying goals and priorities to track performance at an operational level.
OKR in Project Management
Setting an objective, along with possible outcomes, doesn't sound like a big deal (it is, however), but the real game begins when you need proper action plans to achieve these objectives. This is where project management comes into play.
The action plan needs to determine the exact set of projects, tasks, and to-do list activities that you'll need to map out for your objectives to become a success. There needs to be a defined way of making your way through your objectives to give them more meaning.
In other words, once you've clearly developed your OKRs, you need a step-by-step guide (projects and tasks) to help you achieve them. This step-to-step guide is what sets the basis for integrating your OKRs with project management.
Both OKR and project management go hand in hand. OKR gives a clear picture of what needs to be done, and project management shows how exactly to do it.
In order to effectively achieve your OKRs, you may need to invest in specialized project management software. When you've combined your OKRs with a powerful project management system, all your operations will be streamlined and will facilitate in easily measuring the project performance.
Okr examples for project managers are also applicable to other departments outside of the project management realm. For instance, content marketing managers and writers may have their own OKR to follow.
The team lead might set up an OKR that says, Object: Prune the entire dated blog list. Whereas, its intended key result is content improvement and ensuring that only that content is displayed to readers that matters the most. So on and so forth.
For more information on OKR examples for project managers, feel free to browse through our website.
Also read: What Is the Eisenhower Matrix? How to Use It to Be More Productive?
Success Stories – OKRs at Google
By now you're probably wondering if there's any practical example where OKR system actually worked. Good news for you! Here are some real OKR examples: Tech giants like Google and Alphabet claim to have achieved 10 folds growth through OKRs.
Google was introduced to OKR by John Doerr in 1990 when it was less than a year old. Google readily adopted the process and has been implementing it since then. Through OKR Google has grown from 40 employees to more than 60,000 today.
The company has OKRs at every level, ranging from the upper management level, down to the individual level. All of these are interconnected to achieve common organizational goals.
As your key results need to be measurable, Google uses a scale of 0-1.0 to grade them. But the aim is not 1, rather 0.6 to 0.7. If someone succeeds to get 1, their OKRs are not ambitious enough. Or are too easy, in other words.
However, if someone gets below 0.4, they need to look into what they're doing wrong and push it harder to reach between 0.6 and 0.7.
Google OKRs are public so that every employee can see what others are working on.
Besides Google, other leading teams using the OKR system include Uber, Airbnb, LinkedIn, and Spotify.
See also:
Top 7 Qualities of an Effective Project Manager
OKR Examples
Let's start with some of the OKR examples to help you quickly get started with the process. For your convenience, we've divided them up into categories.
1. Project Management OKR Examples
If your projects are product-based, you can use the following OKRs:
Objective – successfully launch a beta version of the product
Key Results

Collect feedback from the first 50% of the customers
Get published product reviews in at least 5 major publications
Get at least 50% new signups
Objective – design new product vision
Key Results

Get internal feedback from your team (preferably on a scale)
Take feedback from at least 50% of prospective customers
Get maximum usability score on UX mockups from prospective customers

Objective – pinpoint problems with the current user interface by Q2
Key Results

Run quality assurance of all features in real-time
Present solutions for reducing lag time
Identify areas that cause product lags

Objective – improve product performance by 75% by Q4
Key Results

Eliminate 90% bugs
Incorporate new tools to improve performance
Reduce processing time by 75%
---
2. Marketing OKR Examples

Objective – Increase sign-ups via email by 30% by the end of Q4.

Key Results

Increase click-through rate by 30%
Increase email open rate by 30%
Decrease email bounce by 30%

Objective – Increase market reach by 40% by Q4.

Key Results

3rd largest distributor network growing by 10% per month
Published as the fastest growing network in 3 major publications
Increased brand visibility from 40% to 60%
Objective – Successfully release a monthly newsletter
Key Results

Finalize the structure and key topics for every edition
Increase subscriber base by at least 10% every month
Reach out to key industry writers every week
Objective – Improve web analytics and conversions
Key Results

Increase organic website visitors every quarter (define a number)
Increase CTR / Conversion rates by 3% per month
Get 20 backlinks from other websites
See also:
Agile Best Practices Every Agile Team Should Have in Place
3. Sales OKR Examples
Objective – achieve 40% more revenues by the end of Q4
Key Results

Increase gross profit margin by 25%
Start sales in new cities and achieve 40% more revenues
Increase monthly revenues by 25%
Objective – improve the efficiency of sales staff by 35%
Key Results

Positive feedback from 80% of customers about the efficiency
Training sessions conducted once every three months
Conversion rate increased by 30%
Objective – Increase sales by 20% in the central region
Key Results

Onboard at least 5 new vendors from the targeted region
Develop better relationships with the audience
Implement a new training system for the central region sales team
Objective – Increase customer retention by 60% at the end of Q4
Key Results

Address customer queries within 24 hours and resolve them within 48 hours
Get regular after-sales feedback to make improvements
Provide relevant solutions to individual customer problems
---
4. Engineering OKR Examples
Objective – improved quality of features in the new release
Key Results

Less than 5 major bugs in production
Increased unit test coverage from 40% to 70%
Implement the new QA process
Objective – improve data security procedures
Key Results

Review security policies of top 5 companies
100% data recovery with daily backup
Conduct testing using at least 2 external software
Objective – Improve testing procedures
Key Results

Increase time spent on reviewing codes by 20 minutes each day
Increase unit test coverage by 50%
Implement test-driven development in teams
Objective – Maintain an agile process
Key Results

Create a knowledge-based documentation system
Design and implement workflow graph
Install new migration field
---
5. Human Resources OKR Examples
Objective – Improve employee engagement and satisfaction
Key Results

Interview employees and measure their satisfaction levels
Run surveys on employee need to improve work culture
Make sure every manager is working on a 2-way feedback loop
Objective – Define and promote company culture and values
Key Results

Conduct brainstorming sessions to get ideas on improving the culture
Survey all employees in understanding current values
Promote new values on office intranet and in an office environment
Objective – Complete all employee reviews on time
Key Results

Collect performance data from all the managers on time
Conduct surveys on how your employees like the current performance process
Implement quarterly performance reviews
Objective – Evaluate training needs and implement training programs
Key Results

Organize regular training sessions for employees
Review the training needs of all the new employees
Gather feedback from all the training activities going on
---
6. Support/Customer Service OKR Examples
Objective – Improve the efficiency of the support team
Key Results

Conduct training sessions per quarter to optimize performance
Gather feedback from the support team on current practices
Maintain a weekly performance report
Objective – Track and monitor all the critical support metrics
Key Results

Identify the number of new tickets and resolved tickets per day
Track and monitor the average resolution time
Track top 15 customers by active tickets
Objective – Deliver a high-end customer support experience
Key Results

Resolve maximum tickets within 48 hours
Each support rep to maintain a personal goal of resolved tickets
Conduct interviews with top customers to improve performance
---
7. Administrative/Operations OKR Examples
Objective – Improve internal document management
Key Results

Install a new document management software
Move 70% of data from old software to new during Q1
Maintain each team's own directory of documents
Objective – Increase the efficiency of all internal processes
Key Results

Introduce new tools by the end of Q4
Conduct training sessions about new tools
Run performance measures to see the impact on productivity
Objective – Improve IT and infrastructure by Q4
Key Results

Eliminate systems downtime by the end of Q3
Improve the IT team's response time and internal satisfaction
Install new backup systems and processes
Objective – Streamline inventory management process at the end of Q1
Key Results

Forecast needs of all departments by the end of Q3
Track the quantities ordered with that of need, by Q1
Implement a new system for better processing of inventory
---
8. Accounting and Finance OKR Examples
Objective – Improve annual budgeting and planning process
Key Results

Have a meeting with each division manager about new processes
Review budget proposals by the end of Q3
Identify loss areas and reduce unnecessary expenditure by 70% by Q4
Objective – Improve financial reporting processes
Key Results

Maintain a well-kept financial record at the end of every quarter
Install a new system for keeping financial records in check
Make sure to close all financials at the end of each quarter
Objective – Develop a financial strategy for the next 3 years
Key Results

Conduct discussions with managers by the end of Q4
Raise funding during the first three quarters
Finalize budget at the end of Q4
Objective – Grow monthly recurring revenues to $150,000
Key Results

Increase the number of subscriptions per month to 80%
Reduce churn rate to less than 1% monthly
Create product demos for every customer who signs up
---
9. Design OKR Examples
Objective – Improve performance of design team
Key Results

Conduct relevant training sessions to optimize performance
Install new design software to reduce design time
Create guidelines for increasing the efficiency of the team
Objective – Create a design prototype of the product at the end of Q2
Key Results

Gather all the requirements
Use advanced tools and software to create the design
Give weekly reports to get timely feedback and make changes wherever required
Objective – Design product as per client's requirements
Key Results

Conduct meetings with the client to fully understand the requirements
Design a draft and get approval at the end of the first quarter
Launch beta version of the product by Q3
Objective – Redesign and relaunch the landing page by end of Q3
Key Results

Run tests on the existing landing page to understand issues
Design new page structure by Q1
Present final redesign to project manager for approvals
The OKR Experience with nTask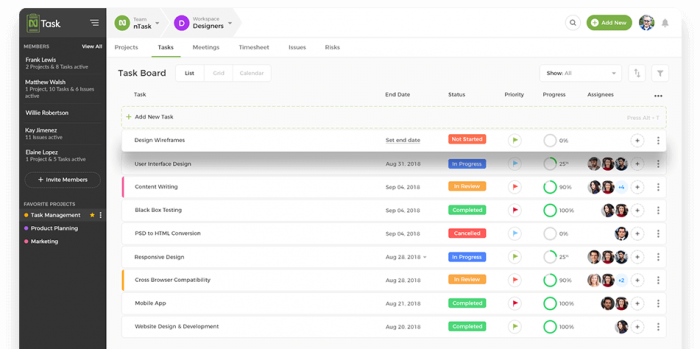 All thanks to nTask's powerful features, you can easily implement your OKR strategy. Since 'objectives and key results' cycle the planning, deployment, and execution/ implementation phases, we wanted to make sure that professional project managers and individual contractors are getting fully-fledged user experience.
Planning
For any number of projects, we recommend that you should start planning on paper. Yes, that's an actual piece of paper that we are referring to. It is too damn easy to use any task management program by getting started with adding teams to workspaces and then delegating.
However, many users are reportedly not aware of how the application works if they are exposed to it for the first time. For seamless transitioning, collaborate with your team members in person. As long as you are outlining the plan on a paper or a whiteboard, they will get the gist of where everything's supposed to go.
Move on to nTask; add create teams and workspaces and add users to them accordingly. Then you need to fall back on your plan and apply it in the form of goals, meetings, projects, and milestones.
Execution, Risk Management, and Mitigation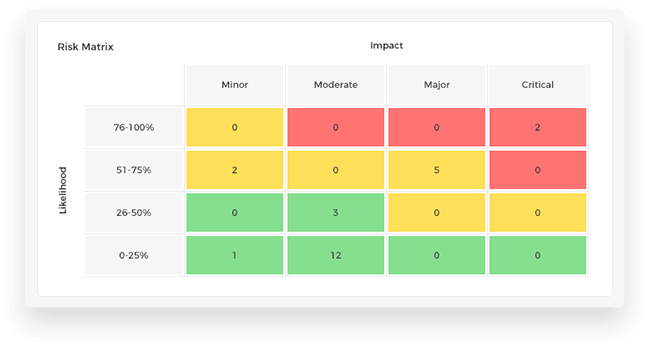 Remember that "Key Results" part about the best OKR examples? It is time to collaborate with your team members as the project slowly creeps towards a deadline. The process can be applied to tasks too.
We think that deadline management at tasks' level is much better as compared to projects. Micro-management keeps everything in line. Collaboration may seem hectic on a project manager's part, as he/she has to repeatedly get in touch with team members.
However, it is better to manage short deadlines rather than expecting to get things done by one final date at the end of the project submission.
Sign Up to nTask to manage your OKR in one place

Manage tasks, teams, projects, meetings, and more with nTask. It's free – no questions asked.
OKR vs. Gantt Charts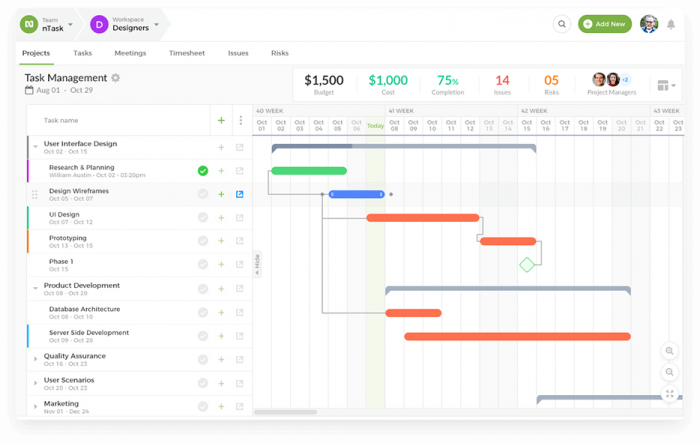 One of the key takeaways in nTask is the Gantt Chart side of projects. These charts are interactive and evolve as the project milestones, dates, and other variables fall into place.
If you have been working on a project and need to see the visual form of your OKR workflow in process, switch to Grid view. There, you will see your unique Gantt Chart. It can be customized by dragging and dropping task/ project slabs.
Furthermore, task dependencies can be created – i.e. if Task 1 is dependent on Task 3 – so on and so forth. These features were added because we felt that Gantt Charts are an integral part of OKRs. The approach was slightly different because we wanted to enable our users as per the "interaction" experience kicks in.
To that end, you can use any other application if OKR is a vital part of your project's grand strategy. Make sure you are comparing the program's features to your requirements to avoid inconveniences in the long run.
Common Pitfalls When Writing OKRs
OKRs require you to make a cultural change. As with any change, there are chances of error and mistakes. It can also be difficult.
To help with the process, here are some of the common mistakes and pitfalls organizations face when starting on an OKR journey.
1. You Set and Forget Your OKRs
OKRs should not be written once and then forgotten. You and your team must update the progress of your objectives and key results regularly.
Preferably the OKRs you set should be discussed weekly so that you can properly monitor progress.
2.

Your Objectives are Unchallenging or too Challenging
With OKRs your objective should be to achieve 70%-80%. If your team members are reaching 100% your objectives aren't challenging enough. You need to make sure that you have ambitious objectives.
At the same time if your team members are only achieving 30% there is a problem. Evaluate your employees and the objectives they set. You may come across some issues that could be resolved to get to the target objectives. Or, you may have set objectives that are too challenging and unrealistic.
3. You Set Key Results That are Non-Numeric
You need to ensure that your key results are measurable. That is why they should be numeric.
Key results are what make your objectives measurable.
4.

You Have too Many Objectives or Key Results
Focus on your priorities. Too many key results or objectives can take away from the important stuff.
While doing so, make sure the amount of work is manageable. This will also ensure it does not become too confusing.
OKR FAQ's
1. What is the relation of OKRs to workflow?
In any workflow, the focus is one of your primary concerns besides meeting the deadlines. However, articulated objectives help to fulfill baseline target achievement. As a result, unnecessary objectives and distractions can be discarded. The focus remains unparalleled at the same time.
2. How are top-level business executives incorporating OKRs in their work model? Does it help to improve resilience in the process?
Resilience is a derivative of challenges and overall performance. There are a lot of factors that impact productivity – and that too when the nature of the industry itself is in question.
Let's say, workers, are operating in an OSHA compliant environment where they do not feel stressed at the job. The challenges and time pressure associated with OKRs will result in increased long-term resilience.
OKRs provide a layer of transparency for targeted conversions to keep ongoing.
3. In a distributed setting, do OKRs help to achieve goals?
"Distributed" is a broad-spectrum term. It's concept and derivatives change as per the specific work industry.
In a distributed setting, you need to set up workspaces with people who can give constructive input on achieving OKR-related goals and settings.
You will be able to "somewhat" achieve quantifiable results. Other than that, be wary of key roles of assignees, responsibilities, and deliverables to maintain a smooth process from point A to point B.
Conclusion
In a nutshell, OKRs provide organizational focus to your team and help in drastically improving productivity.
If you are already setting business and company goals using the OKR framework, share your views about it with us in the comments below.
---
Some Other Useful Reads on the nTask Blog