The entire team at nTask is overwhelmed to bring this exciting news to you!
The long-awaited nTask 2.0 is here. Yes, we know that the program was scheduled to launch earlier, but we've been working constantly under the radar to implement some brand spankin' new changes.
It is time now to finally release nTask v2.0 in its full glory. Alongside user-requested features that were aggregated over your valuable feedback, we took the time to implement our own ideas as well.
Thanks to groundbreaking work from our dev team and your constant input, the entire year 2019 has been nothing short of amazing. While our version 2.0 is working in the background to gather some last-minute ideas from valuable users like you, the finished product is an exceptional breed of various project management methodologies.
The Agile experts and certified developers at nTask have come up with the biggest update of nTask to date.
A Year in Review: 2019 📅
As we are just shy of a few months from the year 2020, we proudly look back at some of our achievements that made our efforts successful. The most notable ones are mentioned below: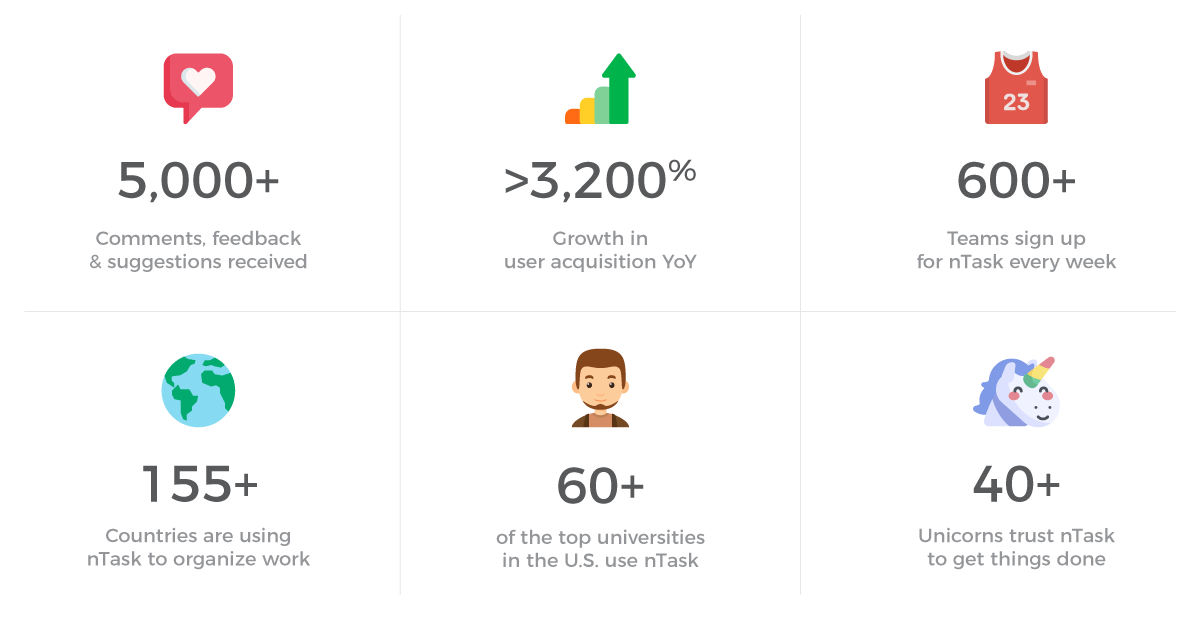 Reimagined Interface & Program Overhaul to Make You Fall in Love with Work 😍
Owing to the remarkable success of nTask over the past year, it was time to introduce valuable updates to our platform.
For everyone trusting us for project management, we, at nTask, have been working tirelessly to bring some fruitful changes your way.
If you've been using nTask, all the shortcomings that you felt were in the previous version, have been completely wiped out alongside the inclusion of exciting new features that make nTask smarter, faster, and more productive than ever.
Let's have a look at what nTask 2.0 is bringing to the table, in detail:
What's New in nTask 2.0? ✨
Technology Switch: React JS and Redux Framework 👨‍💻
For the advanced functionality we had in mind for nTask 2.0, we needed the supporting infrastructure and therefore, the decision to switch to React JS came naturally to us.
By using React JS as a new tech stack for nTask 2.0, the overall performance of the application has improved dramatically.
React JS has enabled our developers to efficiently track and fix any upcoming bugs, making the application more stable and faster than ever. How much faster you might ask? We are experiencing a performance boost by up to 500%.
Hierarchical Project Management Flow 👨‍👩‍👦
With a classy new task board design, nTask 2.0 works on hierarchal project management flow. We do have a few small gaps to cover, but the crux of getting things done within the confines of project management flow is here now.
In addition, the intuitive design helps you to systematically create projects, associate relevant tasks, and then proceed as changes come your way.
The defined hierarchal approach is now updated with the addition of project teams that are responsible for overlooking an entire project. With nTask, you can expect a great deal of things to assure a smooth workflow.
Should you feel like making amends to an ongoing project, you and your team can do so through a variety of tools that we have introduced in nTask 2.0. Some of the features were already in use in the previous version, but the new ones are here to make task flow, project management and work a seamless experience.
Here is the new hierarchy flow in the all-new nTask 2.0:
A Revamped Dashboard 🏡
Based on your valuable feedback, we have retained the core functionalities of nTask through the same dashboard. The beautifully designed dashboard of nTask 2.0 takes project management, resource scheduling, and task management a step further with the addition of robust back-to-back performance.
And that's not all. We will be updating our dashboard with few new surprise tweaks that will be unveiled in December – just before Christmas! We wanted to keep some in-development process under candy wraps in the spirit of the upcoming Holiday season.
We've also added useful project performance metrics for you to get a quick glimpse of where your project stands at the moment. That way, the new dashboard simplifies project monitoring for you.
Beautiful, Interactive Gantt Charts 💅
Yes, you read that right. Gantt Charts are now interactive. That means you can not only monitor the project and task performance but also customize your reporting experience to the next level.
Gantt Charts in nTask 2.0 was also one of the core feature that we have spent most of our time with. The interactive experience was tried, tested and implemented to make sure you can transform your projects' progress and reports as they come by!
Now you can create milestones and dependencies in Gantt charts to further tweak your projects' performance. We have also added grouping features to ensure that your most relevant teams are working on those tasks that they were initially nominated for.
With the added functionality of task dependencies and milestones (to name a few), the new intuitive Gantt charts will easily make the data stand out for you to analyze the project performance.
Super-Fast Collaboration Features 🚀
nTask 2.0 has set the bar quite high with an all-new set of collaboration features which give you maximum control over your tasks, whilst improving the team communication at the same time.
Some of these amazing features are:
✅ Drag-and-drop functionality
✅ Docking – for multitasking
✅ Time tracking and a dedicated timer with tasks
✅ Add comments on ongoing projects and tasks for better collaboration.
✅ Define user roles and permissions to redefine your task management experience.
In addition, now you can create your very own filters or select from a range of advanced filters to help narrow down the most important project activities.
Over the course of the next two months after the immediate launch of nTask 2.0, please look forward to the inclusion of many other useful perks.
nTask is a perfect project management tool

Use it for personal or team productivity. nTask is free and includes unlimited tasks and checklists.
Cost/Budget Estimations 👩‍🔬
The resource planning and budgeting functionality of nTask went for a complete makeover and came back as a powerful and elaborate means for you to do advanced calculations without any technical errors.
Easily log billable hours and calculate each resource's task efforts in terms of the total budget. You can also assign project managers, and authorize them the right to approve or disapprove timesheets.
Integrations, Integrations and Lots of Integrations! 🤖
Connecting nTask to your favorite applications will now be easier than ever. Already providing users with Slack integration, with the help of Zapier, you can automate, sync, manage and import data from more than 1000 applications.
What Do I Need to Do?
While we gather some last-minute feedback from our nTask 2.0 users, you don't have to worry about anything. There are no complex sign-ups, transition phases or complicated data migration processes.
Just hang in there and let us do the hard work. We couldn't have done it without you.