Followed by last year's nTask 2.0 release, which was, of course, one of the biggest core updates to date, our customer support and development team have kept improving on the valuable feedback from our loyal users.
We were blown away with the enthusiasm and the scope of future enhancements requested by some of our most enthusiastic users. We appreciate every bit of feedback as support and look forward to incorporating those and more changes in our next updates.
For the nTask Projects 2.0 update, we are very excited to bring you not just feature updates but also a "wholesome project management" experience.
The All New nTask Projects Key Features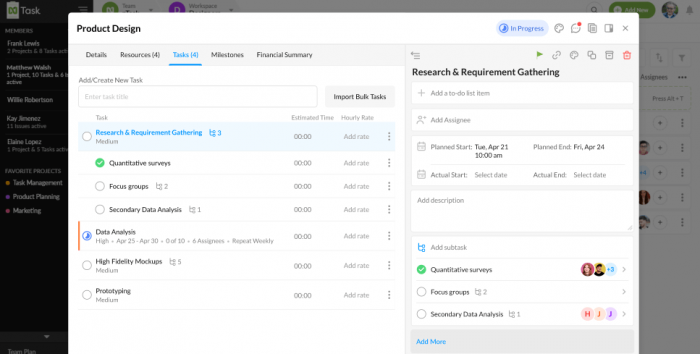 We will explain some of the top key feature updates in nTask Project module.
1. Project Description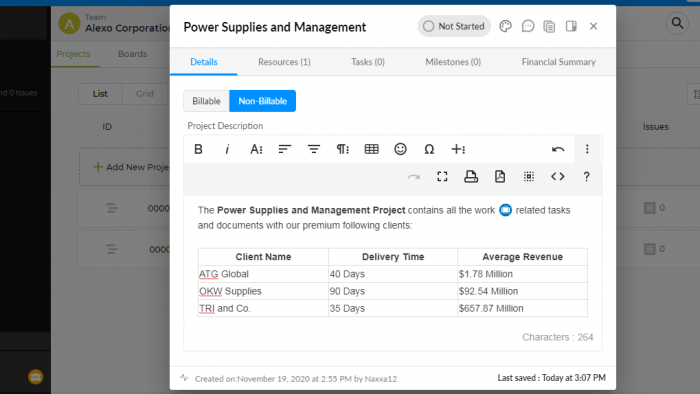 We understand that your projects are nascent 'the next big thing' in the industry you are working with and as such are valuable time and effort that should be accessible to you in a manner that best suits your requirements for future projects.
Our new Project Description tab comes with a multi-text editor to help you input your project's ideas, context, goals and objectives in key highlights form.
So, now you can append your project's most important details with potential checkpoints, challenges and the little details that usually slip through the cracks or just don't seem to matter to your other team members.
Use the new Project Description Tab to keep it short, concise, and to the point. It'll work like a charm!
New to nTask? Use the Best Project Management App.

Manage all your tasks, projects, meetings, documents and teams in one place. Sign up today!
2. Billing Methods
Billing methods are one of the hottest features in this upcoming update. We understand that you want to manage budgets with ease, while your team can concentrate and work on the development end of tasks.
In the nTask Projects 2.0 rollout, we have different billing options, allowing you to move to the billing section without having to leave the screen/tab through the 'Projects" dashboard to the following tabs:

i). Billable
Fixed Fee:

Define your projects' billable with a fixed amount.

Hourly Rate by Task:

Generate billing reports by hourly rates set for any number of tasks. This option facilitates the management of complicated projects with a whole slew of tasks and milestones.

Hourly Rate by Resource:

Conveniently manage your entire team by their billing rate of choice.
If you are working with experts and a large number of resources with pre-defined rates, the Fixed billing option will provide brilliant results for you.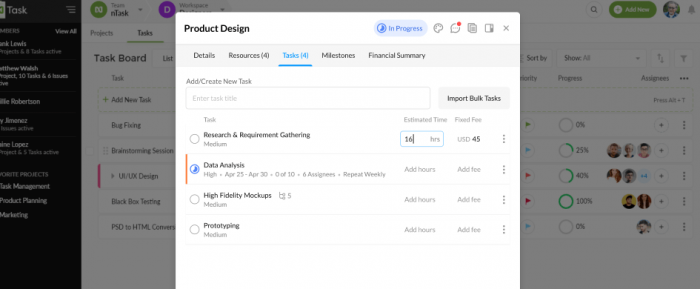 The new billing feature can be further customized to define billable by a different fee for each task. The choice is yours!
Regardless of your mode of billing, both methods only require a simple one-time-setup where project managers need to input billable's values. The remaining process is automated and will blend seamlessly with your workflow.
3. Financial Summary
Speaking of Financial Summaries, we also added a cheeky little checkbox to send reminders to you if a project's budget exceeds a pre-set completion percentage.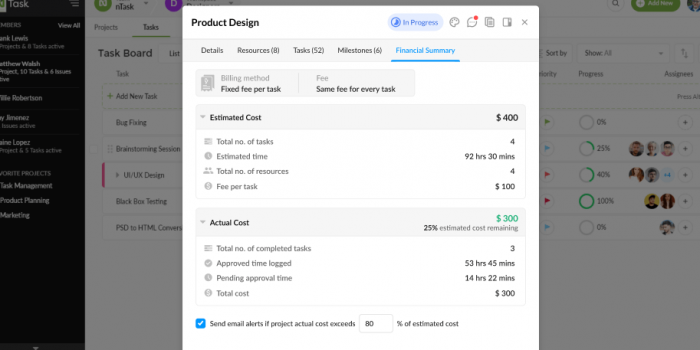 For instance, you can check mark the 'Send email updates, if the project's actual cost exceeds your set percentage' for a completely controlled budget management experience.
No more stress trying to ensure you don't bust your budgets mid project!
4. Resources, Permissions & Much More!
Resources allocation can make or break projects, because no one ever has all that you want or all that you need.
nTask will help you manage your resources more effectively because you now have access to a dashboard that tells you everything, good and bad, at a glance. A fabulously comprehensive collaborative platform allows you the luxury of choosing a team that is not geographically limited anymore. This means you can now look for the best talent your budget allows you to access, for best results, without the earlier limitations.
Ok, so now you have the best possible team, and the collaborative platform has let you stretch your budget further and hire/sign up more team members than you may have been able to earlier. BUT then managing a larger team has its own challenges.
Now nTask will give you options not just to enlarge your team but also a resource management option … with an amazing option to define the hierarchy of your whole team seamlessly and ever so easily!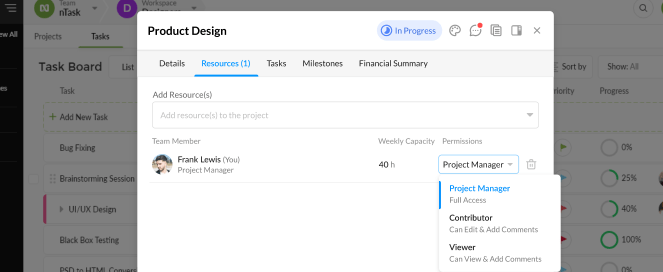 Assign roles via the 'Resource Permissions' Tab. Just select them through your 'Workspace' of choice and assign a designated role to move forward.
Project Manager

Assign a project manager with full access to your project workflow.
You can also create multiple roles allowing this one resource to work on different projects simultaneously.

Contributor

Set Contributor access level for key team members who are working on a project or a task.
Users can upload files, chat, and collaborate with ease and convenience without accidentally tampering with the project's sensitive data.

Viewer

Every project has either minders or people who just want to keep tabs on what's happening. The viewer option is perfect for this role as you can see what's going on but don't have the permissions to input any changes.
BUT, if you feel strongly enough about your opinion, you can get in touch with the right person, like your project manager and become part of the excitement!!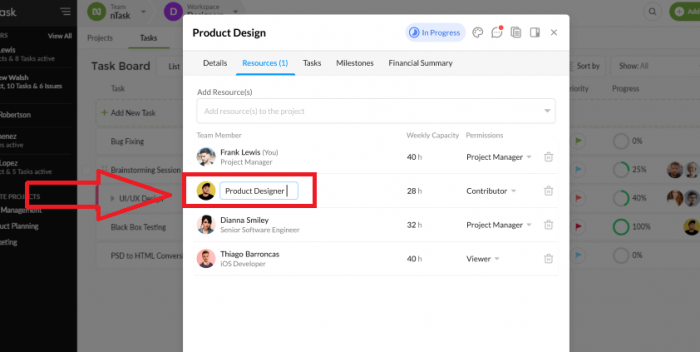 While you are at it, don't forget to take a swing at the 'Job Roles' feature. Yes, you can add your own customized designations to your Resources when you are assigning them roles and permissions.
Have you tried Board view of Projects in nTask? If not then check this resource:
5. Tasks & Completion Time Estimates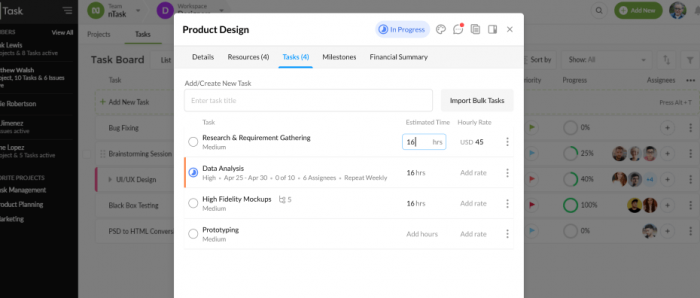 This new feature is another key highlight of the nTask Projects 2.0 update rollout. You can navigate to the Tasks tab to get an accurate overview of all the ongoing tasks within a project.
The experience can be further customized to your choice if you wish to see the Tasks' estimated completion time. As a project manager, you can set the estimated completion time by hours, and minutes; the choice is yours.
6. Subtasks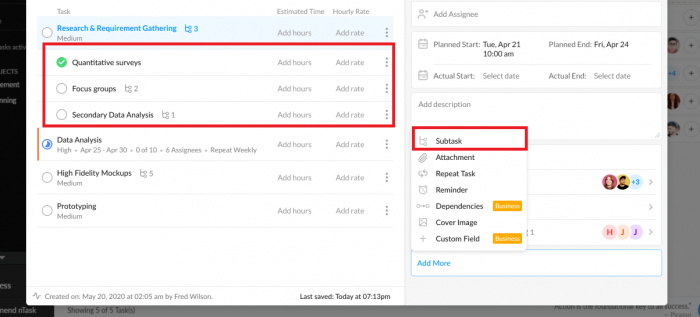 Take your Agile framework to the next level. We've added Sub-Tasks for project managers who wish to add more mini-tasks that affect the ongoing milestone. Why leave it there when you can customize the experience with the help of:
Cover Images
Custom Fields
Reminders
Dependencies
These options help to articulate each project's persona because we understand that everything has a unique nature – even if it's an "inanimate" object!
7. To-Do List: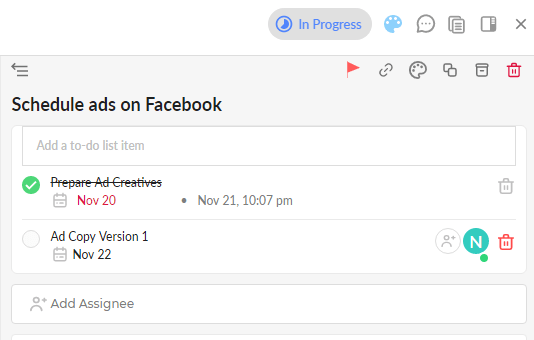 Remember the Checklist feature in the nTask v2.0 update? To-Do Lists are the brand-new overhaul to the conventional 'Checklist' that you once fell in love with.
The new features introduce To-Do list items to pinpoint key highlights and important sections of each task. Define sub-task level deliverables by deadlines, assignee's, and descriptors to take your Agile methodology implementation to the next level.
8. Project Updates via Live Chat, PMs, and Much More: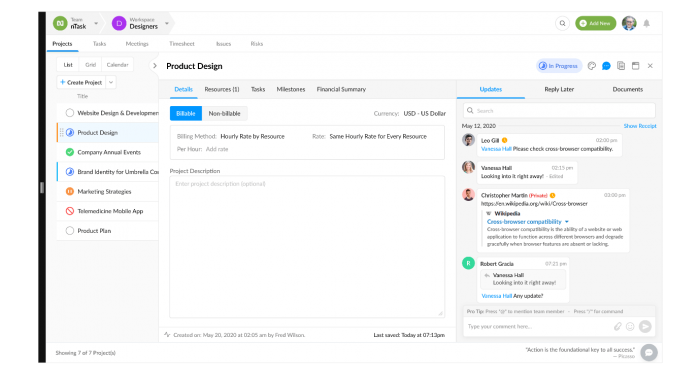 Collaborate effortlessly with your Resources through the project updates feature-set.
We've added a lot of accessibility options to this upcoming update. Resources can collaborate via our real-time Live Chat system.
Your team members can also send Private Messages and use the 'Reply Later' feature to prioritize communication.
9. Files, Attachments, and Project Documents: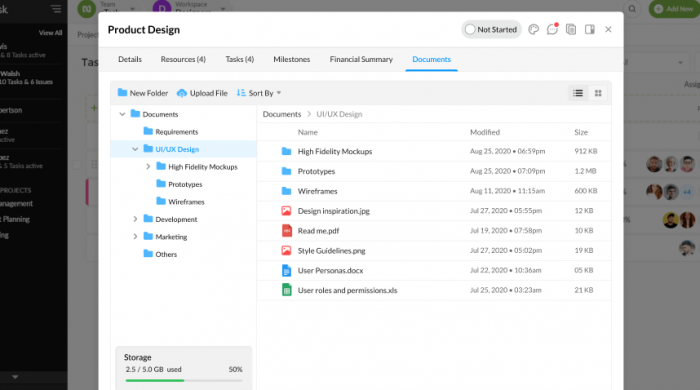 Last but not the least, the Files and Attachments part of the Projects 2.0 roll out will enable you to manage all your Project Documents.
Imagine folder and sub-document level view of key project files while all your important data is secured by nTask's cloud servers. The result is instant file retrieval and 24/7 remote access from anywhere in the world, alongside 100% cloud data security.
Over to You!
We understand that Project Management is an evolving phenomenon.
This new rollout comes with tons of goodies that are waiting to be explored by you. It can be overwhelming, but then again, we are going to give you a super effective Agile experience.
Don't forget to send us your valuable feedback at support@ntaskmanager.com
And remember; the fun is always in the journey!
Good luck & Happy nTasking!