If you are a project manager yourself, you must know that project management requires plenty of planning. Whether it's about planning sprints, allocations, or deliverables, you must keep track of all the factors altogether.
That is where the benefits of Microsoft Planner come in! While the tool is highly functional and adaptable, it requires plenty of other integrations with other apps to utilize to its full capacity. However, let's first understand the basics.
What is a Microsoft Planner?
Microsoft planner is a planner of course. However, it is also a work team-based management software designed for creating plans, organizing and assigning tasks, file-sharing, and a lot more. The application is available in Office 365 group, including Microsoft Whiteboard, Microsoft Word, Outlook, and multiple other office-based applications.
Microsoft planner has a simple yet customizable Kanban-based project management interface that allows you to organize and prioritize your project activities accordingly.
Why Look for Microsoft Planner Alternatives?
However, why must one seek Microsoft planner alternatives to use in 2023? Here is why!
1. You are stuck with a single display
Not everyone enjoys card-based interfaces especially when you are stuck with a single screen forever. Some members might enjoy having an interface with a task list view, while others prefer a calendar view.
MS Planner doesn't give multiple options to work with, your team is bound to shift their styles with the specific project management tool. It's a way to annoy your members while exhausting their productivity as well.
2. Limited Gantt chart features with zero built-in projects
Kanban boards are mainly popular due to their simplicity and the ease they provide to the user. Kanban is board-based with easy-to-read cards that contain all the task information that you might need for completion.
MS planner is quite similar, it will give you a fair overview of the tasks, however, that is all to it. MS planner won't give you the opportunity to handle complex project management and you would better perform with an enterprise solution instead.
3. Cannot notify members individually
MS Planner tackles unnecessary notifications easily by limiting them to people who add up to the comment thread. However, it's not enough, as there is no way to notify an individual about tasks without notifying everyone else in the team too.
The issue is, all these notifications keep piling up, and this can lead to distracting other team members from their own tasks and make you lose sight of what's more important.
4. No room for critical paths
One of the top reasons you can't prioritize tasks over an MS planner is that it cannot measure a project's critical path. This means that you won't have any idea about which tasks are crucial for your project completion.
This makes time management a major issue for the company, without having critical paths, there is no path toward successful project management.
Top Best Microsoft Planner Alternatives to Use in 2023
Let's take a look at the top Microsoft planner alternatives to streamlining your planning processes.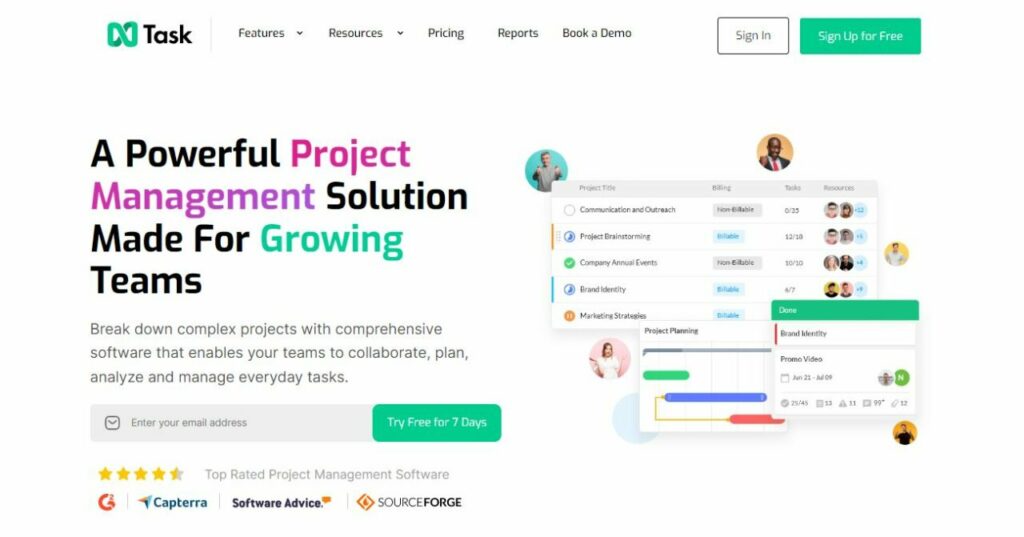 nTask is a cloud-based track management solution that typically caters to small-scale and enterprise-level businesses and individuals. It helps the users with tools that enable easy collaboration with team members, task management, meeting scheduling but most importantly, planning schedules and calendar sheets!
Users can easily make planners, and calendars and prioritize tasks among members while notifying them individually and not bugging the entire organization. You can easily monitor the task progress through calendars for different projects, allot resources, define issues, and tasks, and monitor team members' time spent on different tasks.
Key Features
Resource management
Issue tracking
Task/editing
Planning Schedule
Calendar list
Collaboration tools
Project tracking
Kanban board
Pricing
Free trial: Available for 7 days.
Premium: Starts at $3/month, billed yearly
Business: Starts at $8/month, billed yearly
Enterprise: Contact the team for a specialized plan.
2. Monday.com

Monday is a popular project management tool that helps teams to forget about Monday sucks and offers multiple features like automation, project views, Kanban boards, project management built-in templates, and a lot more.
Monday also comes with apps available on both iPhone and Android phones.
Monday allows you to add comments to the task boards and you can't assign these to any specific member. It allows for easy communication and collaboration and you can conveniently keep the progress of the ongoing tasks.
Key Features
Easily list projects, clients, and tasks.
Intuitive and visual interface
Flexible and intuitive Gantt chart
Easy communication and collaboration
Full integration with multiple apps
Pricing
Monday.com comes with three basic plans.
Basic plan – $10/per user/billed monthly
Standard plan – $12/per user/billed monthly
Pro Plan – $20/per user/billed monthly
3. Trello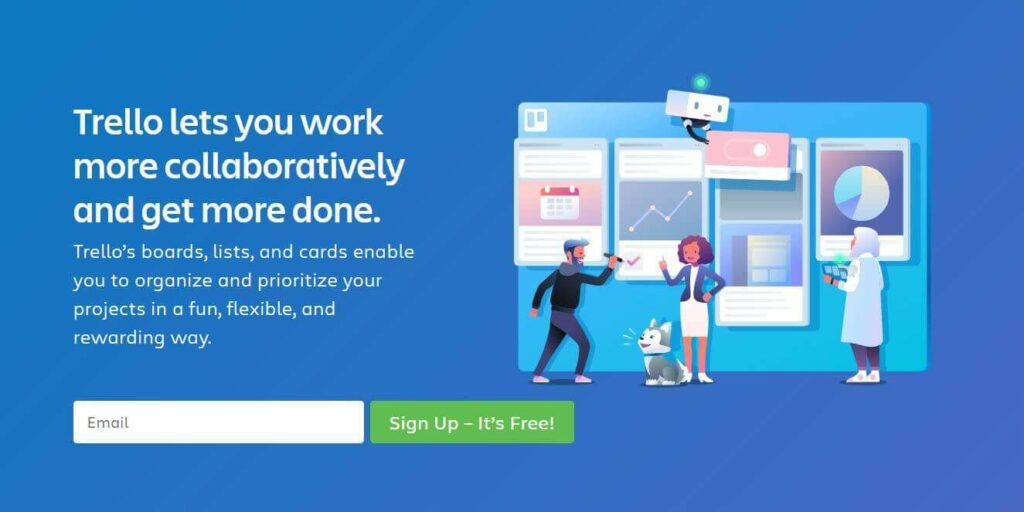 If you have used Microsoft planner for Kanban board and card functionality, you might as well use another software that does it well. In that case, Trello is the one for you! Trello offers multiple boards as projects and the cards showcase the task list.
Tasks are designed accordingly and Trello makes it easy to select and share them with your team publicly. You can easily share work and collaborate with your team members easily. You can easily add details to it, create a simple task list and share multiple files onto the card.
Key Features
Quick overview of front/back cards
Easy drag-and-drop editing
An easy organization with labeling, tags, and comments
Progress meter checklist
File attachment
Easy Upload
Card Records Archive
Pricing
Trello costing is designed as per three basic plans.
Standard – $5/per user/per month
Premium – $10/per user/per month
Enterprise – $17.50/per user/per month
4. Wrike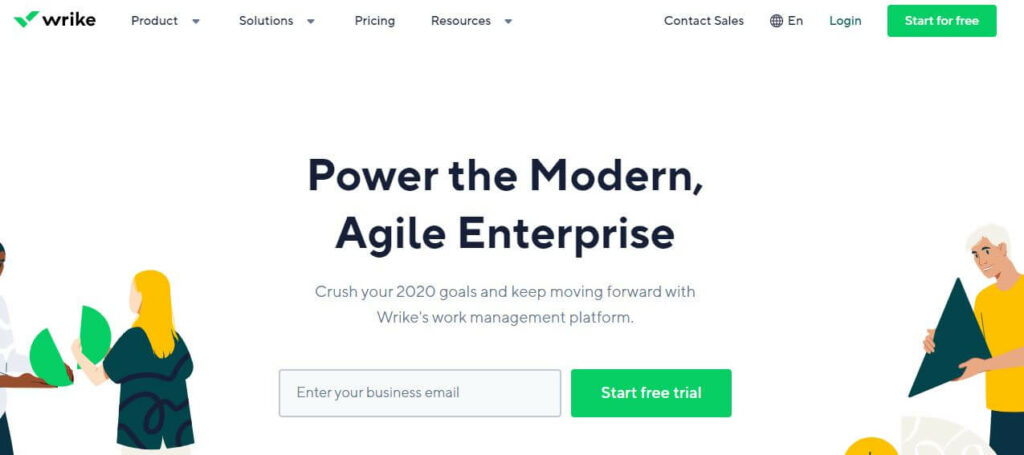 If you are looking for a project management tool that does-it-all for you and is more than a regular planner then take a look at Wrike. Wrike is a popular project portfolio management software with Mac and Windows desktop app.
The app comes with multiple dashboards, Gantt charts, and other hierarchical functionalities.
You can easily use Wrike to schedule and plan your tasks ahead of time. It provides a proper work breakdown structure and makes your task prioritization super easy.
It comes with features like dashboard reporting, a solid integration list, and other features to make the schedule planning as seamless as possible.
Key Features
Organized file management
Seamless communication
Collaborative editing
Gantt charts
Calendars and planners
Time tracking
Email integration
Task management
Workload management
Pricing
Wrike comes with four basic pricing plans.
Free/Unlimited users/2GB per account
Professional/$10$/per user/monthly/2GB per user
Business/$25/per user/monthly/5GB per user
Enterprise/Contact for quote/per user/monthly/10GB per user
5. Asana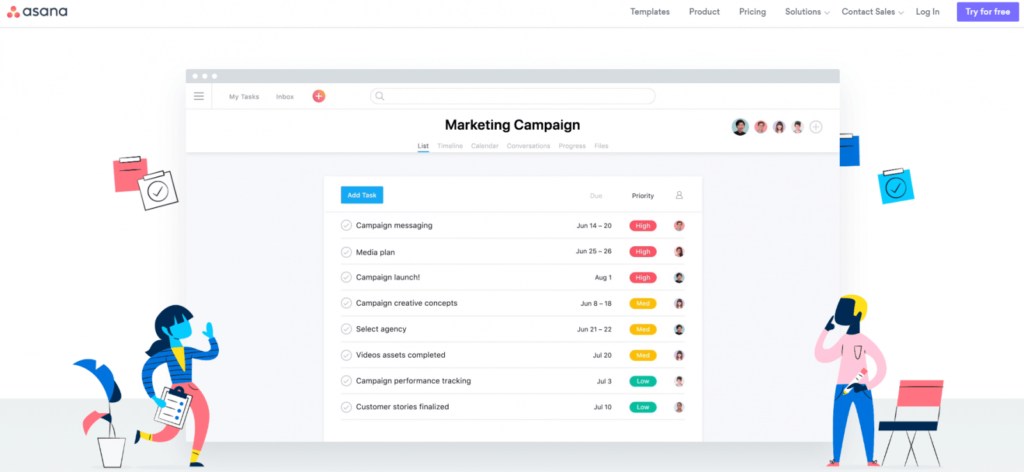 Another alternative to Microsoft Planner is none other than, Asana. Asana is a super simple and friendly project management tool, with easy UI/UX design and multiple task management features to choose from. Asana comes with a happening integration list, including Slack, Dropbox, Salesforce, etc.  
You can easily create and select multiple project sections, just like the Planner's buckets. Asana also offers a customized inbox to help manage activities and collaborate with team members simultaneously over the task calendar.
Key Features
Customizable dashboards
Activity feeds and subtasks assignment
Email integration
Automated updates
Project/Task creation
Tracking, Customer support
Multiple workspaces
Custom Calendar
Task Prioritization
Pricing
Asana comes with three basic packages and a free trial.
Free Package/15 Users
Premium Package/$21/5 users/charged monthly
6. Basecamp

If you are looking for a simple interface tool that is also a decent Microsoft Planner alternative, then Basecamp should be your go-to choice. This project management tool enhances teamwork in the workplace for both in-house and remote-based teams.
Basecamp manages the projects as hills and they are quite popular for their hill charts feature. This feature helps you to track the progress and identify any risks/disruptions that might occur in between.
Key Features
To-do lists creation
Chat platform for real-time communication
Hill charts to track progress
Message boards, aka. Campfire
Easy collaboration
Calendars and scheduling
Pricing
Basecamp Personal: $0 free plan
Basecamp Business: $99/per month flat rate
7. Zoho Projects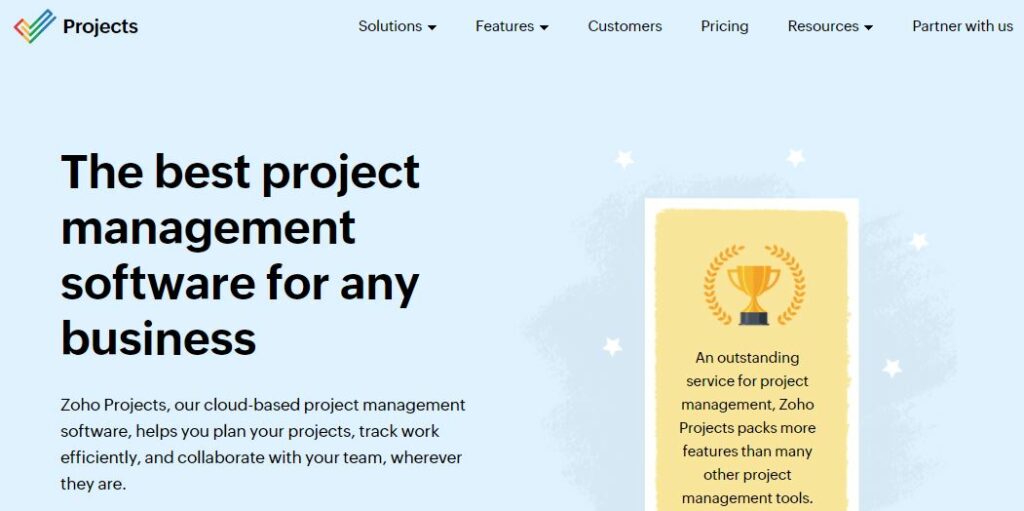 Zoho Projects is an online project management app that is highly suitable for startups and enterprises. You can easily create customized layouts, statuses, and workflows so you can manage the projects the way you want to.
Zoho easily allows you to integrate with multiple tools such as Google app, Google calendar, Google calendar, and Google Drive. The free plan is limited as it allows 2-3 users with 10MB file attachments.
Key Features
Task management
Customizations
Team collaboration
Automation
Time management
Charts and reports
Users
Gantt Charts
Pricing
Zoho Projects offers a free plan with basic features.
Premium – $4/per user/per month/billed yearly
Enterprise – $9/per user/per month/billed yearly
Find the best Microsoft Planner Alternative for your company now!
It's true that MS planner works as a great alternative to the Office Suite, but the project app is anything but perfect. It's not powerful as all the alternatives listed above, get the best alternatives according to your project requirement and start planning now!
Check these out: