Attention, all busy bees! Are you tired of endless, mind-numbing meetings that drain your energy and make you question the meaning of your existence? Well, fret no more, because we have the antidote to those meeting blues!
Picture this: instead of sitting through endless hours of unproductive discussions, you could be breezing through meetings with ease. With the help of the 15 best meeting management applications, you'll be able to orchestrate meetings that are so efficient, productive, and downright fun that you'll be high-fiving colleagues left and right!
But hold on tight, because this isn't just about efficiency. Oh no, these apps are packed with features so cool, they'll make you feel like you're living in a sci-fi movie! From seamless collaboration tools that will ignite your team's creativity to scheduling wizards that prevent any overlap or confusion, these apps have it all.
So, get ready to explore the crème de la crème of meeting management apps.
Simplify Meeting Management
with nTask!
What to look for in a meeting management application
When selecting a meeting management app for your SMB, it's essential to consider several key factors. Here are some crucial aspects to look for:
1. Meeting Scheduling and Calendar Integration: The app should offer easy meeting scheduling functionality, allowing you to set up meetings and send invitations seamlessly. Integration with popular calendar apps, such as Google Calendar or Outlook, ensures that meeting schedules are synchronized and conflicts are avoided.
2. Agenda Creation and Management: Look for an app that facilitates the creation and management of meeting agendas. It should enable you to outline meeting topics, allocate time slots, and easily share agendas with participants. Customizable templates and the ability to collaborate on agenda creation can further enhance organization and efficiency.
3. Collaboration Tools: Effective collaboration during meetings is crucial for driving productivity. The app should provide features like real-time document sharing, note-taking capabilities, and live chat to encourage active participation and information sharing among attendees
4. Action Item Tracking: A robust meeting management app should allow you to assign and track action items arising from discussions. This feature ensures that tasks are documented, responsibilities are assigned, and progress is transparent. Look for an app that enables you to set deadlines, track completion status, and send notifications to keep everyone accountable.
5. Integration with Productivity Tools: Consider whether the app integrates with other essential productivity tools your team uses, such as project management software, file-sharing platforms, or communication tools. Integration allows for seamless information flow between different systems and reduces the need for manual data entry or switching between multiple apps.
6. User-Friendly Interface: The app should have an intuitive and user-friendly interface to minimize the learning curve and make it easy for all team members to navigate and operate. A clean and straightforward design ensures that valuable time is not wasted trying to figure out how the app works.
7. Accessibility and Device Compatibility: Consider whether the app supports multiple devices, such as desktops, smartphones, and tablets. This allows for flexibility in accessing and managing meetings, regardless of the device used, ensuring that everyone can participate regardless of location or preferred device.
8. Security and Privacy Features: Meeting discussions often involve sensitive information. Ensure that the app prioritizes data security and offers features like encryption, secure login processes, and data backups to protect confidential information and maintain the privacy of your meetings.
15 Best Meeting Management Apps in 2024
We have divided the apps into different categories according to their affordability, user interface, and features. Have a look at each category and start using the one that suits your business needs the best.
Affordable Meeting Management Apps:
Affordability is a key consideration for SMBs when it comes to choosing an application that fulfills all the meeting management features. Here are some cost-effective meeting management apps that deliver excellent value for your money: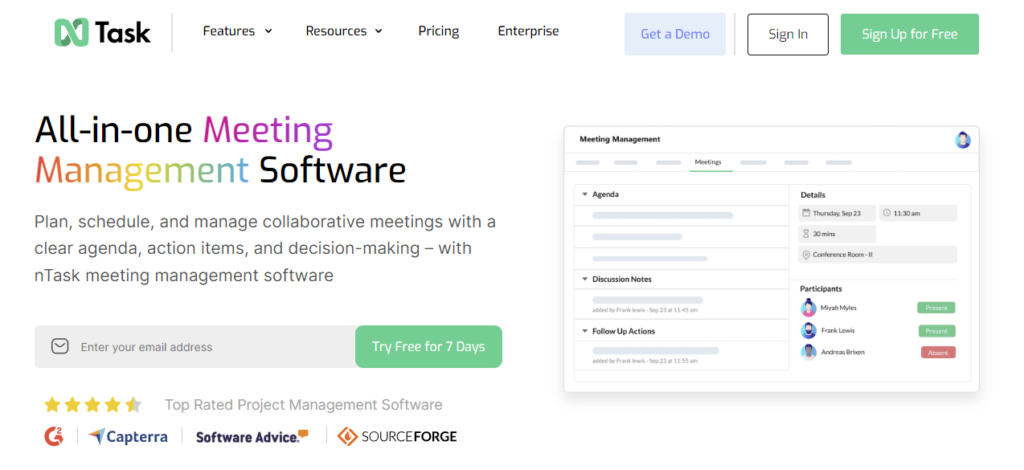 When we hear the word affordability for meeting management software or an end-to-end project management app, nTask is the first software that clicks our minds. nTask is one of the most affordable options in the industry today, designed for all-sized teams. This cost-effective factor makes it ideal for everyone, be it a freelancer, an SMB, or bigger businesses.
Notable Features
Meeting Management
Issue Tracking
Pricing
Basic: $0 per month
Premium: $3 per user/month, billed annually
Business: $8 per user/month, billed annually
Enterprise: It is a customizable plan, contact nTask for your plan.
2. Microsoft Teams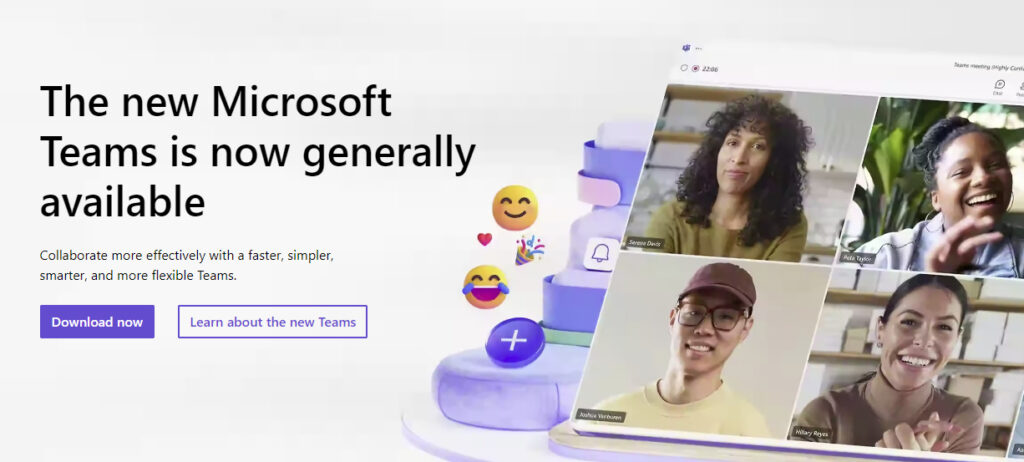 Microsoft Teams is a cost-effective and comprehensive collaboration platform that brings together various features. It seamlessly integrates real-time messaging, video conferencing, and powerful meeting management capabilities. It is a very common choice of every organization.
Teams serve as an efficient and collaborative platform where remote teams can engage in chat, file sharing, and conduct video meetings, all in a unified space. Although it may not possess advanced agenda management functionalities, Teams proves to be a versatile option and a natural fit for users of PowerPoint and Office 365.
Notable Features
Dedicated meeting rooms for segmented meetings
File attachment and feedback collection
Seamless integration with third-party apps and extensions
Fast and intuitive design
Team chats for seamless communication
Live web conferencing
In-meeting screen sharing and note-taking capabilities
Unlimited messages and robust search functionality
High-quality audio and video features
Suitable for both small-scale and large-scale meetings
Pricing
Essentials: From $4.00 per user/month
Business Basic: From $6.00 per user/month
Business Standard: From $12.50 per user/month
3. Hypercontext

Hypercontext is said to be a comprehensive resource for managers seeking to maintain any organization. Its primary focus revolves around offering a platform that empowers managers to facilitate productive one-on-one meetings, team gatherings, and company-wide discussions.
Hypercontext allows its users to gain entry to pre-existing features of meeting agenda templates, and conversation prompts. Moreover, it has ready-to-use templates for setting team goals and Key Performance Indicators (KPIs).
Notable Features:
1. Tailored meeting agendas.
2. Instant employee feedback.
3. Effortless delegation of tasks to team members.
4. Availability of a diverse range of personalized conversation starters.
5. Convenient note-taking.
Pricing
Basic: $0 per month
Pro: $5.60 per user/month, billed annually
Business: $8.80 per user/month, billed annually
4. Fellow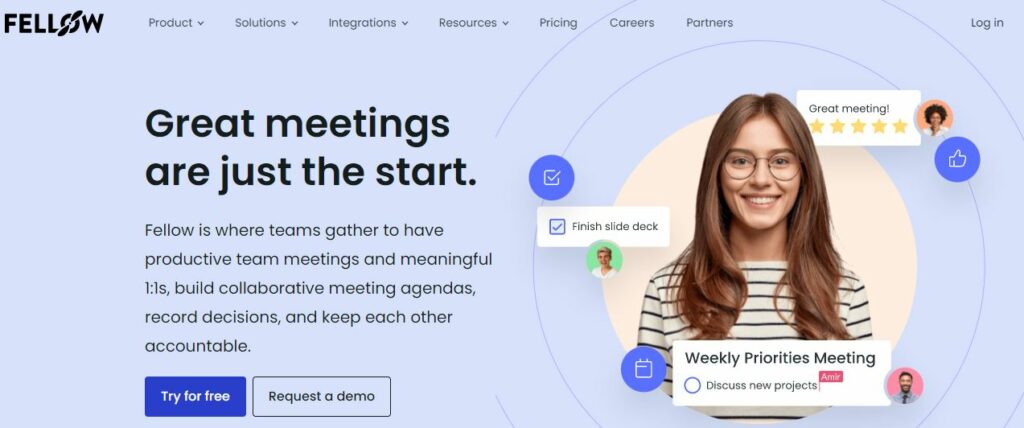 Fellow is an application dedicated to optimizing collaboration through its focus on improving one-on-one meetings, task allocation, and accountability.
With its array of features like meeting agenda templates, action item creation and assignment, and meeting notes, Fellow ensures that meetings are organized and that all participants are aware of the subsequent steps.
Fellow excels in facilitating one-on-one meetings, collaborative note-taking, brainstorming sessions, and real-time feedback. Furthermore, the app allows the inclusion of external collaborators, enabling the consolidation of meeting agendas and action items into one centralized location.
Notable Features
Action item tracking for team accountability
Pre-made meeting agenda templates for streamlined meetings
Real-time note-taking for enhanced collaboration
Real-time feedback for improved collaboration and performance
Pricing
Free: $0 per month
Pro: $7 per user/month, billed annually
Business: $10 per user/month, billed annually
5. Google Meet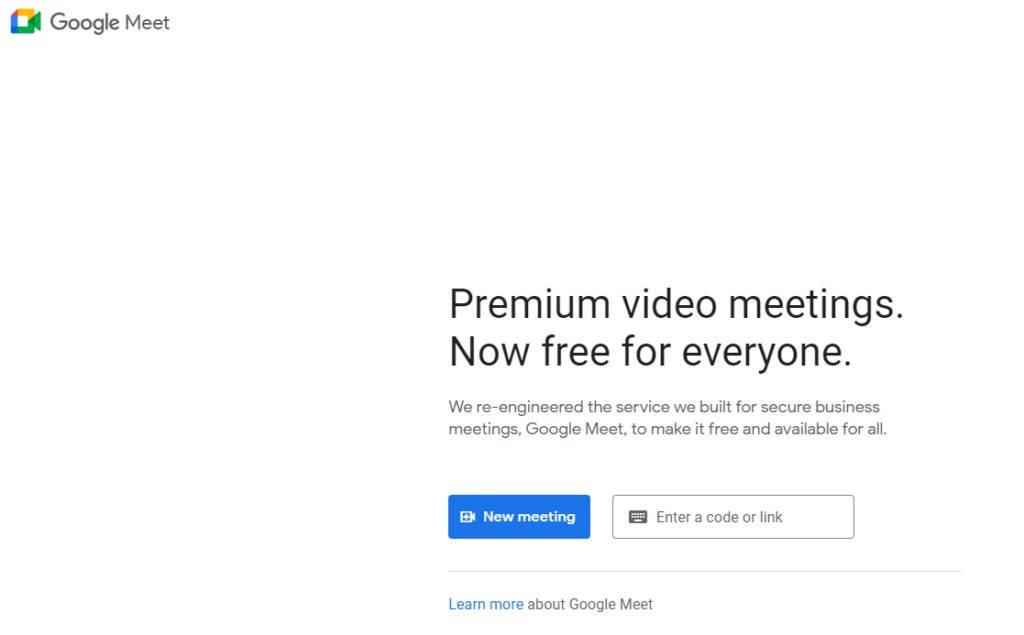 Google Meet is a versatile video communication service designed for team meetings, webinars, and video conferences.
It seamlessly integrates with Google's Workspace, granting users access to various productivity apps such as Gmail, Drive, Calendar, Sheets, Docs, Slides, and Forms, enhancing collaboration during meetings.
Additionally, Google Meet serves as an ideal choice for conducting video interviews, as it enables the sending of invites to any participant via email, eliminating concerns about permissions.
Notable Features
Video communication service for meetings, webinars, and conferences
Integrated with Google's Workspace productivity apps
Easy invites for video interviews via email
Extended meeting duration of up to 24 hours
Accommodates up to 250 attendees in meetings
Creation of digital whiteboards for collaboration
Recording and saving meetings on Google Drive
Access to recorded meetings for all attendees
Pricing
Business Starter: $6 per user/month
Business Standard: $12 per user/month
Business Plus: $18 per user/month
Enterprise: Contact them for customized pricing
Simplify Project Management
with nTask!
Easy-to-Use Meeting Management Apps
For SMBs with limited technical expertise and minimal time to invest in training their teams, user-friendly meeting management apps are a boon. Here are some options that are incredibly easy to use:
6. Calendly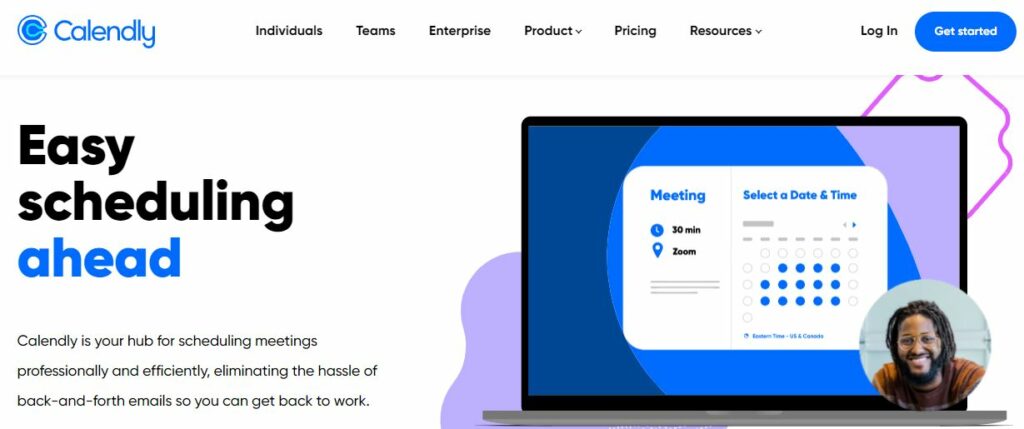 Calendly is a user-friendly tool that simplifies the process of scheduling meetings, consultations, and appointments. It is particularly beneficial for setting up one-on-one meetings or arranging meetings with clients.
Furthermore, Calendly automates reminders and notifications for both you and participants, reducing the chances of missed appointments. This feature has proven helpful during activities like hiring processes and conducting user interviews.
To effectively plan and organize your meetings, consider using Calendly alongside an agenda-planning tool such as SessionLab. Together, these tools can streamline your meeting management process, saving you valuable time and effort.
By sharing your Calendly link, participants can easily book appointments based on your availability. You can conveniently set your working hours and specify when you are free for meetings.
Calendly also integrates with popular calendar apps like Google Calendar, Outlook, and iCloud, making it even more convenient to manage your schedule.
Notable Features
Automated scheduling and booking
Personalized meeting availability
Integration with calendar apps
Customizable meeting types and durations
Meeting reminders and notifications
Pricing
Free: Free forever plan
Standard: $10.00 per user/month
Teams: $16.00 per user/month
Enterprise: Contact them for customized pricing
7. GoTo Meeting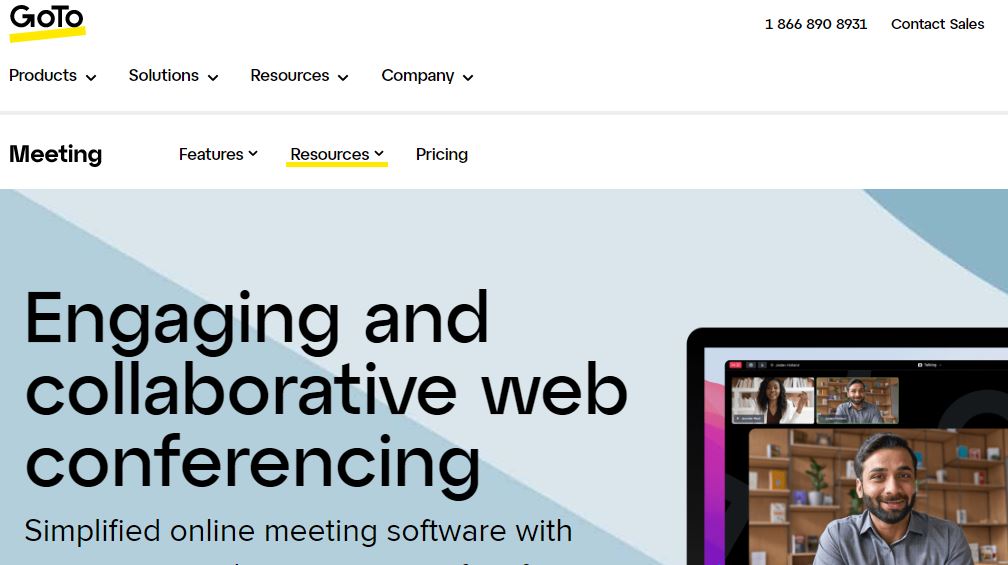 GoToMeeting is a user-friendly video conferencing application designed with simplicity and a minimalistic user interface in mind. It offers a seamless blend of productivity and flexibility, allowing employees to work efficiently from anywhere, using any device.
With GoToMeeting, you can benefit from essential features like in-meeting chat, screen sharing, browser-based meetings, and high-definition video conferencing.
These features make GoToMeeting a versatile application that can be accessed across different devices, ensuring a smooth and convenient video conferencing experience.
Notable Features
HD video conferencing for clearer meetings
Screen sharing capability to enhance visual presentations
In-meeting chat feature
Browser-based meetings
Versatility across multiple devices
Pricing
Professional: $12 per month, billed annually
Business: $16 per month, billed annually
Enterprise: Contact for customized pricing
8. Fuze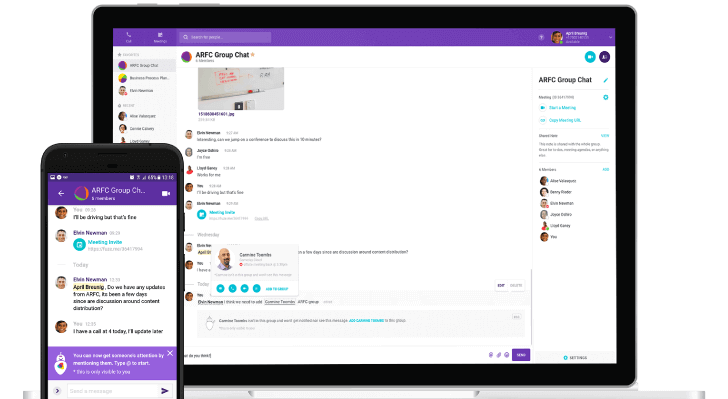 Fuze is last but not least when it comes to the interactive user interface. It is a cloud-based meeting management application that offers exceptional meeting planning capabilities for teams of any size.
It provides a wide range of unified communications solutions for businesses, including voice, video, and messaging features.
One standout feature of Fuze is its clean and simplified user interface, ensuring a pleasant user experience.
Moreover, users have the convenience of utilizing Fuze numbers as real phone numbers, enabling them to make calls and dial in for meetings seamlessly.
Notable Features
Voice calls through VoIP or phone dial-in
Meeting scheduling and planning
Meeting recording for future reference
Slideshow display for presentations
Real-time note-taking and annotation
File sharing during meetings
Video meetings with participants
Easy meeting hosting and joining
Screen sharing to showcase content
Multimedia support in meetings
Pricing
Fuze does not have a conventional pricing plan. Instead, they offer international call rates, which you can easily access on the Fuze rates page provided below.
9. Slack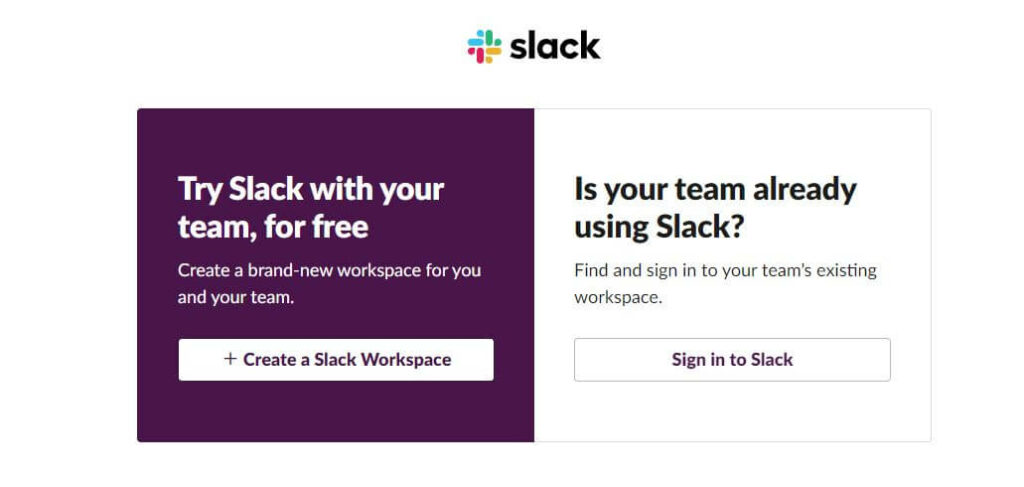 Slack is a versatile communication tool that facilitates chat sessions and video calls, promoting teamwork among team members.
It enables the creation of private workspaces where individuals can collaborate on projects.
One of the key advantages of Slack is its ability to connect users with external collaborators, such as subcontractors and guest users, expanding access to valuable resources beyond one's organization.
Considered the top choice for a comprehensive meeting platform, Slack offers a range of collaboration tools, including workspaces, huddles, file sharing, and chat messaging.
It serves as an all-in-one solution, meeting various needs within a single platform.
With Slack, you can efficiently conduct video meetings with a maximum of 15 team members, ensuring seamless communication and updates while working remotely.
Furthermore, Slack incorporates a centralized file storage system, enabling team members to store and retrieve essential project files effortlessly.
This feature streamlines project management by providing a convenient and organized file repository for all team members.
Notable Features
Pin messages and add reference links to channels
Manage and track documents efficiently
Use advanced search modifiers for quick searches
Share channels across workspaces
Streamline your sidebar for easy access
Navigate swiftly between channels
Set reminders
Manage your calendar
Pricing
Basic: $0 per month
Pro: $5.60 per user/month, billed annually
Business: $8 per user/month, billed annually
Feature-Rich Meeting Management Apps
Feature-rich meeting management apps offer a wide range of advanced functionalities that enhance productivity and collaboration during meetings. Some of the applications with the best features are as follows:
10. ClickUp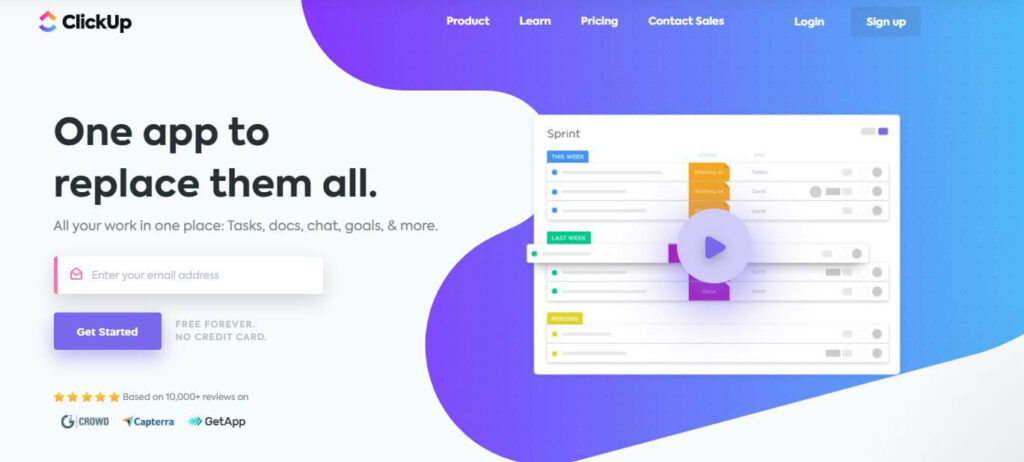 ClickUp is a versatile software that goes beyond meeting management and offers comprehensive task and project management capabilities.
With ClickUp, you can effortlessly assign tasks, track progress, and collaborate effectively.
It serves as an all-in-one solution to keep your team organized in various aspects.
By customizing workflows, task statuses, assignees, and due dates, you can tailor them to match your meeting management processes.
Additionally, the communication tools like comments, task discussions, and file sharing foster teamwork.
With features like time tracking and report generation, you can assess productivity and resource allocation as well.
Notable Features
Sync and update ClickUp and Google Calendar seamlessly
Start Zoom meetings directly from ClickUp tasks
Easily switch between Board, Calendar, and Gantt chart views
Set and monitor team targets using the ClickUp Goals feature
Gain a high-level overview of ongoing projects for better decision-making.
Create visual representations of ideas and tasks discussed in meetings
Assign tasks to multiple team members
Monitor meeting times and access detailed time allocation reports
Automate tasks like sending meeting room links and assigning note-writers
Pricing
Free: $0 and free forever
Unlimited: $7 per user/ per month
Business $12 per user/ per month
Enterprise: Contact for a customized pricing
11. LiveStorm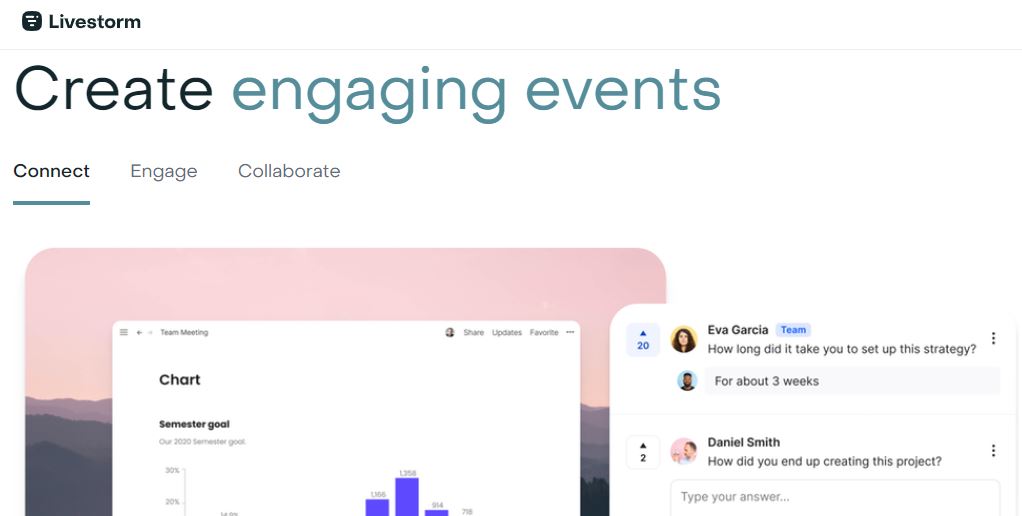 Livestorm is a platform that helps you organize and conduct different types of video meetings. It can handle up to 3,000 participants at a time.
You can host webinars, team meetings, one-on-one sessions, or webcasts using Livestorm. It also allows you to create registration forms and provides useful metrics.
Livestorm eliminates the need for external tools as it can manage your entire meeting process.
It can easily integrate with other applications like Notion or Calendly to provide additional features and flexibility to your Livestorm experience.
Notable Features
Customizable Registration Pages
Meeting Automation
Live Engagement Features
Embed PowerPoint or Visme presentations
USethe Handouts plugin to easily share documents
Automatic Call Recordings
Pricing
Free: $0 per month
Pro: $79 per month billed annually
Business: Contact for customized pricing
Enterprise: Contact for customized pricing
12. Slido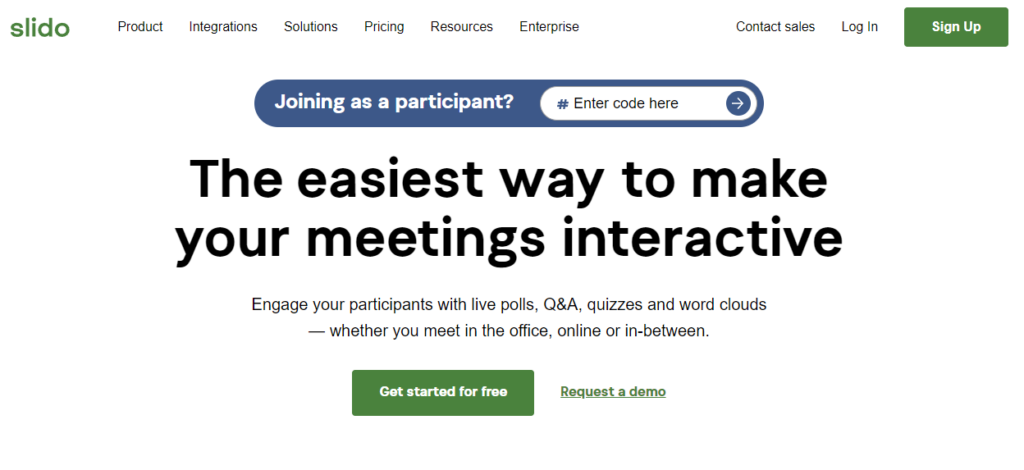 Slido is a platform that helps make meetings and events more engaging by offering features like live polls, Q&A sessions, and real-time interaction. It's a useful tool to include in your all-hands meetings or workshops.
With Slido, you can easily involve participants in your meetings by using live polls and Q&A sessions, which adds an interactive element. It's beneficial for gathering feedback, asking questions, and receiving opinions in real time from your audience.
You can integrate Slido with popular presentation software like PowerPoint or video conferencing tools, making it seamless to include audience engagement in your meetings. Additionally, you can access valuable data and insights about participant engagement and the performance of your meetings.
Notable Features
Access Controls/Permissions
Activity Dashboard
Conferences/Conventions
Data Analysis Tools
Data Import/Export
Data Visualization
Event Scheduling
Feedback Management
Video Conferencing
Pricing
Basic: $0 per year
Engage: $12 per month
Professional: $60 per month
Enterprise: $200 per year
13. Zoom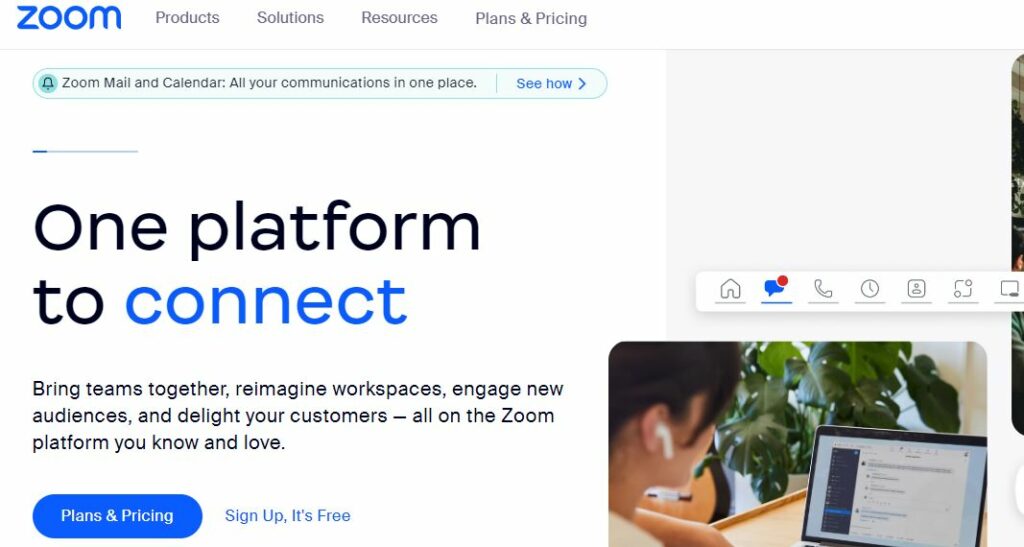 Zoom is a renowned conference facilitation platform that has soared in popularity recently. Crafted by a skilled software firm, it is custom-made to support video conferences and is loaded with a variety of features designed to streamline meeting organization.
This platform assists in orchestrating virtual gatherings and smoothly intertwines with your Google Calendar, providing the freedom to plan meetings from any corner of the globe. Moreover, Zoom grants the capability to archive meetings, thereby enabling easy access to past discussions, and it offers searchable transcripts for increased ease of use.
Notable Feature
Public/private group creation
Calendar tool integration
Third-party app compatibility
Screen sharing/co-annotation
HD audio/video calls
Auto-generated meeting transcripts
Android/iOS mobile access
Up to 1000 attendees per session
Customizable meeting backgrounds
Pricing
Basic: Free
Pro: $149 per user/ per year
Business: $199 per user/ per year
Business Plus: Contact for customized pricing
Enterprise: Contact for customized pricing
14. Miro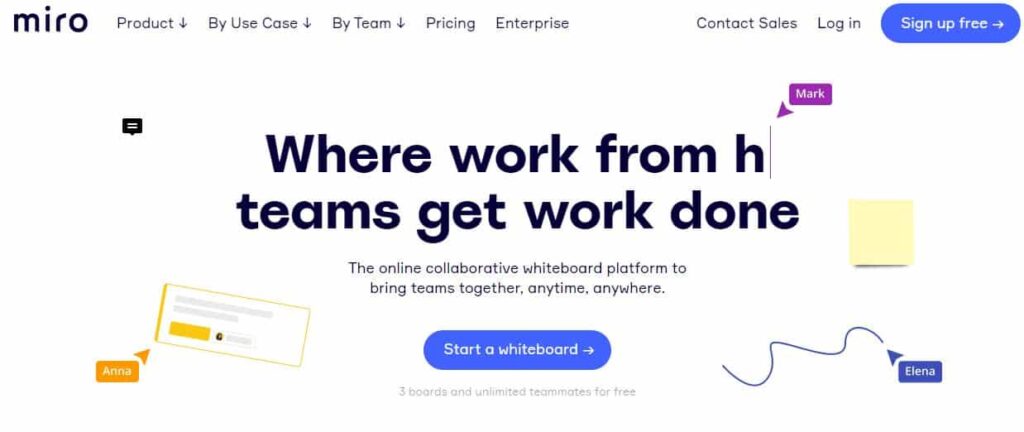 Miro serves as a comprehensive visual collaboration tool that aids teams in ideation, planning, and conducting meetings with a keen emphasis on visual elements. Its popularity amongst facilitators was highlighted in the State of Facilitation survey.
In a majority of our virtual assemblies, we utilize a Miro board to gather thoughts, vote on potential solutions, and collaborate visually.
An effective meeting management tool is useful not only for planning but also during the actual session. Miro provides utilities like mind maps, flowcharts, and brainstorming templates to spark creativity and problem-solving discussions during meetings. Engaging team members on a communal whiteboard can simplify the elucidation of concepts and emulate the ambiance of face-to-face interactions.
Notable Feature
Access Controls/Permissions
Action Item Tracking
Action Management
Activity dashboard and tracking
Agenda Management
Digital whiteboards and visual collaboration
Mind mapping and brainstorming tools
Pricing
Basic: Free
Starter: $8 per user/ per month (billed annually)
Business: $16 per user/ per year (billed annually)
Enterprise: Contact for customized pricing
15. Klaxoon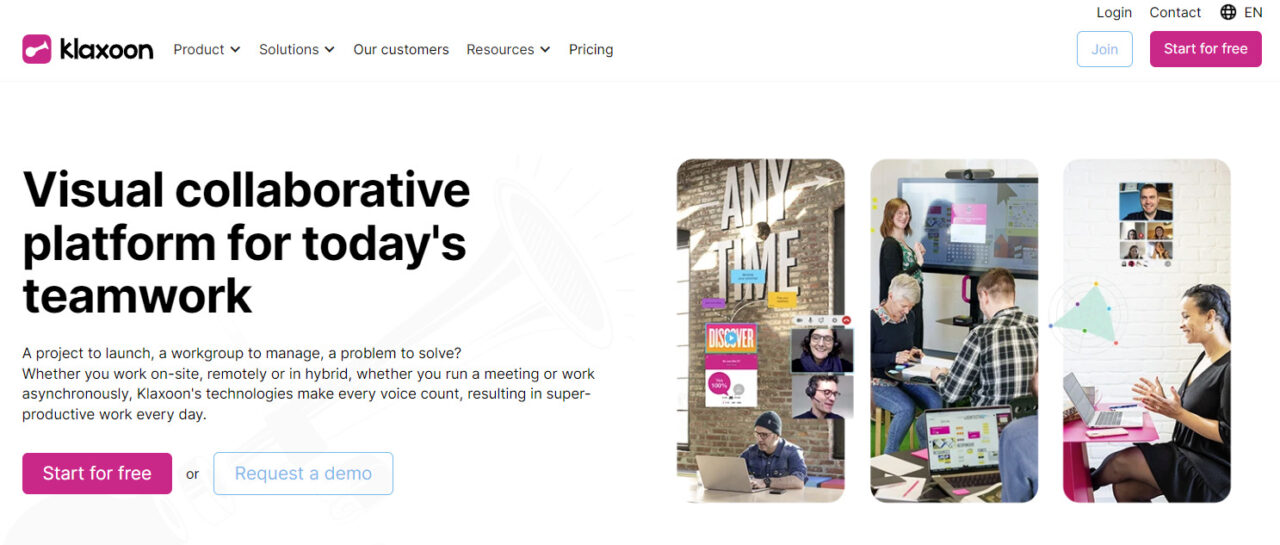 Klaxoon is a flexible meeting management application aimed at innovating conventional meetings into lively and participatory encounters.
It provides a suite of interactive utilities such as quizzes, surveys, word clouds, and brainstorming boards to maintain engagement and promote cooperation among participants. When it comes to virtual meetings where you aim to stimulate active involvement, meeting management resources offering quizzes and polls make a great starting point.
Notable Feature
Interactive meeting tools and activities
Collaboration and brainstorming boards
Real-time feedback and surveys
Integration with various apps and platforms
Analytics and reporting
Pricing
Basic: Free
Starter: €24.90 per user/ per month (billed annually)
Enterprise: Contact for customized pricing
In a Nutshell
You read about 15 meeting management software, including nTask in this blog. However, nTask stands out of all the above-mentioned applications because of its affordability, ease of use, and feature-packed robust performance.
nTask offers a simple yet powerful solution for efficient task management. Give nTask a try, and you'll understand why it stands tall as the best task management tool available in the market today.
Simplify Project Management
with nTask!