Meetings are an essential part of any work culture and organization. To that effect, an important part of meetings is the meeting agenda which is often overlooked.
However, to ensure that your meeting is as beneficial as it can be it is best to create an effective meeting agenda to be available for all your attendees and participants.
That is why we have put together some tips and tricks as well as meeting agenda templates to help you make the most of your meeting.
What is a Meeting Agenda?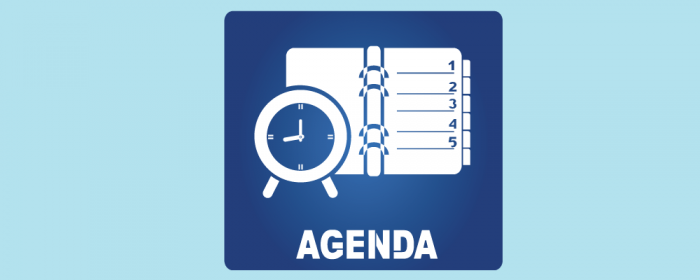 Simply put, a meeting agenda is a set of items that will be discussed at an upcoming meeting.
In other words, a meeting agenda is a plan for the meeting that is available and shared with all those that will be participating or attending the meeting.
Meeting agendas can be created as per the team or company's requirements and includes either or both of a sequence of planned activities or a list of topics to be discussed.
The way meeting agendas are formatted is also based on what works for the team and can be either simple such as a short bullet point list or be more complicated including details of topic descriptions and proposals etc.
Most formal meeting agendas also incorporate timing and presenter information that is relevant to each agenda item.
Common Meeting Agenda Items
There is a variety of meeting agendas you can create depending on the type and style of the meeting being held.
There are however some common items that are typically included in all types of meeting agendas.
These items include the following:
Participants and attendees of the meeting
An introduction to what is on the agenda
Any presentation that is to take place
An update and review of the progress of any and all action items
Update on work in progress and projects
Time for open discussion
A question-and-answer session
Action items to be reviewed in the next meeting
Follow These Tips to Write an Effective Meeting Agenda
As we mentioned, writing a meeting agenda for any kind of meeting can vary according to those involved and the type and style of the meeting.
However, there are common items that are usually included in all meeting agendas as well as a way you can go about writing an effective agenda.
You want to ensure that the agenda you put together is not done so hastily. To make sure that the agenda delivers the value you need to take the time to formulate the agenda as well as guarantee that it is structured and focused.
You can follow these tips to help plan your next agenda for your meeting:
Tip #1: Identify the Meetings Goals and Objectives and Make them Clear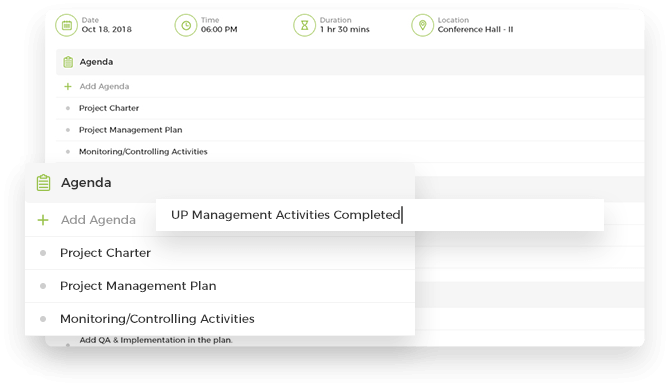 By having the goal of the meeting clearly identified and outlined from the get-go you ensure that all the things to follow and the tasks in the agenda are relevant.
Clarity of the goals of the meeting is essential to hold a meeting that can achieve these. You also want to have an achievable meeting goal. Both of these are important to have a meeting that is focused and be effective.
Tip #2: Avoid Vague Agenda Items
It is beneficial to list the questions you want to address. Better yet is to list your agenda topics as questions or tasks to be more focused.
This further reiterates making the purpose of the meeting clearer.
Writing agenda topics as questions brings further clarity to the exact nature of the agenda item, especially when you compare it to if you were to simply write agenda items as phrases.
Questions further ensure that you invite discussion during the meeting and are able to gather relevant information for each agenda item.
Clarifying the purpose for each task is also good. This will help your meeting participants also be clear as to what is expected of them. Does the agenda item involve sharing information, seeking input, or making a decision?
Tip #3: Clarify Expectations and Responsibilities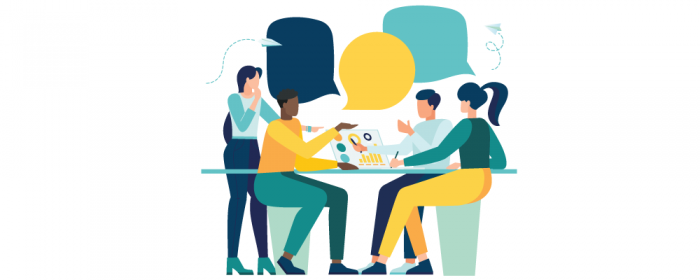 Following on from the last tip, it is important to highlight to your participants what is expected of them and what their responsibilities for the meeting are.
Highlighting these points in advance lets each member be prepared and thus you can get the most out of the meeting.
You don't want to hold a meeting where everyone is confused and people waste time trying to gather their thoughts and present or explain data that they could have prepared to do so beforehand.
This tip also includes letting anyone know if they are responsible for leading a discussion on a particular topic. At times this will be done by a person other than the meeting leader and they should be informed of this before the meeting.
This will allow them to prepare but also help your meeting run smoothly.
Tip #4: Estimate a Time for Each Agenda Item or Topic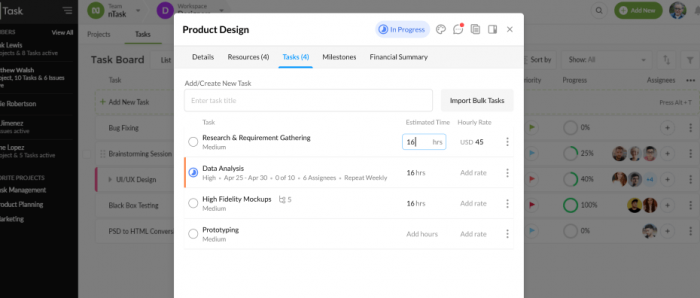 You want to avoid the all-too-common mistake of packing too many agenda items into your meeting and thus either running out of time or having a meeting that goes on for too long.
The length of a meeting is important to make sure that it is effective. Too long and people lose interest, neglect other responsibilities, or simply get tired.
Estimate how long you plan to spend on each item. This will help you make sure you have enough time to get through it all but also allows your meeting participants to adjust their comments and questions to fit within the allotted time.
Be realistic about what you can manage within one meeting and how long each item should take to get through. This will help keep the meeting discussions meaningful and useful.
You can set your agenda according to top priority tasks first so that you ensure the most important tasks get sorted and dealt with first.
Tip #5: Ask Meeting Participants for Input in the Meeting Agenda
To ensure each participant of your meeting is engaged throughout ask for their input when creating the agenda.
By doing so you ensure that the members of your team or participants of your meeting can fulfill their needs and discuss what needs to be discussed to solve issues they may be facing.
Tip #6: Include a Meeting Review in your Agenda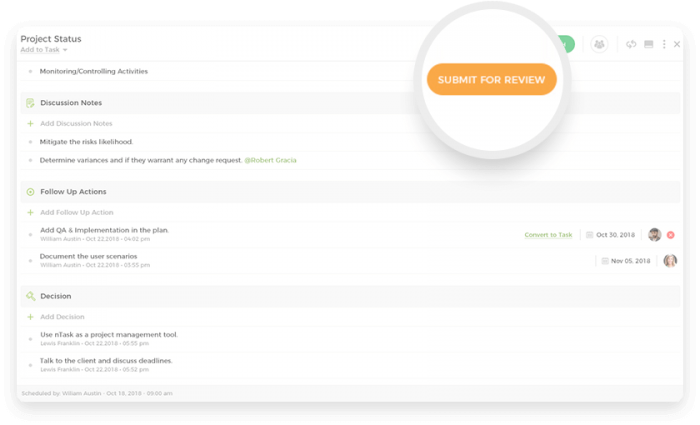 Having a review at the end of a meeting can help summarize and reiterate what was discussed during the meeting. nTask enables you to submit your meetings for review by the team owner or project manager.
This also helps create reminders for the participants of what they need to do as follow-up actions of the meeting.
You can also use this time to discuss what went well and what didn't during the meeting. This can help your next meeting be more efficient.
Ending each meeting in this way is beneficial and thus to ensure it happens it is important to add it to your meeting agenda.
Basic Meeting Agenda Template
We will discuss some more specific meeting agenda templates below, however, here is a basic meeting agenda template that you can tailor to your next meeting no matter the type of meeting.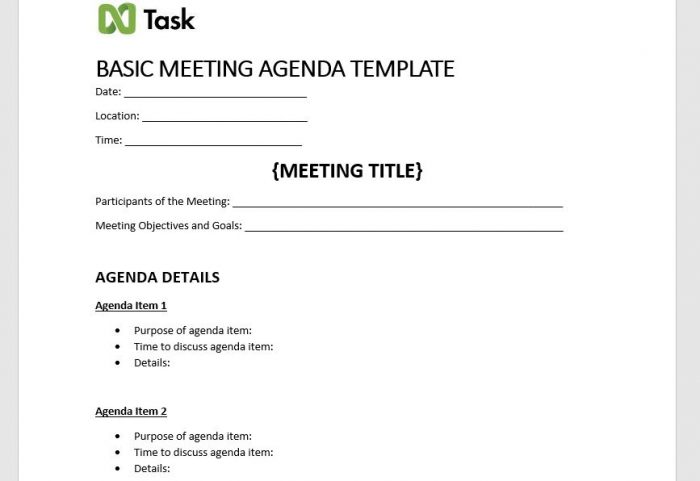 Basic Meeting Agenda Template – DOWNLOAD DOCUMENT
You can download the above basic meeting agenda template for free by clicking the link above. You can also use the meeting agenda in nTask application.
Example Meeting Agendas and Meeting Agenda Templates
Here are a few types of meetings that you may be holding in your company. We have outlined how each meeting agenda template can look like for each type of meeting.
1. Internal Team Meeting Agenda Template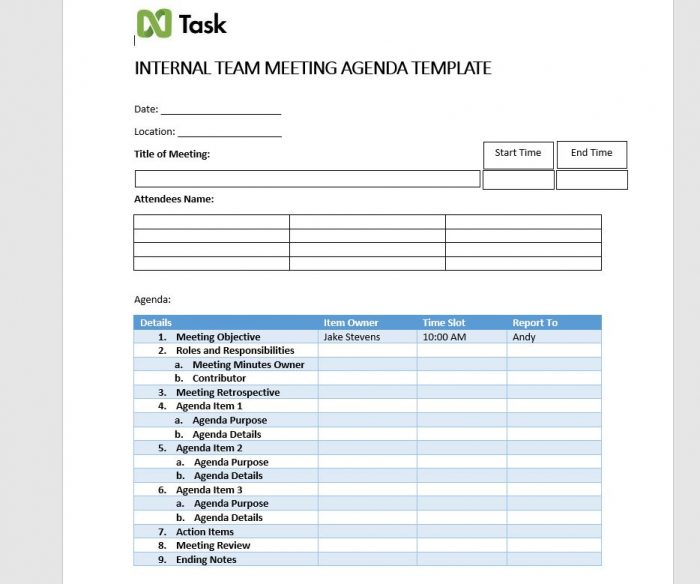 Internal Team Meeting Agenda Template – DOWNLOAD DOCUMENT
Usually fairly informal, internal team meetings are common yet still require you to create a meeting agenda.
These types of meetings typically occur either weekly or monthly and involve reviewing the team's performance throughout that time.
There are different methods to holding effective team meetings and therefore the meeting agenda templates you consider should be easy to customize.
2. Board Meeting Agenda Template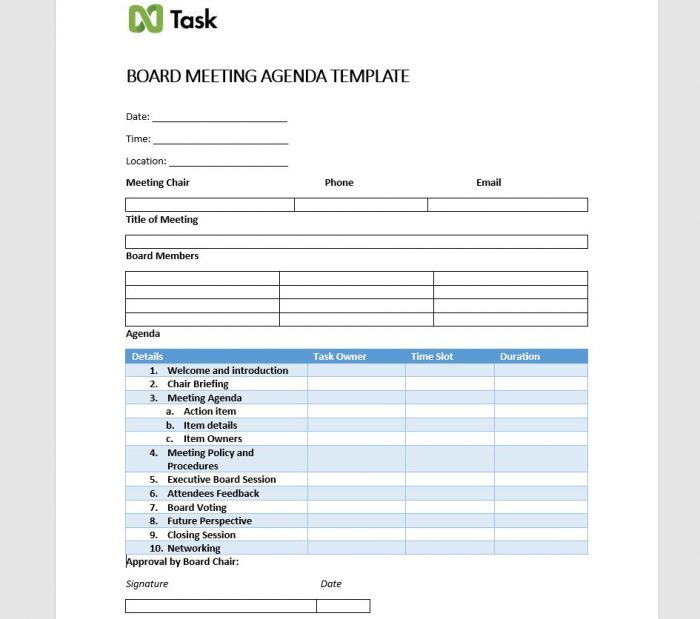 Board Meeting Agenda Template – DOWNLOAD DOCUMENT
These types of meetings require a more formal agenda than many of the other meetings you may hold.
For these types of meetings, you want to ensure that you plan in advance both what needs to be discussed and included in your agenda as well as when the meeting should be held.
It is best to send the agenda out at least two weeks before the meeting is to takes place.
3. Executive Meeting Agenda Template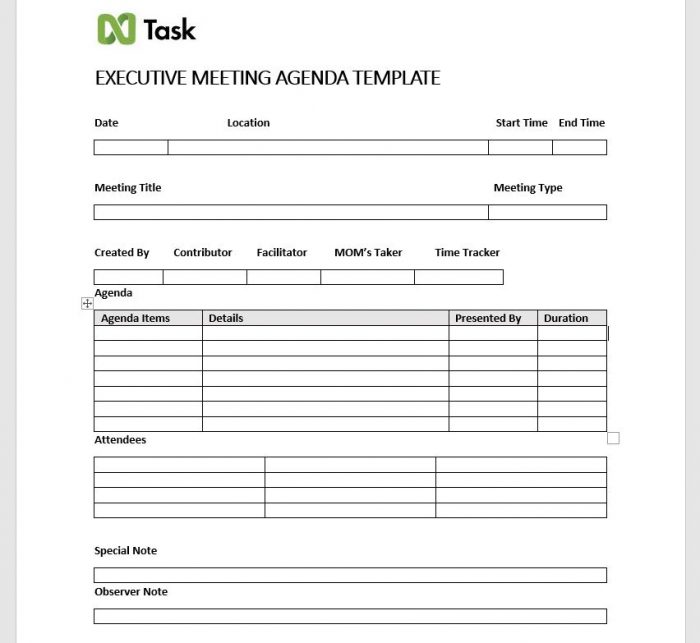 Executive Meeting Agenda Template – DOWNLOAD DOCUMENT
Another formal yet common meeting type is an executive meeting.
These types of meetings are common and important for both large organizations as well as small startups.
You want to have a clearly structured agenda since the meeting is so formal in nature.
4. Staff Meeting Agenda Template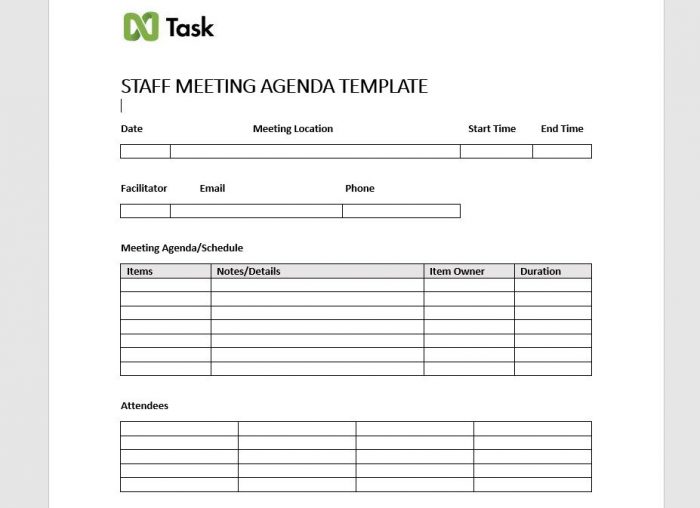 Staff Meeting Agenda Template – DOWNLOAD DOCUMENT
Staff meetings can be for a variety of teams whether that be for marketing or sales.
These types of meetings are less formal and thus require a fairly simple and straightforward meeting agenda.
This type of meeting is usually short and therefore you should not include too many agenda items onto your meeting agenda.
Moreover, you can list the important topics to be discussed in a school, staff, or board meeting using Template.net professional agenda templates to stay on top of every moving part and aspect of your business or event. The printable templates, are available in a variety of file formats, including Word and PDF, making project management easier.
nTask and Meeting Agendas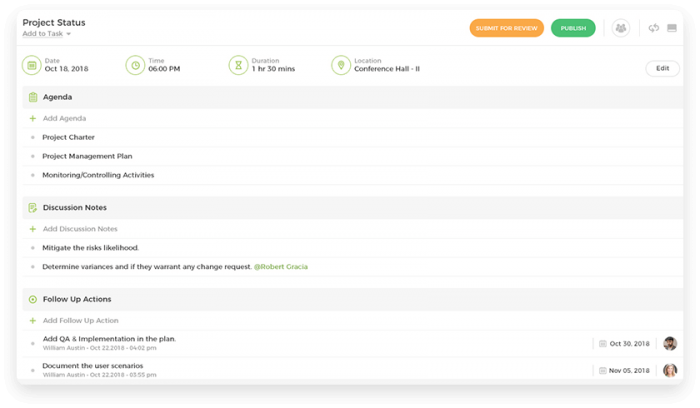 Now that you know how to write an effective meeting agenda and have some samples to be able to create your own efficient meeting agendas you need to consider what tools you can use to make the meetings more streamlined and ensure the agendas are useful.
When creating a meeting agenda and planning a meeting you want to ensure that you send the invite to the meeting in advance.
Meeting agendas are only really effective when they are sent out in advance. This ensures that all the attendees can adequately prepare for the meeting as well as know what they might need during the meeting.
You also want to ensure that with the meeting agenda you have minutes of the meeting that are being written and can be shared with all attendees once the meeting is over.
It is all well and good to have a document, that is the meeting agenda, of what is planned for the meeting, but you also want to ensure that everyone has a document of what actually was discussed and agreed upon during the meeting.
This is where nTask comes into play.
nTask's meeting management module is great for you to create meeting agendas, ensure they are sent to all the participants, as well as note down all the meeting minutes.
To find out how you can use nTask for your next team meeting and what the software offers you and your team, check out the details of nTask's meeting management module.
Best free meeting agenda management software

Manage teams, tasks, meetings, and documents all in one place. Sign up now!