Increasing competitiveness in the business world and businesses' obsession with optimal performance and high profits has pushed us into a tedious grind. Working harder and smarter is the norm if you want to keep up with the ever-changing trends.
The hunger for betterment has pushed companies to be on the lookout for ways to streamline their workflow and improve their productivity. Manually managing manufacturing workflow has become a tale of olden times, the world has transitioned to more efficient, digital tools of workflow management.
Efficient workflow management tools are the need of time. These tools can significantly lower the burden on your shoulders by streamlining your workflow reducing redundancies, organizing task schedules, managing resource allocation, and much more.
On the hunt for an efficient tool for your company's workflow management, you will realize that there are hundreds of options in the market. You will have to fight tooth and nail to narrow down your options.
Worry not, because we have got your back!
We have curated a list of the top 8 workflow management tools in 2021 along with their key features and pricing details. Before we jump onto the list, we would like to walk you through the basics of workflow management software and its benefits.
What Is a Manufacturing Workflow Software?
Manufacturing workflow software is a digital tool that streamlines your workflow. With the help of these tools, you can automate the processes in your company and improve your workflow to increase productivity.
Workflow management includes document management and handling all the processes in a business. an efficient workflow management software can optimize the process and help you achieve your goals more easily.
The functions of workflow management software include:
Eliminating redundant tasks
Efficiently organizing the tasks in the workflow
Identifying bottlenecks in the process
Exploring areas for improvement
Improving efficiency
Showing a big picture of the workflow along with the status of different tasks
Resource management and much more.
What Are the Components of An Ideal Workflow Management Software?
An ideal manufacturing workflow software will offer the following:
Allow you to create custom workflows
Automate repetitive processes
Have a user-friendly interface and easy to manage
Multiple integrations with third-party apps and tools
Look linear and simple on the front with all the complex processes taking place at the back
Include reporting features to keep everyone updated and informed
Allow quick and easy task management
Notification, alerts, and reminders to keep you on track
Safe and secure platform to handle a large amount of confidential data
Assign roles and control access
Reasonable pricing for advanced features with no hidden charges
These features can help you narrow down your choices but there are still quite a few options available in the market. We will now move on to the list to help you find the one that suits your company the best.
The 8 Best Manufacturing Workflow Software
Table of Contents
Top Manufacturing Workflow Software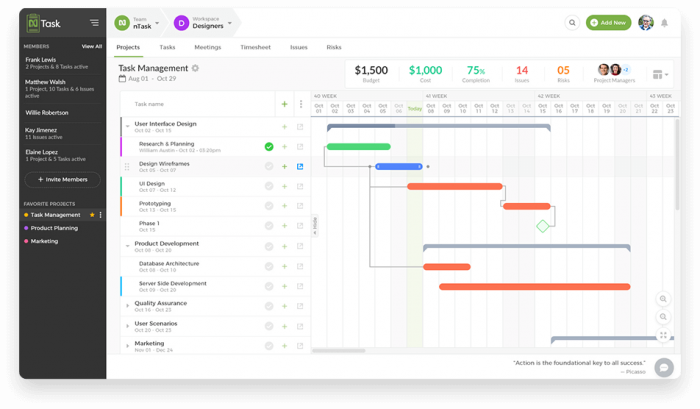 nTask is our first pick for this list. The tool offers everything you need for efficient manufacturing workflow software for your business needs. In addition, it offers advanced features geared towards the improvement of your productivity.
nTask hails 250,000 users from 15 countries. The tool is relatively new in the business world but has already gained the trust of tech giants like Google, hp, Apple, Sony, and many others.
Not only is nTask a competitive tool for manufacturing workflow management but also a worthy candidate for other management processes in a company. Its management modules can make work easier and more fun for you. The seven management solutions in question are:
Team Management
Time Tracking & Timesheets
Issue Tracking
nTask provides you with a unified platform wherein you can manage all your tasks and projects without any hassle. It is specially designed to help you manage your work more efficiently.
Here are some of the key features that make it one of the best software in town.
Key Features:
Plan your projects and create workflows accordingly

Allows you to divide your project into tasks and subtasks
You can add to-do lists with tasks
Helps you identify and highlight dependencies
You can set start and end dates for tasks
Assign custom status to tasks

Resource allocation and collaboration

You can assign tasks to different resources
Real-time chat features allow you to communicate and collaborate with your team members
Files attachment and sharing feature

Track all your activities

Allows you to track your progress with progress reports
Custom statuses help identify the status of a task

Planning and budgeting

Keep track of billable and non-billable hours
Set a budget for your project and get regular notifications
Assign different roles to each member of your team

Identify and resolve risks and issues

Identify and manage your risks and resolve them quickly
Mitigate risks and plan strategies for better results
Bug tracker facilitates comments and file attachments to ensure everyone gets notified of issue updates
Pricing:
Basic plan – available for free forever
Premium plan – $3 per user per month
Business plan – $8 per user per month
Enterprise plan – Custom pricing
Manufacturing Workflow Software For Smart Teams

Manage tasks, resources, projects, and timesheets, all in one place. Sign up today!
2. Monday.com

Monday is another powerful option on this list. Just like nTask, Monday offers a wide variety of robust management features. Monday aims to provide you with a platform where you can easily build, run, and scale your ideal workflows.
The tool offers various other solutions for different processes in a company including, sales and CRM, marketing, creative and design, software development, and much more.
Key Features:
Helps you plan, track and deliver your team's work, all in one place
Task scheduler helps you organize your tasks and assign priority status to each task
Offers readymade and customizable templates so that you can set up your workflow and start working immediately
Multiple integrations with different apps and tools unify your workspace for smooth working
Workflow automation helps you get rid of repetitive tasks
Offers 24/7 customer support
Allows you to create several dashboards for any project or user
Pricing:
Individual plan – free forever
Basic plan – $8/user/month
Standard plan – $10/user/month
Pro plan – $16/user/month
Enterprise plan – custom pricing available on contact
3. Automate.io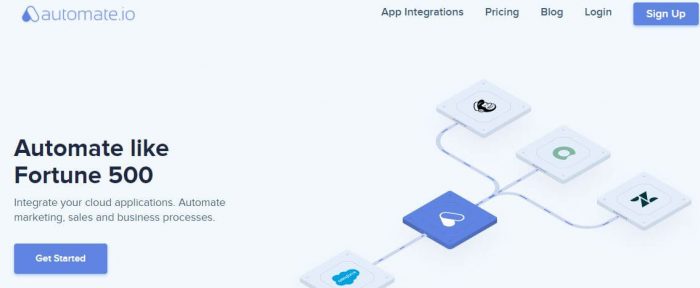 Automate.io is number 3 on our list of the best manufacturing workflow software. The tool aims to automate your workflows to help you improve your productivity.
Key Features:
One-to-one automation workflows
You can create complex workflows across various apps
Create integrations using drag-and-drop
Connects with 200+ cloud applications
Allows you to share your workflow and collaborate with team members smoothly
Uses secure HTTPS to make sure your data remains safe and secure
Requires no coding or IT help for app integrations
Unified billing for all members
Pricing:
Free – $0 per month
Personal – $9.99 per month
Professional – $19 per month
Startup – $39 per month
Growth – $79 per month
Business – $159 per month
4. Wrike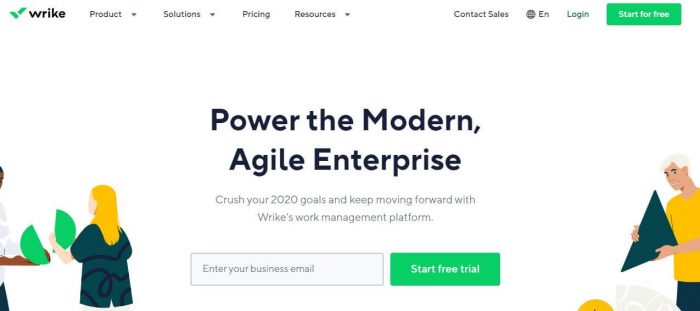 Wrike is a well-known project management tool among PMs. Wrike is an all-in-one tool with which you can create efficient workflows, assign tasks to team members, track your performance and manage your projects.
Key Features:
Offers a horde of customization features
Allows you to share files, tasks, and reports instantly
Automated approval system
Offers 360-degree visibility across departments
Create interactive Gantt charts with a simple drag-and-drop interface
Offers readymade templates to speed up the process
Track time to keep an eye on billable hours
Pricing:
Free plan – $0 per user per month
Professional plan – $9.80 per user per month
Business plan – $24.80 per user per month
Enterprise plan – Contact Wrike team for pricing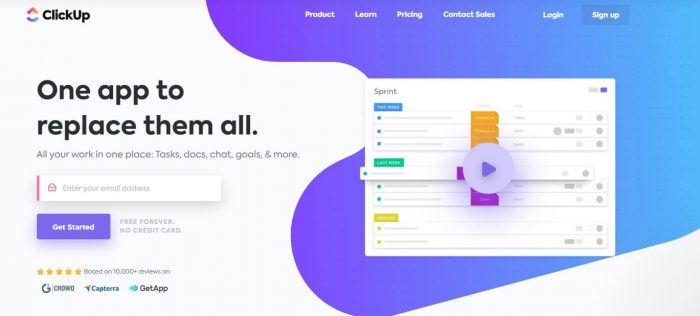 ClickUp has been making rounds in the project management world with its long list of robust features and reasonable pricing plan. The tool is one of the best when it comes to manufacturing workflow software, and that is why it has landed on number 7 on our list.
Along with various advanced features, ClickUp offers multiple views and thousands of integrations to help you enhance your work efficiency.
Key Features:
Offers customization features to help you create an efficient workflow
15 different views include; list, board, box, calendar, Gantt, embed, form, Doc, chat, activity, mind maps, timeline, workload, table, and map.
Allows you to import data from other apps
Offers customizable 'spaces' for different teams
1000+ integrations
ClickUp app is available on different platforms
Pricing:
Free plan – Free forever
Unlimited plan – $5 per user per month
6. KissFlow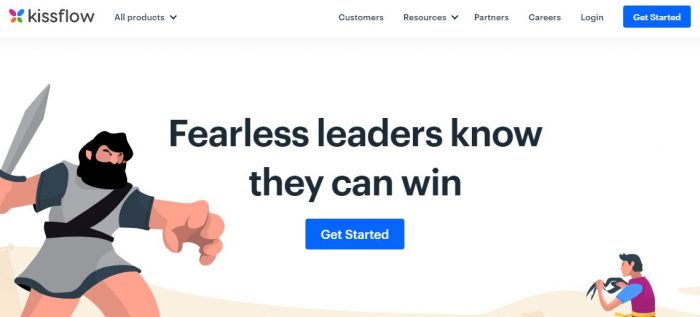 Kissflow is our 5th pick for this list. The tool is a one-stop-shop where you can manage and track all the processes taking place in your company.
Key Features:
Manage workflows without the need for any coding
User-friendly interface designed for users' ease
Integrate with other tools to keep your progress smooth
Real-time analytics help you keep track of processes
Streamline workflow with customizable forms
Assign roles to control access
Pricing:
Basic – $10 per user per month
Advanced – $9.90 per user per month
Fully loaded – $19 per user per month
7. Hive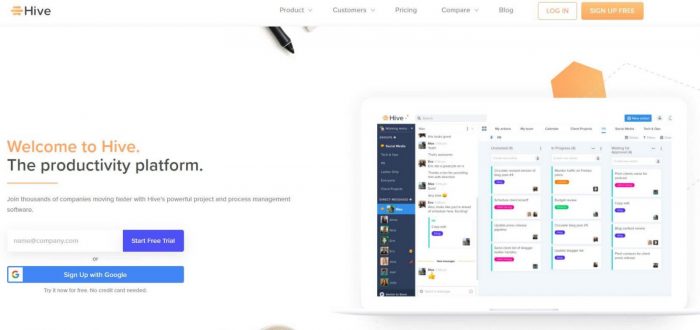 Hive is a project management tool designed to help you automate routine tasks and design custom manufacturing workflows. Hive offers a wide range of advanced features including AI analytical tools, hundreds of integrations, a variety of views, and much more.
Key Features:
Offers different views including Gantt chart, Kanban boards, and calendar view
Focus mode is designed to help you get rid of distractions
You can view all tasks assigned to you along with their deadlines
You can easily understand and visualize your team's workload
Baselines help you understand the progress of your project
You can create cards for high priority tasks
Restrict access by assigning roles, read-only members, external members, or full-access members
Offers automation
Multiple integrations with various apps
Pricing:
Hive's base package – $12 per user per month
Enterprise – Custom pricing available on contact.
You can also get add-ons with a base package for your workspace rather than signing up for an enterprise plan:
Proofing and approvals – $4 per user per month
Resourcing – $4 per user per month
Timesheets – $4 per user per month
External Users – $4 per user per month
Enterprise security – $4 per user per month
Analytics – $6 per user per month
8. Backlog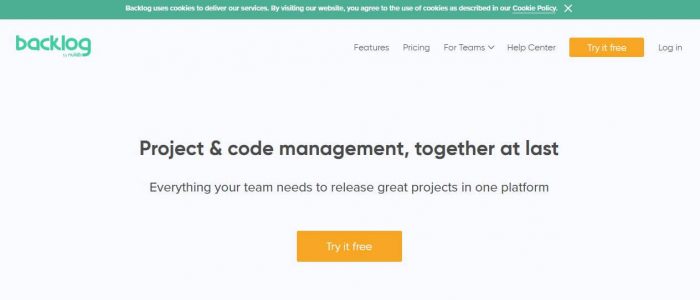 Backlog is next on our list. Backlog is a work management software specially designed for software development teams. The tool improves efficiency in three c's collaboration, communication, and coordination.
Key Features:
Gantt charts, Kanban boards, and burndown help you view the progress of your project and the current status of different tasks
Identify and track bugs easily
Task management features allow you to divide your project into tasks and subtasks, assign deadlines and allocate resources
You can host your codes securely in the cloud with personal repositories
Improves collaboration, communication, and coordination between teams
Pricing:
Free – $0 per month
Starter – $35 per month
Standard – $100 per month
Premium – $175 per month
It's A Wrap!
So, this was a roundup of some of the best manufacturing workflow software in the market. We covered different key features of each tool along with their pricing plans. We hope that with this list in hand, you can pick the tool of your choice and make a smart decision for your company and its success in the future.
Which tool is your favorite? Did we miss anything? Let us know by writing to us at fwilson@ntaskmanager.com.
That's all from our side.
---
More Resources: