Lean project management is the best way to convey more value and revenue to your business.
Every business is making money to stay in business itself – the need and urgency for profitability will always be there. However, reaching there is the tricky part.
What does it mean to deliver value to your business? It means delivering value from your customer's mindset, cutting down waste, continuously enhancing project efficiency, and allowing them to deliver more with less.
Lean Project Management is evidence that applying Lean principles can become beneficial in multiple aspects. Lean project management works within teams to deliver faster by managing efficient workflow and delivering value from the consumer mindset. Regular project management is structured and usually operates in phases with separate planning from execution.
What is Lean Project Management?
Lean project management focuses on delivering manufacturing projects with less waste and more value. It helps to systematically discard waste within the value stream of the lean manufacturing process. To execute, lean project management relies on continuous improvement – every process in the overall business value stream is enhanced by applying the principle of reduced waste and greater value.
Lean project management is the application of lean manufacturing principles within the practice of project management. These principles were developed by Toyota in the 1950s and applied in the 1970s to manage the energy crisis. In literal terms, "to lean is to offer what is needed, when it is needed, with the minimum amount of materials, labor, equipment, and space."
Lean manufacturing effectively identifies three different types of waste, known as 3M, Muda, Muri, and Mura.
Let's take a quick look over them,
Muri refers to the overuse and irregular use of employees and equipment.
Muda means the activities that consume the resources without providing any additional value.
Mura is known as the operational "unevenness, which decreases the efficiency and productivity in the long term.
The overall aim of lean project management is to reduce the 3M drastically within the project process.
Benefits of Lean Project Management
1. Cost Deduction
Lean project management focuses heavily on cutting down costs and maximizing profits. Undoubtedly, the selling price is affected by multiple factors that could depend on market conditions and product/service qualities. Companies can do a lot more to cut down their costs and make the business profitable, but lean practices help reduce costs so that all the savings can be eventually added to the profits.
2. Increased Quality
Lean project management also focuses on a significant amount being spent on attention to detail. This means that all the actions will be optimized to avoid the project mistakes to save team members time in remaking the products and the amount of money needed to pay them for the labor.
3. Structured Improvement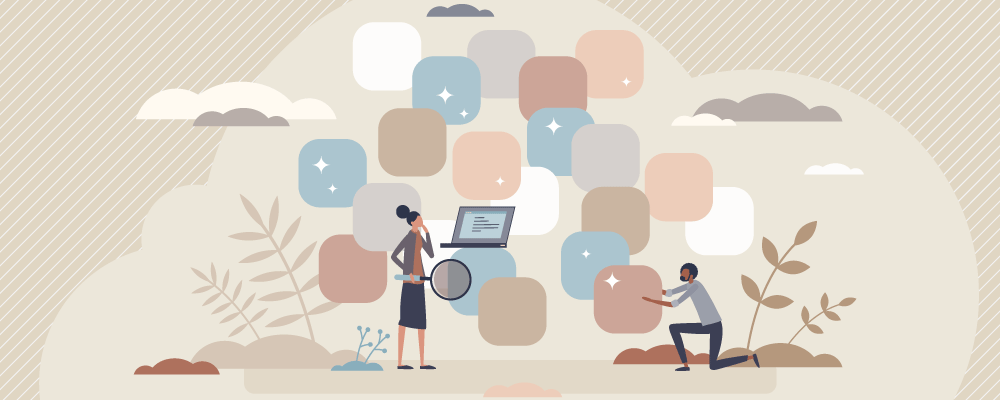 One of the top benefits includes providing a single platform to manage the improvement across the company. There is no need to waste time managing multiple versions of spreadsheets or searching through emails. Everyone can find the latest updates in one place. The history of every project is maintained so that people can learn from previous projects, becoming a repository of knowledge for the company.
New employees can be conveniently brought to speed with updates about current and past project improvements. The processes can be easily tracked as value stream maps are stored online related to projects and operations. The access is universal, and every employee is engaged through both top-down and bottom-up improvement.
4. Aligned Methods
Most companies use lean project management to align improvement work with strategic goals. This strategy deployment ensures that the entire organization works towards a similar goal. It allows the leaders to cascade goals from the top to the individual level so that every person knows how their work will impact the bigger picture. Tasks can be prioritized based on the strategic goals and objectives.
It allows for cross-functional collaboration by eliminating the friction between functional areas and offering a universal platform for communication and documentation. It also helps to produce a universal language to bring improvement to the culture.
5. Increased employee morale
Lean management favors the approach where managers are in regular communication and collaboration with employees about their daily tasks and work processes. Employees feel a sense of belonging and are encouraged to make better decisions. 
Employees have an idea about where they stand and wherever they can improve to create quality work; they won't feel left out but a part of an organization where their thoughts and opinions matter.
6. Improved workflow management
Lean project management helps companies speed up tasks in several ways. One of the most essential aspects is workflow management with notifications and updates.
With every new improvement, managers and employees are instantly updated. Employees don't have to check in for updates; instead, the updates are brought to them. If any due date is missed, the assigned resources are notified immediately so that the issue can be resolved quickly.
Whenever we say that Lean work produces a measurable impact on business results and that people involved with it are getting rewarded and recognized, they are more likely to contribute themselves with the work. Improvement in the work quality demonstrates a positive outcome that makes it easier for the leaders to justify the increasing resources devoted to lean and invest more heavily in the tools and time necessary to support it.
Best Lean Project Management Platforms
1. Kanbanize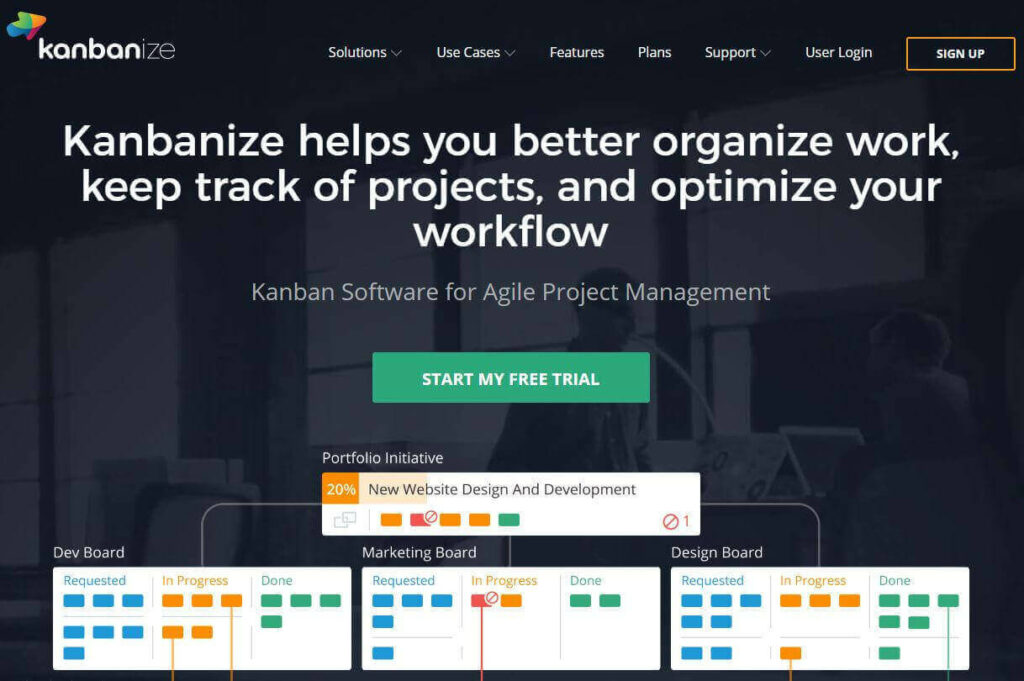 Kanbanize is one of the most popular tools used, especially for Lean management. It is the only management platform that scales up horizontally and vertically in both dimensions. The software helps the teams to see their progress within a universal Lean board, so everyone knows how much time it takes to conduct a single task.
It also shows the upcoming deadlines with a timeline view which allows one to get a better idea of what needs to be done and in what order with proper prioritization. Quickly understanding how long it takes to complete each task and the pace of every employee allows for improved project management within the company in the long run.
The software is typically designed for portfolio managers embarking on a Lean/Agile transformation. It can bring transparency across the entire company, help managers enhance cross functioning, facilitate status reporting and align planning of big projects with their day-to-day execution.
Let's look at some of the critical features of Kabanize:
Kanban Boards & Cards, customizable Kanban boards to map multiple stages of the work process, visualize individual tasks, and organize them in swim lanes.
Information radiator helps eliminate the waste of constant status reporting and facilitates a straightforward flow of information.
Timeline workflow helps to plan and execute their projects/initiatives in one place and easily measure the actual work progress against their initial plan to modify in real-time.
Additional Work in Progress limits helps to increase the capacity of current projects with reduced context switching, keep their focus on finishing the current project, and enhance throughput.
Multiple Workflows, users can create various workflows on one Kanboard board. It allows for numerous swim lanes for achieving better work organization.
Visualizing cross-functional teams allows for managing different tasks and requires more tailored workflows.
Powerful Analytics, Kanbanize offers powerful analytics with cumulative flow diagrams, cycle time trends, heat maps, etc. With their help, users can quickly analyze the stability of their work system and examine trends.
Pricing
Kanbanize offers a flexible pricing program for individuals, short teams, and companies. Currently, they have two pricing plans,
Monthly payments
Annual subscription
Pricing for the monthly plan starts with $99/month for 1-15 users, which divides it into $6.6 month per user.
Pricing for the annual subscription plan goes to $80-$120/annually if you choose the yearly subscription plan.
Related:
19 Best Kanban Tools To Use In 2022
2. Targetprocess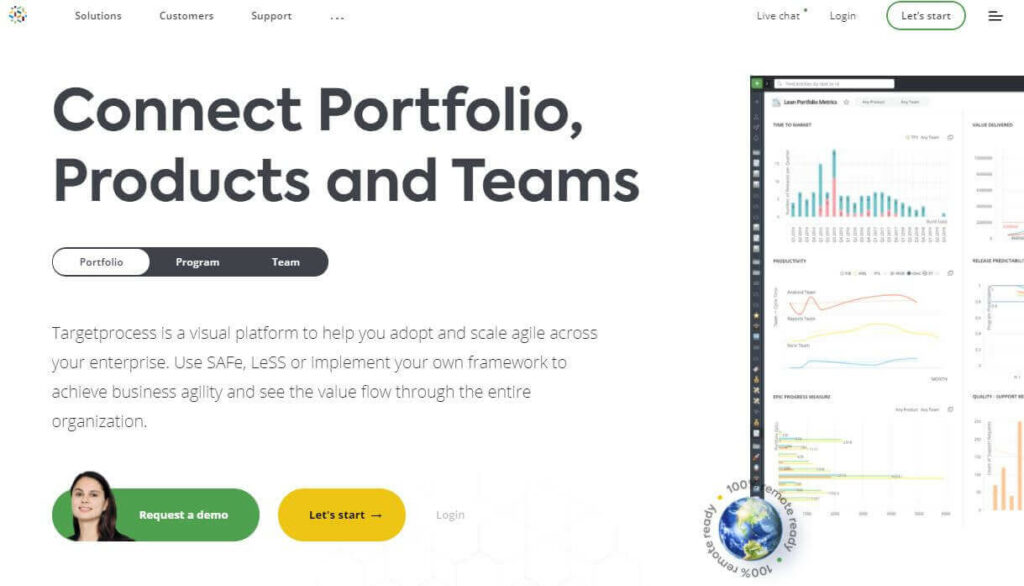 The Targetprocess is an agile portfolio and works management solution that works for scaling Agile/Lean and helps teams prioritize work in progress, visualize and manage sprints, and visualize the development process. The Targetprocess heavily empowers the enterprises to achieve business agility to increase value flow through the entire organization.
The lean strategy has been known as a proven method and an effective way of developing productive products efficiently and effectively. Targetprocess can highly help your team achieve that success in no time. The software utilizes a Kanban interface that offers tools to help you identify the bottlenecks or work on Lean decisions such as Kaizen – known as continuous improvement.
Let's talk about some of the key features of Targetprocess:
Visual project management provides an overview of any project with the ability to quickly drill down or scale up for multiple details. Users can plan and visualize activities with project progress over time.
Flexibility, Agility, and Adaptability provide a holistic solution to help them plan, track and steer complex work at all levels. It displays progress and can make the required changes to improve the process.
Optimized workloads, the Target process, can be used to optimize workloads. Projects can be easily ranked and prioritized based on what needs to be done first; this way, teams can make better and more informed decisions.
Custom reports software helps teams build custom reports with dynamic visualizations within seconds. It can be easily divided into bugs per feature, cycle time variation, weekly stories, user stories completion, etc.
Service desk and integrations work as a standalone feature that allows for license submissions and other requests. You can vote for ideas, add comments, and track progress/statuses. The software offers integrations with 60+ apps, both for on-premise and SaaS deployments. It has a native IOS and Android application as well.
Pricing
Targetprocess offers a free trial for a month.
Also offers premium consulting/Integration services.
3. nTask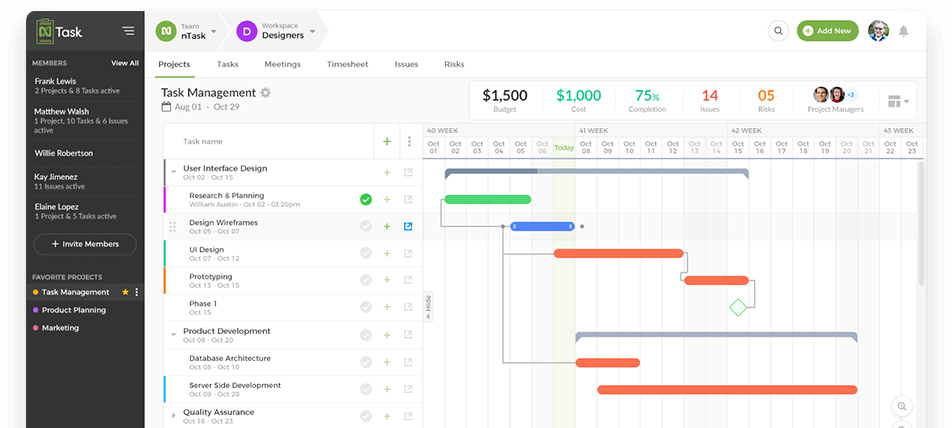 nTask is new. However, one of the most versatile, customizable, and agile lean project management tools/software is currently available. It's an all-one tool with the smartest features offering small coverage to all the project needs.
Whether you have a small team, a freelancer, or a big corporation, the tool can easily cater to a wide range of professionals. The tool comes with smooth features and experiences on the application via a smartly developed user interface and a dashboard.
Let's discuss some of its key features:
Task management: Create, assign and track progress through task management features. You can set milestones and prioritize/rank tasks accordingly.
Customization: You can easily add any field to your task list, projects, issues, and risk boards for personalized workflow management conveniently according to your teams.
Risk identification: You can easily identify the upcoming potential risks your projects are subjected to beforehand with nTask's mitigation and risk matrix features.
Pricing
The pricing comes with two basic plans,
nTask comes with a free plan. You can enjoy it with 5 members and conveniently enjoy the free version with all the tasks streamlined for you.
If your team wants to unlock projects, you can go for the premium plan, starting with $3 per month, and it comes with a 5GB storage space.
nTask offers a business plan that takes your lean project management to the next level with customized boards, user permissions, risk management, and more, starting at $8 per month.
Try the Best Lean PM Tool

Assign tasks, create projects, manage teams, and workflows efficiently. Sign up today!
Conclusion
It is crucial to stay ahead of the game and maintain a competitive edge by taking major market share in today's competitive market. This can be achieved by implementing lean management within your organization and gaining customer satisfaction by delivering more value. We have discussed a complete guide to Lean project management and tools to help you achieve these goals.
More Resources For You: