Building strong and long-lasting relationships with your clientele are tantamount to successful business management. Quick retrieval of information about the lead and easy access to the same can transform the way you manage your clients.
In this article, we will walk you through some of the best contact management software that makes the process much simpler and effortless for you. First, let us find out what exactly is contact management software.
What Is a Contact Management Software?
Contact management software are tools designed to help enterprises gather information about their clients. The data gathered often includes name, phone number, email address, etc. In addition to a simple accumulation of data, contact management tools help in the systemic organization of the information, making it easy to retrieve information if or when needed.
The information helps businesses devise targeted campaigns that can attract customers. Some core functionalities of a comprehensive contact management solution include:
Storage and tracking of customer information
Management of prospects
Simplify data retrieval
Organize contact information
Make information easily accessible to everyone
The aim of such tools is not only to store information but to help you leverage this information to make the most out of it. The right solution will make it easy for you to manage all your contacts in one place. It will help you improve your relationship with your prospects and will add to the profitability of the business in the long run.
In the forthcoming paragraphs, we will take you on a journey to explore some of the best contact management systems in the market. A brief overview of the best options in town will help you narrow down your choices to make the right decision for your business.
List of 2022's Best Contact Management Software:
With the increasing demand for the software solution, countless candidates have emerged on the scene, going through all or even a few of them is not an easy task hence, we have taken the arduous task into our hands and compiled a list of some of the best software in town.
An interesting point to note is that while there are several standalone solutions, CRM software also offers contact management features due to the overlapping characteristics of both. The integration of both gives birth to a more comprehensive tool with multiple functionalities. Let's see what each of the top tools has to offer.
Here is a list of some of the most efficient contact management software of 2022:
Table of Contents
Best Contact Management Software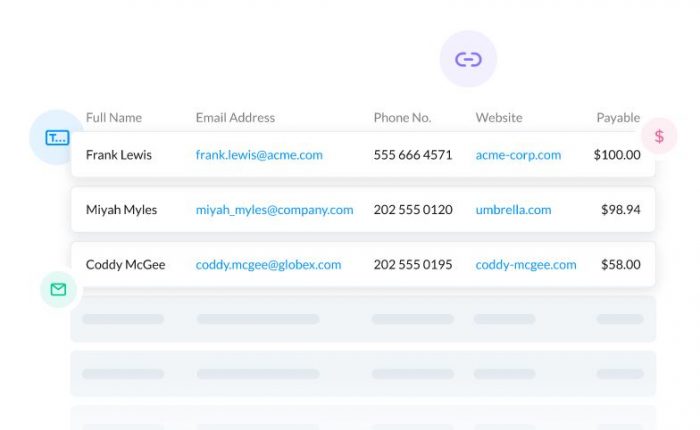 nTask is our first choice in this list and not because we are biased but because we have explored and analyzed prominent options in the market and found nTask the most efficient of them all.
nTask is the dark horse of the project management arena, continuing to conquer the business world with its advanced features, eye-catching outlook, smart and friendly interface, quick onboarding process, responsive customer support, and affordable pricing plans.
nTask is a free contact management software offering a variety of options for the storage and organization of information. The software, used by over 250,00 teams from all across the world, has garnered praises for its elaborate management solutions, helping businesses succeed with smarter options.
Key Features:
Tailor-made customer fields:

Customized data record
Group fields in sections
Apply fields to all workspaces
Suitable for any industry

Develop and organize fields:

Text (single line or paragraphs)
Checklist
Dropdown
Dates

Add data fields:

Number
Formula
Rating
Country

Make customer fields for simple calculations to:

Determine costs
Revenues
Lead scoring
Profit

Track your data:

Email address
Phone Number
Website URL
Money field

Add Reminders & One-Click Data Export:

Import & Export Data
Third-Party Integrations
Manage Fields
Pricing:
Basic plan – available for free forever
Premium plan – $3 per user per month
Business plan – $8 per user per month
Enterprise plan – Custom pricing
All-in-one contact management with nTask.

Manage contacts, deals, projects, meetings and teams, all in one place. Sign up today!
2. HubSpot CRM

HubSpot is a renowned name in the management world. Over the past few years, the free contact management software has maintained its position as one of the best CRM solutions in the market.
HubSpot's CRM tool is automatically integrated with other HubSpot tools which streamlines the workflow, making it easy for PMs to manage their teams and create more impactful campaigns to generate more leads.
Key Features:
Company insights
Deal tracking
Pipeline management
Prospect tracking
Meeting scheduling
Live chat
Contact deal and task management
Email tracking and engagement notifications
Email templates and scheduling
Document sharing
Sales quotes
Pricing:
Free – Available for free
Starter – Starting at $45 per month
Professional – Starting at $450 per month
Enterprise – Starting at $1,200 per month
3. Bitrix24

Bitrix24 is our next pick for the list. The free contact management software offers multiple contact management functionalities with its suite of services including project management, document management, and much more. In addition to contact management features, Bitrix24 allows its users to send out customized invoices and quotes making it much easier for teams to manage both invoicing and contact in one place.
Key Features:
Unlimited customer database
Leads and demand generation
Sales funnels and pipelines
Sales data analytics
Email marketing
Calendars, appointments, bookings
Customer support
Quotes and invoices
Sales targets and commissions
Orders and payment processing
Sales team management
Customer lifecycle management
Pricing:
Free – 100% free
Basic – $34 per month for all users
Standard – $50 per month for all users
Professional – $100 per month for all users
4. Zoho CRM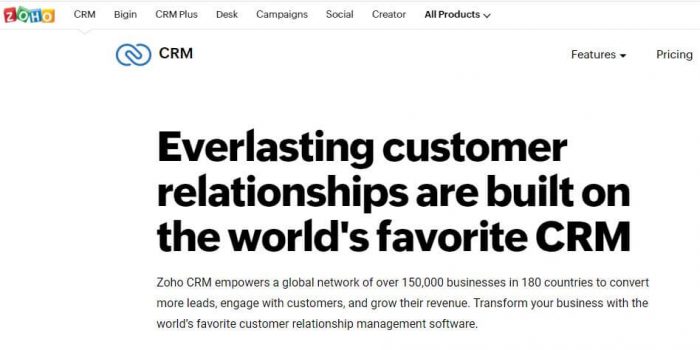 Zoho CRM is our fourth pick for this list. The CRM solution is a comprehensive one offering everything under the sun for efficient customer relationship management. The software offers advanced features for contact management to make sure teams have all the information they need at hand, at all times.
Zoho offers an AI solution for its users called Zia, the bot can help users access the right information. The AI bot can perform several activities, effectively relieving its users of lots of manual work.
Key Features:
Real-time notifications from customers
Offers a complete picture of all customer conversations
Communicate across channels
Two-way integrations with multiple software
Email analytics
Receive and categorize notifications
Know the best time to engage a customer with Zia
360-degree view of customer information
Record meetings with customers
Pricing:
Standard – $14 per user per month, billed annually
Professional – $23 per user per month, billed annually
Enterprise – $40 per user per month, billed annually
Ultimate – $52 per user per month, billed annually
5. Monday.com

Monday is a well-known project management solution, in fact, it is hailed as one of the best management software in the world. Monday is a versatile tool that offers a wide range of features for contact management.
Monday is a highly customizable and free contact management software offering easy-to-access contact lists for its users.
Key Features:
Ready-made contact management template
Custom automation
Flexible drag-and-drop interface
360-degree view of customer data
Visual overview of sales
Mobile app
Centralized data
Make and receive calls
Document management
Lead management
Pricing:
Individual – $0 free forever
Basic – $8 per user per month
Standard – $10 per user per month
Pro – $16 per user per month
Enterprise – Custom pricing
6. Pipedrive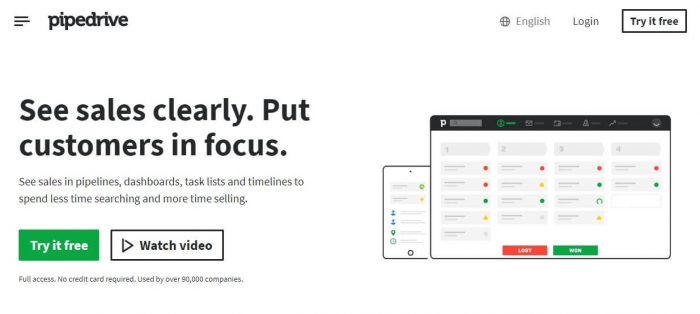 Pipedrive has landed on number 6 on our list. The tool is one of the most popular ones when it comes to standalone sales and customer relationship management solutions. With its simple and intuitive design, it captures leads and converts them into customers, helping your business grow beyond leaps and bounds.
The software solution makes contact management much easier with easier data collection and automation features. The tool is simple and easy to use, which adds to its charms.
Key Features:
Simple drag and drop functionality
Sales analytics
Unified platform to store and retrieve data
Add new deals & contacts on desktop or mobile
Connects email and other tools
Save call logs
Note-taking features on mobile during a call or meeting
Take a picture and store it under a deal or contact
Schedule activities
Manage emails from Pipedrive
Import, add and update Google Contacts from Pipedrive
Tracking features
Manage leads and sales
Pricing:
Essential – $12.50 per user per month, billed annually
Advanced – $24.90 per user per month, billed annually
Professional – $49.90 per user per month, billed annually
Enterprise – $99.00 per user per month, billed annually
7. Maximizer CRM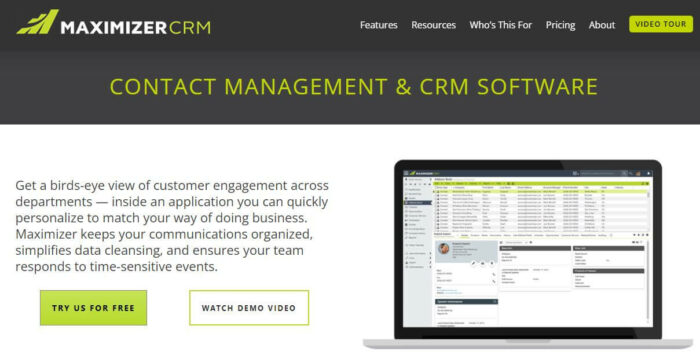 Our 7th and last pick for the list of best contact management software is Maximizer CRM. Like other solutions on the list, Maximizer is also a CRM solution enriched with contact management functionalities.
Its advanced features allow you to manage complex contact databases with ease. It helps its users generate leads, convert leads into customers and automate processes hence adding to the progress of the business.
Key Features:
Standardize & automate processes
Multi-level security
Audit log
Data management
Search & filters
Call logging
Automatically track emails
Attach files to contacts and companies
Alerts & notifications
Pricing:
Small Office – $29 per user per month, billed annually
Business Plus – $49 per user per month, billed annually
Insights – $89 per user per month, billed annually
8. Big Contact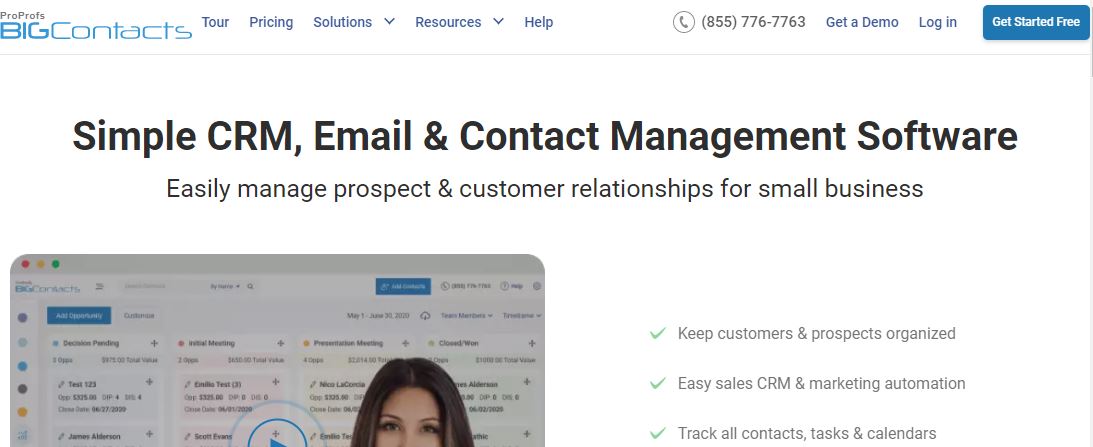 With an intuitive interface and straightforward usage, BIGContacts has earned a reputable position in the marketplace as a CRM solution. This contact management software offers a comprehensive range of features to keep your customer relationships strong and profitable.
BIGContacts offers powerful automation, reporting, and task management to accelerate your business growth further. It allows you to capture, store and update contact data easily, contributing to enhanced customer experiences.
Key Features:
Sales pipeline management

Automated drip campaigns

Social media tracking for profile enrichment

Webform connection

Team & individual calendars

Standard & custom reports

Email & letter templates

Automatic task reminders

Custom fields, workflows & user roles

Lead management & nurturing

Mobile access
Pricing:
Big-

$5/user/month, billed annually

Bigger-

$15/user/month, billed annually

Biggest-

$25/user/month, billed annually

Enterprise-

Custom pricing
It's a Wrap!
We have just given you a complete and thorough rundown of some of the best contact management solutions available in the market, the final decision rests with you. Think about the requirements of your business and how a tool will into your workflow to make a smart decision.
There are many other solutions available in the market, we have just pointed out the best ones amongst them. Weighing the options and investing in the right tool is in your hands now.
Which tool do you think is the best one in the list above? Is there any tool that we missed? Let us know. We would love to hear your opinion.
Thank you and goodbye!
---
More Resources For You: