How do you identify whether you are accomplishing your targeted goals or not? Against what parameters do you measure your performance? How do you know you are ready for the next step to expand your reach? Simple, KPI tracking!
KPI tracking can answer all the questions for you. Through this post, we aim to make it easier for you to understand the concept of KPI tracking and the best practices for the same. But first things first, what exactly are KPIs?
What Are Key Performance Indicators (KPIs)?
Key Performance Indicators (KPIs) are a way of measuring a company's performance. KPIs are a quantifiable measure of how well a business has been able to achieve its goals.
KPIs are objective, measurable, and specific, they not only help teams gauge their performance but also keep all the stakeholders updated with the progress.
Different businesses measure different KPIs, the choice is totally dependent on the needs of the business. Setting clear KPIs and measuring performance against those KPIs can bring more clarity to the process and consequently make it easier for employees to accomplish their goals.
What Makes KPIs So Important?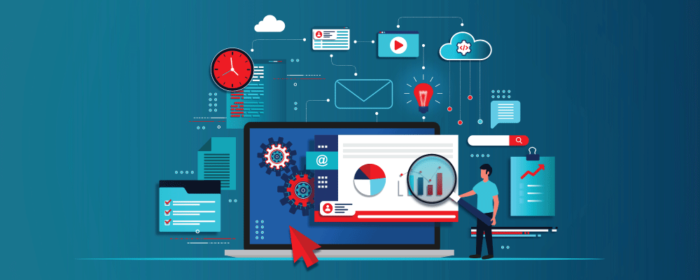 No matter how big or small your business is, you cannot undermine the importance of measuring accurate KPIs. Here are five reasons that might help you understand why identifying and measuring the right KPIs is so crucial for your business:
KPIs help you measure the health of your business. With the right statistics in hand, you can identify the gaps and make smarter decisions for the future.
KPI tracking can also help you measure your performance over time. How well your business has been performing over the course of time and how speedy has been your progress in achieving the core goals? Measuring KPIs can answer these questions for you.
KPIs are also a great way of determining whether or not you are on the right track and if you will be able to accomplish your goals in time.
With data obtained from KPI analysis, you can identify patterns in your performance, if any, and make relevant adjustments to improve your performance in the long run.
Lastly, with the right KPIs insight, you can identify opportunities for improvement or a possible slump that might set you off your course. It can help you find your way before you encounter a major problem.
I think we have made our point. Moving on to the next step which is choosing the right KPIs for tracking.
The Best Practices to Choose and Track the Right KPIs For Your Business
You might find it difficult to choose the right KPIs for your business considering there are hundreds and thousands of ways you can measure your performance. In the following paragraphs, we will help you determine how to choose and measure the right KPIs for your business.
The first step in the process would be choosing the right KPIs and the second would be measuring them.
How To Choose the Right KPIs For Your Business?
Here's how you can identify the most effective KPIs for your business, ones that will effectively help you gauge your performance and contribute to making your performance better in the future:
Clearly identify your goals: Make sure that you have clear-cut goals for your project and have clarity on why the accomplishment of these goals is crucial for your business.
Decide which metrics are the most important: As we mentioned earlier, there are hundreds of things you can measure but that does not mean you should. You have to pick and choose the ones that actually matter for your business. Make sure that the KPIs you choose are:

Specific
Quantifiable
Relevant

KPI should be tied with actions: KPIs are there to help you measure your performance, what use are they if there is no activity whatsoever? They have to measure something so make sure it's tied with an action.
Identify your target: Now that everything is set in stone, you have to set a target for yourself. Set a percentage or a value that will indicate the accomplishment of relevant goals.
Make sure everyone is onboard: Setting effective KPIs can help you and your team accomplish your goals much more quickly. So, share the KPIs with everyone in your team so that they have clarity on the goals.
Make Changes whenever necessary: Review the requirements of your business every so often to make sure that the KPIs are effectively measuring what they should.
Some common KPIs for project management include:
Cycle Time: Indicates the time necessary to complete a specific task.
Time Spent: The amount of time spent by a team on the project development process.
On-Time Completion Percentage: Helps identify whether a task or project was completed on time or not.
Planned Time Vs. Actual Time: Determines the difference between planned time and actual time spent on a task or a project.
Task Completed: Indicates the number or percentage of tasks completed at a specific time.
There are hundreds of other KPIs that might come in handy for your business, remember to explore your options before you choose any. Identifying the right KPIs is the first step in improving your performance. Moving on to tracking KPIs.
Set SMART Performance Management System KPIs
SMART is a criterion that can help you define goals and objectives for your firm. "Specific, measurable, attainable, relevant, and time-bound" is the mnemonic acronym. That is exactly what your objectives should be.
A smart technique to assess a goal's validity is to write a question next to it, such as "Is this objective [blank]?" and substitute one of the terms, such as "measurable," for "blank." You've got a winner if the response is "Yes" all the way down the list.
Whatever the nature of your PMS KPI is, you must ensure that they are SMART. This abbreviation stands for:
Specific: specify what each KPI will measure and why it is significant.
Measurable: The KPI must be measurable in comparison to a predefined norm.
Attainable: You must be able to meet the KPI.
Relevant: Your KPI must measure something that is important and helps to enhance performance.
Time-bound: it must be completed within a specified time range.
Questions to Ask After Setting PMS KPI
What is your desired outcome from your PMS KPI?
Does the outcome help you achieve your vision of success?
How do track and monitor the PMS KPIs, to see results?
Is this the leading performance indicator or a lagging KPI?
How Can You Track KPIs?
What use are numbers if you cannot make anything out of them? KPIs are only relevant when you can track them and measure your performance. To be able to effectively measure KPIs and benefit from them, you need a dashboard that can display all the KPIs and simplify the data for your understanding.
To keep it simple and easy, you can take help from a software solution. A tool like nTask can solve all your problems with its efficient features for dashboard management.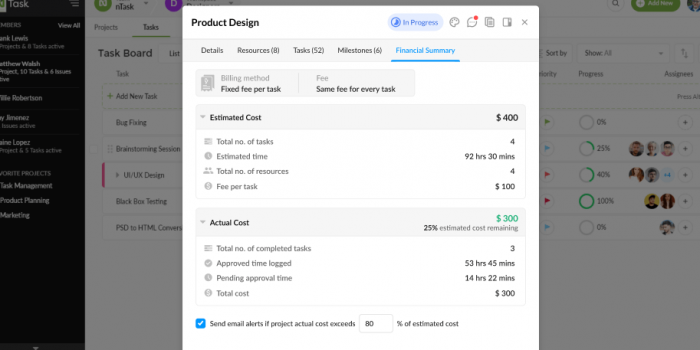 nTask is basically a project management tool but has metamorphosized into a more comprehensive tool offering a long list of functionalities for management processes in a business. The tool is now home to 250,000+ companies from all over the world.
Its user-friendly interface, foolproof security, and inexpensive pricing have greatly contributed to its efficiency. Here are a few of the most promising features that make it one of the best of the lot:
Offers multiple viewing options, for example, Gantt charts, Kanban Boards, grid view, calendar view, and more.
Allows you to add custom statuses to tasks
You can personalize your dashboard with customization features
Time track your performance to gauge your performance
Use automation features to reduce the time and efforts you invest in a task
Helps you identify and mitigate potential issues and risks
Visual tools simplify complex data for you
Keep up with the latest developments on the go with Android and iOS apps
With nTask's dashboard, you can view all the KPIs in one place and keep tabs on the numbers all the time. You can also share the data with all the team members. nTask offers a unified platform that is easily accessible to everyone in your company.
How exactly can dashboard software help you in tracking KPIs? A good dashboard software like dashboard will provide you with a unified space where you can view all your data and share it with your team members.
To measure KPIs through nTask, all you have to do is to identify a web analytics tool that will help you measure the data and will generate the numbers for you. Once you have found the right one, you can integrate it with nTask.
With nTask you can easily integrate hundreds of apps via Zapier. You can bring in as many tools as you want and measure all the KPIs that can help you speed up the journey to improvement.
Complete Project Management with nTask

Organize tasks, issues, projects, Gantt charts, and risks, all in one place. Sign up today!
Conclusion:
KPI tracking can help you weed out the loopholes and identify the pluses. You can then focus your efforts in the right direction and improve your performance for the better.
Having the right dashboard management software can make the process much simpler and easier for you and nTask is the perfect candidate for the job.
Test nTask's efficiency by signing up for a free trial of 14 days. You can also book a demo with our customer representative to learn more about the tool.
Happy nTasking!
---
More Articles for You: