As we all know a knowledge management system is a tool that can help you store, share and retrieve a specific piece of information for you according to your needs and requirements.
Knowledge management systems can also be a sub-category of an enterprise-level content management system because of their ability to help employees, agents, managers, and even customers get to know the software or the product they are interacting with.
One of the best things about many of the knowledge base management systems in the market right now is that they are cloud-based and completely independent, which means that they can be accessed through your tablets and your mobile phones from anywhere around the world.
But as there are so many different options for a new users browsing the market, how can they make a choice to make sure that the software they are choosing is going to be the perfect fit for them according to their needs and requirements?
If you have the same question in mind, you are in luck because, in this article, we will talk about the 7 best knowledge base management systems that can easily take care of every single thread of information that you need them to process.
What is a knowledge base management software?
The knowledge base management software is a tool that enables organizations to share important company or product information in a systematic way. It can be either internal or external knowledge sharing to help collect, organize, manage and share the information. It is a go-to tool to share and distribute information for company or product/service policies, systems, workflows, how-to's, and processes.
Knowledge base work as a centralized content directory used by customers or internal company members to know details on how to use your product or service. The different knowledge base software available in the market provides templates, content hosting, formatting, search engine optimization, and rich text editor service.
So, without further ado, let's begin exploring the best free and paid knowledge base management software.
7 Amazing Knowledge Base Management Tools to Use Right Now
Here is a list of all of the fantastic knowledge management systems discussed in this post. Let's look at these incredible knowledge base management tools and find out how they can be beneficial for you according to your needs and requirements.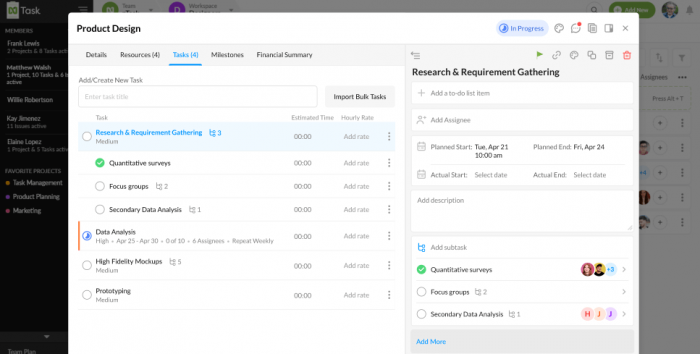 Being one of the best project management software in the market right now, nTask is an incredible knowledge base management tool that allows you to store various types of information related to a task or a process in the project development process in its interface.
You can easily access this information via the application and all of the beautiful features this excellent task management application offers. Here is a list of the features and functionality this application provides to its clientele.
Key Features
Knowledge base management
Task management
Project management
Time management
Bug tracking
Kanban boarding
Gantt charting
Zoom integration
Pricing
There is a free trial of this excellent knowledge base management application that has minimal features, but if you want a paid subscription that has a lot more premium features than the free version, then you will have to pay $3/month
Simple Knowledge Base Management With nTask

Manage documents, issues, projects, teams and tasks, all in one place. Sign up today!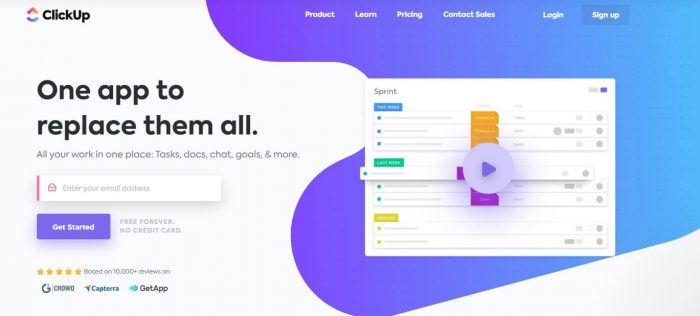 Another fantastic application that can easily take care of all of your projects, tasks, time management activities, and the processes included in your project development process is ClickUp.
The application is lined up with different features, including creating other knowledge bases, wikis, and docs for your project or business. Let's look at some of the features that the application has to offer to its clients.
Key Features
Knowledge base management
Resolve Comments
Customize Assignees
Comments & Tasks
Threaded Comments
Super Rich Editing
Three Different Views
Simple Statuses
Assign Comments
Filter by Status
Collaboration Detection
Multiple assignees
Multi-Task Management
Tabs
Custom Statuses
Pricing
If you wanted a minimal set of features to check out the software's functionality and the overall interface, then you should go for the free version of the application, but if you want a more premium set of features for your needs and requirements, then you will have to pay $9/user/month
3. LiveAgent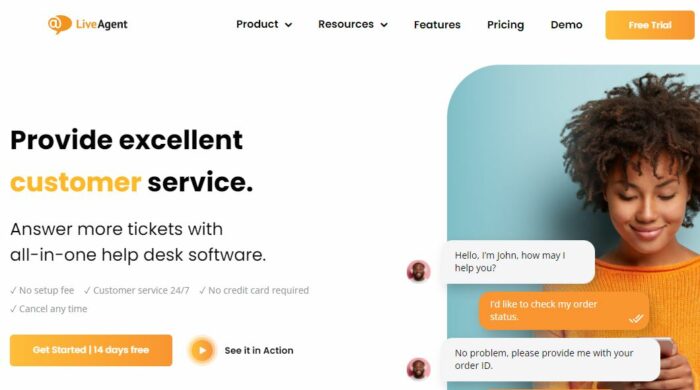 Another great knowledge base management application that you need to try out is LiveAgent. The application is a helpful tool that allows you to create detailed knowledge bases that can become a practical part of your self-service solution.
Key Features
Universal inbox
Hybrid ticket stream
Rules
Responsibility
Tags
Business hours
Knowledge base management
Ticketing
Automated ticket distribution
Time Rules
Departments
Service-Level-Agreement (SLA)
Contact groups
Pricing
There is a free trial if you want to dip your toe a little in the vastness of features that this application offers, but if you want the premium goodies, then you will have to pay a starting fee of $15/agent/month
4. Zoho Desk

The application Zoho Desk is an incredible content-aware help desk that allows you to manage all of the customer support activities that your team is performing. The application is available on a wide variety of devices supporting the Android and iOS operating systems.
Key Features
Call Center Software
Agent Productivity
Company-wide Collaboration
Help Desk Essentials
Ticketing System
Social Support Software
Knowledge Base and Forums
Reporting and Insights
Pricing
If you have just three agents using the software, then it is entirely free, but if you have more people using the software, then there are two different paid plans with more premium features starting from $12/month/agent
5. ProProfs Knowledge Base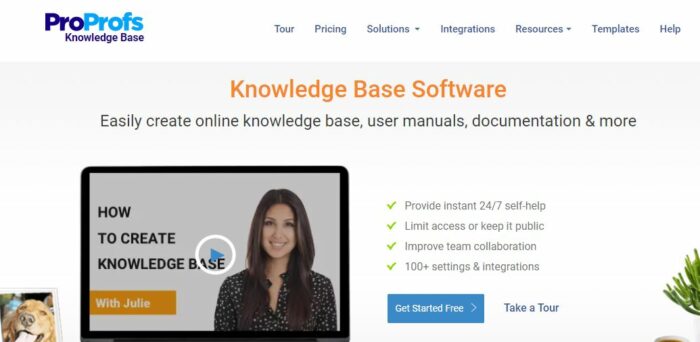 One of the best knowledge base management software you can use right now is ProProfs Knowledge Base. The application is an easy-to-use intuitive software that allows you to boost your customer support activities and improve your team collaboration.
One of the best things about this application is that there are no coding skills required to use the tool. You can start the application, set it up however you like, and make the content you want quite easily and quickly with over 40 different templates at your disposal.
Another great thing about the application is that it doesn't discriminate if you are a small business or a large enterprise; you can create a knowledge base for all your customers, HR department, support staff, or any other team member easily and quickly.
Key Features
There is an MS Word-like editor that can be used to write and edit all of the content that you want to create for your knowledge base
You can create different reports to measure and improve how an article in your knowledge management is going to resonate with the required audience
There are over 40 different templates that can help you create content quickly and effectively
There are page and folder level restrictions to ensure a higher level of security
One of the best features of this application is that it supports over 90 different languages
Pricing
There is a free version of the application that is entirely free but with a limited set of features attached to it
If you want to get a more premium set of features for your needs and requirements, then you will have to pay $0.30/month/page
6. Document360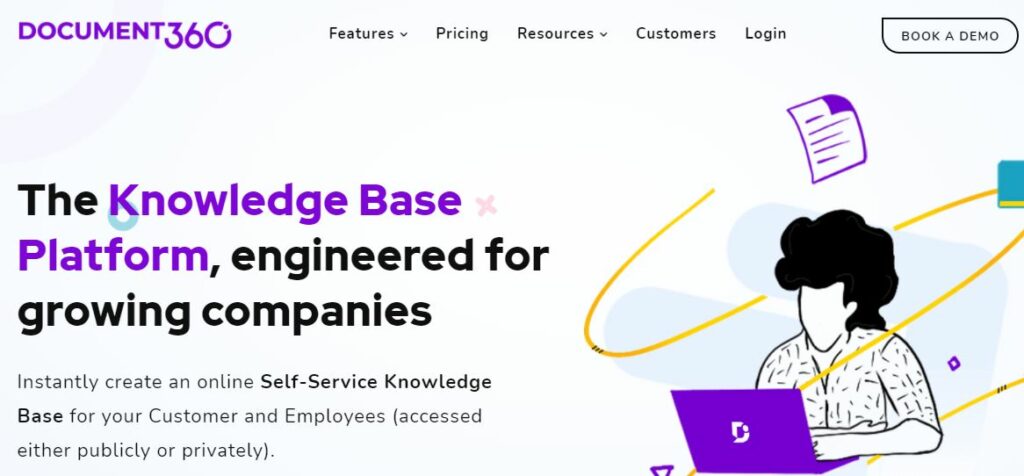 Document360 is one of the best knowledge management software in the market and a one-stop destination to support all your technical documentation and customer support needs. It helps in creating a self-service knowledge base portal for internal users and customers. It also provides a world-class authoring experience and can be customized to meet the needs of small to large-scale enterprises.
Document360 is a very easy-to-use simple user interface to maintain your knowledge base. Also, you can manage multiple product documentation, and configure multiple users, and analytics which will assist you in keeping your knowledge base information up to date and relevant.
It can be integrated with multiple 3rd party tools like Zendesk, Drift, Intercom, Zapier, Slack, Microsoft Teams, Freshchat, and many others to expand its functionality
Key Features:
Document360 has the ability to customize landing pages that carry your brand guidelines and offer multiple Homepage themes.
Simple, quick, and straightforward design editor that allows the user to choose between a Markdown and a WYSIWYG editor. While editing, a real-time preview window on the editor allows you to see how the published article will look.
Provides a powerful search function that matches terms with previous incidents for better results.
Version control features are essential for product documentation; with Document360, you can comprehend the entire version history to see what changes were made, by whom, with a time stamp, and revert to any revision.
In-app assistant with ticket deflector to cut down support tickets & Multilingual support to provide relevant information to your global clients.
Document360 Drive to manage all files operation and organize assets with the central cloud-based storage repository.
Pricing:
Document360 provides a free 14-day trial
The paid pricing starts at $99 for the startup plan
7. Zendesk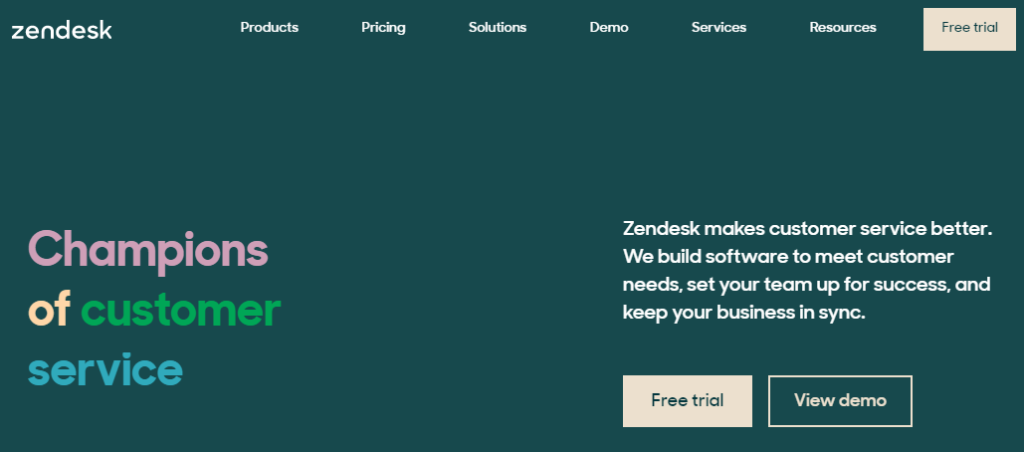 Zendesk is known for its customer management portal and works well as a collaborative knowledge base management software. The platform can help you set up a public and private knowledge base to help customers and internal teams.
It is a simple, and easy-to-customize knowledge management tool to help agents-only knowledge base and customer-facing Q/A portal to make it easy to find the right information. The rich formatting tool, pre-made templates, multiple languages, and analytics makes it a beneficial knowledge desk tool.
Here the are some of useful knowledge base software features that Zendesk offers.
Key Features:
Content management and SEO
Customer feedback loop
AI-enabled bot and search
Community forums
Customized branding
Ability to set categories
Pricing:
A free trial is available
Suite team plan at $49/agent (billed annually)
Suite growth plan at $79/agent
Suite professional plan at $99/agent
Suite enterprise plan at $150/agent
Customized plans are available
Conclusion
These were our top picks for the best knowledge base management systems that you can use for your company or business. If you think that we missed a software or there is a vital piece of information in the article, write to us, and we will review it ASAP.
---
More Resources For You: