The world of project management is a complex one. There are a lot of different methodologies that you can adopt to make your projects successful to bring more value to your company.
Kanban Project Management is one of those methodologies. Having discussed agile project management and scrum project management, we are going to talk about Kanban Project Management, so that you can understand how the most effective project management methodologies help your business prosper.
One of the most amazing things about this methodology is that it can infuse itself among any and every type of team for them to achieve their goal.
It also regulates the flow of tasks related to the project so that the development team can make their way forward to achieving their shared goals and objectives.
Kanban is also an amazing database for your project that keeps track of everything related to the project like information about the tasks, and documents related to the project, and makes them available to your whenever and wherever you need them.
Let's take a comprehensive look at Kanban Project Management.
What is Kanban?
So what is Kanban?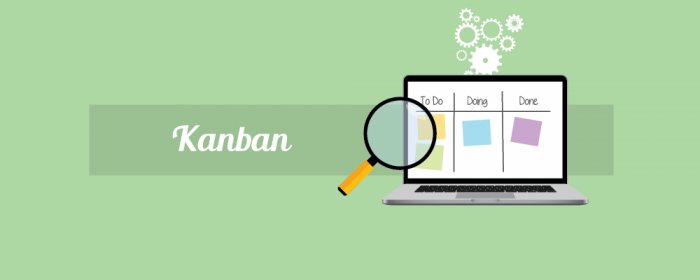 This methodology originated from the "just-in-time" production system designed by the people over at Toyota. What that means is that you should only be doing what is needed in that moment and in the required amount that the work is needed, nothing less nothing more.
The main two elements of Kanban are:
Cut out all of the work that isn't relevant or necessary for the project, eliminate inconsistencies, and reject any irrelevant requirements set by the stakeholders
Making the workflow more seamless than before and increasing the productivity of the teams working in the development process
Kanban was pretty amazing as an independent entity but when you infuse it with project management, the result is spectacular. The most incredible benefit is that when you apply Kanban Project Management, every step of the workflow becomes visual and fully transparent.
That means that the people involved in the development of the project can see all of the work assigned to each resource and also the tasks that are currently being worked on by the team members.
This helps your team to focus on the tasks that are necessary to be completed, and not waste their time on needless tasks that have no connection to the project.
Why do We Need a Kanban Board?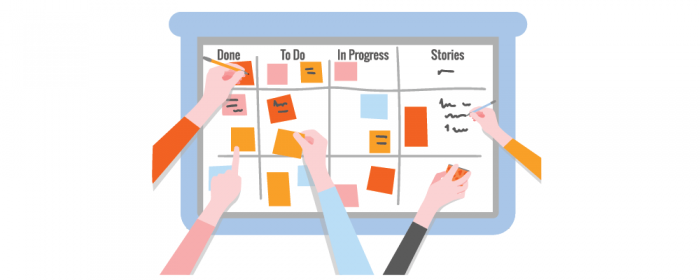 If you have been a part of the project management paradigm for even a short while now, then you probably know that if you are working on a specific project that involves the use of strategy and its timely execution, getting that project started is the hardest part of the whole endeavor.
You might spend hours and hours on establishing goals and milestones that you want to achieve for your company through the project and also envision many other strategies, but when the time comes to execute all of that, the workflow just comes back to the basics and getting things done.
In this article, you will learn about the proper functionality of Kanban, how they positively and negatively impact the project, and how you can incorporate it in your company to generate more value.
What are the Benefits of Kanban Project Management?
The following are some of the most important benefits that Kanban Project Management can provide for your company and projects.
Work is divided into smaller and more manageable tasks
Allows for focused and more efficient work
Can adjust to your process and team
Collects all relevant information needed for a task
Fits a wide range of applications
The process continues to improve over time
Let's take a detailed look at some of the benefits of Kanban Project Management.
Limiting the Work in Process (WIP) of the Project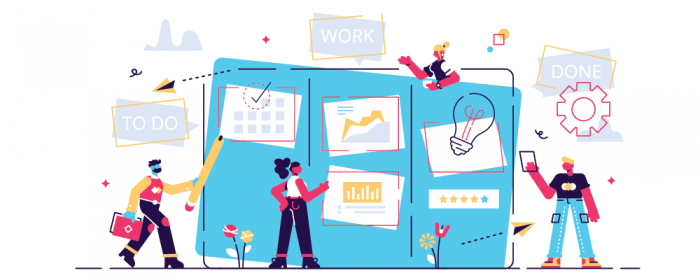 Nowadays, many millennials or "productive individuals," say that multitasking should be the new norm and that it is an excellent fuel to being more productive and getting more things done during the working hours of the day.
But when it comes to Kanban, the scenario is completely different. When we use Kanban Project Management, we are bound to take on and complete the most actionable and vital task related to the project, at a time.
This helps in getting the work done without losing focus and efficiency doing a bunch of different things at once and not completing any of them.
This is an important lesson that Kanban teaches us, that dedicating your whole attention span to a single task at a time will stop your mind from thinking about anything else in the process of achieving true productivity and teaches us Deep Focus in the process.
You Don't Need So Many Tabs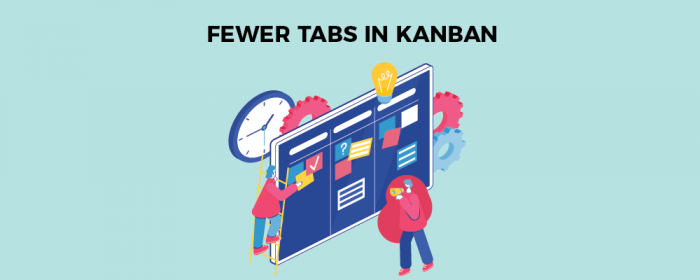 Just a quick survey. How many Chrome tabs have you got opened in your browser right now? I guess it's a large number but how many of them are necessary for your work? Believe me, we're all the same.
But when it comes to Kanban you need to make sure that you have a small number of tasks to be completed in your roster.
This helps make sure that your team is productive and no time is wasted. If you are concerned about starting with a very small number of tasks in your queue, you can undertake a large number of them and gradually lower the number of tasks to work on just the essential ones.
You might not be familiar with this kind of procedure but this is the perfect way for you to adjust yourself and your team to a new method of working.
One major benefit of having your teamwork this way is that you get to know about all of the skills and insights that your team has when they are working on individual projects and not mixed into the crowd, resulting in your monitoring their potential and making your assessments for future projects.
When you are using Kanban Project Management, it doesn't matter if your team is working on big or small initiatives because it's all going to be broken down, and you and your team will focus on just the right amount of work that they can perform to achieve the goals of the company without diminishing their strength and productivity.
Improvement is Never-Ending in Kanban Project Management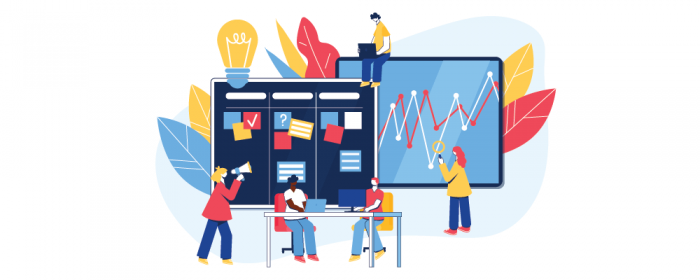 One other major advantage of using Kanban Project Management is that you don't need to invent all of the different workflow processes from scratch, you can use your existing ones and make step-by-step alterations in them to ensure that your team is productive and is generating value.
One thing you need to remember is that if you want a positive change in the workings of the project and the company as a whole, you first need to make sure that you understand what real improvement is and how you can achieve it.
The major benefit of using Kanban Project Management is that you can fix your existing workflow that has snags and issues associated with it, instead of generating more and more projects and tasks to bring value to the company.
When you have tracked the problem that was affecting your workflow, you can simply modify it or change all of your workflows. How? Because you now know about all of the strengths and shortcomings of the team and you can use that knowledge to your advantage.
Looking for Trello Kanban Alternatives? Check it out:
The 9 Best Trello Alternatives for Kanban Project Management
The Use of Kanban Boards in Project Management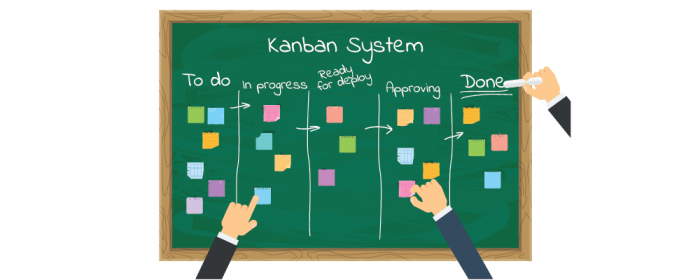 One of the most important ideas when it comes to Kanban Project Management is to help you perform as many tasks as possible related to as many projects as possible, in the least amount of time.
This is one of the main reasons why Agile project management and Kanban boards are made for each other.
Although it might seem to be quite juvenile at first when you think about just one task at a time and still hope to be successful in this fast-moving world, it has been proved time and time again that focussing on just one task or activity in the workflow is very important if you and your team want to be increasingly productive.
Kanban: A Visual Aid
One of the most important aspects of Kanban is the visual nature of the boards and how they can help the user navigate through the dense forest of tasks and goals to understand what they have to do to achieve more success.
These boards are an amazing visual depiction of all of the tasks and processes associated with the projects and greatly helps the teams to see what's in the roster to work on, what is the progress of the tasks being worked on and how will they complete these tasks to make the project a success.
Kanban Boards will help you figure out exactly what you have to do to make the project that you are working on, a success. Once you have the visualization from the boards, you can easily manage them to generate more value for the company for all future projects as well.
How to Build One and What does it Contain?
To make a visually effective Kanban Board, you need to follow these steps so that your team can benefit from it and achieve success.
The first thing you need to do is to generate a Kanban board either virtually or physically depicting all of the tasks associated with the project in question
At this point in the procedure, we'll assume that you have everything sorted like setting your goals, brainstorm ideas for new projects and have set up all of the tasks necessary for each project
The next step is to create three custom columns i.e. Done, in progress and Not Done
If you have a physical team working on a project and you don't have an online project management software like nTask to take care of your Kanban needs, then your team would have to work with old-fashioned post-it notes to track all of the tasks being done in the project development process
They would have to physically move the task notes from Not done to in progress to Done without any tracking information available for those team members that were not in the office at that time or were not a part of the team but are associated with the company
The entire team works together to get all of the tasks from the Not done column to the Done column and as a manager, it is your job to make sure that the duration of the whole development process is designed in a way that all of the tasks are completed and no time is wasted
You can set the duration as per your strategy
There are many other parts of the project management process that the Kanban boards consist of like notes, deadlines, planning, and testing.
One other benefit that we have discussed above is the availability of tracking information of every task associated with the project for every member of the team so that everyone knows what everyone is working on
Examples of Kanban Boards Being Used in Project Management
Some of the examples of Kanban boards being helpful to the organizations exercising project management are:
Lawyers use Kanban to keep track of the progress of their cases
Students do their homework assignments in this style
Software developers use agile Kanban boards to measure the progress of their coding
Salespeople coordinate their sales processes using the Kanban process
Some people even organize their private lives and chores using Kanban workflows
Top 4 Kanban Principles
David J. Anderson (a leader in the field of Kanban) has formed the four Kanban principles to incremental, evolutionary rules and methods for learning led companies.
It is focused on getting things done and its fundamentals can be split down into four primary Kanban principles.
First Kanban Principle: Begin with what you do know
Second Kanban Principle: Agree to Pursue Incremental, Evolutionary Changes
Third Kanban Principle: Respect the current process, roles & responsibilities
Fourth Kanban Principle: Encourage acts of leadership at all levels
How to Pick the Best Kanban Software Provider
Selecting the right Kanban software can be challenging.
Kanban software packages can help you gain greater business clarity and foster team collaboration.
The combined functionalities like tracking, reporting, forecasting, and more will help you in attaining continual process improvement.
Here are five things to look for when choosing a specific kanban software solution:
Visualizing Work: Locate a tool that facilitates planning and visualizing workflow in a clear way.
Limiting WIP: Ensure that the kanban software solution provides several methods of limiting work in progress (WIP)
Managing Flow: Check whether you can easily visualize different types of work, classes of service, deadlines, and blockers.
Make Process Explicit: Test to ensure that the users of the kanban software are able to visualize process policies in an obvious way.
Implementing Feedback Loops: Compare communication characteristics such as card annotations, email integration, and reporting tools.
Agile vs. Waterfall vs. Kanban vs. Scrum
Waterfall works best for projects that are completed in a linear fashion and do not allow for reverting to a previous phase.
Agile emphasizes adaptive, concurrent workflows. Agile methodologies divide projects into smaller, iterative phases.
Kanban is primarily concerned with process optimization.
Scrum is concerned with completing more work in less time.
While the differences between methodologies may appear minor, they do exist. In fact, these seemingly minor details have a significant impact on how a method works. With that in mind, let's look at what distinguishes each project management methodology.
Let's focus on Agile and Kanban here for better understanding before we dive in…
What Makes Agile Distinguishable?
The Agile methodology is a collaborative, self-organizing, cross-functional approach to completing work and requirements that are commonly used in software development settings.
While Agile project management is sometimes referred to as a separate methodology, it actually refers to a group of methodologies that includes Scrum and Kanban. Nonetheless, there are significant differences between Agile and Waterfall project management. Agile emphasizes adaptive, concurrent workflows, as opposed to Waterfall's linear nature.
What Makes Kanban Distinguishable?
While many people compare Kanban to Agile, Kanban methodology is actually a subset of Agile methodology. Kanban aims to better coordinate and balance work based on worker capacity and bandwidth. It employs the Agile methodology principles discussed above, but in a unique way.
nTask: The Kanban Application You Need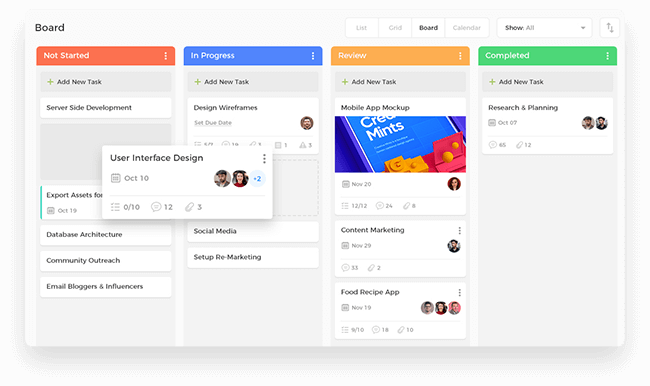 As the most powerful project management software in the market right now, nTask is more than capable of all of your needs and requirement related to Kanban. It is an amazing piece of software that provides the perfect visual solution for your team, no matter how small or big.
Let's take a look at some of the features of nTask that you will enjoy using. They are:
Keeping all of the important info about the tasks and the projects in a centralized location
All of the team members get real-time notifications about any changes that happen within any project that they are working on
All of the projects and the associated tasks are seamlessly processed with the help of automated workflows
You can label all of the different tasks included in the projects as completed, incomplete, in review, etc.
You can assign multiple team members to complete a task or a project and you can communicate with them using comments or tagging them in the content comment section
nTask is a Useful Task Management Tool for Businesses

Manage tasks, teams, projects, meetings, Kanban boards and more with nTask. It's free – no questions asked.
Conclusion
Kanban boards are quickly becoming the most sought-after feature. Why? Because of their excellent flexibility with which they envelop any project no matter how small or big it is, and also the ease of use with which it can be used.
There are many project management software out there in the market but if you want the best Kanban experience, you need to choose nTask. The Kanban experience that this application provides has no match.
But when there are so many choices for project management choices in the market, you need to make sure that you have the perfect software that will take properly take care of your needs and requirements, before you throw any money at it.
So, keep on browsing for that perfect one. Happy Hunting.
Have you ever experienced Kanban project management on a full scale? If so, we would love to get an insight on your way of dealing with that unique workflow. Don't forget to leave a comment below in the comments section or write to us via email.