The pyramids are one of the wonders of the world – magnificent and complicated. Archeologists still argue how the Egyptians managed to build such a masterpiece.
How about the Great Wall of China? The Emperor had employed millions of people in its construction: soldiers, common people, and criminals.
The emperor sure did know how to make the most of his resources. Something only a great project manager could do – would do – should do. You decide.
Today, each one of us is a project manager. We might not pay attention to it, but even our smallest chores need proper project management and some of us have mastered the skill of it because we are all responsible for things to be done – and mostly these things work like milestones for the bigger bricks.
Project Management and Multitasking:
Each era has witnessed its own state of project management techniques evolving over time.
In today's digital world, there are many apps for getting through the workday. The Internet offers a plethora of platforms for team communication, task management, and email coordination, all pertaining to your needs.
These platforms have further streamlined multitasking. The ability to do multiple things at the same time is now no big deal. Working on multiple applications for work and personal needs is now considered a usual thing. Unfortunately, statistics don't give a happy number regarding people that are actually proficient at it: only 2%.
On the one hand, everything seems defined. You know which app is for what. On the other, a number of apps opened at the same time can get confusing and constant juggling between apps can result in mental exhaustion. After all, we're all humans at the end of the day!
Switching between apps also results in a wastage of time. Unfortunately, as much as 40% of productivity is lost just by task switching.
See also:
Introducing nTask 2.0 – Our most awaited update yet
Technology Integrated:
Luckily for us, technology has solved this matter, too.
How? One word: Integrations.
Instead of using multiple tools for different purposes at one time, you can integrate them into one and get more work done in less time.
Instead of allocating a task in one app and exchanging information in another, you can do both by combining the apps in one shared view. That's exactly what the newest update of nTask is all about!
If you're already using nTask or Slack, or both, your work-life got a whole lot easier, because nTask can now be integrated with Slack for easy updating and monitoring of projects. Yes, you heard that right! Slack project management through nTask is now just a few clicks away from you.
Sounds productive, no?
Read on to find what exactly are we talking about.
nTask + Slack = Awesomeness!
Before moving forward to how nTask works with Slack and vice versa, let's have a quick glance at what exactly Slack is.
Slack is a collaboration tool that makes communication among organization members easy and streamlined. It consists of multiple workspaces for teams to communicate effectively and get things done faster by safe file transfers.
It's only been a year since this team messaging app came into existence but it's already taking over the world.
There are about six million daily active users (up from four million in October 2016) with over half of Slack users in 100 countries outside of the United States.
With such a massive number of users around the world, nTask is giving a great platform for achieving successful project management through the integration of nTask account with Slack.
Why use nTask for Slack Project Management?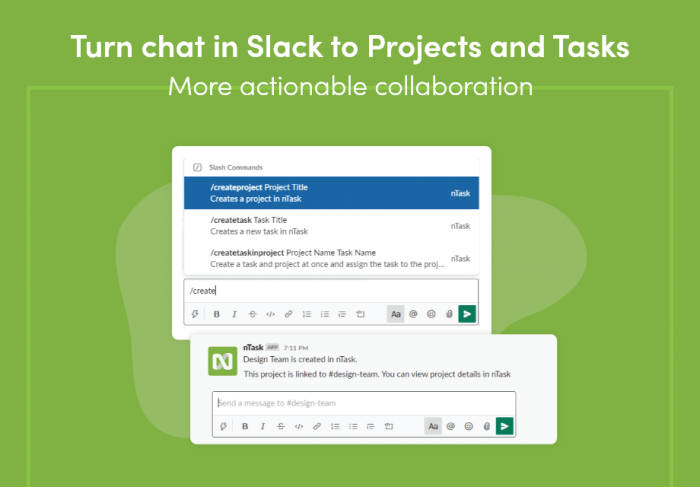 One sentence; nTask for Slack makes task management effortless for you.
nTask for Slack increases user convenience in a way that your team doesn't have to manually check updates in nTask. Add a new project or change information for existing ones in nTask, and it'll automatically get updated in the linked Slack channels.
You can link and unlink the tasks with the Slack channel individually too if you wish.
For your assistance, let's take an example here; you want to set up a meeting, but you're not sure what time suits the team? Initiate a meeting call in nTask and ask them to review the timings, all through the messages appearing on Slack. Or, just tell the team to be there at the time you decide! You're the boss.
Your team can now give their feedback without manually switching over apps. The integration gives users the ability to achieve successful Slack project management by using the advanced features of nTask to create and manage projects, all through one platform.
There is no complicated procedure to go onboard with the integration. Simply follow this step-by-step guide to get started. Your increased productivity journey just began!
See how simple the entire process of integrating both the applications is?
So, what's in it for Project Managers?
If you haven't gotten the gist of above-mentioned update and are new to our space, read on to find more about what exactly nTask is and how it works for your project management needs.
A project management application that lets you manage tasks while being connected to your team for efficient communication. All by itself. Well, with the help of a few clicks.
A task management software, primarily, that helps you manage your projects by breaking them down into tasks and subtasks and lets you assign resources. Coming with the additional features of managing issues and risks, nTask gives great liberty for effectively managing all critical aspects of the project, without threatening the lifecycle of a project.
Plus, you get to collaborate with your team and track your tasks absolutely free. Forever. All in all, it makes task management a dream, while facilitating integration with other applications (like Slack) too. Apart from all the other amazing things you can do with the smart features of nTask, you get to implement Slack project management too!
Find out more about the application and its uses here.
In a nutshell…
We're all geared up to explore exciting new ways nTask can be used for Slack and what kind of impact would it make on the overall productivity levels of teams.
If you're using nTask, now it's your turn to communicate with your team members using nTask for Slack and increase your output.
Tell us about your experiences in the comments below.