Today's version of a typical calendar is not what it used to be. It has turned into an 'interactive calendar.' How so? Read on…
When someone refers to a calendar; they are not limited to those paper calendars hanging on your wall or displayed on your desk, nor are they simply those small planners in someone's purse or backpacks.
Calendars now are so much more. Calendars have transformed in this digital age to be dynamic, living documents.
Calendars can help you to not only schedule and remember dates with ease but also offer a range of features that are all encompassed into interactive calendars.
And with project management, interactive calendars are not only becoming more and more common they are becoming necessary too.
Here is our guide on what you need to know about interactive calendars and why it is high time you invest in one for the benefit of yourself and your team.
What is an Interactive Calendar?
Everyone has used a calendar in some form during their life, whether that be to keep track of their schedule or simply to check the date.
With the new age of technology, every phone has a calendar in-built and therefore is available even on the go.
Interactive calendars can be described as digital calendars where you note down events, deadlines, reminders, and such.
Besides basic calendar functionalities, however, most interactive calendars also offer advanced significant features as well as the ability to be shared with either team members or other individuals you wish to share it with.
Why You Should Use an Interactive Calendar
The next question to ask is why you should even consider using such a calendar? There are many benefits to adopting such a calendar especially when you look at the workforce and how it can help you and your team.
In this post, we will address some of the benefits you can gain from investing in such a calendar for your project management team.
However, these benefits and those not mentioned hereunder are also relevant to other industries, working relationships, and more.
Benefit Number 1: Easily Update Team Members and Other Individuals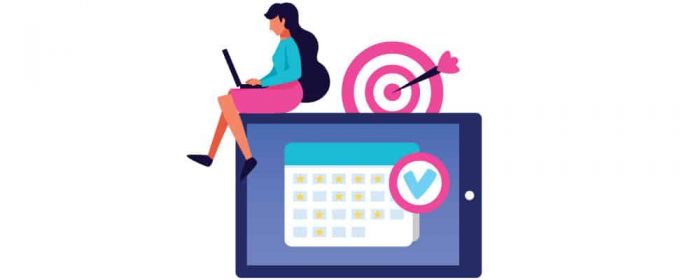 No matter what industry you are working in or what your organization or company is, communication is the key all around.
This is especially true in the case of project management where both team members and clients need to be aware of what is happening and be on the same page regarding the project being worked on.
This can be difficult when updates are shared over emails or with an overload of meetings.
With the help of such calendars which are interactive, you can get updates in real-time from all individuals who are part of a project.
You can also share the calendar with clients or stakeholders as a means of keeping them updated as well without the constant back and forth of emails and other such communication.
Benefit Number 2: Always Have it on Hand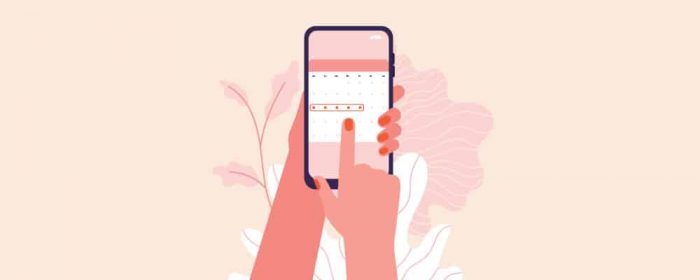 Another great thing about having a calendar that is both interactive and digital is that it is with you wherever you go.
This is especially useful for someone who is constantly on the move or for individuals who have different sites or locations to be at.
With such a calendar you can check your schedule on the go and know exactly what you need to do and where you need to be.
Benefit Number 3: Ability to Combine More Than One Calendar
If you are a project manager or other such leader, chances are that you are working not only on more than one project but also on different work tasks and items.
Interactive calendars give you the ability to not only access a shared online calendar for the project but also organize and track personal deadlines and other non-project tasks and responsibilities.
A good calendar with an interactive ability still allows individuals to combine projects and other tasks and not share these other dates with the team.
Therefore, you will be able to have everything within one calendar ensuring you do not overschedule or overlook any important dates or deadlines for the multiple things you are working on.
Benefit Number 4: Easy Scheduling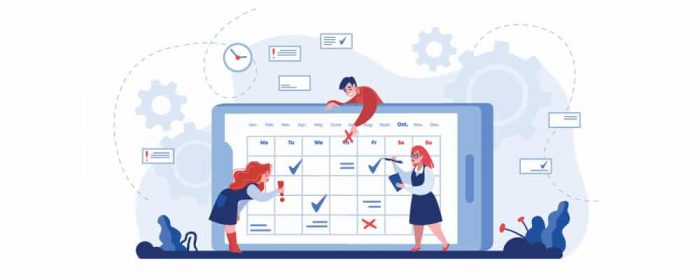 With the help of a calendar that has all the tasks of the project as well as what each team member is working on in one interactive space, allows for easy scheduling.
Not only can you see what each team member is working on, but you can also view when a certain individual is on leave or out of the office.
Moreover, such calendars help you ensure that you do not overburden any one individual with tasks and that you can assign duties and responsibilities based on what your team members are already working on.
Benefit Number 5: Reminders and Notifications
Having a calendar that is interactive with your team allows you to save time that you would otherwise be spending on checking in with your team members.
How?
Well, investing in a good interactive calendar comes equipped with reminders, alerts, and notifications.
Checking in via emails and other constant check-ins can be time-consuming and tiresome.
The alerts and reminders do away with the need for these check-ins and emails. You can also use these reminders to ensure you do not miss any important deadlines or meet yourself.
Moreover, through such calendars, you can also easily view what people are working on without having to get in touch with them.
Benefit Number 6: Accessible for Your Team
Such calendars are not only easy for you to share but also easy for your team members to share.
Team members can easily alter and adjust dates and correct any scheduling mistakes which may have been made. These alterations are then available for everyone on your team to view so each individual is updated and informed of changes.
Benefit Number 7: Possible Integrations with Other Software
Such interactive calendars also help you streamline your entire workflow and processes since most of such calendars offer the ability to integrate with different tools or software you are already using.
You can integrate your calendar with tools such as emails, communication applications, and even project management tools.
Combining applications in such a way helps you be more efficient and decrease the need to be switching to and from different apps which not only wastes time but is a means of things getting lost or overlooked.
And these are just some of the benefits you can gain, and reasons why you should invest in an interactive digital calendar.
nTask and Your Interactive Digital Calendar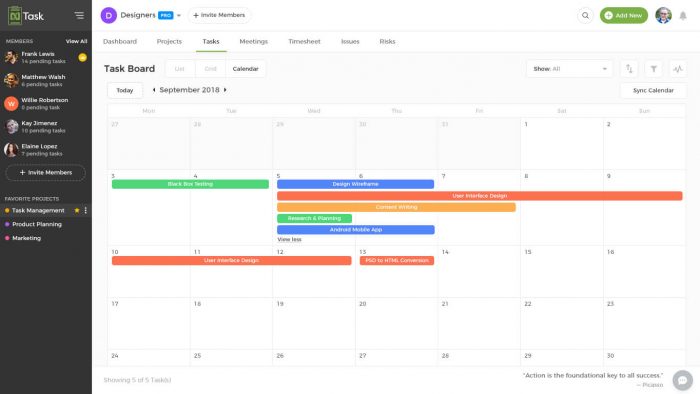 When you invest in an interactive digital calendar not only do you benefit in the long run but setting up is also a breeze.
A good calendar should have a user-friendly interface and be intuitive to use. Such a calendar will help you and your teamwork more efficiently and be more productive by saving you time in the long run.
It will also work seamlessly with your workflow and integrate with your processes to become part of your working habits.
nTask is one such platform that offers the ability to integrate and be used as an interactive digital calendar for you and your team. The tool is user-friendly and packed full of features that will help your team with your next project.
So how can you set up your interactive calendar with nTask?
There are a couple of different ways you can use nTask's project management platform as your interactive calendar. Here is how:
1. The Calendar View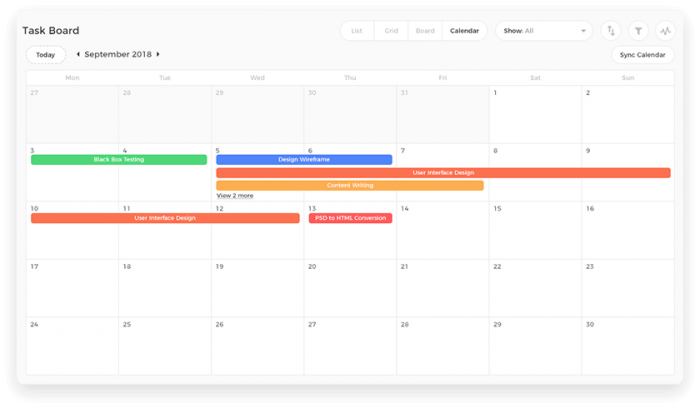 nTask is a project management tool that provides a comprehensive set of task management features.
Once you set up your platform you can use nTask's task management tools and view your team's tasks through the task boards.
You can use the task management features to easily create and assign tasks to team members, set due dates for when tasks are to be completed, set priorities, and even check the status of the task's progress, along with a load more features.
Another great thing is the options you have to view tasks you create on your task board.
You can choose between a list view, a grid view, and a calendar view for your task board. (you can also view tasks on the Gantt chart and Kanban board features available.)
You can opt to view tasks on the calendar view from the toggle options at the top of the task board page.
This will show you all your tasks and their progress and dates on a calendar form.
2. Possible Integrations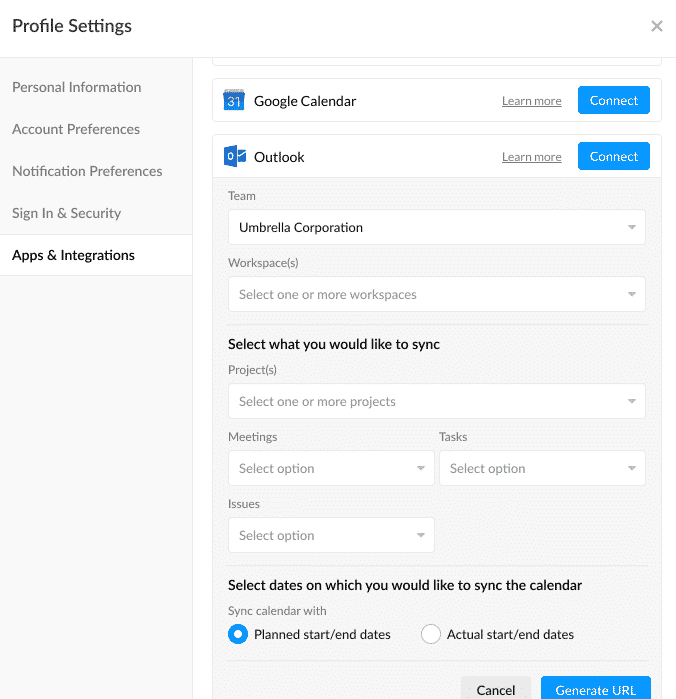 Integrate with Your Favorite Calendar App in nTask
Another way you can set up an interactive digital calendar with nTask is through the ability to integrate it with your favorite calendars.
nTask offers the ability to integrate not only with Google calendar but also with your Apple Calendar or Outlook Calendar depending on whichever you use.
Integration is simple.
All you need to do is click on your profile icon in the top right-hand corner of the web page.
You then select the "profile settings" option, click down to "apps and integrations". It is there where you will find the available integrations nTask has to offer.
Toggle on or off whichever integration you want to use and follow the steps you are guided through.
When you integrate with your calendars you can choose which workspace and project you want to sync. You can also choose what type of things should be synced such as only syncing meetings or also tasks and issues. It depends on your individual needs.
It is this customization that makes nTask a great option for your interactive digital calendar.
Check out the detailed Integration steps of your favorite app here.
nTask is the best Calendar app for Free.

Manage projects, tasks, events, and timesheets all in one place. Sign up today!
Conclusion
And there you have it!
We hope we were able to convince you to invest in an interactive calendar so that you too, and your team, can benefit from all that such a calendar can offer.
---
More Blogs You May Like: