We are super excited to announce that now you can also integrate nTask with Slack, the powerful team messaging tool that makes work more productive through conversations and file exchange.
nTask and Slack put together to give you added flexibility in creating tasks, projects, and teams. So, let's get started.
Overview
Now that you have both of the best tools together, nTask and Slack, here is how you can integrate them so you can stay more productive and efficient.
nTask's integration with Slack allows you to:
Create projects in nTask from Slack
Create tasks in nTask from Slack
Receive updates and notifications from nTask in Slack
This integration is available to all users on all account types.
Enable nTask integration with Slack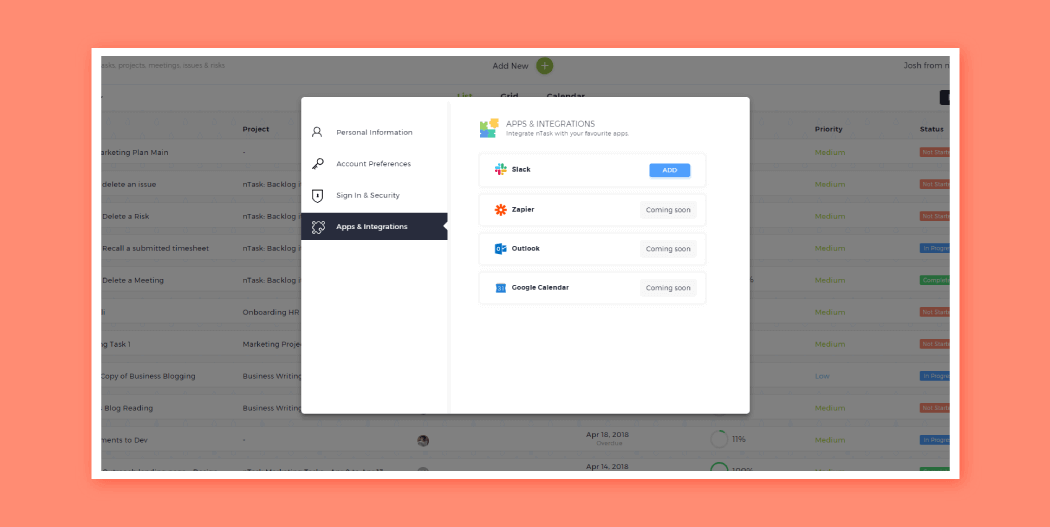 Follow this step-by-step guide to integrate nTask with Slack.
Open nTask
Click User Profile
On the displayed menu, select Profile Settings
Personal Information window will display
On the left panel, Click Apps & Integrations
The Apps & Integrations window will display
From your list of integrations, click on Add the button for Slack
A window with the option of Slack channels will display
Select the Slack channel of your choice
Click Authorize
And you're done. Let's try this hands-on:
Related:
The 19 Best Free Slack Alternatives for Effective Project Management
Create Tasks in nTask from Slack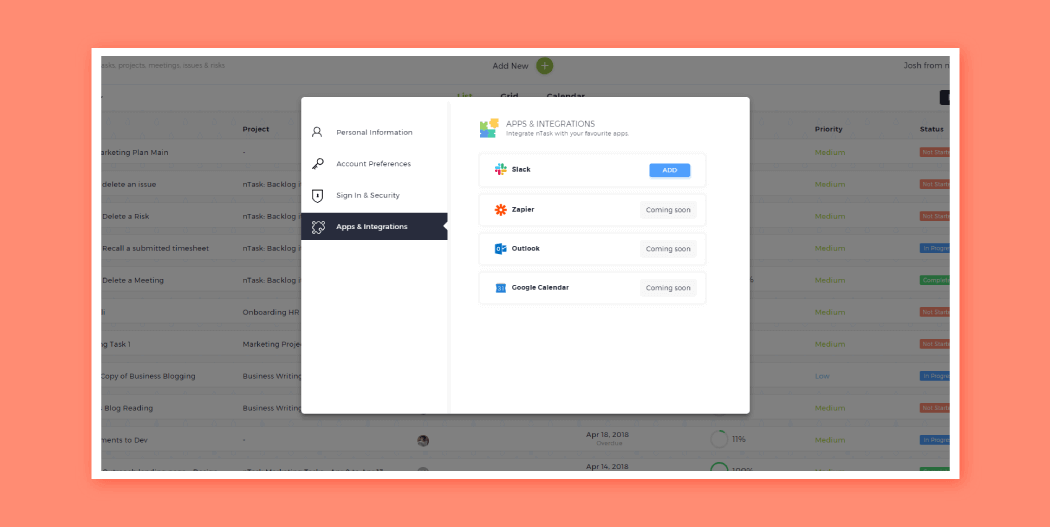 Open Slack
Open channel integrated with nTask
Create a task using /create task command followed by the task title
Open nTask
Go to Tasks
View the created task
Create Projects in nTask from Slack

Open Slack
Open channel integrated with nTask
Create a project using /create-project command followed by the project title
Open nTask
Go to Projects
View the created project
Receive updates from nTask in your Slack channel

Open nTask
Go to Tasks
Modify Task status or add comment
Open Slack
View notification of status updates or comment
Still having trouble integrating Slack with your nTask profile? Shoot us an email at support@ntaskmanager.com and our support team will reach you in no time.
See also:
Have feedback on how to make the Slack and nTask integration better? We're all ears – write to us at info@ntaskamanager.com