Our mind is immensely capable with hundreds of thoughts emerging every day. Our mind is almost always filled with innovative ideas, acting upon which can be beneficial for us in the long run. While it is true that we have 6000+ thoughts every day, our thoughts vanish in less than a second.
What if we could filter our ideas and those of our teammates and conjure up a valuable strategy for our business? Or what if we could combine different ideas to carve a successful path for our work?
Well, this idea is no more a dream. You can now gather insights on your business and use the best ideas to improve your business processes with Idea management software. Idea management software is designed to enhance the productivity of a company with the ideas gathered from different resources.
With good idea management software, you can identify the best ideas for your business and then design strategies around that idea.
Idea management has become an integral part of business processes in recent years. With businesses' increasing dependence on idea management software, new software emerges every day. In the sea of countless such tools, finding the right one for your company can be a real hassle.
We have simplified the tedious process of analyzing different software and have compiled a list of some of the best idea management software in town. Read through the specifics and pricing details of the software to make your choice.
Before we jump into the list, we would like to give you a rundown of idea management software and its importance.
What Is Idea Management Software? And Why Is It Important to Get One?
What is idea management software? An idea management software is a tool designed to help you gather ideas, evaluate them, and identify the best one for your business. The ideas in question can originate from various different sources, be it a fresh intern, an experienced manager, or your customers.
Idea management allows companies to grow and develop over time. the feedback gathered can trigger a change in the work processes leading to better profitability and efficiency.
There are numerous benefits of idea collection software, all of which make it a critical part of companies. Some of the advantages of an efficient idea manager tool include:
Allows companies to identify and evaluate the latest trends to assess whether a trend is here to stay or not. Idea management tools help businesses stay at the top of market dynamics.
Inspires innovation in all levels of the company be it a fresh employee or a trained professional.
Engages all the members of the team by allowing them to contribute their ideas.
Idea management helps make better decisions with all the team members coming together to identify the best, most innovative idea.
Innovation in the company means more profitability and customer satisfaction.
Helps management communicate with the employees which helps align the goals of both parties.
With good idea management software in place, you can capture the most creative ideas for your business. Lastly, the extent of idea management software's expertise is not limited to the future, you can also make use of the tool to implement better strategies for the present.
List Of the Best Idea Management Tools:
Moving on to the list of the best idea collection software:
Table of Contents
Best idea management apps for 2022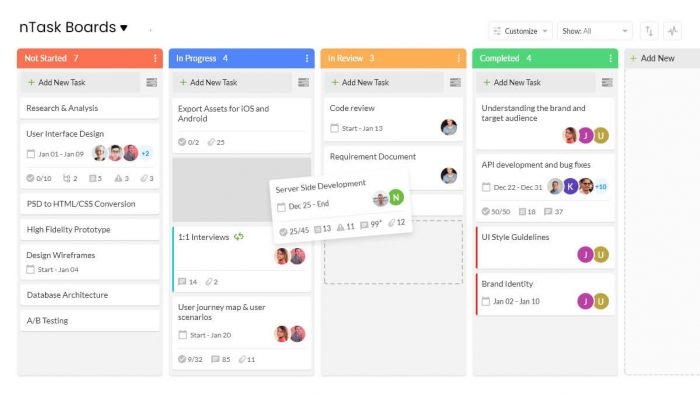 Our first pick for idea collection software is nTask and not because we are biased. nTask's wide range of features and its intuitive interface makes it one of the best management software in town. Its seven management modules all contribute to taking your business to new heights of success.
As a free idea management software, nTask offers multiple advanced features, all of which can help you stay at the top of you're A-game. nTask's visual tools add to its competitive edge. Visual tools such as Kanban boards and Gantt charts allow you to keep track of everyone's performance in the project.
Moreover, nTask's pricing plans are also one of a kind with the hordes of features it offers. As of now, nTask helps over 250,000 companies across 155 countries level up their management processes. It also helps improve the productivity and efficiency of teams.
Key Features:
Allows teams to smoothly communicate and collaborate on projects so that everyone can share their ideas and exchange feedback.
Offers seven management modules including, project management, task management, meeting management, issue tracking, risk management, time management, and team management.
You can use nTask's Kanban boards to convert all the ideas into tasks and the tasks can be moved to the board
You can assign and prioritize tasks with deadlines, start and end dates.
Allows team members to share documents, images, videos, etc.
Customize statuses of tasks according to your preferences.
Customization features help you personalize your workspace.
Notifications, reminders, and alerts help you stay on track.
Visual reporting tools provide you a birds-eye view of the latest developments in a project and the working of your team members.
Multiple integrations with third-party apps unify the workspace for smooth working.
Risk management and issue tracking help identify potential pitfalls in the processes.
A friendly user interface makes the onboarding process quick and easy.
Mobile apps keep you updated on the go.
Two-factor authentications make sure your data remains safe and secure.
Pricing:
Basic plan – available for free forever
Premium plan – $3 per user per month
Business plan – $8 per user per month
Enterprise plan – Custom pricing
nTask is the best idea management app.

Manage tasks, resources, teams, projects and timesheets all in one place. Sign up today!
2. Miro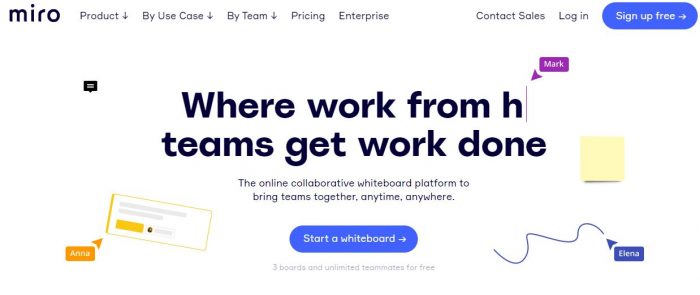 Miro is our next pick when it comes to idea manager tools. Miro not only helps manage tasks but also helps generate ideas with its mind mapping and brainstorming features.
The tool basically offers a white canvas where teams can deliberate and come up with ideas. Every new idea can be shared with your team members and converted into a workflow. Teams can collaborate and build upon existing ideas or suggest new ideas altogether.
The tool imbibes creativity in the working of your team, allowing them to freely use their minds and come up with unique innovative ideas. These ideas can then be discussed with other team members and useful insights can be generated for the future.
The whiteboard can be saved as a PDF and you can share them with others. You can also convert it into a presentation.
Key Features:
Offers an infinite canvas for mind mapping.
A robust set of widgets help manage and organize your ideas
Offers readymade templates for quick working
Presents an entire toolkit for user stories or customer journey maps, wireframing, roadmap or sprint planning, retros, and more.
See collaborators' cursors to track how team members engage with your boards.
Share your work directly from the Miro platform with easy screen-sharing and presentations.
Get feedback, reviews, and approvals with multiple communication options.
Easy folder organization and structure.
20+ integrations.
Ideate, organize insights, design flows, and collect feedback in real-time.
Pricing:
Free – $0 unlimited team members
Team – $8 per member per month
Business – $16 per user per month
Enterprise – Contact Team Miro for custom pricing.
Related:
Top 13 Project Management Tools for Agencies and Creatives
3. Canny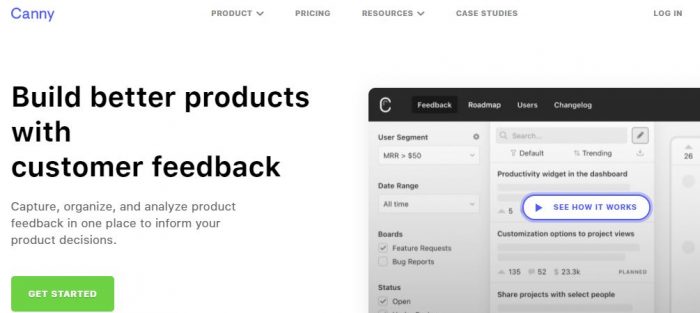 Canny is a feedback management software that helps you gather insights from not only the employees but also the customers. With the help of Canny, you can analyze feedback from various sources, plan roadmaps accordingly and announce product updates accordingly.
Canny streamlines feedback management with its Changelog feature which allows users to filter display logs specific to separate products using label IDs.
It further helps narrow down management processes by automatically linking feedback to existing user accounts, and grouping similar requests together. You can also discuss ideas with different teams working in the company and let customers vote in by adding them to private boards.
Customization features are also an add-on to this idea manager tool.
Key Features:
Helps navigate the customer feedback loop:

Gather feedback from your customers
Extract insights from the feedback received
Make improvements in the product with the insights gained
Follow up with customers who gave you the feedback

Automatically tie feedback to your existing user accounts.
Choose different privacy options to limit access to your boards.
Track feedback manually by adding a customer to a post.
With internal comments discuss ideas privately with your team while keeping everything in context.
Pin comments to make sure important responses are seen at the top.
Customize your logo, brand colors, and prompts according to your preferences.
Easily format posts and comments with rich text for readability.
Sort and filter feedback data to inform your product decisions.
Organize features by priority and communicate what your team is working on.
Announce product updates to engage people with your newest features.
Pricing:
Starter – $50 per month, 100 tracked users
Growth – $200 per month, 1000 tracked users
Business – Contact Team Canny for custom pricing
4. Confluence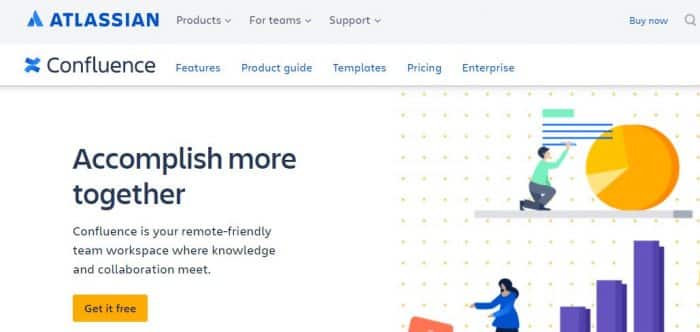 Confluence is our third pick for our list of the best free idea management software. Confluence allows teams to organize and create their workspace themselves. It offers a platform where employees can create and share their ideas with their colleagues freely.
If you want to build o your idea before showcasing it to others, you can do it with Confluence. Employees can create content such as meeting notes, product requirements, and research reports. Also, managers can share their feedback in documents.
Multiple functionalities of the tool altogether make it one of a kind for idea management. The security policy of the tools makes sure that your data has foolproof security all the time.
Key Features:
Organizes everything in pages and spaces:

Pages: Pages are documents where people create, edit, and discuss their work.
Spaces: Spaces are areas that contain pages for individuals, teams, and strategic projects.

Organize and find pages easily with advanced search, labels, and an intuitive page hierarchy called page tree.
Offers 75+ customizable templates
Connect plans to development work with powerful Jira integrations including issue-tracking and dynamically updating roadmaps.
Co-edit together in real-time and publish updates that highlight changes, tracked with version history.
Communicate with your team with in-line and page comments, likes, and visual elements such as images, GIFs, and emojis.
Alert your teammates when you tag them or assign a task so everyone stays on top of progress.
Keep employees informed with open access to information they need, but share and protect sensitive content with permission settings.
Pricing:
Free – $0 for 10 users
Standard – $50 per user per month
Premium – $100 per user per month
Enterprise – Enterprise plan pricing is available when you enter 801 or more users above
5. Asana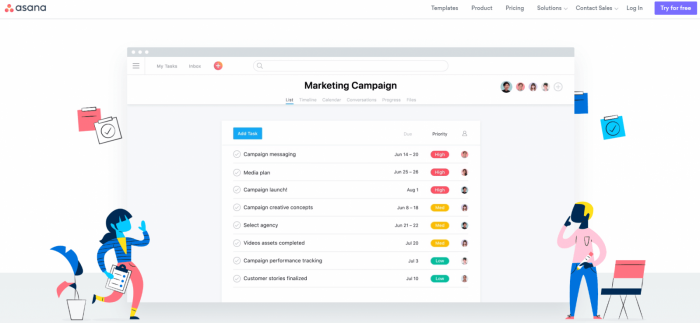 Asana is the last software on our list. The software is a project management software that helps in idea management through team collaboration and communication features. Users can communicate in real-time, share documents, and track their performance over time.
With Asana, you can create and assign tasks to different resources, track the performance of your team members. Its various features allow teams to generate creative ideas that help your business grow at an exponential rate.
Key Features:
Set strategic goals and track progress in one place.
Manage your projects from start till the end with project management features.
Reporting features allow you to see where work stands and see what's happening across your entire organization.
Create and manage teams and team settings to ensure that everyone has access to the right information.
Tie your communication to teams, projects, or tasks to give your team clarity about where work stands.
Android and iOS mobile apps.
Various third-party integrations.
Pricing:
Basic – $0 forever
Premium – $10.99 per user per month
Business – $24.99 per user per month
Enterprise – Contact Team Asana for custom pricing
Want to find more Asana-like apps? Check this out:
The 31 Best Free Asana Alternatives of 2022
It's A Wrap!
These were some of the best, most efficient idea management software in town. When making a decision, make sure to analyze and compare the features of the tool with the requirements of your company.
We hope that this article can help you pinpoint one tool of your choice or narrow down your choices.
Best of Luck!