Have you heard of agile project management or hybrid team management before? Although the words might seem difficult and complicated, we assure you they are not. In fact, agile project management might even make it easier and faster for you and your hybrid team to complete projects.
Hybrid teams have emerged across the business landscape as a result of the introduction of technological developments and cost pressure brought on by greater globalization. This adoption rate has increased dramatically as we have transitioned into the post-pandemic period. Due to this model's greater flexibility, even employees are adopting it.
According to an Accenture poll of 9,000 workers, 83 percent of employees prefer to work in a hybrid team approach.
In addition to work flexibility, hybrid team management has many other advantages, including access to talent around the world, lower resourcing expenses, lower real estate overheads, and more.
However, leading a hybrid team also presents new difficulties that did not exist in a conventional office setting, such as ongoing time zone disparities, cultural differences, a lack of face-to-face contact, and more. If these problems are not fixed right away, the progress of the projects could be disastrous.
Project managers must therefore arm themselves with a strategic blend of technical and soft abilities to successfully address these issues and lead a hybrid team.
The fundamental difficulties that project managers encounter when leading a hybrid team are highlighted in this article, along with the best solutions.
We believed it. Have you been paying attention? Let's go through all the essential information for agile project managers about hybrid team management.
What is Hybrid Team Management?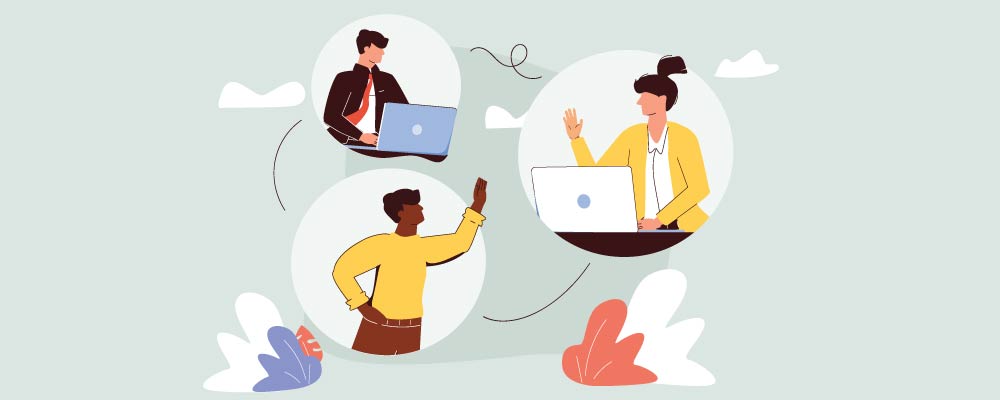 Therefore, let's first define a hybrid team before moving on.
A hybrid team is made up of employees who operate remotely from various locations across the world. The team may consist of both full-time and part-time personnel simultaneously, with some employees working from home and others in co-located offices.
The hybrid team structure has long existed in the corporate world. But not every business or organization was amenable to a hybrid workplace. Even hesitant companies have begun embracing the hybrid model in the post-COVID period as they gradually returned to a norm.
Additionally, the employees' sentiments are conflicted about returning to work.
According to Gallup, for instance, 59 percent of American workers say they would like to work from home, while the remaining 41 percent want to go back to the office.
In short, hybrid teams have become a popular choice for many enterprises. We'll understand why in just a few minutes…
You must first understand what hybrid team management is and how it operates. The key to comprehending this idea is the word "hybrid." Hybrid is defined as "having or created by a mixture of two or more separate components" by Merriam-Webster.
By merging two or more separate project management approaches, hybrid project management effectively creates a brand-new methodology.
The question that must have come to your mind is: What various methodologies may be combined? There is no lack of choices. The most renowned project management techniques are:
This combines the more traditional and strict technique of Waterfall project management (where activities are stated in linear order — like a waterfall) with the flexibility and adaptability of agile project management.
Why Choose a Hybrid System and How is a Hybrid Team Beneficial For a Company?
There are several challenges to adopting Agile completely. Previously told, the hybrid team model has grown in popularity since it provides several benefits to both people and organizations.
The employees' perspective gives them the freedom to choose their employment location. They can either work totally from home or from the office, or they can strike a balance by visiting the workplace on specific days of the week. This allows them to achieve the ideal work-life balance. Working moms, for example, can stay at home to care for their newborns, while particularly challenged personnel can work comfortably in their home offices.
Employees are more productive and engaged when they can develop a synergy between work and life. This enables them to work more effectively toward the project's objectives and, as a result, improve its overall quality. Furthermore, it will increase client happiness, resulting in increased profitability.
Let's look at some challenges that agile project managers encounter in hybrid team management.
Roadblocks for Project Managers During Hybrid Team Management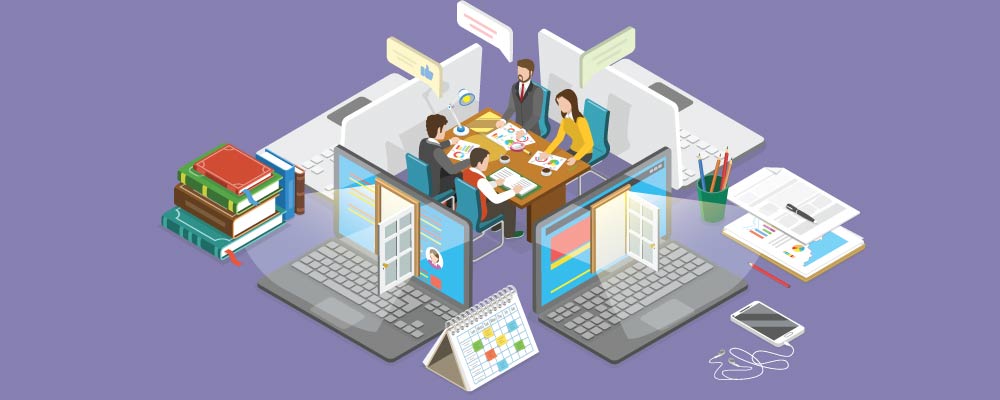 As previously said, the issues in a hybrid team are substantially more complicated since project managers must deal with individuals from numerous divisions, remote locations, diverse backgrounds, and so on. All of these difficulties have a direct influence on the project's limits and have the potential to degrade its quality.
Here is a list of the most important barriers:
1. Communication failures
Every project's success is dependent on effective communication. When team members are scattered across boundaries, communication gaps may emerge.
Because of the communication barrier, the project manager may not receive real-time information from personnel who work remotely or on a part-time basis. As a result, if there are differences in the project tasks, managers will be unable to take prompt action, resulting in project delays and, in worst-case scenarios, project derailment. Furthermore, team members may occasionally fail to adequately comprehend the project objectives and interdependencies, disrupting the project's flow and the team's overall cohesion.
2. Inefficient resource scheduling due to different time zones
Accurate resource scheduling is critical to ensuring that the correct resource works on the right job and is not over- or under-utilized. When resources are present in co-located office spaces, scheduling them becomes much easier. Managers may just nudge them at their workstations to learn about their deadlines. However, it gets difficult when staff is dispersed across borders and time zones.
In rare cases, time zone variations might be as much as 10 or 11 hours. If managers do not have insight into their employees' locations, it might lead to uncertainty about project deadlines, causing the project timetable to suffer. Simultaneously, the hybrid team can have a part-time resource who works just on particular days. If managers are unaware of who is a part-time employee and end up scheduling time-sensitive activities for them even though they are full-time employees, there is a risk of delays.
3. Uncertainty in a hybrid team's tasks and responsibilities
Before the project begins, project managers must explicitly define the responsibilities and expectations of their team members. However, it becomes problematic for them since they must manage several geographically scattered units. As a result, workers become disengaged because they lack a sense of purpose and are unaware of their contribution to the final objective. This can reduce productivity and, consequently, the team's efficacy.
Employees in a hybrid team that operate in a matrix organization will have even more difficulty understanding their jobs because they have several reporting lines. This might lead to a variation in their work and projected output, lowering the project's quality even further.
4. Inadequate real-time project metrics updates
Project metrics assist project managers in determining the status of a project. When some workers work from the office and the remainder work from home, project managers face a substantial barrier in providing real-time updates on project KPIs. Furthermore, it will exacerbate the situation if managers do not equip the appropriate technology to get these real-time data-driven insights.
The project managers will be unable to reduce any hazards since they will be unaware of the project's state, whether it is leading or trailing. The resources might be underutilized or overutilized, and the project could take longer to complete than anticipated. Similarly, the project may be halted if the project budget exceeds the due amount at any point and the management is not notified.
5. Insufficient technological help
Hybrid teams rely largely on current technology. However, insufficient software and hardware to complement a hybrid work environment might impact employee productivity. For example, obsolete technologies and sluggish internet rates might be major impediments for the project manager and the team members.
If remote workers and office personnel cannot interact effortlessly, project delays and inequalities will occur throughout the project. Furthermore, insufficient technology would make correct data-driven judgments impossible for the project manager. Instead, they'd have to rely on educated assumptions and estimates.
How Agile Project Managers can Overcome These Challenges?
Project managers have a wide range of talents that enable them to fulfill their tasks and obligations. A mixed work structure has hurdles that managers must navigate to get the greatest results. These are some of the methods for managing a hybrid team.
1. Set clear expectations for all team members
Project managers should properly communicate the expectations to the individual members of the hybrid team. It enables employees to clearly understand their duties and how their work contributes to the successful completion of projects. It keeps them focused on the final objective and increases their productivity.
Defining roles and duties enhances accountability and efficiency. To address time-zone discrepancies, managers might devise a strategy that brings all hybrid team members together at a specified time that works for everyone's schedule.
2. Create an effective resource strategy for the mixed workforce
Managers must be aware of a hybrid team's time zone variances. Before developing a resource strategy, part-time resources' working hours and workers' remote working capabilities must be precisely evaluated. A well-planned resource allocation guarantees that personnel is not over or underused.
Before creating resource schedules, managers should examine the availability of each resource. If necessary, they can even improve the timetable by applying methods such as leveling or smoothing. They may carry out all these tasks on a single platform by utilizing a resource management system. It offers unparalleled visibility into the enterprise's resource pool and many features. Consequently, managers may better allocate resources, predict, and maximize efficient use for successful project completion.
3. Allow flexible hours to work
Employee productivity is not measured by the number of hours worked. Instead, it is evaluated based on the task completed during the allotted hours. Work flexibility and autonomy are two important advantages of choosing a hybrid work approach. As a result, managers must encourage employees to take advantage of this benefit by cultivating trust and sharing accountability.
This technique instills trust in employees and encourages them to take greater responsibility in the workplace. It increases productivity, which assures project quality while staying on schedule. As a result, project team members may achieve their greatest levels of performance while maintaining a good work-life balance.
4. Gain insights into resource indicators to boost output
By adhering to the planned budget and timeframe, the project manager keeps the project on track. They must be able to monitor the development of each resource for it to be feasible. Using a resource management tool, managers may obtain real-time data on various resource-related variables that determine a project's performance.
5. Create formal guidelines for cooperation and communication
Organizations must create procedures to ensure that hybrid teams operate efficiently. Collaboration is carried out via various cloud-based tools for remote, contract, and full-time workers. Regardless of location or part-time status, project managers may specify when the person should be accessible for stand-up meetings or scrums.
In a Nutshell…
In the project-led corporate environment, project managers may attract people from all over the world. Furthermore, because geographical borders are irrelevant in hybrid team management, firms may seek cost-effective global resources without sacrificing quality. Such approaches enable businesses to keep project expenses low and administrative overheads to a minimum while maintaining quality. Thus, hybrid teams come with the ifs and buts, but every challenge can be overcome with methodologies available in this era.
That being said, the hybrid work model is a viable alternative for enterprises since it delivers several benefits in terms of employee retention, happiness, and competitive edge. And on top of all, agile project managers can always come to this article for an ultimate guide on Hybrid team management.