Project management is all about creating your tasks and tracking the progress using different tools. There are a number of tools and software that can help you get done in a better and faster way.
Efficiently accomplishing tasks and fulfilling goals requires the help of a competent tool. With the help of an efficient management tool, you can organize your workflow to increase your chances of success.
Enter HubSpot!
With its features-enriched management solutions and a friendly interface, HubSpot has got you all covered!
What Is Project Management?
Project management is the process of managing and leading a team to achieve particular project objectives by utilizing a system of methodologies, skills, and knowledge. Project management often involves deliverables that must meet strict timelines and budgets.
The HubSpot Project Management allows you to plan, develop, and launch projects to boost your team's productivity. You may assign task owners to project tasks, establish due dates, connect attachments, and link to other HubSpot features using HubSpot Projects.
This improves the organization and efficiency of your projects for all members of your team.
What Is HubSpot Project Management?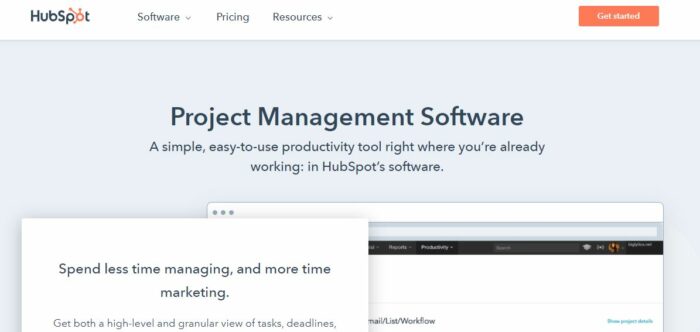 You might wonder what is special about this project management tool and how is it any different. Well, the answer is simple and very convincing. As a project management solution, HubSpot helps you work in your own spot i.e., HubSpot Projects.
It is a rather simple and convenient tool that allows you to work effectively while working in your own centralized place.
This management tool helps you to:
Plan your task
Organize your tasks and projects
Manage all the workflow
Track the progress
Build healthy and long-lasting relationships with clients
Thus, the tool is an all-in-one business automation software that serves you to serve your customers in the most efficient manner. HubSpot project management aids you in achieving success along with building and maintaining a strong relationship with your customers.
HubSpot Project Management Benefits
Let look at some of the benefits of the HubSpot tool in your project management activities.
1. Get More Time to Market Your Product:
With the help of organized and well-structured management of work, you can save hours of your precious time. This eventually helps you deliver the product ahead of time.
With the project management tool, you get more time to focus on your marketing rather than managing the project. You also have your deadlines, tasks, and resources in one place, making your time more productive than before.
The all-in-one tool enables you to discuss and assign the tasks to the team members in one go. It saves you the stress of doing everything manually, gathering all the team members and assigning each their task, and then tracking the progress of every member separately.
With every member on one page, you will be geared up to estimate the time required to complete the assigned project. Thus, by drafting a timeline, you can manage your task with HubSpot more smartly.
2. Plan And Create in Your Software:
With teams, tools, and data in one place, you are all set to plan and create in your own software. Without having to navigate between different tools, you can enjoy streamlined work.
Project management involves a lot of different steps and tasks. HubSpot project management allows you to manage and perform all these tasks from a unified platform.
3. Amp Your Business Productivity:
HubSpot project management software ensures that your innovative powers are levied on making more profits in the business. Therefore, the tool serves best to approach your needs smartly.
The management tool works like a wonder in amplifying your productivity graph. A full-fledged tool helps you multitask without having to move from different spreadsheets, etc.
By viewing the timeline, slots, and deadline, you can assign the tasks while cutting on your time to ensure effective and efficient delivery of the product.
4. All-Task Feature:
Make your project management experience worth enjoying with the all-task feature. The tool helps you track the progress of every task so that you can easily close your deals.
Activating the all-task feature will facilitate your work management as you will be able to view all the tasks done, and the tasks that are still in the pipeline. This will further help you to make timely deals with future customers.
HubSpot project management tool equips you with the right data, and the right information about the project that is still in progress, the one that is waiting to get started, the one that has ended, etc.
5. No Need to Search for Third-Party Tools:
Another very promising feature of this tool is that you don't need to involve a third-party tool to get your work done. To make your work smoother and more easy-going, this project management tool is no less than magic. It's an all-encompassing tool, helping you on every front with its wide range of advanced features.
The direct work progress turns the table in your favor because you get more time to set more project goals and reach new business heights.
6. Make Templates to Be More Productive: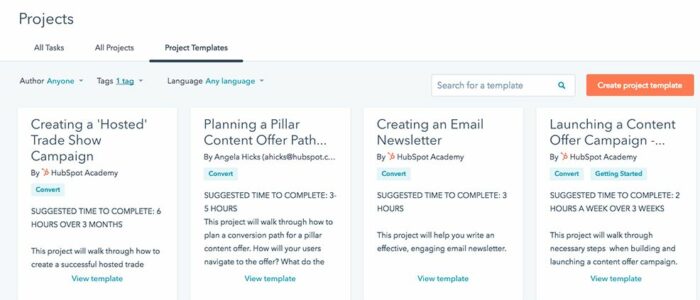 Making templates means that you don't have to start from scratch. In fact, the availability of templates makes the process much easier and faster for you. While managing different projects, you can make templates to make your work more organized.
Moreover, there are pre-populated templates that can help you save from tiring and frustrating hours at the very beginning. Just get a pre-populated template to get your work done in no time.
Every template is a step forward to your project management, building a newsletter, redesigning a website, creating a content offer, and much more.
From the resources to the plan to the task, everything is provided on the tool. You don't have to exert your power in rethinking and reinventing, just grab the template and off you go.
7. Plan And Track Your Projects from One Centralized Space:
With HubSpot, you can plan, manage, and track your project from the same space. Your tasks, data, files, and communication record is all integrated into one centralized space.
Everything is integrated with your Marketing tool so that you can navigate easily while making notes, sending emails, and documents, etc.
With the unification of your workspace, your work progress is more organized and effective. All the team members of the project will work in coordination while managing different tasks.
Pricing Details:
Starter – $540 per year
Professional – $9600 per year
Enterprise – $38,400 per year
All in all, the project management tool is best suited to serve your business goals efficiently. With HubSpot in hand, you certainly don't have to invest a single penny in other tools to plan and manage your projects.
Conclusion
Have you ever used Hubspot project management for your project before? How was the experience? Let us know by writing to us. We would love to hear your opinion.
We'll see you next time with another insightful piece of commentary on everything there is to know about project management tools in 2022.
---
More Resources For You: