Collaboration should make work easier. Unfortunately, there are times when it does the exact opposite. If that's the case, it's a sure sign that your current collaboration tools and strategies aren't effective. Make sure that you invest in the best collaboration software for your business to make collaboration more successful and convenient.
Nowadays, businesses are embracing digital transformation for their operations. Most of the tasks are now being done online. As a result, teams tend to collaborate digitally where they can easily access all the needed documents, files, and data for their project. In fact, a study by Statista shows that 79% of employees use collaboration software for work in 2021. This is a huge leap from the 44% in 2019.
Why do you need collaboration software?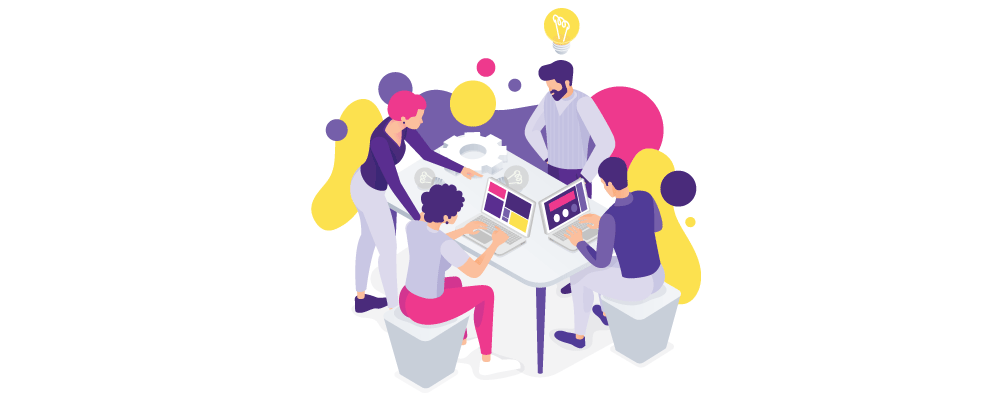 Businesses saw a drastic shift towards remote work in the past years. This resulted in higher spending on digital tools to give their employees more flexibility in doing their work. Collaboration software is one of the most popular and useful tools for those working from home. It provides teams a platform where they can interact and work with their members remotely and in real-time. Some collaboration software examples allow real-time editing on documents such as spreadsheets, word documents, PowerPoint presentations, and even graphic designs.
Collaboration software has a lot to offer teams. It is beneficial not only to those working remotely but also to those working in the office. Aside from real-time editing, it also offers automation and analytics tools that are great for tracking the progress and performance of each member. You can also use it to notify the whole team of deadlines and milestones to make sure everyone is on the right track.
According to Deloitte, organizations with digital collaborative tools are 7% more productive than those without. For one, it can lessen misunderstanding since communication between members is more efficient and accessible. Likewise, it hastens work progress since your members can easily start doing their assigned tasks and contribute to the project whenever and wherever they are. And most importantly, collaborative software centralizes important files, information, and processes in one place, making it easier for team members to access them when needed.
How to select the best software for your business
Nowadays, there are many team collaboration software available for businesses. All of them offer unique arrays of tools and functions to streamline collaboration. The countless options can be overwhelming, especially if you don't know what you are looking for in the first place. You can end up just choosing whatever is popular without considering if it's the right software for your business.
With that, here's how to select the best collaboration software for your business.
1. Determine what your business needs
There is no such thing as a one-size-fits-all solution for any business problem. Every business has its own needs and demands. Some collaboration software might work for others, but it doesn't necessarily mean it will work for you. Hence, it is important that you first determine what your organization and teams need to select the best collaboration software for your business.
To do that, you must take a closer look at your teams' workflows. Identify the common bottlenecks and issues they encounter in the course of their projects. This will give an idea of what types of tools they need to make their team more efficient and effective.
For example, a common problem in your teams is a lack of transparency that slows down responses from members and the overall progress of the project. Having collaboration software with a centralized dashboard can help you resolve this issue. This feature can update the entire team on everything that's happening with the project in real-time.
Other things you need to consider when choosing a collaboration software for your business are:
Size of your business
The number of members per team
Type of projects they handle
Industry that you are in
2. Look for the essential features
Knowing what your teams need will make it easier for you to determine what features and tools to look for in your collaboration software. Nonetheless, there are essential features that you must look out for when choosing your own collaboration software. Some of these are:
Centralized dashboard to provide the entire team a bird's-eye view of the project's progress
Data analytics and reporting to give you valuable insights into your team's overall performance and your member's individual contributions to the project
Notifications to make sure everyone is aware of the deadlines
Shared file storage where members can easily download, upload, and share important files with the rest of the team
Real-time messaging where members can reach out and interact with other members
Trackers to let everyone know the status of each other's tasks and the overall progress of the team
Task management to help you manage and assign necessary tasks for the project
There are other features that you might want or need for your business. These include multi-platform compatibility, integrations, and security features. The best virtual collaboration tools offer more comprehensive tools that can accommodate unique demands from your teams.
3. Consider personalization
Individuals have their own work styles. As a result, this poses a challenge to collaboration. The different attitudes towards work can create a rift between team members. This affects the entire team's productivity and efficiency in the process.
For example, one member prefers working together so that they can bounce ideas around each other. On the other hand, another member would rather be left on their own after the tasks have been assigned. It's difficult to reconcile these opposing preferences. Fortunately, collaboration software can help you balance their needs. And that is through personalization.
Through personalization, you can provide your team members with various options on how they want to do their assigned tasks. Following up on the previous example, the person who likes working with others can achieve that sense of coordination through a centralized dashboard, video conferencing, and real-time editing. While the member who prefers to focus on the work itself can minimize interactions with other members.
Personalization also comes in the form of how team members can access the collaboration tools themselves. You can choose software with multi-platform capabilities, allowing members to collaborate with their teams using their smartphones or tablets. Nowadays, there are various collaboration apps designed specifically for mobile usage.
4. Think about integrations
Keep in mind that your collaboration software is just a part of the bigger digital ecosystem of your organization. Hence, it is important that your collaboration software is compatible with the other business solutions that you are using. This way, you can integrate your solutions together for better data synchronization and seamless workflows.
For example, your marketing team is also using marketing automation software and a customer relationship management (CRM) system. By integrating your collaboration software with those other solutions, you provide them with tools and platforms where they can work together to improve their marketing campaigns.
Integrating your software has several benefits. It gives your teams access to more tools and functions that are beyond what a single software offers. Likewise, it allows them to move on from one task to another without disrupting their workflow or compromising data integrity.
5. Watch out for the cost
Cost plays a critical role in deciding which collaboration software to choose. While it can be tempting to just go ahead with the cheapest option, this might not be the best for your organization. Likewise, it is wrong to think that the more expensive the software, the better it's quality. The price can never truly determine the effectiveness of the software. Instead, you must look at it in relation to how much the software can help your teams.
A more practical approach to this dilemma is choosing SaaS collaboration tools. SaaS or software-as-a-service usually offers varying prices based on the subscription plan that you intend to avail yourself. Some may offer different tools and functions for each plan. Other subscriptions have different periods or duration of when you have access to such tools and functions. This makes it easier for you to control your expenses, while simultaneously having access to continuous support from your service provider. Not to mention, this can help you save up on costs for maintaining the collaboration software itself.
Collaboration made easier
With the rise of remote work and hybrid models, collaboration becomes even more challenging for your teams. The differences in locations make it harder to coordinate and communicate with each member. Fortunately, there are various collaboration tools you can use to accommodate their needs and demands. Such tools provide them with a centralized platform where they can work together no matter where they are. So invest in the best collaboration software for your business by following these tips.
---
Read More Blogs: