The rapid evolution in the structure and processes of digital marketing has left project managers with constant thought on how to manage a marketing team while squeezing out its full potential.
This is a rather compelling yet critical matter. The modern digital era has changed the working environment considerably, and it keeps on evolving. Such an ever-changing environment brings ample challenges for project managers.
Therefore, you need to have a proper understanding of the modern roles and goals of the marketing team, the challenges they face, and how to manage a marketing team effectively.
Thus, scroll down to learn how to build a productive, creative, innovative, and organized marketing team for your organization.
Remember a few minutes today and hours of productivity for the whole year!
What is a Marketing Team?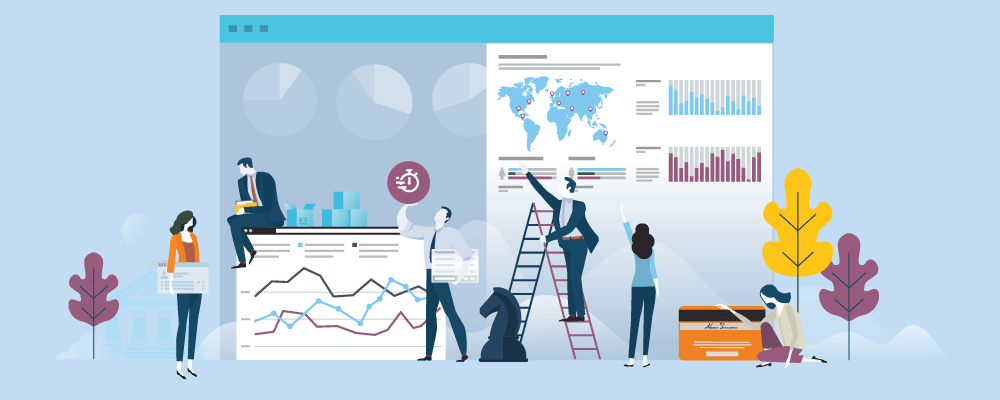 According to a definition by Indeed, a marketing team can be team described as:
"A team that develops and implements strategies to promote brand awareness and drive sales of an organization's products or services. Often, marketing teams include several individuals with varying skills and responsibilities who work together to achieve mutual marketing goals."
The marketing goals can be increasing customer reach, brand awareness, or effective digital marketing strategies.
What are the Goals of a Marketing Team?
Understanding the roles and goals of a marketing team would help you know the effective ways of management of the group.
Marketing teams play a vital role in determining the success or failure of companies. Thus, they mainly bear the most crucial responsibilities of the business.
The main goals of the marketing teams mostly include the following:
Converting audience into the audience
Coming up with result-driven marketing strategies
Increasing brand awareness
Expanding customer reach
Retaining customers
Generating organic leads
Staying updated on the new marketing trends
Maintaining a competitive edge
What are the prominent roles in a Marketing Team?
With the evolving and changing marketing environment, the roles of marketing teams have also been changed. The modern marketing team consists of the following team roles:
1. Marketing Manager
Marketing managers are responsible for ensuring that the whole team performs their tasks effectively within the set deadlines. They are also responsible for various things, including budgeting, team tasks, and communication processes, as well as marketing campaigns
2. SEO Specialist
Search Engine Optimization is of paramount importance in modern-day marketing. An SEO specialist is responsible for getting maximum inbound and outbound traffic through effective keyword search and following the other SEO details.
Moreover, SEO specialists work with the whole team like content creators, web developers, and marketing managers to create the best SEO strategies.
3. Data Analyst
Data analysts' role is to gather data, analyze results and develop effective strategies to improve the marketing methods based on factual data. Thus, they play an essential role in decision-making and finding new ways to improve in the future.
4. Social Media Strategist
Modern marketing is all about social media channels. Be it Facebook, Instagram, YouTube or Pinterest, etc., everyone is prone to use social media channels to get updated on the latest trends. Thus, having a social media strategist is an important part of the team. This person is responsible for handling all the company's social media channels and converting maximum through them.
5. Content Creator
Content Creator plays a pivotal role in the modern marketing team. Whether it is website blogging, website content, or social media posts content, the Content creator is responsible for coming up with SEO-optimized and unique content to help the brand stand out and convert maximum traffic.
How to Manage a Marketing Team as a Project Manager?
Now that we've explored some basics on marketing teams and their importance to an organization's success; let's see how to manage a marketing team as a project manager.
1. Use the Agile Methodology
Agile methodology is a great way to manage your team with greater flexibility and adaptability. It helps teams to cope with the changing scenarios and requirements.
Moreover, it also helps to divide the various marketing processes into sprints to increase timely task completion and meet the goals and objectives of the organization better.
According to research, 71% of companies have adopted agile, and 68% have experienced immense growth due to agile adoption.
Therefore, train and manage your team using an agile methodology, to better adapt and streamline all your business operations.
2. Collaborate frequently
Another great tip on managing a marketing team is to have frequent collaboration with the whole team. It is important not to mix up collaboration with sending emails back and forth.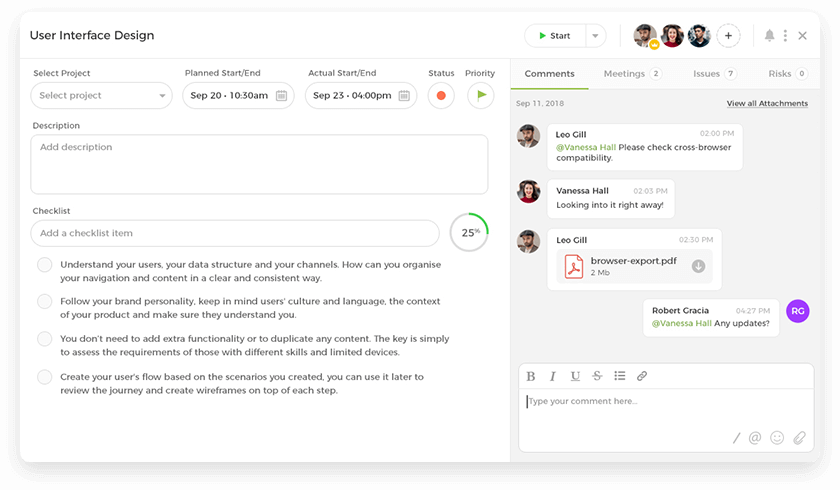 Modern marketing management demands collaboration where the whole team is on the same page with complete transparency. To achieve this objective, you can use a collaboration tool. Nowadays, there are many collaboration tools like nTask.
You can collaborate with your team in various ways, like using a Gantt Chart or Kanban board for full visualization of what the whole team is up to. Moreover, real-time chatting, sharing updates with everyone and sharing documents and files.
All of this while using one single screen. Thus, it reduces the hustle of sending separate messages and switching between different apps.
3. Create SMART goals
The next tip on managing a marketing team is by using the SMART goals technique. It is one of the most common and frequently used methods in various countries. With SMART goals, you can better deliver the goals and objectives to your team.
Well, let's see these SMART goals in a bit of detail!
Specific- Create simple and specific goals
Measurable- Your goals should be measurable based on progress, deadlines, budgeting, etc.
Achievable- Create realistic and achievable goals for managing your team better.
Relevant-It is about finding relevancy between the goals of the project and the company's goals.
Time-Bound- The goals should have a manageable deadline and completion period.
Thus, keeping this in mind will help you create more focused and result-oriented goals. Consequently, it will help to manage your team much more flexibly.
4. Data-driven approach
Isn't it all about facts for having the correct estimations related to your project?
Thus, to manage your teams better, use a data-driven mentality. It will help you better assess the risks, deadlines, opportunities, and other essential details.
Moreover, you will free yourself from the fear of inaccurate timeline, resource allocation, and poorly estimated costs.
5. Meetings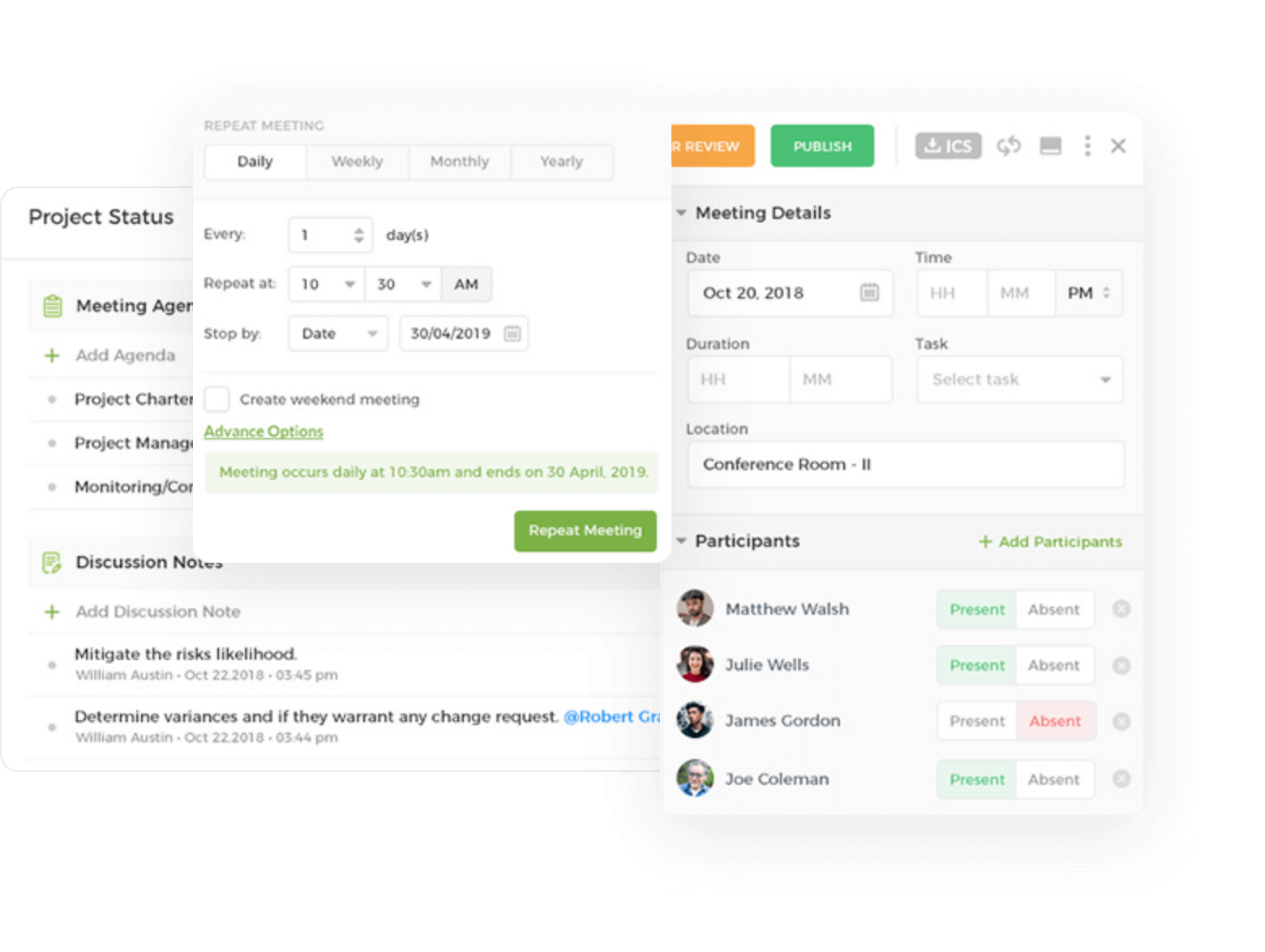 Having frequent meetings is another excellent way of managing your marketing team better. Meetings help teams collaborate and coordinate better and brainstorm new ideas and find new solutions.
After all, marketing is all about coming up with creative ideas to stand out and differentiate your brand. And what's a better way to do it than having meetings?
In addition to that, managing meetings also help maintain discipline, boost the team's morale, and increase their productivity. Some of the important meetings you should hold for effective management are:
Project Initiation Meeting: Held at the beginning of the project.
Daily stand-up meetings: Held daily for 10-15 minutes.
Sprint Review Meetings: Held on the completion of each sprint or iteration.
Retrospective Meetings: Held on the completion of the project.
Related:
11 of the Best Meeting Notes Apps to Use In 2022
6. Use a shared Calendar with Realistic Deadlines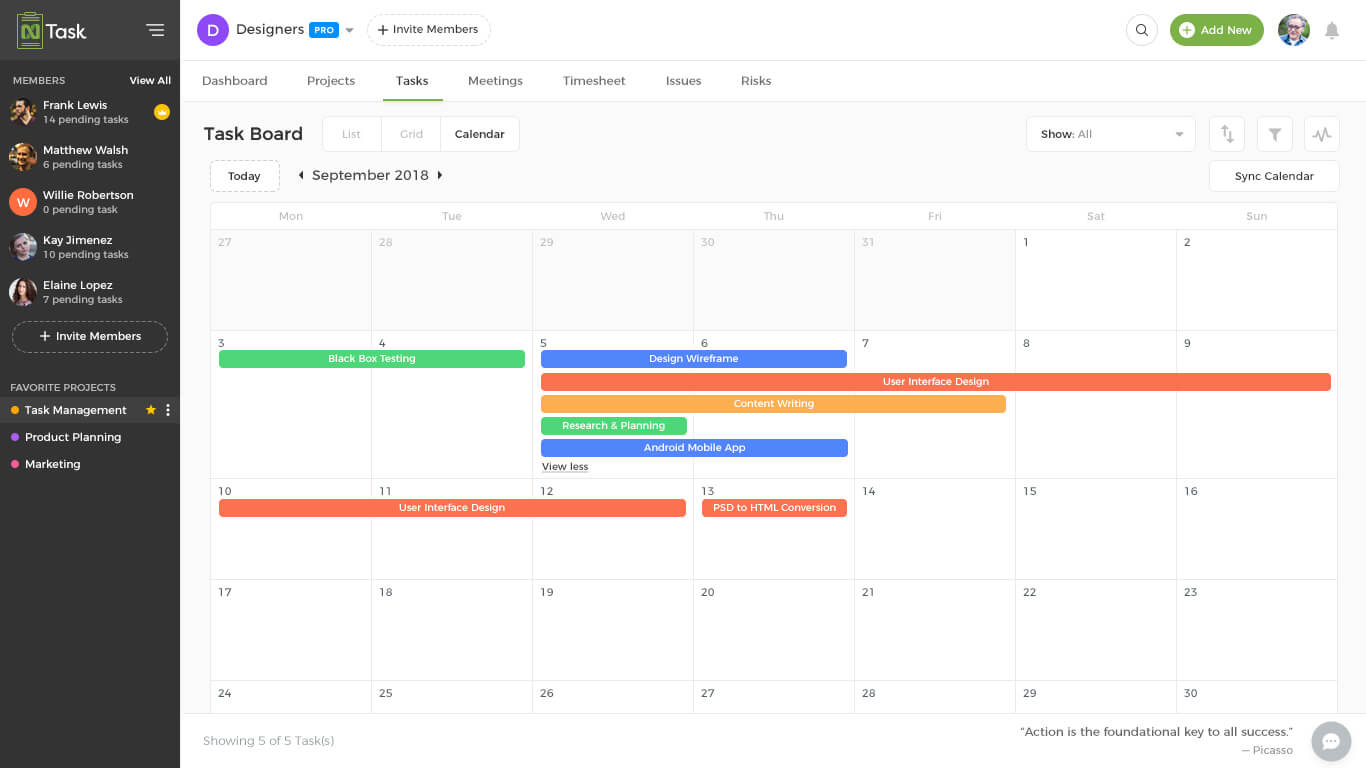 More often, marketing teams are loaded with great responsibilities and immense pressure. Thus, missing basic dates or deadlines is common. However, you can resolve this issue by sharing it with the whole team. Your team members can also turn on reminders and notifications to remain updated and alert.
Don't overburden your team and expect too much in less time. Make sure to give them ample time to finish off their tasks properly.
7. Hold Healthy Competitions
One of the biggest mistakes most companies make is limiting the product knowledge to the sales team only. However, the whole team should be aware of the product knowledge for successful branding and product promotion.
One traditional way of doing it is giving the whole team a training session. It can be in a quiz, role plays, or presentations. But you can also hold product-specific competitions among different departments or team members.
Thus, this won't only help boost team connectivity but also help to create a healthy work environment.
8. Remote Teams
The new culture of remote teams is now gaining more and more popularity. Thus, if you also have a remote team working in your organization, you need to ensure that it's well managed and well informed on the day-to-day tasks.
Thus, we'd suggest you use nTask as a one-stop project management software to manage, organize and collaborate with your remote team in just a few seconds. Whether assigning tasks, online chatting, video call, tracking progress, or sharing files, you can do it all under one platform with nTask.
9. Automate Workflows
Always create automated workflows by creating task dependencies. This helps the teams automatically get notified on the next step without waiting for the tasks to be assigned. Thus, creating faster and smooth communication flow.
10. Use a Project Management Tool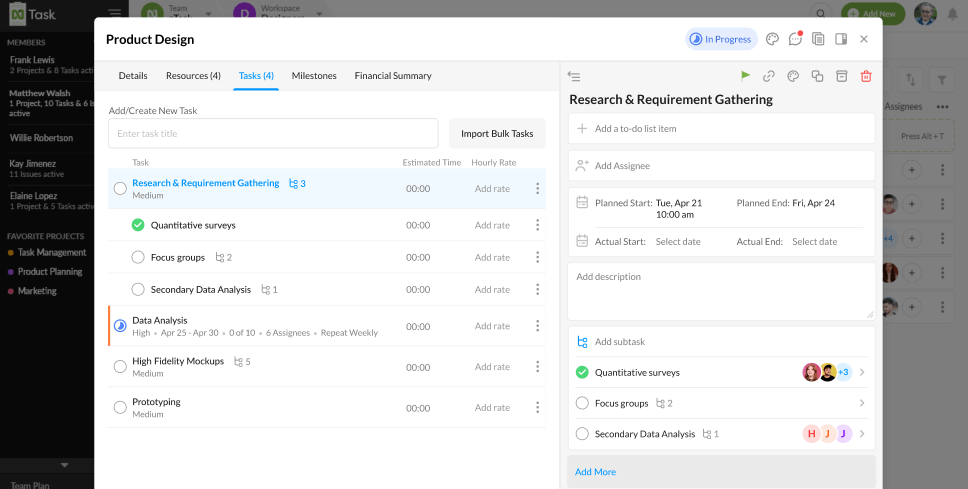 So, the last tip on managing a marketing team is always to use a project management tool. With the rapid change in digital marketing, we need to create proactive and collaborative teams.
Therefore, having a tool helps you achieve these goals much more effectively. A project management software would help you manage many processes of your team in a few clicks. These include task management, collaboration, progress rate, analysis, reporting, risk management, timeline management, and creating milestones.
So, create a well-organized team, connected, well-informed and productive all the time with the best project management software.
Efficient Marketing Management With nTask

Assign tasks, create projects, manage teams, and share documents all in one-place. Sign up today!
Ready, Set, Go!
To conclude, marketing teams are the engine of any organization, and managing them properly requires a particular set of techniques. Therefore, follow the tips mentioned in this blog to manage your team much more effectively in the modern marketing world.
Moreover, you are making a significant management error if you're not using project management software. So, it's time for you to get the best marketing team software for your company now.
You can sign up for a 14-day free trial, request a demo for nTask now, or choose another best marketing software per your business's requirements and needs.
---
Also see: