Project management is all about working together in a team. However, it is not as easy as it seems since coordination and collaboration between a team are highly crucial. Unfortunately, most of the time, there is a lapse in communication.
Out of the many challenges faced by project managers, coordination within a team is quite a stress. Meeting deadlines, keeping everyone connected, and keeping a track of the progress of a project and communication are some of the issues faced in project management.
Email and WhatsApp are unreliable mediums to save and share your data since they lack proper organization, etc. These mediums are unpredictable since the data can be lost anytime. You never know when a virus will take over all your files, records, and updates. Therefore, we cannot simply rely on regular mediums to communicate with team members as well as clients and stakeholders.
We must admit the fact here that project management is not just about communication, there is much more to it. You have to have workflows, time tracking, custom reports, file storage, and visual tools, and that are of equal importance.
To make this tedious and consuming project management task more convenient and organized, project management software can prove to be a great help.
Project management software will help your team project to be simpler, more organized, and easily accessible on one platform.
Choose Project Management Software to Boost Your Benefits:
Choosing a particular project management task is crucial for it should be done after a thorough analysis. There are a lot of software in the market and you should decide on the one that suits the needs of the very organization.
The right project management software will be the one that will benefit your firm in many ways. You should opt for the software that makes sense for your project.
How to choose the right project management software? How to pick the right project management software? How to evaluate project management software? The forthcoming paragraphs will answer all your questions and will help you choose project management software for your business.
How To Choose the Right Project Management Software?
A perfect project management software for your company will be one that aligns with the needs of your particular project. Let us look into those factors that will determine which software is ideal for our business:
1. Is The Software Economical for Your Company?
How to choose the right project management software? While looking for an appropriate project management software, the first and foremost thing to be considered is the pricing of the software. Before going for any software, look into the monetary benefits. Make sure that you're buying software that will help you reduce other business costs. The selected software should be effective and efficient in automating tasks.
2. Is It Easy to Use?
Another important feature that should be considered before selecting the software is checking whether it is easily understandable or not. The software should have a simple and user-friendly interface. You should choose the software that can be used by all members without having to learn its working.
3. Does It Help in Communication?
To bring clients, members of the team, and stakeholders on one platform, the software should facilitate collaboration and communication. Every member of the team should be updated about the progress of a project. The software should help in quick decision-making by providing updates to the members of the software.
4. Does It Offer Visual Tools?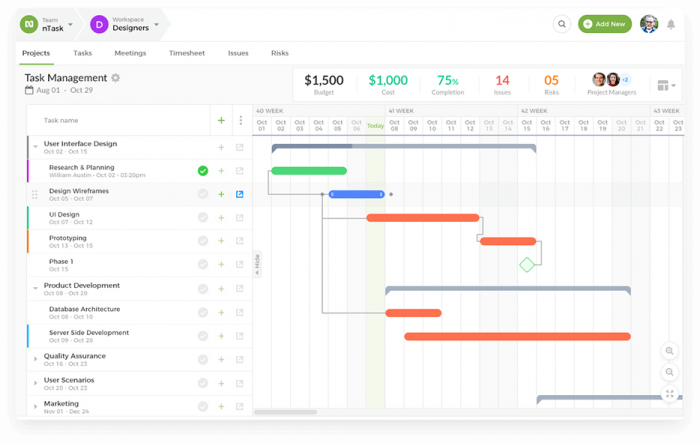 Over the past few years, visual tools have become indispensable aid for smooth working. The tools such as Gantt charts and Kanban boards are an effective way of keeping everyone in the loop. With the help of the visuals, employees can keep an eye on their performances, identify gaps, if any, improve their productivity and do much more.
Visual tools are equally beneficial for PMs since they allow them to track the progress of each employee and the overall performance of the team. These tools are also an efficient way of identifying loopholes in the process or potential risks, etc.
Having such a tool in your software will only add to its efficiency.
5. Can It Be Customized?
Customization is another promising feature that should be looked upon in project management software. Customizable software will help your business needs.
Good software will help you play with your creative mind to develop the project according to your preference. Go for a personalized workspace to keep a track of progress in your project.
6. Is It Flexible?
How to evaluate project management software? The software you choose should be flexible enough to adjust to the changing dynamics of your business. It should grow as your business grows. If the business has longer projects then automating will help in improving your efficiency.
7. Does It Help in Managing Projects In The Long Run?
Project management software should be effective to run perfectly as time passes. It should be more than communication and collaboration therefore, the key features of project management software should include the following:
File storage
Gantt charts
Timesheets
Reporting
Integration
Time tracking
Project budget and cost tracker
Kanban boards
Task management
Risk identification and mitigation
Communication features
8. Does It Notify Updates?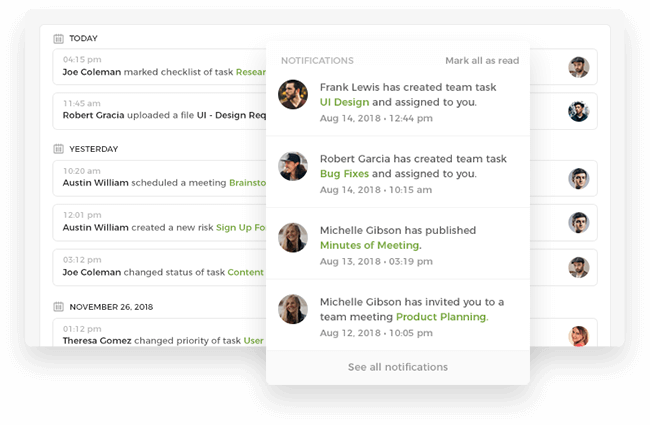 The next thing you need to look for in project management software is whether it offers notifications, reminders, and alerts or not. While working on a project, you might not be able to keep up with the process regularly or you might not open the software that often.
In times like this, if the software does not offer notifications, you might miss important details and updates regarding the processes in the project.
How to choose the right project management software when it comes to notifications? Good software will notify you via email or an alert of the changes taking place in the project. That way, you will be able to keep up with the process no matter when or where you are.
9. Does It Come with A Reporting Tool?
Working in project management means you have to generate reports whether these reports are related to finances or time, you have to have an efficient tool that can assist you in generating these reports.
A reporting tool will keep track of the billable and non-billable hours and might come in handy when generating budget reports. So, a software with a reporting tool? Yes yes yes!
10. Does It Assist in Task Management?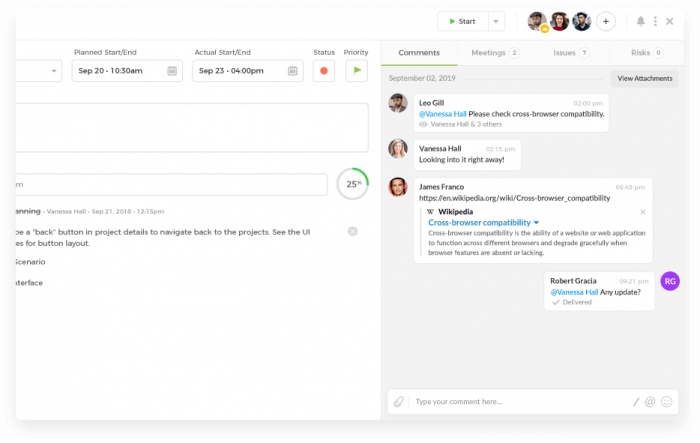 Usually, projects are divided into smaller chunks to make it easier to complete the project. The chunks or tasks are smaller portions of a project and the completion of each task takes you one step closer to the successful accomplishment of a project.
In such a way, tasks become an integral part of projects, and task management is an unignorable requirement for project management. Tas management features include:
Creating and assigning tasks
Adding deadlines
Start and end dates
History of task activities
Description of the task
Checklist for the completion of the task, etc.
The added efficiency of task management can certainly make it easy for you to manage your projects without any hassle.
11. Are There Time Tracking Features in The Software?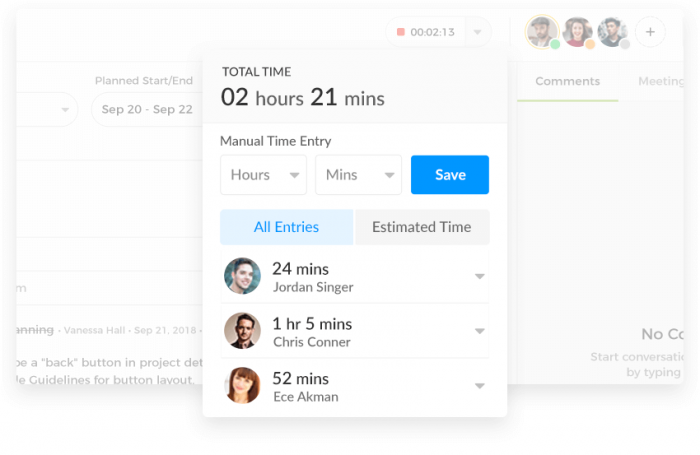 Time tracking capability in project management software is a must. With the help of time tracking, you can keep an eye on the deadlines and whether you need to speed up the process or not. Time tracking also comes in handy when keeping track of billable and non-billable hours.
The feature can also help you measure the gaps in the performance of your team. It can also prove beneficial in improving productivity and efficiency.
12. Whether It Supports the Size of Your Organization or Not?
Some tools are specially designed for small companies while others work best for larger enterprises. While picking your software, make sure that it fits the size of your company and supports all the users of your company.
13. Take A Trial or Book a Demo
Most of project management software offers a demo or free trial of 14-30 days to their new users. Both of these can be the final nail in the coffin in helping you decide on the tool of your choice. A demo can with a professional will be helpful since it will allow you to learn the itsy-bitsy of the software from an experienced member.
Similarly, you can sign up for a free trial before choosing your pick. The trial run will help you adapt to the tool and familiarize yourself with its work. Do not shy away from signing up for demos and trials since they can play a pivotal role in your decision.
14. Third-Party Integrations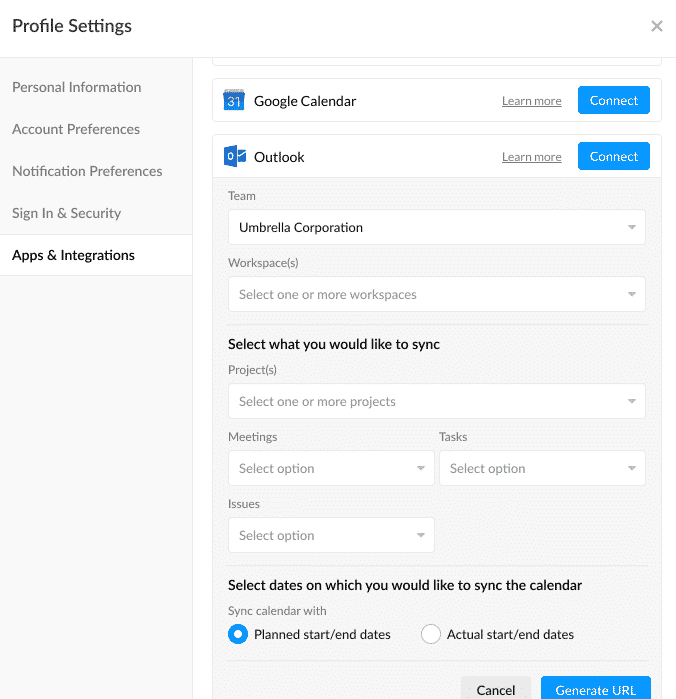 When choosing an efficient software make sure that it offers integrations with major work management tools. A scattered workspace is hard to keep up with and only creates more hurdles in the process, on the opposite, a unified workspace can reduce a lot of the clutter and can help you carry out your tasks much more smoothly and without any hiccups.
15. Security
While working on projects, you often share confidential files, documents, images, etc. so, having foolproof security is a must. A slight breach in the system can not only result in the revelation of confidential data but can also cause loss of finances.
Your project management software should be capable of providing a safe and secure platform for your organization so that processes can run without any risks.
The Best Software for Project Management
The ultimate optimum project adaptability is Asana.
For the most generous free plan, use Trello.
Paymo is for overseeing projects for numerous clients
Wrike is for email project management
A simple project management software that is clever, and quick is Nifty.
For individualized project views, use ClickUp.
GoodDay is for utilizing a variety of project management techniques
nTask is the most popular project management software
nTask – The Perfect Project Management Software: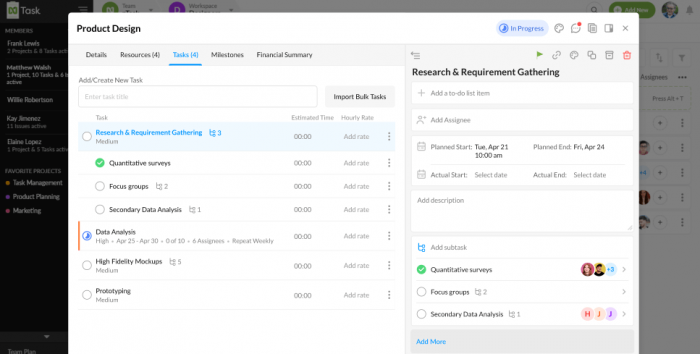 We have just given a rundown of the most important factors that should be considered when choosing a good project management software. You might think that finding the combination of all 15 features in 1 tool is too much to ask for. But believe us when we say that this is the bare minimum requirement of a project management software.
You might think that it will be tough to find such an efficient tool but it is not so. You have the perfect tool at your disposal – nTask. nTask is a reliable project management software trusted by 250,000+ users from 150+ countries around the world.
In recent times, the tool has climbed the stairs of success and has made a place for itself among the top tools in the market. Its wide variety of features in seven different management modules says a lot about its efficiency.
In addition, the project management solution offers relatively inexpensive pricing, with the paid plan starting at just $2.99 per month.
To learn more about the tool and its numerous features, you can request a demo or sign up for a free trial of 14 days.
FAQs
1. What attributes define effective project manager software?
The top project management tools offer contact lists, calendars, and file-sharing capabilities. Information can be entered into the system by any team member, and it will be readily available to others whenever and wherever they need it. Some PM programs allow you to quickly share files by adding them to projects.
2. How do you evaluate project management tools?
Evaluation of Project Management Software: 
– Describe Your Needs and Objectives.
– The Non-Negotiable Features should be sought out.
– Calculate the price.
– Software testing.
3. What is the importance of project management tools?
You may rapidly create a hierarchy of activities for speedy and successful completion using a project management application. You can also use it to show which jobs are interdependent and which ones should be done in order. In turn, this facilitates the team's ability to complete its task.
It's A Wrap!
These were some of the things that should be considered when you Choose project management software. What do you think about these requirements? Is there anything you would like to add? Let us know via email. Our email address is fwilson@ntaskmanager.com. We will be looking forward to your contribution.
---
More Resources For You: