Self-organization and management have a positive impact on employees' performance. Constant monitoring and introspective thinking go a long way.
Self-organization does wonder by improving employees' performance. It not only makes you productive but also alleviates workplace stress. Since you have organized everything, you stay on top of your game and deliver the best of the best.
Researches have shown that self-organization and time management are necessary for employees and the organization's success. Efficient self-organization has a positive impact on the attainment of organizational and individual goals.
The million-dollar question, however, is what are the important aspects of self-organization? How can you manage your time and tasks efficiently?
Before we get to the answers to these questions, let us take a look at the general understanding of self-organization.
What Is Self-Organization?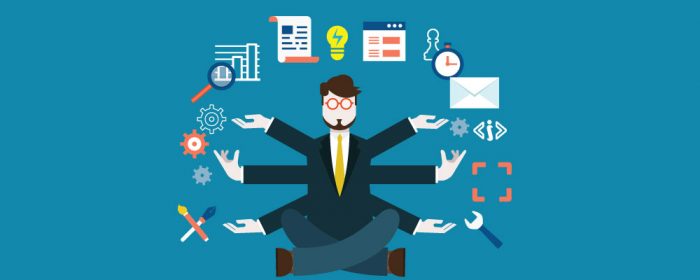 What is self-organization? Self-organization refers to the way people manage and organize their work schedule and their life. There are three basic skills essential for self-organization:
Managing your time and tasks: Efficiently managing your time and tasks is a first for effective self-organization.
Learning new things: Constantly evaluate your skills and motivate yourself to learn new skills to develop further.
Expand your network: Build your network and keep expanding it.
Willingness to enhance these skills can help you achieve your career goals. It also benefits you by helping you:
Develop your skills with time
Stay relevant in the job market
Build a portfolio showcasing your skills
Identify issues and loopholes in your performance
Improve your performance by regularly making amendments
Now that you understand what is self-organization? we will not look at the basic principles of self-organization.
Principles Of Self-Organization
Self-organization and management are vital for the successful and timely completion of tasks. If you want to organize your work and stay on track then you should follow the following principles of self-organization systems.
1. Planning
Thorough planning is the first principle of self-organization systems. You must divide your work in such a way so that you can efficiently complete the chunks on time. The timely completion of each deliverable will take you one step closer to the accomplishment of the whole project.
To plan your work efficiently:
Prioritize your tasks and complete the urgent ones first.
Work independently so that you do not have to rely on others for the successful completion of your work.
Promptly address emails, phone calls, etc. Do not delay communication so that it does not hinder your progress.
Organize your workplace. Having a neat and tidy workplace will motivate you to imbibe the same spirit in your work.
Be punctual. Whether you work remotely or on-site, make sure you log-in in time and attend all the meetings punctually. This way you will not lag and will be able to stay updated on the latest developments in a project.
Create a calendar. Mark important days, meetings, events, etc. and keep the calendar somewhere so that it stays in front of you and reminds you of the important events.
Make sure that your senior/supervisor is updated and informed of your work.
Use Time Tracking tools for task planning and productivity:
36 Best Time Tracking Software to Improve Team Productivity
2. Take Responsibility
Since you are working alone, you will likely make mistakes. The point here is that you take up responsibility for your actions. You are answerable to your supervisors. If you encounter a problem or an issue, communicate the issue with your superior.
Do not shift responsibilities or blame others for your faults. Taking up responsibility will help you improve your performance in the future.
3. Get Creative
Companies are always on the lookout for the most imaginative minds. Creative individuals can bring something new to the table and give beneficial ideas for the company's growth.
As a self-organizing individual, your work should reflect your individuality and your willingness to be innovative. But before you incorporate the ideas in your work, make sure to ask your supervisor. your work should be in line with the company's interests.
4. No multitasking
Multitasking is a myth, you cannot invest your mind in different areas at the same time. The efficient and timely completion of tasks requires that you focus on one task at a time.
Multitasking is unreasonably glorified in modern times. It is a toxic trait that should not be followed. Focusing on one task might make you feel slow, but rest assured your task will be completed much more efficiently if you focus on one task at a time.
5. Do not shy away from questions
When you work on a project, do not shy away from asking questions. Being inquisitive is evidence of your interest in the project.
Ask for timely feedback and reflect upon the feedback to make regular improvements in your work. Your seniors' experience will guide you through tough situations, their guidance will further make it easy for you to complete your work in time.
Follow these principles of self-organization to stay at the top of you're game and accomplish all your tasks.
How can you successfully manage your work schedule?
Here are a few tips to manage all your tasks promptly and accomplish your goals efficiently.
Make a schedule: Planning is the first principle of self-organization. Since it is the first step, make sure that you schedule tasks perfectly. Divide bigger chunks of your task into smaller pieces. Arrange each task in the order of its priority. Try to accomplish each task ahead of time so that you have enough time to fix any errors.
Self-organization map: Use a self-organization map to chart your responsibilities and duties. A self-organization map will help you stay and track and accomplish your tasks promptly.
Organize your workspace: Before you manage your work, organize your workspace in neat order. Organizing your workspace is the most basic of self-organizing examples. The organization in your workspace will eventually be reflected in your work.
Use the latest technology: If you find manual organization a herculean task, you can hand over the difficult work to management apps such as nTask. These apps help you organize your work so that your work is efficiently completed in time.
Be responsible: As discussed earlier, you must take responsibility for your actions. Do not uptake a task you are not confident in but also, do not shy away from taking up challenging tasks as well.
Communicate: Effectively communicate with your supervisor. Give timely updates and make sure he/she is updated about your performance.
We will now move on to the concept of self-organizing teams.
What Is A Self-Organizing Team?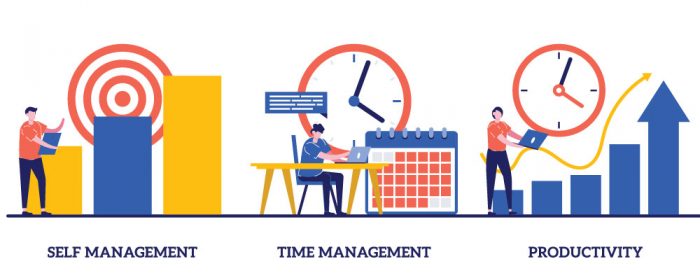 A self-organizing team is not headed or managed by a superior. The members of a self-organizing team do not depend upon the orders from a manager or a team lead. Members, themselves, are responsible for their work.
One of the most important functions of a self-organizing team is to identify the most efficient method of completing a task. The members are always on the lookout for ways to improve their performance and enhance their productivity.
It is important for each member of the self-organizing team to feel responsible. The members should have complete trust in each other's capabilities and should constantly communicate to exchange information and feedback.
We are now aware of what is a self-organizing team, out next topic of discussion is the how-to of a self-organization team i.e. how do self-organizing teams work?
How Do Self-Organizing Teams Work?
A self-organizing team adopts several principles to make the system work. These include:
Collaboration: As mentioned earlier, trust and constant communication are the fundamentals of self-organizing teams. The members must create a collaborative environment so that everyone can share their ideas and suggestions as an equal.
Confidence: All the members of a self-organizing team must exhibit confidence in their capabilities and the capabilities of their team members. Confidence is vital since there are no supervisors.
Continuous development: Since you are working in a team, you must continuously upgrade your skills. Without a team lead, it is the responsibility of the members to take up learning opportunities and expand their skills.
Respect: Mutual work requires two-way respect. Team members have to interact with each other and in such a situation having respect and trust is one of the most important factors in the team.
Motivation: Self-organizing teams do not have any superior to rely on, they have to seek projects themselves. In such a situation, keeping your motivation levels high is imperative for success in the future.
Responsibility: Team members should take responsibility for the projects They must own the projects and treat them as their own. The ownership will help them stay focused and they will give their all to accomplish the task.
Benefits Of Self-Management And Self-Organization:
Last, but not least, let us take a look at the benefits of self-organization. Self-organization is not only beneficial for individual success but also aids in the long-term success of the company. Some of the pros of self-organization systems include the following:
Improves your productivity
Helps you stay on track
Timely completion of tasks
No delays and postponements
Allows you to showcase your creative talents
No hiccups or hindrances in the smooth processing of work
Timely identification of issues
Constant improvement and development
Motivates you to keep on improving
Conclusion:
At the end of this post, we would like to elaborate on project management software. Project management software simply aids you in self-organization by making it easy for you to map out your schedule and keep everything in one place.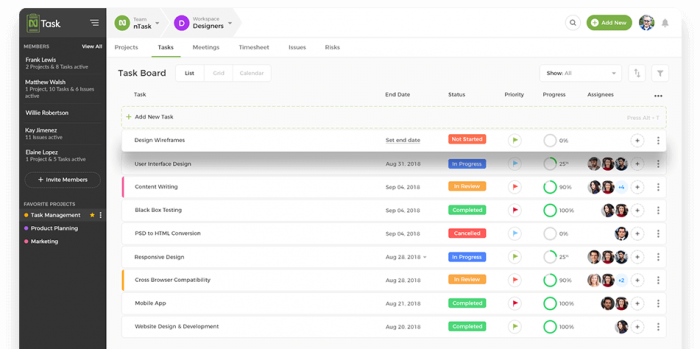 With an efficient project management app like nTask, you can:
Create tasks
Divide tasks into subtasks for efficiency
Set priority status of each task
Set start and end dates to chart your performance
Set milestones for timely completion of each task
Add descriptions for each task for clarity
Visualize your progress with features such as Gantt charts and Kanban boards
Manage finances of your project
Communicate and collaborate with your team members
Exchange feedback
Identify issues and bottlenecks
Mitigate risks before they pose a bigger problem
Time track your progress to keep an eye on your progress
All in all, project management software is the gateway to easy and reliable self-organization. What makes nTask even more attractive is its affordable, inexpensive pricing.
It's killing two birds with one stone. One, you successfully organize your schedule, and two, you do not spend an excessive amount on expensive software.
Sign-up to nTask today, enter the world of proper management and organization and say goodbye to your chaotic, messy past.
Get organized with nTask to achieve more.

Manage all your tasks, projects, collaboration, resources and more in one place. Sign up today!
Good luck!