If you are here looking for the best Harvest vs Toggl comparison then you are at the right place. In this article, we are going to talk about both of the softwares' time management, productivity, and project management features, and will give you an unbiased verdict between the two. Let's go.
As you might know that Harvest and Toggl are essentially time tracking and time monitoring tools. However, they are much more in regards to some other features.
Harvest completely supports the workforce management features that project managers love like timesheets and invoicing, while Toggl offers amazing reporting features that can help you monitor and measure the team performance insights for better staffing decisions in the future.
Meaning that the competition is going to be fierce, and there isn't going to be an easy win for any of the tools.
So, let's take a deeper dive into what these software are and what do they have to offer to their global clientele.
Harvest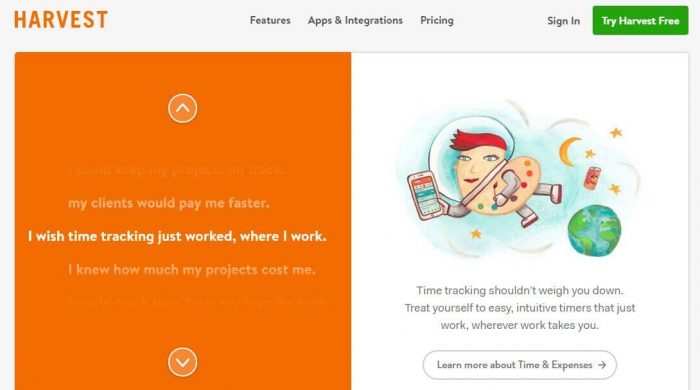 Harvest is an incredible time tracking software that is completely based on the cloud. That means that all of the data and information that you put into the interface can be accessed from anywhere around the world and from any device that runs the software.
The application provides some incredible features and functionalities like timesheet, invoicing, project and team management features so that you can monitor all of your different tasks, activities, and the time associated with them, under one roof.
It also helps its users with some other things like,
Monitoring your entire project development process and helps you to build visual reports and send them to the appropriate audience
Integrating the interface with many different third-party apps, so that the users can easily manage their work via multiple tools
Fill in all of the different timesheets that have been updated by the team members of the project development team, and also track the time they spend on their tasks, with just one click
Turning all of the expenses and the billable hours put into the interface by the users into workable invoices
Related:
Top 7 Harvest alternatives to Use in 2022
Toggl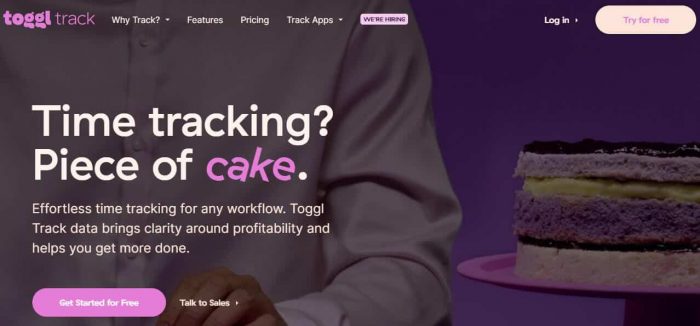 Another amazing cloud-based time tracking application that is perfect for businesses of all sizes and shapes around the world is Toggl. The application is perfect for all of the in-house teams working in the organizational paradigm or the remote teams that are working from all over the world.
The application offers some amazing features like revenue tracking and project tracking, which along with its flagship timesheet features are nothing less of a perfect cocktail.
The application also has some other amazing features like,
Improving the overall team productivity of the project development team and also helping to streamline the work hours that are being put in by the team members of the project development process
Estimating the budgets and timelines of the projects, so that the managers can have a better understanding of what they are up against and to help them make better decisions regarding their management process
Gaining some incredible insights into the professional lives of your project development team members and into the lives of your projects, which helps in a better understanding of what to avoid and what to do in the future
Monitoring the profitability of the work that is performed by the service providers so that it becomes easier to compare their billables with their payroll
Harvest vs. Toggl: Who Wins?
We have now seen what these two incredible applications can do for their users on a regular basis, so to narrow down our verdict, we will evaluate them on individual traits and functionalities that are important to the professionals using these applications out there in the real world.
Here are the functionalities that we will be focussing on while comparing these two incredible time tracking applications. They are:
Time Tracking
Project Management
Integrations
Pricing
Productivity Monitoring
Invoicing
Platform Compatibility
Let's compare the two applications on these functionalities and find out who wins the fight for the title.
1. Time Tracking
While Toggl has the ability to track the time of the work that the development team is performing, both manually and automatically, Harvest can only track that time manually or the team members can enter their times in the bulk.
One thing you need to know is that with Toggl's automatic mode, you need to define the triggers beforehand.
2. Project Management
Both of these amazing time tracking software offer project management services that are amazing when it comes to providing the users with some detailed insights about the projects and the employees that are working on those projects, but they are not as comprehensive as a dedicated project management tool like nTask.
3. Integrations
When it comes to integrations and hooking the software up with many different third-party applications to make the whole development/work process seamless both Harvest and Toggl are incredible tools.
Both of them are incredible when it comes to hooking the interface up with many different productivity and project management apps to manage the work efficiently.
4. Pricing
While both of these incredible time tracking applications have 30-day trials for all of their users that want to check out the features and functionalities before spending any money. But Toggl, out of both of them, provides many different plans for different customers that have varying needs and requirements of their customers around the world.
5. Productivity Monitoring
When it comes to productivity monitoring, both of these applications provide incredible insights into the time that was tracked by the team members.
You can use this time-tracked data to take further action and guide your team into improving their productivity so that you can make better and clearer staffing decisions later on.
6. Invoicing
When it comes to invoicing, Harvest is the clear winner as it provides extensive invoicing features that are independent of any billable and non-billable hours.
Whereas Toggl helps you in separating non-billable from billable hours in order to help you create invoices for your services.
7. Platform Compatibility
Both of these applications are available for the major operating systems that are being used in the market right now, but Harvest doesn't have an app for Linux, so Toggl takes the win in this category.
Conclusion
So, who wins? Well, Harvest will help you time-track all your hours easily with some amazing manual timesheets features, and Toggl will help you generate some deeper insights into your team members and project, with extensive performance reports.
And while both of these applications are incredible, they aren't as promising as nTask.
The application is an amazing project management and task management tool that also lets you track the time of all of the tasks and activities that you are performing as part of the project development process. Try nTask today and feel the difference.