Do you ever feel overburdened by the weight of all the things you have to get done during the day or during the week?
We all do!
Believe it when we say this: each one of us thinks, at least once a day, that maybe 24 hours of the day weren't put in place for us to do this much work. Or, maybe we need to manage our tasks better? Definitely the latter!
But, how exactly? A question many of you might ask. Let me introduce you to the GTD method to deliver results.
What is GTD?
GTD or Getting Things Done is a popular time management method and the title of a best-selling book by author and productivity consultant David Allen.
After years of research and practice, David Allen came up with this technique of getting all your to-dos done by following a systematic series of steps.
Oftentimes, you may have a plethora of tasks in front of you which need to be taken care of, or you may experience a sudden outburst of inspiration to pull off an idea.
As David Allen says, 'Your mind is for having ideas, not storing them', therefore GTD comes to your rescue to pull these ideas out of your brain and convert them into actions.
GTD is not merely getting-things-done, but a step-by-step way of accomplishing tasks through the basic concept of transferring ideas from your mind into an external system, breaking them down into actionable steps, and then finally, getting them done.
By following the GTD method, your brain will not have to remember and keep track of every other thing (which is humanly impossible anyway) and will facilitate delivering results.
The correct implementation of the method can free up some of the brainpower and thus, increases the overall productivity of an individual or a team.
Let's dive in to discover the basic pillars of the GTD method and how it can be implemented.
Pro Tip: nTask is braced with GTD specific features, such as; the ability to set up reminders, meeting alerts, automated pop-ups whenever Project Managers send new work down the pipes, and much more! Top it off with timesheets to maximize accountability and productivity altogether, and you have a team that's productive at various forefronts!
GTD Method Implementation:
The GTD approach is implemented through a sequence of steps that essentially makes up the 5 pillars of this method, which facilitate operations processes:
Capture
If there's something you need to do that's stuck in your mind, you have to get it out, to get it done. Clearing your mind of all the clutter and properly organizing your tasks is one way of effectively dealing with things.
The first step of implementing the GTD method is to collect what's stuck in your mind. This can be anything ranging from professional pending emails, phone calls, and appointments, to simply cleaning your wardrobe. Transfer all these tasks to an external system which can be a task management tool, a simple to-do list app, or even a paper.
Clarify
Oftentimes, the human mind acts like a big hoarder of ideas, no matter how trivial they are. In order to properly convert all these muddled ideas into viable actions, you need to distinguish the actionable and non-actionable tasks to get rid of the ones that cannot be done, thus clearing up some brain memory. This makes up the second step of the GTD method.
Start processing the tasks that are jotted down in front of you and break them into smaller, more manageable actions to clear the clutter and get a clear picture of what lies ahead in operations processes.
Organize
After you've decided on the actionable tasks, categorize and prioritize them according to due dates or urgency to effectively organize them. There are numerous tasks in front of you, some of which you don't need to do right away, but the only record, so put them away in a place where you can retrieve them later when needed.
But, how exactly do you organize your tasks? Through the decision tree of the GTD method! A simple decision-making process assists you in categorizing your tasks via a series of questions that eventually lead to appropriate actions.
You need to decide if your particular tasks are actionable and then move forward towards other questions to decide what exactly you need to do for operations processes.
Let's have a look at this tree for a better understanding: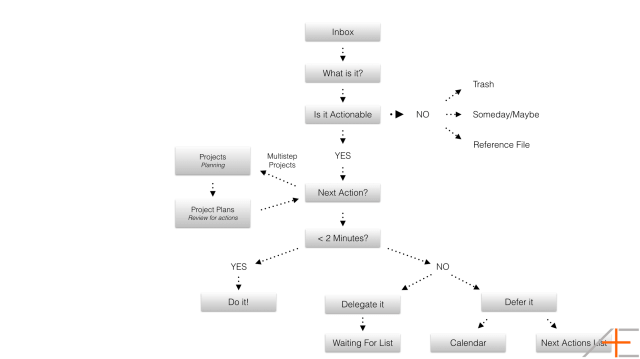 It's not as confusing as it might look, because once you get a hold of it, you can easily make decisions about your next course of action.
This is also where the concept of 'contexts' comes into play. Categorize your tasks according to the context they're referring to and link similar tasks together. For instance; important follow-up emails that need to be made will be grouped under the 'email' context. Doing this makes tracking of tasks extremely convenient and quick.
You can master the game of organizing by dividing your to-dos into appropriate task lists, according to their priority and urgency levels. You need to decide first whether the task is actionable or not. If it's not, you move it to trash, references, or a someday/maybe list.
Task Lists in GTD
Trash: the items that are not worth your time and do not require any kind of attention are moved in the trash list
References: this list consists of all the useful information that does not require any action, but that might be needed sometime in the near future
Someday/Maybe List: category of all the tasks that you're not sure if should be done right away. Put them away, but regularly review them to see if any action needs to be taken
Now, this brings us to the second aspect, the actionable tasks. If the task is actionable, you further need to determine whether the next action can be done within 2 minutes. Do it right away if it can be done in under 2 minutes. If not, put it in the 'projects' list. In the GTD context, a 'project' is anything that requires more than one step to complete. If the tasks require more than one step to complete, place them in any of the following three categories:
Waiting for List: all the tasks that you have delegated to other people for execution
Next Action List: actions that need to be done, but are without any due date
Calendar: actions that are to be completed on a specific date or time
Once you've organized your tasks, you're one step closer to getting them done smartly.
Reflect
For GTD to work effectively, you need to frequently review your workflow. In-depth analysis for monitoring the progress and identifying the next to-do actions greatly help in reflecting back on your decisions and what adjustments you need to make.
Engage
Finally, just get started with the tasks and begin working on them. Everything is right in front of you, from due dates to priority levels. You just need to get to work and get done with things.
The 27 Best GTD Apps in the Market
Now that we've covered the basic concepts revolving around GTD method, you're probably wondering if there are any getting things done tools and apps which help in implementing it, and yes there are! Numerous applications are specifically designed and developed to work with this distinctive method.
We've gathered and tested some of the best GTD apps that help you in getting more done. These are:
nTask makes it to the top of our list of the best GTD apps merely because of the fact that this simple-to-use application has everything that makes GTD implementation smooth for you. The software is packed with capabilities that make way for the method to work perfectly well and synchronize effectively with the core components.
It's designed to help teams and project managers from all industries to intuitively organize their projects and tasks in a way that helps them in getting things done faster.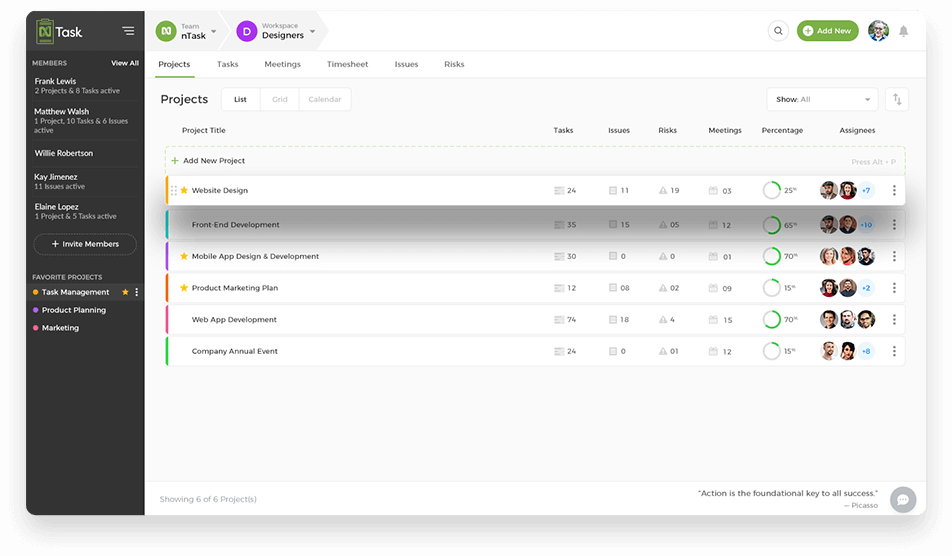 Let's have a look at some of the features of nTask and how they facilitate light and crisp take on the GTD method:
Capture
No matter how big or small a task is, with nTask, you can capture or list down all your to-dos in the form of a checklist and convert them to independent projects. This sets the basis for the next step of clarifying where you can create tasks and subtasks to get things done in an organized manner.
You just need to deport all the things (whether professional or personal) which are in your mind into the nTask software and TADA! You just took a leap towards better task management.
Clarify
Clarifying what exactly needs to be done is one of the prime concerns revolving around the GTD method. By using nTask, you can conveniently divide all your big projects into smaller, actionable tasks and subtasks to get a clear picture of what lies ahead.
The tasks which need to be done in the future can be easily scheduled in your calendar, and you can even delegate tasks to respective team members by using the assign tasks feature.
Organize
The next step in the GTD method is organizing all the tasks according to their category and priority level. With nTask is action, with just a few clicks, you can set priority levels according to the need and urgency of tasks, and can even set reminders for the due ones to stay updated with the tasks in line. Through useful task filters, find and view the tasks that you need in front of you and work on them.
As for the categorization of actions into specific lists, you can create distinct projects catering to each type of category and then associate relevant tasks pertaining to the level of urgency. nTask provides a platform to systematically organize the things that need to be done without getting into the frustration of having too much to do.
Reflect
You can only achieve true productivity through constant review and feedback. Reflect back on your actions throughout the project and make amendments where needed. nTask makes reviewing the project performance easy through the built-in feature of Gantt charts. Apart from these charts, you can timely review your calendar to see where you stand at the moment and what can be your next to-do action with respect to the distinct projects.
Engage
If you follow the first four steps of the GTD method properly, the last step will be as easy as pie. When you have everything in front of you, systematically organized and categorized, the final execution will demand no additional effort from you and your tasks' ship will be all set to sail smoothly.
Pricing
Free Basic plan.
Premium plan starting at $3 per user/month.
Business plan starting at $8 per user/month
Looking for a perfect GTD tool?

nTask is free and lets you create unlimited tasks, checklists, meetings and more.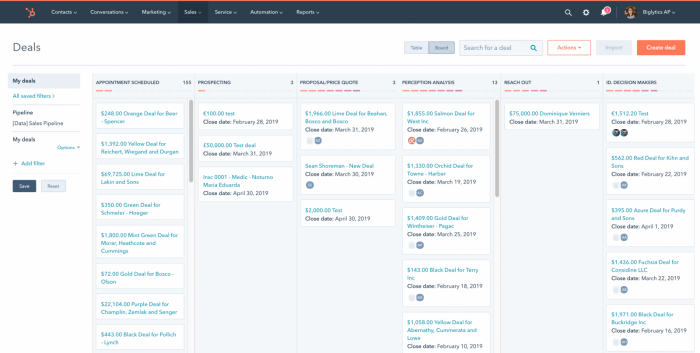 When it comes to sales and marketing, HubSpot's free-forever CRM has plenty of useful features to help you get things done:
Manage deals and projects in pipelines, where you can set your own custom steps
Add notes to each project/deal
Set reminders/tasks
Record emails with important contacts
HubSpot CRM also comes natively integrated with other free features that are essential for managing projects and tasks: email marketing (up to 2000 emails/month), meetings scheduler, forms, email tracking, live chat, chatbot builder, reporting dashboard, contacts, and pipeline management.
Hubspot is one of the top getting things done planners available.
Pricing
100% Free Forever, an unlimited number of contacts
3. FacileThings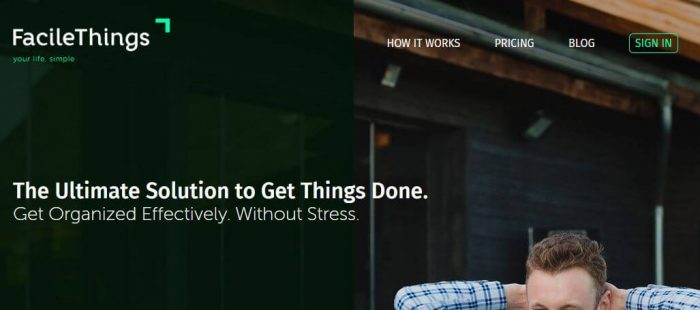 Second, on our list of the best GTD apps is FacileThings. A productivity tool specifically designed to implement getting things done philosophy, FacileThings allow you to organize and manage your tasks by keeping in view all the essential components of the GTD structure.
It's a GTD app that is meant for people who strictly follow the GTD methodology. The tool caters individually to each and every component of the method in a way that you have all the options to follow through the steps one by one or fill in details in a random pattern, all pertaining to your needs.
With an aesthetically pleasing design and easy to understand interface, FacileThings tries to fit every GTD component into one workflow to make getting things done easily for you. Easily capture ideas like a simple notepad, clarify and organize according to their course of action, and finally review them on a weekly basis to monitor performance.
FacileThings definitely justifies its listing on our getting things done planner list and will support you in the art of getting things done.
Pricing
30 Days free trial and paid monthly plans. Paid plans start at $12 per month.
4. Todoist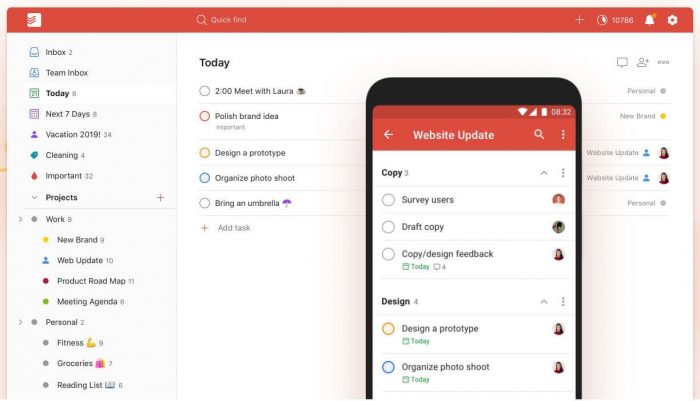 In complete contrast with FacileThings, Todoist takes a rather simplistic approach on the GTD method and works on quick brain-dump of ideas by creating to-do lists, organizing and prioritizing tasks, creating subtasks and dependencies as well as creating projects and subprojects.
With due dates and recurring tasks reminders, you can easily organize all your tasks according to their frequency of occurrence and check off the tasks that have been done. In this way, you can get a clear picture of all the tasks currently in progress and the ones which need to be done in the future.
Furthermore, through Todoist, you can also review your project's performance via visually appealing charts and graphs which help in understanding the current progress and future actions for goals achievement.
Pricing
Free for Basic and Premium ($29 per year) plans.
5. Nirvana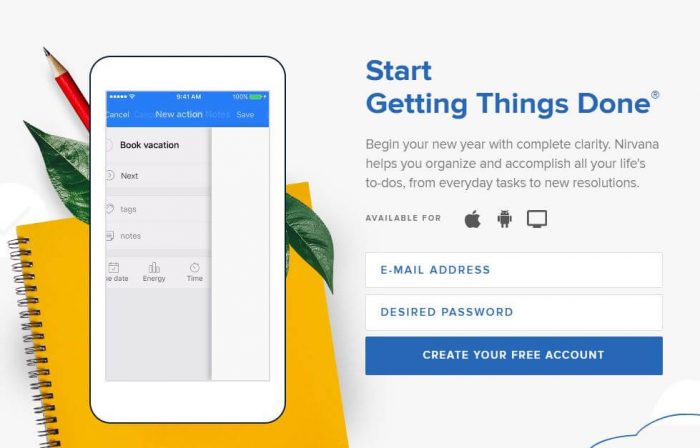 Our fourth recommendation for the best GTD apps is Nirvana.
Nirvana is a cloud-based task manager that is specifically built for the implementation of the GTD method. The application comes with built-in features of how much time and energy a task will need to complete, along with an option to set due dates to stay on track with the upcoming projects.
The application also comes pre-loaded with lists labeled as next, waiting, scheduled, and someday which make clarifying and organizing steps of implementing the GTD method extremely convenient to implement.
There are tags available to put your tasks into the professional and personal division for easy access. There are multiple other task preferences too which make the application highly customized and user-friendly.
Pricing
Free (basic features) and paid plans. Paid plans begin at $5 per month.
6. ProofHub

ProofHub is a cloud-based productivity and team collaboration app that helps teams implement GTD methodology. You can create custom workflows to bring structure to the way your teams work. With features like tasks with due dates, calendar, milestones, and time tracking, ProofHub makes sure that you always have a clear picture of your tasks and projects.
ProofHub sends you daily agenda emails giving a heads up for what's lined up for the day so that you can plan accordingly. Gantt charts and project timelines ensure that you are always in ultimate control of the project progress.
The all-in-one app fosters team collaboration with its powerful Group chat, online proofing, online discussions, and file sharing features.
Pricing:
Ultimate control plan, with unlimited projects and users available at $89 per month (billed annually).
7. OmniFocus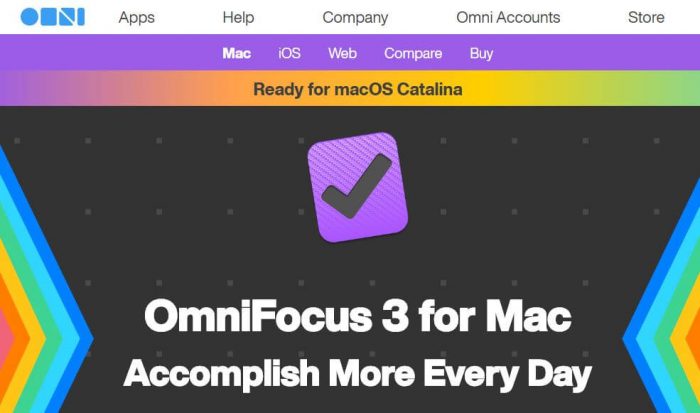 A GTD application dedicated to Mac and iOS users, OmniFocus is a beautiful solution to get things done. It wouldn't be a stretch if we say that it can be considered as one of the top to-do list applications. The tool is designed specifically to implement the methodology in the most effective way possible.
Easily add actions and don't miss anything. To make things easy for you, this can be done using Siri too, so you don't have to manually write anything. Convert your actions into projects and categorize them according to your requirements.
You can add perspectives to your projects to give them context and understand them better. OmniFocus is a good fit as a getting things done planner.
OmniFocus comes with a high degree of structure which lets you manage your projects easily through a myriad of features. This is why it can come off as over-whelming for first-time users, but the application has got some pretty strong features to smartly deal with your tasks.
Pricing
Pro ($99.99), Standard ($49.99) plans
See also:
The Best Scrum Tools of 2021 for Agile Project Management
8. Evernote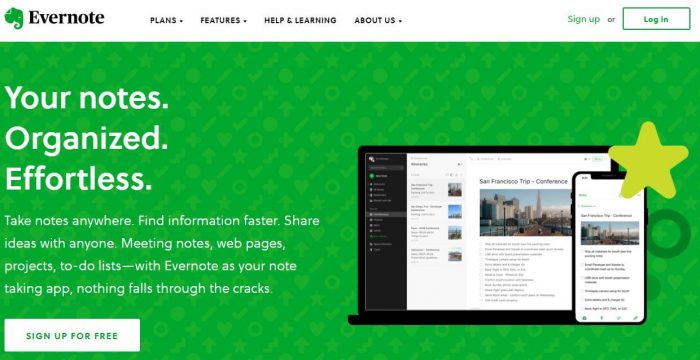 Moving on to the next best GTD app – Evernote. A popular note-taking application that comes equipped with an intelligent toolset for managing your to-dos. The application provides tons of built-in features for you to organize your thoughts comprehensively.
If you're prone to losing useful information that you found online, you don't have to anymore. With the web clipping feature, bookmark any links you find online and access them later at any time you want.
Not only this, if typing is one of your pet peeves, conveniently save ideas in Evernote through voice commands by using Google or Siri as your assistant. You can then organize them into notes, set reminders, and use tags to give them context.
Pricing
Free
Premium at $7.99/month
Business at $14.99 per user/month
9. 2Do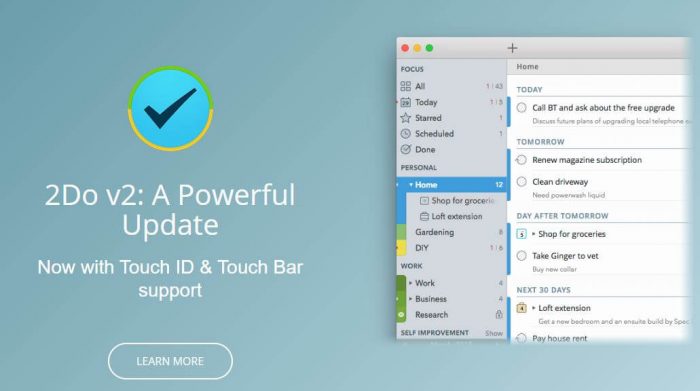 The art of getting things done is crucial to succeeding in the current fast-paced environment.
#7 on this compile up of best GTD apps is 2Do. Free on Android and reasonably priced for Mac and iOS users, 2Do comes with a feature set that makes GTD implementation seamless for you. Create task lists and add tags as context to quickly find them.
Organize your task lists by categorizing them under specific color codes. This also helps in distinguishing categories from one another and quickly accessing them whenever required.
The quick add feature of the application enables you to instantly capture your ideas before they slip your mind. The application also has built-in fields for adding specific details to your tasks. Individual tasks come with reminders at a set time to allow you to execute them without any lags. It helps it facilitate the use as a getting thing done planner.
You can also batch multiple tasks together and simply drag and drop on the calendar to create a work schedule quickly.
Pricing
2Do for Android – Free
iOS App – $14.99
Mac client – $49.99
10. Notion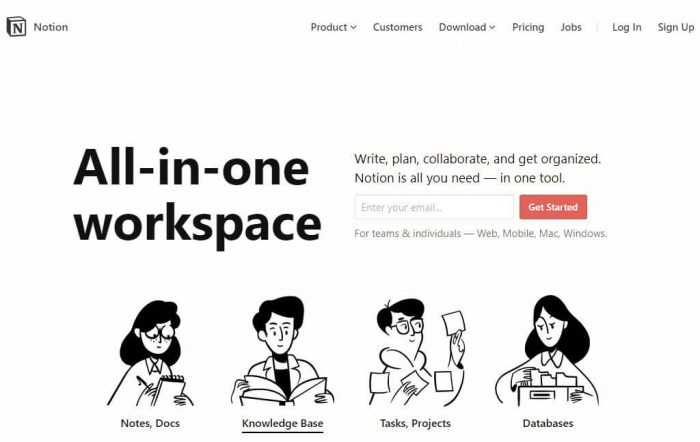 Notion is a sophisticated note-taking application that comes with multiple task management features. The application allows you to successfully write down your to-dos in the form of notes or a checklist, and execute them smartly.
This lightweight GTD app enables you to convert your to-dos into respective projects and tasks and check their progress through Kanban boards. The tool also comes with a knowledge base that acts as a central place for storing all the important information.
Additionally, create team dashboards and invite team members to collaborate on key performance indicators.
Notion will help you perfect the art of getting things done.
Pricing
Free, Personal ($4 per month)
Team ($8 per member/month)
Enterprise ($16 per member/month) plans
11. Things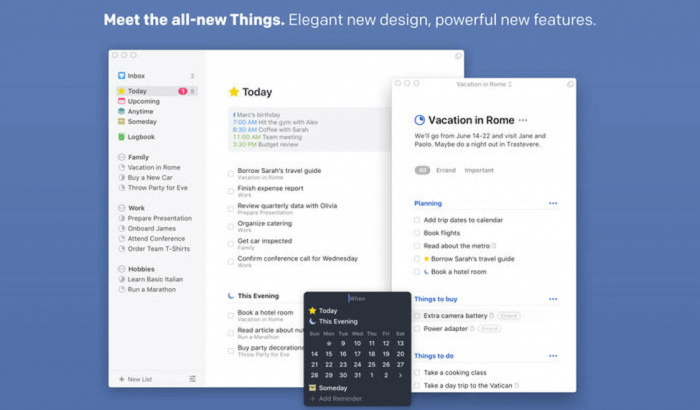 In this day and age, the art of getting things done is the crucial differentiator.
As the name suggests, Things is a GTD app that transforms your thoughts into easy-to-do lists and gives you clarity. With a simple user interface and easy drag and drop options, organizing lists in Things is easier than ever.
You can add more details to your tasks and give context to them through tags, start dates, and deadlines. Use Siri to give voice commands for creating reminder alerts. The tool also provides multiple reports for monitoring your project performance, like pie charts.
The customizable animation toolkit allows you to have fun while getting things done. Moreover, the sidebar can be easily collapsed on the iPad to focus only on the current list.
The only disadvantage of Things is that it's only Mac and iOS supported.
Pricing
$9.99 for iPhone
$19.99 for iPad
$49.99 for Mac
12. Firetask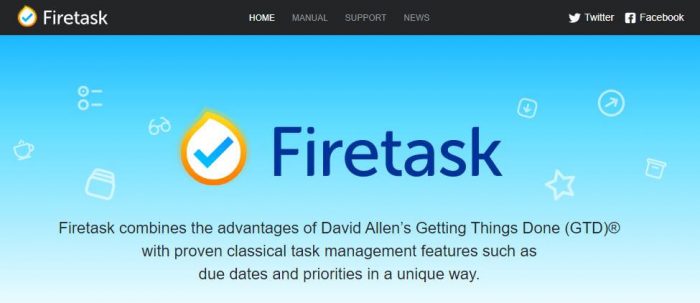 Firetask is strictly for Mac and iOS users; the company wanted to release something to help make GTD oriented projects easier for managers. Right now, the Mac App store is oozing with over 100 different applications. All of these apps are centered around task management, managerial aspects, and vice versa.
However, those applications that actually focus on the 'Getting Things Done' criterion are pretty much hard to come by – and that too, if you are looking for long term reliability factor. Due to such reasons, we believe that the actual "kicker" comes in the form of a very smooth learning curve.
Firetask has a very simple and unique design and supports its use as a getting things done planner. By default, you get the two-pane design in the same window. One of the panes is dedicated to task groupings. The secondary pane at the side appends the current "Foci" that you have clicked on. For instance, you can select a grouping or a single task in the left pane. The right pane will further show all kinds of details in the information palette inside the second pane.
In short, it's concise, clear and comes with an abundance of clutter-free salient data sets. It will facilitate you in the process of perfecting the art of getting things done.
Pricing
Firetask Basic Version: FREE for Mac OS
Firetask Pro Version: $19.99 Per/M for Mac OS
13. Focuster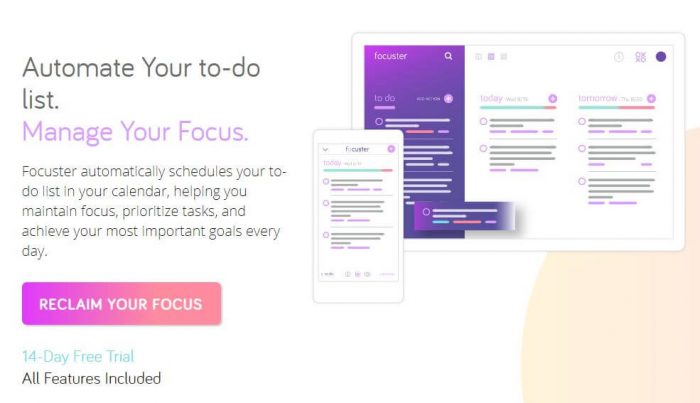 As the name suggests, Focuster is all about helping professionals "Focus" on a bunch of work-related activities for their entire team. It is a complete visual overhaul of your typical day-to-day activities alongside flawless integration with Google Calendar for efficient appendage of those tasks.
Professional activities sort out all your appointments throughout the week. It is like having a secretary, but with a more visually appealing approach. The windowpane is divided into 3 different columns by default. On the extreme left side, Focuster shows a To-Do List. Then there are active tasks in the middle panel, while the right panel shows a date wise categorization of the entire schedule which is great for getting things done planner.
You can find out more details at the official Focuster website.
Pricing
Basic Version: $7.99 per month
Pro Version: $14.99 per month
14. Nozbe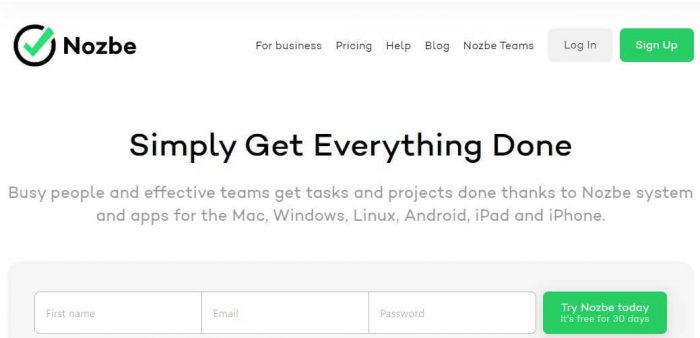 If your in a hurry to get things done than Nozbe is your go-to app.
Nozbe comes as a concise business-oriented solution for managers and professionals on the move. Compared to Firetask and Focuster, Nozbe is not restricted to one particular operating system; they have a wider audience reach over Windows, Linux, and even cellphones if you are away from your desktop.
Since Nozbe is loaded with all kinds of integrations with Evernote, Google, and DropBox to name a few, the learning curve of this application is a little steep. But, once you get the hang of it, you will truly realize its potential in terms of literally 'Getting Things Done' without any apparent setbacks.
From a cursory point of view, Nozbe offers different task panes which are great for getting things done planner. At the back end, they are synchronized with Google Calendar and Evernote. Once you have a task in progress, you can drag and drop different subtasks and team members to stay on the same page.
There is also a litter of options to categorize and further sort these activities as per their priority. The most important tasks are pushed forward, while the secondary nature work gets appended further down your "today's To-Do list" pane.
The best thing about Nozbe is all the templates, which are created after the program "learns" about your activity planning. If you repeatedly do the same kind of tasks on a daily basis, the program suggests a template that can be used generally for all activities. Sounds interesting, doesn't it?
Pricing
Basic Version: $10 per month
Small Business Edition: $23 per month
Business & Enterprise Edition: $99 per month
15. Todo by Appigo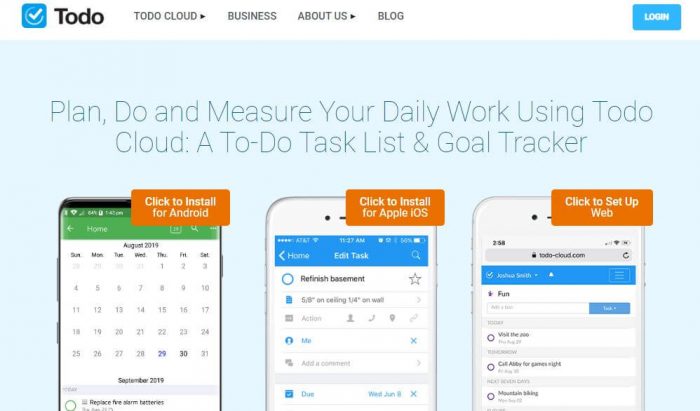 'Appigo' is a US-based software company; they have developed a lot of products for professionals coming from different market sectors. If you haven't heard of Appigo, you should explore their featured programs for reporting, gamification, and overall team collaboration purpose – long before even considering Todo.
Anyhow, Todo comes as a fully-fledged GTD app after the company performed a couple of detailed market analyses. They wanted to create something that even working professionals could use as a family, while on vacations or deployed at off-site facilities.
Todo has a widespread following over Mac OS, Windows, Mobile, and Linux. The program allows the user to create virtual milestones within dedicated projects. You can further assign team members and categorize their roles as per their tasks. On top of that, there is a very clear clutter-free interface in Todo; it was to maintain the attention span of new users at first sight.
The only caveat of Todo is that it does not automatically synchronize with your other devices.
Overall, if your in a hurry to get things done than we would recommend Appigo as your go-to app.
Pricing
Basic Version: Free
Cloud Version: $19.99 per month
Business Version with Cloud Features: $39.99 per year
16. TickTick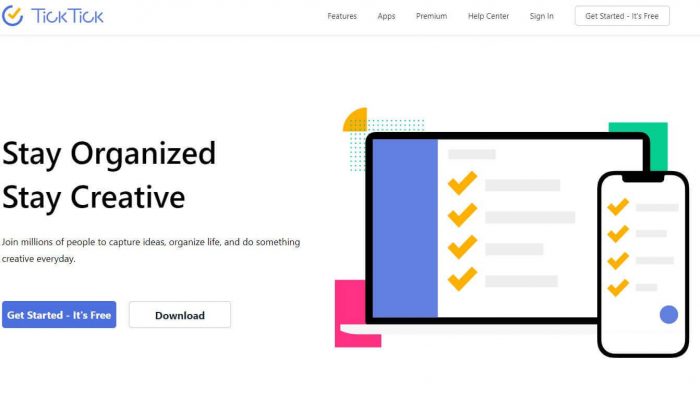 Besides a fancy name after our own heart, it comes as a strong GTD app for those who want a personalized solution. The application carries a very simple to-the-point interface for managing weeks' long schedules and all the activities that follow afterward.
TickTick is versatile, but it leans heavily on the "personal" to-do list management instead of a business-oriented focus. Now that doesn't mean that teams cannot use this program, it's just that you would do better if you are using this software at a small-to-medium scale. Getting things done is the art of stress-free productivity.
The program color codes different tasks as per their priority. Primarily you get a calendar like a window with the addition of different tags support for setting up checkpoints. Once a task is complete, you can omit the check-box with a simple tap!
Pricing
Basic Version: Free!
Premium Version: $2.99 per month or $27.99 Annually.
17. GanttPRO

GanttPRO is an elegant project management tool based on Gantt charts. The software allows you to easily create tasks with their start and end dates and follow them smartly.
With GanttPRO, you can break your projects, no matter how big or small they are, into smaller, easier manageable pieces of work. It's up to you to decide how many of them you will have and how much time they will take.
The software offers robust task management with lots of options. You can set priorities, statuses, dates, duration & estimation as well as precise time spent on tasks, work with progress and cost, and define assignees in case you work with a team. Moreover, it offers custom columns that you are free to set up on your own.
GanttPRO is highly intuitive software with a short learning curve. Just plan and schedule, and all of your tasks will be right in front of you.
Pricing
14-day free fully-featured trial available
Individual: starts at $15 user/month
Team: starts at $8.9 user/month
18. Zendone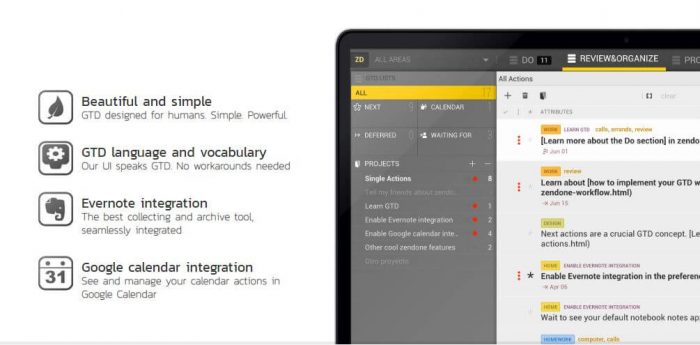 With Zendone, you can create unlimited actions to get more done. You can get a free mobile app, get things done a tutorial, unlimited projects, secure SSL, and GTD funnel. Zendone is a powerful app when it comes to getting things done. The app includes the tickler folder where you can organize all your items for the day, like booking a ticket, paying the bills, email to clients, etc.
In the Zendone app, you can easily create your daily tasks, edit and review them. Also, you can include the time estimates, add tags, and find out how much effort you will need to put it to get the particular task done. It offers several integrations to help you manage your projects. You can integrate it with Evernote, Google Calendar for seamless task management. Zendone application is supported on the web, iOS, and macOS.
If you are in a hurry to get things done than Zendone should be your choice app.
Pricing:
Monthly plan: $9/month
Yearly plan: $5/month
19. HiTask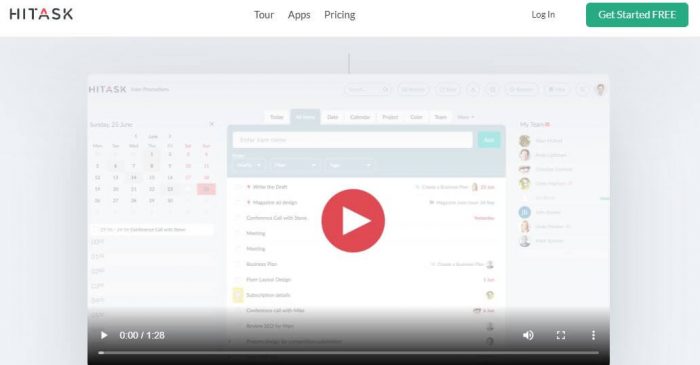 In a hurry to get things done?
HiTask offers plenty of task management and getting things done (GTD) features. The main features of HiTask include creating a calendar, tasks, subtasks, grouping, document storage and sharing, and time tracking. It can help you get organized and become productive with simple to use the tool. You can get free storage for up to 100 MB with a free account.
It helps you nail your projects by getting things done on time. It has more features than usual GTD apps have. HiTask removes complexity from your work and gets your more control. This platform is equipped with Chrome extension, Android, and iOS HiTask apps.
Pricing:
Free plan for up to 5 users
The business plan starts at $5/month per user.
Enterprise plan starts at $20/month per user.
20. Pomodoro Apps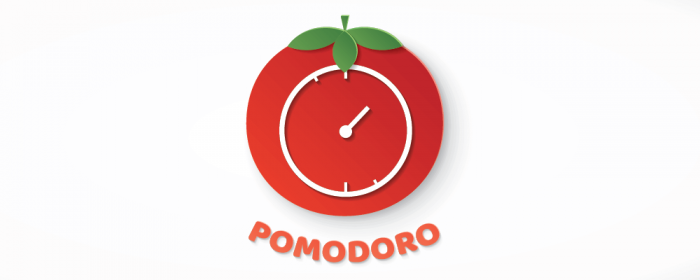 You can download different Pomodoro Apps from Google and Apple app stores to support your cravings for getting things done in an old-fashioned way.
When you are in that typical 'I am in a hurry to get things done' mode – and that too when you have the habit of procrastination, nothing cuts it like the Pomodoro. It's an age-old time management technique that introduces work intervals followed up by intermittent breaks.
A typical Pomodoro works like this:
Create a to-do list of all the tasks ranging from high to low priority.
Doing one task at a time for 15 – 20 minutes.
Taking a break of 5 minutes after each work session.
Increase the break to 20 minutes duration after 4 Pomodoros are complete or the task is finished.
As for getting things done alternatives, Pomodoro apps are a convenient way of ridding yourself of the distractions and actually focusing on stuff that matters the most.
21. Weekdone

Weekdone uses the getting things done methodology to help you get organized for effective planning and project completion.
The software has a tree-like hierarchy that provides a good management structure. With Weekdone you can provide feedback on completed tasks while also keeping your team members updated so everyone is on the same page.
Weekdone has features that include informative dashboards that give you each team member's work progress, weekly planning, progress reports, and task priority displays. You can also enable email reminders, and import items to generate reports from other software.
Pricing:
Weekdone provides a 14-day free trial!
You can also access the software for free for up to three members
If you wish to use Weekdone for more than three users, check out their pricing plans on this link.
22. Remember the Milk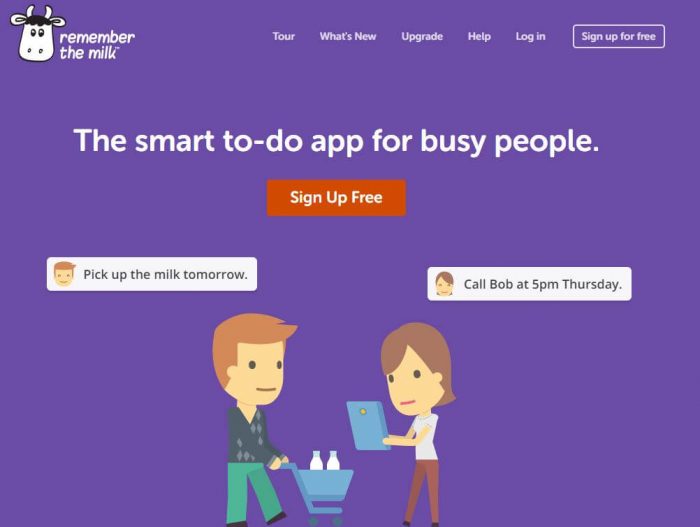 Remember the Milk is an online to-do list and task management software.
With Remember the Milk, you can easily create weekly reviews, use tags to create contexts, take advantage of their unintrusive reminder system, and also use their flexible labels and folders for work, personal, and tasks on hold.
The software syncs with all your devices so you can get reminded anywhere.
The app also lets you share your lists or pass tasks over to others so you can get more done faster.
Pricing:
You can sign up for Remember the Milk for free
Wait, There's More…
Did you know that there are tons of GTD apps that don't make it to the first page of Google Search results?
That doesn't mean that the apps are not popular or they have setbacks. The truth is that many software startups with great ideas don't have a lot of advertisement budgets to go on. This is why a lot of getting things done apps don't make it to the top-level SERPs.
Nonetheless, here are a couple of apps that we would love for you to use.
23. Campfire Technology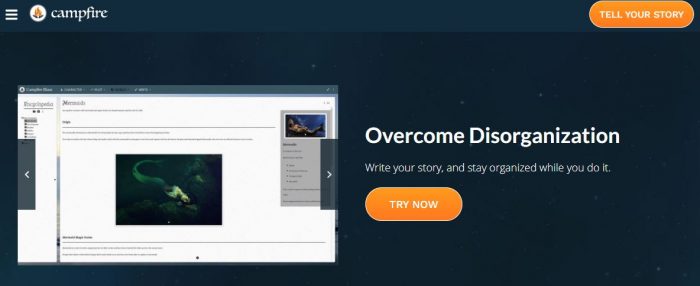 The Campfire app can help you eliminate disorganization if you are on a writing project. This is an amazing GTD app for writers to plan, brainstorm, and write better stories.
It can help you create your plot, build story characters, and manage your story all in one application. Writers and content creators can use Campfire to create blogs, YouTube video development process, book writing, and podcast creation.
You can use it not just for writing projects, but Campfire also has a Discord community for fellow writers and they also publish the community work on different social channels.
Pricing:
Free trial for 10 days.
Pro package at $49.99 (one-time purchase)
Pro and word building pack at $74.98 (one-time purchase)
24. Fellow App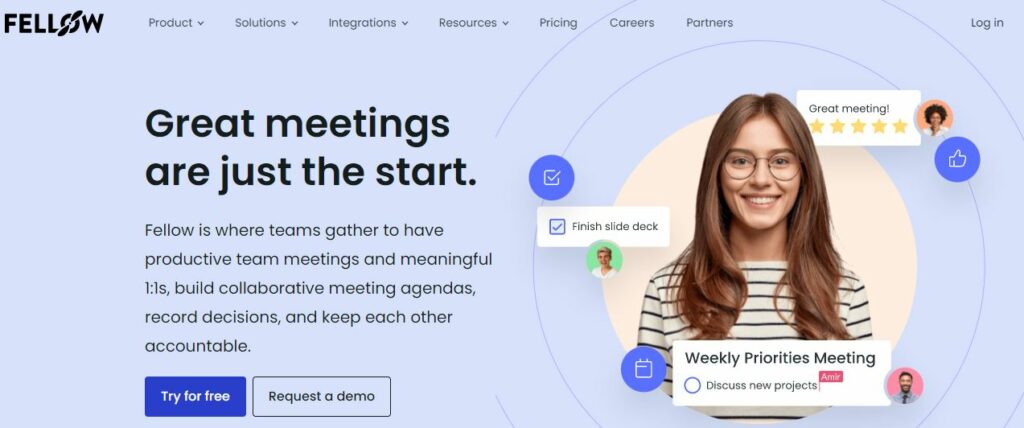 Fellow app is a collaborative one-on-one meeting tool and team note-taking app. Teams can gather on the platform to have productive team meetings, give real feedback, build and share meeting agendas, and build accountability with action items.
Fellow works best when integrated into everyday apps like Slack and Google Calendar, and when used in conjunction with project management tasks.

Pricing:
Fellow is free for a maximum of 10 users. The Pro plan is $5 per user per month, and custom-priced plans are also available.
25. Tomatoes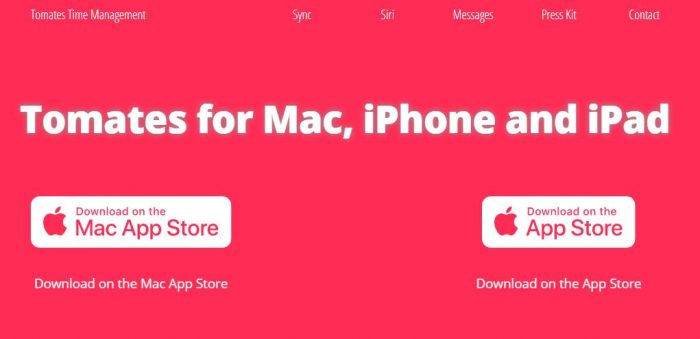 What good is a getting thing done app if it doesn't have a timer in it?
After all, we are all on the clock! Tomatoes is technically a Pomodoro timer with a clean UI. It means that there are no distractions, complex interface shortcuts, and other clutter that might derail you from getting things done fast.
You can also turn your productivity into the competition should you choose to use Tomatoes in your organization. Set up the timer for the activity and let everyone kick off at the same time. See who comes up with the best results in the shortest amount of time.
Pricing:
Tomatoes is Free for All and does not have any premium plans for now.
26. Microsoft To-Do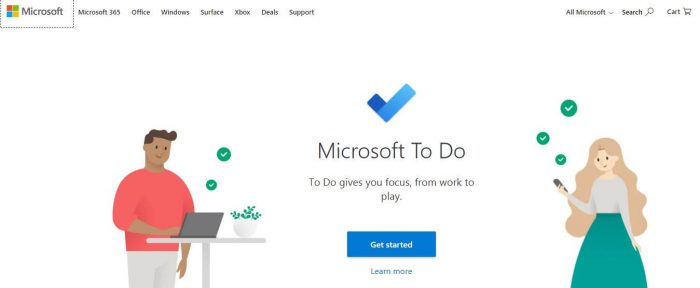 Microsoft To-Do was primarily made as an independent application. Seeing its popularity, it was soon transitioned to as the enhanced version of the insanely popular Wunderlist app.
Of course, Wunderlist isn't there anymore, but, as I said earlier, Microsoft To-Do is filling in the gaps pretty nicely.
Compared to Wunderlist, Microsoft To-Do carries a clean-cut UI, with vibrant/ distraction-free visuals. Everything is right where it needs to be. Tool shortcuts are not cluttered, there's an easy learning curve for first-time users and you get seamless integration with the entire Microsoft apps environment.
For instance, if you are currently using Outlook as your go-to email management platform, you can automatically synch everything with Microsoft To-Do mobile application. Alternatively, the same can be done through a laptop or a desktop computer; it depends on you.
Coming back to Wunderlist, the app had a cult-like following among GTD power user communities. Therefore, if you were a diehard Wunderlist fan, Microsoft To-Do won't feel any different.
Collaborate on the go, schedule meetings, and complete work as it comes up.
Best of luck!
Pricing:
The base version is free of cost – i.e. $0 per user/ per month.
Available on Windows, Android, and iOS platforms.
27. Hive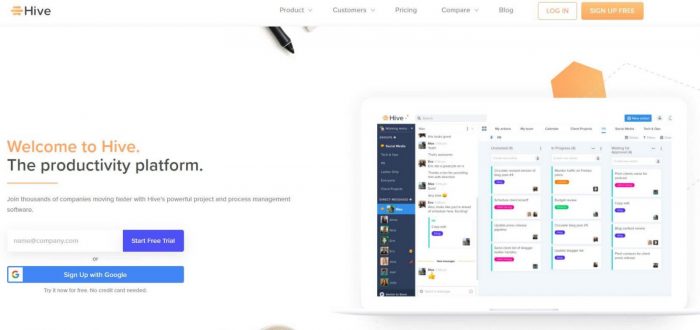 A bonus application for you in this list is Hive. This software is one of the best tools that you can use in 2021 as it is a whole barrage of different applications for web and desktop, and when all synced together, can make an incredibly productive work environment for you and your team.
The application allows all of the team members to check their to-do lists and communicate with each other throughout the day in real time. This helps in making sure that everyone is in the loop and that there are no gaps in communication regarding the project development process or the project overall.
In addition to the wonderful mobile application, Hive also has different desktop and web applications that boost your productivity levels even more. Each project can be viewed in many different ways as per the needs and requirements of the audience.
These ways include views like Gantt charting, calendar view, Kanban boarding, and many more.
The application is free to download, and a paid subscription with add-ons is also available.
The application is available for iOS, Desktop, and Android.
Pricing:
Paid plan at $12/user per month (paid annual).
You can select other Workspace Add-ons too with your plan
Looking for a Free GTD tool?

nTask is free and lets you create unlimited tasks, checklists, meetings and more.
GTD Features to Keep an Eye Out
As we know, the core concept behind GTD or Getting Things Done is to offload all of your ideas and thoughts into a task management tool or a to-do list app, or if you are severely cash-strapped, on paper. This will help you free up your brainpower and convert all of your thoughts into actionable steps.
But if you want to choose the best task management tool or an application that gets things done, what features should you use to scope it out in the market browsing phase?
Let us answer that question and tell you about 6 of the most sought-after features that GTD apps should offer anyone who wants to use them. The features are as follows:
1. Context
According to the father of GTD, David Allen, a context can be a place, a person, or a tool. You need to remember that the applications you see nowadays in the market didn't exist when David wrote his book.
Thus, in the past, when digitalization was not that common, you had to go to the office to type a memo, but in today's world of rapid digitalization, you can create, delegate and manage tasks as you go.
But, if you want to, you can add a much deeper context to these apps so that they can be searched easily and effectively.
2. Projects
If we talk according to GTD terms, then any task with several action items in its development process is a project. You can't use a simple to-do list app. You must use proper task management and project management applications like nTask.
This project management application will help you create your project pipeline, comes with time tracking features, and ensures that you have good team collaboration among the members.
3. UI Experience
A good UI experience always goes a long way. This is why, whenever you want to browse the market for a new application to try out, you should make sure that it has a good UI with little to no learning curve. This helps users learn the app quickly and not lose precious time over lengthy manuals.
4. Availability on All Devices
Another feature that is a must for GTD applications is its availability on all the platforms in the market. This will help ensure that the users always have access to their data regardless of the device on which they are using the application.
5. Pricing
Pricing is also quite important as GTD applications don't need to be that much expensive. But you should keep in mind that most free applications have quite basic or no premium features, which would decrease your productivity.
6. Integrations
Lastly, the application you choose should be integrated with 3rd party application. This helps the users when they want to access their data on some other application and don't have to leave the first application because both applications are intertwined.
David Allen Getting Things Done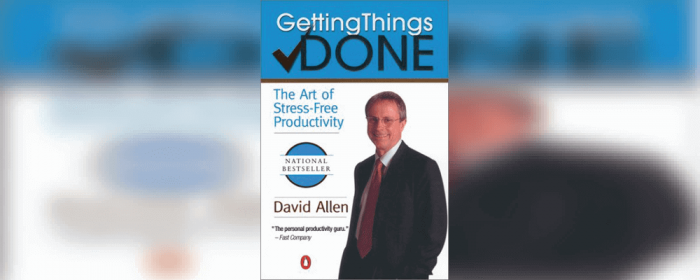 Time to take over the GTD methodology like a bookworm. If you are into getting things done, you may have stumbled over 'David Allen Getting Things Done'. If you haven't, that's alright.
'David Allen Getting Things Done' is a remarkable book that describes how anyone can harness their skills and enhance productivity by tenfold.
Over 267 pages, you are not fed any horse crap or some sort of Magic Sutra where you'd be able to miraculously improve as soon as the last page is turned. In fact, on the contrary, 'David Allen Getting Things Done' philosophy is quite strange and facilitates people's strategy and operations.
David preaches getting started from the most boring and annoying task and moving all the way up from there to deliver results. Yes, there are times when it's the boring stuff that's keeping us from taking the first step. Just roll over your eyes in your head and get started ASAP.
Some of the key steps in David Allen's GTD book to overcoming adversity are:
Identification of a boring, distracting, or uninteresting task.
Writing down some form of a description as to why the task is incomplete and when exactly it will be completed.
Actually getting started on completing the work.
Self-assessment and evaluation after you have successfully completed the task. Think about retrospectives and reflection on the reasons why you were never able to get things done before.
Alongside his remarkable tips for smoother operations processes, David fills his readers in on cleaning up their mess through the ways of filing, organizing, and listing things. They are a means to an end!
On a scale of 1 to 10, we rate this book a stellar '9'. Do give it a read whenever you are looking to get things done like a pro.
Are Getting Things Done Apps Entirely Necessary?
One of the questions that many webmasters "fail" to answer is whether or not it is important to rely on getting things done apps.
The plain and simple answer would be No. Yes, we knew that it sounds unbelievable, but there's a catch to it.
Although getting things done/ GTD apps are great for working smart, they are not needed if your workflow requirements are not that lengthy.
Secondly, if you are an individual freelancer, a contractor, or a project manager who is currently handling a very small number of activities, then you can commit most of the stuff to your memory, or a conventional notepad. Take a piece of paper, or maintain a diary for to-do list activities, the rest will come to you naturally.
However, if you are responsible for multi-project management and simultaneous workflows with high priority CPMs, then using getting things done application is important. In fact, in such instances, these apps supplement the effect of a high turnover with a maximum client/ customer satisfaction rate.
We recommend analyzing and evaluating your personal/ business requirements as the first priority. Afterward, you'd be in a better position to assess whether you need getting things done app or not.
Do you have a suggestion for free project management software that follows the GTD approach? Feel free to comment below with your suggestions.