If you are looking for a to-do list or notes app, you have definitely come across two of the most popular choices which are Google Keep and Evernote.
With the two applications offering a load of unique features to keep you organized it's no wonder that they are top of the list and the popular choice for many users.
If you are currently in the dilemma of Google Keep vs Evernote, the choice can be pretty confusing.
That is why we have put together this Google Keep vs Evernote comparison to help you make the choice easier for you. So that you can choose the tool that is best for your needs.
So, let's get to it.
Features
The first thing we will discuss may be the most important; what features each tool offers.
When choosing between Evernote and Google Keep you want to ensure that the tool that you choose offers the features that will allow you to accomplish what you want from the software.
There are certain features that both Evernote and Google Keep have in common. These features include:
Both Google Keep and Evernote's notes can include not just text but also images, lists, and links.
Apart from creating notes, the two software let you create reminders so that you do not miss out on any task-related notes.
Google Keep and Evernote allow you to share notes to collaborate with your work team and those at home.
Both Evernote and Google Keep let you organize your notes. With Google Keep, you have labels and with Evernote, you have tags that help you find notes you have created more easily.
Moreover, besides keeping your notes organized, both software let you access your favorite notes easily and quickly. This is done through the pinning feature in Google Keep, and the shortcuts feature in Evernote.
Besides these common features that both Evernote and Google Keep offers, these tools offer other amazing features that you can take advantage of.
Of this range of features, here are some standout features for both tools that you can use to help make the decision in which software is the best for you.
Google Keep Outstanding Features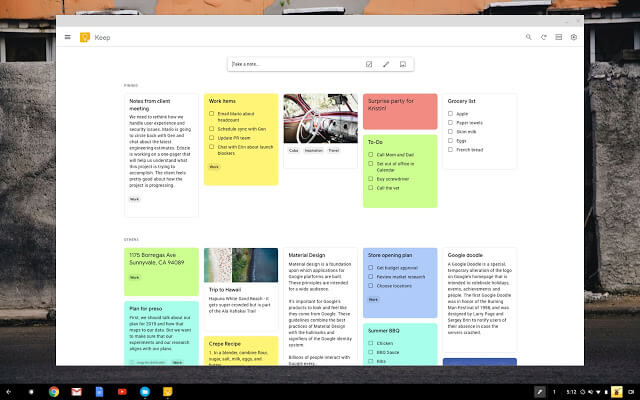 Google Keep offers a variety of features making it stand out among notes and to-do list apps like it.
One such feature is that Google Keep offers color code the notes you create. Google Keep is great at keeping your notes organized; one such feature is the ability to create Labels. Another such way to keep your notes organized is to give your notes colors. You can thus color code your notes to be able to view them easily at a glance.
Google Keep also allows you to create reminders so that you never miss deadlines. With the basic date and time, you can also create handy location-based reminders.
Such reminders can be created so that you get a notification when you arrive or leave a certain location. For example, you can have reminders for when you leave work, arrive home, and so on.
Google keep is a Google tool and thus can be integrated with other Google Suite tools. You can therefore copy a note to Google Docs. This allows you to create in detail or lengthy documents from a simple note when you need to elaborate on something.
Evernote Outstanding Features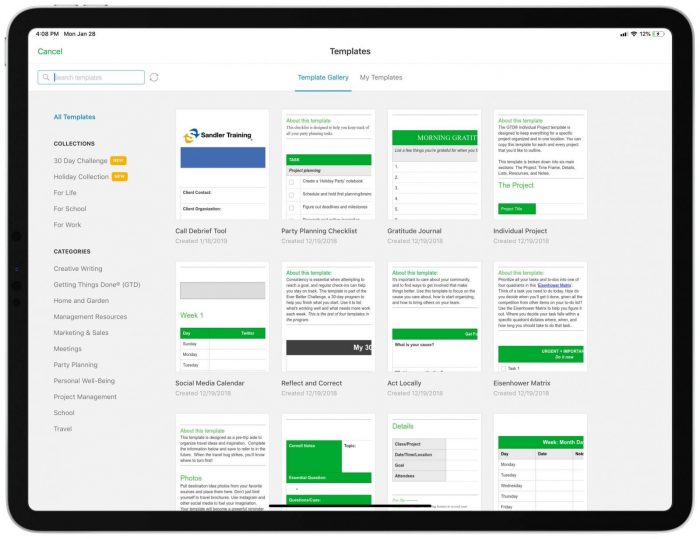 With Evernote, you also have some amazing features that are unique to the tool, making it stand out from its competitors.
With Evernote you can organize your notebooks, this can be done with the notebook stacks feature. This way, you can keep notebooks of similar subjects together and thus search and view them easily.
While creating notes in Evernote, you have access to a robust text editor. The text editor in Evernote can be compared to the likes of Microsoft Word and Apple Page. The text editor provides a range of formatting, list, font, alignment, table, and super and subscript options to choose from.
Evernote also provides in-built chat options. This feature lets you chat with other Evernote users from the mobile app or web interface.
Moreover, Evernote also offers a convenient web clipper extension tool. The web clipper extension in Evernote allows you to capture web pages or simply parts of web pages and include them in your Evernote account.
More note-taking apps like Evernote:
18 Best Evernote Alternatives for Note-taking and Task Management
Pricing
The next consideration in our match between Google Keep vs Evernote is the available pricing plans.
The cost of a software often serves as a deciding feature for many individuals. If a tool is amazing, but out of your budget, then it is usually not feasible to invest in it. Therefore, our next consideration is the pricing plans both tools offer.
Google Keep Pricing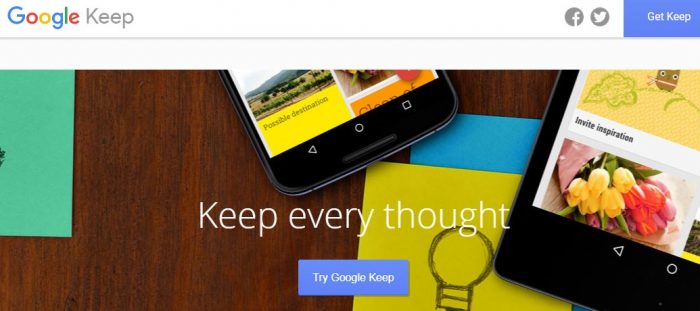 To use Google Keep all you need is a Google account, which is not only entirely free to use, but it is also free!
You will be required to pay if you ran out of storage and are looking to buy more. However, keep in mind that this payment will not be only for Google Keep alone and in fact, will be for all your Google apps.
Evernote Pricing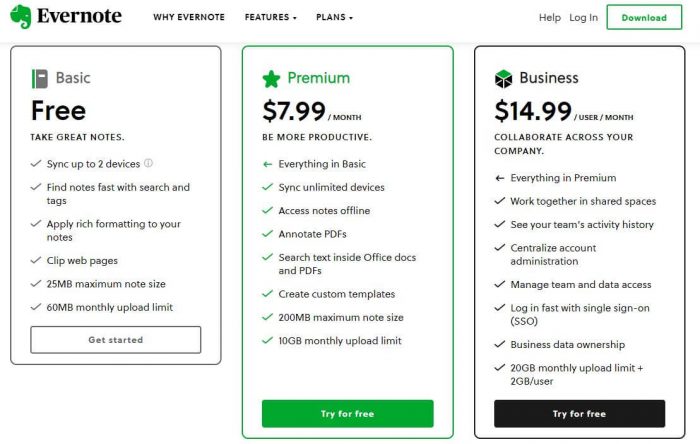 Evernote on the other hand, provides multiple pricing plans.
Evernote offers a Basic plan which you can use for free. This plan has some limitations, however.
With the Evernote basic plan, you have a 60MB/month storage limit as well as the limit of app downloads on a max of two devices.
Moreover, the basic plan is missing some features that are offered in the paid plans. These features include scanning features, searchable PDFs, and the ability to email notes to Evernote.
Evernote offers a Premium plan for $7.99/month in the paid plans. The premium plan offers more storage as well as additional features such as scanning abilities, unlimited devices, searchable PDFs, and handwritten notes.
The Evernote Premium plan is designed for individual use. If you are looking to use Evernote for your business, Evernote offers a Business plan for your team.
Evernote Business is for $14.99/month per user. The Evernote Business plan is created for a minimum of two users.
The Evernote Business plan offers even more storage as well as additional features. These features include collaboration features and administrative tools.
Google Keep vs Evernote User Interface
Apart from features and pricing, another important consideration when choosing a software is the user interface.
As is true with any type of software, but especially note apps, the user interface is important. With such apps, you need to be able to organize your notes and find what you are looking for at a glance.
Both Google Keep and Evernote have different approaches to the way they create their user interface.
Google Keep User Interface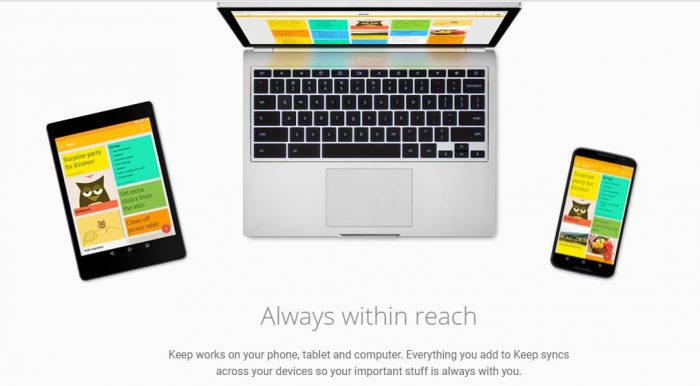 Google Keep's interface resembles that of a bulletin board with post-it notes.
With Google Keep's notes organized in a fashion similar to post-it notes, as a user, you can easily view all your notes and a synopsis of what each note contains, both easily and at a glance.
Google Keep is simple in design making it a great choice if you aren't interested in all the bells and whistles.
You can create four different types of notes including text, images, drawings, and lists.
Notes in Google Notes can be viewed in either a grid view or a list view. You can also easily sort between notes and reminders. Or use custom tags and labels for the organization.
Evernote User Interface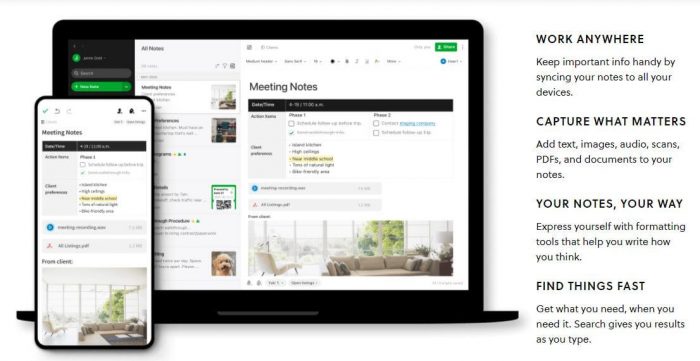 On the other hand, Evernote is organized in a notebook style.
You can organize notes into different notebooks, which can further be divided into different sections. This provides you with a more intricate way to organize your notes than other competitors may offer.
In fact, Evernote as a whole can be said to offer a range of more complex features if compared to Google Keep.
With Evernote, you can choose how exactly you want to organize your notes. You can choose to organize your notes by date; that is either the date the note was created or the date it was updated. Alternatively, you can also organize notes by title, or by tag.
Each note itself can also be customized with a range of templates to choose from as well as different formatting options.
Related:
Evernote vs OneNote – Which One Is the Best for You?
Conclusion
So, who wins Google Keep vs Evernote? Well, it depends on what you are looking for.
We have highlighted the major differences between the two tools and indicated what you will be able to gain from each one individually.
We tried to include all those elements of tools and software that tip the scales when trying to choose a software and hope this comparison made the choice just that much easier for you.
---
Recommended Readings: