Friday app is an efficient Team Chat software. The app's customizability, productivity, and effective communication make it enticing.
You can utilize Friday. App to automate check-ins and status updates and centralize and track team and business goals progress. The productivity management tool received a pre-seed round of funding in 2019, followed by a seed round in the fall of 2020.
Friday App recently announced that it would be shutting down forever on June 3, 2022. According to Luke Thomas, the app's creator, and CEO, the company is closing due to rising competition in the productivity space.
We have compiled a list of Friday App alternatives that reviewers deemed the best overall. In this regard, you may want to investigate similar Friday App alternatives to find the best solution for team communication. The critical factors to consider while looking for the best Friday app alternatives include dependability and ease of usage.
You can discover how the Friday app compares to alternatives based on researched data. We suggest you go through reviews from current and previous customers in categories such as Marketing, Advertising, Computer Software, Health, and Fitness, to get the ideal solution for your business.
When looking for the best Friday.app alternative, you are likely to become overwhelmed by the abundance of possibilities. To make this decision a little easier, we have compiled a list of the 10 best applications that function as excellent alternatives to the Friday app.
Top 7 Friday App Alternatives
Let's take a look at some of the best Friday app alternatives you can use today.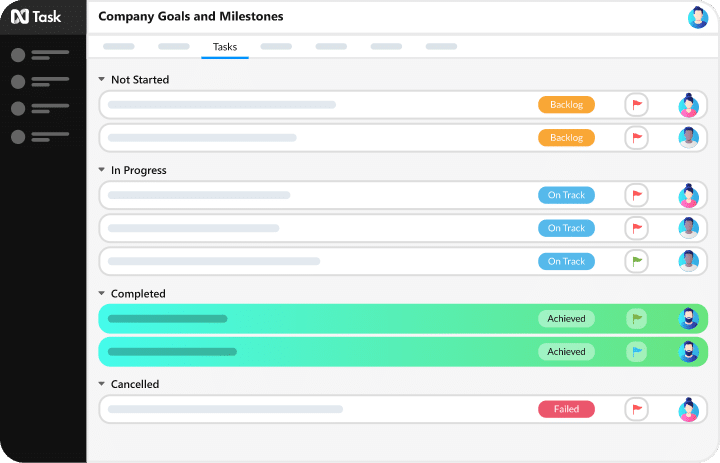 Platforms Supported: Web, iOS, and Android
If you are looking for a Best Friday app alternative, we strongly recommend nTask, and we don't say it lightly.
nTask simplifies the management of your projects, tasks, timesheets, and so on. nTask enables you to
Establish and manage your to-do list in a systematic manner
Identify and rank dependencies
Specify start and finish dates for each activity
You can keep track of all your work activities and updates with nTask. The app allows you to effortlessly assign tasks to your team and interact in real-time.
About & Features
Google Calendar Integration: Enable nTask's real-time connectivity with your Google Calendar. Update your task, project, meeting, or issue, and they will appear as events in your Google account.
Follow-up Meeting Activities: nTask lets you establish follow-up activities from meeting and share meeting minutes (MoMs) with all team members to keep them updated.
Integrations: Integrate nTask with Zoom or MS Teams to organize meetings straight from nTask and invite your team members.
Robust Time-Tracking: The software has a time tracking feature, which is quite useful for all remote project managers out there since it allows them to track every job their team is working on and keep things under control.
User-Friendliness: Regarding usability, nTask is one of the better solutions available. Signing up with nTask is as simple as accessing the site and clicking the button in the upper right corner of the page. All you have to do now is input your work email address and you will be subscribed to the free plan. Everything is set out in front of you without having to walk back and forth.
Pricing
The basic plan is accessible for free in perpetuity.
Premium package – $3 per month per user
Business plan – $8 per month per user
Enterprise package – Individual price
For further details on pricing and packages, see pricing
Why nTask is one of the best Friday app alternatives?
How can you enable your remote staff to accomplish their excellent work while maintaining a flexible work environment? nTask is the answer.
Whether you are a freelancer, a small business, or a big organization, nTask can meet your needs. The app provides features that make communication as simple as ABC. Teams may engage, cooperate, trade information, and do several other tasks swiftly.
To top it all off, nTask offers a basic user interface. You can quickly become acquainted with the software by browsing it. The simple and uncomplicated design, as well as a range of vital functionality, makes it our top option for Best Friday app Alternatives
Online Reviews & Rating
Capterra Rating: 4.0 out of 5
G2 Rating: 4.4 out of 5
Try an affordable Friday app alternative

Assign tasks, create projects, manage teams, and clients efficiently. Sign up today!
2. GeekBot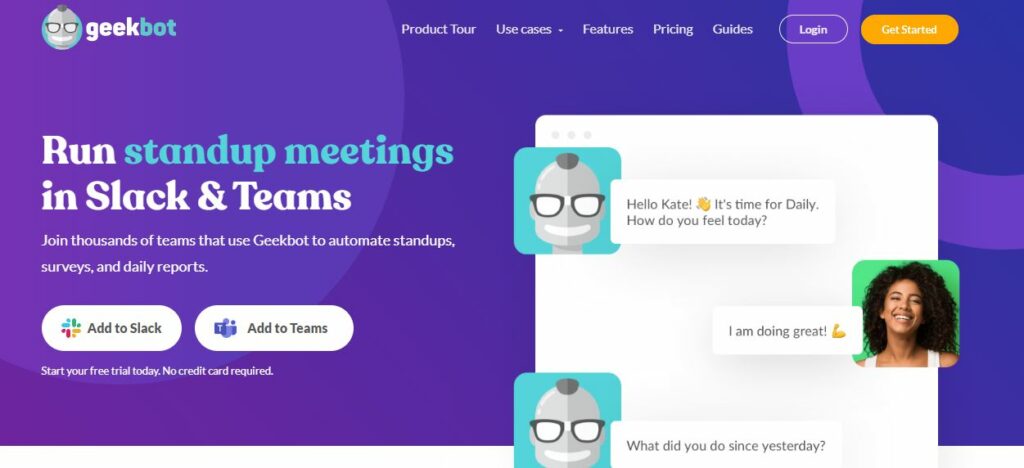 Platforms Supported: Web
Geekbot is highly flexible, simple to set up, and works straight with Slack. Simply enter the questions you want to be answered, who will get them, and when.
About & Features
Data-Driven Insights: One of Geekbot's distinct features is that it collects data based on teammates' reactions, allowing you to evaluate and learn from the data. Suppose you are using Geekbot to manage standups. After gathering your team's responses for the first half of the sprint, you will be able to determine which roadblocks continue to build, which will help you perform better retrospectives
Conversational Analysis: You may ask Geekbot "Who," "What," and "When" questions directly in Slack using the Conversational Analytics tool to swiftly gather data about your team's activity.
Pricing
Free-Up to 10 users
For monthly subscription- $3 per user
Annual plan-$2.5 per user
See detailed pricing here
Why is Geekbot one of the best Friday app alternatives?
Geekbot is a Slackbot and assistant that supports remote teams with daily standups via Slack. It only takes a few minutes to set up and assists teams throughout the business in staying up to date and organized.
Online Reviews and Rating
Capterra Ranking: 4.9 out of 5
3. Jell
Platform Supported: Web
Jell is one of the best Friday alternative apps that simplifies team planning, communication, goal setting, and monitoring. Furthermore, it interacts effectively with many of the tools you use.
With Jell, it is simple to perform asynchronous daily standups and individual or team check-ins and track planning, progress, objectives, and key results (OKRs). By devoting a few minutes each day, you can traverse more items off your to-do list, align goals, and develop functional, productive teams.
About & Features
Daily Standups: You can keep track of what everyone is working on while providing status updates, accomplishments, and any challenges that may emerge using Jell's daily standups. Your standups will be efficient, with no lost meeting time and excellent team engagement. This will allow you to make accurate decisions.
Customized Check-ins: If you notice that more information from your team is required, such as for one-on-one training or management updates, simply schedule customized check-ins in addition to your usual standup meetings.
OKRs: Sharing your OKRs with Jell can help you better concentrate and align your staff on the overall picture. Your team members' daily actions may be linked to their long-term goals, allowing them to readily track their progress.
Pricing
Jell users can choose from three different price options.
Starter Plan: This plan costs $4 per month per user
Plus Plan: This plan costs $8 per month per user
Enterprise: Jell's enterprise provides customized pricing according to your requirements
See Jell pricing here
Why is Jell one of the Best Friday App Alternatives?
With Jell, teams can interact more simply and rapidly without needing additional and unneeded meeting time. It is simple to use and provides complete transparency into what everyone is doing. "At no cost!"
Online Reviews and Rating
Capterra Rating: 4.5 out of 5
4. Status Hero
Platforms Supported: Web
Status Hero is a communication solution that converts agile check-ins into succinct, meaningful reports. Check-ins may be sent by Slack, email, or several other integrations.
About & Features
Get constant insight on successes, intents, and roadblocks across processes to help your team restore focus.
This is how it works:
Members of the team react to a quick, once-daily check-in. These may be distributed by email, Slack, or other platforms and are time zone configurable.
Check-ins are automatically updated with activity from project management platforms such as GitHub, Jira, Trello, Asana, and Clubhouse, among others.
Everyone receives a report that includes team-wide check-ins, goals, actions, and requests for assistance. Create custom reports for 1:1s and retros.
Pricing
Why is Status Hero one of the best Friday app Alternatives?
Status Hero connects with project management tools such as GitHub, Jira, and Asana and chats tools such as email, Slack, and Microsoft Teams to aggregate and publish your team's activity and check-ins in a single report. Status Hero compiles all job specifics so that you can utilize standups to discuss things (or skip them altogether).
Online Reviews and Ratings
Capterra Ranking: 5 out of 5
G2 rating: 4.1 out of 5
5. Range

Platforms Supported: Web and Google Workspace
Range is a single platform solution for remote and hybrid teams. It will keep your team linked and your work going ahead.
About & Features
Carry out async check-ins: Provide status updates without interfering with the workflow. Know what is going on and how people are doing without being anxious.
Improve meeting outcomes: Maintain a record of agenda topics, action items, and notes. Make it easier to hold collaborative, interesting, and enjoyable meetings.
Progress tracking: Align your team around shared objectives that are tied to daily planning. Maintain a record of your progress across tools and touchpoints.
Pricing
Free for 12 users
Standard-$8 per member
Premium-Tailored to your needs
See pricing details here
Why is it one of the Best Friday App Alternatives?
This is a good strategy for a manager who wants to keep an eye on their staff without micromanaging them. It enhanced team dynamics and standup meeting
Online Reviews and Ratings
Capterra Rank: 4.7 out of 5
6. Troopr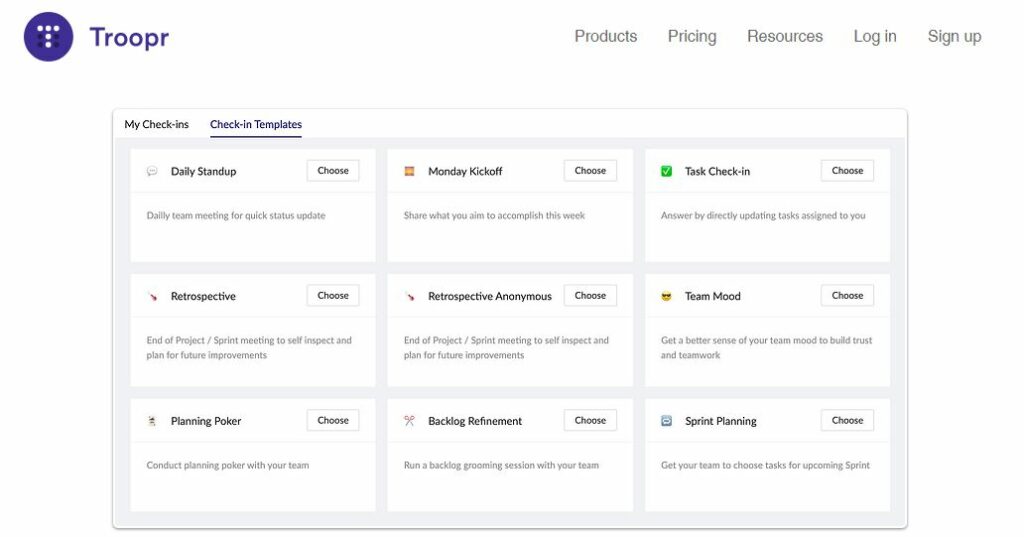 Platforms Supported: Web
Troopr is a meeting software used to perform daily standups, retrospectives, and other activities.
About & Features
Customize check-in questions for each team member
Provides a variety of templates for mood monitoring, retrospectives, and other activities
Allows you to time box your chats to keep them constructive.
Pricing
Beginner: $10 per month
Pro: $49 monthly
Monthly premium: $129
Enterprise: Customized to your specifications
See pricing for further details
Why is it one of the best Friday app alternatives?
Troopr is a better way to get your agile team involved in task estimation. Troopr delivers Slack-based online planning poker sessions for your team. Furthermore, it assesses work difficulty by aggregating votes in Slack asynchronously and giving actionable summary reports.
Online Reviews and Rating
Capterra Rating: 4.7 out of 5
7. Fellow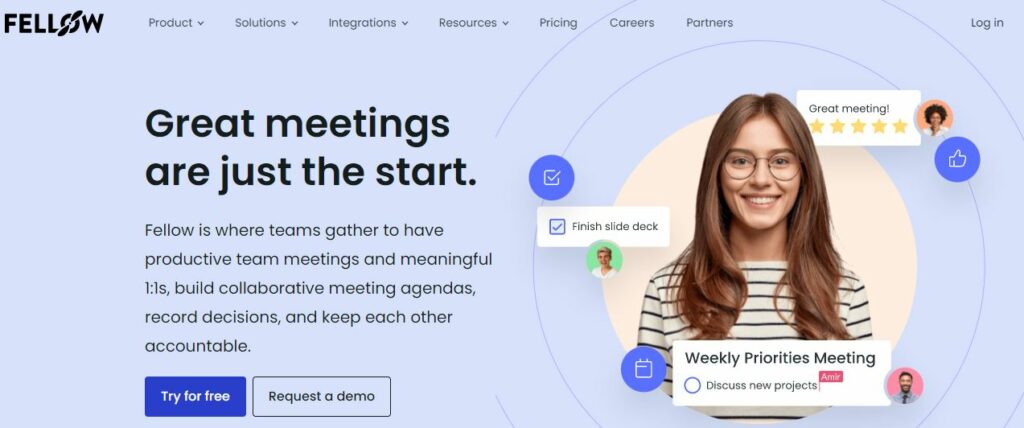 Platform Supported– Web, iOS, Mac, Desktop & Andriod
Fellow is a meeting management tool that lets users create and participate in meeting agendas, notes, and action items. By synchronizing Fellow with your Google Calendar, you will be able to see your calendar events and meeting agendas side by side, making it simpler than ever to prepare for your encounters.
About & Features
Calendar Integration: Meeting objectives in Fellow are linked to your calendar via the calendar integration, ensuring you never show up to another meeting unprepared.
Task Assignment: To encourage responsibility, assign task items to coworkers with due dates directly on a collaborative meeting agenda with Fellow.
Streams: Private streams allow users to manage their week and recognize professional milestones by keeping track of personal to-dos, OKRs, action items, and private notes all in one place.
Goal Tracking: Stay on top of your objectives by documenting, defining, and tracking OKRs and their progress on Fellow's "Objectives" page.
Pricing
Free — For groups of up to ten persons.
Pro – $6 per user each month for teams of up to 50 persons
Business & Enterprise – Prices for these programs can be obtained by requesting a demo.
Why is it one of the Best Friday App alternatives?
Fellow helps arrange everything. It is one significant location to keep track of and manage everything, from meetings to thinking processes to impact reviews and feedback.
Online Reviews and Ratings
Capterra Rating: 4.9 out of 5
G2 Rating: 4.7 out of 5
Bottom Line
Each team is different, with its own set of requirements and practices. The software you select should be compatible with how you operate. Most of these tools allow you to personalize questions for different departments and match the tone and language of your company.
Keep the following considerations in mind while selecting a daily standup software for your team:
Is it within your budget?
Does it meet your requirements?
Will it need more setup time?
Is there a lot of training required?
Is it simple to use?
---
More Resources For You: