Freedcamp is a free project management software launched in 2010. The software offers a multitude of features at an inexpensive price. It helps PMs keep everything at once place. In this article, we will highlight the best Freedcamp alternatives you can start using today.
With Freedcamp, you can not only manage files, have discussions with your team members, create invoices but can also add extra tools through upgradation. It also allows you to track issues so that you can resolve them in time.
One of the best-selling points of the software is that unlike other options available in the market, Freedcamp is available for free for an unlimited number of users, files, and projects.
But before you place your best on Freedcamp we will advise you to explore all other Freedcamp alternatives so that you can make the right decision for your team. Since you will be investing your capital in the software and will be actively using it for the long-term, it is important that the software provides all the required features and is the perfect fit for your company.
To make it simpler and easier for you, we have curated a list of the best Freedcamp alternatives in this article. So, all you have to do is to read through this post and identify the Freedcamp alternative that suits you best.
Without further ado, let's dive into the available options.
The Top 9 Best Freedcamp Alternatives to Try in 2023
We have made a list of the top 9 best Freedcamp alternatives. Take a look at all the available options and their pricing, this way you will be able to make a better decision for yourself, your team, and your company.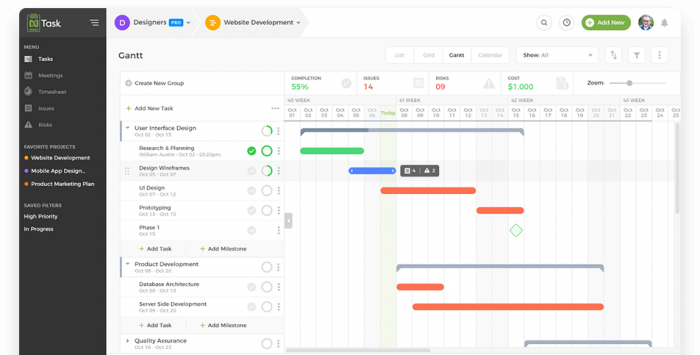 nTask is the dark horse of the project management world that has recently emerged on the scene and stolen the limelight with the best of the best project management features and very reasonable pricing.
Its easy-to-use interface and appealing design make it one of the best picks for PMs. As one of the best alternatives to Freedcamp, nTask does not disappoint in terms of robust collaborative features and efficient project management.
With nTask, you can manage your projects, tasks, issues, meetings, risks and also, time-track the developments in your project. You can avail all these features at an incredibly low price and quickly adapt to nTask's user interface.
Comprehensive project management with which you can not only plan your projects but can also effectively communicate with your team members, track task progress, and visualize the progress via Gantt charts and Kanban boards.
Task management allows you to plan your tasks with to-do lists and task dependencies along with resource allocation, task tracking, and task visualization.
Smooth organization and communication via Kanban boards. In addition, you can customize statuses, set priority statuses for each task, and use built-in templates for your projects.
Gantt charts allow you to schedule tasks, meetings and manage every aspect of your project in a single platform.
Efficient team management with the ability to control access, and personalization for better efficiency.
With time tracking software, you can plan and budget your projects. An automatic web timer helps you work from a unified platform so that you do not have to juggle between different apps and platforms.
You can manage and schedule meetings via the meeting management It also allows you to discuss important points with your team members, set time and date for the meeting, and much more.
Track issues with online issues and bug tracking software. You can also set the status for each issue and assign resources to resolve the issue as soon as possible.
Online risk management software makes it easy for you to identify risks, assign risk owners, create mitigation plans, and ensure the successful delivery of the project.
Extensive security with two-factor authentication
Easy third-party integrations
Reminders, alerts, and notifications for regular updates
Pricing:
Basic plan – Available free of cost
Pro plan – $3/user/month
Business plan – $8/user/month
Enterprise plan – Contact nTask's team for the pricing.
The best Freedcamp alternative to organize projects.

Manage projects, tasks, resources, and timesheets all in one place. Sign up today!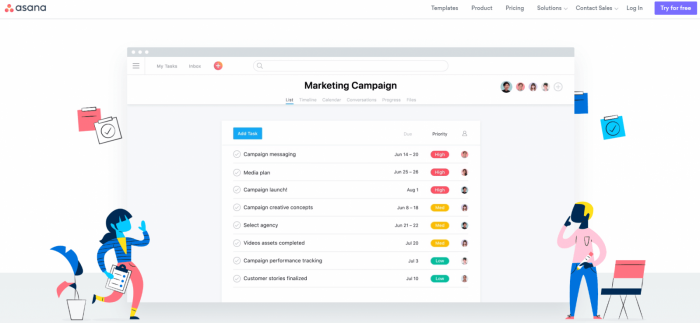 Asana is a leading name in project management software valued for the plethora of features it offers and its ease-of-use.
This Freedcamp alternative, in particular, has a lot to offer to its users. The tool allows users to personalize their workspace so that they can mold the workflow according to the requirements of their project and their team.
Key Features:
Asana boards allow you to track the progress of your work, identify the action plan, and quickly take action to stay on track.
You can use the timeline to devise your project plan and understand how different pieces of the project come together to form a whole.
Automate manual recurring tasks to save time and efforts
Streamline your workflow with Forms
Adjust your schedule, identify loopholes and overlaps and make necessary amendments via the calendar
You can keep an eye on the real-time developments in your project in Portfolios.
Efficiently manage your team and make sure that none of your team members are lagging.
Multiple workflow options i.e. calendar, list, boards, etc.
100+ integrations with third-party apps
Pricing:
Basic plan – Free forever
Premium plan – $10.99/user/month
Business plan – $24.99/user/month
Enterprise plan – Contact the Asana team for custom quotes.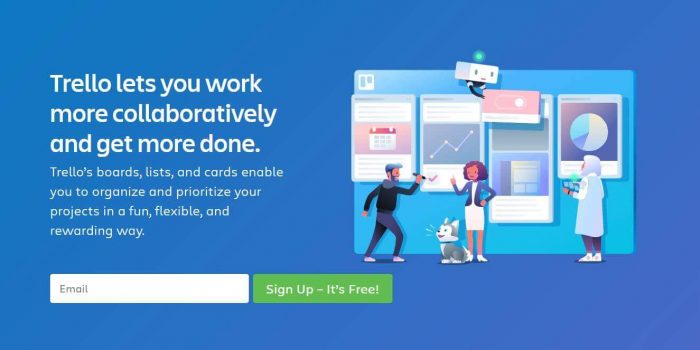 Trello has landed on number 3 in our list of the best Freedcamp alternatives due to the simplicity and creativity it offers to its users.
Trello is very easy to get used to and offers a bunch of unique features that make project management a piece of cake. This project management tool is an easy and flexible solution to your project management needs.
Key Features:
Trello Kanban board for easy organization and management of tasks and subtasks
Manage, track, and share tasks cards with your team members
Built-in automation tool, Butler to automate recurring tasks
Easily connect with third-party apps for smooth working
Allows you to leave comments on tasks to streamline feedback
Reminders and notifications via email
Organize tasks with tags, labels, and categories
Drag and drop workflow management
Customization to personalize your workspace
Pricing:
Free plan – Free of cost
Business-class plan – $10/user/month
Enterprise plan – Pricing available on further contact
Related:
Trello vs Asana – Who Wins the Battle?

Monday is your go-to software for efficient project management. Over the years it has managed to stay on top due to the variety of features it offers and its user-friendly interface.
If you are looking for flexible and transparent software that can help you enhance your productivity then Monday should be your first choice. With this tool, you can easily divide your project into smaller tasks and subtasks, assign resources to each task, and track the progress of the project.
Key Features:
Keep track of all your tasks in one workspace
Plan, manage and track your project from start to finish
Efficient communication with team members
Easy access to the latest developments in the project
Stay updated with the progress of your project
Customize workflows using waterfall, sprint, or agile methodologies
Easy visualization
Pricing:
Individual plan – free forever
Basic plan – $8/user/month
Standard plan – $10/user/month
Pro plan – $16/user/month
Enterprise plan – custom ricing available on the contact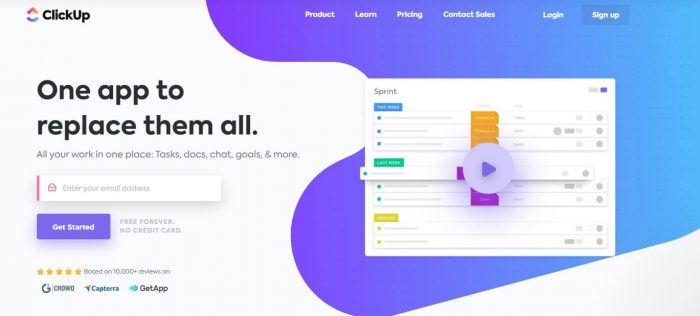 ClickUp is one of the newest Freedcamp alternatives with versatile features and affordable pricing. It has quickly gained attention from big giants such as Capterra and Inc. etc. It has also garnered positive reviews from its users for its easy-to-use interface and efficient functionality.
Key Features:
Multiple visual tools
Easily import data from apps
100+ proprietary features
Customizable spaces for enhanced productivity
Simple checklists and advanced workflows
Customize colors according to your preferences
1000+ integrations
Available offline
Use the multitasking toolbar to manage your tasks
Pricing:
Free plan – Free forever
Unlimited plan – $5 per user per month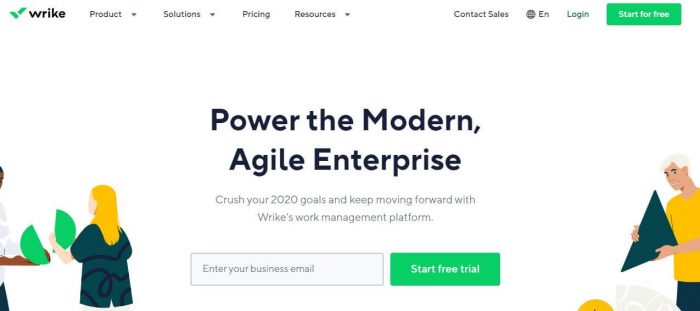 If you are looking for an overall efficient Freedcamp alternative then Wrike should be one of your priorities. It is a powerful project management tool with which you can enjoy the benefits of several unique features like task management, project management, and much more.
Key Features:
Unified team communication
Easily create tasks and assign them to your team members
Easy-to-use interface and quick adaptability
Customizable workspace so that you can personalize your work and improve your productivity
Readymade templates available for immediate use
400+ software integrations
Detailed, automatic report generation to track the progress of your project
Wrike app available on iOS and Android
Interactive timelines
Pricing:
Free plan – $0/user/month
Professional plan – $9.80/user/month
Business plan – $24.80/user/month
Enterprise plan – Contact Wrike team for pricing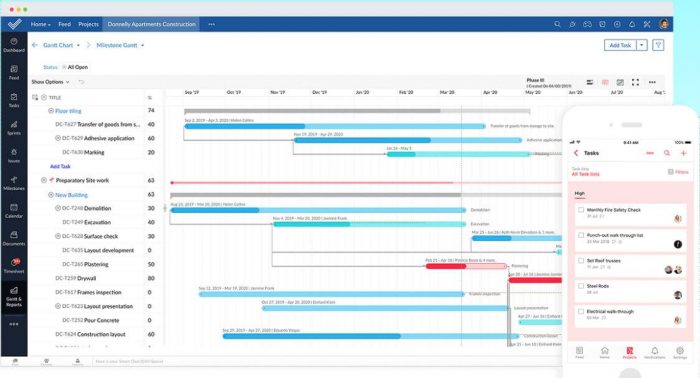 Zoho Projects is our number 6 pick as an efficient Freedcamp alternative. This cloud-based project management tool can help you increase your productivity and work more efficiently.
With Zoho Projects, you can plan your projects, track your work efficiently, and communicate and collaborate with your team anywhere anytime.
Key Features:
Plan your projects and track your task schedules with Gantt charts
Easy-to-use interface for quick adaptability
Seamless integration with third-party software and Zoho apps
Available on iOS and Android
Easily track issues so that you can resolve them as early as possible
Collaborate with your team efficiently
Create a project baseline so that you do not stray from your path
Pricing:
Free plan – available for free
Premium plan – $5/user/month
Enterprise plan – $10/user/month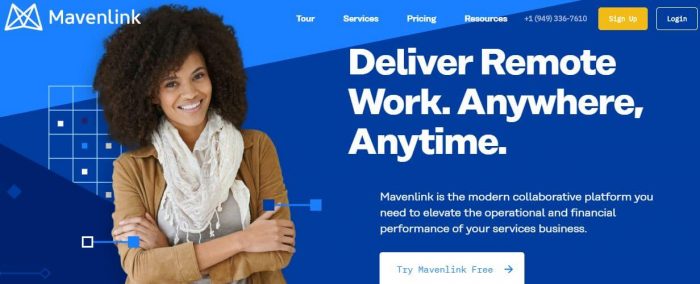 Mavenlink is another Freedcamp alternative that has managed to land at number 7 on our list because of its powerful project management modules. You can use Mavenlink for efficient resource planning, advanced project management, collaboration, and financial management.
Key Features:
Efficiently manage your resources through resource estimation and resource scheduling
Customize portfolios according to your requirements
Use project cards to visualize the progress of your project
Use a unified data model to see the progress in relation to the timeline and budget
You can also use Mavenlink for efficient project management, resource management, team collaboration, project accounting, and business intelligence.
Effectively communicate and collaborate with your team
Pricing:
Teams – $19/user/month
Professional – $39/user/month
Contact Mavenlink's team for price quotes for Premier and Enterprise plan

Smartsheet is number 8 on our list of the best alternatives for Freedcamp. It is a flexible and reliable tool for all kinds of businesses. Smartsheet offers a wide range of features such as resource management, document management, and much more.
Smartsheet is highly customizable and gives PMs the liberty to personalize their workspace for efficient working.
Key Features:
Easy-to-use
Efficiently break your projects into smaller deliverables, assign resources, and track your progress
Use Kanban boards to visualize your work progress
Set reminders for deadlines
Seamlessly integrate with enterprise tools and apps
Customized themes for personalization
Collaborate, mane and report in real-time
Downloadable summary reports
Switch between different visualization methods for more efficient working
Pricing:
Individual plan – $14 per month
Business – $25 per user per month
Pricing for Enterprise and Premier plans can be obtained by contacting team Smartsheet
Check this out:
What Is the Best Project Management Software? ClickUp vs Trello vs nTask
Over to You!
If you are working on a bigger level and are looking for project management software that can help you to organize and manage complex simultaneous processes, then you should explore various options before making a decision.
Let's be honest. Software licenses are often expensive. Even if you sign up for SaaS monthly payments, they, too, can incur a heavy bill at the end of the month.
Ensure that the Freedcamp alternative that you're considering should meet your company's requirements. Ideally, that can be done with the help of the free evaluation account/ version of the said software.
Once you have drawn a comparison and analyzed the overlaps you will be able to make a better decision for the success of your project.
You can use the information listed above for each software to make the final decision.
Best of luck!