Smartsheet is a project management tool that essentially relies on a spreadsheet format for managing projects and tasks. Introduced in 2006, with a major redesign in 2010, the platform serves as a single systematic and flexible solution for all the task management needs of a team. This article will review the best free Smartsheet alternatives that can help your business and personal gigs.
Being a spreadsheet program at its core, Smartsheet already calls for multiple alternatives. Although it has extensive features that cater to the project management needs, let's be realistic! There's not a single tool that can be the gold standard for fulfilling all the project management needs of an organization. The same goes for Smartsheet, because for a few reasons.
Why You Should Look for Free Smartsheet Alternatives
Time Tracking
Being able to track the time associated with each and every project is one of the most critical aspects of project management software. Smartsheet doesn't come with extensive time tracking features. You cannot track the time you've spent on a particular task, and that tends to be one of the biggest drawbacks of the tool.
Real-time Chat
For timely collaboration among team members, real-time chat features or comments within tasks should be a core element. Smartsheet doesn't come with real-time chat options for team members to collaborate on the project progress.
Limited Functionality of Reports
Although Smartsheet does have a reporting feature, it's too complicated to use. For a fully functional project report, users have to go through multiple steps and personally create a report. This is time-consuming, as well as frustrating.
Expensive
In contrast with the majority project management tools available freely in the market, Smartsheet can come off as quite expensive. With only a 30 days free trial period and upgrades starting from $14, Smartsheet calls for other cheaper alternatives to consider.
Due to these limitations, we've gathered some of the tried and tested free Smartsheet alternatives for you to choose from. They are: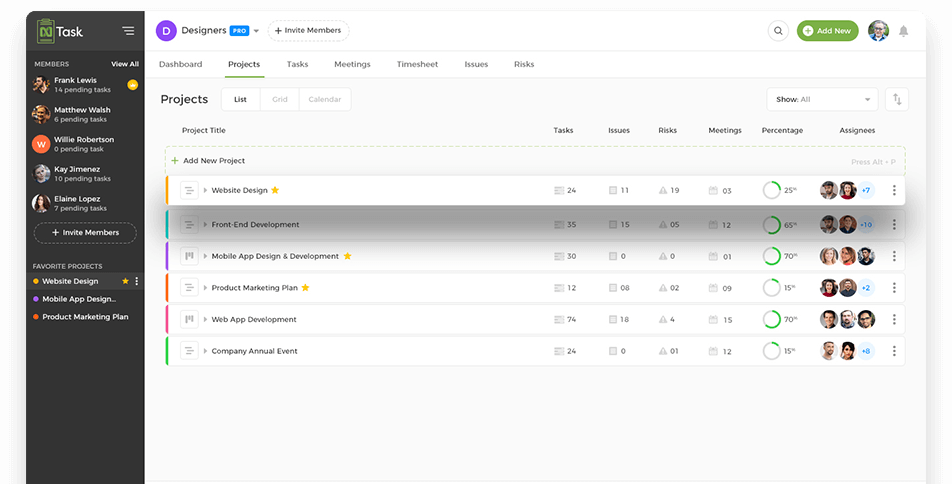 The top spot on this list of free Smartsheet alternatives goes to nTask.
A versatile project management software equipped with an intelligent toolset that caters perfectly to all individual as well as team task management needs. With a simple user interface and smartly developed features, nTask facilitates seamless storing, processing, and monitoring of project performance – all under one roof.
Simpler project management with nTask, absolutely free!

5 workspaces, task management, project Gantt charts, bug and issue tracking and a lot more.
Key Features
Projects and tasks management
Recurring tasks management
Time tracking with activities
Task comments
Timesheets
Multiple workspaces
Reminder notifications
Search filters
Integration with Slack
Pros
Meetings Management to effectively execute meetings
Issues and Risks management to tackle their occurrence likelihood
Built-in Gantt charts for timely reporting
User-friendly interface
Powerful task filters
Kanban boards for workflow visualization
Create tables in description or comments editor
Free forever version and affordable upgrade
Cons
No availability of rich tables like MS Excel or Google Sheet for now
No public links for Projects or Kanban Boards
Feature of chat within tasks not available, however, comments can be made
Pricing
Free – Unlimited free workspaces, unlimited tasks, unlimited meetings, 5 MBs file attachment size, 100 MBs of storage space, issues tracking, timesheets.
Premium – Starting at $3 user per month, unlimited projects, and Gantt Charts.
Business – Starting at $8/user per month, unlimited risks, risk matrix, and custom fields.
---

Next up on our list of free Smartsheet alternatives is Basecamp. It's an online project management tool providing collaboration solutions to small and medium-sized organizations. Coming with a diverse toolset, Basecamp tries to provide a single platform to users for effectively managing their projects.
Key Features
To-do lists management
Tasks scheduling
Messages board
Group chat rooms
Clients portal
Hill charts
Project reports
Documents management
Notifications
Search filters
Pros
Simple user-friendly design
Simple to-do list management
Easy drag and drop for uploading files
Check-in questions for status updates
Clients access portal
Personalized themes for workspaces
Cons
Basic project management features
No recurring tasks management
No time-tracking with activities
No built-in chat features. Campfire sign up is required for availing it
Does not offer functionality for project budgeting
Pricing
$99 per month – unlimited users, unlimited projects, all features, 500GB of file storage
Basecamp comes with a free trial of 30 days.
See also:
The Top 10 Free Basecamp Alternatives To Use in 2023
---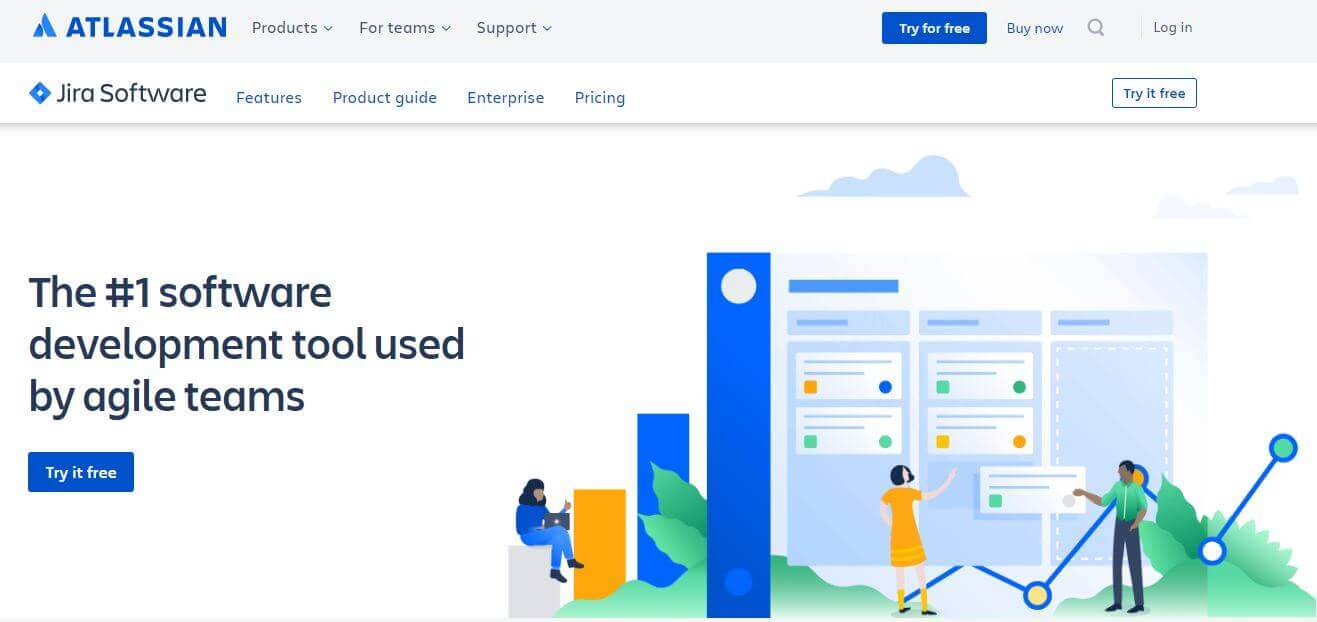 Third, on our list of free Smartsheet alternatives is Jira. Considered a #1 software chosen by agile teams for software development, Jira makes a pretty strong contender for Smartsheet. The tool allows teams to use workflow mapping and agile reporting techniques to make sure projects are executed efficiently.
Key Features
Kanban and Scrum boards
Powerful reports
Customizable dashboards
Project roadmaps
Custom search filters
Sprint management
Backlog management
Bug and issues tracker
Third-party application integrations
Pros
Advanced project management features for Agile teams
Numerous progress tracking reports
Customizable Scrum boards
User stories mapping
Affordable plans
Cons
Requires extensive configuration to set up
Complex functionality
Steep learning curve
No free version
Pricing
Up to 10 users: $10 monthly
11-100 users: $7 per user/month
More than 100 users: upon request
Jira offers a free trial of 7 days.
See also:
Top 19 Jira Alternatives for Smarter Project Management in 2023
---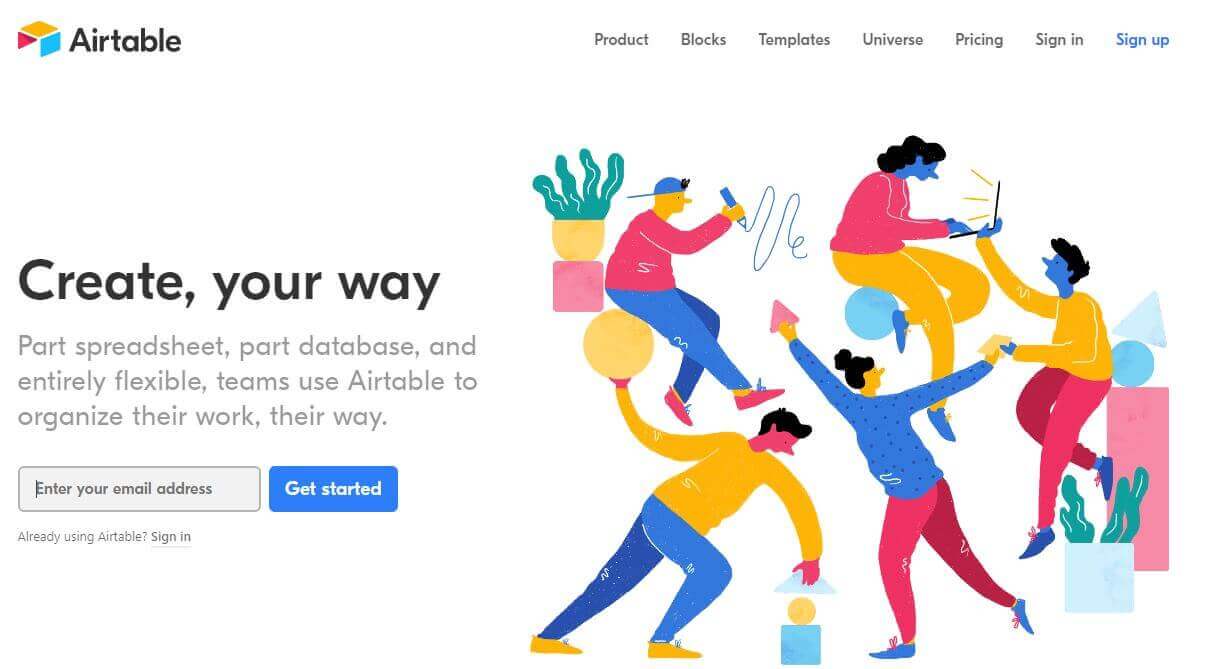 Airtable is a cloud-based project management software that combines the functionality of a task management tool and a spreadsheet to provide the most user-friendly experience while managing projects. As a free Smartsheet alternatives, Airtable comes with a pleasing design and easy interface to help users have fun while getting things done.
Key Features
Multiple views for tasks management
Video chat with team members
Time tracking with activities
Pre-built project templates
Issues and bug tracker
Powerful project sorting filters
Client project tracker
Safe file attachments
Multiple third-party application integrations
Pros
Light and user-friendly interface
Clutter-free features
Users can create multiple databases in one location
Compatibility with multiple devices
Numerous built-in project templates
Cons
Primarily a data storage and visualization tool
Limited functionality of time tracker
No meeting management features
Limited functionality of progress reports
Pricing
Free: unlimited bases, 2GB attachment space with each base, other essential features
Plus: $10 per user/month, unlimited bases, 5GB attachment space, other essential features
Pro: $20 per user/month, unlimited bases, 20GB attachment space, essential and advanced features
Enterprise: upon request, unlimited bases, 1000 GB attachment space, essential and advanced features with maximum support and admin controls
Also Read:
The Best Free Airtable Alternatives of 2023
---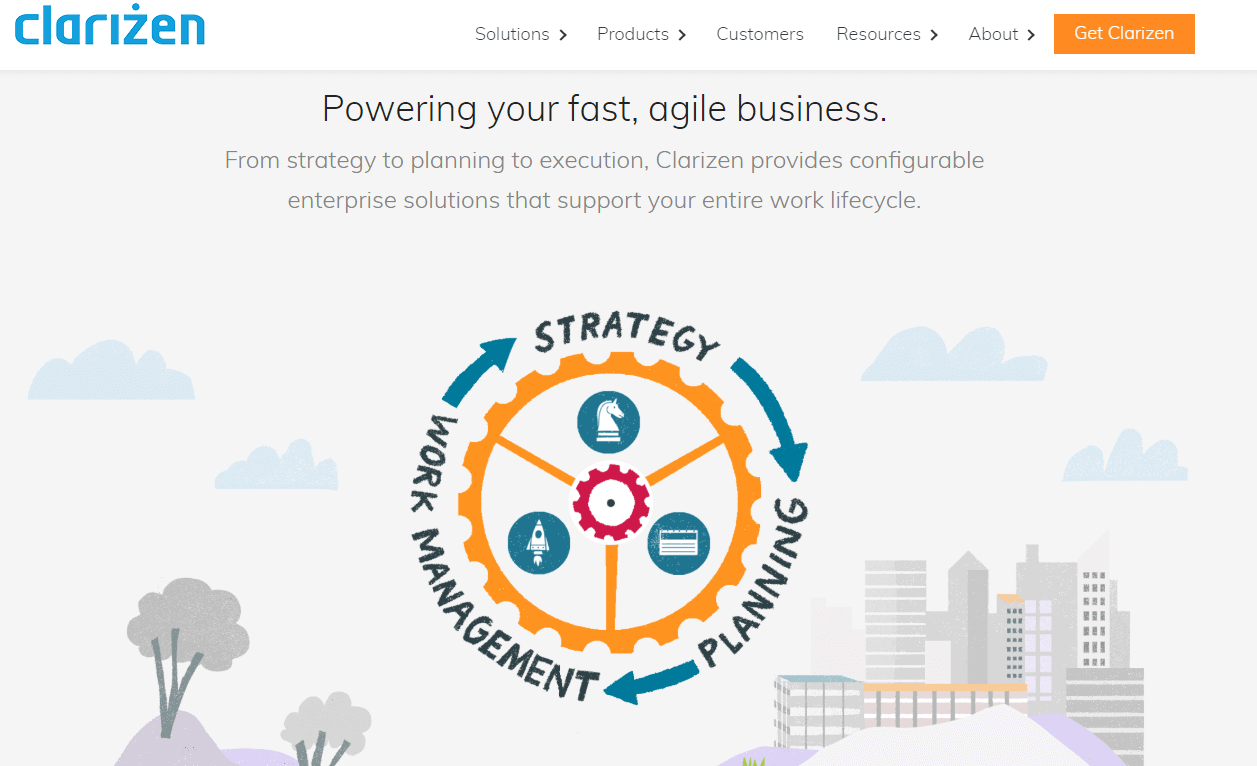 The 5th tool in our collection of best free Smartsheet alternatives is Clarizen. It's a collaborative work management solution designed and developed for enterprises. Providing an option to configure workflows according to the team needs, Clarizen facilitates a highly customizable and advanced platform for project management.
Key Features
Projects dashboard
Project portfolio management
Resources management
Timesheets
Documents management
Expense sheets
Risk analysis and control
Gantt charts
Project financial management
Pros
Easily customizable
Advanced functionality
Advanced project planning
Web portals for multiple teams
Integrations for easy collaboration
Cons
Can be too advanced for small teams
Too many complicated features
Not too user-friendly
Expensive in comparison to other tools
Pricing
Enterprise Edition: $45 per user per month
Unlimited Edition: $60 per user per month
---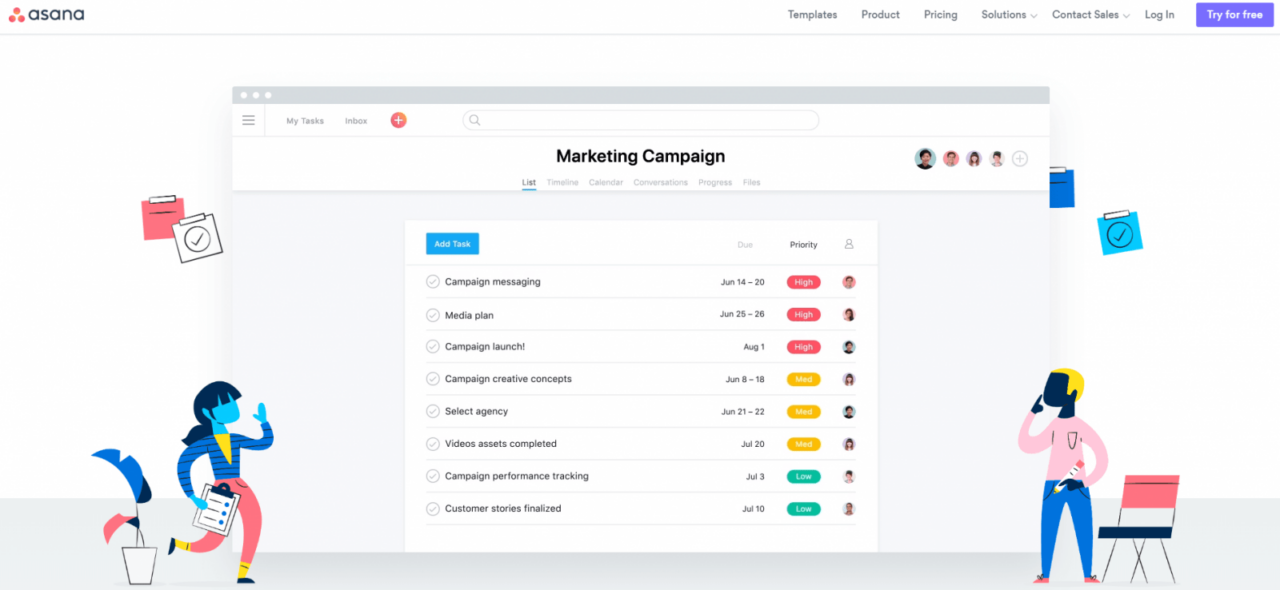 One of the top free Smartsheet alternatives that project managers love is Asana. Regarded as one of the most popular tools when it comes to project management, Asana allows you to smartly organize and tackle your project details with maximum efficiency.
The tool comes with multiple project templates, designed to serve diverse team types and their project needs. With multiple third-party application integrations, Asana makes sure you get everything done without switching applications.
Key Features
Tasks and subtasks management
Kanban boards for indicating workflows
Native project templates
Project timeline
File attachments and task comments
Milestone tracking
Backlog management
Sprint management
Issues and bug tracking
Third-party application access
Pros
Advanced tasks management
Built-in project templates for quickly getting started
Project timeline management
Effective for large teams and multiple projects
Dedicated feature set for agile teams, like backlog management
Cons
Native time tracking missing
Multiple assignees missing
No risks management
No meeting management
Limited features in the free version
Pricing
Basic: for teams who are just gearing up
Premium: $9.99 per user/month for teams to create project plans effectively
Business: $19.99 per user/month for large teams
Enterprise: customizable plan for organizations who need more security and controls
---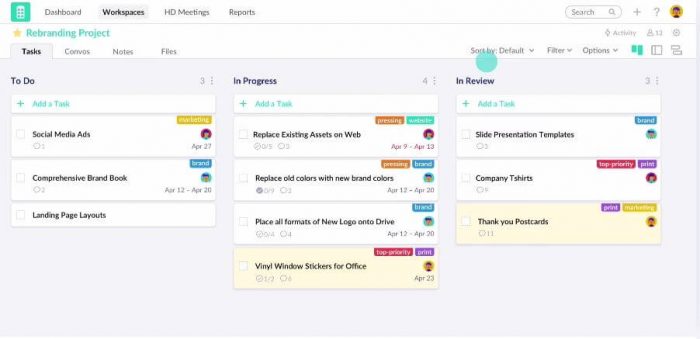 Redbooth is a project management software that comes with a dynamic feature set, enabling teams to manage their projects successfully from initiation till project closure. This free Smartsheet alternatives comes with a beautiful and intuitive user interface.
Through the dashboard, you can quickly view your urgent tasks and take a quick glance over your project performance. Furthermore, remote teams can take advantage of HD video conferencing mode to hold virtual team meetings whenever required.
Key Features
Kanban boards for workflow visualization
Dashboards to get a glimpse of project performance
Gantt charts to schedule projects
HD video calls functionality
Multiple assignees of tasks
Chat and file sharing within tasks
Resource workload management
Third-party application integrations
Pros
Simple user-interface
Gantt charts for project scheduling
Video calls for geographically dispersed teams
Quick team collaboration features
Free version available
Cons
Very limited features in the free version
Automatic time tracking with tasks is missing
No issues or risks management
Can seem too simplistic for enterprise-level project management
Pricing
Free: basic project management features for up to 2 users and 2 workspaces
Pro: $9 per user/month – unlimited workspaces and HD video meetings, among other features
Business: $15 per user/month – resource management, and much more
Enterprise: customizable plan with maximum controls
---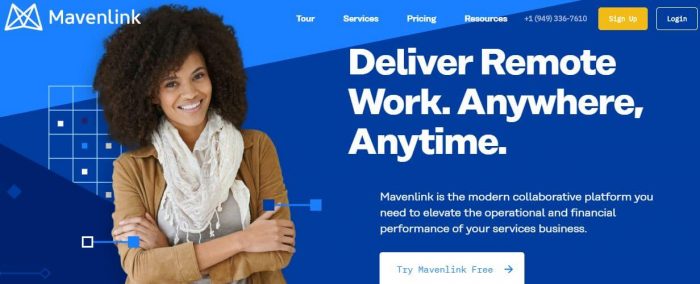 If you're looking for more than just basic project management, Mavenlink is the right Smartsheet alternative for you. Coming with a solid feature set of project management, resource management, business intelligence, and team collaboration, Mavenlink seems to cater it all.
Through Gantt charts, you can plan and monitor your project performance effectively and streamline operations along the way. Additionally, your project portfolio facilitates in evaluating your overall project health in a better way.
Key Features
Built-in project templates
Gantt charts for project scheduling
Resource management
Project portfolio management
Team conversations and mentions
Profit margin calculations
Timesheets for tracking time
Invoice management for billing clients
Customized project access and permissions
Pros
A comprehensive solution for projects
Ability to set up multiple project templates
Powerful third-party integrations
Extensive reporting capabilities
Robust resource management features
Cons
Advance reporting only available with Premier and Enterprise plans
The tool has a steep learning curve
Automatic time tracker is missing
No mobile applications at the moment
Pricing
Team: $19 per month for 5 users – basic task management and team collaboration features
Professional: $39 per user/month – task management, Gantt charts, critical path analysis, among other features
Premier: custom pricing – advanced project management and resource planning features
Enterprise: custom pricing – all features
---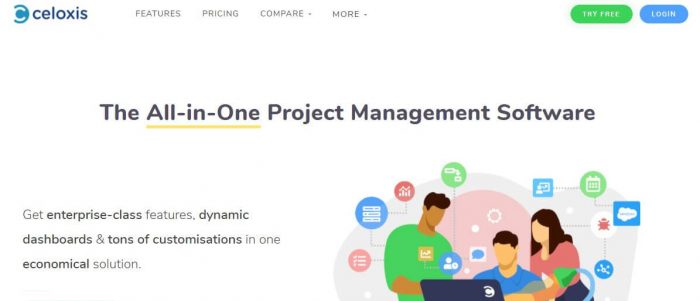 An enterprise-level project management software, Celoxis is a powerful Smartsheet alternative you can get your hands on. Perfect for medium to large-sized organizations, Celoxis helps manage complex projects through native solutions.
These solutions range from easy project planning to more advanced resource management. Through the customizable project portfolio dashboards, you can easily monitor your project KPIs and make informed decisions faster.
Key Features
Gantt charts for project scheduling
Project portfolio management
Profit and expense tracking, along with revenue forecasting
Online discussions for team collaboration
Automatic task timers for tracking time
Activity stream to keep everyone updated
Custom dashboards to get quick insights
Multi-language support
Pros
Full-featured project management solution
Wide variety of project reports
Available in multiple languages
Array of third-party integrations available
Customizable dashboards which make monitoring easy
Cons
No in-app chat functionality
No free plan available
The interface can seem overwhelming for beginners
Pricing
On Cloud: $25 per user/month – minimum 5 users
On-Premise: $450 per user, billed once – minimum 5 users
---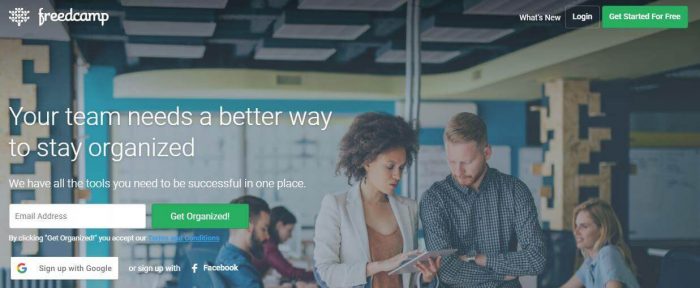 Freedcamp is a free Smartsheet alternative that makes the managing of multiple tasks quick and easy. The tool comes with an internal wiki to keep all the organization's data in one place to be accessed at any time you want.
Through milestones, you can create significant project events and give your team something to look forward to over the course of project lifecycle. Moreover, with the issue tracker, your project issues can be easily tracked and resolved within due time.
Key Features:
Tasks and subtasks management
Pre-built project templates for recurring projects
Kanban visualization of workflow
Gantt charts for project planning
Milestones to track your project's significant events
Wiki for keeping all your team data in one place
Time tracking, along with invoice generation
Issue tracker for tracking and managing issues
Third-party application integrations
Pros
Best suited for teams working on multiple projects
Easy to set up, with a user-friendly interface
Free plan available
Option to set personal tasks private
Streamlined team collaboration through discussions
Cons
Limited free features
Time tracking only available in paid plans
No dedicated meeting management module
No risks management
Pricing
Free: unlimited projects, users, tasks, and storage, along with some integrations
Minimalist: $1.49 per user/month – unlimited users, integrations, recurring tasks, and more
Freelancer: $3.49 per user/month – all the core task management features with calendar sharing
Business: $7.49 per user/month – all the advanced features with weekly backups
Enterprise: $16.99 per user/month – all features with daily backups
---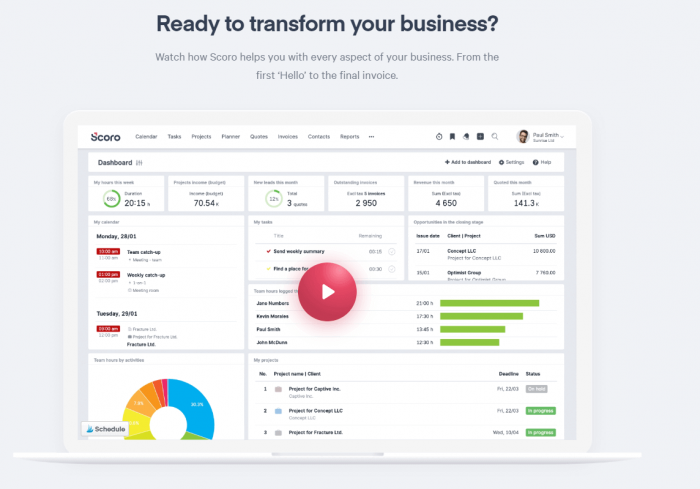 Scoro comes as another handy recommendation on our best & free Smartsheet alternatives list. It is a robust solution with an ability to combine all kinds of features needed for increased workflow.
Side effects of using Score are optimal performance, contact management, team collaboration, multiple billing modules, and vice versa. Of course, Scoro is not a perfect task management tool. There are some setbacks here n' there.
However, as a Smartsheet alternative, Scoro brilliantly works to fulfill all end-user requirements.
Key Features:
Manage financials for each project through different billing options.
Compare billable and non-billable work hours to estimate expenses.
Collaborate with team members and stakeholders through 3rd party app integrations.
Offers a beautiful interactive dashboard with a minimalistic design.
Pros
Bigger project overview at a glance
See visual progress with a timeline
Task automation
Monitor resources
Can use it as a CRM tool
Cons
No free plan
Costly for startups
A bit complicated for new users
Difficult to implement agile methodology
Pricing:
Scoro's base plan starts at $26 per month.
---

We have mentioned Bitrix24 a couple of times in our other write-ups. Overall, it is a well-rounded task and project management program. The tool is overlayed with several social media collaboration features, communication management, file sharing, tasks, and contact monitoring functions.
Bitrix24 developers reportedly release new updates to keep up with the competition. To that end, they also listen to customer feedback and try to add many user-requested features to offer a more personalized experience to power users.
As a free Smartsheet alternative, Bitrix24 comes packed with followed features.
Key Features:
Social intranet for internal communication.
Gantt charts for understanding project timelines and deliverables.
Employee workload, billing, and process management.
Integrates with Telephone for contact management.
Pros
Easy to organize documents
Simple all-in-one solution for work management
Free plan available
Easy to streamline activities
Cons
Users complained about some functionality errors
Complicated for beginners
Not so user-friendly UI/UX
Pricing:
Bitrix24 is free to use at the cost of limited functionality.
Paid plans start at $48 with an addition of unlimited features, extra storage space, and much more!
---

Another fine example on this list would be Workzone. The application is an amazing project management tool that helps with your document management efficiently.
Created in 2002, Workzone is recognized for a number of features. Some of the key highlights are appended below.
Key Features
Task Dependencies
Automated reports
Email alerts
File versioning
Full-text search
Group calendar
Individual to-do lists
Project templates
Approvals workflow
Custom branding
Expense tracking
Flexible permissions
Gantt chart
Image markup
Project request forms
Projects overview dashboard
Pros
Easy to use
Excellent customer support
The amazing project management application
Overall a great Smartsheet alternative
Cons
The search functionality needs to be improved
Pricing
Contact the company for a price quote
---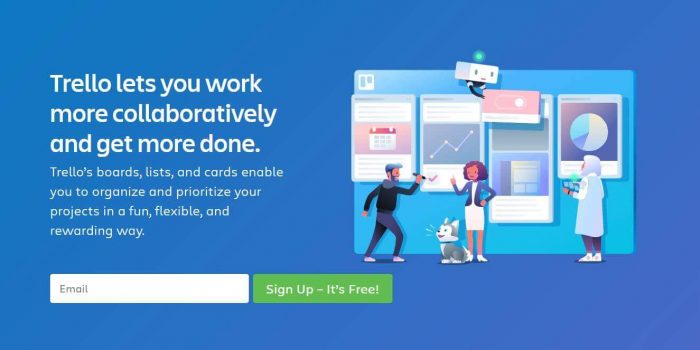 Another great alternative to Smartsheet is Trello, which uses interactive boards to keep track of all of the different projects and the tasks related to them.
Key Features
Easy uploading of files and attachments
Data filtering
Card records archive
Upload attachments
Information retrieval and back-up
SSL encryption of data
A quick overview of the task or board entity, on the front and back of cards
Pros
All of the internal and external stakeholders (vendors or clients) can be invited to have a look at the work-boards
All of the information can be converted into a PDF document which you can print out to take a second look in the future
All of the information you create or interact with can be synced across all of the devices that you use
Cons
A limited number of features if you want to use it as your project management daily driver software
Especially weak to make estimates about the different dependencies and budgets associated with the project
The reporting features that let your team know about the problems regarding the project are quite weak
Pricing
Paid subscription starts at $12.50/month
---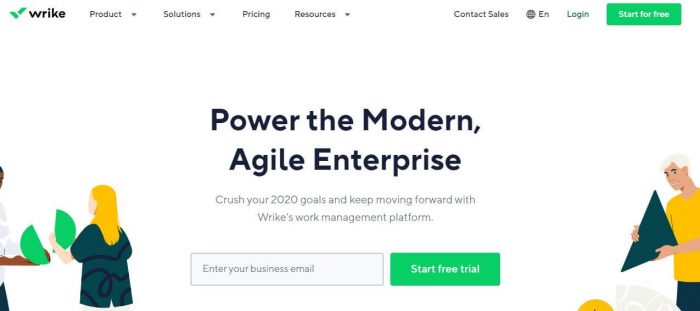 One of the best project management software out there, Wrike is an incredible tool that you can use to track and manage all of your tasks and processes related to your project.
You can also track the reports related to your projects and with a push of a button, you can report all of those results to anyone you want.
The software is quite customizable, but if you are a mid-tier business or a fully-fledged enterprise-level behemoth, then this project management software is going to do wonders for you.
Key Features
Forms management
Planning tools
Progress reports
Project time tracking
Project workflow
Reporting & statistics
Role-based permissions
Shared workspace
Task management
Task scheduling
Personal dashboard
Prioritizing
Project reporting
Project tracking
Real-time reporting
Resource management
Secure data storage
Subtasks
Task planning
Task tracking
Pros
Integration with many different tools and apps that are used in the organizational paradigm
Users can collaborate to increase productivity
Amazing Gantt charting and custom timelines, so that the team can work how they want and when they want
Cons
The software is so extensive that sometimes users have complained that they have a hard time understanding it all
Pricing
There is a free trial of the software available to be used before you make a purchase
The paid subscription of the software starts at $9.80/month
---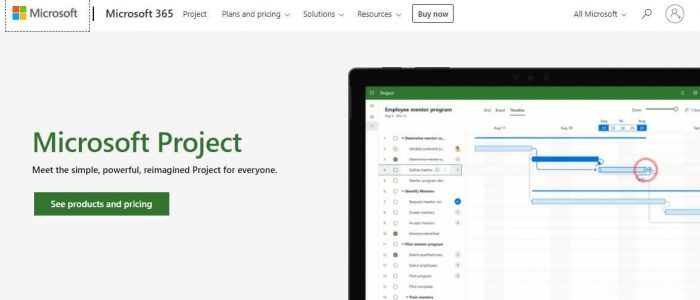 One of the leading pioneers in project management is the software Microsoft project, which has been a part of the market since the start.
The software is an incredible tool for project managers to track and manage their tasks and processes related to the projects that they are working on.
Key Features
Anywhere access
Burndown charts
Communicate in real-time
Discover and share information
Give effective presentations
Mobile task and time management
Out-of-the-box reports
Project management
Anticipate change
Built-in templates
Collaboration tools
Deliver projects successfully
Gantt charts
Milestones
Multiple timelines
Portfolio optimization
Project planning
Pros
Cloud-based online project management software
Mobile apps and a desktop version of this application are available so that you can manage all of your work on the go
Includes time and resource tracking as well
Cons
Not easy to learn
Not easy for smaller projects to make a mark for themselves in the interface, because they are overshadowed by the bigger projects
Pricing
A trial version of the application is available so that if you want to check the software out before making a purchase, you can do so
The paid subscription of the application starts at $10/month
See also:
Top 14 Microsoft Project Alternatives of 2023
SmartSheet Common Questions
1. How Many Rows of Data can Smartsheet handle?
Smartsheet is an incredible software that is capable of handling over 20,000 rows in a single sheet.
2. Is Smartsheet like Excel?
When it comes to core functionality, the two software are surprisingly similar as they are both "sheets" based data collectors, and have been used for general category project management.
But where Smartsheet takes the lead is the tracking feature to track the progress and status of the project that you are working on.
3. What is the Pricing Model of Smartsheet?
Here is the pricing model of Smartsheet.
There is a free trial available for anyone who wants to try the software before making the purchase
The paid subscriptions start at $14/month
Conclusion
We have listed some of the best Smartsheet alternatives that you can start using right now.
But don't forget that there are different software available for different business genres. You need to be thorough when you are searching for the best option.
On that note, compare different features and price ranges that the apps have – and scale them against the requirements criteria. Weigh out the pros and cons, and you will eventually get a handy tool for years to come.
What are your favorite free Smartsheet alternatives? Share your recommendations in the comments below.