This time, we decided to do a roundup of the best project management software and apps of 2023 for Agile teams and how they make project management a smooth experience for you.
When your project is poorly executed, it might be a consequence of poor planning and weak project management. Poor execution leads to drastic results ranging from, but not limited to, financial losses, resource wastage, and time wastage.
Project management is not a new term or a new concept. It has been around for eons, and the internet is flooded with project and team management techniques (both new and old).
Each day a new tutorial or a blog is there with insights into effective project management that one can use to cut the project blunders. We agree it becomes a wearisome task to find the best solution, out of the clutter, suited to your project needs.
We read so many project management blogs having roundups but none of them added real value to users. Some blogs didn't weigh in pros and cons, while others didn't pay attention to the nuances. Therefore, we decided to create our own list and tried out some free project management software available.
Benefits of Using Project Management Software
If you are one of those individuals that are considering just managing your project without investing in a project management tool, here are reasons why that may not be the best choice for both you and your team.
Many things can be gained from investing in a project management tool. Here are a few of the benefits you can expect to receive if you use a project management tool to help organize your project and help you in all things project management throughout the lifecycle of the project.
1. Easy and Effective Task Delegation
First and foremost, with project management tools you can get the benefit of effective task delegation and management.
With such tools, you can easily create tasks and assign them to individuals in your team. Your team members only need to see the software to know what they need to do when they need to complete it and what tasks are of top priority.
As a project manager, you also benefit from knowing which resource is available and how tasks are progressing.
2. Collaborate with Ease
Most project management tools, as you will see in our list below, also offer communication and collaboration features.
Project management tools make effective collaboration simple. Having a centralized place for all communication and collaboration ensures that everyone is updated on all relevant information, and they know where to go in case of confusion or questions.
3. Helps with Planning and Scheduling
As a project manager, you are likely aware that no project can be complete without proper planning and scheduling, and this is an important aspect of project management. Project management tools can help you with this too.
You can plan the entire project and have it accessible to all the relevant individuals within the app. Scheduling is a breeze too with the ability to set task due dates, the ability to set task priorities, and view this all graphically through Gantt charts and other such tools.
These are just three of the many advantages you can gain from using project management tools. So if we have convinced you to try and implement such a tool for your next project, let's get to our list of top picks.
With that said. Here is the complete list of the best project management software for 2023: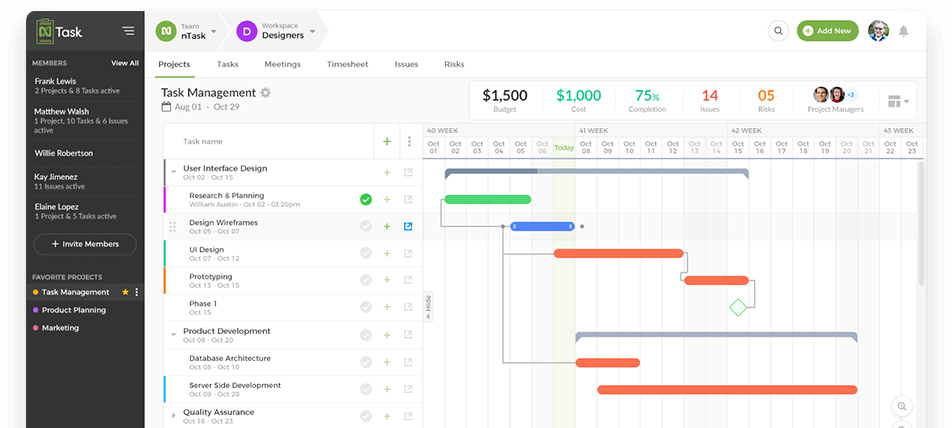 nTask is a relatively new, yet most versatile project management software available in the market right now.
It's an all-in-one tool that comes packed with the most intelligent features providing a smart overall coverage to all your project needs.
Through multiple native modules, nTask mitigates the need to constantly switch applications for effective project management. As a result, project managers can do more at a central platform without worrying about any loose ends.
The tool also ensures an intuitive and smooth experience on the application via a smartly developed user interface.
But, here's the best part…
Whether you're a freelancer, part of a small team, a member of a big corporation, or simply a blogger with lots of tasks at hand, the tool caters to a diverse range of professionals.
Let's have a look at some of the core features that placed nTask at the top of our list:
🌟Key Features
Some of the key modules nTask deals with are:
Projects: Track your project schedule through built-in Gantt charts and allocate resources accordingly
nTask Boards: Our latest update introduces interactive Kanban Boards to empower project managers of various skillset. Create multiple boards within different columns, bring in your team members, and move your favorite cards wherever you want.

Boards offer endless possibilities to anyone looking to get through projects via a robust visualization aspect.

Tasks: Create, assign, and track tasks through elaborate task management features. Set due dates, priorities, and statuses to keep your deadlines in check
Meetings: organize and manage your meetings efficiently by setting meeting agenda, jotting down key follow-up actions, and reviewing the meeting minutes
Multi-Language Support: Did you know that nTask offers multi-language support to non-native project managers, freelancers, and individual contractors? The software is used worldwide in language translations ranging from Arabic, Portuguese, French, Spanish, Chinese, and German.
Timesheets: Make time tracking hassle-free by smartly monitoring the time you and your team spends on particular activities
Issues: Associate issues with multiple tasks and timely resolve them by defining issue severity, issue priority, and issue status
Risks: Identify and analyze potential risks your projects are subjected to through nTask's risk matrix and develop a powerful mitigation strategy
Custom Fields: Create and add any field to your task, projects, risks, and issues board for personalized workflow management.
💸Pricing
The application comes with two main plans:
Free; the basic version of the application is available for free. If you work alone or with 5 team members, you can conveniently enjoy the free version and let nTask streamline all your work for you.
Premium; if your team wants to unlock projects and Gantt Charts, opt for the affordable premium plan starting at $3 per user per month. Keeping in view the amazing features, like unlimited team members and 5GB storage space, this price doesn't put a dent in your pocket.
Business; if you want to take your project management to the next level with Custom fields for personalized boards, risk management, user permissions, and better support, opt for the Business Plan starting at $8 per user per month.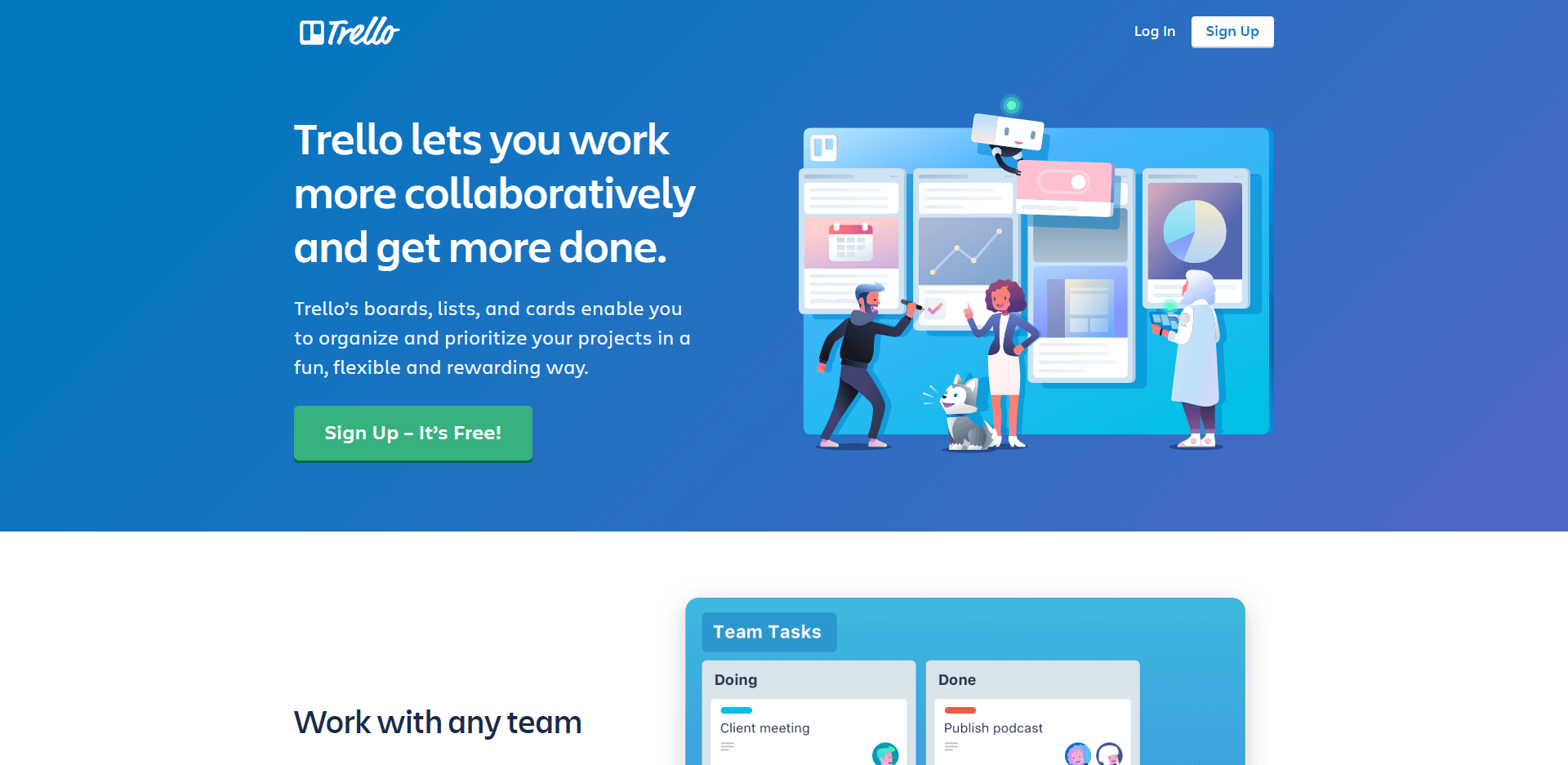 The second tool to make it to our list of best free project management tools is Trello.
At the moment, Trello is one of the most widely used project management software in the market with more than 1.1 million daily active users.
A task management tool working primarily on the principle of adjustable Kanban boards, Trello makes workflow visualization easy for you. It helps in instant tracking of all the tasks and activities that are in line, under progress, or have been done.
The boards are open-ended and can be edited in any way the user wants. The choice of making these boards private or public is also available for the users.
Key Features
Kanban boards for workflow visualization
Easy drag and drop of tasks to instantly indicate the status
Tags, labels, and categories for organizing tasks
Public and private access to boards
Email notifications and reminders
Checklists management for quickly checking off tasks
Comments within tasks for quick collaboration
File attachments to give context to your work
One of the best marketing project management software
Pricing
Currently, the software comes with three plans.
Free: Coming with the option of unlimited boards and attachments, this plan is most suitable for small startups and for the basic planning
Business Class: This plan is for teams and comes with upgraded or enhanced features. The price of the business class plan is $9.00 per user/month. Some of the key features of this plan are the private/public boards option, integration with other applications, and greater storage space
Enterprise: Designed for big corporations consisting of multiple teams, this plan is elaborate in terms of specifications and the prices are charged according to the no. of users
---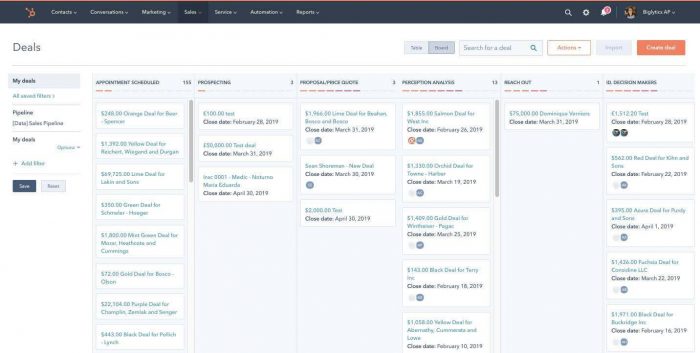 Often times, CRMs are not the first tools that come to mind when you think about project management. However, HubSpot's free-forever CRM can be a great asset, especially when you need to manage a sale or marketing-related project.
As with most CRMs, HubSpot offers plenty of features that can help get a project past the finish line: contact records, pipelines, deals, tasks etc. What's exciting about HubSpot — aside from the fact that it's free for an unlimited number of contacts — is that it also includes other features that can help you track information or communicate with your team and audience.
Key features
Contact Management
Deals and pipelines
Tasks
Forms
Email Templates
Email Scheduling
Email Tracking (Gmail & Outlook Integration)
Meeting scheduler (integration with Google Calendar and Outlook)
One of the best marketing project management software
Project portfolio management software
Pricing
100% Free Forever, an unlimited number of contacts
---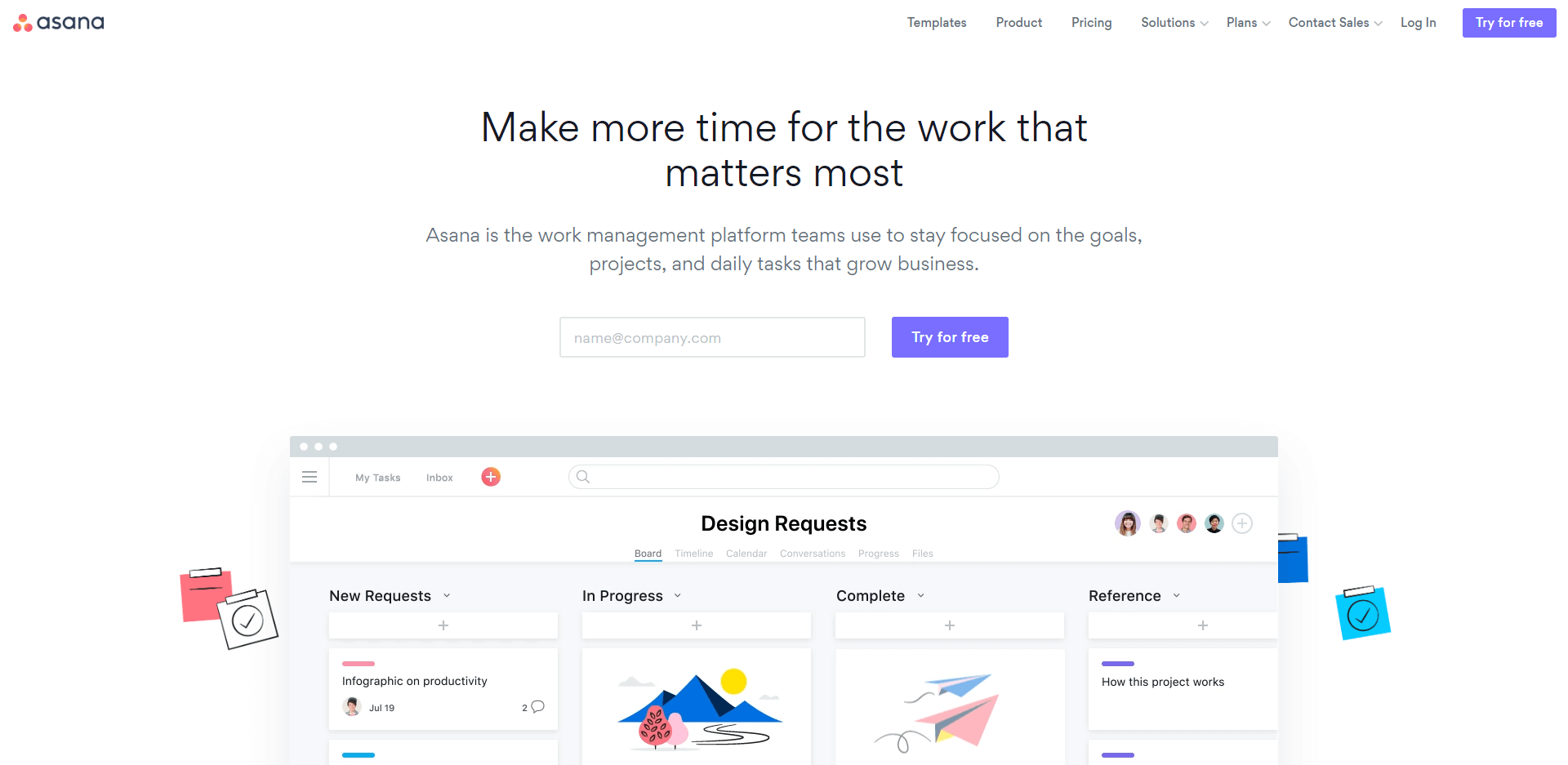 Asana is also one of the most commonly used free Agile project management software in the market. A powerful software, Asana comes with a specific set of features to effectively implement Agile methodologies, like sprint planning and backlog management.
You can choose from a vast library of built-in templates best suited to your team that needs to easily plan and manage your operations.
To track your team's work over time, use Asana's timeline functionality. They can be conveniently created for smooth time management and keeping track of your project's start and end dates.
Key Features
Tasks and subtasks management
Kanban boards for workflow visualization
Project timeline for managing deadlines
Comments within tasks for timely collaboration
Milestone tracking to keep significant events in check
Due dates and priority settings for tasks
File attachments to collaborate on important things
Sprint planning and sprint management
Backlog management
Multiple third-party application integrations
Asana project management software has a free version as well for individuals and small agencies
Enterprise project management software
One of the most popular project management software in the market
Project portfolio management software
Pricing
There are 4 pricing models of Asana:
Free: basic version. For small teams that are gearing up
Small teams: for small teams at a price of $6.25 per user/month. This package is essentially meant for startups and freelancers
Premium: $9.99 per user/month. The plan includes a wide array of features to choose from. The premium plans are usually available for entire businesses
Enterprise: a customizable plan that can be modified according to your team's preferences
The prices differ when billed annually or monthly.
---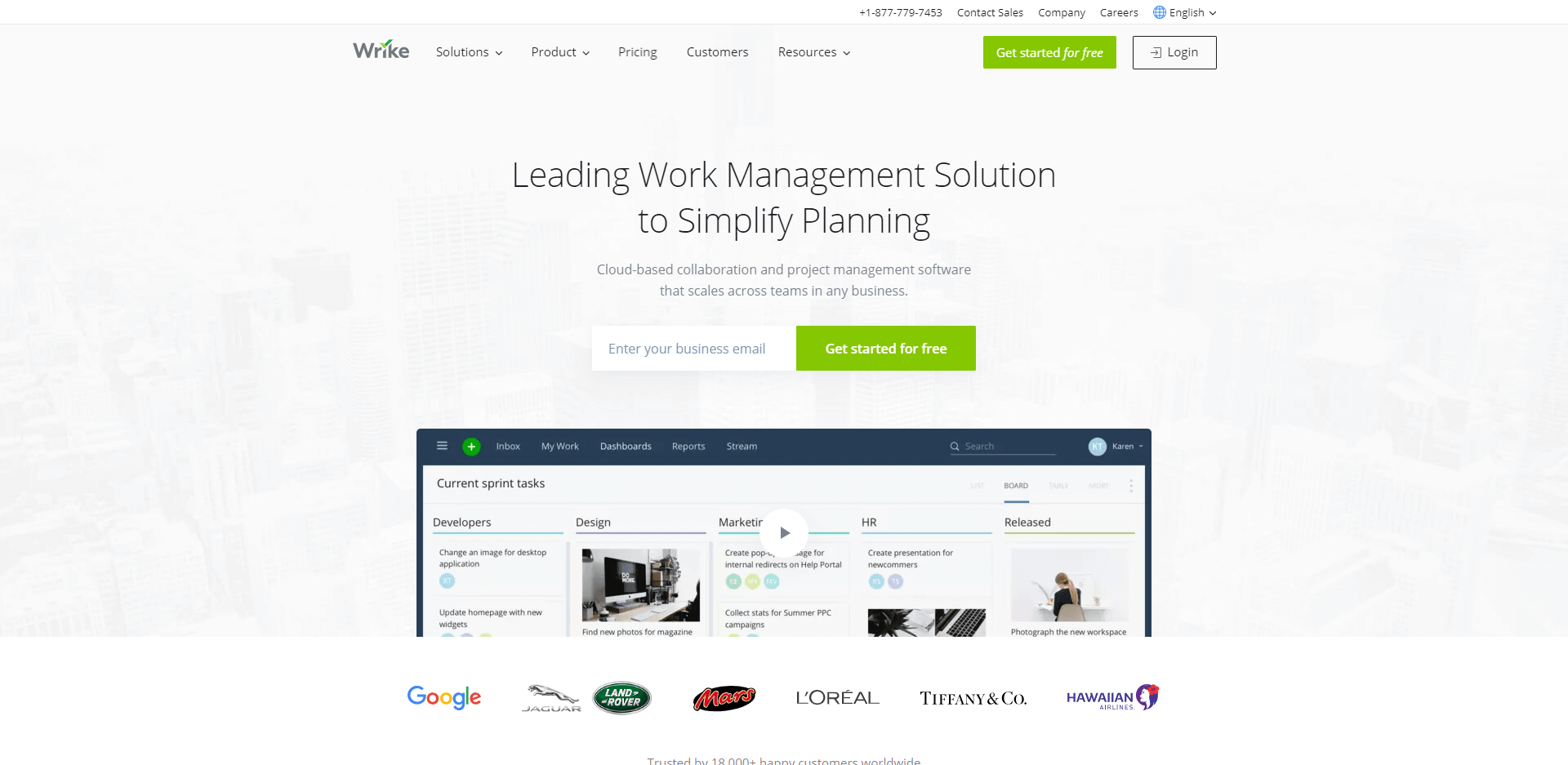 Coming with a robust set of features, Wrike is one of the first choices of managers when it comes to project management.
Suited for teams of every size, Wrike provides flexibility while getting things done. The dashboard of the application comes with multiple useful features like my overdue tasks, due this week, and overdue, etc.
Furthermore, you don't have to worry about losing track during team discussions, as the live activity stream and team member mentions make your work easy for you.
Key Features
Some features of this free tool are:
Tasks and subtasks management
Time tracking with tasks
Pre-built project templates
Gantt charts for visualizing the project schedule
Live activity stream for staying up to date
Team mentions for referring to a relevant team member
A workload view for better resource management
Custom user groups to ensure secure information exchange
Progress tracking reports monitoring performance
Enterprise project management software
One of the most popular project management software in the market
Project portfolio management software
Pricing
Coming towards the pricing of this software, Wrike comes with a range of options to help users select the plan according to their need:
Free: a simple plan that accommodates 5 users at a time
Professional:5-15 users who can plan and collaborate on the full project. $9.80 per user/month
Business:5-200 users. This plan works for businesses at $24.80 per user/month
Marketers:5-unlimited. With unlimited users option, this plan offers customizable services in $34.60 per user/month
Enterprise: the last plan is also for unlimited users, but comes with enhanced security and control options for the users
---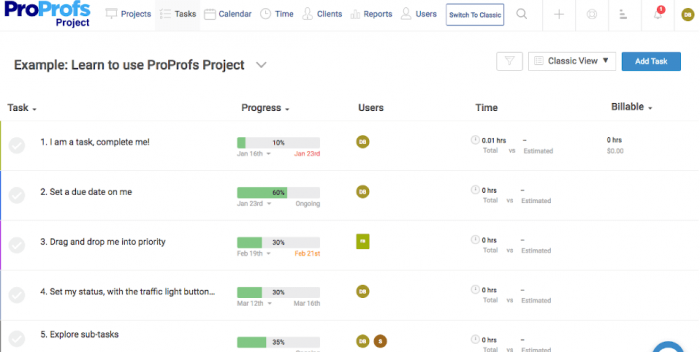 ProProfs Project is a well-developed project management software that has a user-friendly interface and offers a gamut of features. Even mobile apps are available for both Android and iOS platforms, which enables its users to handle immediate project-related requirements on the go.
Although this project management tool is easy to use, 24/7 customer support is available on various service channels like telephone, live chat, and email. It allows users to get a satisfactory resolution to their queries within a couple of minutes.
Key Features
Gantt charts for the visualization of project progress
Easy drag and drop to prioritize projects
Task comments for quick collaboration
Swift email notifications
Calendar view for planning tasks for the entire month
Time tracking to calculate productive hours
Automated invoicing for flawless client billing
Powerful reporting to get insights into team performance and task progress
Pricing:
Free Plan – This plan doesn't cost you a dime and lets you use all basic features for up to 3 projects
Essentials Plan – This plan starts from $2 user/month (billed annually) and enables you to use essential features for up to 50 projects
Premium Plan – This plan starts from $4 user/month (billed annually), and you can use premium features for unlimited projects
---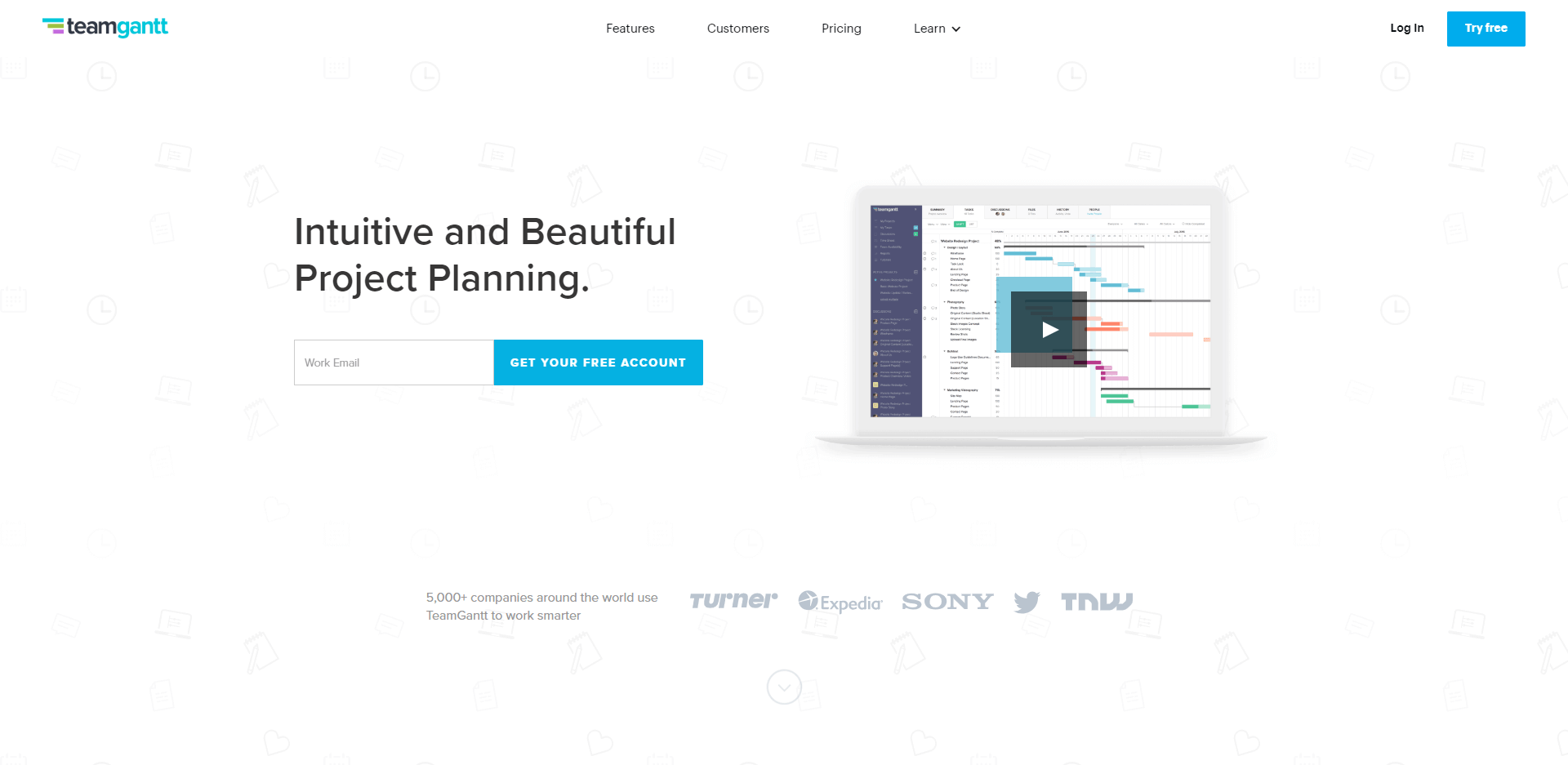 If you're more of a chart type of person, or your team relies heavily on visual tracking of workload, TeamGantt is the right free project management tool for you.
The tool primarily works on creating Gantt charts for all the underlying tasks. The charts are highly organized and come with features such as separate colored bars for tasks and groups, and progress statuses in terms of percentage.
Other advanced features include the addition of multiple resources to tasks at any point, creating dependencies among multiple tasks, and rearranging tasks to denote the rescheduling.
Key Features
Tasks and subtasks management
Drag and drop functionality for scheduling tasks
Multiple views to match your preference
Workload management to efficiently allocate resources
Planned vs actual timeline comparison
Built-in project templates
A downloadable PDF version of your project timeline
Time tracking with tasks
Filters to view the desired tasks only
Sticky notes with projects and tasks
One of the best marketing project management software
Enterprise project management software
Project portfolio management software
Pricing
TeamGantt provides 3 standard monthly plans:
Free: free basic account. Suited for a team of 3 people and for one project
Individual: $25 per month. For an individual with up to 5 projects
Standard Team: $49.75 per month for up to 5 members. The price increases with the number of team members
Advanced Team:$74.75 total per month for up to 5 team members.
---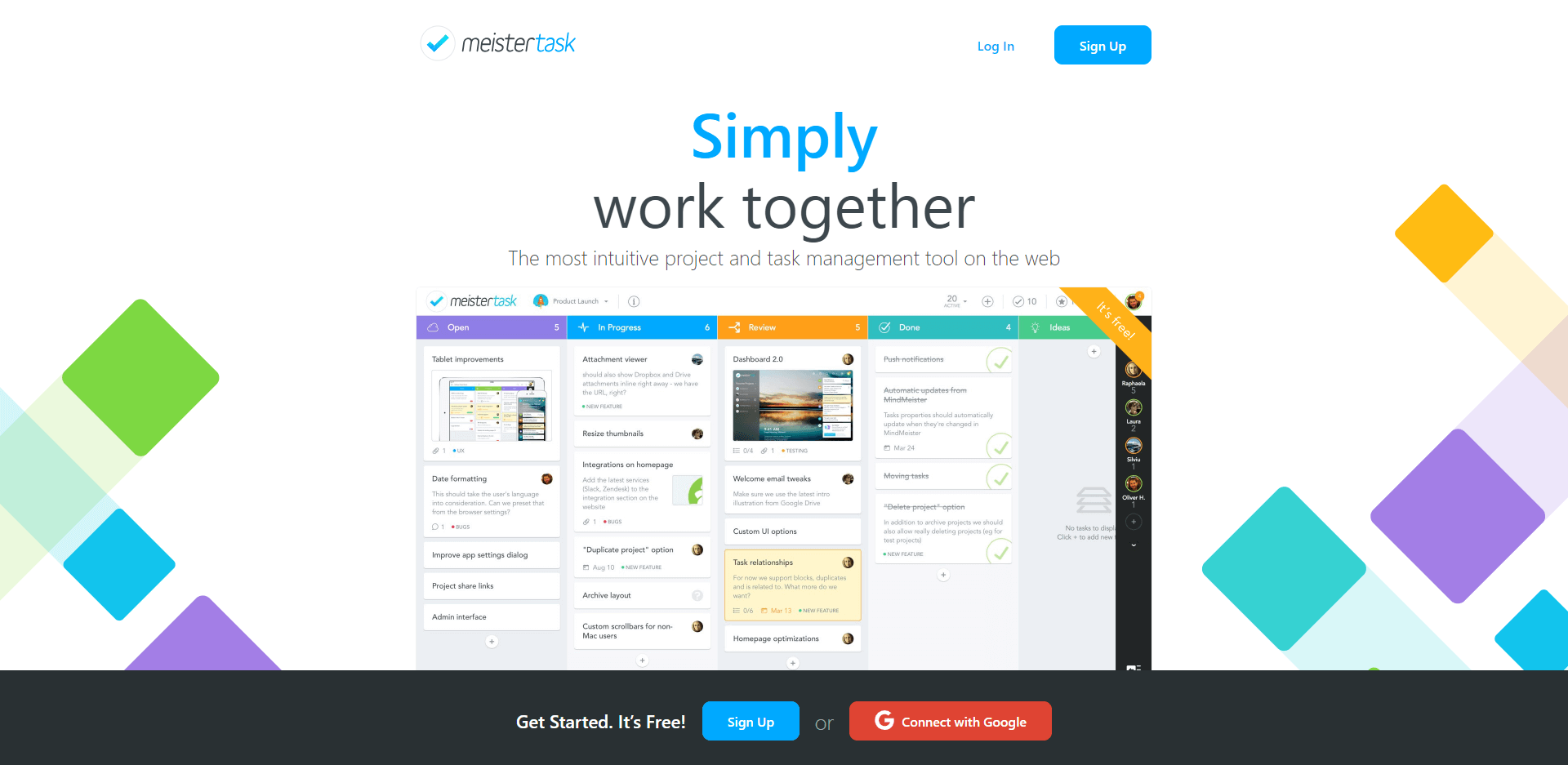 Meistertask is a cloud-based task management software that comes with a simple and beautiful user-interface to help you smoothly glide through your daily operations.
This project management solution comes with a mind-mapping tool that allows teams to collect and collaborate on ideas through beautiful diagrams.
The project properties dialog box of the tool helps users with a broad spectrum of options like who to add in a particular task and customized permissions to access tasks. Further options of add-ons and time-tracking can also be accessed from this dialog box.
One interesting feature the project properties dialog box comes with is the custom field tab which enables all business users to add pre-defined elements into all the tasks by just setting them up for once only.
Key Features
Kanban project boards to visualize progress
MindMeister for mind-mapping
Checklists management
Customizable dashboards
Task relationships to identify dependencies
Comments and file attachments
Due dates and reminders
Third-party application integrations
Enterprise project management software
Project portfolio management software
Pricing
Meistertask comes with 4 pricing plans for its users:
Basic: Simple and easy task management with up to 3 mind maps
Personal: $4.99 per month. For individuals and personal projects
Pro: $8.25 per user/month. For project groups and unlimited integrations
Business: $12.49 per user/month for enterprises
---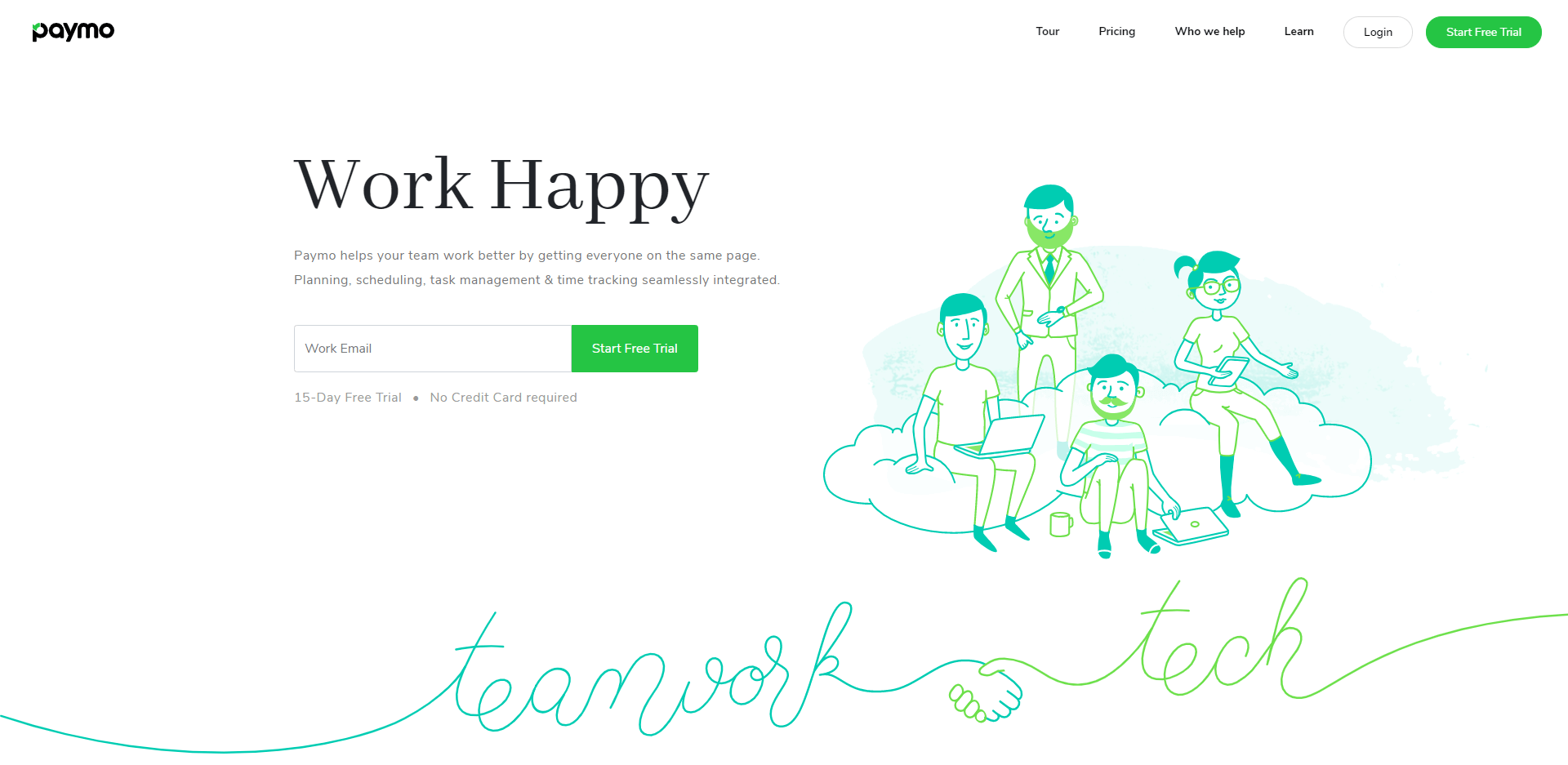 Paymo grabs the 7th spot on our list of best free project management software. The tool comes with some pretty powerful project management features to help you manage your projects effectively from initiation to project closure.
Paymo provides comprehensive task management, project management, resource management, and invoicing, all under one platform.
For tracking the time you take for accomplishing a task, just turn on the Paymo application and let it run in the background. At the end of the day, it will show you the recorded time being spent on each application for a particular task.
Key Features
Tasks and subtasks management
Kanban boards for workflow visualization
Resource scheduling and resource management
Gantt charts for project scheduling
Web timer to calculate the time spent on tasks
Comments within tasks to quickly collaborate
Invoicing functionality to bill clients
Built-in project templates
Budget and expense management
Enterprise project management software
Project portfolio management software
Pricing
Free: 1 user limit. Perfect for freelancers. The plan offers complete project management and time-tracking features
Small office: $9.56 per user/month. The plan is meant for teams in the growth phase.
Business: $15.16 per user/month. For large teams.
The Small Office and Business plans come with a 15 days free trial
---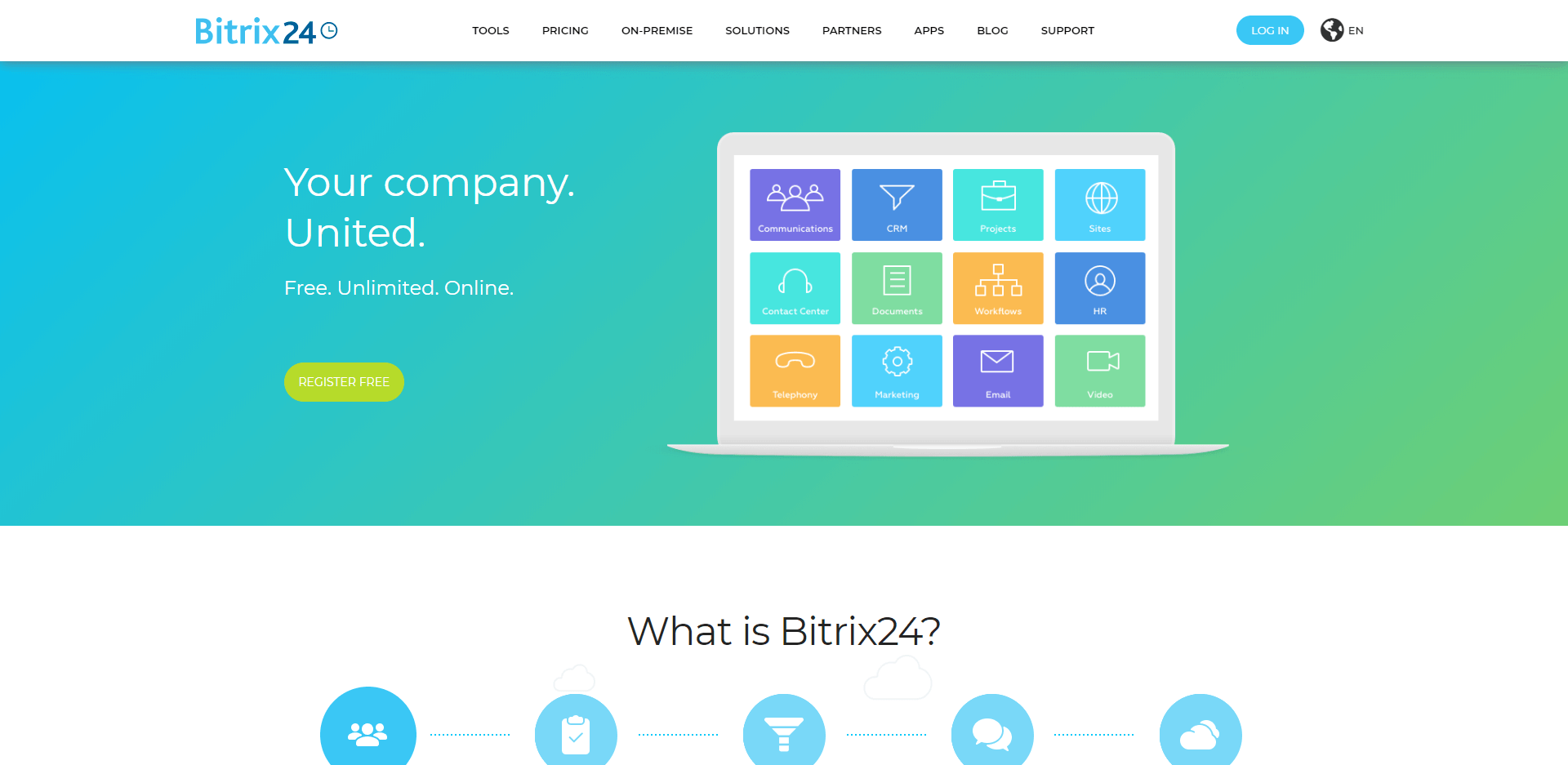 Bitrix24 combines project management and collaboration in one tool, and it's free, making it one of the most trusted project management applications today. It comprises a social intranet, in-app video conferencing, screen-sharing, HR and customer management tool.
You can organize tasks within your projects and track projects using Gantt charts. Moreover, it enables you to track employee workload and deadlines as well.
The tool also comes with comprehensive CRM management features that allow teams to manage their sales pipeline, automate marketing, and provide customer support through multiple communication channels.
Key Features
Activity stream intranet center
Bulk email to simultaneously send invites
Calendar sharing for collaborating on schedule
CRM with multiple powerful reports
Email notifications and reminders
Extranet for inviting external users to your workspaces
File sharing and versioning
Instant messages to provide timely feedback
Task management with task reporting
Time management for billing clients and tracking performance
User profiles and user groups for managing the entire organization
One of the best marketing project management software
Number one Enterprise project management software
Free online project management software
Project portfolio management software
Pricing
The comprehensive Bitrix24 solution is accessible via 4 plans:
Free: up to 12 users and 5 GB storage space
Plus: $35 – Up to 24 users and 24 GB storage space
Standard: $89 – 50 users and 100 GB storage space
Professional: $179 – unlimited users and unlimited storage space
---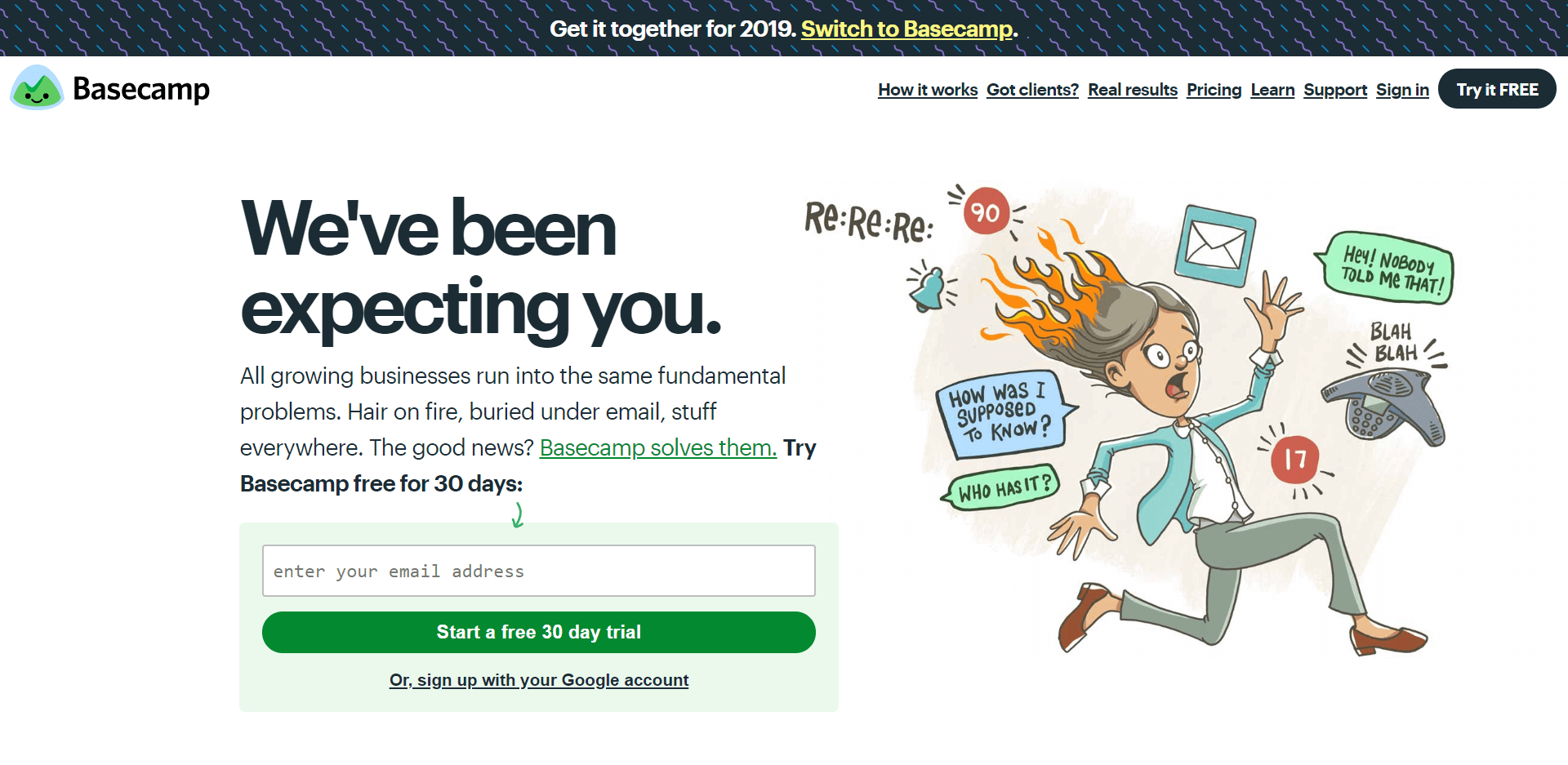 Basecamp combines project and staff management into one, simple-to-use system. The tool emphasizes project completion within the forecasted time and budget.
Tasks can be organized in due-range to-do lists, with the freedom to reorder and prioritize assignments at any time. It also caters to team collaboration and document management.
Key Features
Project templates to reuse at any point
Recurring tasks management
Task history to keep track of activities
File storage & sharing
Scheduling & prioritization of tasks
Project performance tracking reports
Multiple third-party application integrations
RSS feed
Enterprise project management software
Project portfolio management software
Pricing
$99 per month total – unlimited users, unlimited projects, all features, 500 GB storage space
---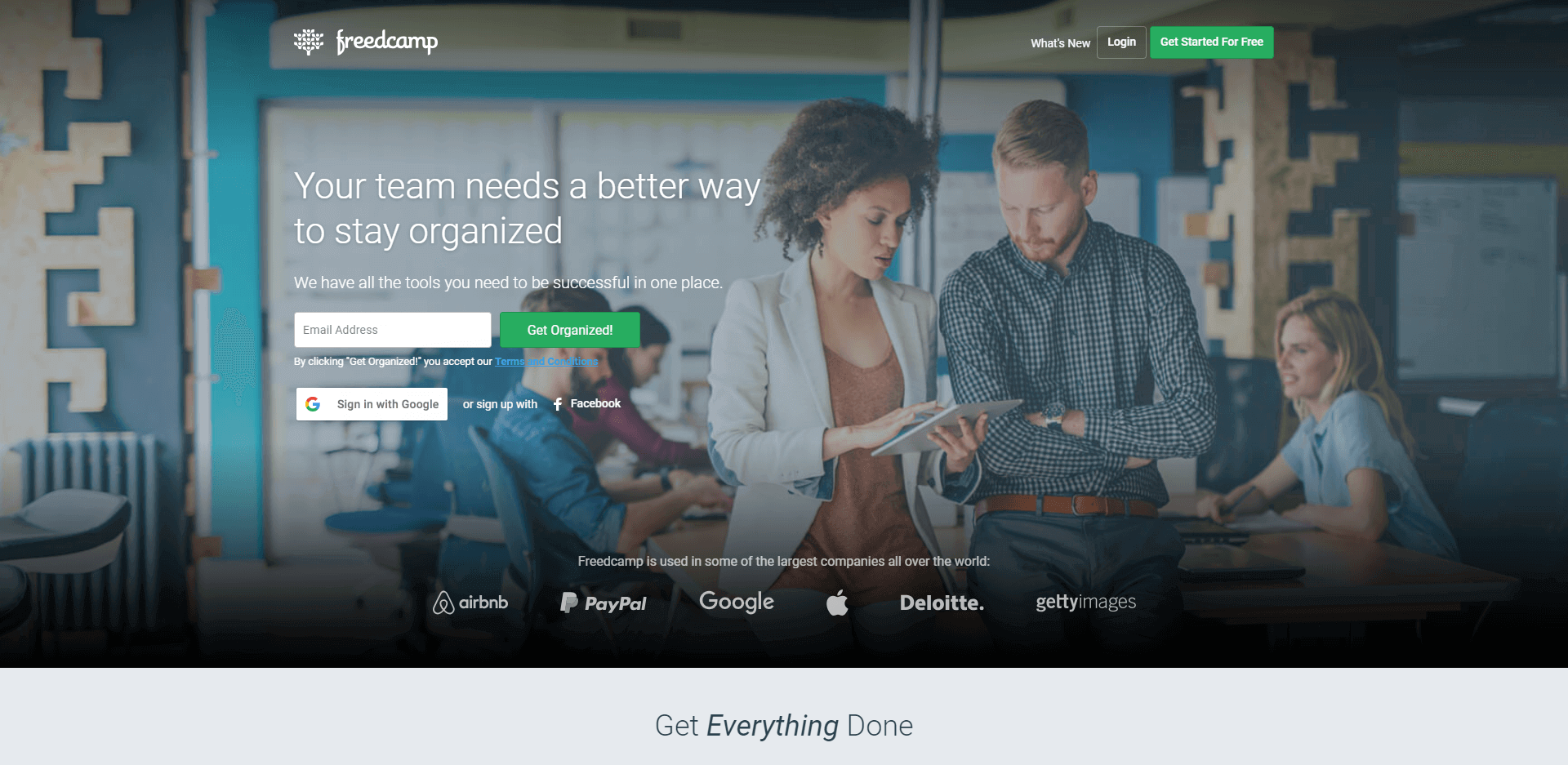 On #10, we have Freedcamp. You can plan your project's schedule with calendar and milestone tools. Also, you can organize your tasks as a standard to-do list or visualize them through Kanban boards.
Furthermore, you can also use the calendar to help with short and long-term planning. Manage files, hold discussions inside your projects, and upgrade to add extra tools for invoicing, CRM, and more.
Key Features
Shared file management
Tasks and subtasks management
Discussion boards for centralized communication
Calendar with Google integration
The issue tracker for tracking all the underlying issues
Time tracking for billing clients
Team milestones to set project goals
Unlimited users, projects, and storage
Support response within 3 business days
Marketing project management software
Project portfolio management software
Pricing
Freedcamp comes with the following plans:
Free: unlimited projects, tasks, storage, and users
Minimalist: $1.49 per user/month
Freelancer: $3.39 per user/month
Business: $7.49 per user/month
Enterprise: $16.99 per user/month
Each plan offers its own set of distinct features.
---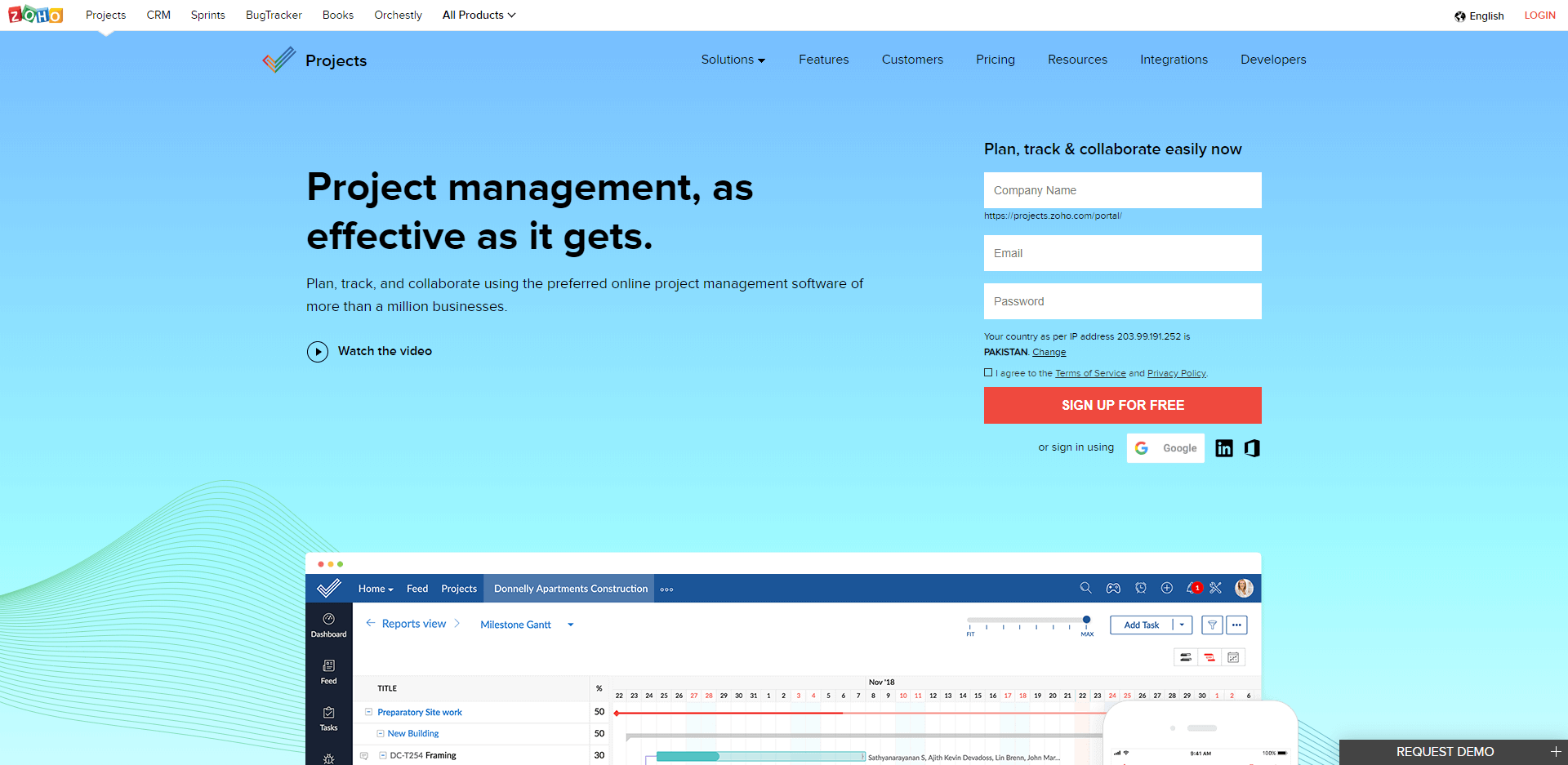 Next up – Zoho Projects.
Zoho Projects leaves a mark by providing a unique set of features that enable an Agile team to achieve their project goals effectively. The tool makes team collaboration hassle-free by providing an interactive feed and forums to instantly gain valuable project insights and give feedback.
Along with that, the tool also provides advanced reporting functionality through multiple means, like Gantt charts and resource utilization charts, to name a few.
Key Features
Tasks and subtasks management
Kanban boards for identifying the workflow
Task dependencies to define the relationship
Activity feed for timely collaborating on tasks
Project progress reports monitoring performance
Time tracking with tasks
Issue tracking for timely identifying and resolving issues
Gantt charts for project scheduling
Knowledgebase for projects
Client invoicing management
Milestones management
Documents management
One of the best marketing project management software
Project portfolio management software
Pricing
The plans Zoho Projects offers are:
Free: 5 projects, 5 users, feeds, and a few other basic features
Standard: $20 – for small teams
Express: $40 – up to 15 users
Premium: $85 – up to 20 users
Enterprise: $125 – up to 25 users
See also:
The Best Scrum Tools of 2023 for Agile Project Management
---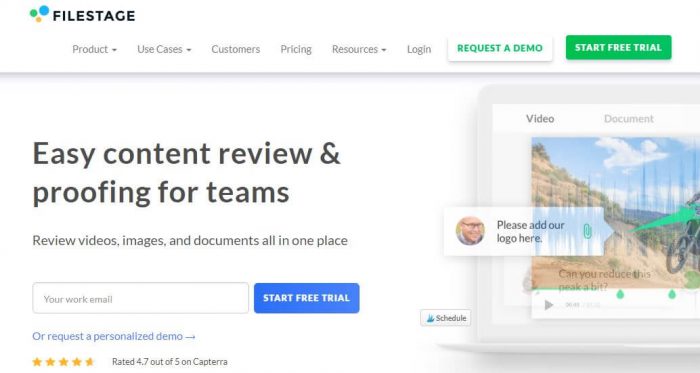 Filestage is the enterprise-ready online proofing software that helps teams collect, organize, and automate feedback on files throughout the approval process while reducing errors and ensuring compliance guides are met.
The software enables colleagues and clients to share, comment, and discuss files in real-time for all kinds of projects like marketing campaigns, videos, website design, product catalogs, or anything else.
With Filestage you can manage all your approval processes in one centralized platform and therefore always keep track of a file's status. The software also enables you to complete projects faster by automating manual tasks and eliminating back-and-forth email chains.
Since Filestage is easy to set up, learn, and use teams can get up and run approval workflows in minutes.
Key Features
Task and workflow automation to save valuable time

Share, comment, and discuss files in real-time

One-click approvals for all file types

Create customizable projects and workflows

In-built versioning of files

Real-time collaboration with colleagues and clients

Unlimited reviewers can give feedback

Due dates and email notifications to stick to deadlines

Automatic to-do list to keep the overview of all feedback
Pricing
Filestage offers three different plans:
For all plans is a free trial available.

The Starter plan costs $89 per month and is best for small teams that like to keep things simple.

The Pro plan offers users more features like private comments and allows the export of feedback. For $219 per month, the team can create up to 35 active projects at the same time.

The Enterprise plan is especially for large teams that need a maximum of flexibility and control. Therefore the number of team members, projects, and storage can be defined individually.
---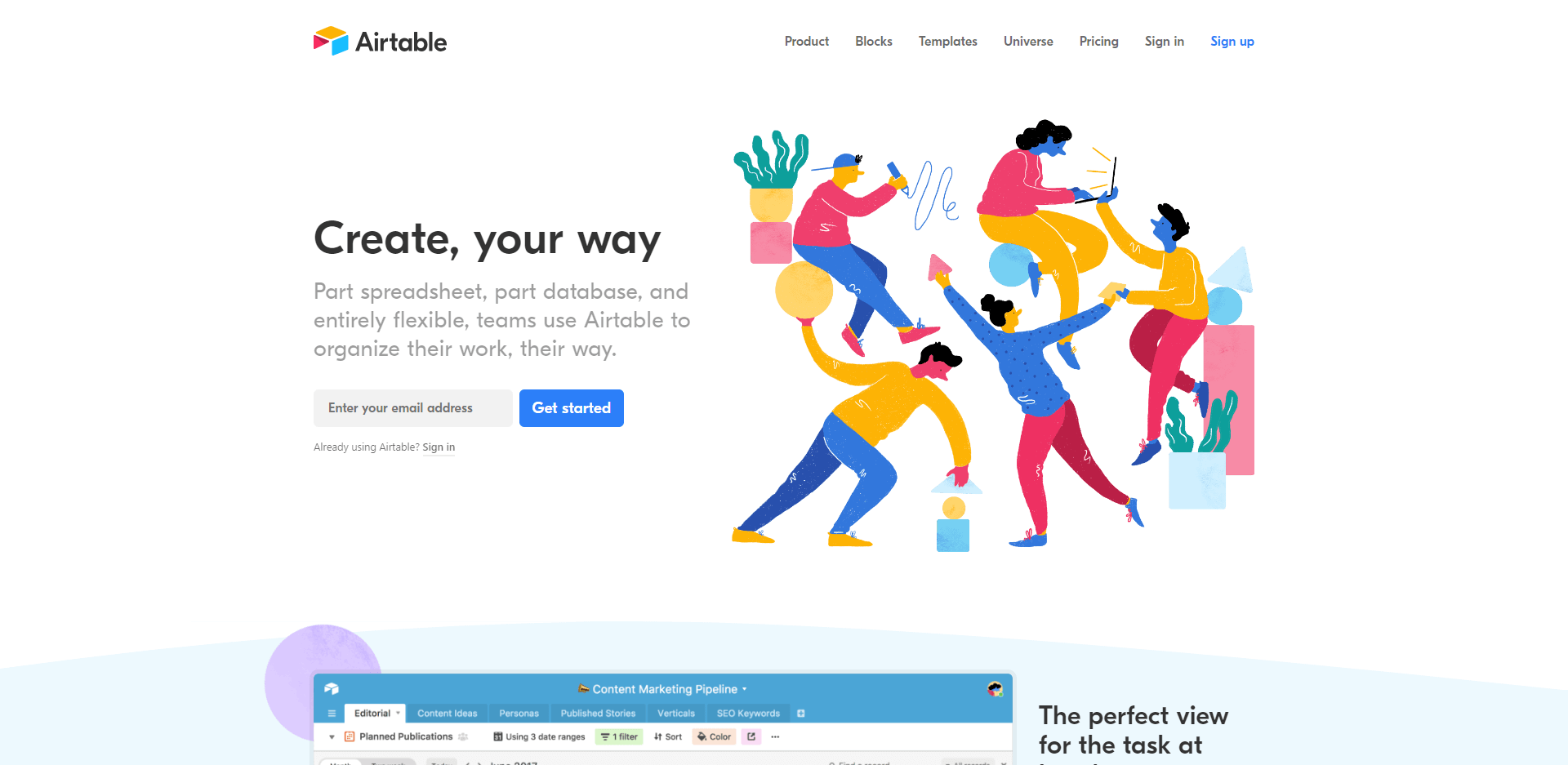 #13 tool in this review of free project management software is Airtable.
The tool combines the functionality of task management and spreadsheet to provide the most user-friendly experience while managing projects.
It comes with a pleasing design and an easy-to-use interface to help users have fun while getting things done.
An interesting feature of the tool is Blocks. Airtable allows you to create a perfect workflow by quickly adding activities to blocks and visualizing the workstream for efficient execution.
Key Features
Elaborate tasks management
Time tracking with tasks
Pre-built project templates
Video chat functionality
Issues and bug tracker
Powerful project sorting filters
Client project tracker
File attachments
Third-party application integrations
Marketing project management software
Pricing
This free project management tool is available in 4 categories:
Free: basic task management
Plus: $10 per user/month
Pro: $20 per user/month
Enterprise: custom pricing – advanced enterprise features
---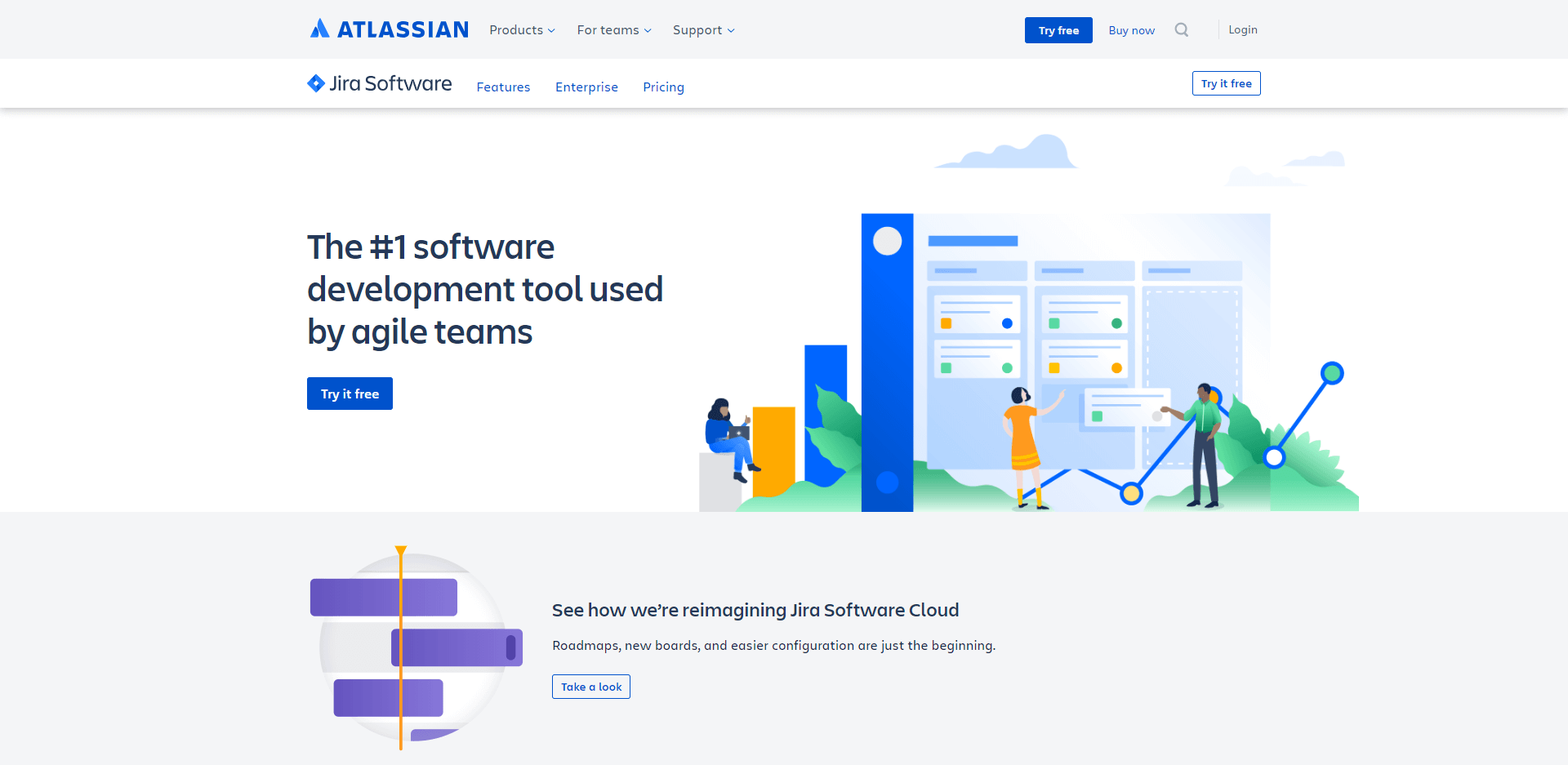 Considered #1 software development tool chosen by Agile teams, Jira gives us all the right reasons to include it in our blog. It allows software teams to use workflow mapping, along with multiple other Agile development functionalities, for releasing the software effectively.
Jira makes sure you get things done right from the beginning by providing an array of features supporting multiple Agile frameworks.
For tracking your project performance in real-time, you can get access to a vast library of Agile reports ranging from basic burndown and burnup charts to more advanced sprint reports and velocity charts, etc.
Key Features
Some of the core features Jira comes with are:
Customizable Scrum boards
Kanban boards for identifying the progress of tasks
Customizable project dashboard
Roadmaps for planning the project's work
Powerful bug and issues tracker
Customizable workflows
Custom search filters to view what's important
Numerous Agile reports for tracking performance
Multiple third-party application integrations
Marketing project management software
Pricing
Jira offers a free trial of 7 days and paid plans. The paid plans start from $10 per month (increases with the number of users).
---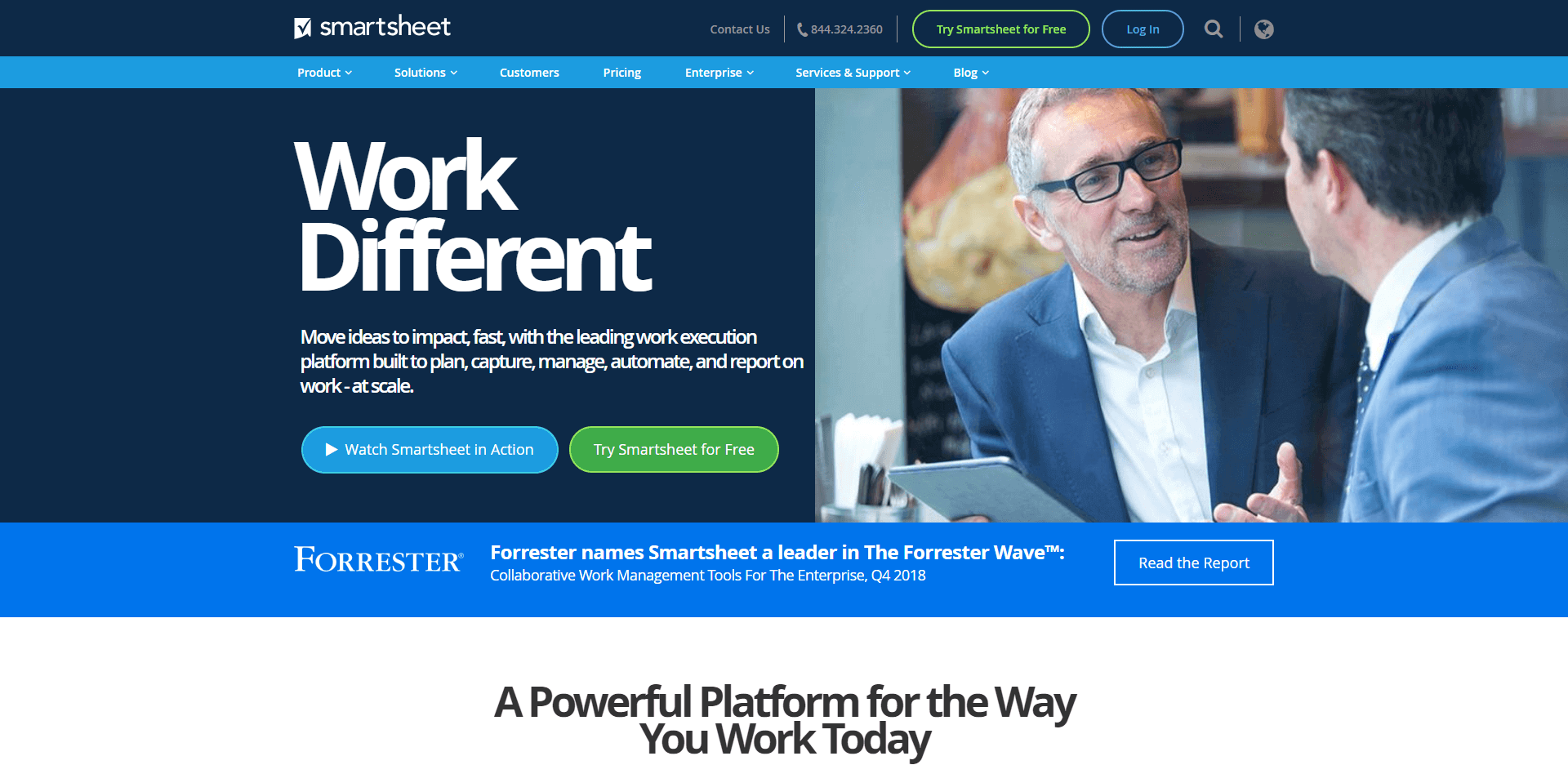 Another popular tool we have added here for you is Smartsheet.
Smartsheet has been able to gather quite an audience over the years. Essentially relying on a spreadsheet format for managing projects and tasks, the platform serves as a single systematic and flexible solution for all the task management needs of a team.
A highly customizable project management solution, Smartsheet gives users the leverage to automate their workflows the way they want.
Combining the ease of using a spreadsheet, along with more advanced project management features, it provides an overall solution to project managers.
Key Features
Dashboard for key project activities
Kanban boards for smooth workflow visualization
Multiple views for tasks
Easy file attachments with tasks
Reminders for deadlines
Activity log for staying updated
Downloadable summary reports
Team portal for centralized team communication
Customized themes for individual preferences
Multiple sorting filters
One of the best marketing project management software
Marketing project management software
Pricing
Smartsheet comes with a free trial of 30 days, and upgraded plans. These plans are:
Individual: $14 per month
Business: $25 per user/month
Enterprise: customized pricing plan
---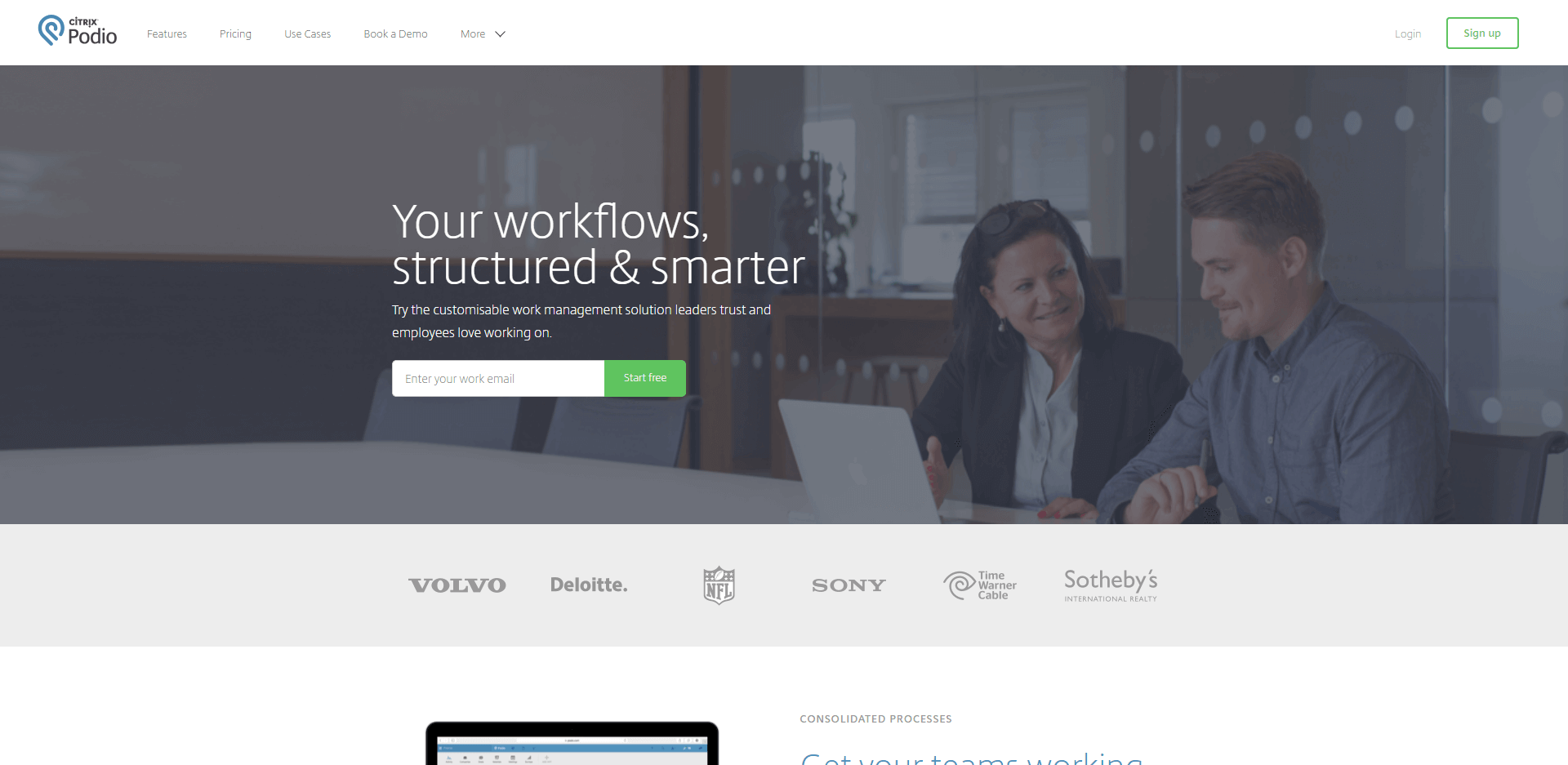 It would be an injustice on our part if we didn't add Podio in this elaborate review of free project management software.
It's a platform that combines task management and social collaboration features into one integrated solution. The tool allows successful project delivery by claiming to put content, context, and collaboration in one place.
The collaboration features Podio comes with a range from likes and file sharing within the system, to instant messaging and audio/video calls. These features allow you to closely track team performance and what each team member is working on.
Key Features
Personal dashboards for monitoring performance
Comprehensive task management
Automated workflows
Private and public workspaces
Activity Stream to update activities
Comments, likes, and file sharing
Audio and video calls
Integrated chat for instant feedback
One of the best marketing project management software
Project management software for architects
Pricing
Podio provides 4 plans to users:
Free: basic task management for up to 5 employees
Basic: $9 per month – unlimited external users
Plus: $14 per month – automated workflows with other advanced features
Premium: $24 per month – a full suite of advanced features
---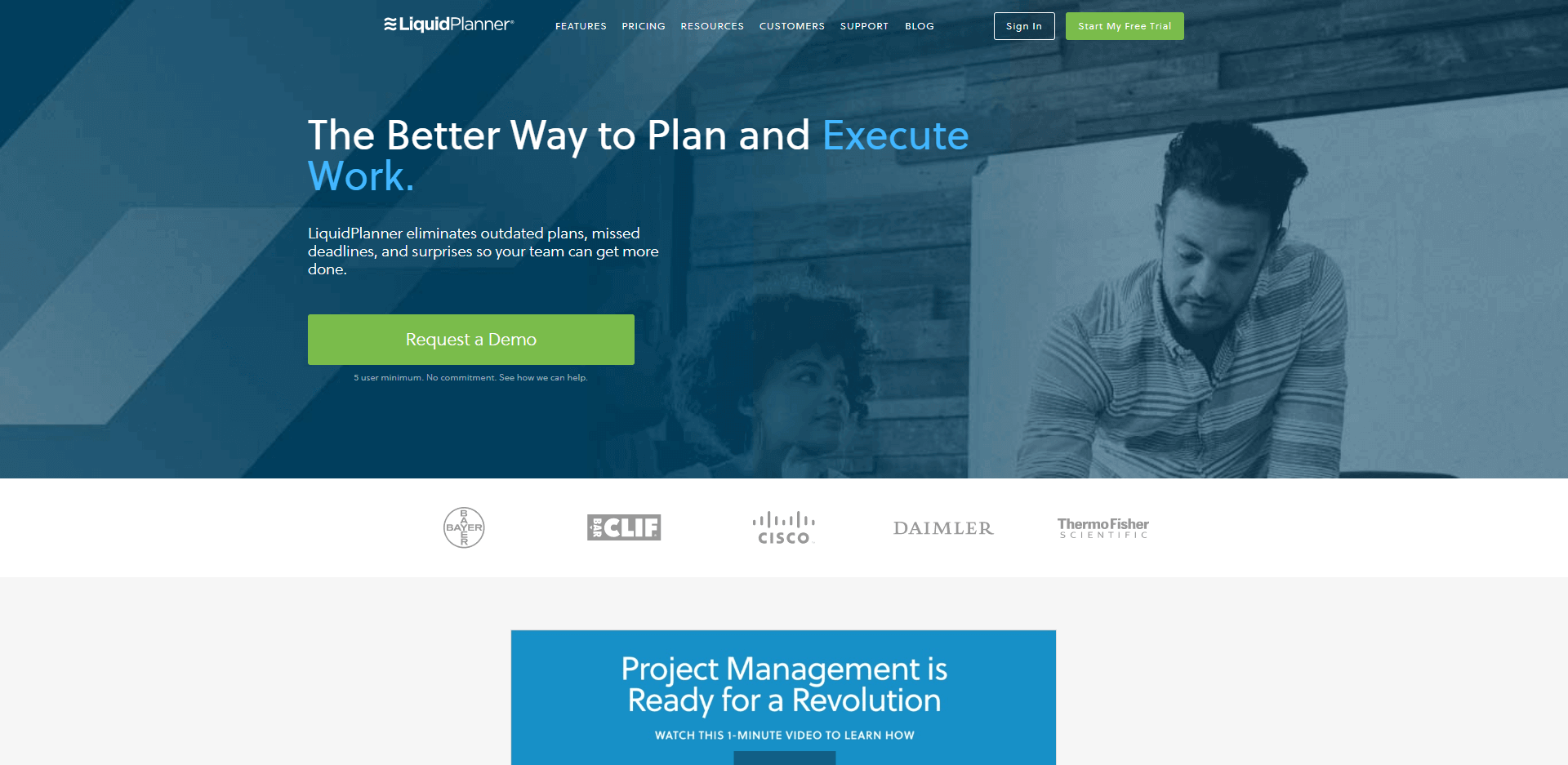 A tool specifically designed for smartly scheduling and planning your project, LiquidPlanner fits perfectly with the standards of best project management software.
With a smart scheduler, the tool automatically updates the overall task requirements when resources and priorities change. The updated timeline can then be easily viewed and shared with everyone.
Other interesting features include effective resource management, cost and profit analysis, and clients' portfolio management.
Key Features
Automated smart scheduler
Resource workload reports
Time tracking with individual tasks
Customizable and shareable dashboards
Budget and expense tracking
Client portfolio management
Pre-set project templates
Milestones and dependencies
Multiple third-party applications access
One of the best marketing project management software
Pricing
LiquidPlanner has two paid plans:
Professional: $45 per user/month – for small businesses
Enterprise: $69 per user/month – for large organizations
---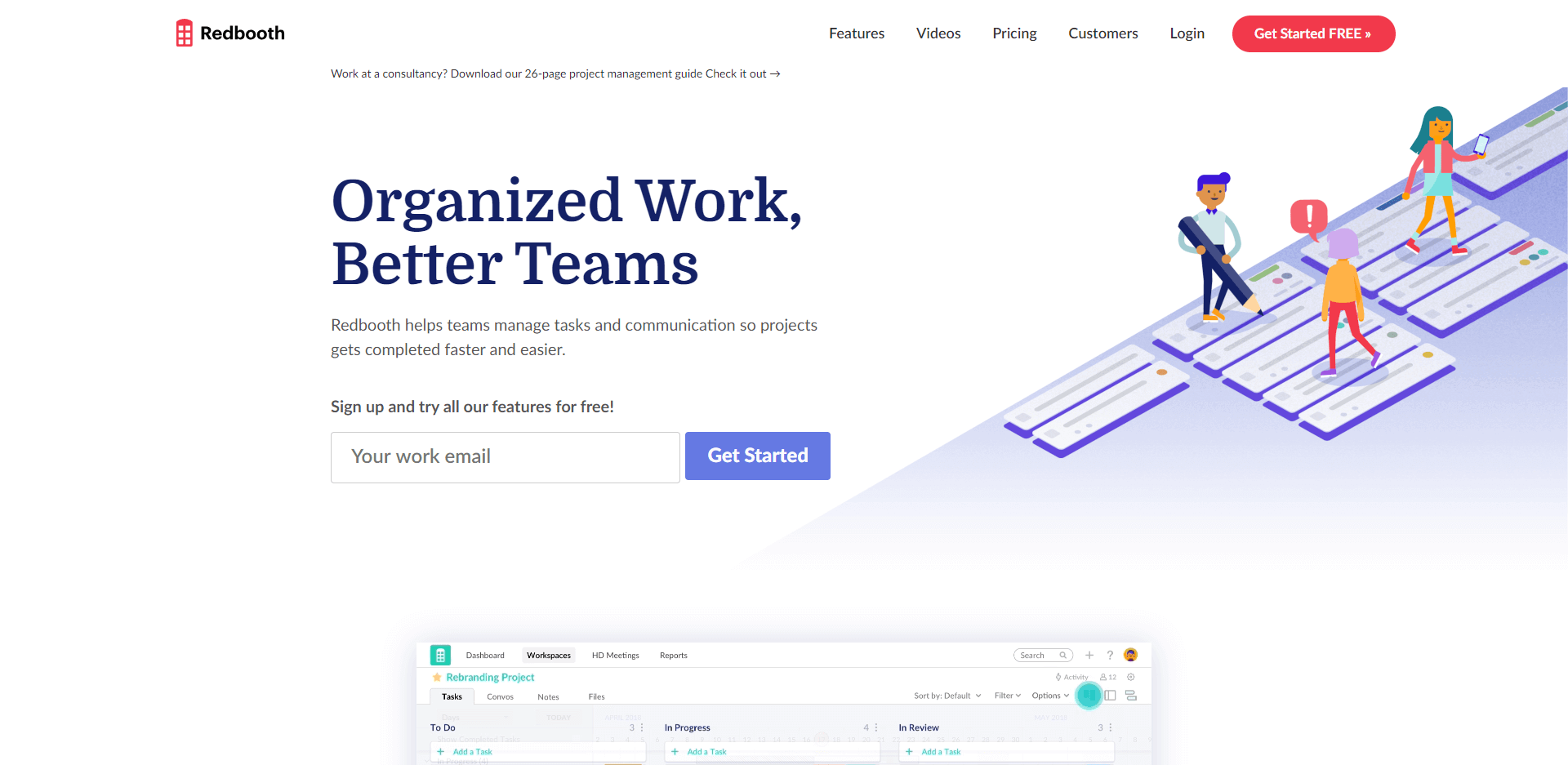 Suited for teams of every size, Redbooth can be the best project management software solution for you if you're looking for a simple, yet comprehensive tool.
Coming with a pretty neat user-interface, the tool encompasses an interesting feature set to help you efficiently achieve your project goals.
Through the project timeline, visualize your project schedule and stay ahead of your deadlines. Furthermore, through Zoom integration, you can connect with your team members from anywhere and conduct video conferences to share insights.
Key Features
Project dashboards to monitor key performance indicators
Gantt charts for visualizing the project timeline
Customizable Kanban boards
Task statuses, priorities, and due dates
Detailed progress tracking reports
High definition video conferences
Team workload management
Built-in project templates for instant working
Marketing project management software
Pricing
Pro: $9 per user/month – unlimited workspaces, time tracking, and HD video calls
Business: $15 per user/month – resource management, advanced subtasks, Redbooth predict
Enterprise: upon request – multi-org setting, success manager, volume discounts
The plans come with many other project management features.
---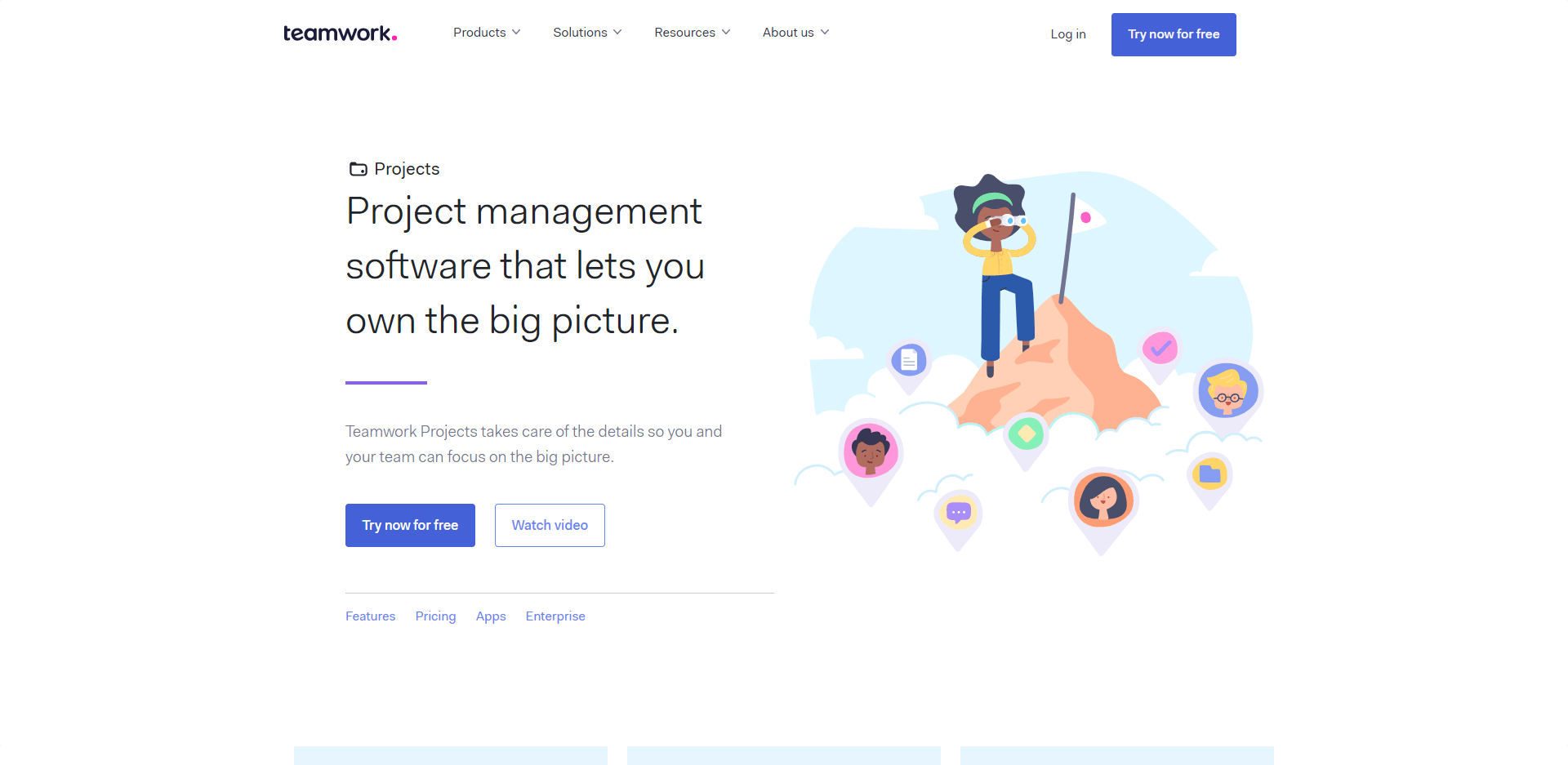 Teamwork Projects is one of the best project management software which comes with a multitude of features, all under one platform. For quickly getting started and saving time, Teamwork Projects comes with built-in task templates that you can easily reuse for replicating similar tasks.
The Gantt view of the tool allows you to schedule your tasks and keep an eye on all your project milestones. Another way to keep everything in your site is through a project portfolio. If you're working on multiple projects, you can get a quick glance at where each project stands at the moment to make informed decisions.
You can also add additional notes with your projects through native notebooks, and send messages to your team members to keep everyone in the loop with all the updates happening throughout the project.
Key Features
Customized project dashboard for monitoring critical project details
Tasks and subtasks management, along with multiple task assignees
Built-in task templates to eliminate the hassle of creating tasks from scratch
Project portfolio management for keeping a check on multiple projects
Gantt chart for project scheduling, along with project milestones
Filters and tags for organizing tasks according to preferences
Risks register for storing all the project risks in one place
Time log for tracking the time spent on tasks, along with invoices creation
One of the best marketing project management software
Pricing
Teamwork Projects come with the following easy plans:
Free Forever: up to 5 users, basic project management features for small teams
Pro: $9 per user/month, minimum 5 users, up to 300 projects, and a few other features
Premium: $15 per user/month, minimum 5 users, up to 600 projects, and other advanced features
Enterprise: custom plan with all the Teamwork Projects features
---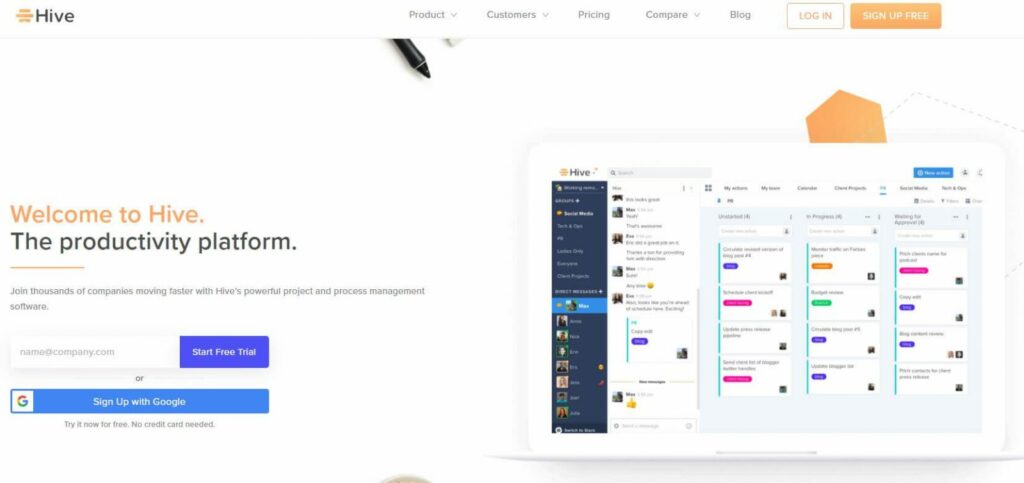 Hive is a project management platform that serves teams of all sizes. Hive Solo, the platform's free-forever plan, offers full project management functionality for teams of 1 or 2. This makes it a great free project management software for small teams, freelancers, and entrepreneurs.
With its simple user interface, Hive makes it really easy to get started right out of the box. And with all of the standard task management and collaboration features, there are plenty of useful tools to keep your team organized. From a native chat to multiple project views and a helpful note-taking section, the free version of Hive gets the job done.
Key Features:
Create and manage unlimited projects and tasks​
Unlimited storage
Collaborative note-taking
Gantt, Kanban, calendar & table views​
Bring your email inbox into Hive with Hive Mail.
Cloud storage integrations​ with Google, OneDrive, Dropbox, and more
Desktop, iOS, and Android apps​
Native chat, including direct messages, group messaging, and threads.
Custom emojis 🍕​
Pricing:
Hive has a flexible pricing model that can be broken down into:
Hive Solo: Free forever for 1-2 users.
Hive Teams: Plans start at $12 per user, per month. Level up your plan with add-on "apps" for $5 each. These include resourcing, time-tracking, analytics, and more.
Enterprise: Pricing is available upon request. Ideal for teams that need our full suite of add-ons, extra support, and enterprise security.
---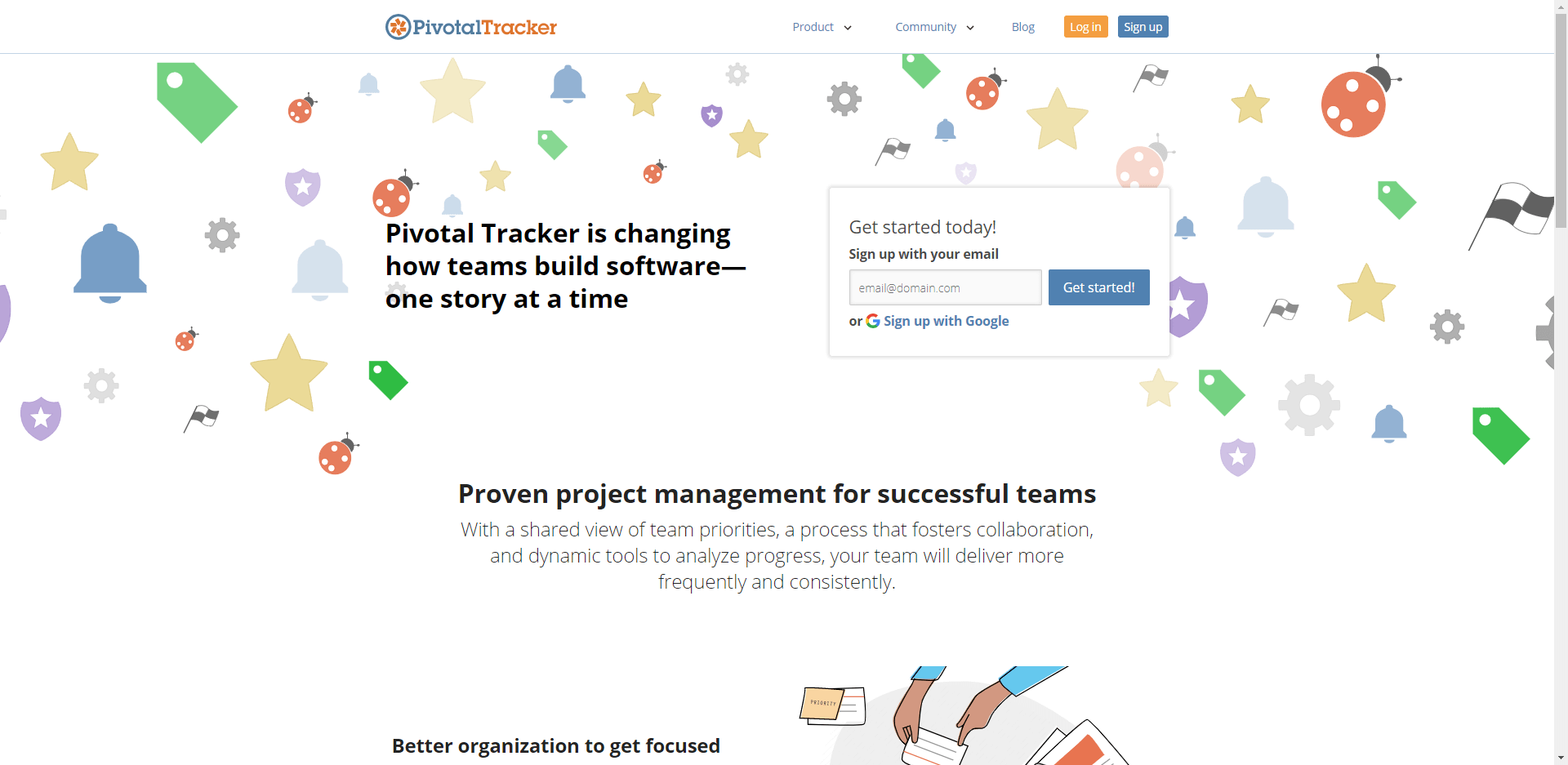 On number 19, we have Pivotal Tracker. It can be considered as one of the best project management software to opt for if you're looking for a smart solution for building your software.
Coming with dedicated Scrum features, Pivotal Tracker allows you to monitor your project progress through multiple performance metrics.
The tool helps you easily keep track of your backlog items to understand what needs to be done and manage your iterations in a better way. Furthermore, keep an eye on all the updates happening over time through the project dashboard which gives you an overview of your project KPIs.
Key Features
User-story mapping to better understand what the user wants
Dashboards for getting a quick view of project progress over time
An estimated time tracker to predict the time it takes for completing a task
Easy drag and drop interface
Product backlog management to understand what needs to be done next
Multiple charts and reports to monitor your project performance
Team member mentions addressing the right team member
File attachments from your computer or from Google Drive
Third-party application integrations to connect with your favorite apps
Marketing project management software
Pricing
Pivotal Tracker provides the following plans for users:
Free: for 2 projects, 3 collaborators, and 2GB storage
Startup: $12.50 per month, for small teams, up to 5 collaborators, 5 projects, and 5GB storage
Pro: starts from $62.50 per month for up to 15 collaborators, unlimited file storage, unlimited projects
Enterprise: custom plan with all the advanced project management features
---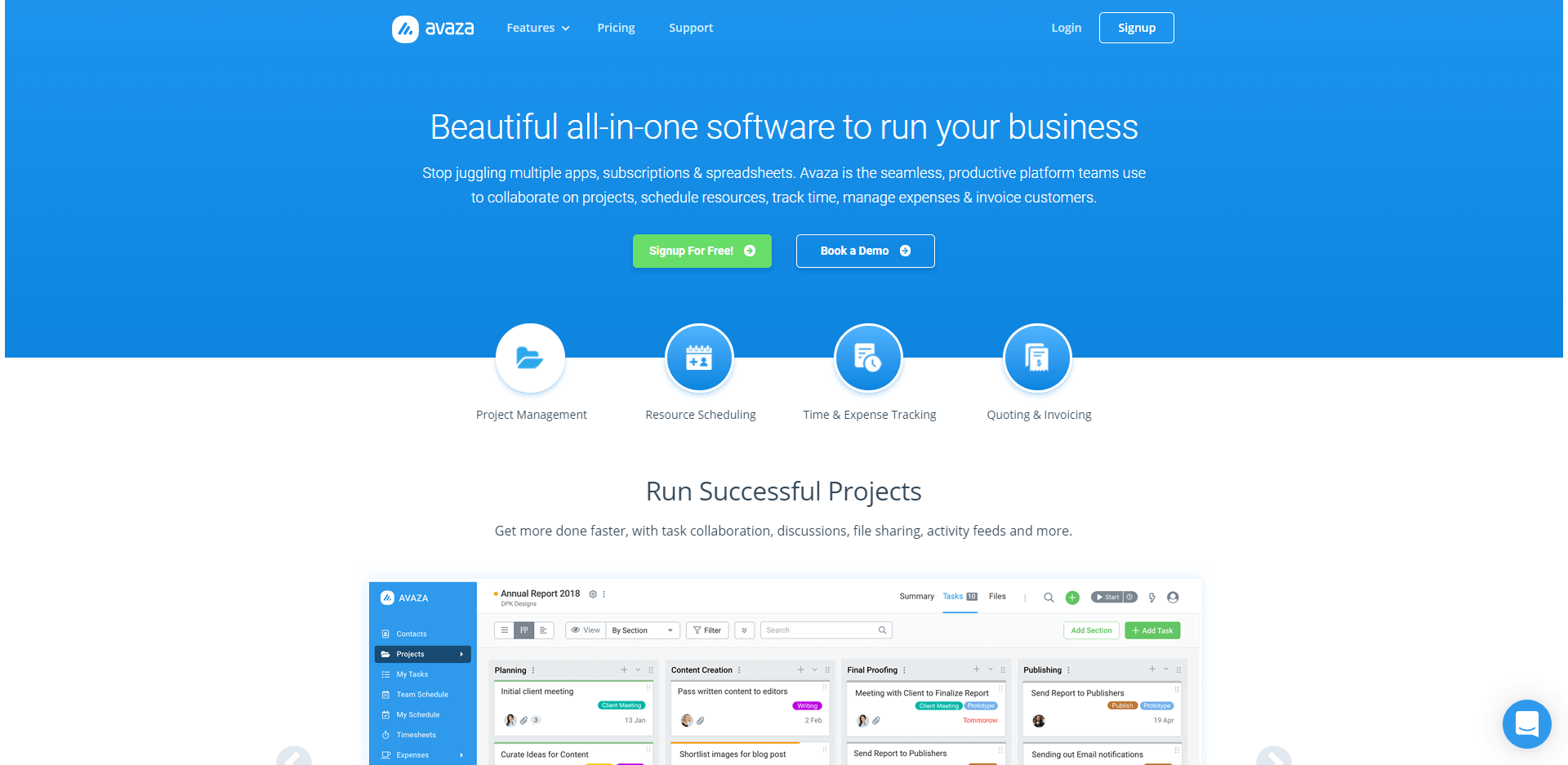 The 20th spot in this roundup of free project management software goes to Avaza. An easy-to-use project management software, Avaza comes with everything you need to manage your projects smoothly from the moment your project starts, till it closes.
Apart from all the essential project management features, the tool comes with estimations functionality which lets you create project estimations and send to the client, which later if approved, can be converted into a project instantly for you to start working on.
Track billable and non-billable hours of your project to monitor your expenses and bill clients accordingly. You can also add your expenses from anywhere you go – email, desktop, or mobile. Furthermore, you can track your project's progress through multiple progress reports.
Key Features
Tasks and subtasks management, including task assignment and due dates
List, Kanban, and Gantt views for displaying the project details
Visual percentage completion of projects to track the amount of work remaining
Comments within tasks and file attachments to instantly share feedback
Followers in tasks to keep relevant team members in the loop
Built-in project templates for gearing up instantly
Calendar integration to keep all the deadlines in check
Time and expense tracking for invoicing clients
Multiple project tracking reports
One of the best marketing project management software
Pricing
Avaza comes with following easy plans:
Free: unlimited collaborators, 5 projects, 100MB storage, and some other features
Startup: $9.95 per month, unlimited collaborators, 20 projects, 10GB storage, and more
Basic: $19.95 per month, unlimited collaborators, 50 projects, 20GB storage, and other add-ons
Business: $39.95 per month, all features with unlimited access
---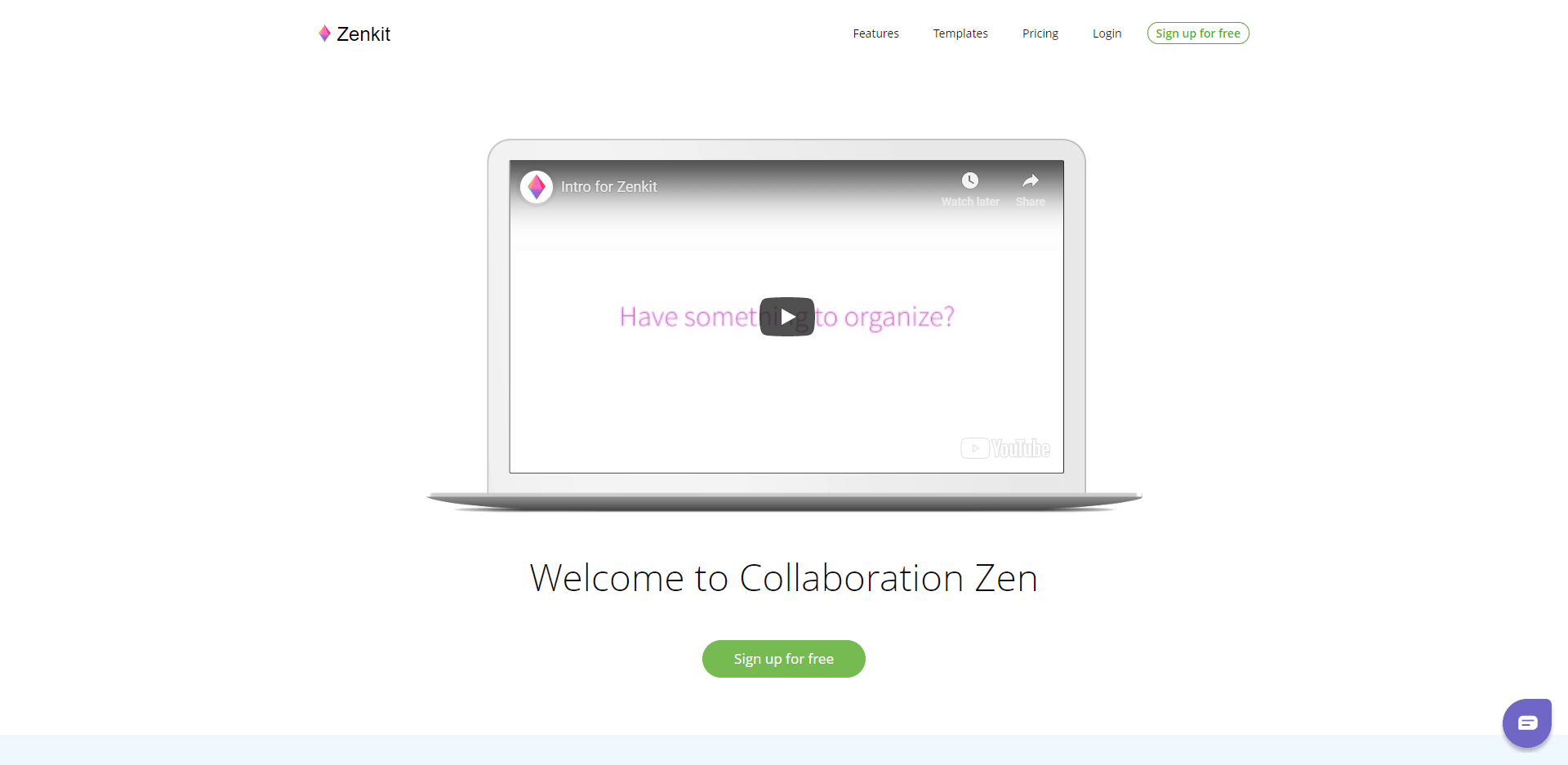 Zenkit is a simple project management tool that comes with a user-friendly interface to help you quickly work your way through the platform. The tool comes with a pretty decent feature set to help you achieve your project goals successfully.
Track all your project activities happening overtime through activity tracker, so you have an idea of what you need to do next during your project lifecycle. You can also easily invite multiple collaborators to connect with and discuss your project ideas.
With Zenkit, you can convert your project into a respective to-do list to manage your tasks in a better way. Additionally, you can use labels to organize your tasks according to categories.
Key Features
To-do list and checklists management
Kanban boards for visualizing tasks' progress
Activity stream for tracking all the project activities
Task prioritization, filters, and labels to organize them
Intuitive drag and drop interface
Comments within tasks and team mentions
Custom background and color codes
Google Calendar integration for keeping deadlines in check
Desktop, Android, and iOS apps
Marketing project management software
Pricing
Personal: up to 5 members, 5 workspaces, unlimited collections, and few other basic functions
Plus: $9 per user/month, up to 20 workspaces, 6 GB attachment space, and more
Enterprise: custom plan for large teams with all the advanced features
---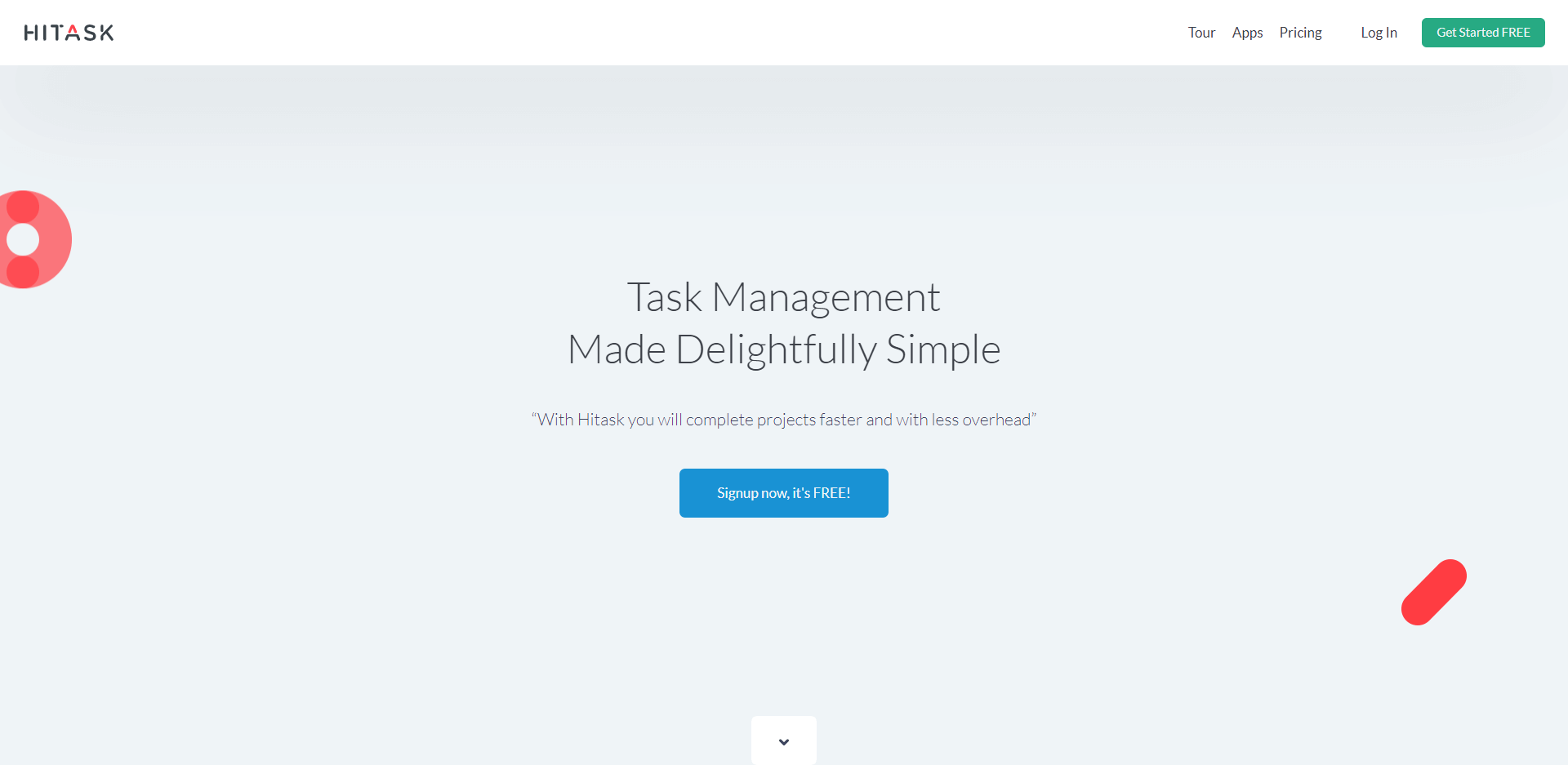 If you're looking for a free project management tool that provides all the essentials you need for managing your small team, HiTask might be best suited for you. Without spending a penny, you can manage as many tasks and projects as you want for a team of up to 5 members.
The easy synchronization of the tool with all your devices makes it convenient for you to take your work with you wherever you go. In addition to that, the Google Calendar integration lets you sync your tasks and keep all your deadlines in check.
HiTask comes with multi-language support. Some of the supported languages are Spanish, French, Russian, Portuguese, and Chinese.
Key Features
Tasks and subtasks management, including task assignment and recurring tasks
Time tracking with tasks which generate time reports
Project dashboards to keep all your critical project details in one place
Team chat and file attachments for streamlined team collaboration
Customized permissions for tasks to allow access to limited members only
Color tags for categorizing tasks according to context
Reference numbers with issues for effective tracking
Cross-platform + multi-language support
One of the best marketing project management software
Pricing
Free: for up to 5 team members, unlimited projects and tasks, shared calendar and a few other features
Business: $5 per user/month, unlimited storage, priority supports, and more
Enterprise: $20 per user/month, all HiTask features
---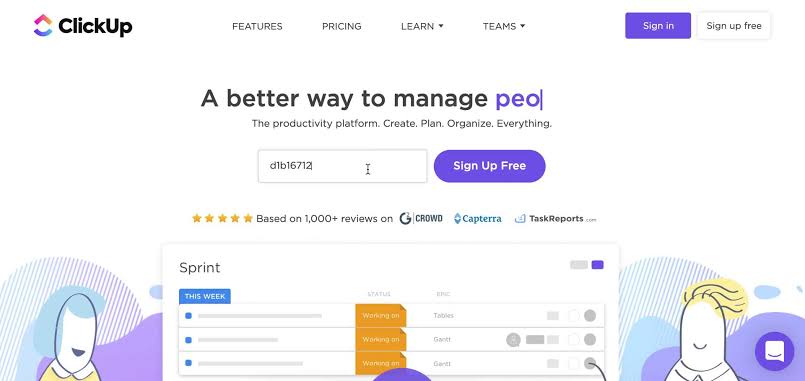 ClickUp is an incredible application that came into existence as a result of dissatisfaction with the existing PM tools in 2016. The reason being the features that were offered by the management tools were either too much or too little.
ClickUp is the perfect fit. It is a tool that is not very complex and at the same time not very simple; it's just right.
ClickUp offers a wide range of options, with a lot of these available in the free version. That's a key distinction between ClickUp and a lot of its competitors because they usually mask features like task dependencies behind paid subscription curtains.
Key Features
Custom Fields that let you set up your project management activities as you like
You can also set the Goals for yourself and all of your team members
Customized Views that let every team member include the way they want to work on a project
You can also set up the Priorities and task dependencies using ClickUp
You also have 50+ Unlimited Features because of the company's policy to never limit the functionalities available on the tool
One of the best marketing project management software
Project management software for architects
Pricing
Free Plan
Unlimited Plan ($60/user/year or $9/user/month)
Business Plan ($108/user/year or $19/user/month)
Enterprise Plan ($204/user/year or $29/user/month)
---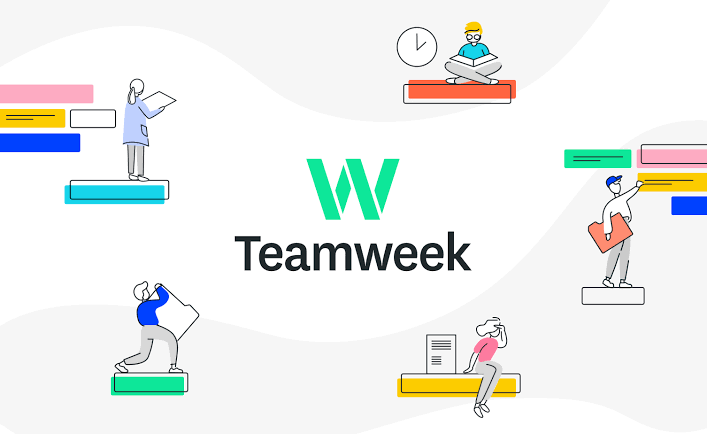 Project Management policies and features are welcome in the software, but if your core focus is visualizations and Gantt charts, TeamWeek may be the best option for you in the market right now.
Right off the bat, you can see all of your important data and deadlines spread out in a calendar form when you log in to the application. This really comes in handy when you want a quick peek at what's happening with your team.
You can also use the application as a resources management tool when you see that a certain resource has its plate full and another resource is playing games on the job. You can easily balance out a load of work between them.
Key Features
Organize tasks into folders
Backlog for unassigned tasks
Download the timeline as a PDF
Filter calendar by project
Export to calendars
Color-coded tasks
Drag-and-drop interface
Multiple user access levels
One of the best marketing project management software
Pricing
Free Plan
Premium Annual Plan ($8/user/month) –– Billed Annually
Premium Monthly Plan ($9/user/month) –– Billed Monthly
---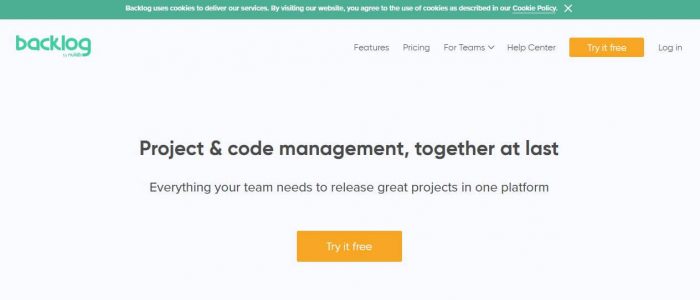 Backlog is one of the more unique software on this list because it's a cloud-based management solution designed for developers. It has a lot of amazing functionalities like Gantt charting, task/issue management, bug tracking, and version control.
This software enables users to visualize their project workflows and timelines on a daily basis using Gantt charts. It will also help the users to compare changes to the projects and they can easily comment on pull requests. You can easily integrate applications like Redmine, Cacoo, and Jenkins to Backlog.
Key Features
Collaboration
Prioritization
File sharing
Supports agile
Product Roadmapping
Idea management
QA management
Supports waterfall
To-do list
File storage
Version control
Marketing project management software
… And lots more.
Pricing
Free
Starter ($35/month)
Standard ($100/month)
Premium ($175/month)
Enterprise (Starting at $1,200 for 20 users)
---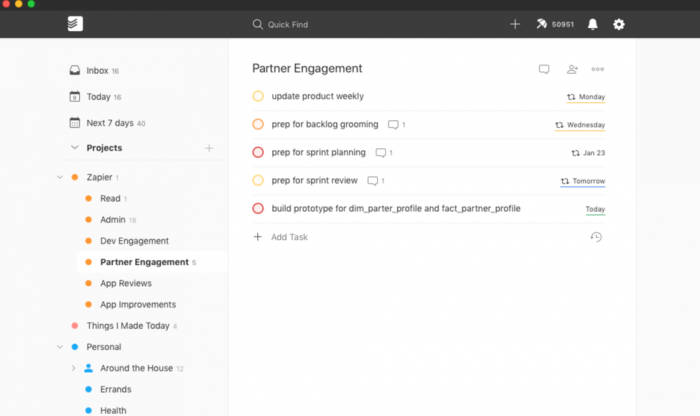 Todoist is a clean task and project management app best known for its to-do list feature. You can manage your project using Todoist and it can help you to meet deadlines. It is a clean and simple to use application where you can jot down all your project ideas from the web app or from the phone, create a task for those ideas and assign a team member to execute that task.
Todoist app gives you reminders on your tasks so that you don't miss out on anything from your to-do list items. Plan in advance for your tasks and Todoist will handle this for you even if you forgot your plan. You can easily set the theme for your task board, create tags, and tasks on different views displayed, and store the templates. If you want real-time collaboration on the tasks of your project in a simpler way then Todoist is for you.
Key Features
Task views
Set recurring task
Create and organize your tasks
Create sub-tasks and assign priorities
Task and project comments
Real-time notifications
Visualize your productivity
Marketing project management software
Pricing
Free plan
Premium plan is at $3/month billed annually.
---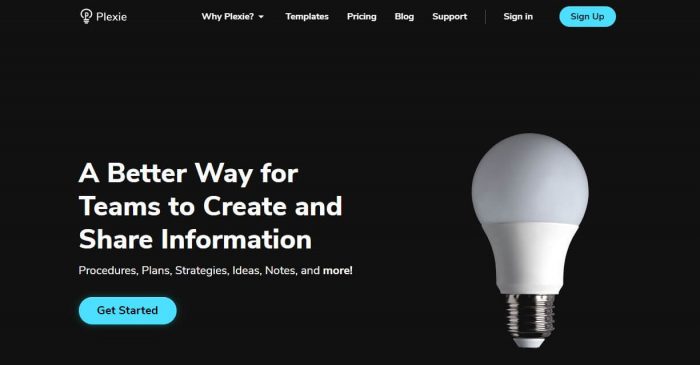 Plexie is a project management and team collaboration platform that can help you to create and follow the project documentation. You can easily share the project information across the team so that everyone is on the same page to make the project a success.
It can be used by individuals, groups, enterprises to help organize and share the project content to help support the job of all departments in your organization. This application is easy to use with its prebuilt project templates. It is a useful tool to educate the whole team on the project requirements and help manage the tasks of the project.
Key Features
Knowledge management
Create and organize tasks
Training material
Mockups and user stories
One of the best marketing project management software
Marketing project management software
Pricing
Free: for teams up to 50
Basic: $10 a month for teams up to 100
Pro: $20 a month for teams up to 200
---

Project.co is an incredible client-oriented project management application that helps you to create a seamless connection between the client's teams and your development team; all in one place.
This application gives you the ability to make every activity that you perform, be worked on as it's an individual project. This project will have a team that works on it, its payment methods, discussion feeds, tasks, and notes.
The software will also enable you to record the time, you and your team spend on each project.
Let's look at some of the features that the application offers:
Key Features
Discussion feed for each project – with email alerts
Reporting tools that measure your most/least profitable/efficient projects
Ability to quickly add/invite both internal and external users
Variety of task views – which can be filtered – giving your whole team, each department and even individual users their daily/weekly task lists
Ability to integrate payment solutions and quickly, and securely take card payments through the system
One of the best marketing project management software
Pricing
Free version is available for up to five active projects
Subscriptions for the application start from $7/ user/ month
---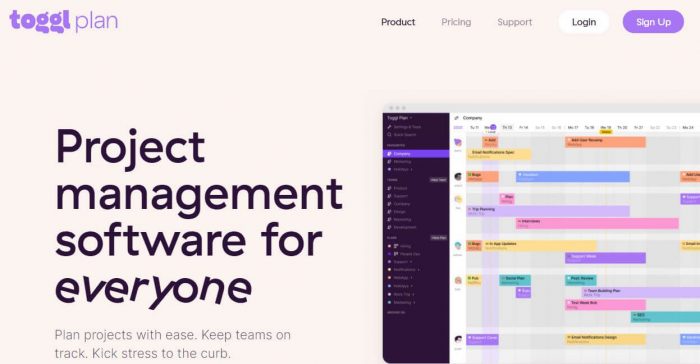 This is an incredible and effective project management software that allows the managers to automate their whole task delegation process. This helps them to visually track all of the tasks related to the project that have been completed and which are remaining.
Let's look at some other features that the application offers:
Key Features
Integrations with Slack, GitHub, Evernote, and others
Gantt-chart visualization to track important deadlines and projects
Team collaboration option through shared calendars and task notes
Marketing project management software
Pricing
This software is free with an unlimited number of projects and up to five team members per project
The premium plan starts at $8/user per month in the annual plan
---

Flowlu is an amazing project management software that is cloud-based and offers more than a dozen tools for all of your business needs like financial management tools, CRM, and project management tools.
Let's look at some other features that the application offers:
Key Features
Online Invoices & Payment Processing
Time Tracking
Agile Project Management
Communications
Quotation
Collaborative Workspace
Financial Management
Invoices
Project Management
Record Management
Task Management
One of the best construction project management software available
One of the best marketing project management software
Pricing
Free trial is available
Subscription starts at $29/ month
---

ProofHub is a project management software used by over 80,000 teams globally including Netflix and Disney.
ProofHub is a project management software with an all-in-one capability that provides a centralized tool for teams to manage the entire lifespan of projects.
It provides the feature to create tasks with clear deadlines and specifications and assign them to team members.
ProofHub's interface is similar to the best available ones, which for us is a compliment. The colors give the dashboard a solid but organized look. New activities get a timestamp in the form of recent activities (e.g. 51 minutes ago); plus, the timestamp is highlighted.
Compared with other project management software, ProofHub does not complicate its user experience more than the basic requirements of such an app.
Key Features
In ProofHub, task management tools are pretty strong. You can add multiple items in any task, including labels, estimated time to task completion, and you and you can attach documents to the task.
The project management software has a section called Discussions where teammates can keep a conversation going about the respective work assignments.
The software provides a task view as well which puts tasks in a list, where you can in an apt matter quickly scroll through the task list to see more details; such as the start date, assignee, due date, and any comments.
If you're using Kanban boards in ProofHub to organize and track tasks, you can view them in a Board View.
ProofHub offers tools for managing timesheets and tracking time as well.
Proof hub is one of the best construction project management software available
One of the best marketing project management software
Pricing
ProofHub offers three plans: Free, Essential and Ultimate Control.
ProofHub Essential is offered at $50 per month or $540 per year
ProofHub Ultimate costs $150 per month or $1620 per year
---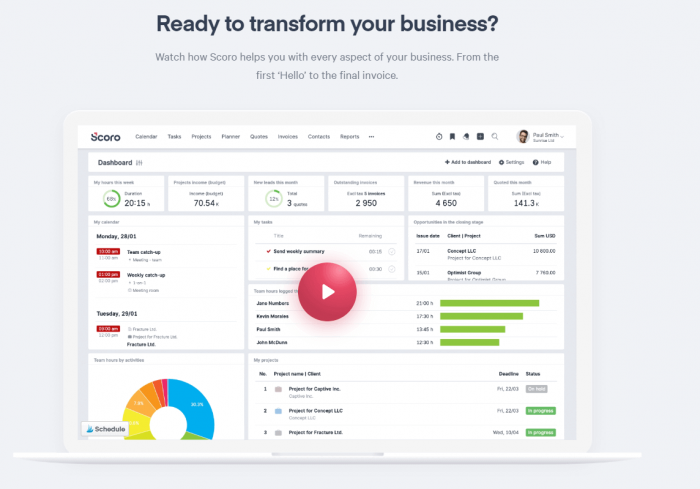 Scoro is a cloud-based project management software targeting specifically small to medium enterprises in the consulting, advertising, and IT sectors.
It provides features important features including collaboration, work scheduling, customer relationship management, project management, advanced reporting, and dashboards.
Scoro is a visually appealing project management software that allows team members to see project status in real time. In addition, it gives an overview of non-billable and billable work, tasks that have to be assigned, and jobs that have been completed.
This project management software can seamlessly integrate with many apps, including Outlook, iCal, etc. Users can even use their Dropbox accounts to access files anytime. Scoro allows provides integrations with other apps like MailChimp, Xero among others.
Key Features:
Task Management
Work Time Billing
Late Invoice Reminders
Custom Tags
Company News Feed
Calendar Management
Customer Management
Scheduling Invoicing
Automated Alerts
Real-Time KPI Board
Contact Management
Marketing project management software
Pricing
Free Trial
Essential – $26/user/month
Work Hub – $37 /user/month
Sales Hub – $37/user/month
Ultimate – Quote
All of Scoro's packages require a minimum of five users which are payable on a monthly basis.
---

Workzone is a cloud-based project management software with a clear focus on collaboration and document management.
Users have the capacity to create to-do lists, manage projects, share files, track time, and much more.
Workzone also offers custom branding for companies that want logos displayed within the dashboard.
It's easy to use and setup. The key benefits that can be derived from Workzone are:
Ability to manage multiple projects
Capability to collaborate with other users.
Allows corporations to support multiple clients to manage all projects related to a particular client in one group.
Workzone offers integration capabilities as well. Some of the famous applications with which Workzone can integrate are Dropbox, Box, Tableau, Salesforce, and Slack.
Key Features
Includes a project dashboard where users can view projects listed by the manager in charge of the project, status, start, and end date, notes, and percentage of the project completed
Workzone provides project templates
Members can also create project requests
Document management and sharing capabilities
Approvals Workflow
Custom branding
Image Markup
Task Dependencies
SSO and API
Automated Reports
File Versioning
Secure File Sharing
One of the construction project management software available
One of the best marketing project management software
Pricing
Workzone provides three pricing plans for users – Please note Workzone no longer displays their pricing plans.
Team: This plan has 100 GB storage, success-based support, unlimited workspaces, file collaboration and approval, reporting, and task management features.
Professional: Includes all features of TEAM plus 150 GB of storage and custom project intake forms.
Enterprise: All features of Professional plus 200 GB of storage, SSO, custom fields and reports, critical paths, and workspace groups.
---

There is a handful of project management software that truly offer solutions for any purpose. The good thing is ActiveCollab fits the bill!
A number of small and big businesses (such as teams from Apple and Nokia) as well as universities have opted for ActiveCollab as a perfect solution for managing and controlling their data.
So, what makes ActiveCollab stand out from the competition?
Well for starters, it is an all in one tool for project management, team collaboration, task overview, and billing which simplifies everything your team is working on.
Furthermore, ActiveCollab offers a self-hosted project management solution that all your respective data is hosted on your server safe and secure.
Key Features:
Client Portal
Agile Methodologies
Gantt Charts
Cost to Completion Tracking
Kanban Boards
Budget Management
Customizable Templates
Resource Management
Time and Expenses Tracking
One of the best marketing project management software
Pricing
From $25/month for cloud version, from $499 for the self-hosted version
---

This is a unique open-source application in the PM tools space and to be honest, is not for everyone.
Redmine is not so simple to use. It will require someone to install and maintain it, so you will require someone in the staff who can do that.
Redmine app is web-based, written using Ruby framework and cross-platform.
Redmine's feature set makes it more appropriate for bugs and tracking issues that project management of all stripes.
If that is your use then this is a great platform for that use.
Redmine is open source and 100 percent free of cost. No paid plans exist for it.
Key Features
The interface does not have much oomph about it but you'll have the capacity to customize it.
When you add a new task or issue, you choose whether to classify it as a feature, bug, or support request.
File uploads are supported
You can assign and add watchers who are people who get updates about the issue even though they aren't assigned to complete it.
Redmine allows you to enter numbers indicating how long a task took to complete.
Multiple task views available – Calendar view, task view list, Gantt Charts are also included
The app comes with a wiki space for each project
Integrations are only available if you build them.
Pricing
Free of cost – No Paid Plans Available
---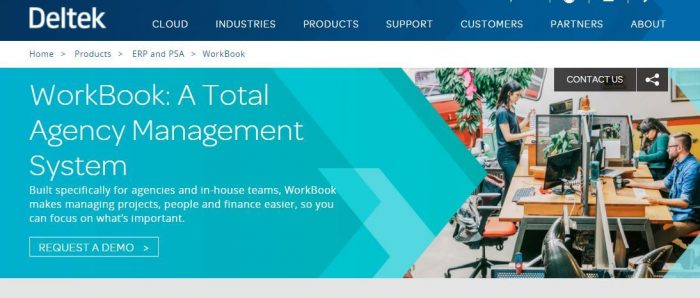 This is a suite of integrated business applications offered through a SaaS solution.
The platform combines the features and functionalities of customer relationship management, financial management systems, and project management.
With Workbook, companies can enjoy operations on several facets of business management, such as time-tracking of employees, client billing, monitoring of resources, and following sales opportunities.
The system is offered as a productivity tool that provides users with powerful features and can replace existing business applications.
Key Features
File Saving
Easy Adding Prospects and Contacts
Integration to Active Campaign for Email Automation
Pipeline Forecasting
Sync Contacts to Google Contacts
Collaboration with team members
Upload briefings
Saving Files to projects
Logging progress of sales activities
Gantt Charts and Link Tasking Capability
Cheque Cutting
Bank Integration
Bank Reconciliation
Numerous Data Exports
Business Intelligence, Dashboard and Report Writer Add-On
One of the best marketing project management software
Pricing
Basic Users: starting at $19/user/month
---

This project management software and is cloud-based. This is a reliable solution in moving to a paperless environment and replacing excel and other spreadsheets.
This platform helps you stay on top of your entire project lifecycle from conception to execution with features such as time tracking, project management, invoicing, quoting, file document exchange, deadline timelines, and budget tracking, among other important features.
This software helps in meeting the requirement of small to medium-sized enterprises including agencies, freelancers, and in-house groups.
Key Features
Account Preferences
Time Sheet
Stopwatch Timer
Personal Calendar
Reports
Contacts
Unlimited Clients & Projects
Project Status Options
Group Calendar
CEO Desktop
Invoicing
Project Scheduling with Project Calendar
Cycle and Capacity Reports
Timelines with Milestones
Pricing
The software provides three SMB and enterprise pricing plans for users to select from.
Classic – $5/user/month
Premier – $10/user/month
In-House – $15/user/month
---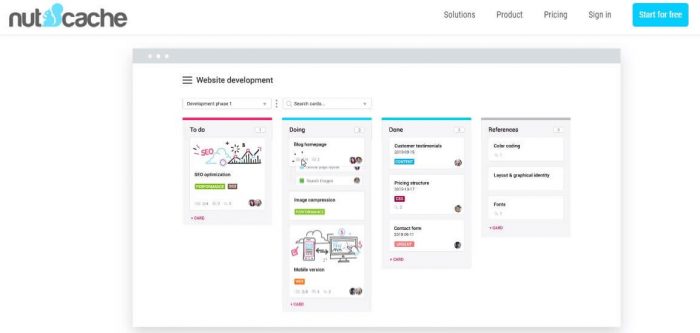 Nutcache is a project management software that integrates agile approaches for fast-tracked workflows.
Nutcache can assist you in meeting deadlines. This is so because Nutcache has a scrum project management module where you can visualize task assignments in cards and visualize the complete workflow.
Nutcache has a budget manager that incorporates Key Performance Indicators (KPIs) and tracks spending.
There is a budget dashboard as well which shows the billable amounts, facilitating you to maintain a good financial performance.
One of the key benefits that can be derived from Nutcache are:
Intuitive Project Hub: It has a project management dashboard that will help enable your team to be agile. You can choose between flexible templates and Kanban boards to help you keep track of your tasks in reaching project goals and milestones.
Better Task Prioritization: Nutcache helps you ensure that urgent tasks are completed first.
Mobile Team Management: You can't always get work done because of not being in the office or at home. Therefore, the developers have provided an Android application for the time management module.
Scrum Project Management: The software aids in making projects manageable by breaking them down into small chunks. This can be managed through task cards that you can drag and drop across the dashboard.
Key Features:
Capability to create projects for specific clients
Bill projects with worked hours
Manage all worked hours linked to projects
Custom Permission Profile Management
Assign team members to relevant projects
Allocate expenses to any of the projects
Team Management
Overview of the board's critical data
Drag your cards from one list to another as work develops
Invoice an entire board in a single click
Expense recording against a project or supplier
Register the payments to expenses
Categorize your expenses
One of the best marketing project management software
Pricing
Free Trial is available
Freelancer: $8.95/month (Annual billing)
Pro: $6/user/month (annual billing)
Enterprise: $12/user/month (annual billing)
---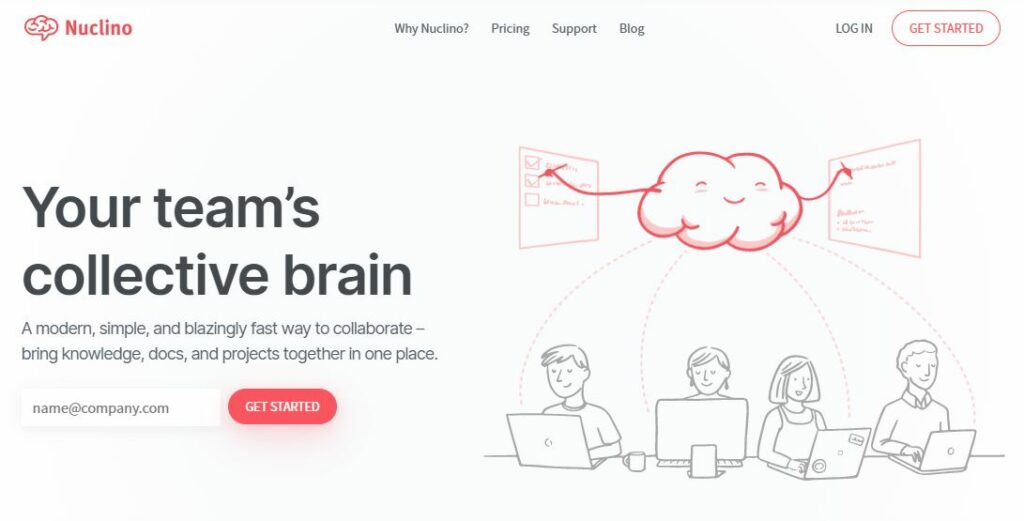 If you are looking for a lightweight, minimalist, and fast solution, Nuclino is a great option. Its uncluttered, clean interface and user-friendly design make it stand out among other free project management tools.
In Nuclino, projects can be organized in a variety of visual ways, including a Kanban board, a nested list, a table, or a graph. Every project is its own collaborative document, where you can capture project goals, add lists of sub-tasks, embed files, and more.
But managing projects is just one of the many things you can accomplish with Nuclino. It's a unified workspace that brings all of your team's knowledge, documents, and projects together in one central location. With Nuclino, you can easily build a company knowledge base, collaborate on documents in real-time, and onboard new team members, all without the hassle of context switching.
Key Features
Flexible data visualization options, including the Board, List, Table, and Graph view
Real-time collaboration
Task lists and assignments
Custom fields for tracking assignees, due dates, tags, and more
Auto-save of changes with version history
Markdown commands and keyboard shortcuts
Drag-and-drop editor
Comments and @-mentions
Interactive media embeds
A quick search with advanced filters
API
Integrations with 40+ apps, including Slack, Google Drive, and Figma
Pricing
Nuclino offers a Free plan
Standard plan starts at $5/user/month
Premium plan starts at $10/user/month
---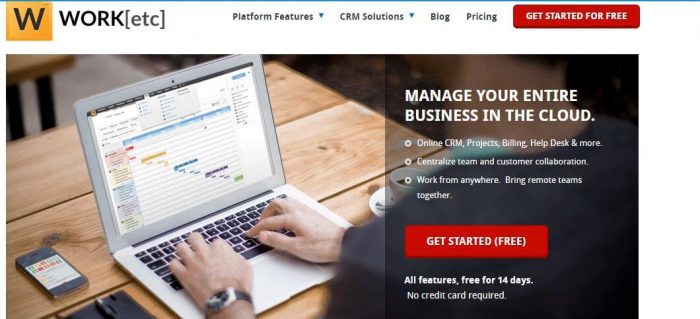 WORKetc is a complete business management solution with the capability to support CRM, help desk, billing, project management social media, and customer portal.
WORKetc is a project management software that makes it easy to structure, integrate as well as automate the myriad business tasks that go into each day.
WORKetc is currently being used by over 1200 fast-growing businesses across more than 15 countries with its powerful small business software.
The software's cloud-based mobile and web apps, you can operate your businesses at work, on the road, or at home.
It is scalable and simple to use – in fact, you may tailor the solution to the varying requirements of the operations within your business lines.
Key Features
Project Management capabilities
Customer Relationship Management (CRM) with customer account history, reminders and contact tagging
From 5 to 100 employees
Helpdesk with support tickets
Gmail and Outlook Plugins
Billing Featuring multi-currency, subscription, and catalog
Mobile, iPhone, and Android Support
Custom fields viewable on projects, sales and support cases
Pricing
Free trial is available
Starter – $78/month
Team – $195/month
Foundations – $395/month
---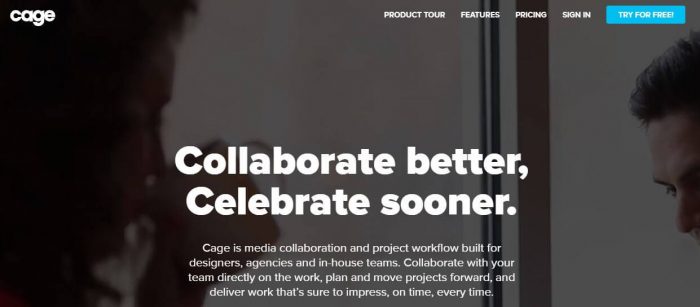 Cage is a Project workflow for your team to plan and complete projects.
It provides capabilities to add annotations directly to video, images, audio, PDFs, and over 120 plus other file formats.
Collaboration capabilities with your team and preview past editions of files and evaluate your work in a perfect framework.
The software provides integration with Slack, Dropbox, Adobe Creative Cloud, and more.
Common uses of the software are for Freelancers, Agencies, and Medium-Sized Organizations.
Key Features
Version control
File Management System
Messaging
Proof Comparison
Status Tracking
White Labelling
File Sharing
Custom Roles
Due Date Tracking
Task Management
Annotation and Markup Tools
One of the best marketing project management software
Pricing
Free Plan
Standard – $8/user/month
Professional – $14/user/month
Enterprise – Custom
---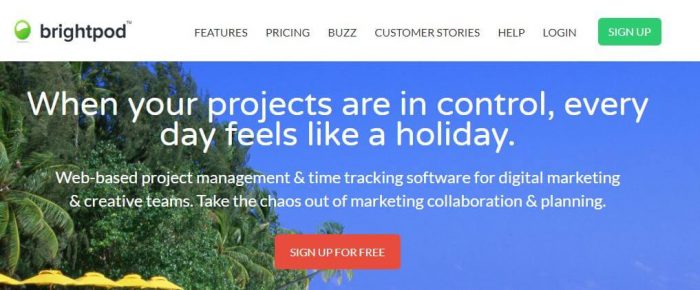 Brightpod is a web-based project management software for companies of all sizes, especially for marketing teams.
It offers such services as resource management, issue tracking, custom reporting, and others.
Major industries where the software may be used are retail, automation and manufacturing, financial services, engineering services, software development, and others.
The software manages marketing workflows in addition to task lists which can be simply applied to new projects.
Brightpod offers traditional project management capabilities of interactive Gantt charts, project templates, scheduling, project hierarchies, and project calendar.
The software allows for the creation of groups and teams for collaboration. Furthermore, additional capabilities include instant messaging, web conferencing, and version control.
Key Features
Visually track how your projects are progressing
Delegation and Tracking Recurring Tasks
Automate similar projects
Social Media and Content Strategy in one place
Cross-project prioritization helps in making the team stay on top of all high-priority work
Bird's Eye view of all your work during the time interval
Store all media production and graphics for every client in one organized manner
Track large goals and keep a track of your teams' performance
Save time with all your communication in one place
Capture requests from other departments without them ever logging in
Creative project management software
Pricing
Professional – $29 per month
Studio – $59 per month
Agency – $99 per month
Agency Plus – $199 per month
---

Weekdone is an objective setting and tracking tool for teams of any size.
This project management software offers users tools to enable them to concentrate on tasks and support their personal goals with that of their organization.
With Weekdone project management software, managers have a clear view of their team's activities. The solution lets them see which tasks are in a completed state, which objectives haven't been met so far, and which employee is outperforming his peers.
In addition, team leaders may offer personalized feedback and provide customized guidance to each of their team members.
Key benefits from Weekdone:
Activities Overview: Weekdone provides the senior leadership within an organization with an instant overview of what their teams are doing.
Focused Efforts: Employees have a clear view and understanding of what they should be working for and towards.
Regular Employee Feedback: Weekdone helps facilitate regular employee feedback. It facilitates this by offering managers a view of their teams' performance.
Satisfaction Surveys: Job Satisfaction is of the utmost importance in the current working environment across the globe. This is why Weekdone is equipped with a survey that is sent out on a weekly basis to employees.
Robust Task Management: All users have access to tools that allow them to keep track of their daily and weekly tasks.
Key Features
Weekly Planning
Employee Feedback
Goal Setting and Management
Customized Team Reports
Personal Dashboard
Project Tracking and Management
Achievement Sharing
OKR Linking
Performance Analysis
Live News Feed
One of the best marketing project management software
Creative project management software
Pricing
Free Trial is available
Weekly Planning + Reporting: $49/month
---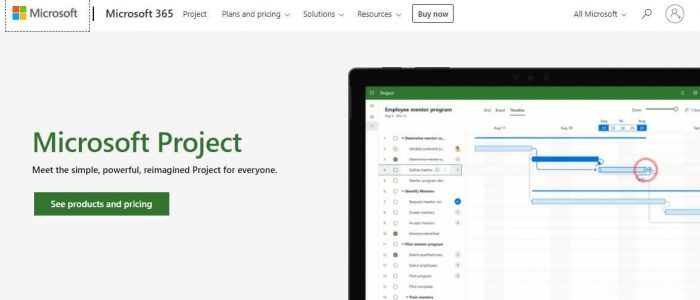 Microsoft Project is not the simplest project to integrate into your organization's workflow.
First of all, you will need a certified project manager within your ranks to drive the software. Secondly, you need to give your team ample time to learn using the software. Thirdly, the number of projects your teams manages, and their level of complexity should be quite high.
Microsoft Project is best for existing Office Suite users that require further project management functions in their day to day work.
Key Features
Task Prioritization and Scheduler: The software uses task lists and Gantt charts as their primary prioritization and task scheduler structures.
Shared Team Calendar
Resource Management: Track your working resources, material resources, and cost resources.
Time Tracking
Collaboration Features: The extent of Microsoft Project's file-sharing feature is limited to exporting project resources and emailing it to another party.
Budgeting Features
Pricing
Project Online Essentials: $7/user/month
Project Online Professionals: $30/user/month
Project Online Premium: $55/user/month
Microsoft Project also offers On-Premise Solutions:
Project Standard 2019: $620 (one-time payment)
Project Professional 2019: $1030 (one-time payment)
Project Server: Price negotiated with the client
---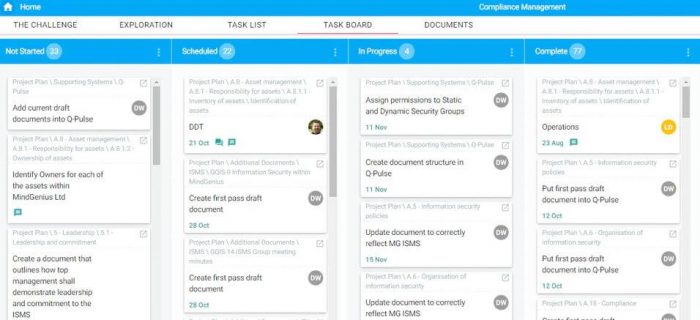 Barvas is a cloud-based project management software that combines mind mapping, collaboration, and task management into an integrated solution.
Barvas provides customers with a centralized workspace that enables them to work both as individuals and collectively.
Project managers can effortlessly allocate tasks and gain a complete picture, allowing them to make intelligent decisions and take decisive steps.
The software makes it easy to review problems and recommend solutions that present low effort and high impact.
Key Barvas Benefits
The software makes it simple for your unit to concentrate on your tasks and solve challenges with the best solutions
Barvas enables your team to work together on ideas with its collaboration and mind-mapping capabilities.
You are able to oversee your assets, create and implement programs that maximize your staff's productivity
Cloud-based project management software, which allows you to take Bravas with you, check on your projects and their progress
Project portfolio management software
Features
Task Management
Collaboration
Attendance Management
Task Boards
File Sharing
Resource Management
Team Chat
Milestone Tracking
Creative project management software
---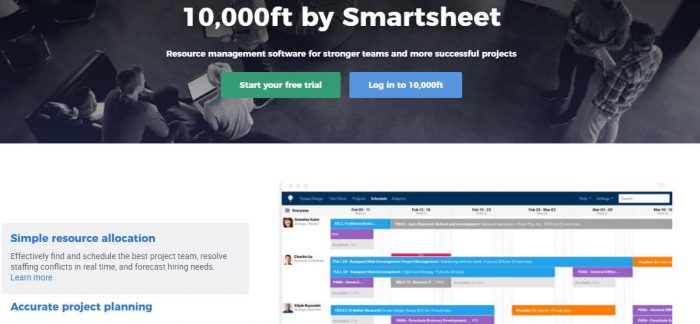 If you are considering for a granular PM tool to manage your daily workflows than 10,000ft Plans is not your ideal project management software.
If your biggest challenges are being able to understand, see, and communicate your data across a portfolio of work, 10,000ft would definitely be a winner for your team.
10,000ft Plans is a high-level project planning, resource management, and time tracking solution.
The software facilitates the teams to stay up to date on the status of the projects without being weighed down by needless levels of detail.
Key Features
Project Planning: Provides the capability to trail development for individual projects or across your portfolio.
Resource Management: Once you have set up your projects, day-to-day project changes are often made on the people's schedule.
Time Tracking: Capture the authentic time it takes to complete project work.
Reporting: You will be able to quickly pull out reports about the most critical areas within your organization
Project portfolio management software
Pricing
Free Trial is available
Up to 5 Members – $49/month
Up to 10 members – $99/month
Up to 20 members – $199/month
Up to 30 members – $299/month
Up to 40 members – $399/month
Up to 60 members – $599/month
---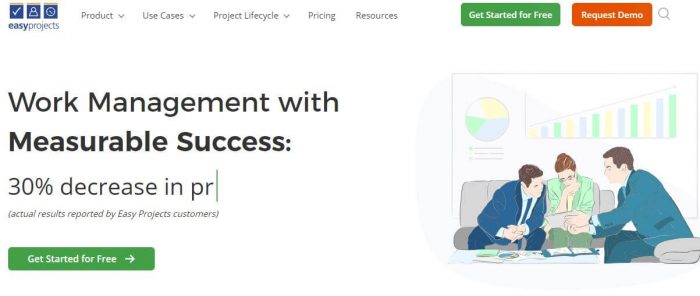 Easy Projects is an all in one project management software that offers you control over all important aspects of your project.
The software enables you to quickly visualize, manage, and track project progress, budgets, costs, timelines, profits, and resources.
It can streamline how you plan, monitor, handle, and evaluate projects. Whether you're running a professional consulting business or marketing agency; Easy Projects will help you along with all steps of the project.
A brief overview of Easy Projects benefits:
Project Planning and Tracking
Hassle-Free Project Collaboration
Key Features
Gantt Charts
Project Budgeting
Critical Path
Notifications
Time Tracking
Business Intelligence
Machine Learning
Kanban Boards
Team Collaboration
Resource Planning
Requests and Forms
Project Reports
One of the best marketing project management software
Creative project management software
Project portfolio management software
Pricing
Free Trial is Available
Easy Projects Team – $24/user/month
Easy Projects Enterprise – Contact Vendor
---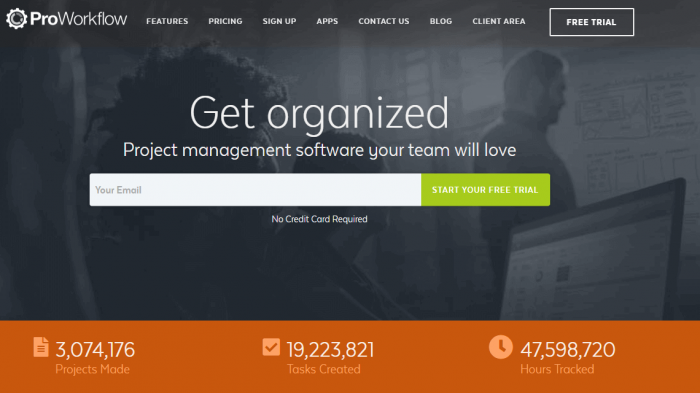 This is a project management software that focuses on project visibility and control to help you work together seamlessly with your teams. Its features and tools are scalable to match the needs of freelancers, SME's, and large blue-chip conglomerates.
The dashboard gives you a quick overview of your current status for finished, current, and future work. It has a messaging tool as well which helps you and your teammates stay updated.
It provides important capabilities like attaching files & allows you to make them public or private.
ProWorkflow also provides a Gantt Style Timeline which allows you to have a holistic view of your tasks and projects.
The software also integrates with Xero and Quickbooks, and you can add more productivity apps via the Dedicated App Store.
Top Benefits of ProWorkFlow
Utilize Easy to use Tools and Functionalities
Manage your Contacts
Guaranteed Support and Security
Manage Projects and Tasks Effortlessly
Manage time and resources effectively
Get business insight to make informed decisions
Key Features
Cloud solution
Template for reports
Branding and Configuration
Timesheet Entry options
Mobile and iPhone apps
Gantt Style Timeline
Easy to use Scheduling
Dashboards
Messaging and file sharing
Invoicing & Quotes
Individuals and Overall reports
Notifications
Messaging tools with one-click replies
Creative project management software
Project portfolio management software
Pricing
Solo – $10 per month
Professional – $20 per month
Advanced – $30 per month
---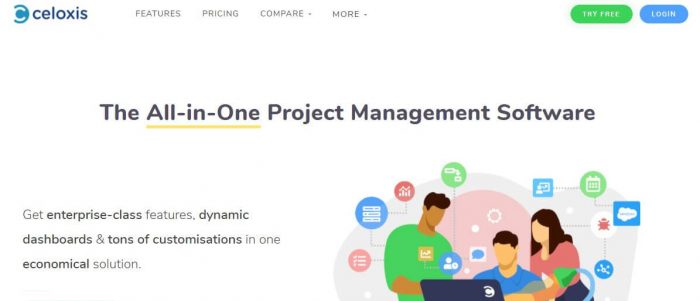 Celoxis is a project management software that is easy to use and affordable.
It is an integrated solution you can use to manage workflows, project portfolios, expenses, resources, and timesheets & improves team collaboration.
You can create realistic project plans with the scheduling features like vacation and time zone scheduling constraints, resource work calendars, and unlimited task hierarchy.
Key benefits of Celoxis
Auto scheduling modes
Project Portfolio Management
Gantt Chart that can effortlessly control more than 10,000 tasks
Dashboards
Custom field types such as currency, pick lists, dates and even formula fields
Multilingual application
Mobile Interface
Out of the box integrations and web-based API
Mobile Interface
Resource load charts
Real-Time workload realization
Key Features
Clickable Charts
Portfolio Management
Fully Searchable
Resource Management
Unique Workflow system
New Data visualization options
Card layout views
Scheduled report delivery
Custom fields
Project Templates
Cross-project dependencies
Microsoft project synchronization
Simple but powerful API
Multiple Dashboards
New Cash Flow
Time and Expense System with online approvals
Collaborative project management software
Project portfolio management software
Pricing
Free Trial
SaaS – $25/user/month
On-Premise – $450/user
---

This is one of the best online small business CRMs with over 400,000 users worldwide and proved helpful to manage marketing projects.
Among its main features are pipeline management, task management, and contact management to help you get clear sales visibility, track your deliverables to customers, an overview of your business, improve customer communication, and increases productivity.
Insightly provides integrations with popular applications, such as Evernote, Google Apps, and Gmail, Office, and Outlook.
Key benefits of Insightly
See a holistic view of contacts
At every engagement, the stage be on top of your customers
Get the small or big picture of your business
It is easy to use
Let us you go on mobile
Integrates easily
Key Features
Calendaring and Events
Custom Fields and filters
Web to Contact Forms
Get automatic email reminders
Easy file uploads
Google Drive
Automatic Address book
Fast Search
Linking
Create Milestones, Pipelines, and Tasks for Projects
One of the best marketing project management software
Project portfolio management software
Pricing
Insightly CRM pricing starting at $29/user per month
Insightly Marketing pricing starting at $299/month with 10,000 contact limit
---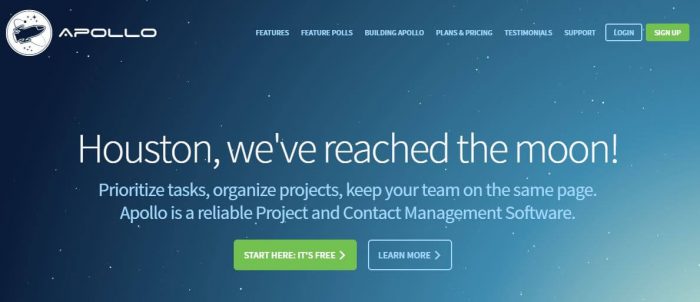 Apollo rhymes with infinity and beyond when it comes to relying on high-quality project management software. It may not be the perfect solution to all your project management needs, but the tool is renowned for getting things done efficiently.
Apollo users are reportedly able to manage their project management contacts, onboard teams, and tasks in one place. As a result that "hectic" schedule may not seem very intimidating.
Key Features:
Create separate tasks, milestones, and activities within each project. Or gather everyone up and manage everything within one virtual workspace.
Give a star rating to your favorite projects.
Grouping and sorting of dependent and independent activities.
Set due dates, timelines, and optional prerequisites to meet project deadlines.
Awesome collaboration tools. Each teammate has his/her own conversation history, notes, and PMs.
Multiple documents support.
Project portfolio management software
Annotate important images and files conveniently.
Best project management software for small teams
Cloud project management software
Collaborative project management software
And lots more….
Pricing:
This project management software is offered in four paid plans.
Apollo Basic is introduced at $23/Month.
Higher Plans start at $48/Month and scale up to $98/Month.
Signup for Apollo Max at $148 for unlimited features.
---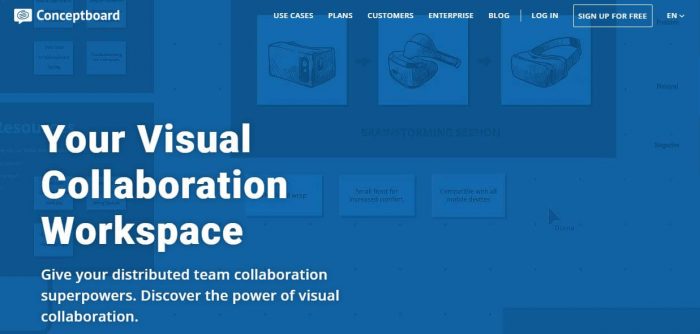 Conceptboard intersects project management and mind mapping through one robust solution. This project management tool is not everyone's cup of tea. However, those PMs and Agile professionals who like a mix of casual and professional user experience, reportedly benefit most from this program.
This tool offers real-time brainstorming, planning, and document sharing with team members. On that note, you can also collaborate with customers and friends conveniently.
It is an overall intuitive project handling, task management, and program planning software for people on the go.
Key Features:
Virtual collaboration tool for improved communication experience.
Share multi-extension supported documents and images easily.
Plan and deploy projects easily.
Best project management software for small teams
Manage workflow with remote and local teams in the same virtual workspace.
Pricing:
Conceptboard has a free trial for evaluation purposes.
Paid plan starts at $7.50/Month/User.
---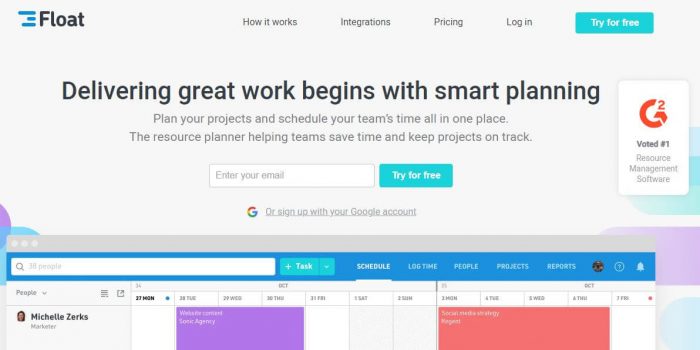 Float comes as kind of a bonus deal on our list of free project management tools. You see, it can be used for project and task management, but you can also use the program for resource scheduling. How cool is that?
We are talking about a full-fledged amalgamation of powerful resource scheduling and project management on the go. The result is impressive results for any kind of deadline-oriented workstream with multiple tasks, milestones, and things to look for.
In addition, Float is reportedly one of the top choices for most of the leading companies and teams all owing to its simple design and features.
Its features include employee management, project management, project tracking, real-time scheduling, apps for iOS, and Android.
You can frame and schedule your project, keep a trail on every member's progress through an activity feed. It includes an easy to use click and drag resource assignment. And even better, you can view all of your projects simultaneously as well.
Key Features:
Resource Scheduling
Task Management
Instant Notifications
Schedule days or time off
Team Workload Visualization
Easy and Quick Updates
Manage Resource Availability
Manage Individual skillsets
Team Management
Know your team
Part-time availability
Flexible permissions
Keep track of contractors
Add tags to track skills
A team on the reserve
Access rights and permissions
Project Management
Assign a Project Team
Identify Project Mileposts
Assign a Project Manager
Client-based management
Add Billable or non-billable
Addition of task notes
Pricing:
Resource planning plan at $5 per user per month
Resource planning + time tracking plan at $10 per user per month
Float has also undergone a variety of changes to keep up with power-level user requirements. As of right now, the program is a perfect fit for project managers due to the recently introduced timelines feature. Give it a try and let us know how the overall experience felt like.
---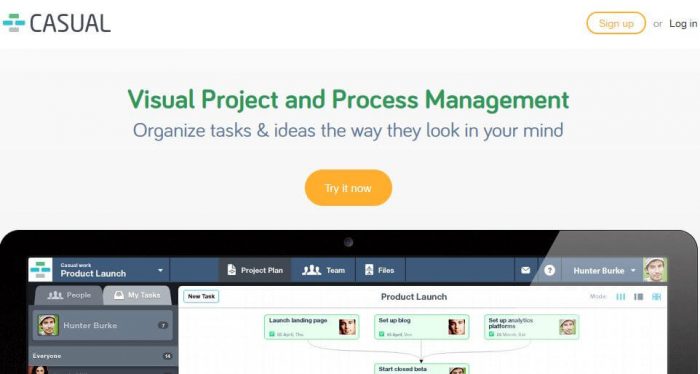 This application is also known as 'Casual'. If you are on the prowl for a tool that offers more of a casual experience – i.e. not too heavy on PM, or conventional use, this tool might be the right choice.
Besides a robust desktop edition, there is an iOS and Android version too for users on the go.
The iOS dedicated app comes with a dashboard view of visual tasks and ongoing projects. You can also access other essential features to keep the workflow functionality going on.
The only setback to Casual.PM is a bit of complexity that kicks in when setting up big projects. However, if your projects are not too lean on details, this app is perfect.
Key Features:
Dedicated app for iOS users on the go.
Create projects, tasks, and milestones through flowcharting.
Check your projects through remote access.
Powerful reports with previous project workflow history.
Real-time sync to keep entire team on the same page. Team members working remotely also get instant updates.
One click access to notes, history and project files.
Pricing:
Casual.PM is Free for all.
---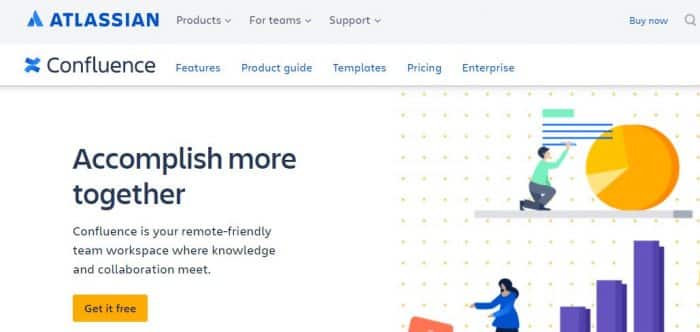 Trusted by more than 60,000 customers all around the world, Confluence is another software built to make a collaborative workspace.
You can organize all your work on one platform to help yourself work in a team. This collaborative effort will improve communication in the team and will let you grow in business.
Confluence makes your work more effective and efficient by making your bigger tasks run smoothly. It is a team-oriented software with social features to enhance interaction among the members.
Features:
Flexible workspace to turn words and conversations into actions.
Conversational environment for the members of the team.
Information is accessible to every member.
Project planning and integration are made more structured.
Collaborative workspace allows more growth.
Team calendars make your work more planned.
Pricing:
You can try this amazing software for free
The paid plan costs $5 per month
---

To gain more understanding of your progress in a given task, TimeCamp is your perfect tracking application. This time tracking app will let your teamwork with greater efficiency.
TimeCamp will optimize your teamwork aptitude because of the continuous tracking of the progress rate. The app is more like your digital project manager which saves you from investing too much of your energy in making spreadsheets etc.
Features:
Easy access to all your information.
Helps the members access their progress rate on any projects or tasks.
Improving your team's productivity.
Managing timesheets and attendance has become easier than before.
Integration with other work tools and more than 100 apps has made time tracking easy and fun.
Pricing:
TimeCamp offers a free trial to the customers
Basic plan – $5.25 per month
Pro Plan – $7.50 a month
Enterprise Plan – For enterprise pricing, contact their team.
---

Built to assist you in your project management tasks, Projectmanage.com is a tool to report, plan and track your progress. Planning and tracking features in this software will support your daily work tasks.
Collaborative features are another satisfying component of the software that helps you get all the team members on one page. You can use this amazing platform to discuss and generate more ideas to take your business to new heights.
Features:
The software runs on Windows and Mac screens.
Gantt charts, dashboards, and project reports help you track work progress, workload, costs, and updates about your work.
Manage your tasks and teams on this collaborative workspace.
Track time also helps you in evaluating the time taken on different tasks.
Integrations with other apps make it even more likable.
Pricing:
Team plan – $14 per month
Business plan – $25 per month
Enterprise plan – For the enterprise plan, contact team Projectmanager.com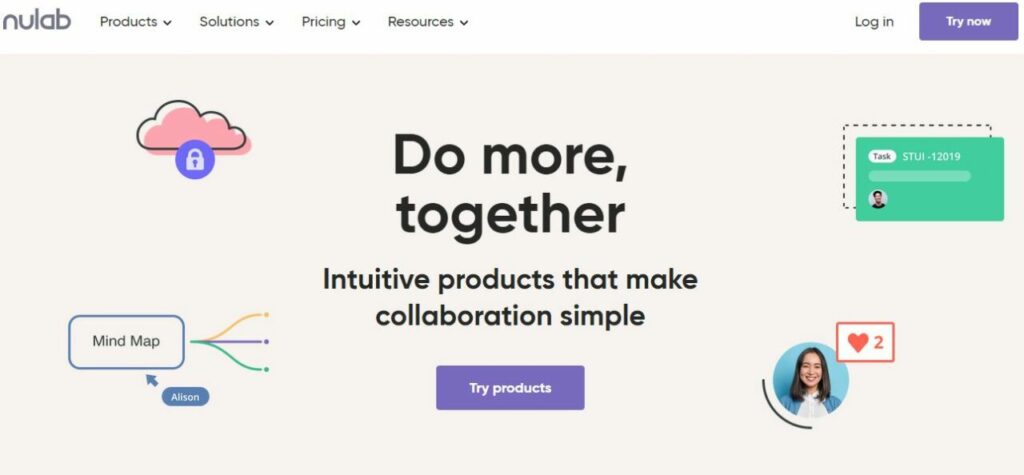 When it comes to new tools in project management, there's no one better than Nulab. Nulab helps you stay on top of deadlines and track progress.
Used by entrepreneurs and Fortune 500 companies alike, this app ensures that you have everything you need to stay on track.
In addition to its powerful database tracking system, Nulab also offers a variety of other tools that make managing your projects easy.
You can use the built-in chat feature when things get hectic to share ideas or ask questions with your team.
And with its detailed reports and analytics capabilities, you'll be able to see exactly where your time is being spent so that you can focus on key tasks.
Nulab is here to help you streamline your project management processes in a hassle-free manner. This tool has all features you need to effectively track every project and manage its progress from start to end.
From assigning stakeholders, and tracking tasks and milestones, as well as managing payments – this tool has everything covered! You can also use Nulab's powerful collaboration tools to share data with colleagues or clients in real-time.
With Nulab, there's no need for guesswork when it comes to running a successful business.
Key Features:
Here are some of the most important ones:
Flexible planning tools allow you to customize your project plan according to your needs.
Easy time tracking makes it easy to keep track of all your deadlines and progressions.
Comprehensive reports offer detailed information about your project's performance.
Pricing:
Nulab offers a variety of packages according to the product you opt for. There is a plan for everyone.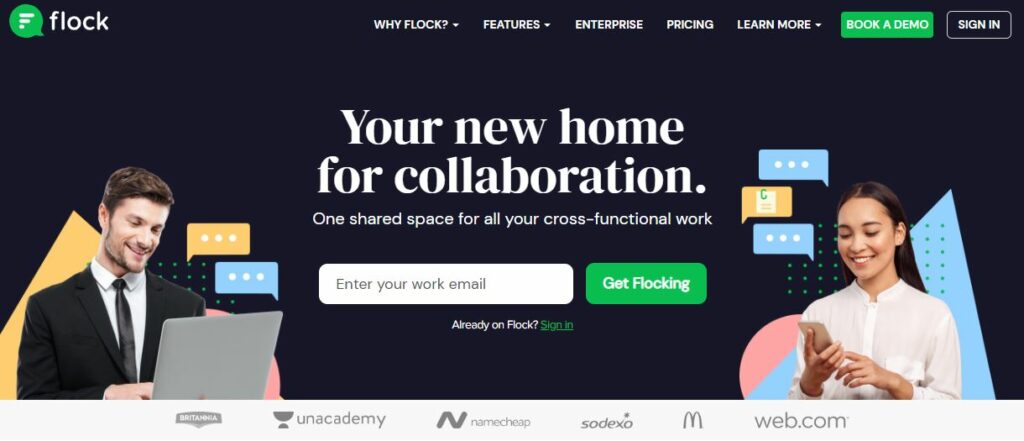 Flock is an out-of-the-box, easy-to-use project management tool. Flock has been designed with ease of use in mind, and it lets you track your projects with minimal fuss.
Whether you're managing a small project or a big one, Flock will help you keep track of everything that needs to be done.
Tracking tasks and assigning them to team members is a breeze with Flock. You can see exactly what's going on by keeping track of all your projects in one place. You can also add notes and tags for easy retrieval later on.
Add as many or as few projects as you need; the app understands how important each task is and automatically assigns it importance accordingly so that you know where it stands in the grand scheme of things.
When things get too busy at work, just remember that there's always time for some clean-up on weekends.
Key Features:
Before utilizing flock, take a look at these essential characteristics;
Real-time cooperation
Enter video calls with a single click.
Share all file kinds and locate them quickly.
Invite visitors to join you at work
On the fly, make notes and work with teams.
Mobile sharing of code snippets
From within Flock, access your entire Google Drive.
Without switching tabs, manage your GitHub Repos.
Pricing:
Flock offers monthly and yearly billing. The Pro plan starts at $4.50 per licensed user, per month, billed annually ($6 billed monthly).
---
Top Picks for Project Management Software in Different Categories
Here are our top picks for PM software among different categories to help keep on track of your projects.
Best for Project Management
Best for Agile Teams
Best for Complex Projects
Best for Fast Setup

From collaborating with project teams, making checklists to managing complex projects, sharing files, scheduling meetings, Gantt Charts, and more, nTask facilitates project management like none other.
It is an agile collaboration software that provides a visual overview of what is being worked on, who is working on it, and how far they have gotten.
Asana is a go-to tool to manage complex, multiple projects with ease. It can help you to organize your work in a way that you can fetch any information about your projects easily.
When it comes to ease of use and quick setup, Wrike is right up there. If you require a quality solution that your team can pick up quickly, this one is well worth checking out.
Pros:

Simple set up
Easy to use
Perfect for setting up checklists and to-dos across teams
Kanban boards and project planning
Built-in time tracking and timesheets
Lowest cost plans start at $3/user/month

Pros:

Share files with your team members
Flexible
Simple UI
Understanding quickly when a deadline is near
Mobile friendly
Keep track of to-do lists

Pros:

Better communication capabilities for teams
Bug Tracking
Facilitates suggestions and requests
Supports tracking applicants
Great for meetings

Pros:

Quick and Easy Setup
Intuitive to use
Great Feature Set
Easy interface
Can be used for managing ongoing work or projects

Cons:

Limited Integrations currently
Limited storage in free version

Cons:

Low storage limit
Difficult to handle big projects
Cannot view iterations
No Gantt Charts

Cons:

Not user friendly especially for new users
Too many features with limited export
Tasks can only be assigned to one person
No Time Tracking capabilities

Cons:

Best features are limited to the business plan
The task timer is difficult to locate

Rating:

Capterra: 4.5/5
G2: 4.3/5

Rating:

Capterra Rating: 4.5/5
G2 Rating: 4.2/5

Rating:

Capterra Rating: 4.4/5
G2 Rating: 4.3/5

Rating:

Capterra Rating: 4.2/5
G2 Rating: 4.2/5
nTask is one of the Top Project Management Software for Startups.

Manage tasks, teams, projects, meetings, and more with nTask. Sign up Now!
Project Management Software FAQ's
What is project management software?
Project management software is meant to streamline all your processes and provide you the
gateway to collaborate
with your peer and partners on important dates and deliverables.
The best project management software in the market cater to not just overviews of the project and granular details of the working on each – instead, the best ones offer the capacity to do resource management as well.
These resources might be materials, workers, or even money.
The top project management tools facilitate teams in handling slipped deadlines by automatically rescheduling tasks that are affected by them.
Project management apps are different from other work management apps – PM tools are specifically for projects.
How Project Management Apps Work?
Most projects are led by a dedicated project manager. Even though a project manager oversees all the requirements of a project; that does not mean that only he or she is working on a project management app.
All kinds of people from different departments and functions use to update the progress of their work through a project management app. For example, employees check in to their project management apps to keep track of their assigned tasks and delivery timelines associated with those tasks.
In a perfect world, each task, sub-task, and deliverable is assigned to one individual who is responsible to meet the specific requirements of that task according to the deadline given.
Having the proper visibility of who's doing what and when allows the project manager to reallocate human resources as and when required.
By
looking at a Gantt Chart
, a project manager can easily see who is lagging behind in meeting work deliverables.
Most project management solutions provide ample storage space as well for teams to upload and share relevant documents so that all members can discuss relevant documentation and create a way forward strategy.
3. What is the easiest-to-use online project management software?
There are many online project management software options available, and it can be difficult to decide which one is the best for you. But if ease of use is a priority, then nTask may be your best bet. This platform offers literally everything you need in order to manage your projects effectively, from calendar integration to task lists and communication tools. Plus, there are plenty of helpful tutorials and support forums available should you encounter any problems along the way.
4. What IS an IT Project Management System?
An IT project management system (ITPMS) is a software application that helps to organize, plan, and track the progress of an IT project. It allows you to manage all aspects of the project from start to finish, including planning and tracking milestones, assigning tasks and responsibilities, gathering data on performance and results, communication strategies, team collaboration tools, conflict management abilities etc.

An effective ITPMS ensures that projects are completed on time and within budget while also meeting customer expectations. It can help avoid potential risks associated with unplanned or unfinished projects as well as improve overall productivity by reducing wasted time and energy.

There are many different types of ITPMs available on the market today; it is important to choose one that best suits your needs. Some common features include: triage capabilities for quickly sorting through various priorities; templates that make it easy to create customized plans; daily reports with actionable insights so you know where things stand; mapping tools allowing you to visualize projects in geographical terms etc.

Conclusion:
In a nutshell, there are pros and cons associated with each type of these free Agile project management software and apps available, with no single one being perfect.
You just need to find out the one that caters to your individual and team needs and make the best out of the options available.
Also, read