Monday.com, formerly DaPulse, has been around in the project management niche for quite some time.
Bagging major clients from the IT industry, Monday has made a mark as a great project management tool with over 10 years of history.
Monday is a project management tool with many features for team management and project delivery. So, why do we need a Monday.com alternative?
Like each entity present on the earth's surface, this tool is not perfect. It's not exactly a one-size-fits-all solution. For instance, here are some of the basic features it lacks:
No Gantt Charts:
Yes, you read that right. Monday does not believe in Gantt charts. In fact, they have an entire blog on why they take pride in offering a tool that does not include Gantt charts. It is sad, but if you're looking for Gantt chart software in a project management tool, Monday will be a no-go.
Pricing vs. Features:
With so many tools that offer a vast feature set for reasonable prices, Monday seems to lag in competitive pricing. The introductory package costs $25 per month for features other tools provide for less than one-third of the price.
Recurring Tasks:
Monday does not have an inbuilt module for scheduling recurring tasks. Teams often need to work with certain types of tasks on a daily level. It can be monotonous to set a schedule every day, and many tools allow one-time scheduling for such tasks.
Time Tracking:
As with recurring tasks, Monday does not even have a native time tracking feature – you need to use third-party integrations to implement time tracking.
So, here is a list of top Monday alternatives you can avail of today, resulting in an equal or even higher level of user satisfaction and team productivity.
26 of the Best Free Monday.com Alternatives in 2023
We've compiled a detailed list of 26 Best and Free Monday.com Alternatives that you must try in 2023: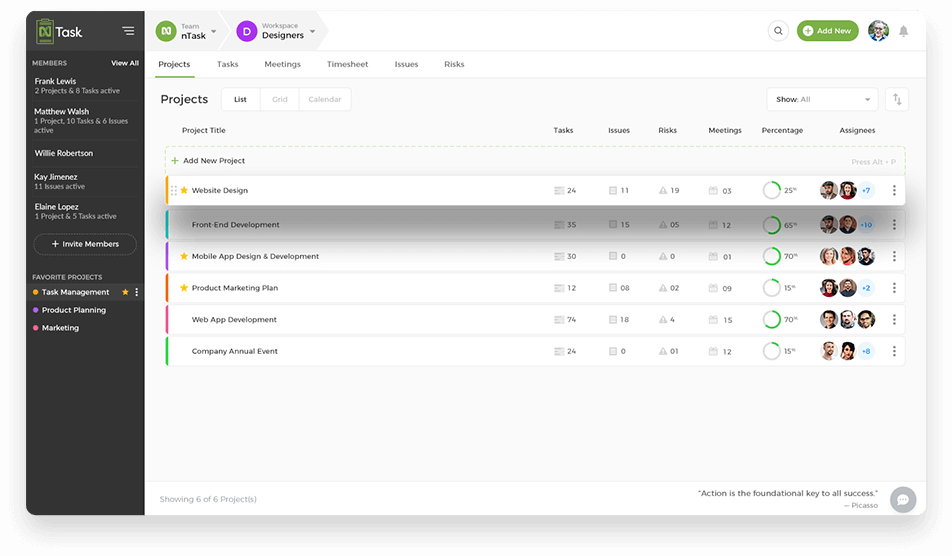 First up on our list of free Monday alternatives is nTask. Being a project management and team collaboration tool, nTask caters to teams from numerous industries with varying work patterns. nTask has a clean interface and is very intuitive to learn.
With efficient modules integrated on the side, it helps you to work with tasks, projects, meetings, timesheets, and issues. All of this is developed to offer ease to IT and non-IT professionals from all over the internet.
Key Features
Check out the following robust features you can make use of with nTask:
Comprehensive task management that allows you to structure your work through task creation, organization, prioritizing, assigning, and sharing. You can schedule tasks on a one-time and recurring basis. You can either create projects and associated tasks or treat tasks independently. Plus, you can switch tasks between projects, which makes it easier to improvise along the way.
Integrating with Slack allows you to create tasks and projects during discussions with team members and send updates from nTask to Slack conversations relevant to tasks and projects.
Efficient project management through timelines, percent-complete tracking, Gantt charts, efficient reporting, and resource allocation.
Track time for each task individually for better task planning.
Employees can list the hours spent on tasks through the timesheet management module and show the cost incurred per resource. You can manage employee task efforts and payroll with this dedicated module.
A complete meeting management module for scheduling meetings. You can schedule meetings as one-time or recurring by sending invites to attendees, adding timing and location details, and adding follow-up tasks and decisions.
The issue management feature helps you easily track issues by listing them with multiple statuses and assigning an issue owner.
Identify potential risks through the risk management module. You can list the risks assigned to a risk owner with multiple statuses.
Send alerts, notifications, and reminders to keep teams on track.
iOS and Android mobile apps
Pricing
FREE – Unlimited workspaces, 100 MB storage, 5 team members in each workspace, unlimited tasks.
Premium – Starting at $3 per user/month, unlimited Gantt Charts and projects, custom filters, budget management, and more.
Business – Starting at $8 per user/month, Risk Management, Custom Fields, User Permissions, and Reporting.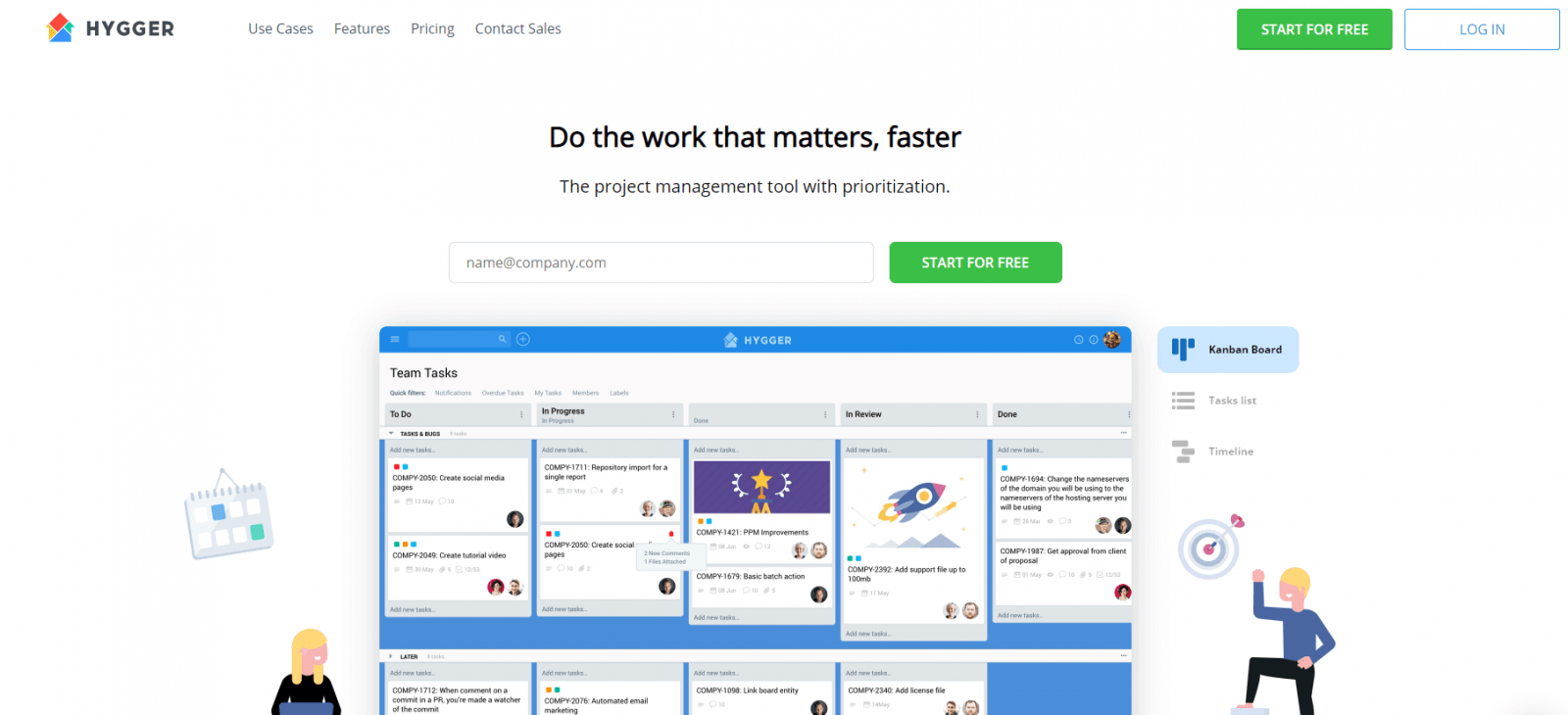 Up next on our Monday Alternatives list, we've got Hygger.
It offers team and project management capabilities while catering to popular Agile framework requirements.
With Hygger, you can effectively implement Agile practices through Scrum and Kanban boards. You can also combine both approaches to customize how you keep track of your team and projects.
You can get a spectrum of features dealing with task and project management, time tracking, issue management, and customer feedback.
Key Features
Get to work with the following capabilities with Hygger:
Task and project management through Scrum and Kanban boards. Through Swimlanes or Labels, you can organize tasks on your boards. Plus, you can identify and tackle potential issues via visible bottlenecks.
Time tracking and estimation for tasks through hours, log the time it took to complete a task and the hours logged and hours estimated ratio.
Project reporting through Gantt charts, percent complete tracking, milestone tracking, Burndown report for Scrum, and Cycle Time for Kanban real-time monitoring.
Ideas storage and scoring.
Ability to create roadmaps and share them with teams.
Time and expense tracking for accounting and payroll.
Release management.
iOS and Android mobile apps.
Pricing
Free – Free forever, no strings attached.
Standard – at $7.00 per user/month, unlimited everything.
Enterprise – at $14 per user/month, advanced customizations.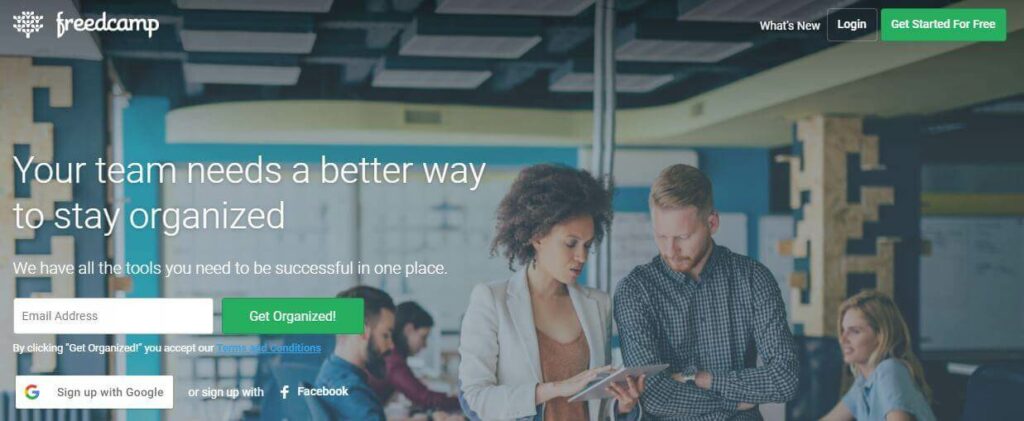 Freedcamp is a free way for employees to collaborate in the workplace.
It is a web-based project and team management program that allows teams to manage many projects efficiently using cloud computing.
The freed camp offers all customers the bulk of PM features at no cost.
You can also access the advanced features for free if you are a nonprofit, teacher, or student (other users have to pay for these.)
Freedcamp is the best Monday.com alternative if you are looking for a basic, low-cost project management system, especially if you are a nonprofit.
Key Features
Task lists in Freedcamp offer an overview of all the tasks that must be done. Big tasks can be divided into smaller subtasks by users
The Calendar allows the team to get an overview of due items in one place, as well as establish events, tasks, and milestones, among other things
Freed camp is an integrated application with an issue tracker for a more robust approach to task issues
A native iOS app is available, with an Android app coming soon
CRM, invoicing, white label branding, file management, and file editing are among the additional capabilities
Pricing
Free Trial is available for 14-day evaluation purposes.
Pro Plan starts at $2.49 per active user each month.
Business Plan starts at $8 per user/ per month.
Enterprise Plan starts at $19.99 per user/ per month.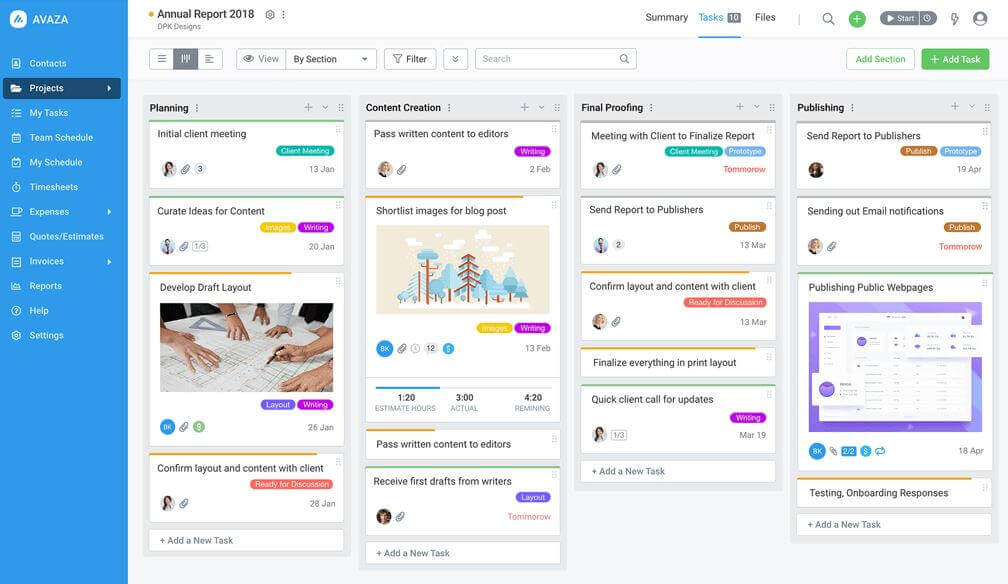 Another tool that makes it to our list of free Monday alternatives in Avaza.
Avaza covers project management from the beginning, i.e. customer quotations, and to the end, i.e, customer invoicing.
This project management tool is one of our top suggestions as an alternative to Monday. Like other basic project and team management software, Avaza allows you to be more responsive to customers using the Questions tab.
You can also share detailed project estimates with potential clients. On approval, these estimates can be converted into a project right away.
Key Features
Task management includes group tasks and task views via Kanban, Gantt, and List.
Project management, including project budgeting, Gantt charts, reports, project burn-down charts, and project progress dashboards.
Time tracking for tasks.
Activity feeds.
Comments, file sharing, and collaboration.
Timesheet entry and payroll management.
Online payments (partial payments, PayPal payment integration).
Invoices and online billing.
Cloud accounting.
Credit notes.
Invoice, Quotation, and Estimation.
Billing and expense management, including multi-currency expenses, invoicing, payments, credit notes, and support for split payments across invoices.
iOS and Android mobile apps.
Pricing
Free – free forever, no strings attached.
$11.99 – Startup plan, great for small teams.
$23.95 – Basic plan, great for medium-sized businesses.
$47.95 – Business plan, great for Large-scaled to Enterprise level businesses.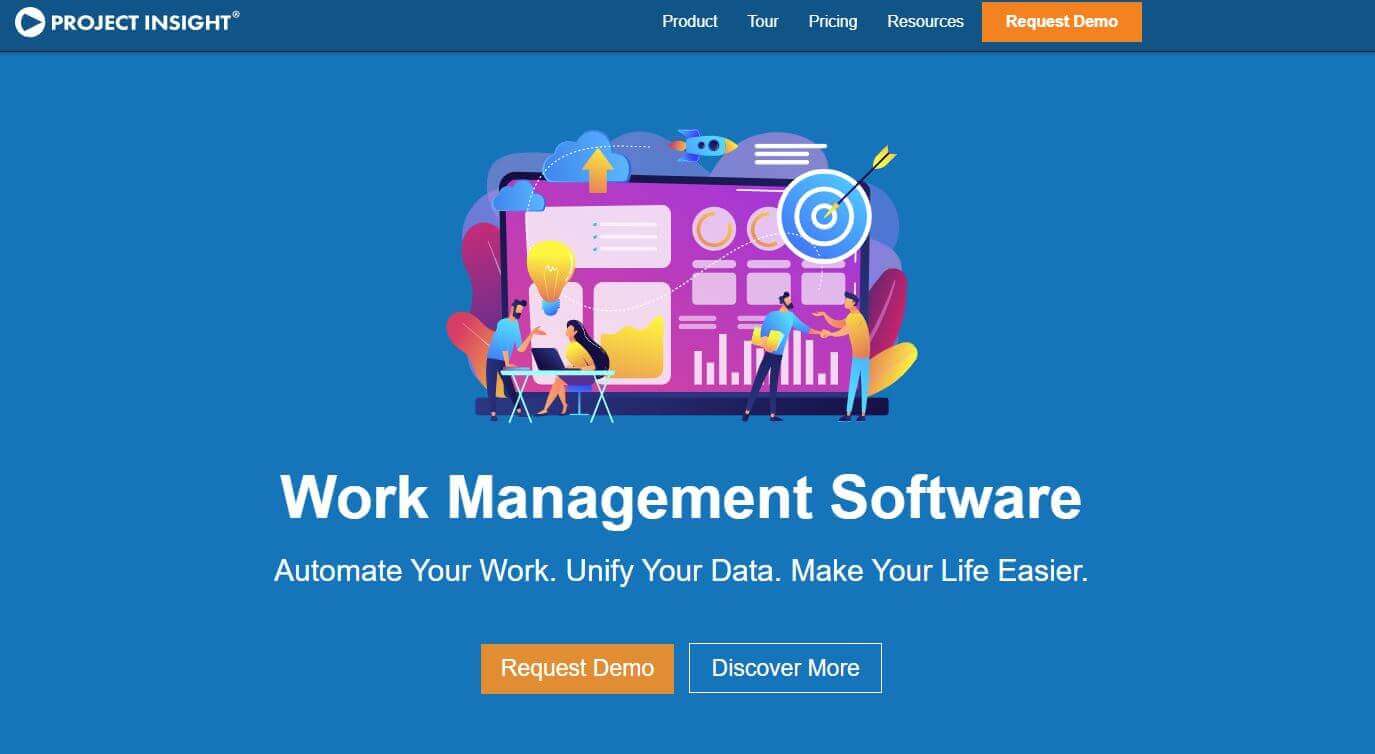 Our 5th pick for free Monday alternatives is Project Insight.
Catering to project and portfolio management, avail numerous features through a centralized interface, including task and project management, team communication, resource management, expense estimation, and more.
Plus, you can customize themes, labels, and fields as required.
Key Features
Here are key project planning features you can avail yourself of with Project Insight:
Task management includes customization for fields, forms, and other elements.
Project management includes project dashboard reports, Gantt charts, status updates, project budgeting, reporting, and scheduling.
Time tracking.
Team collaboration and discussion channel.
Cross-project resource allocation.
Resource management.
Expense assessment and management, including Budgeting and costing.
Capacity planner for resource management.
Workflow and approvals.
Pricing
FREE – Basic functionality. Free forever.
$3 for Add-ons package.
$45.00 – Business and Enterprise plans, unlimited everything.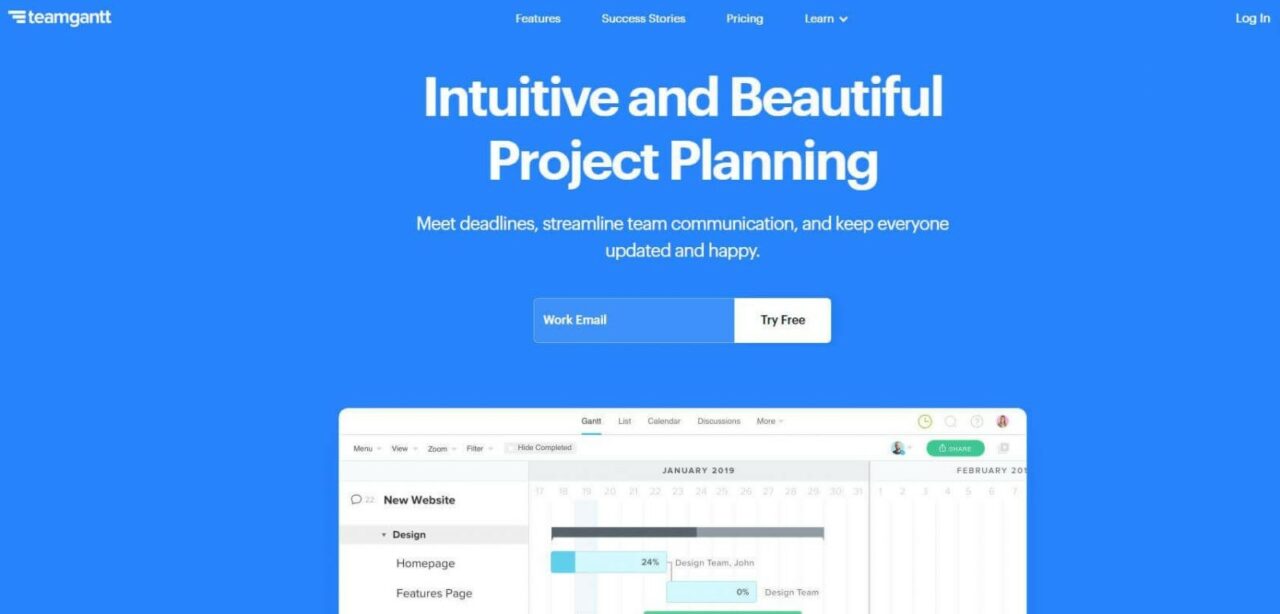 Winning the hearts of giants, including Disney, Amazon, and more, TeamGantt is one of the top Monday alternatives.
To begin with, you can easily manage and reorder tasks through drag and drop, including recurring tasks. Project management is easier with templates, timelines, and Gantt charts.
It offers time tracking, project dependencies, filters, and more. You can even embed specific project timelines on your website.
It helps you efficiently work through drag and drop, so it is practically effortless. With all this and more at a reasonable price, check out TeamGantt as one of your Monday alternatives.
Key Features:
Here is what you get with TeamGantt:
Task management includes subgroup, nested, and recurring tasks.
Conversations on tasks.
Project management, including Gantt charts, project timelines, built-in templates, and project dependencies.
Time tracking for projects.
Planned vs. Actual timelines.
Easy collaboration channels.
Customizable views.
Drag and drop.
Real-time progress.
File storage.
Project timeline embedding in websites.
Sticky notes for instant updates.
Availability tab for practical workload assignment to teams.
Email reminders.
Mobile apps for iOS and Android.
Pricing:
TeamGantt offers you:
Lite Plan starts at $19 per month/ per manager.
Pro Plan at $49 per month/ per manager.
Enterprise Plan starts at $99 per month/ per manager.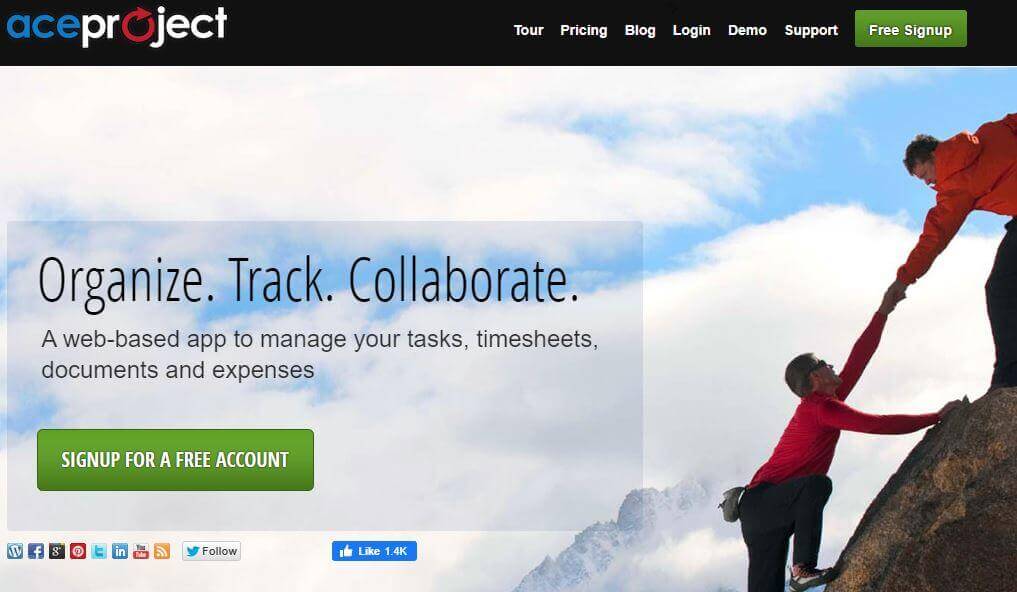 Aceproject is a neatly designed project management and time tracking app ready to replace Monday anytime.
This tool offers all features to take tasks and team collaboration a notch up.
It includes multiple modules, including projects, tasks, timesheets, documents, and expenses, laced with multiple options.
This gives you a start-to-finish tool for managing every aspect of your business. If this wasn't enough, Aceproject offers five different pricing plans, including a free plan.
Plus, it covers most of the features that Monday lacks, such as Gantt charts, time tracking, etc. Want more? Check out the key features and be ready to switch today.
Key Features:
Aceproject lends you the following capabilities:
Task management includes task creation and organization, recurring tasks, and customized task reports.
Project management, including Gantt charts, project tracking, project dependencies, and in-built templates.
Timesheet module including time clock, timesheet approvals, and advanced time reports.
Document management includes sharing and storing documents online, maintaining document versioning, and locking to sustain document originality.
Expense management, including expense tracking, approvals, and advanced reports.
Time tracking.
Email notifications
Customizable dashboard.
Mobile apps for iOS and Android.
Pricing:
Aceproject offers the following pricing plans:
Basic (Free).
Standard at $24 per month.
Advanced at $ 49 per month.
Silver at $99 per month.
Gold at $199 per month.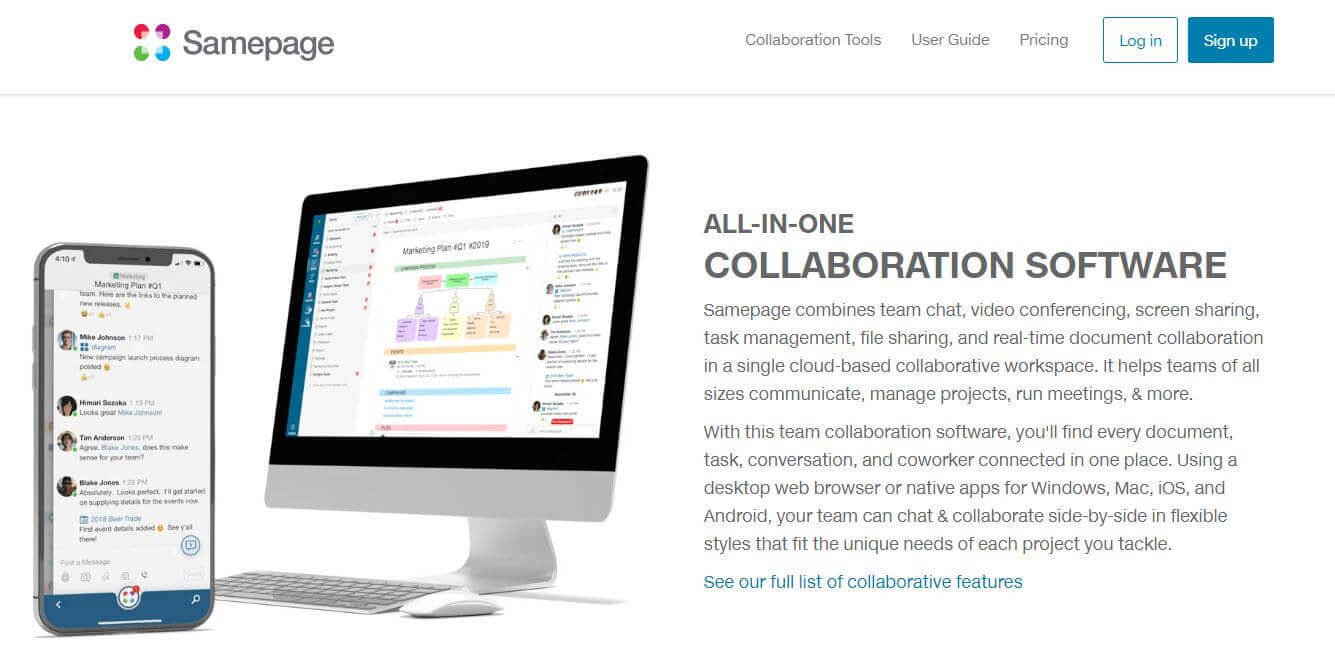 Sampage is an all-in-one collaboration tool that gives a refreshing twist to project management and teamwork.
We consider Samepage as one of your best Monday alternatives due to its different yet exciting work environment and affordability.
You can manage tasks, projects, online meetings, collaboration, and more through one entity – pages. Each user can work on different elements on different pages that can be edited together.
Through pages, users can work on different parts of work assigned such as images, online meetings, documents, etc. Look at the key features to know more about this Monday alternative.
Key Features:
Make use of the following features with Samepage:
Pages for access to various modules.
Task management includes due dates, priority level, recurrence, sub-tasks, and description details.
Reminders.
Meeting management.
Comments and feedback sharing.
Project management includes tracking multiple projects, start dates, end dates, Gantt charts, task dependencies, milestones, etc.
Online video and voice calls.
Shared calendar.
Team collaboration, including one on one and team chats and calls.
Conversations with tasks, images, projects, and meetings.
Event coordination.
Document management, including file sharing and co-authoring documents.
Reporting dashboards.
Mobile apps for iOS and Android.
Pricing:
Sampage offers the following pricing plans:
Free
Pro & Enterprise at $7 per member per month
Non-profit and Educational (customizable)
9. Teamweek (Now Known as Toggl)

Used by more than 3000 teams globally, including Microsoft and Disney, Teamweek is a great choice when you're looking for Monday alternatives. With a feature set that helps you organize and manage work visually, this tool endorses the saying that a picture is worth a thousand words.
Offering options ranging from capacity planning to project updates, you get to monitor more in a simple glance than studying complex reports.
Organize teams, view roadmaps, downloadable shared timelines, and more with this versatile tool.
One of the cool features is its annual review, where you get to see how far you and your team have come across the year. With all of these features and more, you will surely get value for investment with Teamweek.
Key Features:
Avail the following set of features with Teamweek:
Drag-and-drop interface.
Task management includes backlogs for unassigned tasks, creation, assignment, customized, color-coded, and recurring tasks.
Project management, including Gantt charts, downloadable shared timelines, roadmap schedules, milestones, and project view.
Customized workdays and holidays.
Public links.
Team availability view.
Multiple user access levels.
Export to calendars.
Send tasks via the Google Chrome extension.
Filter calendar by the project.
Set public holidays by country.
Overbooking calculations.
Mobile apps for iOS and Android.
Pricing:
Teamweek offers the following unnamed pricing plans:
Free.
Team Plan starts at $9 per user/ per month.
Business Plan starts at $15 per user/ per month.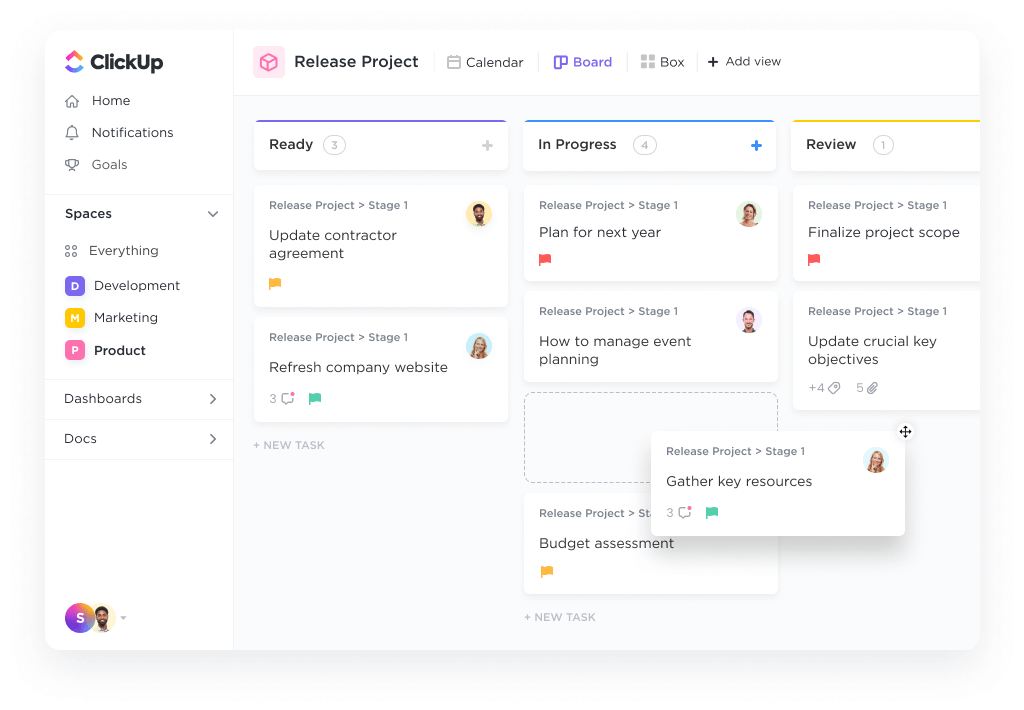 ClickUp is a flexible, all-in-one productivity tool that small and large teams across industries use for a work management solution.
It offers a feature-rich experience to view your workload, monitor project updates, and collaborate with the team—no matter your project style.
Unlike Monday, ClickUp's hundreds of customizable and advanced features to streamline your projects are available to all users, even on its Free Forever Plan. ClickUp is simple to set up and easy to use with its user-friendly interface and drag-and-drop functionality.
Plus, its collaboration abilities are virtually unmatched with an in-app Chat feature and threaded comments that can be assigned and edited directly within a ClickUp task or Doc, instantly turning any thought into an action item. Still, there is so much more ClickUp can do for you.
Key Features
Choose from hundreds of customizable features that scale with your needs
15+ customizable views, including Gantt Chart, Kanban-like Board view, and Workload view
Add single or multiple assignees to tasks and add watchers to get any task update alerts
Identify blockers and bottlenecks with task relationships and dependencies
Collaborative editing and detection in ClickUp Docs, tasks, and more
Use assigned comments to delegate action items to specific team members
Set recurring tasks and custom automation
Track, sort, and filter your work with Custom Fields
Get real-time reporting with Dashboards
Connect ClickUp to over 1,000 other work tools
Manage your time better with time estimates and a global time tracker
Get access to your work wherever you go with the ClickUp mobile app
24/7 customer support
Pricing
Add unlimited members and tasks and get 1,000 MB of storage with the Free Forever Plan
Get access to more advanced features with paid plans starting at $5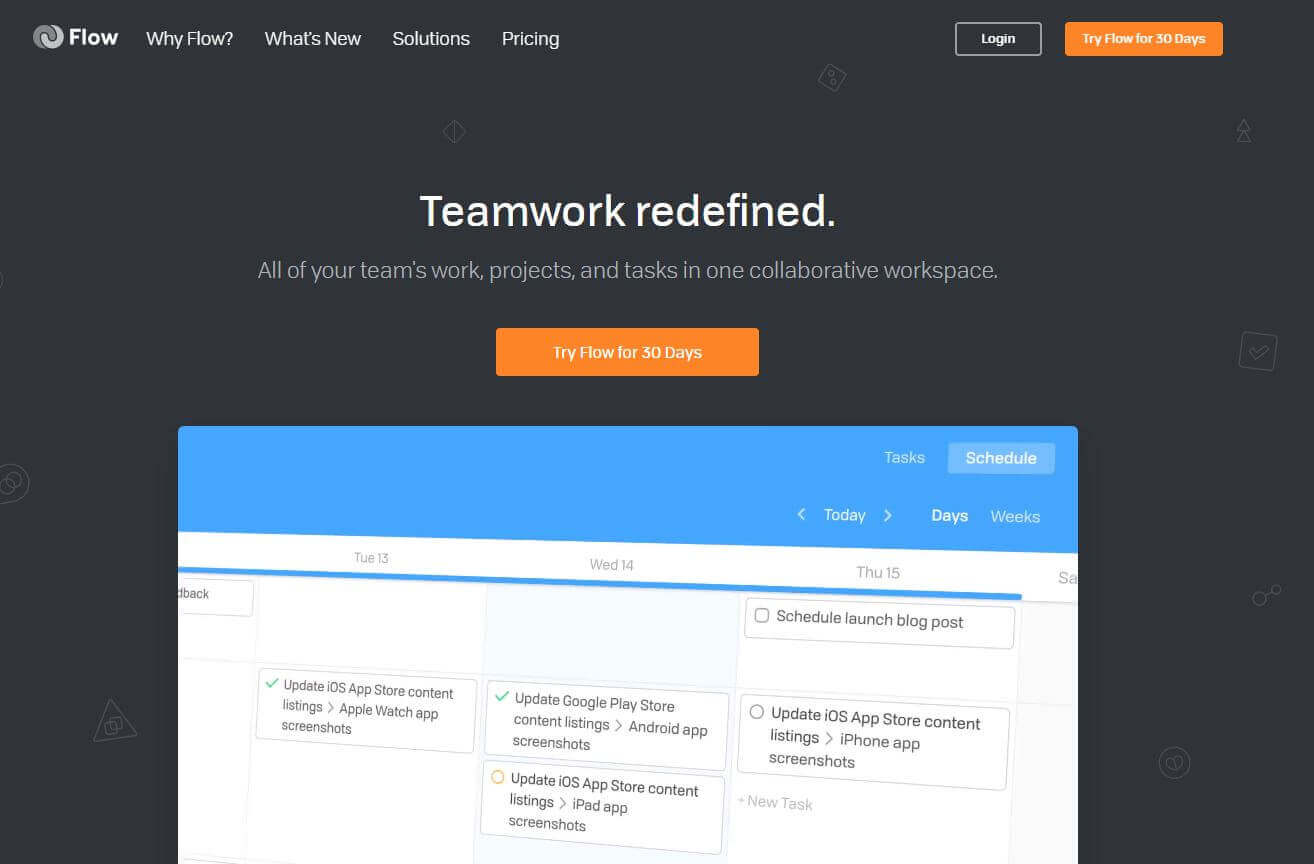 This Monday alternative provides a wholesome experience enabling you to manage various aspects of project management under one roof.
You can create private or public projects and tasks. It also makes project management and workload balancing particularly easy through the project split view. Plus, you get updates on projects and tasks through Slack.
With beautiful colors and a short learning curve, Flow helps you create smart workflows and effective roadmaps so you and your team can stay productive.
Key Features:
With Flow, make your task management and collaboration efficient through the following features:
Drag and drop interface.
Project management includes a list or card view, dashboard, timeline, public and private projects, project duplications, export and archiving notes, and Gantt workflows.
Task management includes creating and assigning tasks, priority, task setting in the list or card view, public and private tasks, subtasks, recurring tasks, task comments, tags, and flags.
Resource management for balancing team workload, and monitoring team progress, including project split view.
Team collaboration.
Team management includes creating workgroups and setting up different teams and guest accounts.
Document and file sharing.
Search and filter.
Mobile apps for iOS and Android.
Pricing:
Flow offers the following pricing plans:
Basic at $8 per user/ per month.
Plus at $12 per user/ per month.
Pro at $18 per user/ per month (customizable).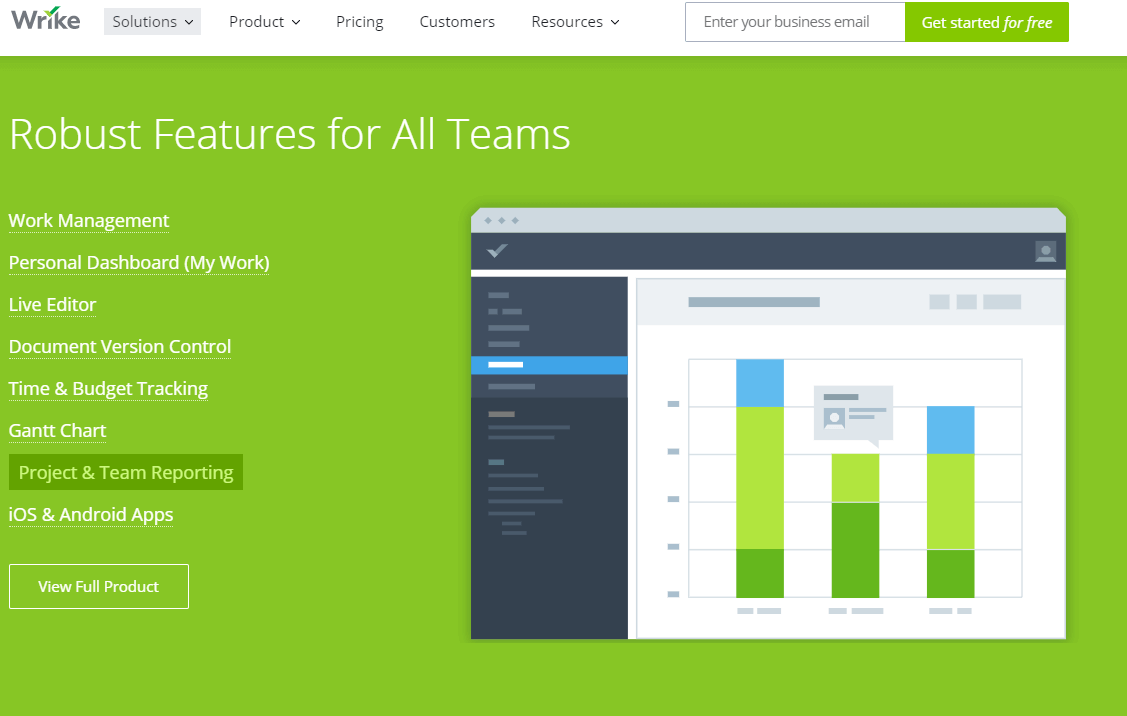 With over 17,000 customers worldwide, this Monday alternative is an easy choice for teams on all levels.
Comprised of a broad spectrum of customizable features related to tasks, projects, and collaboration, Wrike makes work easy and result-oriented.
Time tracking helps you assess the time spent on tasks, which can, in turn, be used for workload balancing. Plus, it offers multiple payment plans, which makes it more appealing to different types of teams. Check out the key features to know why Wrike can be one of the more powerful Monday alternatives available.
Key Features:
Some of the most prominent features of Wrike include:
Real-time newsfeed and personal dashboard.
Task management includes task creation, assignment, task statuses, task time tracking, and recurring tasks.
Project management, including Gantt charts, visual dashboards, reporting, custom status, and workflows.
Team collaboration channels include discussions in tasks, document version control, and live editing.
Team management, including workload management and member tagging.
Time tracking and budget tracking.
Online file attachments, sharing, and editing.
Inbox notifications.
Calendar.
Email integration for teams.
iPhone and Android mobile apps.
Pricing:
Wrike offers the following pricing plans:
Free.
Team plan at $9.80 per user per month.
Business at $24.80 per user per month.
Enterprise (Customizable).
Pinnacle (Customizable).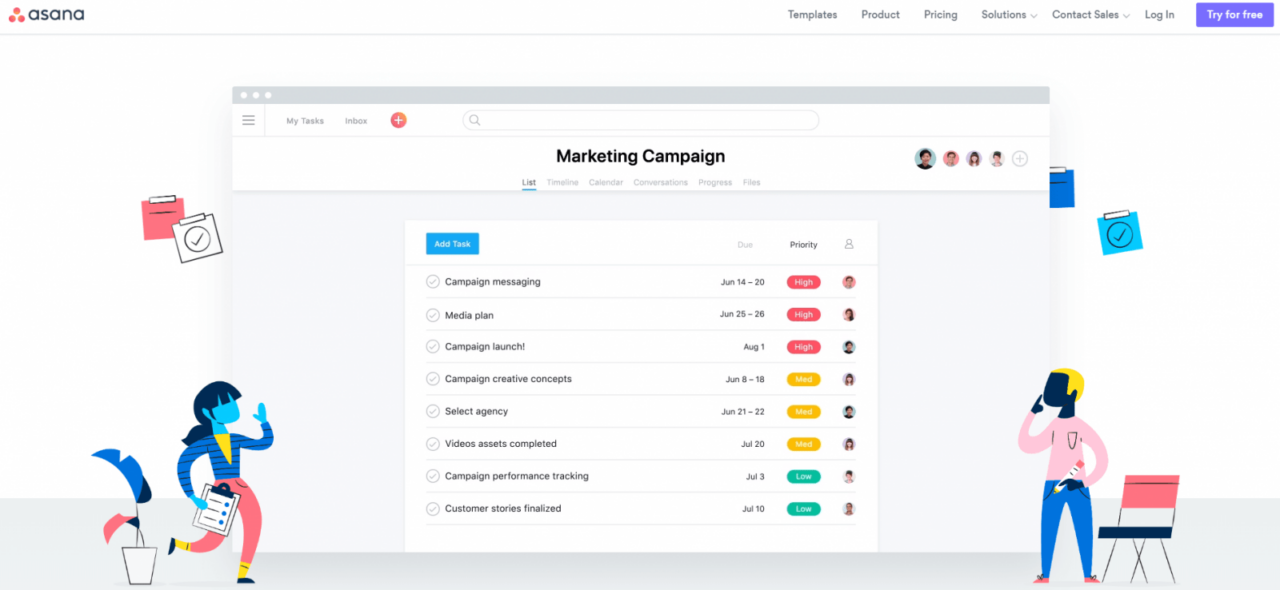 Asana is one of the powerful Monday.com alternatives which provides a robust set of features to track your workflow's progress.
The tool provides many options to fit perfectly with your unique project needs.
No matter what the size of your team is, if you opt for Asana, chances are you've made the right decision. The tool gives a lot of room for personalization and is designed in a way that makes managing multiple projects simultaneously a breeze.
Use the project timeline feature to set your project schedule and watch what lies ahead. To speed things up, use the native Asana templates and quickly get to work without delays.
Key Features
Project portfolio management for handling multiple projects simultaneously.
Project timeline to lay out the tasks, along with corresponding dependencies.
Conversations with team members to keep everyone in the loop.
Built-in library of project templates to quickly fit your requirements.
Kanban boards to identify loopholes and visualize progress.
Due dates, priorities, and file attachments within tasks.
The distinct features for agile teams include sprint planning and backlog management.
Issues and bug tracking to identify and manage issues proactively.
100s of integrations to keep a coherent workflow across applications.
Pricing
Asana comes with the following plans:
Basic (free) – tasks, multiple views, assignees, and due dates.
Premium at $9.99 per user/month.
Business at $24.99 per user/month.
Enterprise – custom plan with priority support.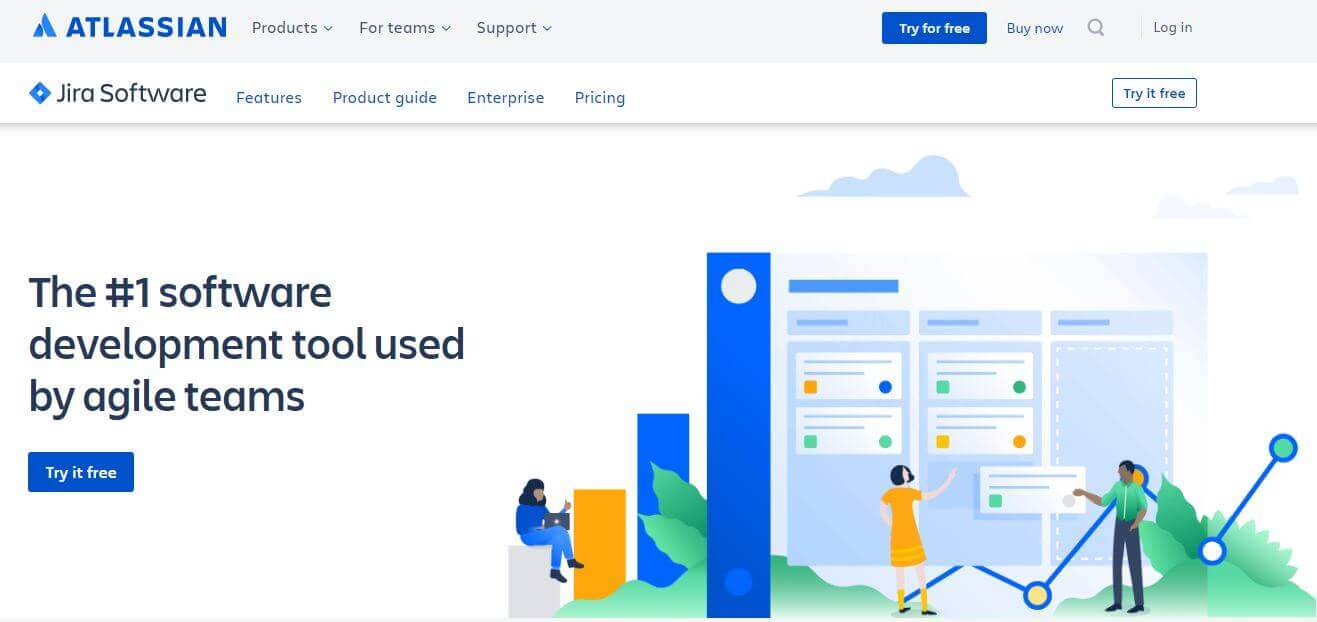 Jira is a modern software solution for agile teams to help them release a quality product over time. It is undoubtedly one of the best Monday.com alternatives you can pick for your team. The tool fundamentally focuses on implementing multiple agile frameworks as smoothly as possible.
Whether you implement Kanban or Scrum, a hybrid of both, or any other Agile framework, Jira enables you to achieve your project goals and get things done speedily from start to end.
For tracking your project performance in real-time, Jira gives access to a vast library of agile reports ranging from basic burn-down and burn-up charts to more advanced sprint reports and velocity charts, etc.
Key Features
Some of the key features Jira provides are:
Customizable Scrum boards to support iterative software development.
Kanban boards for visualizing the progress of tasks.
Customizable project dashboard to get a bird's eye view of projects.
Roadmaps to lay out the project plan.
Powerful issue and bug tracking.
Numerous Agile reports for tracking performance.
Custom search filters to focus on essential things.
Multiple third-party application integrations.
Pricing
Jira offers a free trial of 7 days and paid plans.
The paid plans start from $7.75 per month for up to 10 users. The per-user price decreases with the number of users added.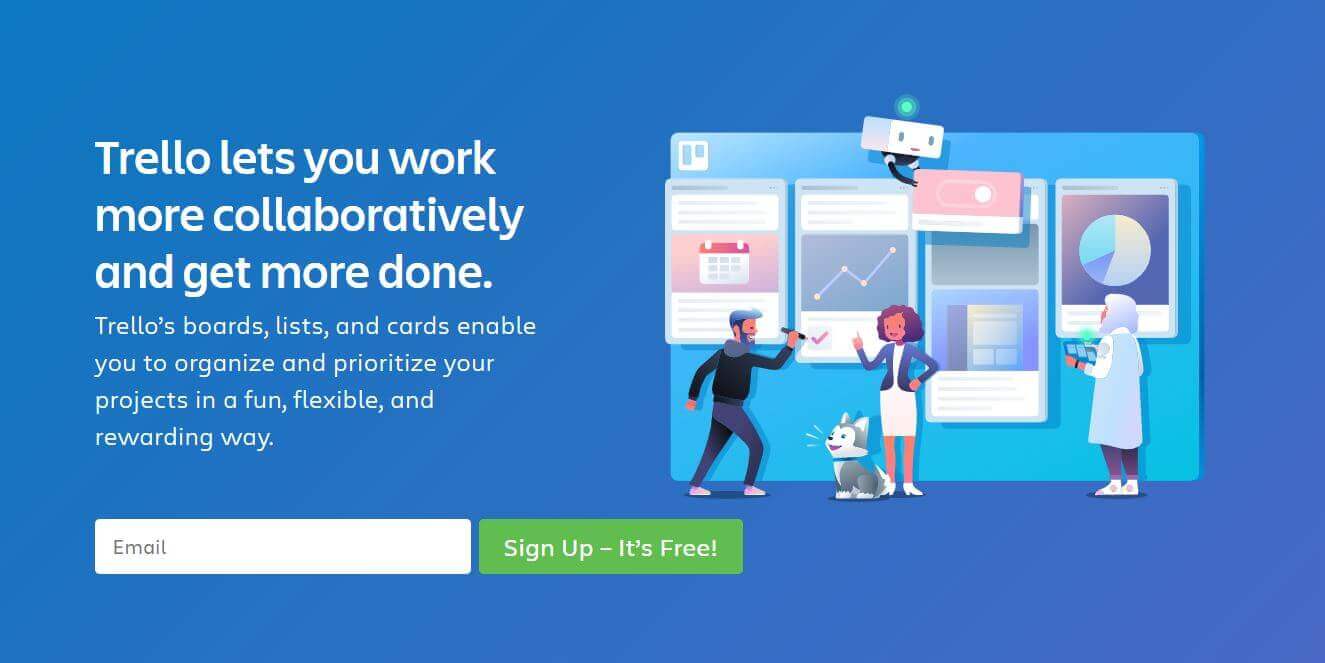 The next one of the free alternatives to Monday.com that needs a mention here is Trello. One of the first choices of project managers, Trello is a lightweight and flexible solution for all of your task management needs.
The tool allows you to organize and prioritize your tasks through boards, lists, and cards. The boards can be set in place to represent either individual projects or teams. The cards are floatable and can be easily dragged and dropped in respective panes to visualize the project progress happening with time.
You can invite as many team members to your boards as you like and collaborate without glitches. The free version of the tool might seem a little too basic, but the paid plans are loaded with advanced functions, including numerous power-ups.
Key Features
Kanban boards for workflow visualization.
Easy drag and drop of tasks to instantly indicate the status.
Public and private access to boards.
Tags, labels, and categories for organizing tasks.
Email notifications and reminders.
Checklists management for quickly checking off tasks when done.
Comments within tasks for streamlined feedback.
File attachments to give context to your work.
Power-ups to connect with other third-party applications.
Pricing
Free forever.
Standard Plan starts at $5 per user/month when billed annually.
Premium Plan starts at $10 per user/month when billed annually.
Enterprise Plan starts at $17.50 per user/month when billed annually.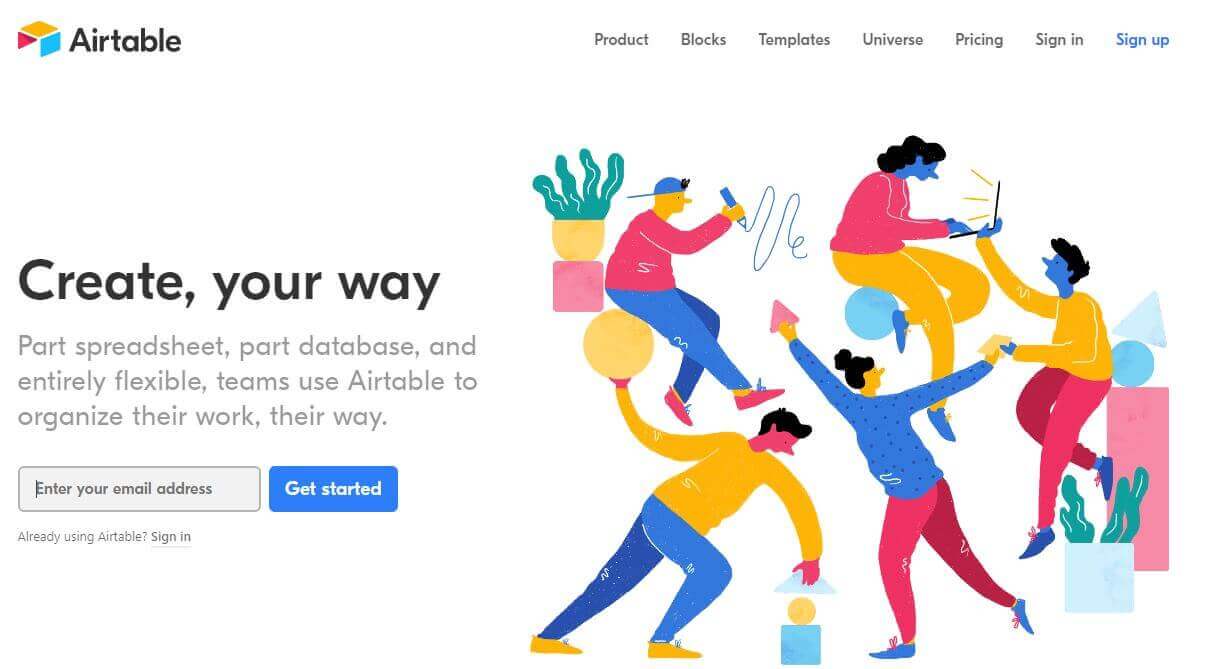 Airtable is a beautiful alternative to Monday.com.
The tool combines spreadsheet and database functionality to provide users with an integrated task management solution. The user-friendly interface and the aesthetic design of the tool further act as a cherry on top.
Airtable has an exciting Blocks feature that lets you create workflows for your team. It also gives users powerful project visualizations and formatting abilities to adjust according to project needs.
If you don't want to get into the hassle of starting everything from scratch, use an extensive library of templates Airtable comes with. These templates are designed keeping in mind the needs of distinct teams.
Key Features
Elaborate tasks management.
Built-in project templates.
Time tracking with tasks.
Video chat functionality for meeting management.
Issues and bug tracker for timely resolution.
Powerful project sorting filters.
File attachments within tasks.
Third-party application integrations.
Pricing
Free for all the essential features.
Plus at $10 per user/month.
Pro at $20 per user/month.
Enterprise – custom pricing with all the advanced features.

Another one of the most popular and best Monday.com alternatives is Smartsheet.
A spreadsheet program at heart, Smartsheet provides a platform that serves as a single systematic and flexible solution for all the task management needs of a team.
A highly customizable project management app, Smartsheet gives users the leverage to automate their workflows according to their stream of operations. Moreover, the dashboards and team portals allow everyone to track performance better by keeping an eye on all the updates throughout the project lifecycle.
Smartsheet also comes with multiple third-party application integrations to maintain a consistent workflow across platforms so that nothing falls through the cracks.
Key Features
Dashboard for key project activities.
Kanban boards for smooth workflow visualization.
Multiple views for tasks.
Reminders for deadlines.
Activity log for staying updated.
Downloadable summary reports.
Easy file attachments with tasks.
Team portal for centralized team communication.
Customized themes for individual preferences.
Multiple sorting filters.
Pricing
Pro at $7 user/ per month when billed annually.
Business at $25 per user/month when billed annually.
Enterprise – Contact sales

Another great Monday.com alternative that you can use in 2023 is Workzone.
The application is a great task management and project management application that allows you to organize all your projects in your roster by the tasks you and your team have to perform.
The application automatically sends notifications to all your employees if they have tasks that have to go out and have not been submitted. The tool also allows different project managers to identify all projects needing immediate attention quickly.
Here are some situations where Workzone comes into its own.
Businesses like marketing departments, service firms, and different ad agencies that support multiple departments or clientele use the software and create different workspaces for each group. These workspaces are secure and distinct.
The software allows you to stay on top of your work and not miss any important deadlines that can hinder the progress of your project development process.
Let's take a look at some of the product features that Workzone offers to its clientele.
Key Features
Custom Branding
Expense Tracking
Flexible Permissions
Gantt Chart
Secure File Sharing
Time Tracking
Workload Reports
Automated Reports
Email Alerts
File Versioning
Full-text Search
Group Calendar
Task Dependencies
Unlimited, Free Support
Pricing
Team Plan – Starts at $24 per user/ per month.
Professional Plan – Starts at $34 per user/ per month, based on 15-user capacity.*
Enterprise Plan – Starts at $43 per user/ per month, based on preset user capacity.*

Basecamp is an all-in-one toolkit for project management and team collaboration.
The software is a one-stop shop where you can easily find everything you are looking for; that is why it makes for the perfect Monday alternative.
Basecamp has project management features, from to-do lists to visual tools, tracking features, collaboration options, and more. The app is ideal for those looking for a remote working solution, which can help in project management and work effectively as a communication tool, helping teams stay and grow together.
Key Features:
The automated check-in feature helps stay updated about team activities without micromanaging
You can post announcements, pitch ideas, etc., on the message board
Organize data in folders and share files, documents, etc.
Group chat
Use a shared schedule to set important dates, events, etc.
Pause notifications to stay focused
Check-ins tailored for different users
Hill charts
Pricing:
Basecamp Personal is available for free but has limited options
Basecamp Business has no such limitation and is available at $99 per month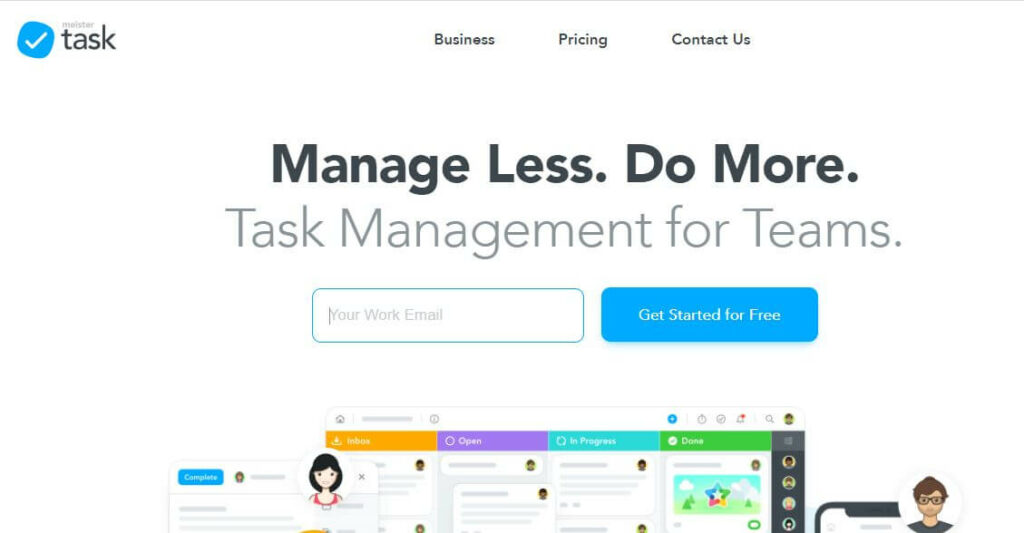 MeisterTask is an intuitive team collaboration and task management tool. Its user-friendly interface ensures a short learning curve and quick adaptability.
MeisterTask does not compromise on security with two-factor authentication and various other security features in place. It is a comprehensive solution for task management and team collaboration, ensuring that your team progresses with every step ahead.
Key Features:
The customizable dashboard includes personal checklists, notifications, and time tracking
Visual overview of projects and tasks
Personal, private board, called Agenda, where you can in tasks related to you specifically
Assign tasks and monitor performance as a task-watcher
Built-in time tracker
Custom fields
Use multiple checklists to tick completed tasks off of your list
Share images, files, etc. of up to 200MB
Use tags to specify priority level, clients, etc.
Data-driver, insightful reports
Pricing:
Basic plan is available for free, with no strings attached
Pro plan costs $4.19 per month
Business plan is available at $10.39 per month
For Enterprise solutions, the pricing is customizable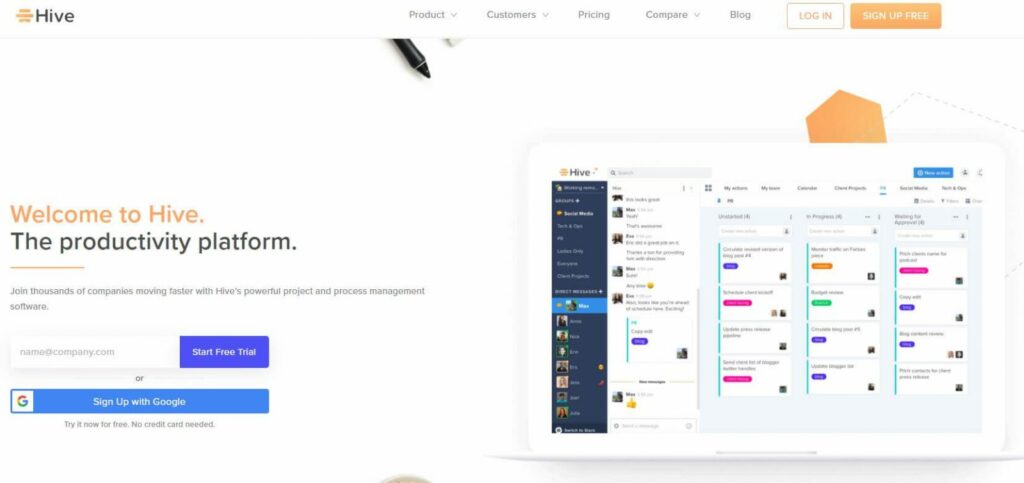 If your goal is to find a simple and easy-to-use alternative to Monday, then Hive should be at the top of your list.
It is another great Monday alternative with excellent features and high efficiency.
Hive simplifies project management for its users, ensuring higher productivity and better results. Hive offers a broad range of features, ensuring that everything progresses smoothly for you. It includes notetaking, in-built chatting options, resourcing and timesheets, and customization features.
Key Features:
Add unlimited tasks and projects, assign resources to tasks, add due dates, and track tasks
Multiple project views, including Gantt charts, Kanban boards, etc.
Clean visual overview of all projects at once
Create forms to collect information
View all tasks assigned to you in My Actions
Run the whole Agile process with the tool
Time management
Team collaboration
Automation features
Thousands of integrations
Pricing:
Solo – Free forever
Teams – $12 per user per month
Enterprise – Contact Team Hive for custom pricing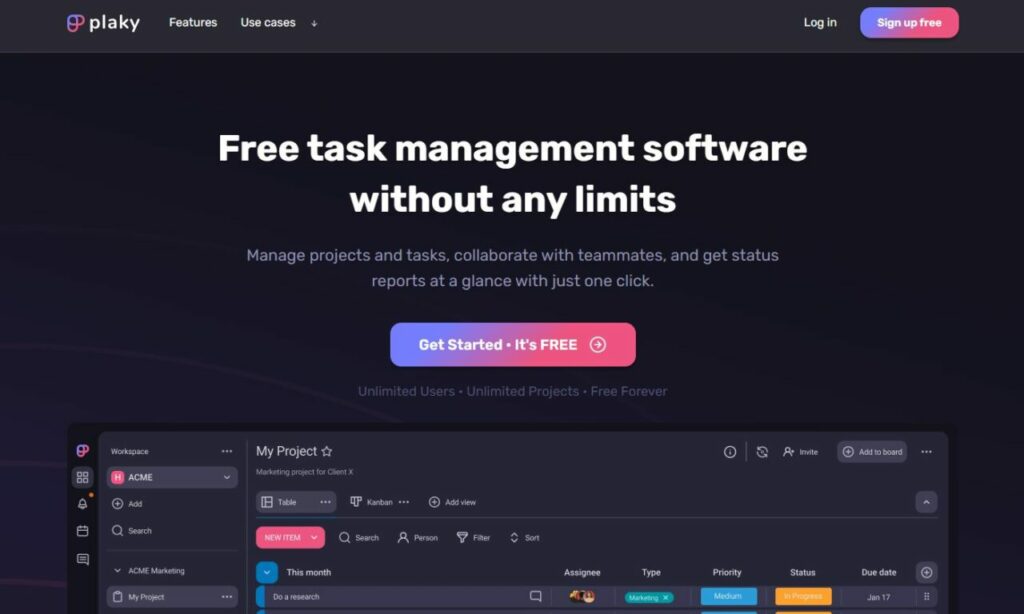 If you are looking for a free alternative to Monday — Plaky is the software for you. It's an intuitive project management tool that is a good fit for any business, regardless of the size or industry.
Plaky helps you organize your work, manage tasks, and communicate with your teammates stress-free.
You can create a workspace for each team and a board for each project. There's a variety of templates to help you quickly create boards. They are highly customizable, so you can adapt them to your needs.
Plaky lets you keep information flow under control by allowing you to make boards private and limit members' permissions.
Key features
Task management that includes items, groups, and various types of columns (date, status, person, tag, etc.)
User-friendly interface
Kanban and Table views
Team collaboration through comments, @mentions, file sharing, and notifications
Unlimited number of users, guests, workspaces, boards, and unlimited storage space
Filter and sort options
Activity log that lets you keep track of what is happening on a board or an item
24/7 support by email, phone, and chat
High security — Plaky is ISO and SOC 2 certified and GDPR compliant
Web, Android, and iOS apps
Pricing
Plaky is a 100% FREE task management tool.

Allthings is a Kanban-based tool for project management and team collaboration. This is one of those free Monday alternatives that help you organize and monitor your work via a neat interface using drag and drop.
View tasks, status updates, send notifications, share lists, and track time for efficient project planning and coordination. Plus, with Hygger, you can add your own custom fields to have more control over the way you steer your projects.
Key Features
All things allow you to make use of the following feature list:
Task management includes creating, organizing, prioritizing, and sharing tasks and to-do lists. You can set deadlines for one-time as well as recurring tasks.
Project management options including daily email of work summary and highlighted deadlines to stay on time.
Time tracking for tasks and estimation of time spent.
Comments and file attachments for added information.
Capacity and resource planning.
Customization of fields.
A group collaboration tool.
Mobile apps for Android, iOS, and Windows Phone.
Multi-platform.
Kanban boards.
iOS and Android mobile apps.
Pricing
Free – free forever, no strings attached.
$3.99 – Pro plan, unlimited everything.
$9.95 – Team plan, unlimited everything.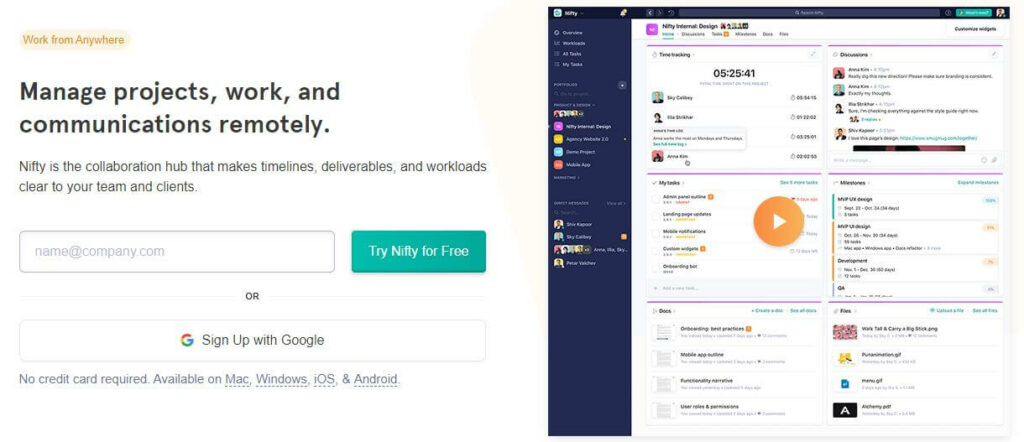 Nifty is the ideal project management operating system. You no longer need to move between Roadmaps, Docs, Tasks, Charts, and other tools.
Nifty is a single tool that allows you to centralize teams, objectives, and actions.
Key Features
The Milestones feature is a Gantt chart that acts as a visual guide, showing progress in several perspectives, such as a timeline view, or a master overview
Users can create Docs, Sheets, and presentations within the app, which syncs with Google Drive
The time tracking tool collects time reports on projects and billable hours automatically
Users can also receive real-time reports to help with resource allocation and task balancing
Pricing
Free
The Pro package, which is suitable for small and medium-sized teams, costs $79 per month invoiced annually or $99 monthly
Other low-level paid plans with the 'Standard' package at $39 per month.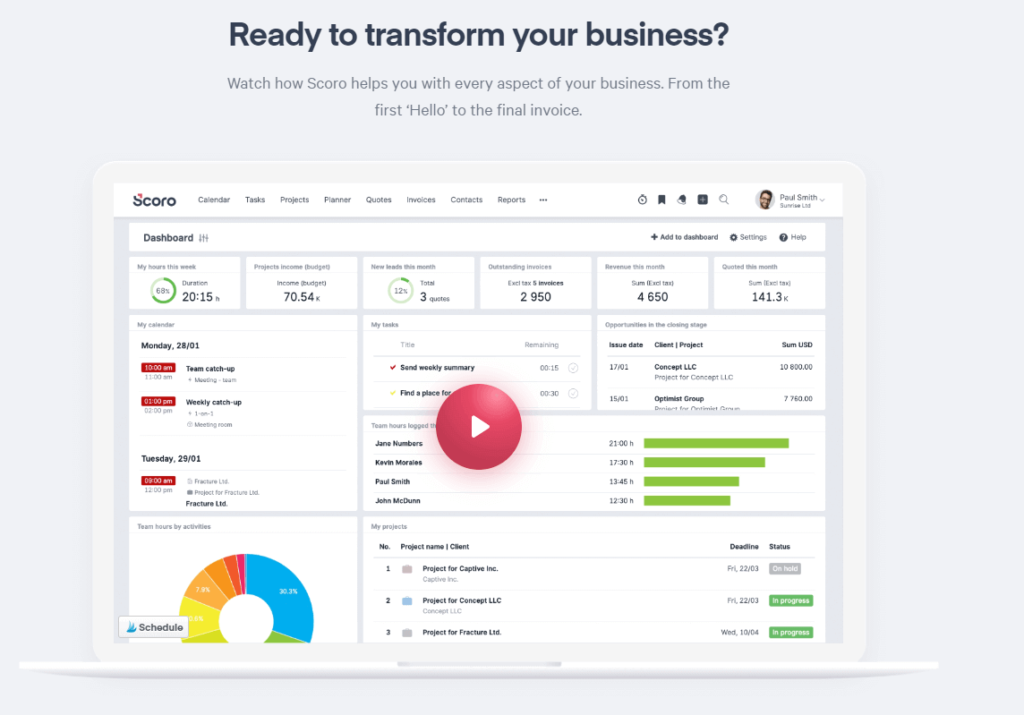 Last on our list of Free Monday Alternatives is Scoro.
Scoro is a project management software that allows you to organize and monitor your projects from beginning to end. It is simple to use and configure, allowing you to create your procedures and workflows.
Key Features
It combines all project data and progresses into a single view, allowing users to see how changes impact their goals
Users also receive comprehensive work reports that include planned and completed tasks, time spent and billed, as well as income and expenditures
Scoro has a sales center as well as CRM tools to provide users with a comprehensive view of the customer
Users can compare budget scenarios and manage finances in many currencies, while roles and permissions protect sensitive data
Pricing
Essential plan at $26/month for each user
Standard plan at $37/month for each user
Pro plan at $63/month for each user
The Ultimate custom plan is also available
26. Nuclino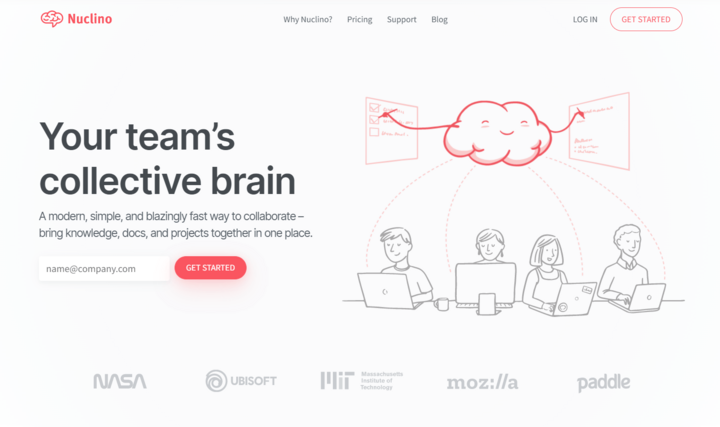 Like Monday, Nuclino unifies multiple tools within one versatile platform. You can use it to not only manage your tasks and projects, but also to build your company knowledge base, collaborate on documents, onboard new employees, and more.
Nuclino stands out among other alternatives to Monday thanks to its lightweight design. It offers a clean and intuitive interface, minimizing the learning curve for new users and making it easy for the entire team to adopt the tool. It provides all the essential features for collaboration and project management, without overwhelming users with unnecessary configuration options or complex settings.
Key Features
Flexible data visualization options, including the board, list, table, and graph views
Task lists with due dates and reminders
Custom fields for tracking assignees, labels, tags, and more
Real-time collaboration
Auto-save of changes with version history
Drag-and-drop editor
Comments and @-mentions
Interactive media embeds
Quick search with advanced filters
API
Integrations with 40+ apps, including Slack, Google Drive, and Figma
Pricing
Free plan
Standard plan – $5/user/month
Premium plan – $10/user/month
Benefits of monday.com project management
Monday.com project management is a great way to keep your projects organized and on track. It is especially beneficial for teams who are working remotely or need more flexibility in their project tracking. Monday is a powerful tool that helps users easily manage tasks, collaborate with team members, track progress, and measure results.
Monday.com provides users with many benefits that make it an ideal choice for project management. One of the main benefits of using Monday is its intuitive, user-friendly interface that makes it easy to get started quickly. It also offers a variety of features such as task assignment, project timelines, and task tracking that help to keep team members on the same page and ensure that tasks are completed on time.
Another benefit of Monday is its ability to integrate with other popular productivity tools like Slack and Trello. This allows teams to easily sync tasks across different platforms and ensure they stay on track even when team members are working remotely. Additionally, Monday's reporting feature allows users to quickly generate reports on their projects so they can monitor progress and make adjustments if needed.
Benefits of monday.com Task Manager
Monday task manager is a helpful tool for staying organized and on top of tasks. It allows users to categorize tasks, set reminders, assign due dates, and collaborate with teammates or other colleagues. With the help of this tool, users can also prioritize tasks and ensure that the most important ones are properly dealt with first. This kind of organization helps reduce stress and increase productivity as it gives a clear idea of what needs to be done and when. Additionally, Monday task managers record past activity so that future plans can take into account what has already been accomplished.
Organizes tasks by priority and deadlines
Allows users to create separate lists for different projects and goals
Integrates with third-party applications like Gmail, Outlook, and Dropbox
Offers a clear overview of progress on tasks
Includes features that help manage workflows such as task templates, tracking dependencies, and creating recurring tasks
Automatically sends notifications when tasks are due or when progress is made
Provides data analysis tools to measure efficiency across team members
Facilitate collaboration through discussions around each task
FAQ's
What software is like monday.com?
Monday.com is a task and project management software that helps teams stay organized and productive. It offers a collaborative workspace where users can manage team tasks, assign workflows, track progress, communicate with one another, and more.

There are many tools on the market similar to Monday. Some popular alternatives include nTask, Trello, Asana, Wrike, and Slack. Each tool has its own unique features designed to help businesses meet their needs in different ways.
What is DaPulse's free alternative?
DaPulse offers an alternative for businesses that need a cost-effective solution to managing tasks and streamlining team communication. The free alternative to DaPulse is nTask, which provides basic task management features such as task assignment, project tracking, and collaboration tools.

With the free version of nTask, teams can access unlimited tasks per team member and up to 15 projects (or workspaces) at no cost. Additionally, users can take advantage of online support resources provided by nTask's website.
DaPulse vs Monday.com: Why did the founders of the app change the name?
Some people are intrigued by the fact that Monday.com changed its brand name from DaPulse to Monday.com.

The simple answer to this question is that people used to make fun of their previous names. Not that exciting after all… Eh?
Is Monday.com free?
Are you looking for a free Monday.com alternative?
Well, you better be on the lookout soon because the answer to the question, "Is Monday.com free?" is a resounding no.
There are many free alternatives available in the market.
Unlike Monday.com, many of these Monday alternatives have Gantt Charts as well.
nTask has an advanced Gantt Chart reporting system that you can use to manage all your project management needs.
So if Monday.com is not free then what's the pricing structure like?
Monday.com Pricing: Why overpay when you have so many good alternatives available?
So how much is Monday.com priced at?
Monday.com has four plans where prices vary based on the package and the number of users you wish to onboard in the app.
For example, you will be charged $50/month in the basic plan for five users.
While if you wish to onboard 100 users, the cost is as high as several hundred dollars.
So much for competitive pricing by Monday.com…
Which Monday or DaPulse alternative does your team rely on? Share your suggestions in the comments section below.
See also: