Basecamp is one of the project management tools that provide customers with concise but focused features. With a growing number of subscribers, Basecamp is gaining credibility and popularity among consumers from all over the internet.
Its project management features are just right for the average team size. However, many organizations need to depend on more than just basic task management stuff.
Where other tools are offering free or multiple payment plans, Basecamp offers a flat rate of $99/month. At its ongoing price, Basecamp offers 500GB of file storage, messages, real-time chat, to-do lists, and schedules. In addition, you can also manage documents and automatic check-ins.
All such features in Basecamp are more than enough for a small team of 5 to 10 users. However large organizations have growing needs. Hence the expression: 'Free Basecamp alternatives' comes into perspective.
Where Does Basecamp Lag?
Project management spans a host of industries that require multiple requirements. These requirements include specifics related to marketing, design, legal, HR, and much more.
Plus, most project managers need to outsource work thereby working with remotely based employees or freelancers. Vice versa, there are freelancers that need to work with multiple clients without building huge teams. In such cases, Basecamp is not really a feasible option.
Basecamp Has Limitations:
Here are some of the limitations we can point out with this tool.
Tasks:
Most projects involve repetitive tasks and deliverables on a daily, weekly, or monthly basis. Basecamp does not offer the option to set recurring tasks.
Projects:
The details associated with each project are limited. Most of the information is scattered all over project boards. It means that the interface does not display information at one area. For instance, people look for a project start date, budget allocation, Gantt charts, and vice versa when they reportedly log-on to the Basecamp account.
Reporting:
Despite being labeled a task and project management tool, there are not enough features to handle both of these requirements efficiently.
Budgeting and Analytics:
Basecamp does not offer functionalities related to task or project budgeting. This is an important feature to determine how much a project actually costs and can help immensely in future project planning.
Moreover, analytics is the future of any industry. Basecamp does not offer options to analyze project results or future implications.
Built-In Time Tracking:
Time tracking is a critical feature of any project development program. Right now, most of the project n' task management services are leaning on time tracking. I don't know why Basecamp didn't implement this feature, but it is a huge turn-off for many clients. There are options for adding a time tracker, but you need to use third-party integrations.
Customization:
Customization is one of the attractive features offered by any project management tool. Whether it is through templates, forms, color schemes or personal interface, customization will always have an added advantage in the industry. The lack of customization in Basecamp makes it a take-it-or-leave-it case. There is are little to no customization options.
Messaging and Chat:
No project is complete without team collaboration. Instead of providing an in-built discussion channel, Basecamp requires you to sign up for Campfire to avail of chat services. By default, the program does not come with an instant messaging feature.
While Basecamp is geared towards conversation, I'd like to see tools for converting conversations into actionable items (i.e. assigning tickets with priority).
Search and Filter:
Another limitation of Basecamp's project management is the missing search and filter options. You cannot search for files or to-do lists.
18 Free Basecamp Alternatives:
To make up for the items missing in action, we have written down a list of the top 18 free basecamp alternatives. These apps will give you the same, or even better functionalities from a long-term use perspective. Read on…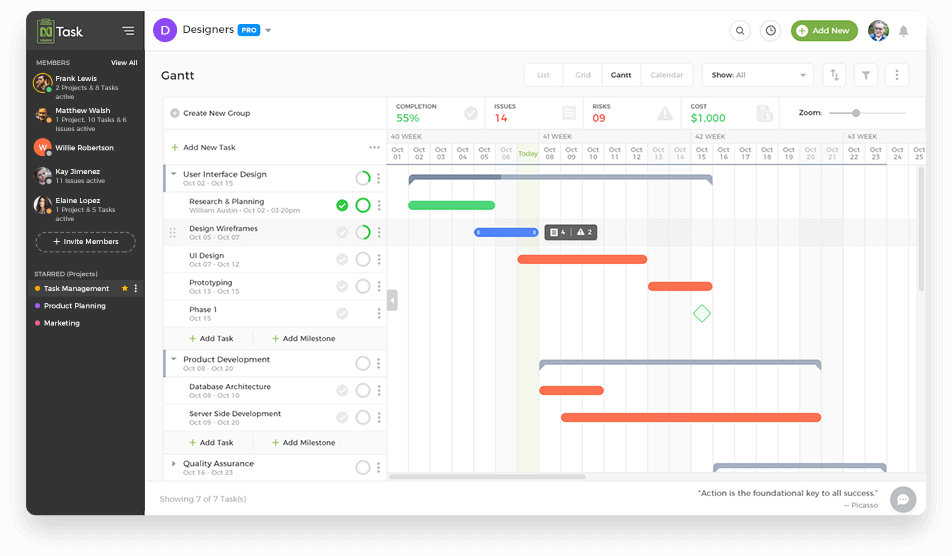 nTask is an online task management software, designed and developed primarily for teams. However, with its simplified interface, anyone from homemakers to freelancers, teams to enterprises can make use of its comprehensive list of modules and features. This makes it perfect for project management on all levels.
Moreover, with the easy navigation and transparent feature set, it is good to go for personal use and productivity as well. nTask makes it to the top of our free Basecamp alternatives list.
With nTask you can avail a broad spectrum of features that improves team collaboration and eases workflow.
Looking for a perfect Basecamp alternative?

See for yourself why Basecamp users are switching to nTask. Create unlimited, tasks, meetings, risks, issues & more.
Key Features:
Here is an extensive list of nTask features:
Two-Factor Authentication for extensive security.
A simple user interfaces with access to a wide range of modules.
Team specific workspaces that can be managed and monitored simultaneously.
Create, assign, organize, prioritize and share tasks.
Create and assign projects.
Comment on and assign tasks to projects or structure them independently.
Select from multiple statuses for a task.
Extensive project management resources including project reports, Gantt charts, and project timelines to manage and monitor project progress.
A dedicated timesheets management module with the option of creating and managing team-specific sections for employee task efforts and payroll.
A detailed meeting management module to help teams stay in sync. You can arrange and schedule meetings, be it one time or recurring meetings. Plus, it lets you send invites to attendees, add meeting details and specify follow-up procedures.
Issue tracking module to facilitate the identification and listing down of issues related to multiple tasks. You can list the issue along with the Issue owner and relevant details to track issue maintenance.
Risk management module helps you identify and keep track of potential risks. You can list down the risk and assign a risk owner in order to track risk management.
Powerful search and filter tools that help you search for tasks, projects, meetings, issues, and risks. You can even save more frequently used filters.
Alerts, notifications, and reminders to keep teams on track.
iOS and Android mobile apps.
Pricing Plan:
nTask offers free
Premium plan starts at $4/month per user
Business plan starts at $8/month per user
Customized Enterprise plan also available.
Free Features:
Here are some features you can get with a free subscription:
Unlimited workspaces.
5 team members per workspace.
5 MBs file attachment size.
100 MBs of storage space.
Unlimited tasks & meetings.
Team timesheets.
Issue Tracking
nTask Features Missing in Basecamp:
Time tracking, Reporting, Budgeting, Analytics, an extensive set of options for Task Management and Project Management (Recurring Tasks, Scheduling, Color Coding), Customization, Search, and Filter.
Signup Now to The Best Basecamp Alternative for FREE!

The second tool on our list of top free basecamp alternatives is Allthings. It comprises Kanban boards where you can continue steady workflow using drag and drop method. This feature, alone, is a huge convenience for teams to view tasks and work status.
Allthings makes it easier to break down your work into tasks and projects and offers a simple to use interface. Plus, you can view work in the form of a grouped list or as columns.
Another great feature is that users can create custom fields available in lists for your subscription.
Key Features:
Here are some key features you can avail with Allthings:
Task management including prioritization, recurring tasks, and deadlines.
To-do lists.
Project management options.
Comments and attachments.
Time tracking.
Capacity planning.
Create shareable lists.
Customization.
A group collaboration tool.
Multi-platform.
Online dashboard.
Real-time alerting.
Resource planning.
Drag and drop features.
iOS and Android mobile apps.
Pricing:
All things offer a Free, Pro and Team plans as well as a 30-day free trial.
Paid Plan: Allthings paid plans start from $3.99 per month per user.
Free Features:
The features you get with the Free version include:
Create up to 5 lists.
Create unlimited things.
Invite unlimited collaborators.
Allthings Features Missing in Basecamp:
Time tracking, Reporting, Recurring Tasks, Scheduling, Customization, Search, Instant Messaging.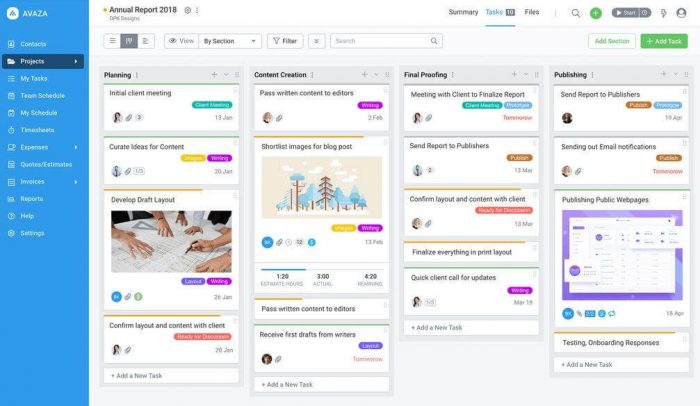 Avaza is one of the top free Basecamp alternatives helping you manage your projects from the initial quotation to project development to invoice management. With Avaza, you can keep in sync with clients and keep them updated through the Questions tab.
Plus, Avaza lets you convey and monitor detailed estimates to potential clients that can later be converted into a project swiftly. You can break down your work into manageable sections such as workflows or timeframes in a to-do list, each with a start and end date.
Primarily a project management tool, Avaza also comes with an inbuilt client management module that caters to functionalities such as a Time & Expenses tab, invoicing tools as well as direct payment through PayPal or Stripe.
Key Features:
Here are a set of functionalities you can get with Avaza:
Activity feed.
Task management including group tasks.
Task views including Kanban, Gantt & List.
Time tracking.
Comments, file sharing, and collaboration.
Project management including project budgeting and project progress dashboards.
Scrum project burndown charts.
Timesheet entry and billing.
Invoices and online billing.
Business reporting.
Cloud accounting.
Credit notes.
Invoice, Quotation, and Estimation.
Billing and expense management.
Multi-currency expenses, invoicing, payments and credit notes.
Online payments (Partial payments, PayPal payment integration).
Support for split payments across invoices.
iOS and Android mobile apps.
Pricing Plan:
Avaza offers Free, Startup, Basic and Business plans.
Paid Plan: You can upgrade Avaza starting with $9.95 per month.
Free Features:
Avaza comprises the following features in the basic subscription:
10 Customers.
1 Timesheet/Expense User.
1 Admin/Invoice User.
5 Active Projects.
5 Invoices per Month.
10MB Storage.
Email Support.
Avaza Features Missing in Basecamp:
Time tracking, Grouping tasks, Scheduling, Customization, Search.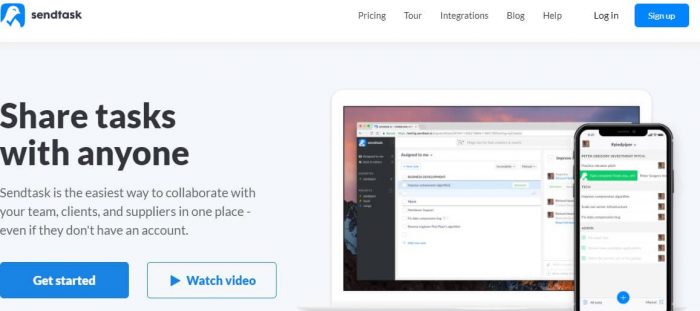 Sendtask is a task management solution as well as a great collaboration tool for teams. This is one of the top free Basecamp alternatives offering communication between teams, with clients and suppliers under one roof.
This means you don't need different media to communicate and convey project updates for different levels of the hierarchy.
This tool facilitates task management through numerous options to help in managing tasks, monitoring workflow and as well as scheduling projects and tasks all the while keeping clients and stakeholders in sync.
Plus, it offers you the option of collaborating with users even without a Sendtask account.
Key Features:
Some of the prominent features Sendtask offers you include:
Task and subtask management including recurring tasks.
Task Monitoring and Scheduling.
Search and filter.
Project Collaboration.
Team collaboration.
Email to Task Conversion.
Email Management.
Integration with additional tools.
iOS mobile app.
Pricing:
Currently in Beta and free indefinitely.
Sendtask Features Missing in Basecamp:
Customization, Recurring Tasks, Time tracking, Search and Filter.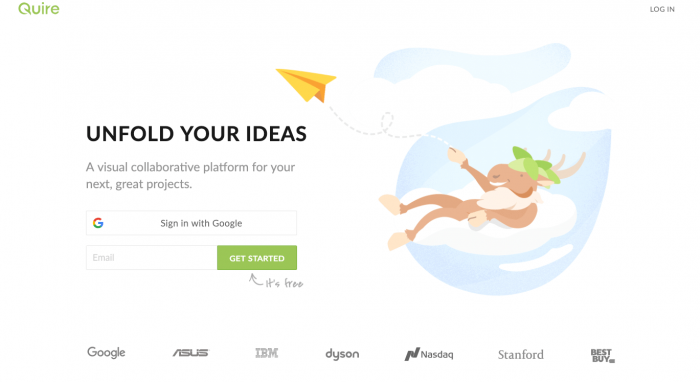 Number five on our list of free Basecamp alternatives is Quire. If you work with a creative team and want task management for streamlining workflows, Quire is for you.
Despite being designed with a focus on creative teams, Quire is easily adaptable in other areas of work too. Quire is a free tool to help easily manage complex and time-consuming projects.
Key Features:
Some of the key features this tool can offer you include:
Real-time and instant Collaboration.
Unlimited tasks and subtasks.
Organize, prioritize and assign tasks.
Task statuses.
Start and due date/time.
Easy to use and transparent all-in-one workspace.
Exclusive third-party access.
Integrations with Siri and the camera for iPhone.
Team roles and permissions.
Smart folder + Filter feature.
iOS and Android mobile apps.
Pricing Plan:
Quire is free-to-use and offers no enterprise pricing plans for now.
Quire Features Missing in Basecamp:
Instant messaging, recurring tasks, Customization, Search and Filter, start and due date.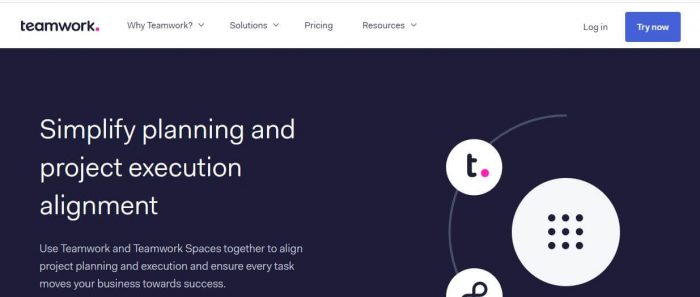 The next tool on our list of free Basecamp alternatives is Teamwork Projects. It is a cloud-based software that provides advanced task management features to the users. In some sense, Teamwork Projects is equipped with all the project management features that Basecamp lacks.
Due to vast integration options, Teamwork projects facilitate a smooth workflow and seamless collaboration among team members.
Key Features
Some of the key features Teamwork Projects comes with are:
Tasks and subtasks management.
Tasks dependencies and Recurring tasks.
Project activities viewer.
Customizable project templates.
Gantt charts and other project reports.
Document editor.
Task filters.
Reminder notifications.
Comments within tasks.
Bulk tasks editor.
Tasks time estimator.
Risks management.
Milestones linked with task lists.
Calendar viewing milestones.
Time tracking.
Shareable notebooks.
Private and public notebooks.
Personalized color themes.
Pricing
Teamwork Projects offers Free, Pro, Premium, and Enterprise plans.
Paid plans: Teamwork Projects paid plans to start at $9 per user/month.
Free Features
Free forever version of the software provides the following features:
2 active projects.
100 MB file storage.
Basic project management.
Limited task boards.
Subtasks.
Color schemes.
Teamwork Features Missing in Basecamp:
Task priorities, subtasks, recurring tasks, time tracking, Gantt charts, and comments within tasks.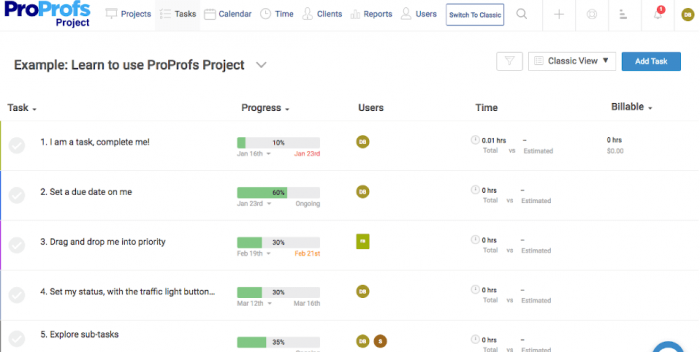 ProProfs Project is one of the best alternatives to Basecamp. It's a cloud-based tool that's easy to use, feature-packed, and provides a 360-degree solution to all your project management requirements.
From planning and prioritizing projects to collaborating and tracking project success, this tool keeps you on top of every project detail. Teams can use this software to collaborate via comments, set due dates, and track who is working on what. They can leverage its shared calendar feature to plan tasks and sub-tasks, set priorities, and ensure error-free project execution.
Some of its key highlights include automated invoicing, time tracking, and insightful reports on project status and progress.
Key Features:
Single dashboard

Shared calendar

Time tracking

Gantt charts

Invoice generation

Detailed reports

Comments and notifications

Due dates and prioritizing

Tasks and sub-tasks

Easy file sharing

User-friendly mobile app

Timesheets
Pricing:
ProProfs Project offers a Forever Free plan that comes with some basic features.

Paid plans start from $2/user/month.
Free Features:
3 Projects

Tasks and subtasks

List and calendar view

Assignees and the due date
ProProfs Project features missing in Basecamp:
Invoicing

Time tracking

Gantt charts

Reports

Timesheets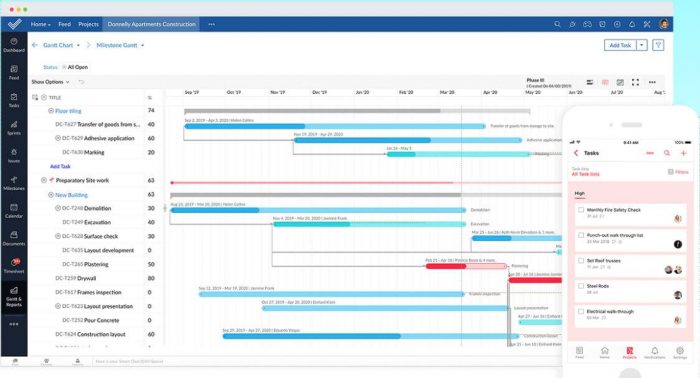 Number 7 on our list of free Basecamp alternatives is Zoho Projects. This one is a web-based project management software designed to assist in task management. Zoho offers the ability to split up complex projects into smaller, manageable tasks and subtasks.
The program also makes collaboration easy by letting you share updates with the entire team through an interactive feed. In addition, the tool also provides issue tracking and issue management features to help the project managers in resolving them timely.
Key Features
Tasks and subtasks management.
Kanban boards.
Task dependencies.
Activity feed.
Private and public chat rooms.
Gantt charts.
Project progress reports.
Time tracking.
Issue tracking.
'Pages' for team projects.
File attachments.
Client invoicing.
Milestones management.
Documents management.
Pricing
Zoho Projects comes with Free, Express, Premium, and Enterprise plans.
Paid plans: the paid plans start from $20 per month- billed annually.
Free Features
With the Free plan of Zoho projects, you can get the following features:
Up to 5 users.
2 projects.
File attachments up to 10 MB.
Feed and custom status for tasks.
Calendars and forums.
Zoho Projects Features Missing in Basecamp:
Time tracking, chat rooms, recurring tasks, project feed, and client invoicing.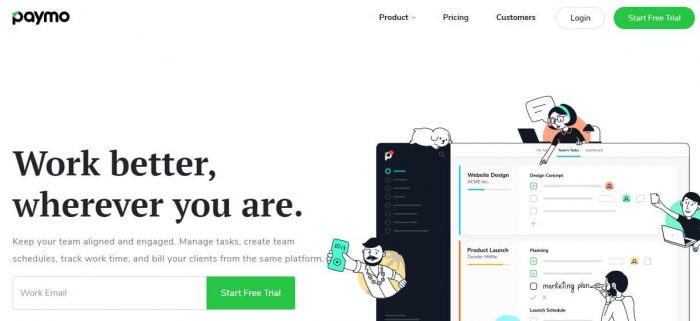 Paymo is a project management software that allows small and medium-sized organizations to effectively execute their projects and tasks.
It is a tool which provides multiple project-related features on one platform, ranging from personal task management, planning, and scheduling, to more advanced time tracking, collaboration, and invoicing features.
Coming with an interesting feature of web timer, it also lets you track the time you spend on a particular project in your browser for better time management.
Key Features
Here's how you can utilize Paymo for effective project management:
Tasks management with task dependencies.
Kanban boards.
Comments within tasks.
Built-in task templates.
Resource management.
Budget and expense management.
Activity stream.
Dedicated discussion platforms.
Shareable notes.
Files management.
Automatic time tracking.
Reports for progress.
Customizable dashboard.
Customizable workspaces.
Clients invoicing.
Third-party application integrations.
Web timer.
Pricing
Paymo provides Free, Small office, and Business plans.
Paid plan: the paid plans start from $9.56 per user/month.
Free Features
With the Free plan of Paymo, you get the following features:
Simple To Do Lists.
Kanban Boards.
Time Tracking.
Desktop & Mobile Apps.
Reporting.
1 User Limit.
3 Invoices.
1GB Storage.
File Sharing.
Community Support.
Paymo Features Missing in Basecamp:
Time Tracking, client invoicing, shareable notes, discussion forums, and web timer.
Check out the top Paymo alternatives:
Top 6 Paymo Alternatives to Use in 2021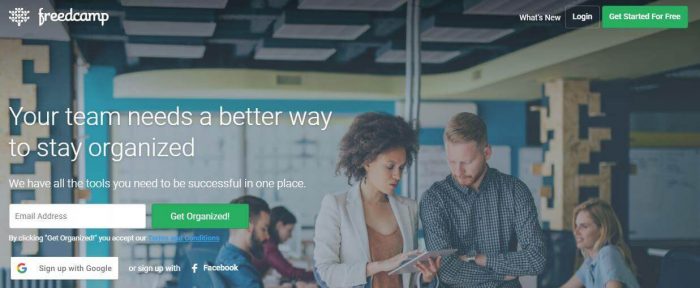 Next up in this collection of free Basecamp alternatives is Freedcamp. Free for an unlimited number of users, it is a web-based project management collaboration tool that is designed for solo as well as multiple users to organize and manage their projects seamlessly.
Coming with a broad set of task management features, Freedcamp is a viable choice for any industry type and size depending upon the project requirements. Affordable upgrades make it a go-to application for project management.
Key Features
Tasks management.
Kanban boards.
Public and private tasks.
Gantt charts.
Discussion platform.
Milestones management.
Documents management.
Issue management.
Time tracking.
Built-in project templates.
Wall for team communication.
Clients invoicing.
File editing.
Passwords manager.
Pricing
Freedcamp facilitates Free, Minimalist, Freelancer, and Business plans.
Paid plans: you can upgrade the free plan from $1.49 per user/month.
Free Features
Unlimited tasks and projects.
Unlimited storage space.
Unlimited users.
Time tracking.
Wall and discussions.
Freedcamp Features Missing in Basecamp:
Time tracker, password manager, issue tracker, communication wall, and discussion boards.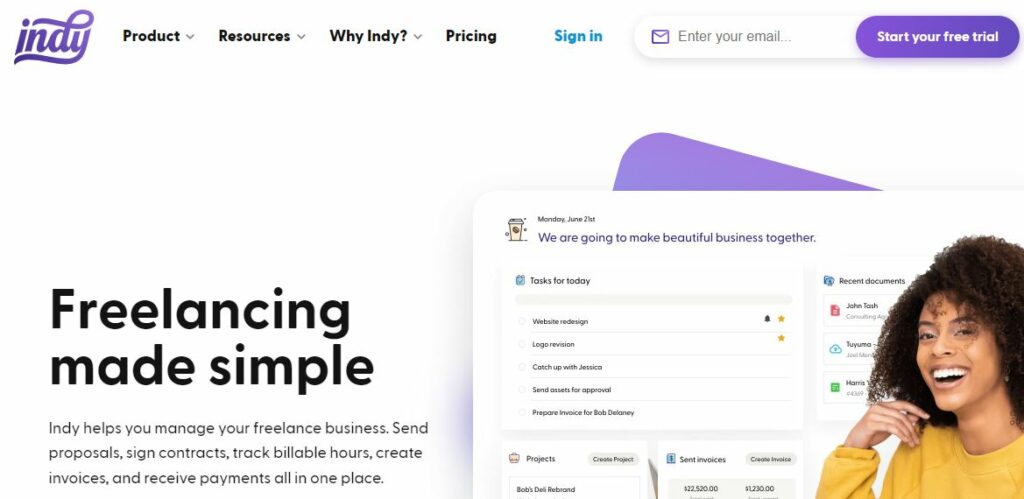 Project management is a little different when you're a freelancer. You'll want to focus on doing the most direct work possible for your clients because that's how you make money. Indy makes this possible by keeping the admin simple with a clean interface and tools that are easy to use.
Indy's project workflow starts with the proposal and contract editors you can use to create professional documents in moments. Organize your client work by projects, add tasks to them, create onboarding and discovery forms, track your billable hours, and manage payment with Indy's Invoices Tool.
Indy makes all this simple for the very affordable price of $5.99 per month. All the features work with this plan and will make freelancing simple for you.
Features:
Comprehensive solo project management
Invoice and billing tools
Accept multiple payment options
Create and send proposals
Straightforward contract editor
Files tool for sharing, approval, and storage
Create a business calendar for projects
Sync your business calendar to your Google calendar
Craft forms for lead gen, onboarding, and more
Embed custom forms in websites easily
Add and track tasks easily
Track your time with just a click
Pricing:
Free plan available
Pro bundle starting at $12/month (paid yearly)
Freedcamp Features Missing in Basecamp:
Contracts, proposals, invoices, and forms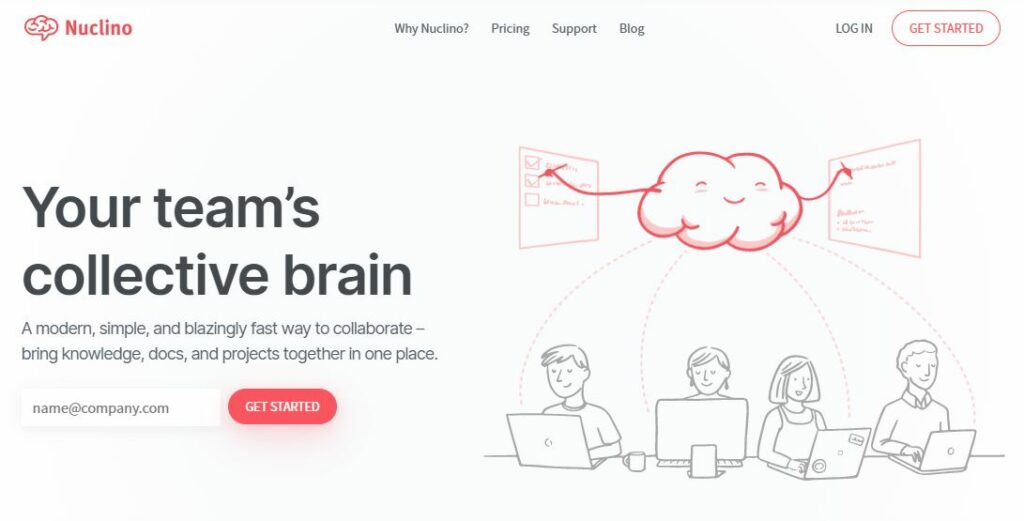 Another great free Basecamp alternative is Nuclino. Like Basecamp, Nuclino is a unified workspace for all your work. It allows teams to bring all their knowledge, documents, and projects together in one central hub, minimizing the need for context switching and silos.
Nuclino offers multiple ways to organize your work, including a Kanban board, a hierarchical list, a table, and an interconnected graph. Each item in Nuclino is its own document that can be collaborated on in real-time, allowing teams to keep their work in context and capture project goals, milestones, and key decisions. Communication is streamlined through comments and mentions, reducing the need for time-consuming meetings.
Nuclino's minimalist and user-friendly interface focuses on essential features and makes it easy for new users to get started.
Key Features
Some of the key features of Nuclino include:
Flexible data visualization options, including the Board, List, Table, and Graph view
Real-time document collaboration
Auto-save of changes with version history
Task lists and assignments
Custom fields for tracking assignees, due dates, tags, and more
Markdown commands and keyboard shortcuts
Drag-and-drop editor
Comments and @-mentions
Interactive media embeds
Quick search with advanced filters
API
Integrations with 40+ apps, including Slack, Google Drive, and Figma
Pricing
Nuclino offers a Free plan
Standard plan starts at $5/user/month
Premium plan starts at $10/user/month
Free Features
The free version of Nuclino offers the following features:
Up to 50 items
Up to 3 fields
Board, List, Table, and Graph view
Integrations with 40+ apps
Basic email support
Nuclino Features Missing in Basecamp:
Real-time collaboration, Table view, Graph view, version history, internal links, comments, and custom fields.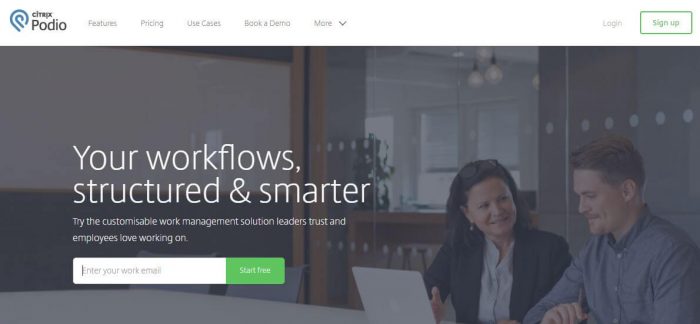 #10 in this roundup of the best free Basecamp alternatives is Podio. Project management and social collaboration tool help teams to communicate on projects and execute them successfully.
Podio brings together the content, conversations, and processes all in one tool so that everything is transparent for the users to collaborate without any trouble.
Key Features
Tasks management.
Personal dashboards.
Automated workflows.
Easy file sharing.
Independent workspaces.
Project reports.
Project templates.
File attachments.
Comments within tasks.
Mass assignment of tasks.
Personal and group chats.
Meetings management.
Documents management.
Activity Feed.
Pricing
Podio offers Free, Basic, Plus, and Premium plans.
Paid plans: start from $9.
Free Features
The free version of Podio comes with the following features:
Up to 5 employees.
Task management.
Integrated apps and workspaces.
Podio Features Missing in Basecamp:
Meetings management, integrated chat, automated workflows, and personal dashboards.

GanttPRO has been one of our favorites for a long time now. Apart from recommending this software on the list of free Basecamp alternatives, we have mentioned GanttPRO at various other blogs on the nTask website.
It's just that the program's overall usability melds really well with process management, task monitoring, Gantt Charts, collaboration, and program management. We love this software for an unbelievably short learning curve.
GanttPRO reportedly maintained users over the 500k mark. There are NASA and Sony on the clients' list too. With those big names using this program on their daily regimen, you can be sure that the tool has more than enough features to offer whatever Basecamp's been capable of.
Key Features:
Compact, concise interface emphasizes placing the information right where it needs to be.
Amazing team and individual collaboration tools.
GanttPRO base plan comes with multiple ready-to-use templates.
Time tracking and issue management.
Pricing:
GanttPRO is not basically "free", but they do offer a Free trial that extends over a long duration.
Paid plans start from $15 per user per month.

Huddle is one of those free Basecamp alternatives that you'd call "handy" for several reasons. The program is perfect for tasks, processes, and project management.
Thanks to its collaboration features, Huddle can be used to get connected with people from both inside and outside the office. Various government institutes use this program to get by with their day-to-day workflow.
What distinguishes it from Basecamp is whether you're working on an internal project or collaborating with clients, Huddle can be easily customized for an 'on-brand' experience.
Key Features:
Supports multiple 3rd party app integrations.
Amazing onboarding experience for new employees. Onboarding can be customized too.
Huddle is being used by government organizations as much as MNCs are on its roster already.
Track progress through in-built monitoring tools.
Pricing:
Free plan comes with a demo to give a detailed overview of the program.
Paid plans start from $10 per user/ per month.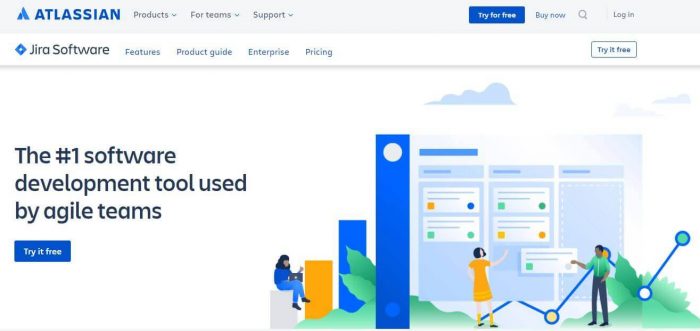 JIRA is a complex breed of project management software. Over time, this tool has garnered a mix of both positive and negative reviews for all kinds of reasons. You should read the case study by Anderson Q, over at Dzone.
Anderson stated that JIRA itself is not bad software – it's just that a lot of people are oblivious to using it properly. Therefore, if your company's requirements are not something that JIRA can fulfill, don't blame the program.
Moving on, this one's a stronger alternative to Basecamp – and that too for free! Various software development, project management, and agile teams use this JIRA to plan and track projects.
Key Features:
Prioritize your tasks as per their urgency.
Minimize risks and manage issues through risk management.
Use real-time collaboration tools to connect with team members and stakeholders.
Planned start and end dates.
Kanban Boards and Gantt Charts.
Pricing:
Free Plan comes with 10 Users' support, 2 GB storage, and limited usability.
Standard Plan starts at $5/ User/ Month, multiple user support, and high storage space.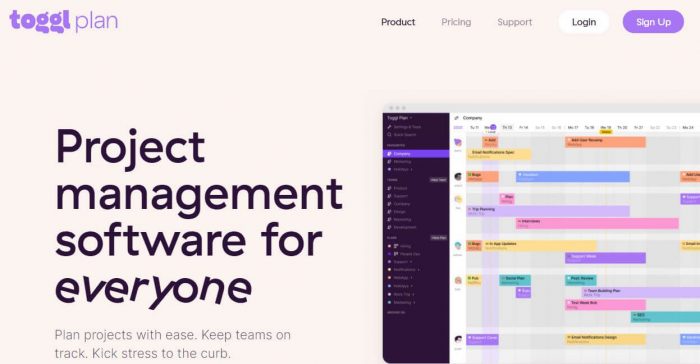 An incredible web-based task scheduling, project, and team management software that allows you to create and schedule tasks according to the requirements of your project development process.
The software has amazing board views that are useful for setting up task priority and task statuses.
The application also provides a velar overview of two different perspectives. They are:
Users can see an overview of the different tasks that are to be completed within the scope of the project in question
Key Features
Color-coded tasks
Drag-and-drop interface to place the tasks according to the requirements of the project
Filter calendar by project
Multiple user access levels
Overbooking calculations
Set public holidays by country
Slack integration to increase the collaboration between the managers, stakeholders, and team members
Timeline view
iOS and Android apps
Backlog for unassigned tasks
Download the timeline as PDF
Export to calendars
Kanban board
Organize tasks into folders
Send tasks via the Google Chrome extension
Shareable with public links
Team availability view
Toggl Integration for time tracking
Pricing
A free trial of the application is available if you want to evaluate the software before making a purchase
Paid subscription starts at $8.0/month
Free Features
Time tracking
Task management
Free users up to 5 members
Single task assignment
Toggl Plan features missing in Basecamp:

One of the top alternatives to Basecamp is Workzone. This is because it comes with features from need assessment, and training to customization.
With Workzone, your broader team can jump quickly onboard, know where each project stands, and collaborate on files.
Key Features
Personalized to-do lists
Unlimited support and personalized onboarding
Project intake forms
Set permissions for certain users to access tasks, projects, and files.
View task dependencies
Collaborate better through secure file sharing, version control, and markup tools.
Pricing
Small Teams – (1-4 Team Members) are charged $40 per user, per month
For Large Teams – (5+ Teams) the plan starts at $24 per user, per month
Choosing the Right Basecamp Alternative
We have covered a whole array of prominent Basecamp alternatives in our review.
Now you can check with your broader project management team and its requirements and align it with the right Basecamp alternative.
And, don't forget to try out nTask. It has a free plan as well for up to 5 users. It comes with a host of features including 100 MB storage, it has tasks, issues, and time management modules included.
Signup for nTask now!
Frequently Asked Questions
1. How Much does Basecamp Cost?
There are two packages for the software:
– Basecamp Personal: This version of the application is Free. That makes it perfect for college students, personal projects, and families that need software to manage their lives ever so slightly.

– Basecamp Business: This version of the application costs a flat $99/month and if you want to pay yearly then $999. The price must be high in comparison to other software but for this price, you get to add unlimited users and projects in your 500GB storage space.
2. Does Basecamp Integrate with Outlook?
Integrating Basecamp is a no-brainer. Without writing a single line of code, you can integrate the two software, and you can send your info from Basecamp to Microsoft Outlook and vice versa.
3. Does Basecamp have Kanban Boards?
Basecamp has an amazing Kanban Board viewing feature in-built which allows you to view different information related to your project, as you want.

You can view different tasks and processes that you have done or have to do in the future, using a slew of amazing boards.
4. Does Basecamp Track Time?
The application does not have this feature, but there is a lot of different software that can integrate with Basecamp to do the job. Some of them are:
1. MinterApp
2. Paydirt
3. Toggl
4. Freckle
5. Worksnaps
6. Time Doctor
5. How does Basecamp's integration with QuickBooks work?
Here's how it works:
– Authenticate your Basecamp 3 application with QuickBooks Online.
– Select one of the software as a trigger to kick off your automation.
– Choose a resulting output from the other app.
– Select the information you want to send from one application to the other.
See also:
The 10 Best Free Wrike Alternatives To Use in 2023 (Free & Trial)