Management is a crucial part of any business. With the world getting fast-paced with each passing day, there is a pressing need to reinvent management techniques. It is always important to reorient yourself with the changing needs and trends. The more up-to-date, undoubtedly, the better.
Whether it is for the owner of the business or the employees, management needs to be well-structured to work better. The higher-ups should adeptly manage their subordinates and the employees should know the intricacies of management while doing their part.
A good manager means that he or she has a thorough understanding of the four functions of management and can perform well under any given situation. Management skills of any employee or employer should be such that he can ace any work situation, be it regular, stressed, competitive, or normal paced, etc.
So, let us try to dig deeper into management and its very basic understanding. We know what management means but a little revision will reinforce and let us learn something new. With the work environment changing its shape, management fundamentals have to be revisited. So, let us just dive in!
Turn Yourself into A Successful Manager
In the new work environment, management necessarily means to adapt to the new work environment. It also means that you are flexible enough to add changes to your daily management techniques. Also, management implies that you can easily get used to any work environment and that you will put in your efforts to make your firm work for the better.
How to turn yourself into a good manager? The answer is simple and super-easy. You should have a basic knowledge of management techniques and how to apply them while working individually or in a team.
A successful manager is one who can take on any task and will do all in his efforts to make it successful for the very business as well. You can also turn yourself into a good manager by understanding the four functions of management.
Going through the four fundamentals will help you revise your learning. Furthermore, these details will help you realign your techniques with the changing trends to make them work better for you and for your company.
Whether you are managing your work individually or you are leading a team, these four management basics will let you work in a more systematized and structured way.
Management Is the Essential Key:
Management is the essential key when it comes to organizing the team and work while completing the task within time. Impeccable management becomes very handy when it comes to completing your task on time and within budget.
Management also enables you to ace some techniques to make yourself and your team stand out. You can manage your team to work in less time as scheduled, you can lead your team to test their limits while trying to complete the task way before the scheduled time. In fact, it is through management that you can trust yourself and your team's instincts while pushing the limits.
Four Pillars of Management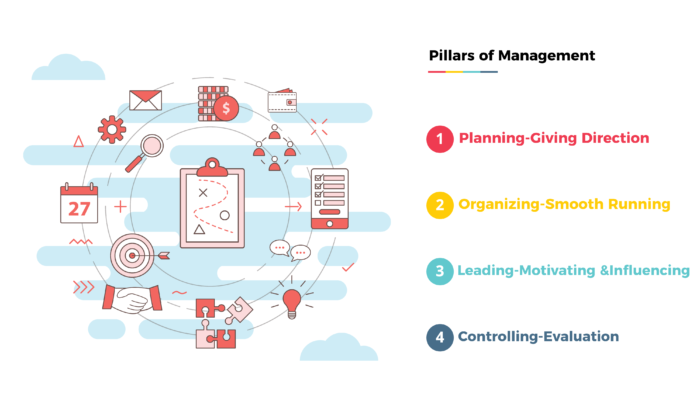 As explained above, there are four fundamentals of management. These are more like theoretical frameworks but putting them into practice will definitely make an observable difference.
These four pillars of management can also be called fundamentals because, without these, smooth management of any task is nearly impossible. These basics of management help you to complete your task within the time limit and financial constraints.
1. Planning-Giving Direction
Planning is the first and foremost pillar of management. It means that being a manager, you know the organizational goals and you can set out a map to achieve those goals and objectives.
Without any firm plan, all your management is under-defined. Planning means that you know exactly where you stand, and how are you going to take on any task.
With the right planning, it is more like you know the crafting of your work. With seamless planning, you are ready to pull on any task that has been assigned to you. You can also take the lead to guide your team when and how to do the task in a group.
Before making any plan, you should know that your plan has to be workable and strategic. With a tactical plan, you direct your task in a way that your team can follow instructions to move from the first to the next point. This is called tactical planning.
Apart from tactical planning, there is operational planning which means the assigned process to achieve the goals. Operational planning makes you allocate resources to start practicing your strategies.
With strategic planning, you direct a map for all the teams to work for the organization. It means that the planning is not just restricted to specific tasks or teams, but it is to be carried out by everyone on board.
There's also organizing your tasks, prioritizing them, and giving each a deadline and duration. The plan includes adding tasks to a timeline to schedule your work. Then, you have to keep updated on your team's progress and performance and, if they're not meeting benchmarks, adjust your plan to get back on track.
Furthermore, planning also needs to evaluate external and internal factors like budget, economic growth, customers, competitors, etc. Managers also need to plan the timeline to complete any task whole estimating the budget, resources, and personnel.
Planning also needs to be inclusive of communication. It implies that a manager needs to be good at communication skills to execute the work plan with the workers. Last but not the least, planning also means communication with higher-ups so that they can update the executives and other stakeholders about the progress of the task.
2. Organizing-Smooth Running
The next step following planning is organizing. Another important managerial duty is the smooth running of the organization. Thus, a manager should have this expertise to delegate tasks to the personnel.
Organizing also means to make sure that the execution of the task meets some reality. While doing the task, the manager should keep a check on everything and everyone so that the daily work goals are achieved.
Managers organize the task environment in such a way that is productive, It means that a work environment is created that is friendly for the team. This is only possible when the manager is aware of his team's abilities and productivity.
Organizing also means that human performance is optimized while achieving a certain goal. The manager should know how much workload can be well-kept by the workers and how much time is needed for their optimum performance.
3. Leading-Motivating and Influencing
The third basic function of management is leading. Leadership means that the manager has the right skills to motivate and influence the team in a positive way.
Managers should know when to encourage the team members to boost up their energies. Leadership is all about using your skills to foster a positive and encouraging attitude in your team members.
Moreover, managing also means a strong sense of direction and nurturing trust in your team members. It is about making them believe that they can do this specific task because they are more than capable of doing that.
Managers should know when their team is lacking courage and when is a need for some extra shots for positive reinforcement.
4. Controlling-Evaluation
The last function of management is control. Control means evaluation of the team's progress to know if they have been able to execute the plan accordingly. Controlling also means evaluating, measuring, comparing, and correcting their results, to know what they have achieved in that particular time.
Managers also work to adjust the evaluation to make sure that organizational goals are met. They should keep a check on employee performance and efficiency while completing the project.
Controlling is all about evaluating and adjusting to ensure that organizational goals are met. Managers can conduct performance appraisals and other such tasks to evaluate their performance and give suggestions for improvement.
How Does nTask Help with The Four Functions of Management?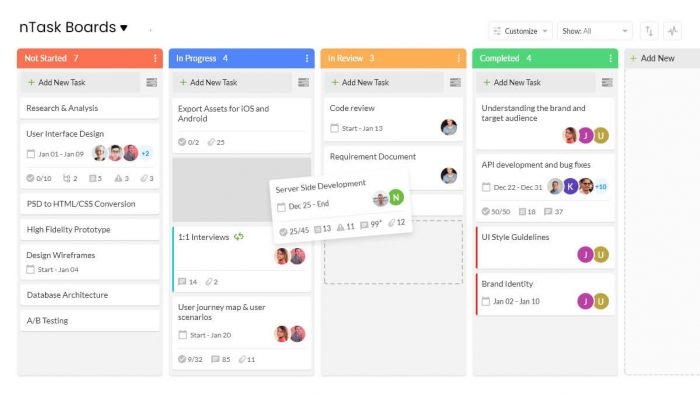 A managerial task is a continuous process where these four basic functions run side by side to help you achieve the organizational goal. With these basic management skills, you can outsmart your own limits to take the organization to new heights.
Although we know these functions are here to help you, controlling the reins manually can be pretty tiresome, especially if you do not have formal experience with management. And even if you do, it wouldn't hurt to simplify things for yourself.
nTask is here to help you with every aspect of management. Its efficient management solutions are equipped with hundreds of advanced features to help you ace management with ease. Its friendly interface along with cost-effective pricing plans are the icing on the cake.
1. Creating Project Plans: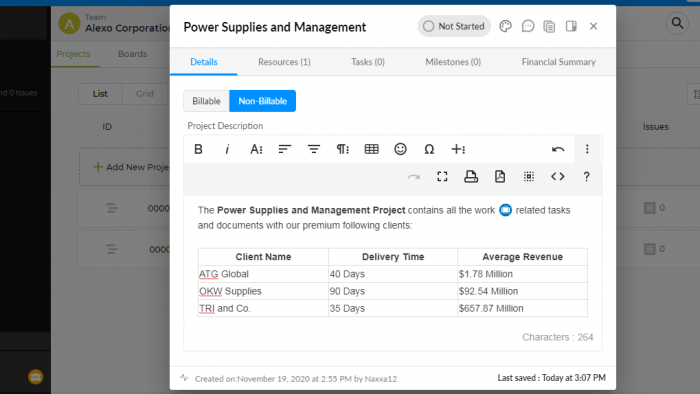 With nTask, you can easily create detailed project plans. Starting with the division of the project into tasks and subtasks, you can then assign these tasks to relevant resources. You can also add to-do lists, descriptions of the task, start and end dates, milestones, budgeting details, comments, share files, and much more.
You can create a whole timeline from the very beginning of the project till the end.
2. Tracking and Monitoring: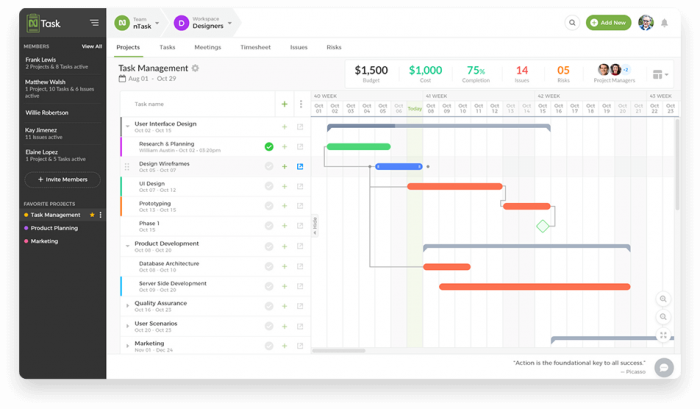 nTask offers Kanban boards, Gantt charts, and multiple viewing options so that you can keep up with the latest developments in a project. Moreover, nTask color codes Task status and priorities to make it easy for every individual to gauge a project's progress.
Furthermore, with time tracking and timesheets, nTask allows you to keep an eye on how much time is spent on a task and how long will it take to complete the whole project.
3. Notifications, Reminders, and Updates: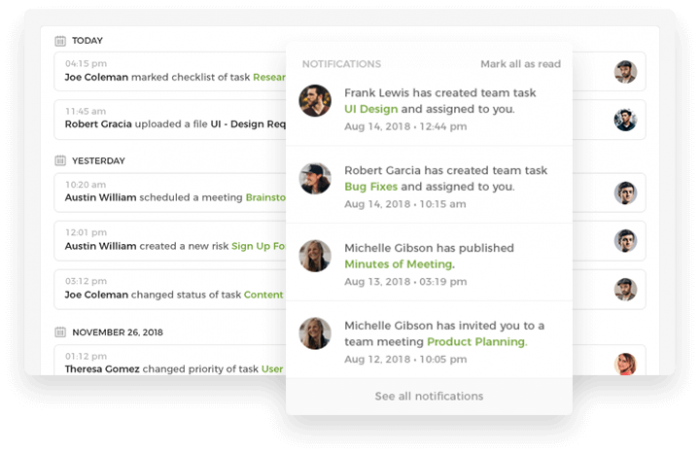 To make sure you are always up to date about everything that goes on in a project, nTask sends regular notifications, reminders, and updates. Not only can you keep up with the latest developments, but it also notifies you when the project budget exceeds a certain limit.
Robust Work Management with nTask

Organize tasks, projects, issues, Gantt charts, and create custom fields. Sign up today!
In such a way, nTask makes sure that you are always informed about everything that goes on in the project.
nTask is a trusted project management tool that has slowly but steadily climbed the stairs to success in the business world. As of now, the tool is helping over 250,000 teams in 190+ countries and continues to expand its reach. Sign up for free and transform the way you work with nTask.