Before investing in any software tool for your business, you must explore various alternative options in the market. Having a look at different alternatives gives you an idea of whether investing in the tool is worth it or if there are better options available.
This goes for all software solutions, including Formstack.
Formstack is a well-known and reliable tool trusted by over 25,000 organizations, including startups and Fortune 500 companies. It is an all-in-one solution geared to help users with form creation, document management, e-signatures, automation, and much more.
Although Formstack is one of the best in the business, it is no harm in looking at other alternatives for perspective. Whether you want to compare prices and features, or just want general know-how of Formstack alternatives, you can read this article and find all the answers you have been looking for thus far.
Let's get on with it right away!
List Of The 12 Best Formstack Alternatives:
Here are the best Formstack alternatives for you to use today.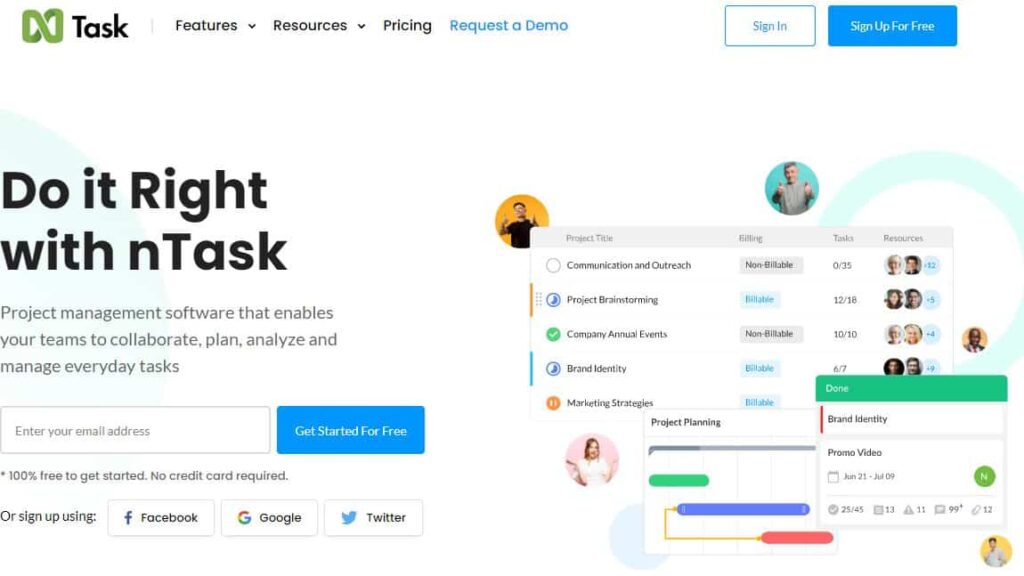 When it comes to quick and efficient working with profitable returns, nTask is the best option of all. It is a project management tool equipped with some of the latest, most powerful advanced features. The tool offers seven different management modules geared for different management processes.
On top of these modules, nTask has recently launched a new feature, nTask Forms. This specially developed feature is designed to help users create forms and store and analyze them. It generates data in the form of visually appealing graphs and charts that are easier to understand and offer actionable insights.
With its easy-to-use user interface, you can easily create custom forms with simple drag-and-drop functionality. You can also give your forms a personalized outlook with customization options. Once you have created a form, you can share the forms with respondents using the link generated by nTask.
Moreover, it allows you to process responses and incorporate them into your workflow. In addition, nTask offers integration with various other tools, which can also come in handy when working on forms and responses.
nTask is a rather simple platform helping 250,000+ companies worldwide streamline their businesses with advanced features. The learning curve is also a short one with nTask.
As for pricing plans, nTask takes the lead with its affordable pricing. It offers four different pricing plans, with the Basic package available for free, and the paid plan starting at $3/user per month. Compared with Formstack's $50 per month starter pack, nTask is the better option.
2. Jotform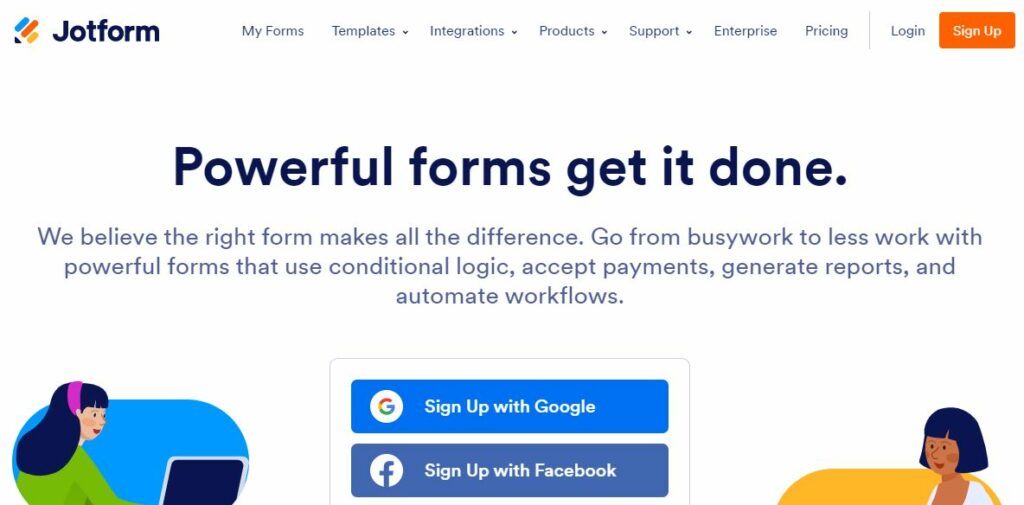 Jotform is probably one of the most reliable Formstack alternatives. The tool has been in service for quite a while now and has gained the trust of more than 15 million users worldwide.
Formstack vs. Jotform is an ongoing debate owing to the popularity of both tools. Jotform claims to be a better alternative to Formstack with top-tier security ensuring your data remains safe and secure. It offers conditional logic, which helps ask the right questions to get the right answers.
With its 10,000+ templates, users can easily pick and choose the template of their choice, customize it or use it as it is and start working immediately. All forms created by Jotform are mobile-friendly plus, you can download the app to create forms and collect responses offline.
Furthermore, users can add approvers to keep the process streamlined. Lastly, Jotform offers 100+ powerful integrations with other apps, including Formstack, so you can enjoy a seamless experience with no hurdles.
3. TypeForm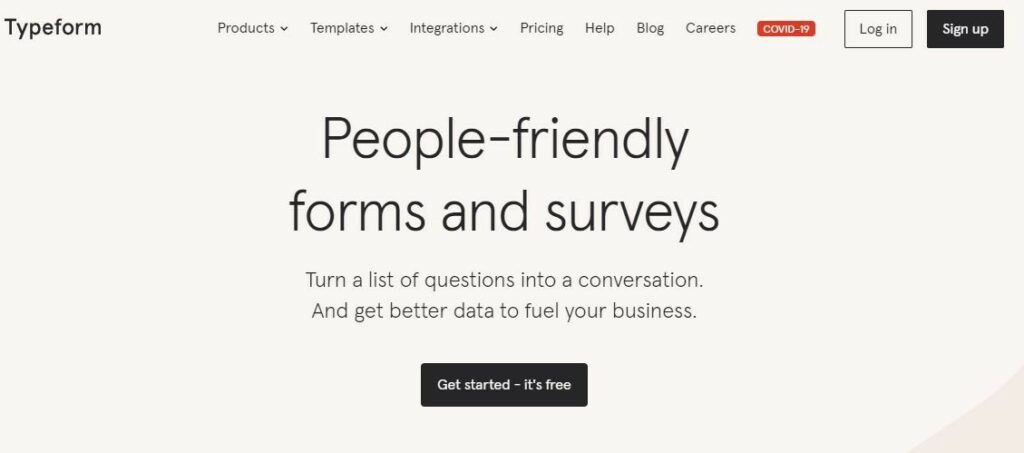 Typeform is another great alternative to Formstack. TypeForm is renowned for its user-friendly interface and various design features.
Its intuitive forms seamlessly adapt to all devices be it a smartphone or a PC. Some of the most promising features of the tool include built-in photo and video libraries, a wide range of templates, and more engaging forms and surveys.
Plus, you do not need to have any former training or knowledge of coding because TypeForm is code free. You can easily embed it into your website and start creating forms immediately.
TypeForm ensures that the forms and surveys you create are interactive and enjoyable for the respondents. The results obtained this way will be more accurate and insightful. Between Formstack and Typeform, Typeform is more suitable in terms of intuitive and eye-catching designs.
As for pricing, TypeForm is inexpensive compared to Formstack, with free and three-priced plans, starting at $25 per month.
4. Zoho Forms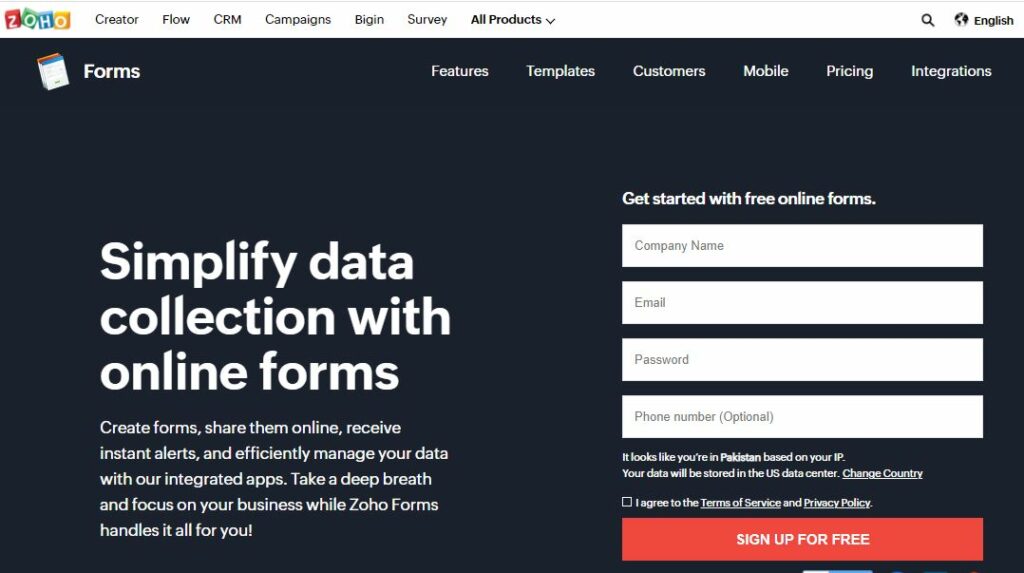 Zoho is a one-stop shop of management solutions, helping companies in different business streams. Zoho Forms is another solution of theirs that helps businesses create forms, share them, receive submissions and alerts in real-time, and efficiently manage data.
With simple drag-and-drop, users can customize their own forms with over 30 field types, customizable themes, and specific templates. It also allows you to embed forms into the website letting website visitors engage and fill the form right there and then.
Its real-time notifications, UTM tracking, optimized analysis, and seamless integration with other apps make it one of the most sought-after tools for creating forms. Additionally, the forms created through Zoho Forms are mobile-friendly and can be shared via a link or email.
Zoho has four pricing plans: basic, standard, professional, and premium-priced at $10, $25, $50, and $90, respectively. Users can also opt for Zoho Forms' free plan offering 3 forms, unlimited reports, 500 submissions/month, 10 payments, 200 MB of file storage, etc.
Related:
Zoho Projects Review, Features Pricing
5. Google Forms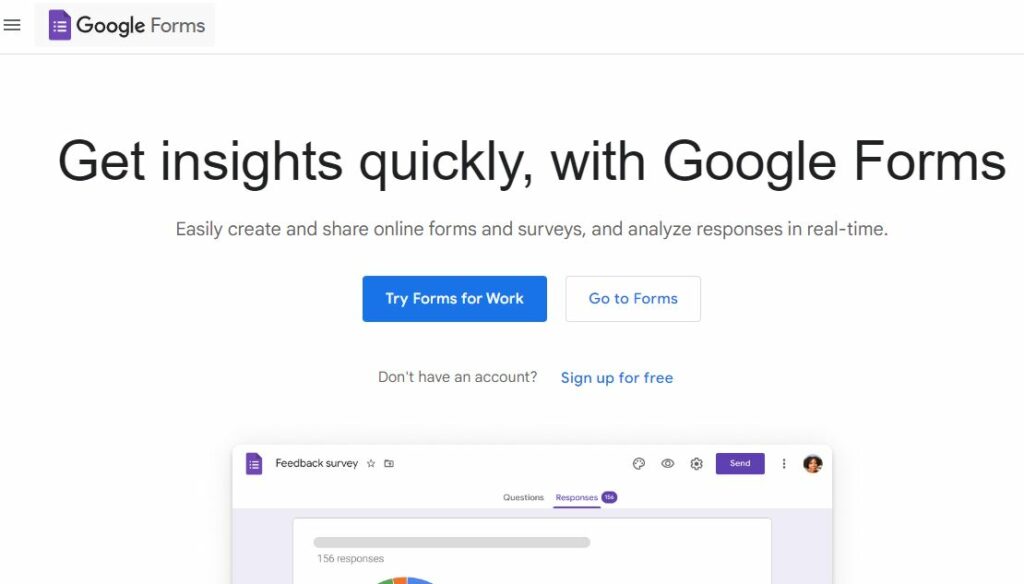 Google and the tons of tools it offers are loved by people all over the world. All of its tools are designed to help teams and individuals simplify work and improve efficiency.
Google Forms is another tool wherein users can create custom surveys, share them online, and analyze responses in real time. With Google's user-friendly interface, creating forms and surveys is as easy as ABC. It offers multiple types of questions, a drag-and-drop feature, and customizable values.
You can also personalize your forms to reflect your organization's brand with customized colors, images, fonts, etc. One of the biggest advantages of the tool is that it adapts to any device, be it a PC, laptop, or mobile, making it easier for respondents to fill out the form and submit it on the go.
When talking about Formstack vs. Google Forms, the most important thing to note is that Google Forms is available for free, so if you are looking for the best Formstack free alternatives, then Google Forms is the way to go.
6. Qualaroo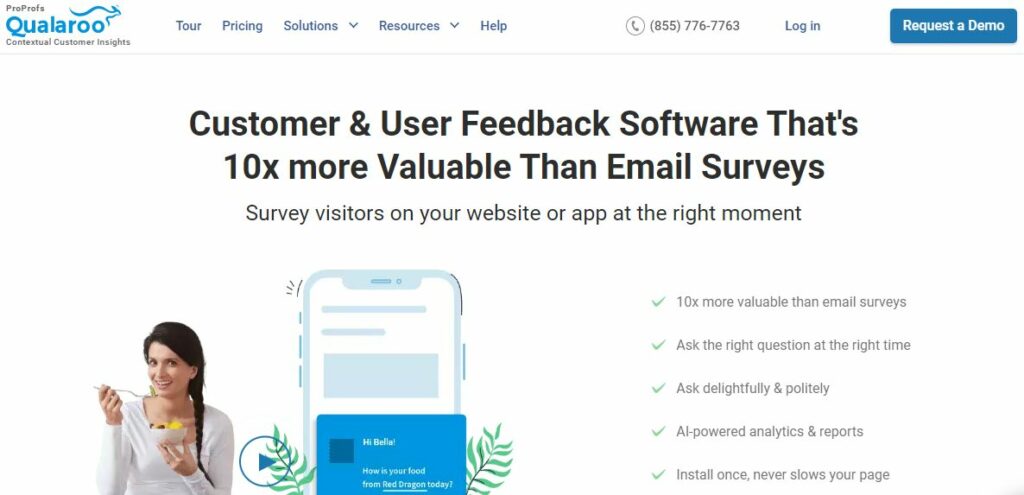 Qualaroo is a customer and user feedback software. With its beautiful and eye-catching designs, it makes sure respondents actively engage with the form, and it is a fun experience for them.
Keeping user experience in mind, Qualaroo gathers data from websites, mobile apps, etc. so that visitors' experience is not disrupted. Its intuitive reporting and Sentiment analysis allow you to analyze data in real time.
Qualaroo's surveys are ten times better than email surveys because they ask the right questions at the right time. The submissions from in-context surveys provide better, more actionable insights.
7. SurveyMonkey

SurveyMonkey is probably the most renowned survey tool of all.
It is an online form builder software that helps its users create forms and surveys, gather responses, and analyze the data obtained to make better decisions for the future. Its intuitive solutions, helps users create custom forms and surveys suited to their needs.
You can analyze the responses in real time, create complex questions, and use custom logos without coding.
You can start with SurveyMonkey with free registration and sign up for the Basic plan (always free) or priced packages (for advanced features) at affordable prices.
8. SurveySparrow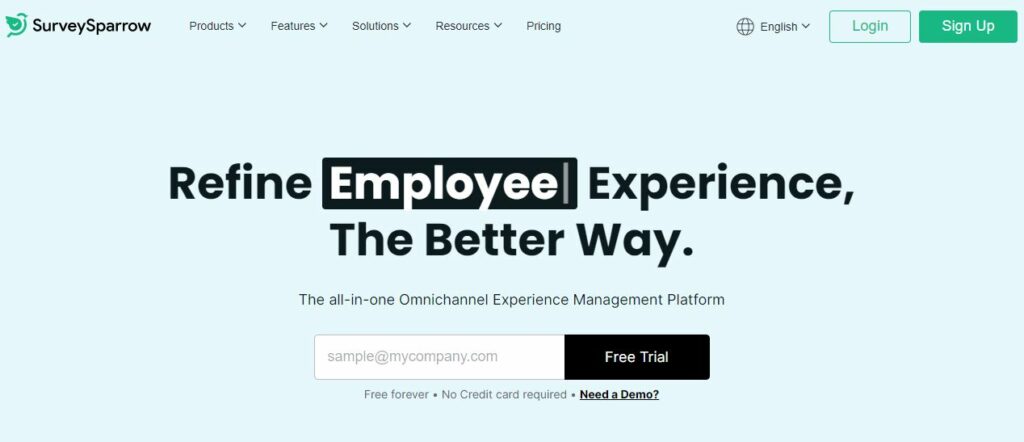 SurveySparrow is another incredible alternative to Formstack.
One of the biggest challenges in conducting surveys or getting form submissions is the low completion rate. Monotonous surveys are not very engaging, and respondents might not engage with them as much as an author would like.
Here enter SurveySparrow.
The Omnichannel Experience Management Platform's all-in-one helps improve the survey/form completion rate. To do so, it enhances the user experience with conversational style forms and surveys that are more interactive and less monotonous.
To help new users get the hang of the tool before formally signing up for it, the tool offers a free trial period of 14 days with no credit card.
As for pricing, SurveySparrow is on the expensive side for teams, with the lowest-priced plan starting at $99 per month. Individual users, however, can sign up for a free plan at zero cost.
9. Wufoo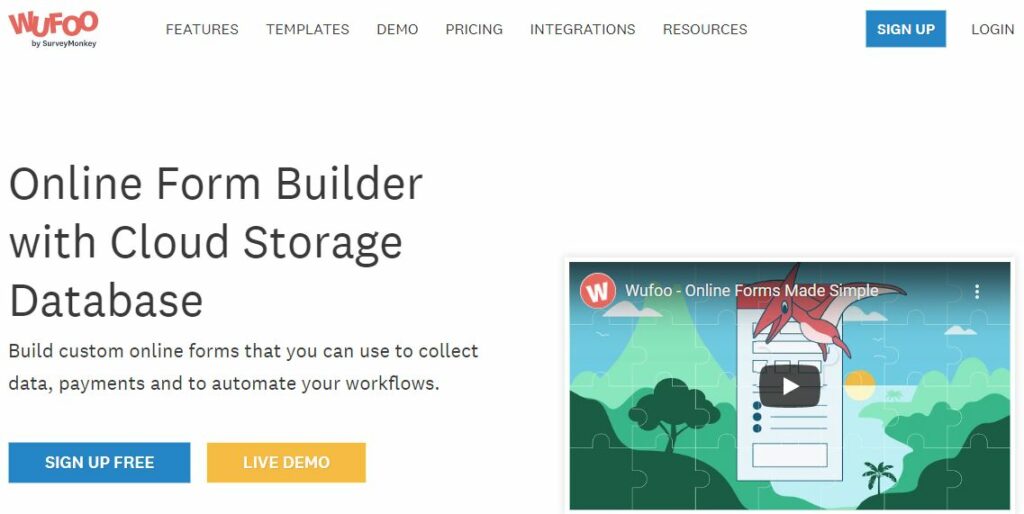 An online form builder is a cloud-based tool that allows users to create different types of forms as and when needed. Currently, the tool is used by 3+ million users worldwide and is ranked among the top form builder tools of all time. Wufoo is another suitable alternative to Formstack.
You can use the data obtained from responses or export them to spreadsheets to generate custom reports. Users can create forms on the tool without coding. It also provides ways to accept online payments.
Wufoo is a dedicated platform for form creation. It offers tens of templates you can choose from and customize according to your needs. Wufoo also includes automation features to streamline workflow and improve productivity across channels.
Wufoo protects your data with 256-Bit SSL Encryption, Smart CAPTCHA integrations, and a data fortress to make sure your data stays safe and secure at all times.
10. Paperform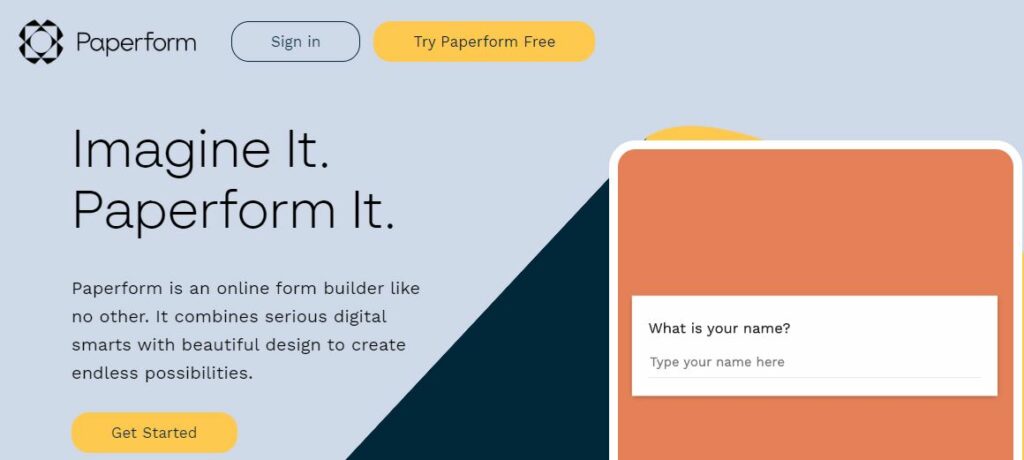 Paperform is our next pick for this list of the 12 best Formstack alternatives. Paperform's form-building features are comparable to Formstack. But while Formstack's pricing plans are expensive, Paperform is a much more affordable Formstack alternative.
The tool is rated higher than Formstack on several rating sites. It creates more personalized forms geared to reflect the voice of your brand.
In comparison with Formstack, Paperform is easier to use, offers better customization features, and also provides full support to help users navigate through the tool without a hitch. Paperform's template library is also richer and more featureful.
Overall, Paperform is a better alternative to Formstack with better pricing and no compromise on features or functionality.
11. 123FormBuilder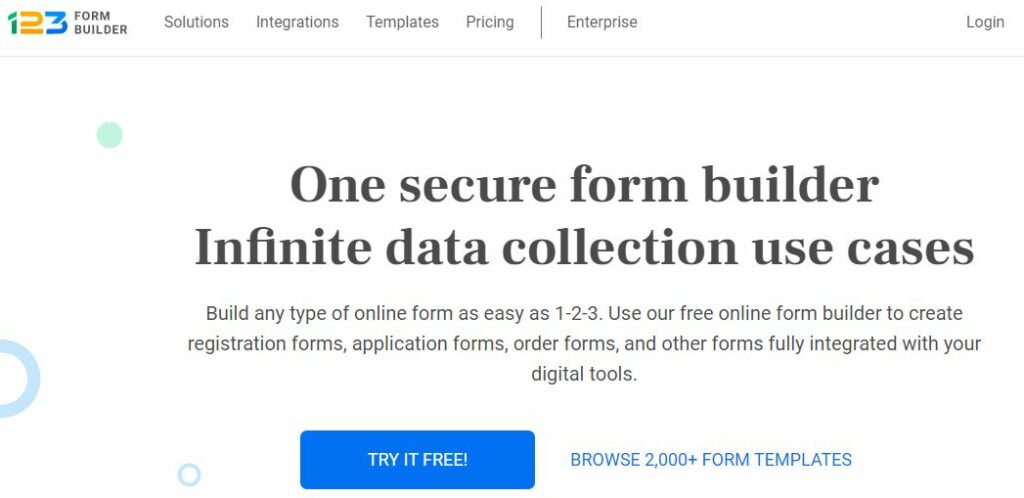 123FromBuilder is another free Formstack alternative with advanced features and more affordable pricing plans. It helps create different types of forms and users can also integrate other tools for a seamless experience.
Currently, the tool is trusted by 35,000+ plus individual users and organizations from all over the world including LG, the University of Oxford, and many others.
With 2000+ form templates, creating forms is as easy as 1-2-3. You can pick and choose the template of your choice and start creating the form of your choice right away. You can also create HIPPA-compliant and GDPR-ready forms to make sure your data remains safe and secure all the time.
Its easy integration with other tools makes it easier to use the tool, no matter the type of industry or business it is.
12. Microsoft Forms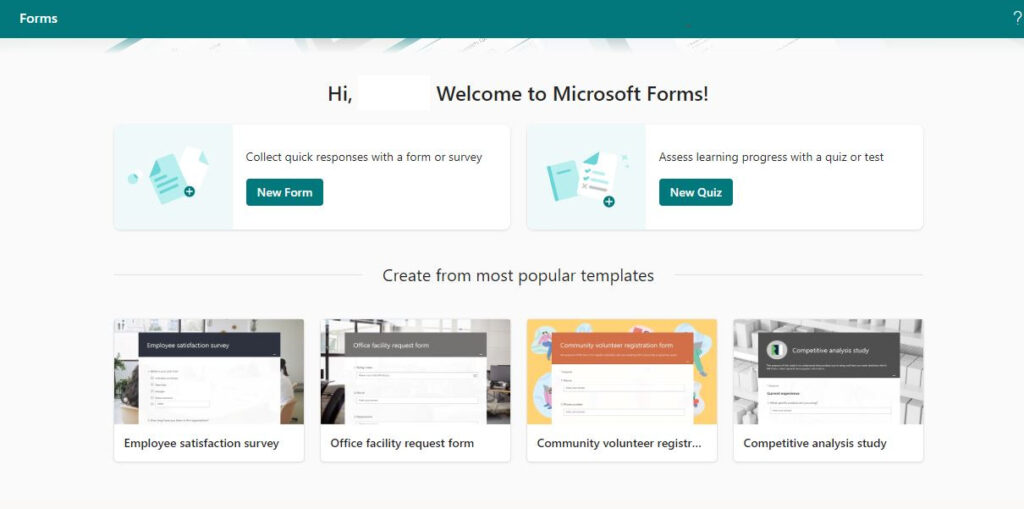 Microsoft Forms is our last pick for this list. Since the tool is included in the suite of solutions offered by Microsoft and is loved and trusted by many all across the globe.
Users can use the tool to create forms, quizzes, surveys, etc. with no hiccups in the process. Microsoft Forms is a reliable alternative to Formstack with smart features to help create engaging forms that are fun for the audience as well as the author.
Since Microsoft Forms is a part of Microsoft Suite, it is available for free. It is, undoubtedly, one of the best and easiest to use free alternatives to Formstack available in the market.
Also check:
11 Best Microsoft Teams Alternatives
Concluding Thoughts:
Although Formstack is a reliable option for form building, there are various other viable options available in the market with far better features and lower pricing plans. We have listed some of the best Formstack alternatives in the market here.
Before you pick and choose a tool for use, make sure that its features align with your needs. You can also start with a free trial, demo, or free plan to analyze the tool and see whether it suits your needs or not. Once you have found such a tool, you can invest in a priced plan for improved efficiency.