You searched the market to find the best project management tool out there, and it led to giving nTask a shot.
Let us just say, great choice (by the way)!
However, now that you have created your profile, how do you get the most out of nTask?
To be honest, it's not that difficult. The project management tool is laced all over with simplicity through easy maneuverability options, multiple tools, and a brand-spanking new UI.
Here's how you can get started to see your projects up and running in the first week.
What is nTask?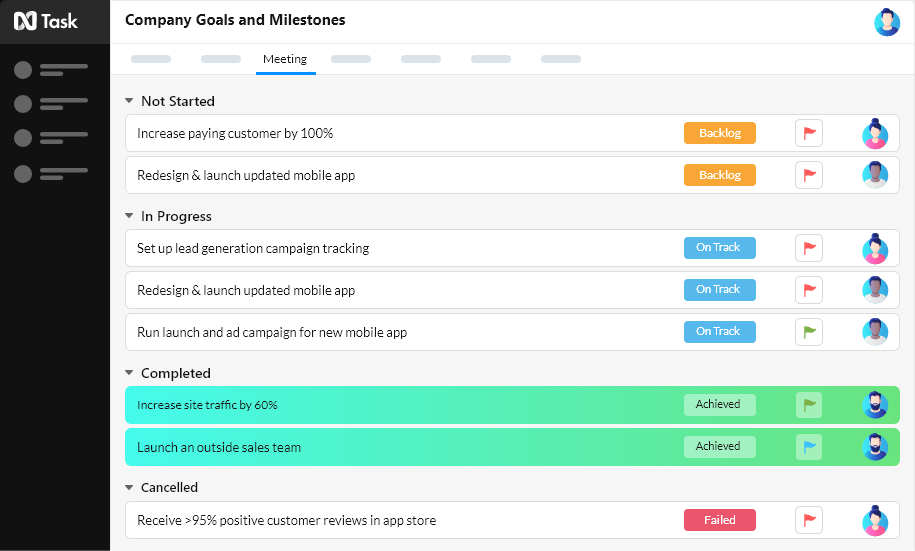 nTask is a cloud-based task management solution built around your needs as a user.
The software is a project management tool that provides task management, enables collaboration with team members, allows you to create meeting schedules, and more.
Why You Need Project Management?
Association for Project Management defines Project Management as:
"Project management is the application of processes, methods, skills and knowledge and experience to achieve specific project objectives…"
The question often posed then is why does one need project management?
Ask yourself the question, without project management how will you avoid the breakdown of your team with your client? Without it how will your team decide how to navigate the rough waters that are the project processes?
Here are just some of the reasons that project management is important:
With project management, your projects get direction and leadership. Thus, you avoid your project moving without direction, purpose, or control.
Project management helps with project planning and makes sure that you set expectations and objectives based on what can be delivered and by when.
Project management makes sure that the outcome of the project is right and provides real value to your business.
As with helping to create realistic objectives, project management helps with planning and creating a project plan that executes on strategic goals.
Project management also helps with quality control and making sure everything delivered is up to mark.
Project management also ensures that proper project processes are followed throughout the lifecycle of the project.
Project management creates a record of your project, this in turn makes sure that you and your team can learn from any mistakes or copy things that led to success.
Project management also provides continuous oversight and lets you track and report your project progress.
nTask Features
Now that you know-how project management can help you deliver a successful project, here are the features offered in nTask that can give you just that.
nTask allows you to easily plan your projects, tasks, timesheets, etc. you can:
Systematically create and manage to-do lists
Identify dependencies with nTask and highlight them accordingly
Set start and end dates for any particular task
With nTask you can keep track of all your task activities and updates
Track task progress with nTask's robust progress reports
Customize the status of tasks to keep everyone in the loop
Segregate your tasks into respective categories and add labels and filters for clarity
nTask provides you with the ability to easily assign tasks to your team and collaborate in real-time
nTask allows you to assign multiple assignees for quicker task allocation
You also have options available to attach files to your tasks
nTask allows planning and budgeting
Options to track non-billable resources, initiatives, and tasks within your project allow you to optimize your operations
Flexible provisions are available for T&M costs
You can set up reminders to be sent right to your inbox for when projects are nearing project depletion.
nTask provides visualization features to view your project's progress
Gantt charts allow you to schedule and track project performance
nTask's calendar allows you to plan your events
nTask allows tracking of your projects, timesheets, meetings, etc all in one place
Automatic web timers allow you to set recurring tasks
The nTask mobile app allows you to track more effectively and stay updated even on the go
There are also options to update time entries manually to allow you to time track according to your needs.
The software lets you track, assign, prioritize and fix bugs and issues faster with issue management features
Assign issue severity levels
Highlight issue priority levels
Bug tracker facilitates comments and file attachments to ensure everyone gets notified of issue updates
Risk management tools allow you to define risks, their likelihood, and current status for your project team
Use nTask's risk matrix to identify relationships between the probability of a risk and its resulting impact
With nTask you can manage your risks efficiently and lower their impact
Easily jot down mitigating strategies for risks with probable solutions and have everything in one place
Reporting options
One-click timesheet report submissions are available allowing teams to submit timesheets to managers and allowing remote teams to simplify this task
Team members can manually send timesheets for approval allowing you to avoid any potential bottlenecks
Team members also have the option to correct any errors in the times reported by withdrawing the sent timesheets
You can also integrate nTask with your favorite tools to streamline your workflow
Your Guide to Starting With nTask
After reading about all the features nTask has to offer, you're probably wondering how you can use the features for your projects.
Here is a short guide on how to get the most out of nTask, when you sign up for the software.
If you want a detailed look at how to use the tool for your organization, you can always book a demo with the customer support team to get a detailed meeting to help you with your nTask onboarding.
Let's get started!
Sign Up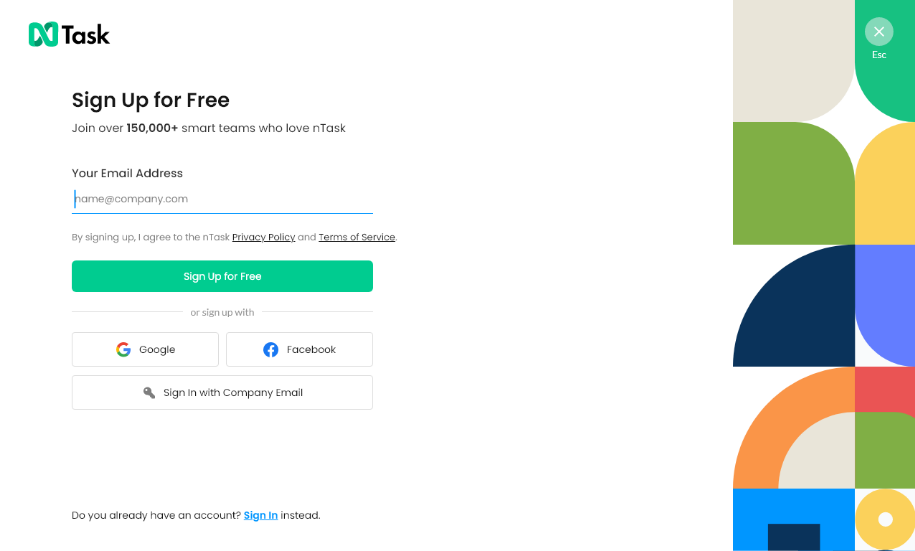 The first step to begin your nTask journey is by signing up for the software.
You can do this by going to the nTask website. On the top right-hand corner of the website, you will find a "sign up" option.
Follow the instructions to make an account.
Creating a Team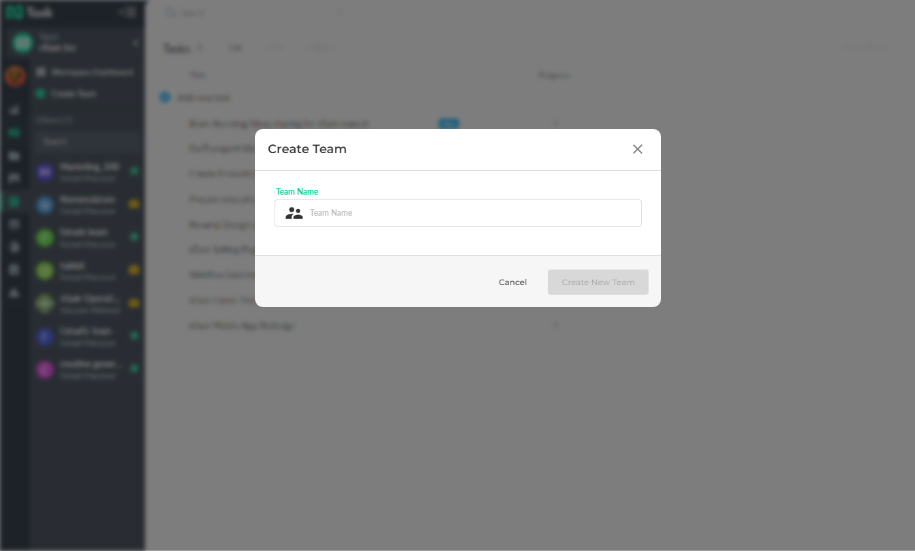 When you sign up to nTask, apart from your name and password you will be asked to write a team name.
In nTask, your team can be your organization or any group that you wish to use the platform.
Remember your subscription will be based on your team.
While you are signing up you will also have the option to invite team members. You can add email addresses of all the people you want as a part of your team in nTask. You can also skip this step and add people later, so don't worry if you miss anyone out.
Pro Guide:  Check this resource to learn more about Team Creation.
Workspaces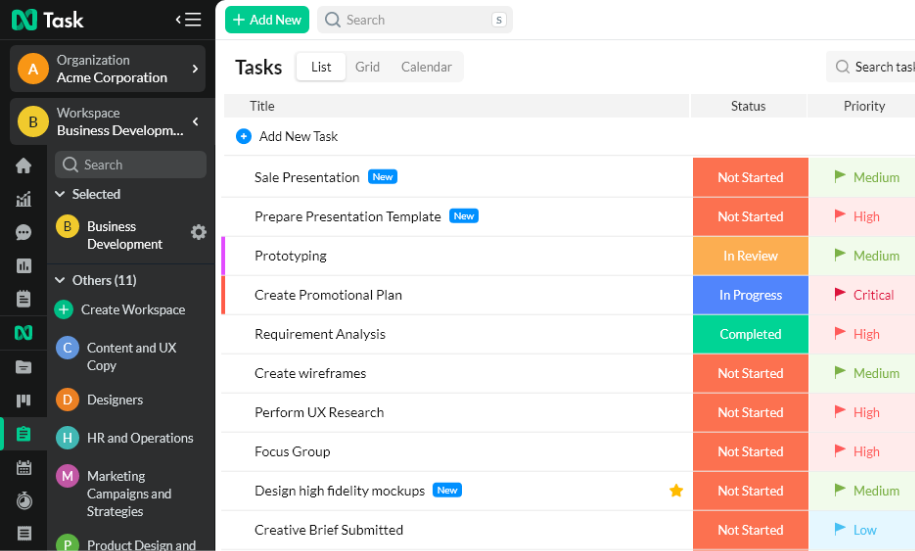 When you finish signing up you will be able to see your dashboard Don't worry if it looks empty. All it needs is a bit of a workspace and teams to get started.
Your dashboards house all your "workspaces".
A workspace in nTask is independent of each other and incorporates everything associated with your workflow. Thus, workspaces consist of projects, tasks, meetings, issues, and risks.
The way you choose to create and manage your workspaces is up to you. For example, you can use each workspace to depict a department in your organization, or you can use a workspace to separate your projects.
You can create as many workspaces as you want, and you can do this by clicking on the green '+' Sign.
Before we move on. While you are at your dashboard, it is a great time to add members to your team if you did not do so previously.
Add Members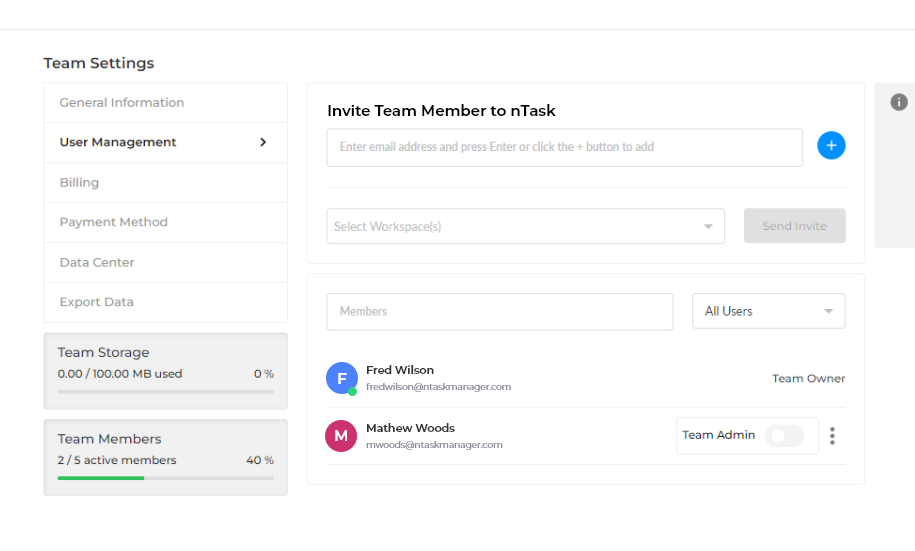 There are two ways to add members to your team. One is when you sign up.
To add members to your team after you have signed up, follow the steps below:
Step 1: Click on the arrow next to your team name to open the drop-down menu.
Step 2: Select user management.
Step 3: Once you open user management you can add members to your team by writing their email addresses in the text box provided. Once you have listed your team members, click the '+' button and then the grey "send invite" button. Your team members will receive a custom invite to join your team in their inbox.
While you are adding members to your team, you can also select which workspace you want them to be a part of.
Alternatively, you can add your team members to your workspace by following similar steps mentioned above, but starting from the drop-down menu next to your workspace's name.
You should note here that the number of members you can add is according to the plan you choose. While we will discuss the different pricing plans in detail below, here is a brief outline of how many members you can add according to your plan.
Basic Plan: When you opt for nTask's basic plan, which is free of cost, you can add a maximum of 5 members per team.
Premium Plan: During the 14-day trial period, you can add a maximum of 5 members per your team. When you upgrade to the premium plan, there is no limit on the number of members you add. Pricing will be calculated per team, per member.
Business Plan: The business plan follows the same rules as the premium plan in regards to pricing. For the 14-day free trial, you get a limit of 5 members, but after that, you can add as many members as you like.
Taskboard
Once you have created your team, added members, and created your workspaces it is time to take full advantage of everything nTask has to offer that can make your project management a breeze.
You will be led to your taskboard, which acts as a homepage for all your projects, tasks, meetings, timesheets, issues, and risks.
With your taskboard, you can benefit from a comprehensive view of the work your team has completed as well as that which is in progress.
Create Projects
Once you are in your workspace you have the option to create your projects. Projects can be customized according to what will suit you.
Each project can depict a separate project your team is working on, but you can also use projects to differentiate between your team members and assign them a separate "project" where all their tasks will be.
You can get an entire overview of your project by the three views that nTask offers. These views are the Gantt chart, grid view, or calendar view.
Within projects, you can assign tasks, as well as create meetings, and more.
Create Tasks
Each project has the option to create different tasks that are necessary to complete a certain project.
With tasks you can:
Create and assign work items
Add descriptions
Create to-do list items, that can further be assigned to any member assigned the task
You can set planned start and end dates as well as actual start and end dates
You can also set priority for your tasks that can be "critical", "high", "medium", and "low"
You can also converse with members assigned the task right in the task window for easy collaboration, you also have the option to add photos and documents so everything is organized and easy to access
Create Meetings
Apart from the ability to create projects and tasks, nTask also allows you to create meetings.
With nTask's meeting feature, you can:
Create a meeting
Set a date and location
Add participants
Create an agenda
Once a meeting is created, nTask provides you access to everything you will need during and after your meeting right within the app, at your fingertips.
You can create meeting agendas, write discussion notes, as well as follow up actions, and key decisions.
In fact, follow-up actions that are noted down in your meeting can also be converted into tasks and assigned to team members, all from the app.
Therefore, as you can see nTask makes the whole project management process a streamlined practice.
Learn everything on nTask Meetings here.
Create Timesheets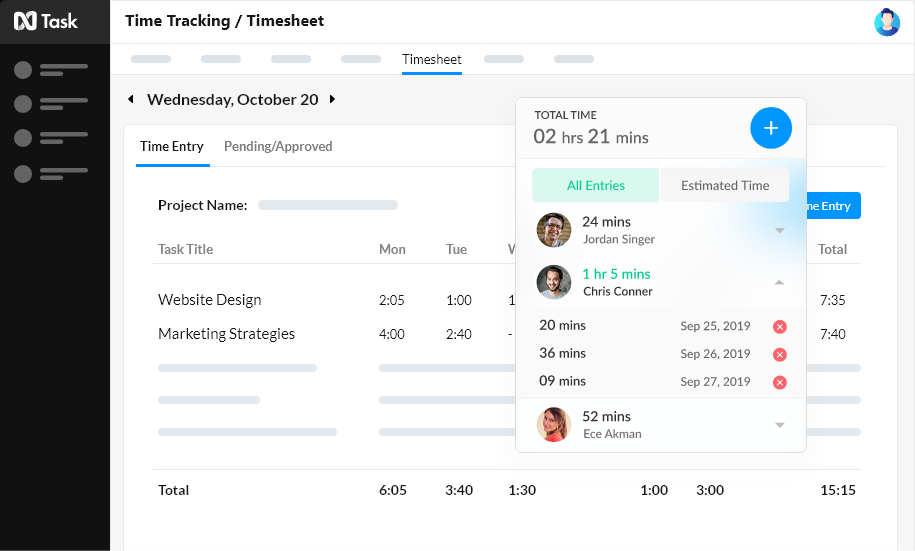 nTask also gives you the option to create timesheets.
With nTask you can get your team members to start their timing in any particular task to record their efforts, or manually enter time to create timesheets.
These timesheets can be accepted or rejected by the team admin.
You can use these timesheets for a general overview to track the progress and efforts of your team members.
You can also use the timesheets and use them to calculate billing and project costs with the nTask budgeting features.
Create Risks and Issues
With nTask you can also identify issues and risks that you may face in your project. These help you stay vigilant and be prepared for all that your project may go through.
nTask Pricing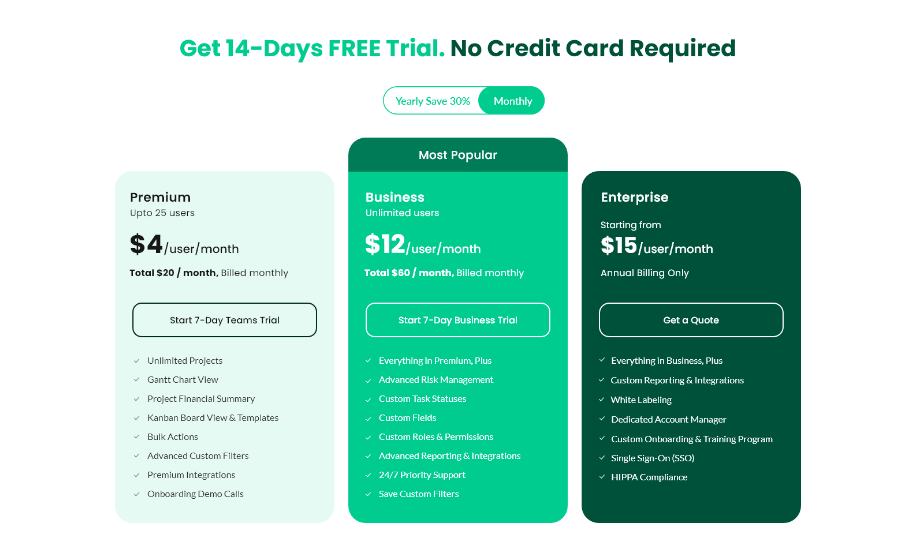 We touched upon one of the differences between the subscription plans above, concerning the members you can have per team.
With nTask's Basic plan you can access the app for free, and take advantage of:
Issues tracking
Timesheets
Meetings
Unlimited tasks
Unlimited workspaces
Limit of 5 members per team
100 MB storage
nTask also offers a Premium plan for $2.99/user for a month when billed annually. You gain access to everything provided in the basic plan, plus:
5 GB storage
Projects
Gantt
Bulk Actions
Custom filters
The Business plan costs $7.99/user for a month when billed annually. You gain access to everything provided in the premium plan, plus:
10 GB storage
Save custom filters
Risk management
Custom roles and permissions
There is also a customizable Enterprise plan. In this plan you get everything in business, plus:
Custom onboarding
Dedicated account manager
Dedicated cloud
Why not check out the nTask price calculator on the pricing page to get a calculation of your team's cost.
Conclusion
There you have it! We hope to see you blazing through your work with nTask.
Don't forget, you can get detailed tips on how to use the software through the free demos offered by our customer support team. Alternatively, you can also read about new features highlights at nTask website.
Happy nTasking!