Are you interested in finding the best software to manage corporate-level projects?
Enterprise work management software is in great demand among teams that carry out their work remotely.
Managing remote communication and collaboration, in addition to regular workflow, is made easier with programs designed specifically for project management.
However, there are various characteristics to consider when searching for enterprise work management software to manage projects for increased productivity.
In this post, we have rounded up some of the best enterprise work management software, known for its robust features, deliverability aspects, and much more.
Read on…
---
Is It Worth Signing Up for An Enterprise Work Management Software In 2023?
Because the COVID-19 pandemic fundamentally altered how we streamline workflow, investing in powerful project management software has become more of a necessity.
You may have a comprehensive perspective of your projects and complete command over them if you use a dependable project management platform designed for corporate teams.
But the problem is, simultaneous projects – and those too, at the enterprise level, encapsulate tons of ongoing activities. These activities are laced with task dependencies, timesheets, sub-level work modules, risk and so much more. Technically, it's more of a 'you name it, and there's something in there for you to handle,' sort of situation.
On top of that, companies are always on the lookout to streamline cost and expense management. If something can be automated, why hire a bunch of people to do it? That's where enterprise work management software come in. These programs are specifically designed to meet the requirements of enterprise workforces in different industry verticals.
The million-dollar question is, whether the enterprise work management tool that your company is considering signing up for, is worth the hassle.
Take a look below to see some of the recommended tools and apps to optimize workflow for your teams.
---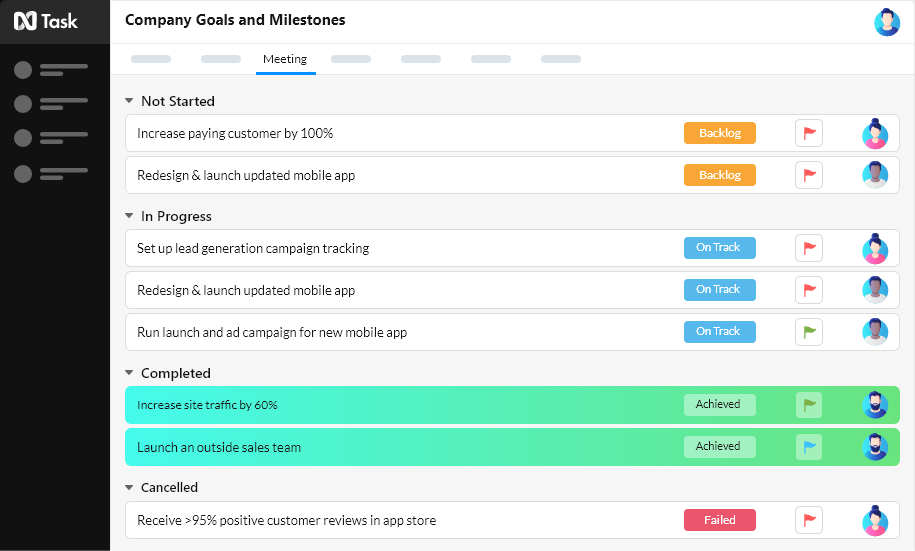 nTask is an all-in-one software solution for project management that corporations and enterprises utilize to simplify the process of organizing complex tasks.
The platform enables robust team collaboration, risk mitigation, task grouping, file sharing, task monitoring and whatnot. It's more of a centralized project management platform with use cases sprawling all over different industries.
The different teams in an organization can reportedly increase their output by keeping all of the project's communication and documentation in a single location. In addition, you can use the tool to manage multiple workflows and monitor your progress using Gantt charts and Kanban boards.
Key Features
The powerful task management features of nTask allow you to create and schedule tasks within a matter of seconds
With nTask's streamlined Kanban boards, you can say goodbye to disorganized workflows once and for all. Employ playing cards to keep score of your progress
Make a list of your assignments in descending order of importance, and let the other members of your team know which ones are high priority
Before beginning operations, it is essential to plan the outset and ending dates of a task and compare those dates to the schedule that has been set. That's where the tracking feature allows round-the-clock task and project monitoring.
Pricing & Plans
Basic/Free plan starts at $0 per user per month for limited features
Premium plan starts at $3 per user per year
Business plan is introduced at $8 per user per year
Contact nTask's sales team for details on Enterprise packages
---
2. Trello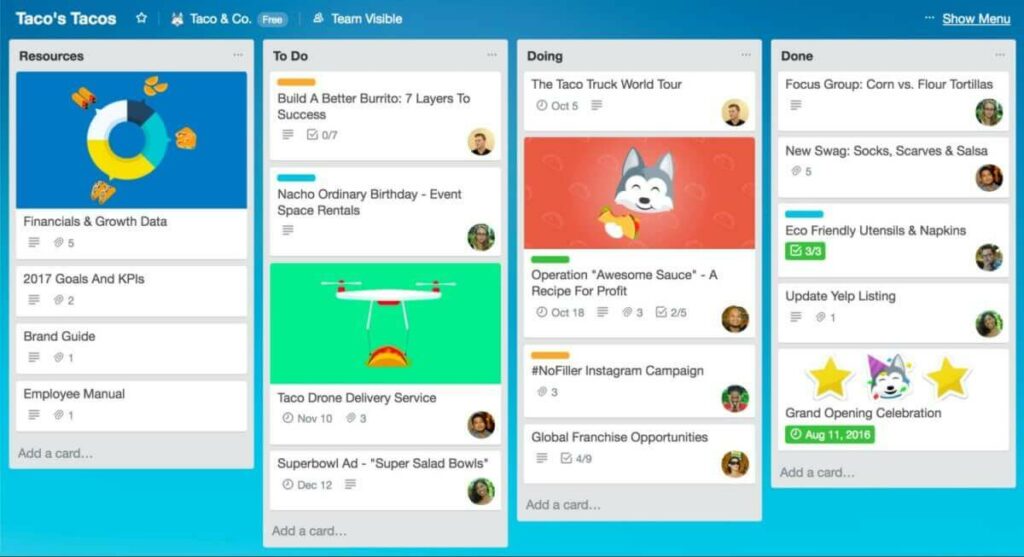 Trello is a powerful tool for managing agile projects. You can visualize the most critical tasks on any given day by managing and assigning projects within the app.
Personalize each tab of the project, so it contains the specific activities that need to be completed, and assign subtasks within the tabs themselves. Workflows are simple to understand and may be rearranged as required to accommodate the activities that are the primary focus of the day.
Trello even has a built-in automation feature called Butler that can reduce the number of repetitive actions and clicks performed on the project board. Slack, Google Drive, Dropbox, and Evernote app integration will make it simple for your team to share information.
Pricing
Trello's default package is free of cost
Paid plans start at 10 dollars per month for teams of up to 100 people with simultaneous ongoing projects
---
3. Teamwork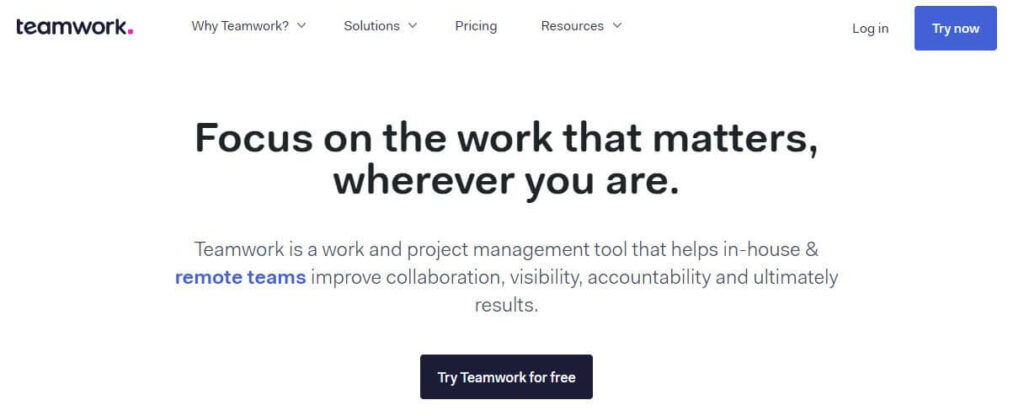 Teamwork can be used to manage anything from the delivery of client projects to the execution of marketing campaigns, the planning of sprints, and the launching of products.
All of these features and the ability to upload files and submit comments are consolidated into one convenient location.
Working in a team gives you the capacity to keep track of several different complicated projects at the same time. To prevent people from becoming burned out, maintain everyone's accountability by assigning undertakings and measuring time.
You can gain in-depth data about your staff, such as who is at capacity and who has room for additional work in their schedules.
Pricing
Free option along with a $10/user a month and $18/user a month depending on feature requirements
---
4. Asana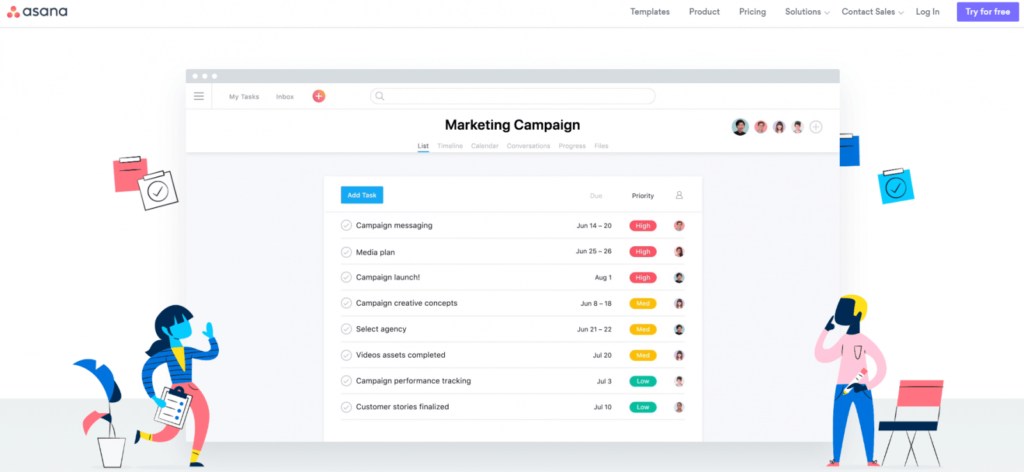 Asana makes task tracking easier. Amazon, Japan Airlines, Sky, and Under Armour are among the well-known companies that work with them as clients.
Asana handles everything from business objectives and digital transformation to these companies' product launches and marketing campaigns.
Its Work Graph data format provides teams with all they require to sync with one another, fulfill deadlines, and accomplish their objectives. Create a step-by-step guide and store all of the specifics of your work in a single, easily accessible spot.
Maintain awareness of impending deadlines and utilize Timeline to draft a strategy that outlines how the various components of your project relate to one another. The depiction of the work that your team is doing will be provided to you with real-time insights.
Pricing
Pricing ranges from $10.99 per user per month to $24.99 per user per month, depending on the functionality requirements.
---
5. Basecamp

The company Basecamp promotes it as the "All-in-one toolkit" for those who operate remotely. You can choose to work from your message board, your to-do list, your group chat, your schedule, your check-ins, or your papers and files.
Having everything you need in a single location allows for a clear perspective of your progress, which helps you stay on top of things. When teams switch to Basecamp, they discover that they are both more productive and better organized due to the switch.
Check-ins allow team members to be asked repeated questions, relieving you of the responsibility of constantly criticizing them while trying to concentrate on your work.
Pricing
---
6. SmartTask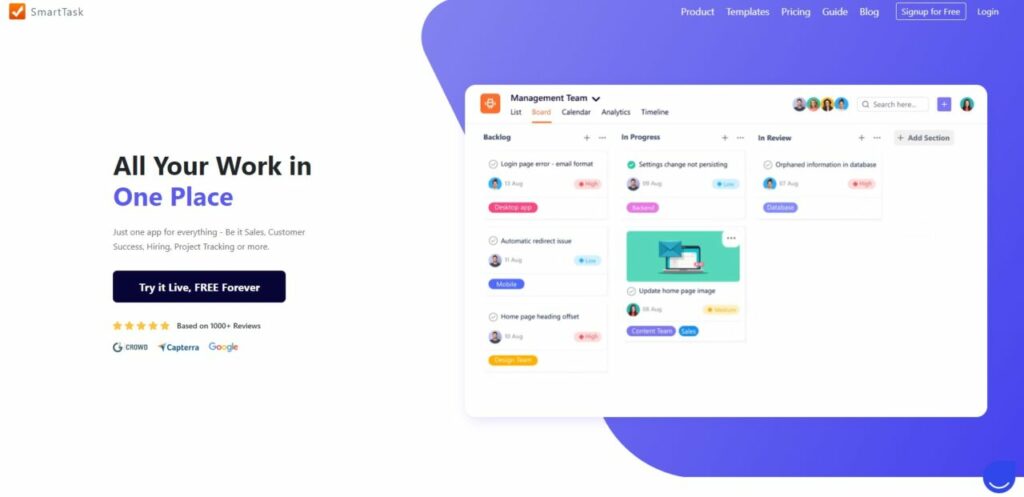 SmartTask is an all-in-one piece of award-winning software for project management that has gained popularity due to its easy user experience and the increased productivity it enables teams to achieve.
It enables you to manage workflows, projects, and sales processes. It comes equipped with capabilities for task management, project management, time tracking, customer relationship management (CRM), team collaboration, analytics, and reporting.
It allows you to manage tasks by providing a list, board, calendar, and timeline views; to set task dependencies; to set project milestones; to auto-schedule activities; to follow the status of deals, and to generate custom charts.
A project portfolio view is also provided so that many projects can be managed from a single location. To put it another way, you might consider SmartTask an enterprise management solution that encompasses the whole stack.
Pricing
SmartTask has a free plan that applies to infinite users and contains most of the functionality. In contrast, its subscription plan begins at $5 per user per month.
---
7. Britrix24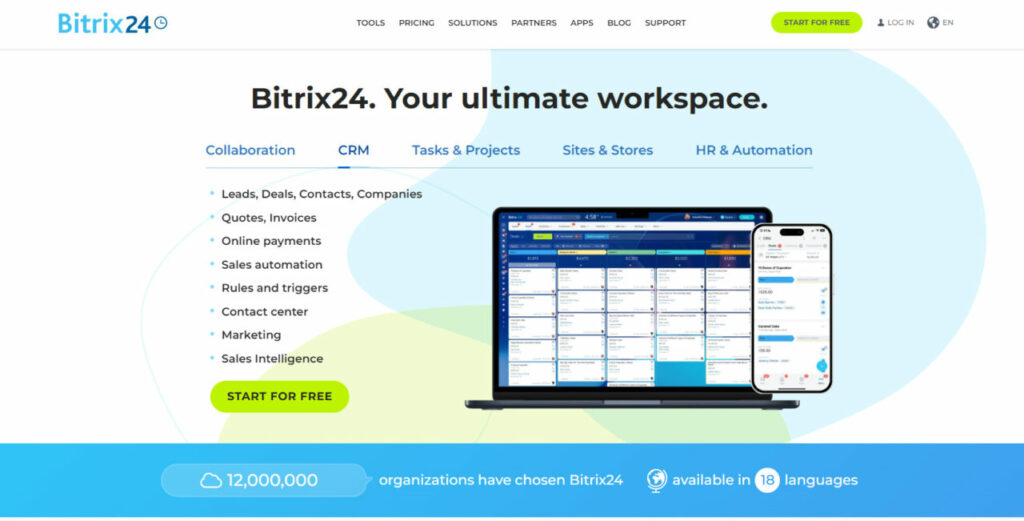 Bitrix24 is an online workplace that companies of all sizes may utilize (small, medium, and large). It includes over 35 cross-integrated technologies, such as a customer relationship management system (CRM), tasks, a Kanban board, a Gantt chart, messenger, video conferencing, file storage, workflow automation, and more!
When you switch to Bitrix24, you won't have to pay for subscriptions to as many other SaaS solutions as you would otherwise. You pay one fixed price for the entire package containing everything you require.
Bitrix24 is one of the world's most widely used commercial software applications, boasting a user base of over 10 million people.
Users have the ability to log and manage interactions with clients, as well as to capture and store lead data, generate sales reports, and do audience segmentation.
Directly feeding leads into a customer relationship management system (CRM) is an option for leads obtained from a user's website (through, for instance, an order or feedback form).
After that, users can create message templates, send emails to leads and contacts individually or in groups, take notes on their interactions with customers, plan meetings, and delegate responsibilities.
Moreover, the sales dashboard allows sales agents to view information such as the number of deals they've closed, the number of clients who haven't been billed yet, and an agent's rating compared to that of other sales team members.
Pricing
Price starts from $61.00 per month
---
8. ClickUp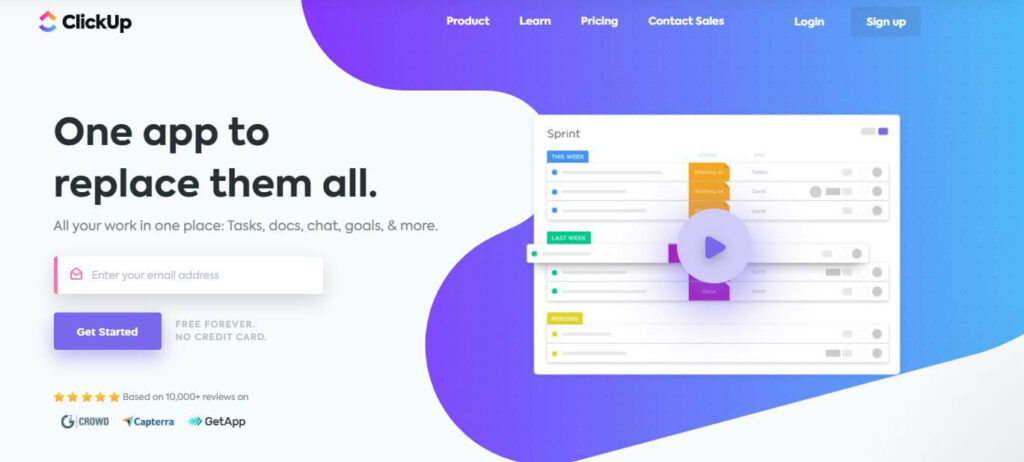 ClickUp is a collaboration and project management application hosted in the cloud and is appropriate for use by enterprises of any size and sector.  
A task toolbar is one of the features, along with tools for communication and collaboration, task assignments and statuses, alerts, and notifications.
Users can assign comments and assignments to individual members of the team as well as groups of team members. Users can mark words and tasks as completed or in progress, or they can construct their unique statuses.
The projects can be organized by the assignee or seen via a dashboard specifically designed for Agile teams. The activity stream updates in real-time to display newly created and finished tasks as they are worked on.
Users can configure notifications so that they are only issued for specific items. Users are notified when they have been mentioned in a discussion by another team member thanks to the mentions feature, and comments can be modified after they have been posted. Slack and GitHub are two of the integrations available.
Assistance is available both over the phone and in an email format.
Pricing
There is the option of a free trial
Free version: available
---
Conclusion
Having summed up some of the best enterprise work management software, feel free to sign up for any of the programs. We'd advise evaluating these programs through free plans. Doing so will give you ample time to assess the tool's features against your business's requirements.
Good luck.