Best enterprise management software for 2023 is not something you want to know about; it is something you need to know and incorporate as soon as possible.
For anyone wondering how enterprise project management is different from project and task management, there are a few things you need to know.
For starters, project or task management focuses on a single project at a time, whereas enterprise project management takes a holistic view of the project portfolio.
As a result, you can get tons of things done in a simultaneous process stream; something that conventional task management programs are not capable of offering.
Our main aim today is to introduce you to some of the most efficient enterprise project management tools. Before we move on to the list, let's develop an understanding of what is enterprise project management and how project management software companies can help with it.
What is Enterprise Project Management?
Enterprise project management refers to the efficient management of multiple projects simultaneously. All of these projects are managed on an organization-wide scale and have an impact on the business.
Enterprise project management focuses on long-term, business objectives instead of short-term goals. It makes sure that the company's objectives are aligned and that all teams are working in tandem to avoid issues and accomplish goals effectively.
Why Enterprise Project Management Software Is Important to Use?
The availability of technology is undoubtedly a win-win for every organization in existence. But selecting the right kind of tech is easier said than done.
According to PMI, only 25% of the modern organizations, who used technology to their advantage, were able actually to harness the capabilities of enterprise project management software.
The reason is quite possibly the selection of tools that don't fit the equation.
Best Enterprise Project Management Software For Businesses
Here's an enterprise project management tools comparison to make things easy for you. Read on…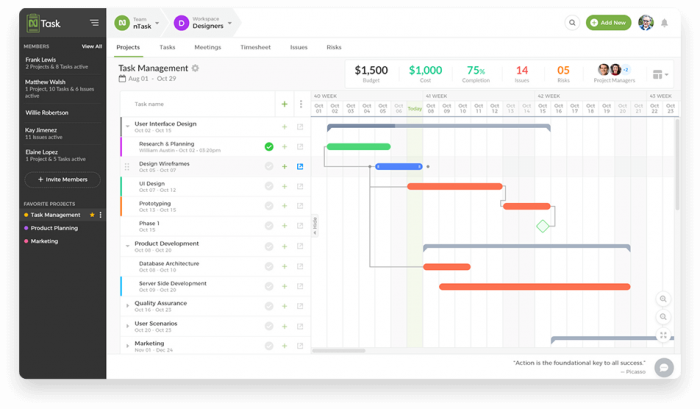 It is arguably the complete solution to all of your enterprise problems – and that too for free!
Yes, it sounds too good to be true, right?
nTask is no less than a superhero of enterprise management tools. The program has a wide range of functionalities and an interactive UI to go with it.
Some of its key features include a Kanban board, customizable Gantt charts, time tracking, and various collaborative tools.
The majority of enterprise project management software are designed to manage a single project at a time. But a company does not only have one project on their plate.
This is where programs like nTask come in. This tool is powerful enough to handle multiple projects simultaneously.
nTask offers the best value for money. Give it a try, and you will not be disappointed!
Key Features:
nTask allows you to assign a budget to resources both billable and non-billable
View project progress with the help of Gantt charts
Identify the critical path method
Assign tasks, issues, meetings, and risks to the projects
Assign multiple team members to your projects and tasks
Create unlimited tasks, projects, issues, meetings, and risks
Use multiple timesheets and track time by task timer
List, calendar, and grid view. Kanban boards are coming soon!
Create meetings and track minutes of the meeting (MoMs)
Custom status and custom fields for personalized workflow management
User management, save filters, and bulk actions
Reporting for workspaces
Custom Fields for workspace
Pricing
Basic: – Free
Premium subscription: $3 per user /month.
Business subscription: $8 per user/month
Enterprise plan: Available on-demand
nTask is the Best Enterprise Project Management Software.

Manage tasks, teams, projects, meetings, and more with nTask. Join Now!.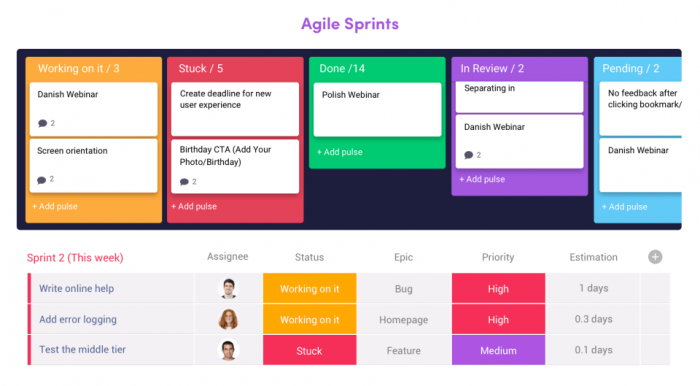 Formerly known as 'Da Pulse', Monday offers a user-friendly design with Kanban Boards and many collaborative features. It is a brilliant enterprise project management software.
The software entails tools that are different from the traditional management tools; they are more concentrated on simple, intuitive layouts that aid in explaining the project sequence.
It can be entirely customized and adaptable to the needs of the organization. Monday.com's major users are Uber, Adobe, and Costco.
Moreover, the program includes multiple services that cater to enterprise projects' requirements, including resource and project management, time monitoring, communication, and reporting features.
For example, users can upload and attach files to cards, comment, mention teammates, and more.
In conclusion, Monday.com is a versatile tool that allows us to work in a way that suits the organization's strategy.
Monday's integrations include project management apps like Slack, Google Drive, Gmail, Google Calendar, Jira, GitHub, Trello, Dropbox, and many more, accessible via Zapier.
Pricing
Basic: Free (trial)
Annual Subscription: $39 per user/month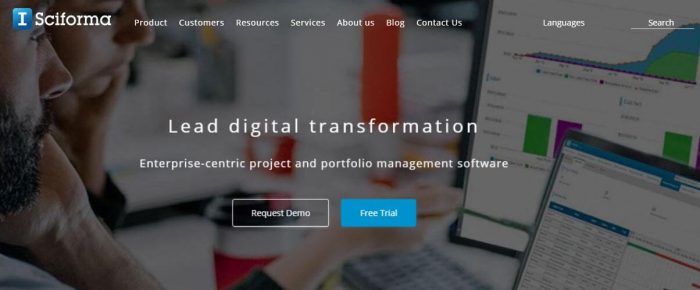 Sciforma provides excellent project management skills with precise performance overviews, safety ratings, forecasts, and preparation capability. Its comprehensive management software platform gives the business and organization the ability to manage their projects effectively.
The program is a useful platform for PMOs, irrespective of the PPM maturity. Sciforma is stable and simple to work.
All sorts of PMOs can benefit from Sciforma software to help project planning, time tracking, and collaboration features.
On configurable dashboards and reports, you can track projects with key metrics. This framework offers a versatile forum that will allow you to execute multiple projects, including IT, NPD / R&D, professional services, and the public sector.
A nice thing about this tool is that there are options for both PMOs and teams: PMO administrators have a range of policy and portfolio preparation options, while team leaders can take advantage of their project coordination and task execution features.
Through a dedicated API, Sciforma connects with different business platforms that are most popular in organizations.
These online platforms include, but are not limited to Outlook, Google Calendar, Jira, Salesforce, SharePoint, Yammer, QuickBooks, VersionOne, Oracle, SAP, Sage, etc.
Pricing
Annual Subscription: $60 per user/month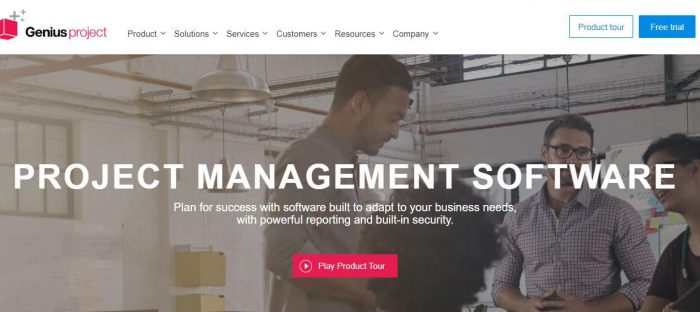 This project management software that offers a flexible layout and enterprise security, either cloud-based or on-premise.
Genius Project offers advanced level insights for business exposure through the organization. The projects can be arranged in a hierarchy or category like the company unit, department, and division.
The software is amazing for companies. It provides a uniquely versatile and modifiable PPM strategy, providing tailor-made feature sets for a wide variety of project teams and types of projects, regardless of the size or complexity of the project.
Pricing
Annual Subscription: $19.95 per user/month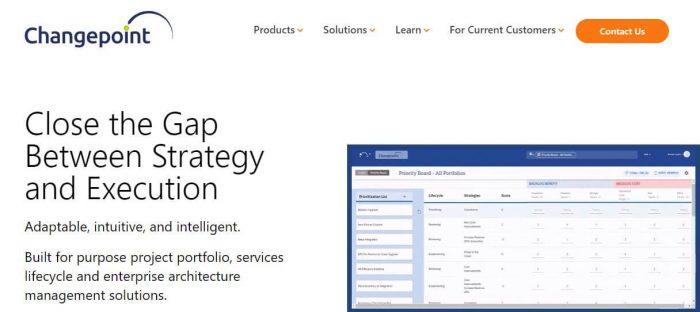 Changepoint is a game-changer. It is a strategic business management software that allows for real-time visibility through client resources and programs.
It offers web-based management tools that will link your development to any approach you are utilizing. The software delivers powerful analytics, project layouts, capital management, and scoring model.
The program integrates greatly with your current legacy CRM and ERP systems, but it does not primarily name what third-party software links to their tool.
Changepoint is excellent for businesses because the software is customizable as per the company design. It provides better accessibility, intelligent planning, and business application strategic plans.
This tool is feasible for mid-sized companies as they cater to high-level project management demands.
Pricing
Annual Subscription: $24 per user/month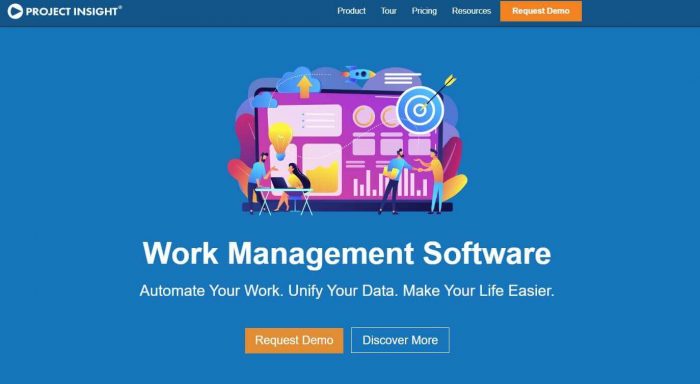 Project Insight is another work analysis software that compiles data from Jira, Zendesk, DevOps, QuickBooks, etc.
It was an Award Finalist in the 2019 SIIA CODiE. The software includes custom dashboards and structured project requests.
The software is an excellent tool for businesses as they provide their customers with care services, including online tutorials and training. It implies that a worker at the enterprise level may rely on them to provide sufficient training tools, regardless of whether the consumer is a beginner or perhaps more seasoned.
This interactive program is ideal for mid-sized enterprises as it delivers quick results. It can be easily handled on a strict schedule, avoiding prolonged downtime and unnecessary IT interference, which many mid-sized enterprises cannot manage.
Integrations include Jira, Zendesk, DevOps, QuickBooks, Trello, Office 365, Microsoft Project, Google Drive, Slack, and Microsoft teams.
Pricing
Annual Subscription: $65 per user/month

Now that is a cool name to have! The developers over at Workzone have made sure that this software does justice to its name.
Workzone combines the smooth, elegant nature of apps built for smaller teams, such as Trello and Asana, with some of the other choices on this list to give amazing productivity.
It is one of the most popular options in a lot of enterprise project management software listicles. And with good reason.
The most efficient trait of this software is that it enables the user to keep using Workzone when the business grows bigger and bigger, and there is no need to switch to new software.
Pricing
Annual subscription: $24 per user/month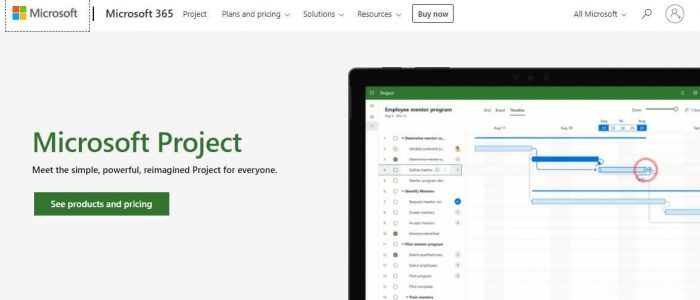 Microsoft is perhaps the most widely recognized name in the software business. With the introduction of Office 365, Microsoft has proved that it is here to stay for the long haul.
One of the most popular Apps of Office 365 is MS Project. The software is the ancestor of the management program for enterprise ventures.
This has been around longer than all the others, and it is already chugging along like a steam engine. It should give you everything you need in terms of central record cataloging, time tracking, and financial management.
However, it also lacks some of the exciting features that new programs have. If your business already uses Office 365, MS Project will be the perfect addition to your systems.
Pricing
Annual subscription: 82.10 per user/month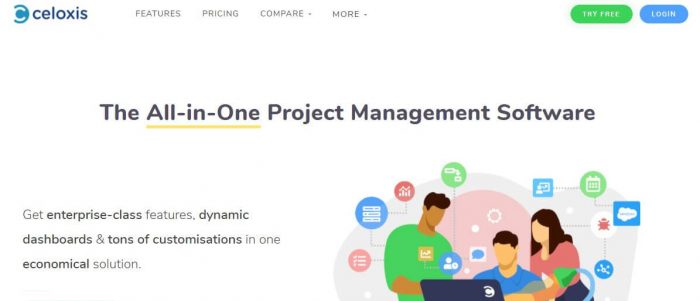 Here is an awesome fact: Celoxis is offering services in seven different languages.
That's right, seven!
This feature has proved to be the most attractive factor for companies with staff members across the globe.
The software enjoys a great competitive edge over the competition. Multinationals prefer Celoxis as it can be used in several geographical regions, with ease.
Another appealing point is that it is an affordable project management solution on the corporate level while offering a high level of security, efficient resource allocation, and ease in collaborative work.
Pricing
Annual Subscription: $25 per user/month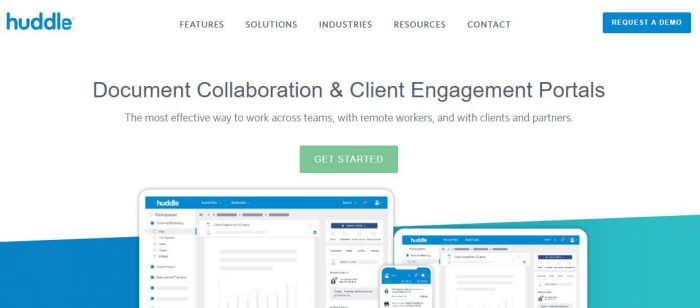 It may be last on this list and bear a subtle name, but it is not to be taken lightly.
Due to its excellent functionalities, a large variety of government departments use this program. What this means for you is that Huddle's safety is second to none.
Here's an interesting fact: The Department of Defense reportedly uses Huddle.
I think now you can trust your files are secure.
Also, Huddle makes it much easier to communicate with friends as well as customers as it offers customization for the interface with branded log-in pages and office spaces.
Pricing
Annual Subscription: $20 per user/month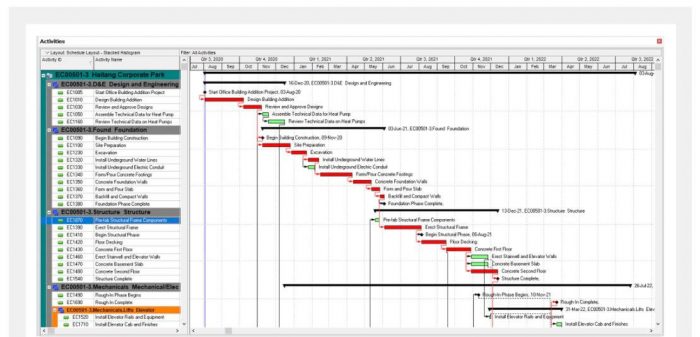 Primavera is Oracle's enterprise project portfolio management software.
The solution has been around for more than 30 years and is a popular choice for industries looking to plan, build, and eventually operate any critical assets.
The platform comes equipped with a range of features that integrates project, portfolio, and program planning and delivery. The tool houses functionalities such as risk mitigation, program management, resourcing features, and more.
Primavera enterprise project portfolio management software is the solution of choice for teams globally to allow them to plan, manage, and execute programs, projects, and portfolios.
Pricing:
The Oracle website does not give pricing details for Primavera. For more information contact their sales team.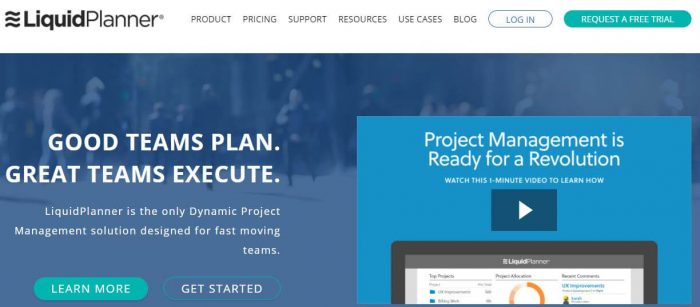 Liquid Planner was created with adaptability in mind. The tool stands out from its other competitors with the flexibility it offers its users within each project.
The software helps teams with a range of features to plan and execute their work, tasks, and projects better.
The tool offers integrated budget and time tracking capabilities which helps users stay on track and within budget.
You also have the ability to reprioritize tasks in your project depending on available resources thus making resource management easy. What's more, is that when such changes are made the software automatically updates the completion dates for your task and project and your whole portfolio.
Pricing:
Liquid Planner offers a free plan. You can alternatively upgrade to one of the paid plans which start from $15.
FAQs
1. What is the difference between traditional and enterprise project management?
Traditional project management focuses on short-term, project-focused goals, while enterprise project management prioritizes company-wide goals. Enterprise-level project managers have to align all projects with company-wide goals and monitor performance for improvement.
2. Do project management software companies offer enterprise project management tools?
There are various project management software companies that offer dedicated tools for enterprise project management. Others have custom-built packages that cater to enterprise-level project management.
Choose an Enterprise Project Management Software That Works for You
Now that you have the best available options for your business, it is time for you to choose wisely. Each software on this list has its pros and cons.
You need to select a solution that blends functionality and cost-effectiveness in an overall great package.
As amazing as each enterprise project management software is, they cater to different organizational needs.
A large business will not benefit greatly from a tool designed for SMEs because the said tool is not capable of making the deliverables.
Fortunately for you, there are some all-rounders in the listicle too. Chalk out your organizational priorities and select the right fit for your workplace. Good luck!