Project management is fast becoming the most important, and in most cases, the only way to achieve success in the organizational paradigm in 2023.
So, when it comes to engineering projects, project management is an incredible way to manage all of the different tasks and processes included in the development process.
You should know that project management in the engineering paradigm uses the same standard processes and methodologies that are included in any other form of project management.
Meaning that whenever someone from an engineering background wants to get into the field of project management, they can do so without studying anything specific, just the basic processes and methodologies in the project management paradigm.
What is the Different between Engineering Management and Engineering project management?
When we talk about engineering management, we are actually talking about managing the engineers working on the software development process and different engineering tasks where,
The development processes are repeatable and predictable
The tasks of the development process are routine and recurring
The work process is always ongoing without a defined end in sight
The different tasks are a part of regular business operations
Engineering project management on the other hand is a different deal altogether.
How? Well, engineering project management is used to manage different heavy engineering projects like redesigning a new office building or constructing a new shopping mall.
Get it? Okay, think of engineering project management as the management of everything related to the project at hand and not just the work or the engineers working on the project. This 'everything' includes budgets, planning, and resource allocation, among many else.
Let's take a look at some engineering project management examples, here are some non-engineering tasks that have to be looked at by the engineering project manager in their daily routine.
Now let's take a look at the difference between a project engineer and an engineering project manager.
What is the difference between a Project engineer and an Engineering project manager?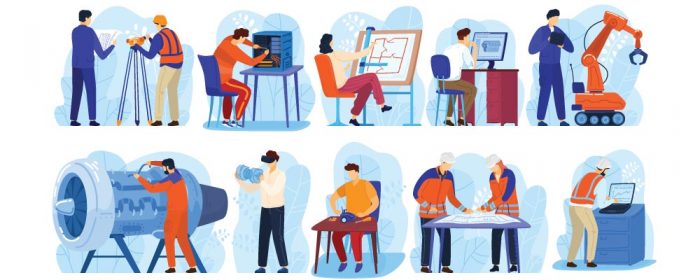 When we talk about an engineering project manager, we are actually talking about the project manager that is managing an engineering project in the organizational paradigm.
On the other hand, a project engineer is an engineer that works on the project or product at hand, as a part of the project development team, but this person is not in charge and is not the project manager.
Let's take some project engineering and engineering project management examples example into consideration.
A design engineer of a project can be a part of building or designing a particular project. This is a team member and even a senior expert of many different ideas associated with the project, but not the project manager of the whole shebang.
You may also note that sometimes a lead project engineer can be assigned to a different project because their job is to approve the project's technical bits and to oversee everything tech-related with the project.
But this usually happens when the project manager is not from an engineering background.
Is an Engineering degree Required for an Engineering Project Management Job?
A job description for such a job might vary from project, company, and industry, but in our experience, it is completely possible for an individual to take on such a role without having an engineering background.
The key to any job is to have the knowledge that goes into performing it, not shiny gold medals and distinctions that get you nowhere in the real world.
Is there a Special Degree Required for Engineering Project Management?
What you can do if you are in this position is to enroll in an engineering project management degree at your nearest or favorite university.
But if you think that you already know about the fundamentals of project management, then you might want to skip those lectures or subjects, as the core fundamentals of engineering project management are somewhat the same as the other project management types.
If you are really serious about getting educated about this then you should get yourself certified by Project Management Professional (PMP). It will help you for many cycles to come.
Important Skills for Engineering Project Managers:
Engineering project management is a demanding job. Engineering project managers have to work as engineers and project managers simultaneously. The scope of the job requires certain skills, some of which are listed below:
Good communication skills
Ability to identify and solve problems quickly
Organization and monitoring skills
Flexibility and adaptability
Critical thinking skills
Risk management
Attention to detail
Engineering PM FAQs:
1. Is project management good for engineers?
Project management is good for engineers since it allows them to collaborate with other professionals and skilled workers. With relevant management skills, engineers can successfully lead teams and manage projects, big or small. It also helps engineering teams accomplish goals efficiently and helps improve performance for the future.
2. Should engineers learn project management?
There are numerous reasons why engineers should learn project management but the most important of all is career advancement. Project management skills add to engineers' efficiency as a manager and allow them to assume a better role with much ease. Plus, project management is an effective way of enhancing efficiency, improving customer relations, and acquiring leadership skills for the future.
3. Is engineering project management a good career?
Project management is a lucrative field for engineers. According to the Bureau of Labour Statistics, the median salary of an engineering project manager is $152,350 per year or $73.25 per hour. Employment opportunities are also expected to grow by 4% from 2020 to 2030.
Conclusion
This was our short guide on Engineering project management that you can use in 2023. If you think that we missed something in this guide or there are some elements that need to be added to the revised blog, then contact us and we will get back to you asap.
---
Further Readings: