Today, we've gathered a list of popular communication tools that have taken over email and are widely used by businesses as email alternatives and by teams to collaborate on goals and objectives.
It's difficult to recall a time when email wasn't a principal tool of communication for businesses. Even in today's age of high connectivity, whenever someone enters their workplace, the first thing they probably do is to check their emails and then move forward for the day. This is a ritual for many of the employees around the world.
Although the popularity of social networks is on the rise, even today professionals spend around 6.3 hours sending and receiving around 123 emails a day, A DAY! Sounds surprising, right?
As teams are becoming more global, more than half of the employees are working remotely after the pandemic. Another stat says that over a third of the American population does some contract work, either as a full-time job or as a part of a contract.
Therefore, to manage such diverse teams, businesses require a tool that essentially makes things easy for them and is an effective communication tool.
Another interesting phenomenon that is now being observed at workplaces is Generation Z (people who were born after 1995) joining the workplace. These are a group of most educated and tech-savvy people to join the workforce.
So, basically, the workplaces are now filled with Millennials and Generation Z, both of whom are highly dependent upon technology and social networks for instant communication.
With that being said, communication among teams has gone through a paradigm shift with the advent of countless collaborative tools in the market. These work collaboration tools are flourishing and have started to gradually take place of email channels, facilitating a highly collaborative work environment.
Read on to find out about some of these tools:
1. nTask – Our Choice for the Best Email Alternatives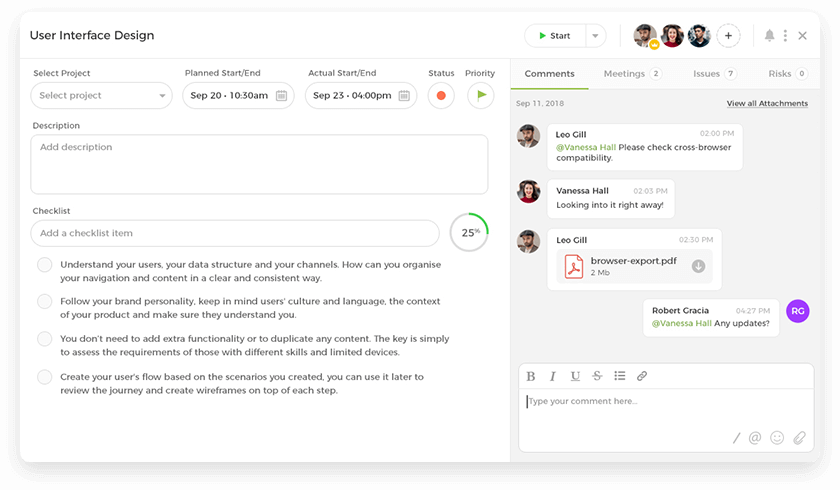 Primarily a project management software, nTask is your best bet if you're searching for email alternatives online. It's a simple-to-use software that is packed with all the essentials needed for effective team management.
Here's how you can improve your team communication by nTask:
Features
Projects are divided into smaller tasks and subtasks for a clutter-free workspace.
Instant team chat on workspace level, set messages to send in the future, and share files.
For Agile teams, a diverse range of features for overall coverage to all the communication needs.
Meetings board facilitating customized meetings to take updates from the team.
Advanced features like discussion points, attendees, and follow-up for easy monitoring.
For proactive planning and time management, Issues and Risks associated with tasks.
Get an overall view of a specific issue by assigning a priority level, due date, and assignees.
Auto-generating Gantt charts to quickly gain insights regarding timelines and progress of projects.
Pricing
Free version: unlimited tasks and meetings. Unlimited workspaces and other basic features.
Pro: Starting at $3 per user/month. Unlimited projects and other advanced features
Business: Starting at $8 per user/month. Unlimited Custom Fields, and Risk Matrix.
Pros
Meetings Management to systematically categorize and execute meetings.
Issues and Risks tracking to tackle their likelihood associated with tasks.
Built-in Gantt charts for timely monitoring of projects' progress.
High affordability doesn't put a dent in your current budget.
User-friendly interface with carefully developed UX and UI design to enhance user convenience.
Cons
Advanced reporting is under construction.
No desktop app
Looking for the perfect alternative to Email?

See for yourself why Email users are switching to nTask. Create unlimited, tasks, meetings, risks, issues & more.
See also:
The Top 20 Team Management Software of 2023

The second tool in our list of email alternatives is 'Skype for Business'. Skype has been around for quite a long time now, and it's considered to be a pioneer in peer-to-peer communication which facilitated video calls and messages during the slower internet days, back in the mid-2000s.
Let's have a look at some of its core features and pros and cons associated with it:
Features
Instant messages during meetings to communicate with the team.
Microsoft Office applications; Word, Excel, PowerPoint, and OneNote.
Online Meetings and Meeting recording with up to 250 people.
Personalized Meeting URL for adding or removing participants.
Screen sharing options for convenient and safe sharing of files.
HD video and audio calls from anywhere, from any device, to improve connectivity.
PowerPoint presentation with multiple interactive features like highlighting etc.
Broadcast meetings for a large audience through the video conferencing feature.
Pricing
Office 365 Business Essentials: $5.00 user/ month. Includes only business emails and other business services.
Office 365 Business: $8.25 user/ month. Includes office applications and cloud file sharing.
Office 365 Business Premium: $12.50 user/ month. Includes business email, office applications, and other business services.
Pros
Easy integration with Microsoft Office applications.
A quick chat feature for teams and individuals for instant updates.
Online audio and video meetings with teams and for the general audience.
Easy connectivity and accessibility from any device, from anywhere.
HD video conferencing with additional features to improve aesthetics.
Cons
Limited functions for managing teams on a large scale.
It can crash if the internet is slow or there is a small glitch in the system.
No Free version available for small teams or start-ups.
Call quality can alter if Skype-recommended equipment is not used.
Clutter in groups because of disorganized file sharing among group members.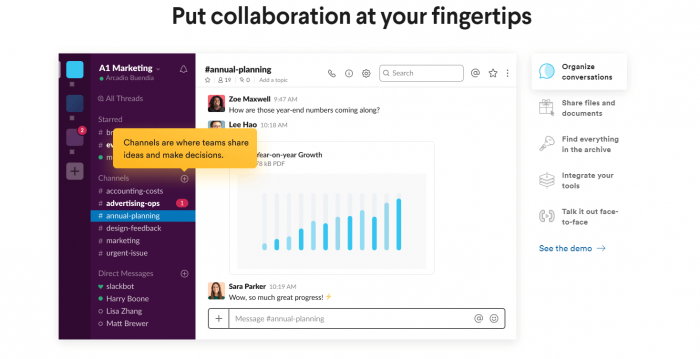 For the past few years, Slack has gained substantial popularity as a software to use for communication across organizations. Company statistics show that Slack has more than six million daily active users and nine million weekly users.
Let's explore some of its features and find out the reason behind its popularity:
Features
Distinct channels for team/s collaboration with safe file transfers.
Channels can be made according to teams, projects, or tasks, pertaining to needs.
Shared channels for multiple businesses to streamline the information flow.
Voice and video call directly from Slack to the team members for sharing information.
Drag-and-drop options for PDFs, images, videos, and other files for quick transmission.
Integrate with other applications through Slack App Directory to connect with 1500 +apps.
Pricing
Free: Up to 10k messages, with 10 app integrations, and 1-to-1 video calls.
Standard: $6.67 per active user/month. Advanced features of unlimited users and unlimited integrations.
Plus: $12.50 per active user/month. Designed for big corporations with upgraded features.
Pros
High utilitarian value for remote teams or teams working from different places.
Instant updates on tasks through quick messages with the team members.
Easy and safe file sharing through security measures mitigating third-party intrusion.
Distinct channels for multiple teams to keep track of all the ongoing activities.
Shared channels for more than one business or more than one organization.
Cons
Ineffective for teams from different time zones.
Disorder in channels because of the absence of sub-tasks.
Limited storage space is available in the Free version.
No complete picture or overall view of tasks.
See also:
The 22 Best Team Collaboration Software for Businesses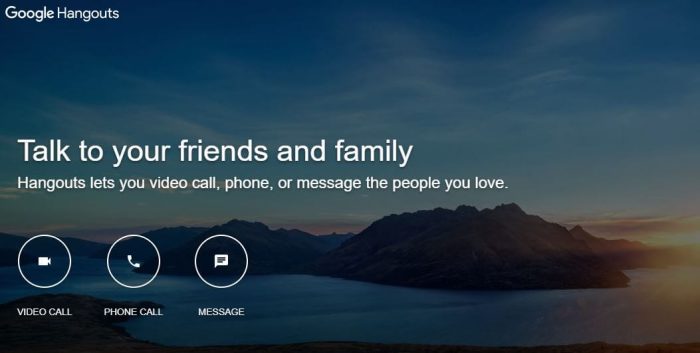 Google Hangouts is one of the most popular email alternatives used for team communication and collaboration. A communication tool developed by Google consists of multiple platforms that help individuals and teams to engage in communication through chat, video calls, and voice calls.
Some of the basic features of Google Hangouts are:
Features
'Hangouts Meet' and 'Hangouts Chat' specifically designed for businesses and teams.
High-definition audio and video calls for one-on-one and group communication.
HD group conference calls are available for up to 25 people to manage meetings.
Easy and quick compatibility and integration with multiple applications.
Built-in screen sharing feature for seamless collaboration and safe file sharing.
Synchronization of chats from device to device to stay connected anywhere.
Google Vault for safe archiving, storing, and retaining organizational data.
Pricing
Free Trial: 14 days of free trial with functions like sending emails and conducting video calls.
Basic: $5 USD per user/month. Professional suite with 30GB cloud storage.
Business: $10 USD per user/month. Enhanced office suite with unlimited storage.
Enterprise: $25 USD per user/month. A premium account with advanced features and controls.
Pros
A simple and easy user interface that makes things simple to understand for anyone.
Integration with other Google apps for a unified communication process across platforms.
Google Vault helps in safe holding, archiving, and searching for organizational data.
'Hangouts on Air' for conducting online seminars and talk shows with multiple teams.
Shareable Calendars to collaborate on schedules and meetings with team members.
Cons
Video conferencing limits the participants to 10 in the Free account and 25 in paid ones.
Disorganized files and no distinction of tasks and sub-tasks leading to confusion.
For managing teams, it comes with a complete package of other Google apps. It cannot be operated independently.
Very limited functions are available in the free version of the application.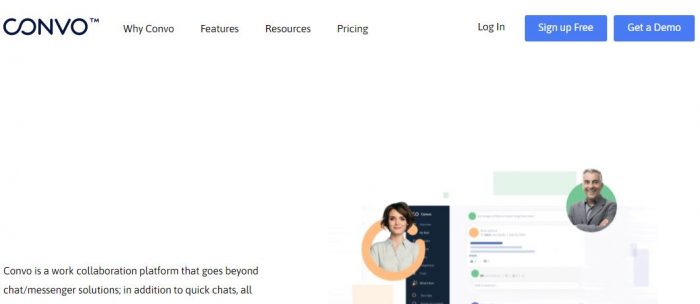 Created in 2011, Convo has built an impressive list of clients it serves, with Ogilvy, TechCrunch, and VentureBeat to name a few. Essentially build to improve cross-functional teams' collaboration, Convo is an interesting alternative to email.
Here's how convo has made to our list of popular email alternatives:
Features
Customizable groups for team communication, facilitating access options to specific people or teams only.
Instant chat feature for individual chats and groups to instantly take updates and plan accordingly.
Data encryption ensuring that data is secure. It also makes sure that data is safely stored in Cloud as well.
Annotation feature guiding the user to highlight a certain part of a file shared for clarity in the discussion.
An updated 'newsfeed' where you can view all the latest updates from the groups you're a part of.
Integration with numerous applications helps incoherent communication. Updates from other apps appear in the newsfeed.
Customizable notifications for all the ongoing activities on the web, desktop, or mobile application.
Pricing
Free: for smaller teams with limited communication needs.
Pro: $9 per user/month for medium to large teams.
Enterprise: custom details pertaining to organizational needs.
Pros
Structured groups for individual teams to keep track of group activities.
Group chats for quick information flow assist in faster decision making.
Group tagging to assign tasks easily and to take follow-ups of tasks.
Focused feedback through annotations helps in highlighting the discussion point.
Quick updates and progress of the groups through the updated newsfeed.
Cons
The activity tracking features are not available which makes monitoring difficult.
Calendars are not there to observe timelines and pending tasks.
No user and content management controls in the free version.
See also:
The 27 Best Task Management Software for Startups in 2023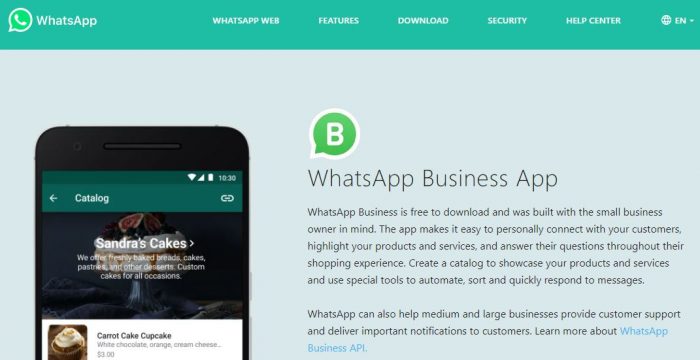 WhatsApp Business was built by keeping in mind a small business owner. The application is meant for business owners to develop a more open communication relationship with their customers and build a reliable tool for customer services.
Let's review WhatsApp Business and see how it is one of the better email alternatives available today:
Features
Business profile feature that helps businesses to officially represent themselves on WhatsApp.
Quick replies for common customer queries to reduce the time taken for individually tackling them.
Messages statistics to help analyze the accurate percentage of messages sent, delivered, and read.
End-to-end message encryption ensures data security and mitigates third-person involvement.
Greetings messages to introduce customers to the business and act like icebreakers.
WhatsApp groups feature for team collaboration and activities coordination.
Pricing
Pros
A simple application to operate small-scale businesses
A one-on-one communication platform to connect with customers.
Prompt customer feedback through direct chats with the customers.
Quick response to frequently asked questions saving time.
No third-party applications to communicate with the relevant customer.
Cons
No enterprise-level data security measures to maintain the confidentiality of business data.
No application integrations with other applications to enhance connectivity.
Unavailability of defined features to tackle any ambiguity, like issues or risks associated with tasks.
Activity tracking or progress reports are unavailable to monitor updates.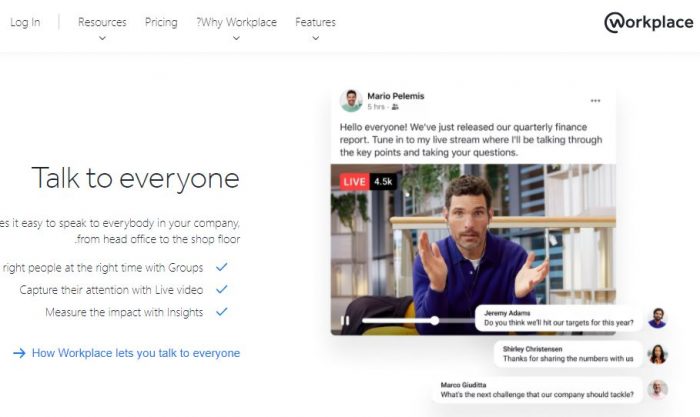 Workplace by Facebook is a social networking platform offered by Facebook for teams to collaborate on team goals and stay connected with other members.
The application uses similar features as that of Facebook, along with some advanced characteristics to promote team collaboration. We loved using Workplace by Facebook and think it can definitely serve value if you're looking for free email alternatives.
Currently, Workplace has the following features:
Features
Private and public project groups to communicate goals and objectives.
Instant messages and video calls for individual or group conversations.
Newsfeed showing updates from the people and groups that matter to you.
Integrations with other team collaboration tools to make sharing of files easy.
Assign tasks to team members and take follow-ups by tagging them in respective groups.
Instant polls to gain perspective from the team members on different matters.
Pricing
Standard: Free with all the features of a standard Facebook account, along with multiple other features.
Premium: $3 per active user/month. Advanced productivity and Enterprise features.
Pros
User-friendly interface with easy functionality.
Newsfeed customized according to priorities.
Unlimited file sharing between group/s.
Chats within the group among group members.
Regular status updates for monitoring progress.
Company events creation to share information with the team.
Cons
Tracking all the ongoing activities can become difficult.
A great number of groups can result in cluttered workspaces.
Limited application integrations are available for the users.
No proper timesheets or Calendar views to make tracking easy.
See also:
13 Effective Time Management Techniques for Agile Teams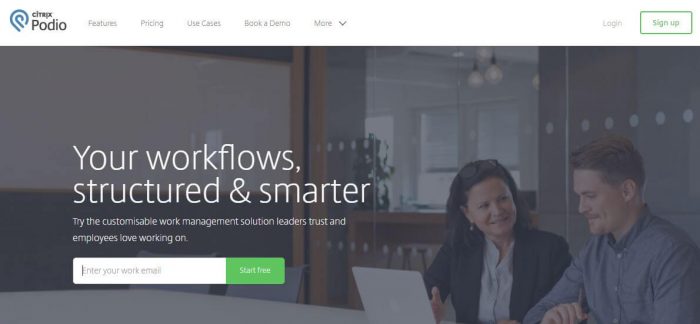 The last alternative to email in our list is Podio. Acquired in 2012 by Citrix, Podio offers a collaboration platform for teams to facilitate daily project management needs
Let's review Podio and see how it is one of the better email alternatives available today:
Features
Physical Kanban boards for organizing tasks into respective progress category.
Customizable Projects that make visibility transparent through multiple sub-categories.
A definite deliverables board accommodating categories by the owner and by progress.
Integrations with various applications to keep all the teamwork on one page.
Activity log depicting a general view of all the projects and tasks with relevant clients.
Clients' portal for accessing all projects and keeping an eye on the progress of tasks.
Expense calculation and tracking linked with respective projects and tasks.
Pricing
Free: for up to 5 employees. Task management, apps integration, and workspaces.
Basic: $9 per user/month. Unlimited external users with task management and workspaces.
Plus: $14 per user/month. Automated workflows and all features of the free and basic version.
Premium: $24 per user/month. Advanced suite with maximum control and access.
Pros
Convenient activity tracking with activity logs.
Transparent data visualization through Kanban Boards.
Customization options for projects and tasks, promoting user ease.
Mobile application to stay connected with the team anywhere.
Multiple Workspaces for more than one team for teams' management.
Reminder notifications for tasks that are due in workflows.
Cons
No time tracking functionality for tasks.
It can get confusing because of high customization.
Advanced functions related to workflows require either extension or upgrade toa premium account.
It can be difficult to understand for new users as the features are all cluttered.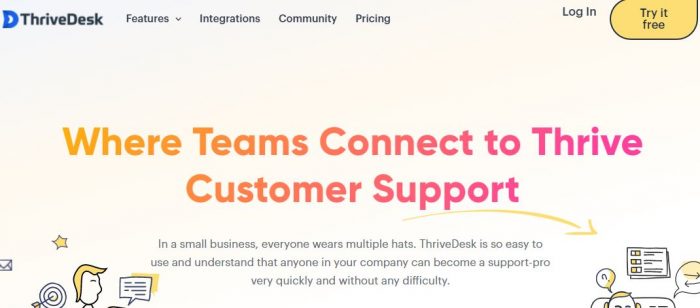 ThriveDesk is a simple, affordable help desk software for exemplary customer service. For a WordPress theme or plugin business, or a Bootstrap-based SAAS startup, ThriveDesk is the ideal solution. Its built-in functionalities like shared inbox, CRM, Live chat, Reporting, Knowledge base, Email Signature Generator, and many other integrations help you track conversations and improve responsiveness smoothly.
Without any difficulty, ThriveDesk is so easy to use and understand that anyone in your company can become a support pro. The team can collaborate and provide support efficiently with canned replies, auto drafting, collision detection, tagging, and much more. Being new as a customer support software in the market, ThriveDesk is trusted by hundreds of thriving companies like Brainstorm Force, weDevs, MailOptin, corePHP, CreativeCollab, Mint WP, XpeedStudio, WPStarters, and counting on…
Features of ThriveDesk
Shared Inbox
Customer relationship management (CRM)
Live Chat & Chat Bot
Knowledge Base
Email with unlimited addresses
Email Signatures
Contact form
Ticket file attachment size
Customizable chat form
Offline messaging
Ticket file attachment size
Incoming email authentication
Automated replies from the knowledgebase
Proactive messaging
Conversations reporting
Help Desk Integration
Pricing of ThriveDesk
Basic: $15 per month up to 2 user
Standard: $39 per month up to 5 user
Plus: $99 per month up to 10 user
Pros of ThriveDesk
Modern and more intuitive design
Manage emails through a single shared inbox.
CRM software that provides all your customer data in one place
Automated replies from the knowledgebase
Conversations reporting and Offline messaging
Chatbots available for your customers 24/7.
​
Cons of ThriveDesk

Accelerate your internal team collaboration with unique collaboration facilities pf Troop Messenger! You'll never feel the need for any email management systems if you start your workday with this workplace messenger. Log in to it from your Windows, Mac, Linux, Android, iOS, or via any browser. It lets you work from the remotest locations of the globe.
Features
Six types of team messaging features that include 1:1, group chats, Forkout messaging, Audio messaging, Burnout window, and Self-message.
Create unlimited groups for projects, teams, locations, and more.
Access to unlimited chat history regardless of the plan.
Work productivity search filters to retrieve data from all across the tool
Group audio-video calling with screen share and jointly-code
File Management module that stores your local storage and all files exchanged across Troop Messenger
Google Drive, Dropbox, Zapier, LDAP/AD, etc., integrations
SaaS, On-premise, Chat APIs, Custom Development, etc., service models
Easy-to-use and powerful admin dashboard with role-based access controls
Pricing
Free: Avail a one-month free trial with a full enterprise feature stack
Premium: $2.5/per user/per month with guest user access controls, Quick Response Panel, alongside all the standard features.
Enterprise: $5/per user/per month, includes all the Premium features
Pros
Built for the internal team messaging, for all team sizes
Airtime groups that restrict the group members to sending replies
Schedule team meetings with Cattle Call video conferencing
Wallpapers to change the chat area backgrounds
Dark and light themes in mobile application
A simple to add user process
Private chat window for confidential message exchange
Bulk messaging to a mixed audience in just one go!
Integrations and more.
Cons
Though they have the screen annotation feature in the mobile app, I am looking forward to having it in the desktop and browser versions!
The bottom-line? There is no quintessential collaboration tool that can be utilized as an all-rounder for your team communication needs. If one tool works for an organization, it may not work for the other. It all comes down to your business model and the essential needs required for your team management.
Is there a collaboration tool that you would like us to include in this list? We're all ears! Email us at fwilson@ntaskmanager.com.
See also: