You must be familiar with decluttering your room and your house to make it look more presentable. This decluttering also helps in making sure that you can maximize the usage of your total house or room space, and make sure that no unwelcome guests are living in that pile of clutter.
This is also the case with your digital workspace.
It is 2022 and decluttering your digital workspace has become more important than ever.
Why?
Because you need to organize all of the hundreds and thousands of files that you process every day so that you can easily find them and work on them in the future and also reduce any issues along the way.
And, if you are a sort of 'digital slob' who has piles and piles of files smothering each other in their workspace, then that is completely normal and you are not alone.
So, how can we clean our workspace, how clean is clean, and what are the things that we have to "Clean", we are going to answer all of these questions in this article. Let's begin.
What is Digital Clutter?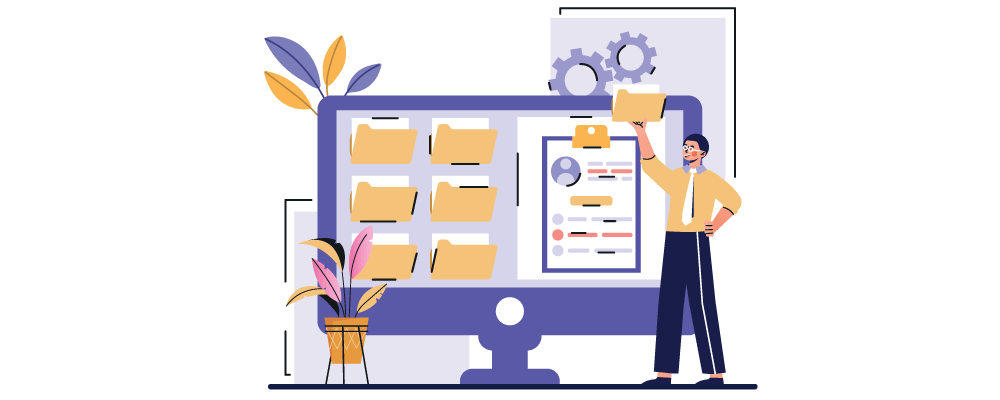 It can be quite confusing when you start your digital decluttering process and want to pinpoint the items that you want to clean. This is because all of the files were useful at some point and it can be hard to get rid of them, especially if you think that they can be useful again at some point.
But that's not how this works.
You have to get rid of your digital hoarding tendencies and make your workplaces productive and minimalistic.
Let's take a look at what's contributing to the pile of digital clutter in the workplace.
Computer Desktop
Files and documents
Download folder
Photos & screenshots
Browser
Desktop folders
Cloud-based storage
Passwords & Logins
Applications
Work Applications
Notes
Slack channels & messages
Miscellaneous documents
Project management tool
Inbox
Reminders
Google Drive
Passwords & Logins
Mobile/Tablet
Phone contacts
Photos & screenshots
Voicemails & texts
Notifications
Home screens
Apps
Music libraries
One of the best things to happen when you will start to declutter your digital workspace is that it will take you less and less time, the next time you declutter, and if you are one of us and are overwhelmed at first when seeing the clutter, then that decrease in time is a piece of good news you should fixate on.
Now let's take a look at some of the decluttering projects that you can embark upon while making sure that you are not bothered by them for a long time.
5 Decluttering Activities that You Can Do
1. Organize Your Google Drive
Google Drive is something that most of us use on a daily basis to share data and store data. The company gives users 15 GB of cloud storage where you can store all of your professional files, if you are not a video editor storing their 4k videos or in other words, a 'power saver'.
So, when you have so much space to store your files, more often than not, you tend to store a single file multiple times in the storage, on multiple occasions. This makes your drive filled with multiple copies of documents that were not sometimes useful in the first place.
Also, when you store so many files in your Google Drive, it can be really hard for you when you try to find a specific file in your storage in the future without going through the search bar.
So, to make your dashboard more open and specific to your work, you can change your default home page from My Drive to Priority in the settings panel.
This will help you to be less overwhelmed when seeing so many different items in your Google Drive dashboard because this setting will custom tailor the page for you according to your needs and requirements. 
Check this out:
Top 5 Google Docs Alternatives to Use
2. Empty Email Inboxes
If you are a professional or if you are a human in 2022, it's quite safe to assume that you have about 5 email accounts at your disposal. All of these have been created by you at some point to serve some purpose, but quite honestly we don't ever use all of our email accounts at the same time.
But, if you are someone that uses many email accounts every single day in your life, then you should empty your email inboxes.
Relax! I'm not saying that you should delete every unread and read the message that is in your inbox, you need to carefully select the messages so that you don't lose anything important.
Start with your work or personal account first, and not the ones you created to create a dozen finsta.  When you have the email in your sights, here are a few options that you have to look out for,
You can look out for emails older than 90 days that have been sitting in your email inbox and delete them accordingly
You can search the emails by a specific name so that if you don't want to see emails from a specific person or a company, you can easily ignore them
You can search for large files that are over 90 MB and taking up space in your limited cloud email storage, and delete them to free up a lot of space in your storage 
You can flag promotions and social emails from your inboxes so that whenever they are directed to your email inbox, they go straight to the spam folder and be deleted in 30 days automatically
3. Cleanse Social Feeds
This is probably one of the most important digital decluttering processes that we are going to mention in this article. Decluttering Social Media.
We all use social media. No doubt about it. But it's the way that we use social media is how we are going to determine whether it adds value to the productivity and efficiency in my life.
If you are REALLY serious about decluttering your social media or at least cleansing your life from some toxicity, you should consider deactivating your accounts for a few weeks or so.
But if you are like us and can't live without social media then here are a few things that you CAN do to make a positive impact on your life.
You should like and follow inspirational people that can actually inspire you into getting your work done and live your life in a more meaningful way, and when you do that, the algorithm of the app is going to serve you similar content, creating a chain of positivity if you will
Unfollow all of the accounts, people, and brands that you know are not good for you or are not providing any value to your life whatsoever
You should consider leaving or deleting all of the irrelevant groups and accounts that you have had from your old college campuses or old neighborhood communities because they were a part of your past life and you want to move on to bigger and better things
4. Optimize Your Project Management Tool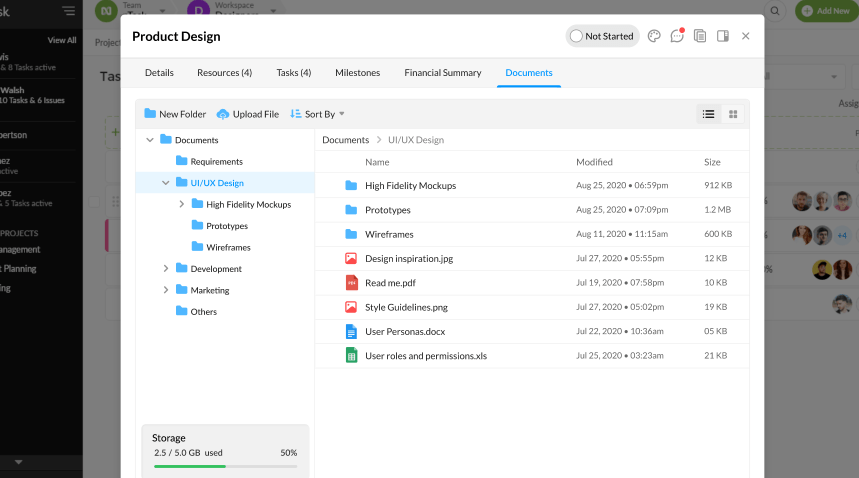 If you are using a project management tool like nTask then you should make sure that it is optimized precisely to your needs and requirements.
Even if you are a student using the application or a working professional, you need to set the interface according to how you want to see it.
Luckily for you, the application has a lot of different features that can help you with your work or study sessions and also has the functionality to completely change its own interface according to your needs and requirements.
Here are some of the features that this incredible project management software has to offer to its clientele around the world.
Task management
Project management
Meeting management
Risk management
Timesheet management
Gantt charting
Kanban boarding
Bug tracking
Issue tracking
5. Clear the Downloads Folder
One of the most common dwellings of digital clutter in your workplace is the Downloads folder. This folder has all of the different files and extensions that you have downloaded to your computer if you don't have the download folder set elsewhere.
This folder might include PDF downloads or duplicate screenshots of the various things that you might have performed for your work.
So, the best decluttering process that you can use is that you can sort all of the different files and folders according to their type, data, or some other option that you might have in your system so that everything is compiled together and there are no stragglers in the folder.
This will help you reduce redundancies and even help you to locate and delete the files that you don't want to keep in your workplace at all.
Conclusion
This was our guide on what digital decluttering is and how we can use different processes to actually make your workplace a clean one. If you think that we should have added something else to the article, then you can let us know and we will review your submission ASAP.
---
Read More Blogs: