Project Management is a process with many moving parts. The way project management is approached differs depending on the industry you are associated with and the project you are working on. This is true for design projects and by association design project management.
Design project management involves balancing the organization and structure that project management requires while also offering the freedom is needed for creative liberty and ideas to soar.
Because of the differences that design project management may pose to both you as a project manager and your team, we have put together this blog on all the things to expect from your design project management journey including the best design project management tips so that you can make your next design project a success, through and through. 
What is Design Project Management?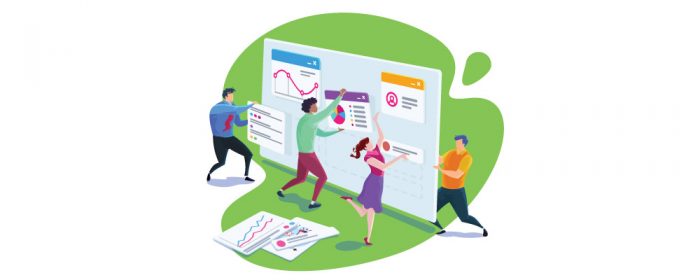 The Project Management Institute defines project management as the following:
"Project management is the use of specific knowledge, skills, tools, and techniques to deliver something of value to people."
Therefore, it can be seen that design project management is the management of a design project. It is the use of "specific knowledge, skills, tools, and techniques" to deliver a design project.
Consider a company or organization's branding project, or a website redesign, or an interior makeover these are all examples of design projects. In fact, if there is an element of design involved arguably you are working on a design project.
For any such design project, managing the project involves staying on top of the different moving elements while simultaneously encouraging creativity and also ensuring that budgets are met and schedules are followed and client briefs are adhered to.
Why Design Project Management is Different Then Project Management for Different Teams?
No two types of projects are the same. Whether it be due to a client's specific instructions or how circumstances play out the way a project progresses and needs to be managed differs widely.
This is also the case for creative projects such as those that can be classified as design projects.
But what makes design projects as a category different from the others?
Design projects require creativity and can often be seen differently depending on who you ask. It is because of this freedom that design projects require and how they can be dealt with that makes the process different from other projects you may look at.
Because of its subjective discipline, clients may require more changes and request more revisions than would be typical for other projects in order to meet their expectations.
There is also the case of difficulty when collaborating. It can be difficult to reach a consensus when it comes to design projects considering the creative freedom that individuals involved all possess.
Therefore, project management for design projects can be argued to be a greater mountain that needs to be crossed as compared to the typical project management process.
You need to balance this creative freedom without stifling the process that leads to creative expression while also ensuring that briefs are met and that the project follows the budget agreed upon and does not face any unnecessary project delays.
Liberty of free expression parcelled with an organization is the key to project management for design projects.
Also, design project managers have a different set of responsibilities when compared to project managers in general. While the former focus on the design side of things, the latter has to manage everything from A to Z (from planning to execution to monitoring) and as such, bear more responsibilities. 
The question arises, if project management for design projects is so different, how do you ensure effective project management to deliver successful design projects? Let's look at some of the best design project management tips to help you manage your next design project with ease.
Tips to Help Manage Your Next Design Project
Project management is a process that needs to be executed effectively in order to deliver a successful project.
This is often not as simple as simply giving your team the project and telling them to complete it.
Here are some of the best design project management tips you can incorporate into your project management for your design project to streamline the process of project management.
Tip #1: Understand Your Team
Design projects involve individuals with very different mindsets. The combination of these different types of individuals makes the process of managing a design project in a linear fashion difficult.
Creative individuals work in different ways. One team member may work best at night while another may want to work in a group. Timing and atmosphere preferences could differ throughout the group.
To get the best out of each team member the best thing to do is to play off each person's strengths.
Take the time to understand your team and what works for them and devise a plan that allows each of their strengths to shine through in the project that you deliver.
You want to ensure that while you give your team creative liberty and freedom you still want to maintain structure. Budgets and schedules still need to be met and individuals should not veer off too far from the brief.
Tip #2: Know Your Client
As we mentioned, clients that put forth the design project could have expectations in their minds that need to be fulfilled to ensure your project is a success. But the problem is that the way a design project can play out can be subjective. This is because visual concepts are different from writing software or programming.
Therefore, in order to ensure your client is satisfied and feels that you meet the quality he or she expected take the time to know your client and properly understand exactly what it is they are after.
Another reason to take the time to know your client is to allow you to give your clients a memorable customer service experience.
If your client gives you certain personal information take the time to remember it and perhaps even bring it up in a later conversation. By doing so you show your clients that they are important to you and your organization and thus help you create customer loyalty.
Tip #3: Collaborate and Work Together
Collaboration is a way to deliver a project of higher quality. When you work in a team you can come up with ideas and be innovative in ways that working alone would not be able to achieve.
Not only does collaboration help with the outcome of deliverables and the overall project, but it also adds to the overall experience of working on the project. That is to say that your team will enjoy the project more as well as boost morale.
Collaboration and communication are made easy with the right collaboration tools that can help your team work together effectively and reach project deliveries with ease.
Tip #4: Use Available Tools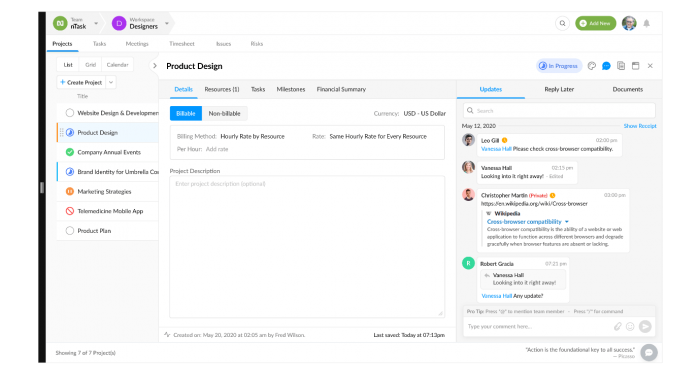 As we mentioned above, there are tools that can help with the project management of your design project.
Apart from communication and collaboration tools, you can take the help of project management tools that allow you to easily manage your design projects and manage your team efficiently.
Project management tools can help you stay on top of all the moving parts of a design project and allow you to have a centralized platform where all relevant information is located.
nTask is one such project management software. nTask is unique in the way that it provides a single platform for every aspect of your design project management needs.
Features include everything from communication and collaboration tools to timesheets and meeting management modules.
What nTask does not offer in its platform it makes up for with its third-party integrations ensuring that you streamline your entire project management process and can focus on the creative aspect of your design project.
nTask's provides a flexible solution which makes it an ideal fit for varying teams of different sizes as well as those who follow different styles which is an important aspect to consider when you work with a group of creatives.
Tip #5: Avoid Scope Creep
Scope Creep in project management refers to when the requirements needed to fulfill or deliver a successful project increases over the span of the project's lifecycle.
This is problematic since it leads to delays in delivery as well as an increase in budget.
With design projects having a subjective element and involving creatives taking certain initiatives, a common risk associated with design projects is scope creep.
Therefore, it is essential, as a project manager for a design project that you need to ensure that the client's expectations and requirements are clearly understood by the team.
You also want to ensure that your client is clear on what they have asked for from the start to ensure that there is no change in needs later on.
Lifecycle of Design Project Management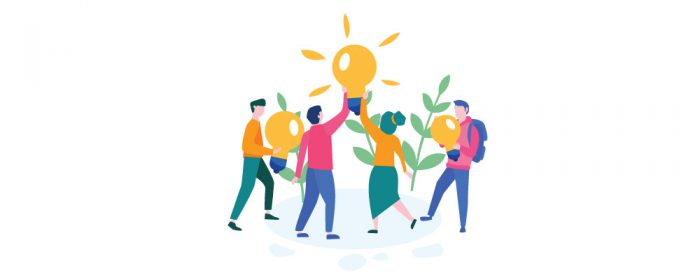 Project management involves 5 stages. These stages or phases are as follows:
The initiation phase
The planning phase
The execution phase
Project monitoring and control
The project close
As with any project management lifecycle, you start off a design project with planning and preparation.
You want to take the time to properly plan the project and understand what the project aims to achieve as well as what exactly the client is after.
Planning involves putting together certain documentation that will help your project's processes move along more smoothly as well as be a guide to look to throughout the project to ensure the project is on track.
You want to create the project charter, the scope statement, the work breakdown structure, the communication plan, the project budget, and the project plan.
To find out more about these documents and the planning phase of a project check out our blog posts that highlight these elements in detail on our blog here.
Once planning is complete you move on to the execution phase. This is where you execute the plans you have created with your team and your client.
This is when your planning will be set to the test and depending on how you created your design project plan the execution should be a breeze.
The execution of the project involves constant communication with team members, clients, and any stakeholders.
You want to ensure you hold regular check-ins to make sure that everyone is still on the same page and that everything is running according to plan and is on track.
And most importantly you get to work on designing and creating the project outcome that everyone is looking for.
Finally, you reach the project close and this is when you deliver your project to the client and come together with your team to see what went well and reflect on what could have been improved on to help make the next project run even smoother.
The way you hone your design project management processes is a vital element to reaching the end goal for you, your team, and your client.
Finally, Over to You!
Getting the hand of design project management will give you peace of mind to be able to deliver a successful design project to your client.
Moreover, effective design project management also provides you and your team with the freedom to focus on the creative aspects rather than be caught up with admin tasks.
Use project management tools such as nTask to further simplify the process and streamline your project's lifecycle to give you the ability to achieve what you wish to without added stress of organizing and tracking everything.
We hope this blog post helps in giving you the tools you need to run a successful design project management.