We can't rely on those around us as ready to help us with our job; rather, we must intentionally reach out to them in order to connect with them and develop connections.
Making connections with colleagues inside your business and fostering an atmosphere where everyone feels heard and included are key components of effective workplace communication.
It involves communicating in a way that enables your team to achieve its objectives and advance.
It's annoying to continually ask for assistance when something ought to be simple for you. We've all experienced being stopped during meetings or being denied access to important information.
nTask is designed to make communication easier and more efficient by providing a platform for creating and sharing tasks.
nTask makes it easy for employees to share tasks with their team members, as well as track progress and completion dates.
Plus, because tasks are automatically organized into categories (work items, progress reports, etc.), it's easy for everyone involved to know what needs attention and when it needs attention.
With nTask in place, not only will coordination become easier; but so too will productivity and efficiency.
Importance of Effective Communication
Before we move ahead, let's see why communication is important. Effective communication and communication tools in the workplace are crucial for various reasons, including:
Building relationships: Effective communication helps in building strong relationships based on trust, credibility, and mutual understanding. When people understand one another clearly, it fosters positive cooperation and synergy.
Improving productivity: Clear and concise communication between team members can help avoid misunderstandings, resulting in increased productivity.
Managing conflicts: Communication is an essential tool for resolving conflicts. When individuals communicate effectively, they are better equipped to understand each other's perspectives, collaborate, and negotiate in a way that leads to a resolution.
Enhancing knowledge sharing: Effective communication is the foundation of knowledge sharing. It helps people exchange ideas and share knowledge in a way that promotes learning and innovation.
Promoting inclusivity: Communication is crucial for promoting inclusivity and diversity, particularly in the workplace. It can help reduce misunderstandings, discrimination, and biases that can arise due to cultural and linguistic differences.
All in all, effective communication is essential for building relationships, improving productivity, promoting inclusivity, and knowledge sharing while managing conflicts. It is a vital component of personal and professional development.
Types of Communication at Workplace 
There are numerous types of communication in the workplace, ranging from face-to-face conversations to instant messaging, video calls, and online team platforms. Here are some of the most common types of workplace communication:
Verbal Communication: This is the most traditional form of communication in the workplace. It includes face-to-face conversations, phone calls, and video conferencing. Verbal communication lets you convey your message clearly and address questions and concerns in real-time, which can be vital in preventing misunderstandings.
Written Communication: This type of communication is common in the workplace. It includes emails, memos, reports, and other written documents. It's advantageous as it leaves a paper trail of critical communication events, and it is easy to retrieve information from it.
Nonverbal Communication: This is the communication that occurs without spoken words. It includes body language, facial expressions, hand gestures, and posture. Nonverbal communication can sometimes carry more weight than verbal communication, as it can provide context, suggest emotions, and convey feelings.
Workplace Communication Platforms: With the rise of remote work, communication platforms like Slack and Microsoft Teams have become increasingly popular. These platforms enable instant messaging, file sharing, and video conferencing, ensuring efficient communication between team members and departments while making users feel connected in real time.
Communication Tools in the Workplace: This includes software applications such as project management tools, video conferencing apps, email management systems, and other digital tools used to facilitate quick, effective communication.
Team Communication in the Workplace: This type of communication focuses on how different teams and departments connect and work together in the workplace. Regular team meetings, group discussions, presentations, and brainstorming sessions are examples of effective team communication in the workplace.
Introduction to nTask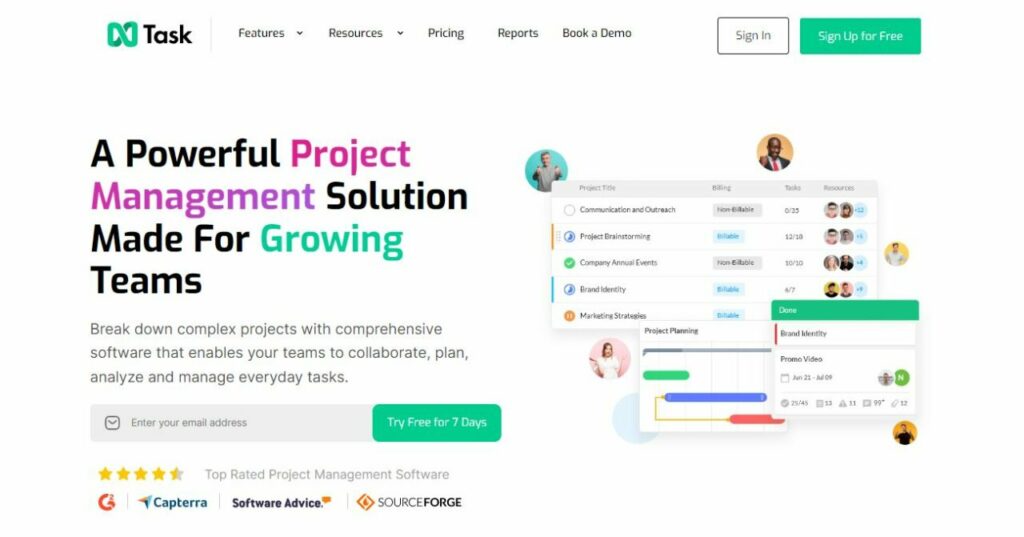 With nTask, you can easily and quickly create custom tasks that are perfect for your business. This software makes it easy to manage all of your tasks in one place, so you can focus on what's important.
nTask is simple to use but powerful enough for complex projects. You can create custom tasks based on any type of information (text, files, URLs), and track the progress of each task with ease.
Plus, nTask offers a variety of features to make sure your work is seamless and efficient.
Best Features of nTask
Together, numerous nTask capabilities make it possible to provide services like resource management, project performance monitoring, team communication, problem-solving, and risk management.
When you utilize the nTask application, the capabilities listed below can help your team be more productive:
1. Project Management
You may accomplish your tasks more quickly thanks to the project management function. Three subsidiary features and six extension features are included in this section. You may effectively monitor projects using the following subfeatures:
A. Project Planning
B. Team Chat
C. Task Tracking
D. Extension Features
2. Task Management
You may create, manage, and see the tasks of a project online with the help of the nTask application, which is an all-in-one platform. The task management component has the following three sub-features:
A. Task Planning Smartly
B. Hassle-Free Collaboration
C. Progress Tracking
3. Kanban Boards
Kanban Boards are offered by nTask for managing tasks on a corporate or personal level. With a nTask membership, you can also download ready-made Kanban Boards.
Without spending time creating a board from scratch, you may select one pre-built template and begin using it.
4. Team Management
Start utilizing nTask if you want to effectively manage the team, work with the members, and monitor team progress.
It is among the top tools for online team communication. The following are some of the services offered by nTask's team management feature:
A. Workspace Elements
B. Workspace Personalization
5. Time Tracking and Timesheets
For your convenience, nTask provides both automated and manual timesheet management. Your team may save time by using the nTask automated web timer to collaborate on a single platform.
6. Meeting Management
With the powerful project management application nTask, you can have all of your project meetings in one location. You may create new meetings and attach tasks to them from the Meetings area of your nTask board.
7. Issue Tracking
You may add issues to nTask and specify them with distinct IDs using the issue module. A specific team member may be given the case, and you can then track the case's progress, severity, status, update notes, due dates, progress, etc.
8. Risk Management
A risk register and a risk matrix are both included in the nTask Risks module. By making use of the nTask Risks tool, you can quickly evaluate project risks in order to prevent wasted time and money.
How does nTask facilitate communication in the workplace?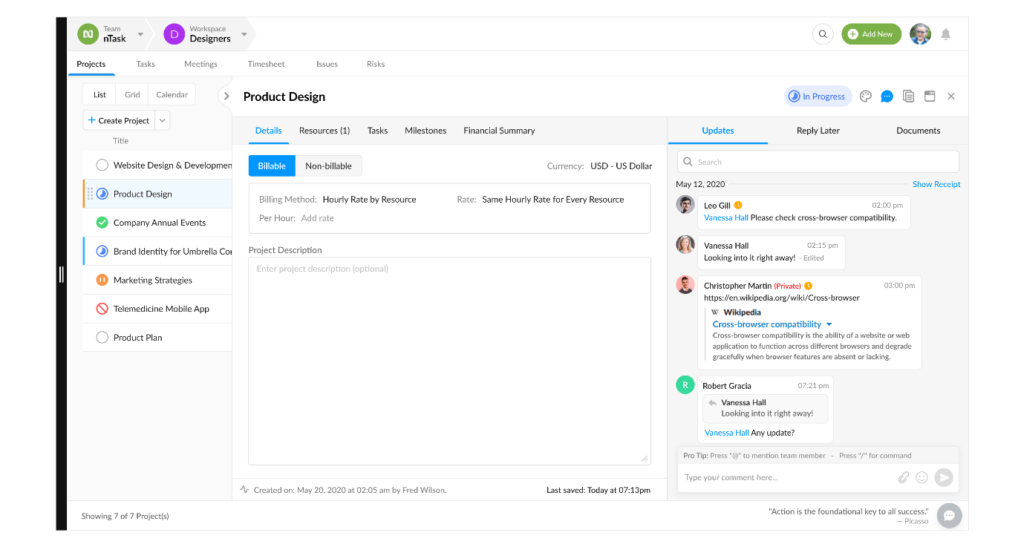 In today's constantly-connected world, it's crucial that employees have easy access to communication tools that facilitate collaboration and communication. This is made easier due to the unified communications system.
nTask is a free, cloud-based communication platform that helps employees communicate more effectively and efficiently. It provides a centralized location for sending and receiving messages, as well as a detailed history of all conversations so that everyone involved can easily track the conversation.
nTask also offers integrations with other popular messaging platforms, so employees can easily communicate with co-workers using the platforms they're most comfortable with.
How does nTask help employees be more productive and efficient?
nTask is a great way to help employees be more productive and efficient. It provides them with a variety of tools and resources that can help them be more effective and efficient at their jobs. Some of the benefits that employees have reported include:
Increased productivity – Employees who use nTask report that it has helped them increase their productivity by a significant amount. They are able to stay more organized and efficient, which helps them to get more done in less time.
Reduced stress – Many employees find that using nTask reduces their levels of stress. They are able to manage their workload better and avoid feeling overwhelmed or overwhelmed by deadlines.
Improved communication – Employees are able to communicate more effectively with others thanks to nTask's powerful communication tools. They are able to easily collaborate on projects and share files securely with colleagues.
Increased satisfaction – employees who use nTask report that they are extremely satisfied with the product. They feel that it has helped them improve their work habits and overall efficiency.
How To Use nTask For Effective Communication in The Workplace?
All the capabilities needed for effective communication management are offered by nTask. nTask should be your first pick if you're seeking software that can handle all of your communication needs while also making project management easier.
nTask can meet all of your demands whether you are an individual freelancer, a small business, or a large corporation. Features of the app make communicating as simple as ABC. Teams can accomplish a lot more, including quickly communicating, cooperating, and trading information.
Finally, nTask offers a fairly straightforward user interface. The program is simple to use and takes little time to become used to. It is our top choice for internal communication because of its straightforward design and abundance of practical features.
Let's look at the key features of the tool.
Key Features:
Allows you to set up projects, distribute resources, and handle money
Incorporate a work description to add greater clarity.
Time tracking and timesheet management are used to keep both the employee and the manager informed about the project's status.
Task comments make it simple to exchange criticism.
Live chat system in real-time for efficient, prompt communication
Team members can communicate privately
The "Reply Later" function aids in message prioritization.
Simple file, document, and attachment exchange
Enables you to communicate updates to team members either individually or collectively.
Notifications, alerts, and reminders in real-time
Plan measures to reduce difficulties and dangers after identifying them.
Create a meeting agenda and discussion points for the team.
integrations with external applications for fluid operation
Why do you need to develop communication skills in the workplace? 
Developing communication skills in the workplace is crucial for any individual who wants to succeed and move up in their career path.
Effective communication tools in the workplace enable individuals to articulate their thoughts and ideas concisely and clearly, create a positive rapport with colleagues and team members, and resolve conflicts in a professional manner. 
Communication skills also allow individuals to listen actively, understand non-verbal cues, and adjust their communication approach depending on their audience. 
Poor communication can lead to misunderstandings, mistakes, delays, conflicts, and decreased productivity in the workplace.
In contrast, strong communication skills increase collaboration, foster trust, and enhance teamwork, leading to positive and efficient work environments.
As such, good communication skills are vital to career success, foster positive personal and professional relationships, and drive business success.
Conclusion
There you have it, an exclusive guide to all the possibilities that nTask has to offer. With this easy-to-use tool, you can ensure that all your employees are on the same page – whether it's about deadlines or about standing up for rights.
As the workplace becomes more and more technology-driven, it's easy to get sidetracked with work and forget basics like connecting with others.
With nTask, communication has never been easier.