Firms of various sizes need to keep their company data up to date.
Organizations that manage real estate properties operate construction operations or sell goods online or in physical stores require an information management system.
Although most sectors have one or more software platforms designed specifically for their category to manage data, these platforms cannot frequently be customized, which can be expensive in the long run as businesses try to piece together their particular business requirements.
Two user-friendly bespoke database solutions that may be just what businesses need in this situation are Coda vs. Airtable.
Coda and Airtable are two online information storage and database software platforms that offer distinctive features to help businesses store their essential data in a structured format and make decisions based on factual information to steer the company.
In this post, we will compare Coda vs. Airtable, going over the features of each, as well as the benefits and drawbacks of each, so that businesses can make an educated choice regarding which platform is ideal for their company.
Simplify project management
with nTask today!
What is Coda?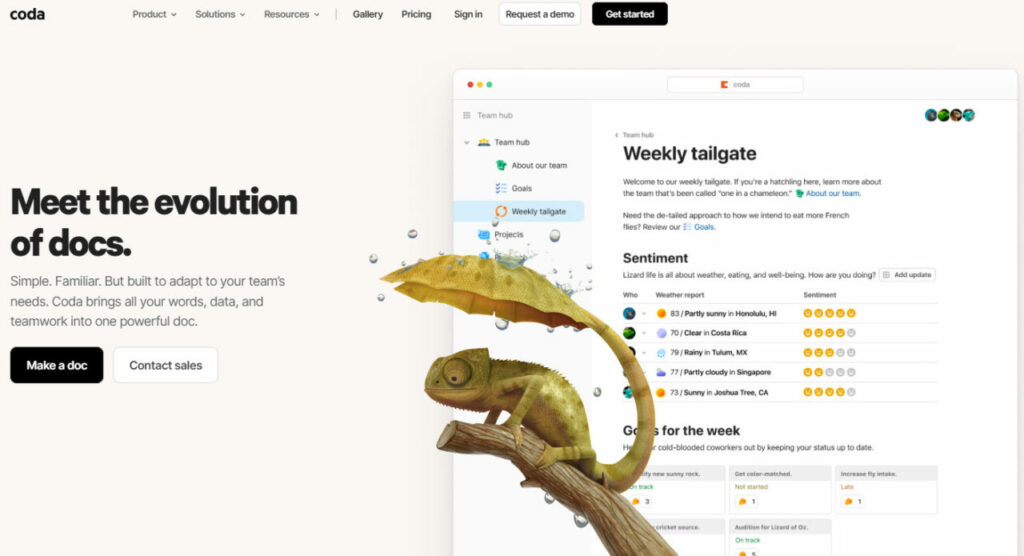 Coda is a cutting-edge cloud-based platform that lets its users make documents, spreadsheets, and databases with a wide range of customization options, all in one place.
For users with varied degrees of technical proficiency, it provides a straightforward interface.
It has a canvas for making unique layouts and structures, sophisticated formulas and automation capabilities for making workflows, and numerous pre-made layouts, as well as integrations and templates to get you going.
What is Airtable?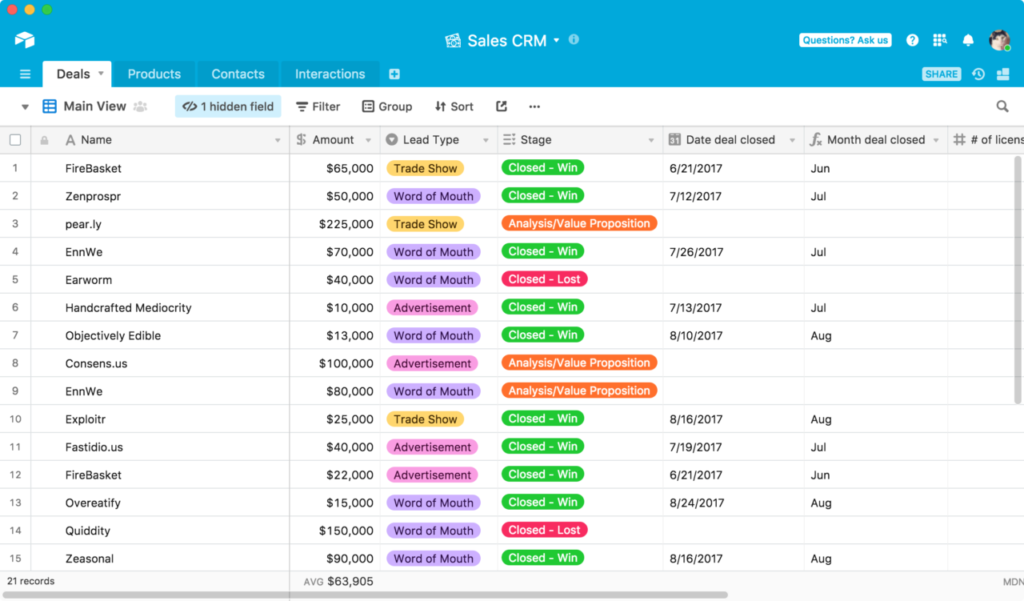 Airtable is a database, spreadsheet, and project management tool that can be created and managed in the cloud.
It provides a highly adaptable framework where users can create and automate procedures as they see fit.
Airtable includes robust team collaboration tools and a flexible interface that facilitates the creation of one-of-a-kind structures and layouts.
To aid users in getting started and integrating with other tools and services, it offers several premade templates and integrations.
Coda Vs. Airtable. Low-Code/No-Code Platforms for Customizable Business Management
Airtable and Coda are business-oriented applications that accommodate various purposes, including storing vital data like project plans, property listings, and transaction records.
Users can look up information and make snap judgments in one convenient location.
Non-developers can set up a unique database architecture with minimal effort using these 'Low-code/No-code' platforms. Industry experts project that the market for low-code platforms will expand by 40% by 2022.
Airtable is a cloud-based database and spreadsheet hybrid that organizes and shares company information across teams and departments.
Over 80,000 businesses use Airtable, and its creators aim to "democratize software creation" by allowing users to make their applications.
Coda is a document that combines spreadsheets, papers, and workflow apps into one convenient package.
It facilitates communication and coordination between members of a business's product management, inventory, and other departments.
Coda launched in 2014 but didn't leave beta until May. Its goal is to produce a document where words and data are indistinguishable, allowing for the creation of papers with the same functionalities as apps.
Coda Vs. Airtable: Features
The following are the key features, Pros, and cons of Coda Vs. Airtable.
| | | |
| --- | --- | --- |
| Features | Coda | Airtable |
| Formulas | Yes | Yes |
| Templates | Yes | Yes |
| Web Clipper | Yes | Yes |
| Inline Formulas | Yes | No |
| In-App Automation | Yes | No |
| Collaboration | Yes | Yes |
| Deduplication | No | Yes |
| API | Yes | Yes |
| Page designer | No | Yes |
| Forms | No | Yes |
Coda Vs. Airtable: PROS
| | |
| --- | --- |
| Coda | Airtable |
| An application that serves as a one-stop shop for creating and managing documents, spreadsheets, and databases | Innovative app-like interface for customizing data organization and presentation |
| Formula language and automation tools that pack a punch for increased efficiency | Many kinds of fields and perspectives |
| Design that is intuitive for users and allows for effortless personalization and teamwork | Data deduplication and batch updating capabilities |
| Several pre-made layouts for various purposes, including but not limited to project management, accounting, and team sta | Customizable export, print, and email page layouts designed directly within the application |
| Buttons, sliders, and charts are interactive features that improve the user experience and make dynamic content possible. | Information can be clipped from the web and added directly to Airtable tables using a Google Chrome extension called "Web clipper." |
| Automation and process streamlining through compatibility with other popular apps like Zapier, Slack, and Google Sheets. | Robust tools for quickly and easily building databases, starting from scratch or adapting a template. |
Coda Vs. Airtable: CONS
| | |
| --- | --- |
| Coda | Airtable |
| Coda's price tag is high, especially for enterprises with multiple employees. The free tier offers restricted access to fewer tools and less storage space | Although teams of three or fewer can use Airtable for free, larger prominent companies with more complex demands will incur higher costs. |
| The platform is more challenging to use than other tools, especially for people with no prior experience with programming or databases | Airtable is highly adaptable, although it may lack the versatility of comparable database or project management applications. |
| Yet, Coda's restricted integration options may limit its utility in specific scenarios | Airtable has a lot of different app integrations, yet it may be lacking in the integrations that some users need. |
| Users may become frustrated with Coda's sluggish performance when working with documents that are very large or complex | Collaborating with others who aren't already familiar with Airtable can make its utilization less efficient |
| Coda's flexibility means it may be used for various purposes. Still, it may also be challenging to learn for people without a background in database management or programming | While Airtable's mobile app is quite feature-rich, some users may discover missing out on essential capabilities due to their inaccessibility on mobile devices. |
| Coda's mobile app has various limitations that may inconvenience people who rely on the platform but are constantly on the go | While Airtable is usually quick and efficient, some users have experienced slow loading times or other performance concerns |
Pricing & Plans
Coda:
Free plan: Up to three docs and unlimited collaborators.
Starter plan: $10/month/user, billed annually, for unlimited docs and advanced features such as buttons and automation.
Team plan: $30/month/user, billed annually, for team collaboration, admin controls, and shared billing.
Enterprise plan: Custom pricing for larger organizations, with enhanced security features and additional support.
Airtable:
Free plan: Up to 1,200 records, 2 GB attachment space, and essential collaboration tools.
Plus plan: $12/month/user, billed annually, for up to 5,000 records, 5 GB attachment space, and advanced features such as form customization and personal views.
Pro plan: $24/month/user, billed annually, for up to 50,000 records, 20 GB attachment space, and additional advanced features such as blocks and custom branded forms.
Enterprise plan: Custom pricing for larger organizations, with enhanced security features, SSO, and additional support.
Conclusion
Coda and Airtable are platforms for users to manage their projects and databases.
Both platforms are highly customizable and robust, giving users plenty of options to explore.
For those who need granular control over their papers, spreadsheets, and databases, Coda's powerful formulas and unique canvas feature make it a worthy contender.
On the other hand, Airtable's flexible interface and built-in collaborative features make it a better fit for groups.
Whether users decide to go with Coda vs. Airtable, they will have access to a wide range of solid features that can be customized to their needs.