Project management is a task that most people find difficult to do on their own. But don't worry! This blog will help you choose the best project management tool for you – by comparing ClickUp vs Asana vs nTask. These tools allow you to manage your projects in an easy-to-use and organized way, making it a great choice for those who are new to project management or those who have been using other tools and want to try out something new.
In addition to this, this blog also compares and contrasts nTask with ClickUp vs Asana, in terms of features, pricing, and how it works. By reading through this guide, you'll be able to make an informed decision about which tool is best for you.
What is nTask?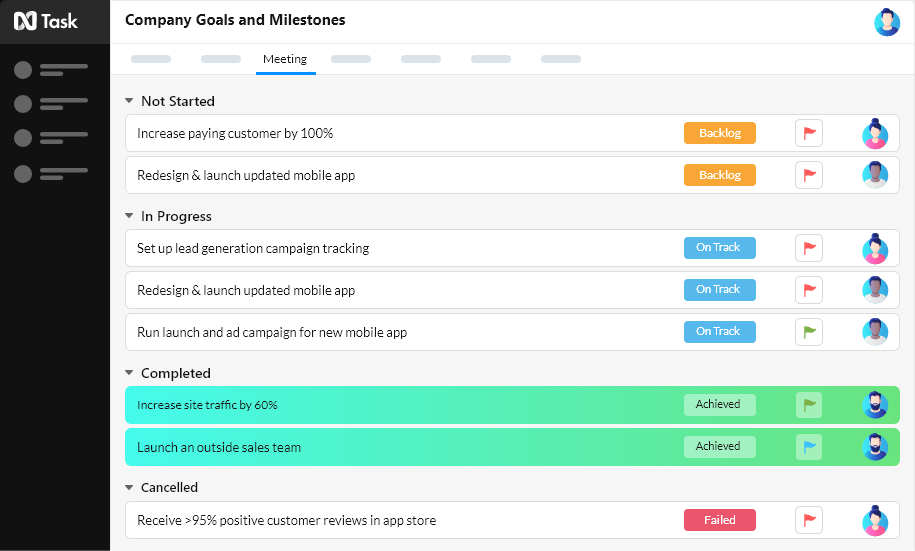 It can be tough to keep track of all your tasks and get them completed on time. That's where nTask comes in! This simple and easy-to-use task manager can help you get things done in an organized and efficient manner. nTask has a variety of features, such as a task timer, timesheets, and more. You can also share tasks with others by email or social media. Overall, it's an excellent tool for managing your work life and getting things done! So what are you waiting for? Add nTask to your browser today!
Main Features of nTask
nTask is a powerful task management solution that allows users to manage their time and tasks in a simple, efficient, and organized way. It has several key features that make it an ideal choice for business owners and professionals:
Task Timers – You can set timers for specific tasks or periods of time, so you always know when they are due. This helps you stay on track and avoid overlap with other obligations.
Projects – nTask lets you create multiple projects (separate from your daily duties) so you can focus on one project at a time. This makes planning and executing complex tasks much easier.
Contextual Notes – Add notes about the context of any task to help keep everything clear in your mind. This includes factors such as location, people involved, etc., which makes it easy to remember important details related to a task.
Email Notifications – Whenever a new item is added or updated in your queue, nTask sends out email notifications so you don't miss anything Important!
How does it work?
nTask is a time-saving task manager that can be used on the web and mobile devices. It integrates with a variety of different apps and platforms, making it very versatile. As it is free to use, there's no reason not to give nTask a try!
Who is it for?
nTask is an excellent task management tool that can be used by business owners of all sizes and levels of experience. It boasts a wide range of features, making it perfect for entrepreneurs who need to manage multiple tasks simultaneously as well as professionals who need to keep track of deadlines and progress across various projects.
For those looking for a comprehensive solution, nTask is the best option out there! Its ease of use coupled with its huge feature list makes it the ideal tool for anyone in search of efficient task management. So if you're serious about achieving success at work, don't wait any longer – download nTask today!
What is ClickUp?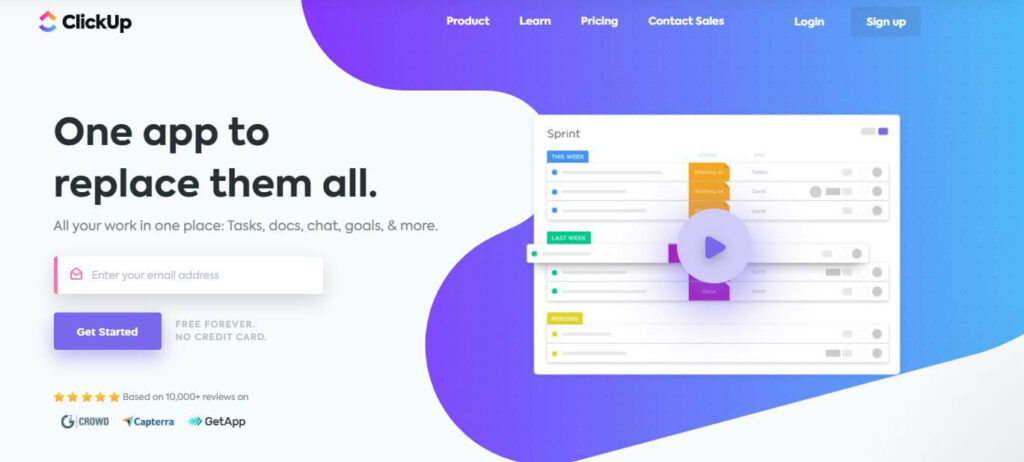 Finding the best project management software can be daunting. But don't worry, we're here to help! In this article, we will be discussing ClickUp, a tool that is popular for its simplicity and effectiveness. With its incorporation of tasks, checklists, and milestones, ClickUp helps you stay on track and make sure your projects are completed on time and to the best of your standards.
Plus, its online chat feature makes it easy to get help from the team when you need it. So if you're looking for an all-in-one project management solution, ClickUp is definitely a great option to consider!
Main Features of ClickUp
ClickUp is a powerful online work management platform that helps small businesses achieve faster growth and better visibility. It offers a suite of tools that let you quickly create and publish high-quality web content, drive leads through email campaigns, track your website's traffic and conversions, and more.
Some key features of ClickUp include:
Task Creation: Easily create tasks and assign them to your team members with the set due dates to keep track of the work progress.
Notes taking: You can use ClickUp to keep personal, and work notes like for meetings, and for things to do so that you won't forget important work.
Forms: You can use ClickUp to generate surveys, and easily embed them on any tool or web page.
Project planning: Easily plan your projects to keep track of the project deadlines, and keep all the project documents in one place.
How does it work?
If you're like most busy professionals, you have a lot of tasks to get through every day. But with the hectic pace of life today, it's hard to find time to focus on them all. That's where ClickUp comes in – this online task manager is perfect for people who need to stay organized and on top of their work commitments.
The app has an intuitive interface that makes managing your tasks as easy as pie. You can also connect with other users for collaboration or feedback on projects. Plus, there are detailed reports that help you track your progress and make better decisions about which tasks are worth taking on next
Who is it for?
If you are a small business or startup that needs to get things done, ClickUp is the perfect platform for you! This task management software offers a wide range of features at an affordable price making it ideal for startups.
In addition to this, its app makes it easy to keep track of tasks on different devices- even when you're away from your computer. Furthermore, if project management is one of your key areas of focus, then ClickUp is definitely worth considering as it comes with all the bells and whistles necessary for efficient workflow management.
Related:
What Is the Best Project Management Software? ClickUp vs Trello vs nTask
What is Asana?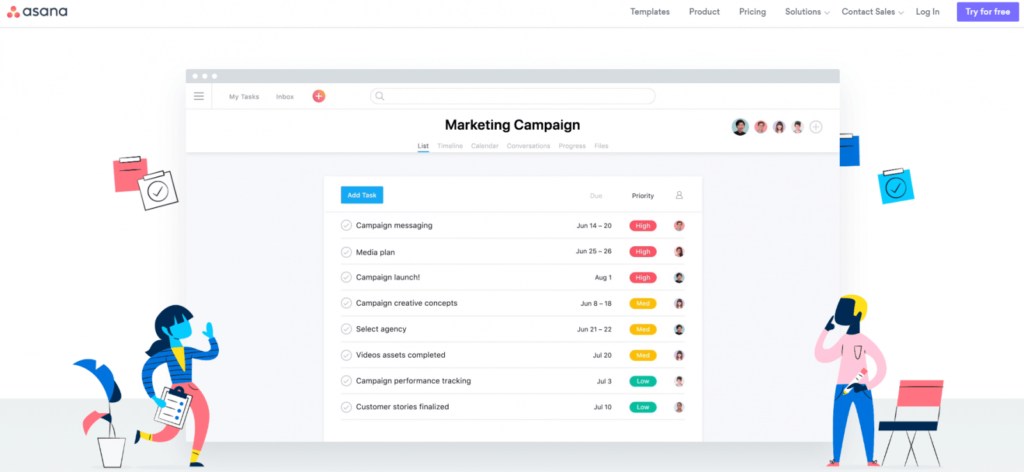 Are you looking for an online task management platform that can handle your work and projects from any device? Asana may be the perfect option for you! It has a variety of features to make it ideal for different types of users, including businesses and individuals. It's free to use, so it's a great option if you're looking for an all-in-one solution. If you're not sure which one is best for you, read our guide to decide!
Main Features of Asana
Asana is a popular project management software that offers a variety of features to its users. Here are some of the most important ones:
Asana provides an overview of all your projects, tasks, and assets across different platforms (desktop, phone/tablet, etc.). This allows you to stay organized even when working on multiple projects at the same time.
The task list lets you see everything that needs to be done in order for a specific project or goal to be completed. You can also add dependencies between tasks, which makes it easy to follow along with the sequential process required for completing a task successfully.
The Kanban board helps organize work in progress by breaking down each step into small batches so that resources are always available when they are needed. This prevents bottlenecks from forming and ensures that work is consistently getting done on time.
Integrations with other apps allow you to continue working on your tasks offline (through sync) or share data between several devices through collaboration mode
How does it work?
If you are looking to improve your workflow and manage multiple projects efficiently, Asana is the perfect platform for you. It offers features like project management, task management, time tracking, and reports so that you can keep track of everything from start to finish. It's also mobile-friendly so whether you're working on it at home or on the go – there's no excuse not to use Asana!
Who is it for?
Asana is perfect for businesses of all sizes that need to manage multiple projects and tasks simultaneously. Its user-friendly interface makes it easy to navigate, making it ideal for people who want an all-in-one solution for task management as well as time tracking.
What makes nTask better than Asana and ClickUp?
There are a lot of great task management solutions out there, but which is the best for you? nTask comes a close second to Asana and ClickUp. It has features from both Asana and ClickUp, making it the perfect all-in-one solution. Additionally, it's easy to use and offers a great user experience.
You can keep track of your tasks in one place, which makes it easier to manage your workflows. Additionally, nTask has integrations with other apps, so you can easily collaborate with others on projects. So, if you're looking for a great task management solution that has all the bells and whistles, nTask is the perfect option!
Asana vs ClickUp vs nTask: A Side by Side Comparison
| | | | |
| --- | --- | --- | --- |
| | nTask | Asana | ClickUp |
| Ease of Use | Simple to use and easy to navigate, making it perfect for anyone who wants to get organized quickly and access their tasks at any time. | With a handy getting started guide, it is simple and straightforward. | Due to the variety of features, there can be a hassle in learning everything quickly. |
| Sprints | | Teams may have complete visibility on sprint plans, milestones, launch dates, and backlog by planning sprints in Asana, concentrating work efforts and communication in one location. | You may construct specific Folders and Lists in any Space with the Sprints ClickApp. |
| Customization | Use specialized custom fields to customize your workflows for managing tasks, projects, risks, and issues. | The majority of the good customization features are only available on premium plans. | Even on cheaper plans, everything is customizable. |
| Automation | nTask is a platform that allows you to automate your tasks and workflows in a smart and efficient way. | Excellent automation features, but only available with higher-tier plans | Several highly adjustable automation options offered on the free plan |
| Integrations | nTask has integrations with many different platforms and applications, making it easy to manage your work from anywhere in the world. | There are more than 200 native connectors, and many tools integrated with any app you can imagine. | There are more than 50 native integrations (more than enough for the typical user); |
| Customer Support | You can contact nTask via email, telephone, or live chat. Customer support is available 24/7 | Only the most expensive company plans offer round-the-clock assistance, but there are reliable internet options. | The free package includes 24-hour help, in addition to a wealth of online resources. |
| Pricing | The nTask pricing plans start from $3 per month, per user. It also offers a 7-day trial that lets you try out all the features before you sign up. | Teams with more than 15 members immediately become subject to payment; the free tier only offers the most basic functions. | The free tier includes all the tools needed for small or large teams to flourish. In ClickUp vs Asana pricing, Asana is better. |
| Refund Policy | Do not offer refunds | 100% refunds are given within 30 days. | No refund policy |
| Free Plan | The basic free plan is available | Free tier available | Free tier available |
| Task Display Views | Gantt charts, boards, lists, grids, calendars. | Timeline, board, list, calendar, Gantt, mind maps, workloads, map, table. | Progress, boards, list, calendar, forms. |
Reasons why you should try out nTask to manage your projects
In ClickUp vs Asana vs nTask – nTask is the best to go for. It can be hard to know which project management tool to use when you're starting out. nTask offers a simple, easy-to-use interface that any business owner can use.
It also has a team feature that allows you to collaborate with other people on projects. The price is affordable and the monthly subscription fee is low compared to other project management tools out there. So, why not give it a try today and see for yourself?
Frequently Asked Questions
Why do you need project management software?
There are a number of reasons why you might need project management software. For one, project management software helps in tracking the progress of a project. This information can be used to track deadlines as well as assess the task performance of team members.

Furthermore, project management software lets you communicate with your team online and track their work activity so that you know where they stand. This way, you can keep track of critical tasks and ensure that everyone is working on schedule.

In addition to communication and task coordination, some popular project management software includes features that help in generating reports and managing resources. For example, Asana, ClickUp, and nTask offer features like custom fields, calendar integration, email notification setup, and more.

Therefore, to help you get started in selecting the best project management software for your needs, our guide below includes key features to look out for when choosing software.
Are there free project management solutions?
There are many free project management solutions available online that you can use to handle your work. The services mentioned above, namely Trello and Asana, come with a host of features and options that make them ideal for different types of projects. Additionally, our blog post on the top 5 best free project management software for working from home may be of help to you.
Conclusion
In this blog, we are going to compare and contrast three of the most popular project management tools – ClickUp, Asana, and nTask. We will discuss what each tool has to offer and why you may want to use it. We will also provide you with a guide on how to use each tool to its best potential!
So, whether you're a project manager new to the market or an experienced user, make sure to check out this blog for all the information you need to make an informed decision about which tool is best for you. Thanks for reading!