Any number of projects that an organization undertakes has an impact on the organization's processes and resources. Project management is not simply about the project itself but also establishing any necessary organizational changes.
This is where the change management process comes into play. As a project manager, you have to be vigilant about the impact a project will have on the organization and how your resources will react to it.
Therefore, as a project manager, you may also have to be a change manager.
In this article, we go over what exactly change management is and how you can incorporate the change management process into your project management.
Let's dive right in!
What is Change Management?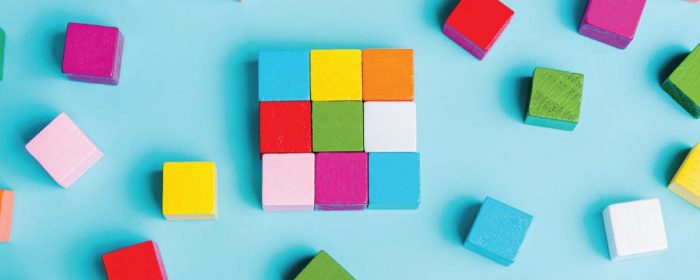 Before we can get into how change management affects projects and vice versa, and also what you need to know as a project manager, you first need to understand what change management is.
Change management is those methods and procedures used by a company to identify and implement change, both within internal and external processes.
Therefore, change management prepares a structured approach to support, prepare, and equip individuals in the company to adopt change successfully which is necessary to drive the company's outcomes and success.
As a project manager, there are two main types of change that you will need to manage. Let's look into these types.
Types of Change
As a project manager, your role will put you in a position where you will need to deal with two main types of change.
These types include technological change and organizational change.
1. Technical Change
Technical changes refer to those changes that are specific to your project. These technical changes are changes to the functionality, specification, or requirements of your project.
You need to be very vigilant of such change as if these changes go unchecked scope creep can very easily throw your schedule out of balance and increase your budget.
2. Organizational Change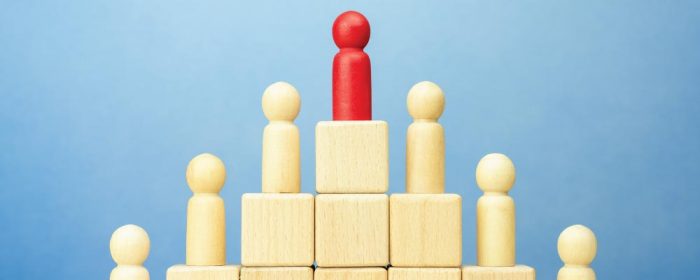 Organizational change management is important for you to deal with as a project manager so you can establish actions to take at the project level that will support the multitude of people who will be impacted by your project in the company.
This type of change management will require you to identify whoever will need to change as a result of the impact of the project, as well as in what ways they will have to change their processes.
For this article, we will be focusing on this second type of change, namely organizational change.
As a project manager, you will not only have to focus on managing your project, but you will also need to understand and explain why you are undertaking the project and what the impact of the project will be, and on whom.
To ensure the long-term success of your project you will need to manage the changes your project has in terms of organizational change.
Related: Go-To Guide to the 7 R's of Change Management
Change Management Process vs Project Management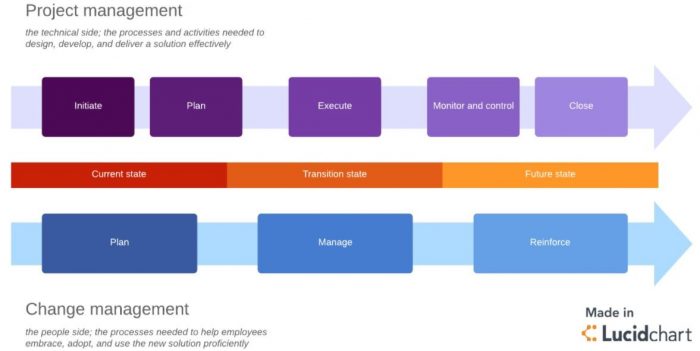 The difference between change management and project management is often confused. While they both involve managing processes and resources they are different disciplines.
You should note, however, that both change management and project management often work together to serve organizational goals.
Understanding the difference between the two and how they work together is essential for your company's success.
Project Management
Project management is a term that is vast and encompasses a range of processes and therefore the term can often seem vague.
It is always useful to refer to an official definition even though you may understand what project management is.
The PMBOK guide defines project management as "the application of knowledge, skills, tools, and techniques to project activities to meet the project requirements."
To be able to bring a product or project from point A to point B, as a project manager, you and your team will move through five main stages:
The initiation phase
The planning phase
The Execution phase
Monitoring and Control
Project Close
These stages help strategically drive the project forward and help organize what needs to get done in a project.
Change Management
Compared to project management which deals with processes and activities that need to get done, change management involves people who are affected by these projects.
Since projects that are undertaken can have a great impact on the organization and its stakeholders, project and change management often work together to ensure the success of the project in the long run.
A project's outcomes can be stunted if you do not receive buy-in from your organization about the changes that they will be subject to due to the project.
Understanding the need for these changes and how to adopt and adapt to them is necessary. This is where change management comes in.
Change management helps the transition to these changed processes and all those involved.
Change management can be divided into three major stages:
Planning for change
Managing change
Reinforcing change
Differences between Change Management and Project Management
Project Management:
On the other hand, Change Management:
Change management has no set guidelines
Change management involves fewer formal processes
Change management does not run on a concrete timeline
Change management manages the impact of change that was brought about from developments in the organization or through projects
Change management focuses on people
Benefits of Integrating Change Management Process within Project Management
Since both project management and change management deal with different aspects of a project, although both work towards the ultimate success of the project, ideally both disciplines should work in tandem to reach overall organizational success.
Here are four benefits of integrating change management within your next project and your project management methodology.
1. You can create a Shared Organizational Objective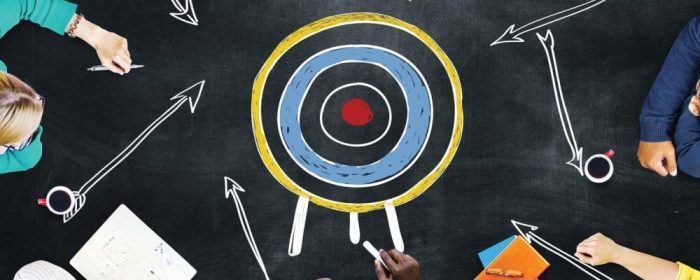 When you integrate change management with project management, this allows the implementation of practices and installation of procedures to all to be focused on achieving the same goals, and all work towards the best and most effective way to complete the project.
Without implementing change management, although you can easily use project management to adjust to project changes, it becomes difficult to manage the people affected by the change. Resources will have concerns and questions that you will need to answer to help them adjust to these changes not just within the project but also organizational changes that have come about.
In fact, according to a study conducted 65% of project staff that were surveyed reported change fatigue when they did not have change management implemented.
With change management, you can provide support and guide your team through change. This will allow them to quickly adapt and follow changes that benefit your organizational objective.
Related: How to Write Company OKRs for Effective Goal-Setting?
2. Exchange of Information that is Facilitated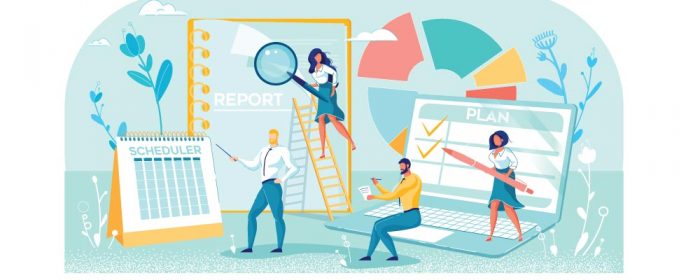 Your team needs to feel at ease and know they are supported with set management in place to help changes. By doing so they will be more comfortable to voice their concerns or even give ideas for managing new changes that are being implemented.
This concept of sharing ideas is valuable for organizational success.
Only when your team feels comfortable and aligned with your project's objectives will they feel comfortable and be willing to raise questions and make suggestions.
3. You will be able to Anticipate Challenges that may Occur due to Change
When you integrate change management with project management, as a project manager you will gain an understanding of what your team member's strengths and weaknesses are and how each member adapts to change.
With change management, you adopt a proactive approach to how your team will react to change and how the change will impact them.
4. Personal and Technical Alignment
By integrating project and change management, the adaptation towards change is made easier for your entire team.
By having the same objective between resource re-boarding and project adjustment, your team will be more driven to adapt to changes.
Such integration ensures that your team is both personally supported as well as supporting the technical side of your organization.
Steps to Integrate Change Management Process within Project Management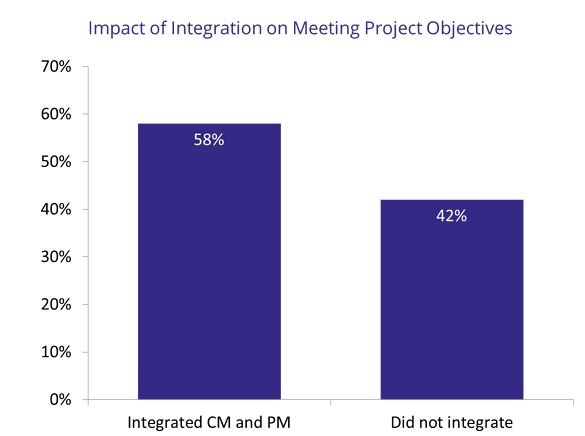 Here are some outlined steps that you can follow to help you incorporate change management within your project management for organizational and project success.
The first thing you need to ensure is that you inform all relevant individuals of the importance of change management. Speak to leaders, project managers, stakeholders, and your project team on what change management offers and how it will not only benefit the organization but also them individually. Ensure that you also relay that change management is a critical element to project success.
The second thing that you need to ensure is that everyone should understand how to change work is done. Set expectations from the get-go and advise individuals that change management is based on facts and data that is gathered through tools and processes. These processes involve things such as stakeholder analysis, change readiness assessments, and impact assessments.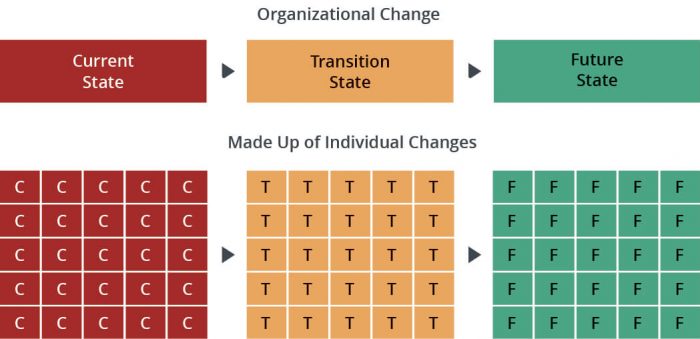 Furthermore, ensure that each appropriate individual is properly described the change process and work efforts. Explain the why behind a particular change to more easily get buy-in and allow members of your organization to adopt the change.
Also, be sure to use basic language to explain processes and changes. Explaining it in basic language ensures everyone is on the same page through the process and therefore will be more willing to adapt to the changes that are coming.
Moreover, present a unified front to stakeholders, project leaders, and even team members and ensure project and change management collaboration.
Lastly, it is important to collaborate with key stakeholders and other project leaders and managers to amalgamate a change management structure and methodology and even consequent deliverables within your project plan and other plans and reports.
Manage your Projects and Change through nTask's Project Management Tool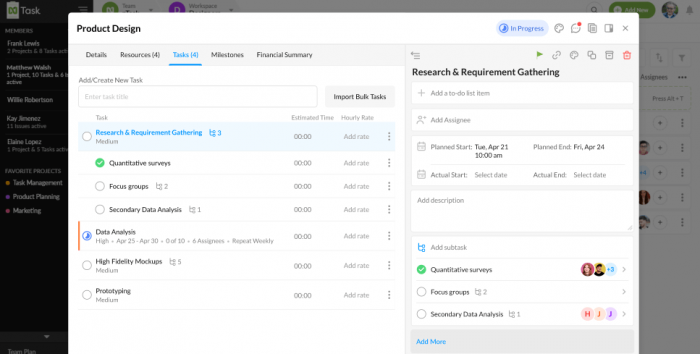 Incorporating change management within project management is no easy feat, and doing so throughout a project can often become difficult.
Therefore, it is beneficial to take the help of tools that can aid you on your project management journey while also allowing you to incorporate change management.
nTask provides a platform with all your project management needs wrapped into one. You can plan for your project and track your project and processes with features such as Gantt Charts and the newly released Kanban Board.
With Kanban Board and Gantt chart features, you can easily view how your team and your project is progressing and outline where change needs to happen and how you can work more productively as a team in the future.
Change may be constant but is never easy. But with the right tools, you can make your project management and change management journey that much simpler.
nTask is one of the Best Project Management Tool.

Manage all your tasks, projects, team collaboration and more in one place. Sign up today!